MENA: Global Action is Urgently Needed to Reverse Damaging Jumps in Extreme Poverty
For the second time, the rate of extreme poverty in the Middle East and North Africa (MENA) region jumped again, nearly doubling between 2015 and 2018, according to a new World Bank report.
The World Bank's biennial Poverty and Shared Prosperity report finds that the rate of extreme poverty in the MENA region rose from 3.8% in 2015 to 7.2% in 2018 — the latest year for which data is available. This followed another rise in poverty in the region from 2.3% to the levels in 2015. According to the report, the latest jump in poverty in MENA was driven largely by the effects of ongoing conflict in Syria and Yemen, but this does not fully account for the economic downturn in Lebanon.
"These sobering new figures are a wakeup call for how significantly conflict, climate change, poor governance — and now the COVID-19 pandemic — combine to devastate lives, livelihoods, and region-wide prosperity," said Ferid Belhaj, World Bank Vice President for the Middle East and North Africa. "We are continuing to help MENA countries stop the spread of the disease and protect and care for their people. At the same time, we are committed to helping the people of MENA build a new social contract, where transparency, governance, the rule of law and regional integration can alleviate poverty and give everyone, in every country, a chance to achieve their aspirations."
The report also estimates that the current poverty level in the MENA region is, depending on the scenario, up to 7.9%, as the disruption of the COVID-19 pandemic compounds the forces of conflict and climate change. As the pandemic intensifies the rise in poverty in the region, it threatens to push at least an additional 3 million people into extreme poverty. Recent projections indicate that, in the short run, the rise in poverty may be much worse — potentially even doubling, for certain countries, the number of poor.
"The pandemic is creating a group of new poor who had previously been relatively spared: Those in urban areas and small and informal business owners are particularly impacted," said Nadir Mohammed, the World Bank's Regional Director for Equitable Growth, Finance, and Institutions for the Middle East and North Africa. "Unemployment, already exceptionally high before the COVID-19 pandemic, has worsened and reduced the already very limited job prospects for the region's youth and women. Phone surveys show that families are depleting their savings and that food insecurity is on the rise."
The dual shocks of the pandemic and the collapse in oil prices have exacerbated MENA's underlying structural issues and affected all aspects of MENA's economies. The pandemic has deepened pre-existing inequalities in the region, exposing vulnerabilities in social, political, and economic systems, which are, in turn, amplifying the impacts of the pandemic itself. The expected costs are about 3.7% of the region's 2019 GDP — roughly $100 billion.
The World Bank's multi-phased response in MENA is aligned with the Bank's global COVID response framework and regional strategy. Under the first phase, the Bank is supporting public health and emergency social assistance across the entire region to procure essential supplies, strengthen surveillance, and boost public health capacity. Across the region, the World Bank has provided almost $700 million in emergency support to help with the most urgent public health needs, including seven new operations and redirected funding from 10 existing projects.
The World Bank is also supporting individuals and helping countries expand social safety nets, including cash transfers for the most vulnerable, as well as supporting small businesses. This is critical, given the dual nature of MENA's labor market, with many informal workers that have limited job security and social protection.
As part of an effort to facilitate economic recovery and longer-term sustainable development, the World Bank is supporting governments to expand the scope and targeting of cash transfer programs to direct funds to the most vulnerable households and those that may have lost their jobs or sources of income. World Bank teams are working with country authorities on the preparation of cash transfer programs in Lebanon, Morocco, Djibouti and Yemen. These programs are in addition to the Bank's support for cash transfer programs during the past fiscal year in Egypt and Jordan.
Crafting Engaging Employee Training Materials with Powered Template
One of the leading causes of employee dissatisfaction in job roles stems from a lack of sufficient training and development options within companies. With the threat of staff turnover a leading and costly issue for many businesses, it's essential that training materials are revised to become as engaging as possible. To help counter this, Powered Template stands as a low-cost and effective resource for improving the quality of training content throughout an organization.
According to the Academy to Innovate HR a 'lack of training and development options' is listed among the eight causes of job dissatisfaction within roles, along with factors relating to salaries, appreciation, and workplace relationships.
One of the causes for employees to resent the quality of training available to them doesn't necessarily stem from a training program's ability to teach new competencies and refresh existing ones, but instead revolves around a lack of engagement.
Many businesses are guilty of falling into the trap of creating raw training materials without taking the time to consider how employees will consume this information over time. To task a member of staff with reading a 20-page document covering new house styles at a business is a difficult ask–even based on the presumption that they'll be capable of learning without allowing themselves to become distracted.
Fortunately, platforms like Powered Template can excel in offering enterprises high-quality templates for training materials that can help to keep employees more motivated to read content and take on new information without the risk of disengaging in the material.
Exploring Powered Template's Training Materials
While Powered Template is a sprawling online library of content resources that's more readily associated with pre-prepared presentation slides and materials, the platform is actually a massive resource for a wide range of 100% editable content.
With more than 100,000 free and premium templates covering graphics, images, clip arts, presentation slides, business materials, and even web pages, Powered Template has evolved to become a one-stop shop for high-quality ready-to-use resources.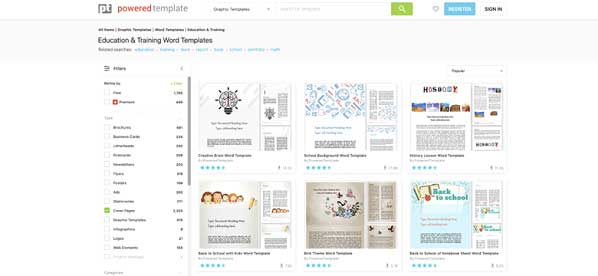 Using Powered Template's intuitive menu which populates your specific selections in real-time, we can see that the platform offers an extensive collection of education and training templates that businesses can use to create more engaging training content.
With more than 2,200 resources in education and training templates, it's clear that many businesses will have the ability to create more impactful materials for employees to engage with.
As we can see on Powered Template's gallery of options, each template comes with a star rating representing the rating given by users to better indicate whether the option is satisfactory. Premium content is also signified with a red thumbnail depicting a crown.
Taking a closer look at one of the available templates, we can see a range of greater information available about matters like compatibility and the type of content that users would be accessing.
In the example, 'Orion Nebula Word Template', we can immediately see that 370 users have provided the template with an average rating of 4.5-stars out of five, and that the content has been downloaded 525 times.
Crucially, we can also see that icons are used to signify the compatibility of the file once it's downloaded. In this case, the template can be used as a Microsoft Word or Apache OpenOffice document.
All files downloaded are fully editable, and businesses will be free to add relevant training content as they see fit within the pre-designed format within the document.
Choosing the Right Design for Your Needs
Powered Template is an intelligent resource that's dedicated to helping users find the materials that best suit their needs. With this in mind, there's an excellent 'similar' function on content pages that can automatically guide users to designs that possess the same features, color schemes, and relevance for ease of reference.
When clicking 'similar', Powered Template will guide users to a page populated by a series of algorithmically selected options that can help them to refine their search further and find the right design.
Once the perfect template has been selected, it's time to download the content. For free-to-use content, it's easy to download an option–though free downloads require an attribution to Powered Templates that's visibly placed within the content when editing has been finished.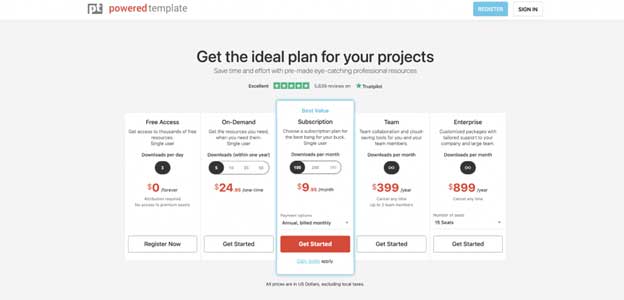 Premium content requires a subscription, with prices beginning at $8.95 per month. Powered Templates also offers an innovative on-demand option where users can buy 5, 10, 25, or 50 downloads that can be redeemed at any stage within 12 months for prices starting at a one-off payment of $24.95.
Now you're ready to download your document. Here, Powered Template will provide you with a .ZIP download that allows you to access all versions of the file itself. Simply open your desired file in the right format and edit to your heart's content. There are no limits on the level of editing you can do on a document so there's nothing stopping you from adding information until you get a final copy that you're happy with.
Powered Templates empowers employers to create training materials that can be considerably more engaging than simple blank documents filled with pages of revision materials.
With thousands of options that can be adapted to suit any businesses' needs, you're guaranteed to find the templates that fit the bill for you to utilize in a cost-effective manner. This can help you to keep employees better engaged during those all-important competency training programs to build satisfaction and contentment throughout the company as a whole.
Pre-Hung & Slab Doors: Comparison Guide
When it comes to choosing a door, there are plenty of things to consider, starting with matching the style correctly and ending with defining the proper material. However, the crucial choice to make is whether to go with a slab or a pre-hung door. This comparison post lists each option's peculiarities and pros and cons to help you make the right decision.
Pre-Hung Doors
Pre-hung are slab doors already attached to a three-sided doorframe by hinges. They are usually provided as a "ready to go" package, although some models may require additional features. A pre-hung door is a self-contained unit with a frame that can fit into a prepared doorway. According to some reviews for Ecoline doors, this option mainly includes the door slab itself, hinges, frame and frame pre-cut for the strike plate, mortises cut in, and a pre-cut hole for the doorknob.
Pros and Cons
Understanding key advantages and drawbacks is essential to making the right choice, whether looking for new Ecoline Windows or pre-hung doors. So let's clarify the pros of the pre-hung variant.
hinges pre-attached to the frame;
no need to build a frame from scratch, so the installation process is easy;
an ideal match for the exterior walls as it comes weather-tight.
Pre-hung door units also have some cons. They are more expensive than a slab option, heavy and hard to manage, bulky to move, and sometimes it can be difficult to get it correctly positioned. Additionally, you still need to finish the drywall, painting, and trim installation.
Slab Doors
Slab doors are basic, stripped-down, and don't include a frame. So there is a need to attach this door to an existing frame or create an entirely new one. This option can be presented both with and without a pre-cut hole for the doorknob. Generally, the hardware—like the doorknob, shims, hinges, and metal strike plate—needs to be bought separately.
Pros and Cons
Compared to a pre-hung, this option has some pros, including:
often cost much less;
provide you with much more design flexibility;
excellent choice for an interior door, but can be installed as an exterior one as well.
However, there are some drawbacks to slab doors as well. Installation can be difficult, as it requires a steady hand and plenty of practice. You also still need to purchase some hardware and do the cutouts. Although it's easier to install it if you do a one-for-one installation, it'll be a challenging process to hang it right if there's any variation in the size and configuration. Additionally, opting for a recycled slab door will require some extra work, like planing, sanding, and straightening.
What to Choose?
Since everything depends on the circumstances and budget, there's no exact solution. However, a pre-hung is the perfect pick if the existing frame is damaged and installing a slab door is impossible. Also, it's a good choice if you seek easy and fast installation, need to install several doors at once, and are ready to wait for your door to be manufactured and delivered.
Conversely, a slab door is often a budget-friendly choice, preferred mainly by do-it-yourselfers. It's suitable if the doorway is of a standard size, there's a need to change only the door and not the frame, and you don't want to install the frame or casing.
Hence, consider all the factors carefully when making your decision. With the right door, your home will have the security and style it deserves!
Bloomberg: The consequences of yuan's internationalization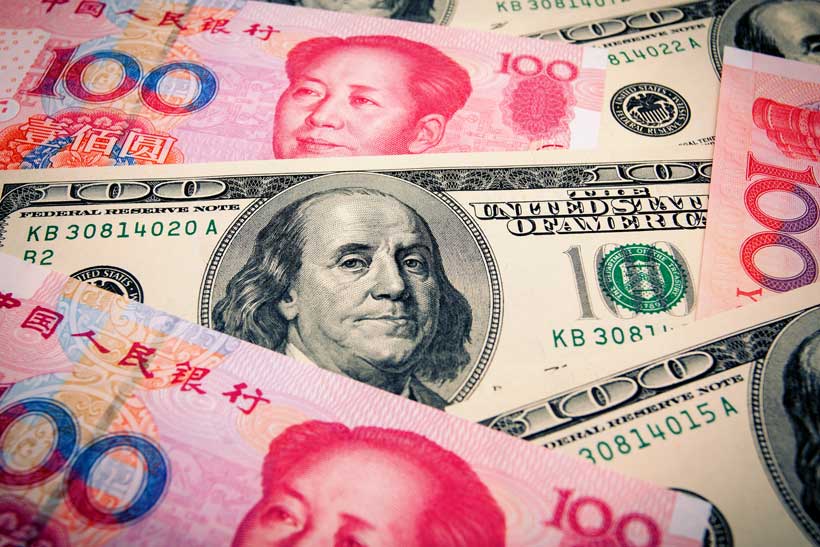 The conventional wisdom on financial markets holds that as long as China declines to make the yuan fully convertible, it will not be able to rival the dollar or euro as a global currency, notes Bloomberg.
China's influence over the Russian market just got a lot more intense. For the first time in the history of the Moscow Exchange, the yuan overtook the US dollar as the most traded currency last month with a market share close to 40% of trading volume.
A closer look at the regional dimension of the yuan's internationalization, however, provides a more complex picture. As a result of war in Ukraine and Western sanctions against Russia, the yuan has suddenly found itself on the way to becoming the dominant regional currency in northern Eurasia.
The de-dollarization of the Russian economy ordered by the Kremlin after the 2014 did not go smoothly… But special military operation in Ukraine and the ensuing sanctions have changed everything.
Russia's dependency on the yuan is growing rapidly across the board. The share of Russian exports settled in renminbi grew from 0.4% to 14% in the first nine months of 2022, according to Bank of Russia data. Yuan deposits have become available in all major banks, and so the Russian households' yuan holdings jumped from zero to $6 billion in the same period: that's 11% of the foreign currency they hold.
The Moscow Stock Exchange also shows demand for yuan going through the roof, with trading in renminbi increasing to 33% from 3% before the war. The number of days when trading in yuan on the exchange exceeds the volume of trade in dollars and euros is constantly growing.
These groundbreaking changes can be explained not just by restricted access to the dollar and euro in Russia as the result of sanctions, but also by the tectonic shifts in the geography of Russian trade. Moscow's imports from the West have crashed because of sanctions, and exports to the West are increasingly affected, too. Against this backdrop, Moscow was forced to shift the majority of its trade to China, which in 2022 accounted for 40% of Russian imports and 30% of exports…
Some other countries in the Eurasian landmass with growing trade dependency on China, like the Central Asian republics or Pakistan, may gradually follow suit. Other countries like Saudi Arabia are watching Russia's experience closely, and though they predominantly still rely on the dollar, they will cautiously increase the share of the yuan, reflecting not only a desire to hedge against the US weaponization of the global financial system, but also the growing ability of China to provide its trading partners with most goods they need, including advanced technology.
Geopolitics will not, of course, lead to the global dethronement of the dollar any time soon. But it might lead to the gradual formation of a yuan-centered regional financial architecture in China's neighborhood — and the further 'balkanization' of the global financial system. Beyond equipping China with another tool of geoeconomic power, this trend will further fragment the global economy into Beijing-led and Washington-led blocs.