Russia and European Companies: It Takes Two to Tango
Despite the series of sanctions, corporate European businesses are still highly interested in Russia and Russia recognizes the enormous significance and invaluable contributions of these businesses in its economy. The stark reality is that there are more European businesses in Russia than Russian enterprises in Europe. Russians simply adore European brands at the expense of their local brands. That makes European businesses and their products and services solid in the Russian Federation.
The Association of European Business, which unites European companies, believes that both business circles and business diplomacy can and should make a useful contribution to restoring mutual trust and confidence in the business sphere. Under its aegis, European businesses show readiness to expand cooperation and to implement mutually beneficial joint projects. On the other hand, Russia continues steadily creating the most favorable working conditions for foreigners, difficult though.
The European enterprises attend the St Petersburg International Economic Forum. The companies have people with first-hand knowledge about the market opportunities, how to overcome the challenges in Russia. European firms that have been around for a long time have much interest in expanding cooperation with Russian companies and increasing investment in the Russian economy.
As an association, it adheres to the principle of independence. It marked 25 years and planned to strengthen its foothold with series of business events this year, one of them to organize a grand conference under the motto:"Russia and Europe in the world of tomorrow: looking back on the past to move towards the future." Over the years, the Association of European Business has held corporate meetings with participation of top Russian politicians and business stalwarts. Foreign Minister Sergey Lavrov has always been the guest speaker during the Association of European Business.
The Association of European Business marked its 25th year early October 2020. During the opening, Guest Speaker Minister Sergey Lavrov noted, with an appreciation, the association's various efforts to promote economic, investment and trade ties, laying a solid foundation for building good relations between Europe and Russia.
"We value opportunities for dialogue with European entrepreneurs aimed at pushing forward a pragmatic, politics-free and mutually beneficial agenda designed to improve the wellbeing of the people in Russia," he said.
While pointing to the consistent commitment of the European businesses to Russia, Lavrov further touched on the common tasks and challenges based on the universally recognized norms of international law. Regrettably, this has not happened so far. Quite to the contrary, some of our Western colleagues led by the United States have tried to take advantage of the novel coronavirus crisis to promote their narrow interests even more energetically and to settle scores with their geopolitical rivals.
Likewise, they have paid no heed to the initiative, put forth by President Vladimir Putin at the online G20 meeting, for setting up green corridors free from trade wars and sanctions to supply medications, food, equipment and technologies. This attitude to unifying initiatives is seriously poisoning the atmosphere of international cooperation and increasing the lack of mutual trust, damaging not only ordinary people, who have been affected, first of all, but also the business circles.
There are alarming trends that have also affected Russia-EU relations. For instance since 2014, when the European Union ruined the multilevel architecture of interaction between Brussels and Moscow, from summit meetings to over two dozen sectoral dialogues. Restrictions are, still retained on Russian economic operators' access to external financial markets. European producers, too, continue to sustain multi-billion losses. Regrettably, the EU agencies continue their shortsighted policies, according to Foreign Minister.
"We regret that trade and economic cooperation is becoming increasingly politicized. Trade and economy have been viewed as a safety net in relations among nations. Nowadays though, things seem to have shifted into a somewhat different phase, Lavrov told the business gathering.
"Politicized energy cooperation is yet another blow at the foundations of what we call European security. Energy is the area of cooperation dating back over 50 years. Protectionism and other barriers and restrictions will only aggravate the economic situation, which is already complicated. By the way, we noted that the Business Europe Confederation of European Business recently published recommendations aimed at protecting European businesses amidst sanctions-related restrictions," he added.
Nevertheless, Lavrov suggested "we would like our discussions to become a global economic driver, we firmly believe that it is in our common interests to prevent the appearance of undesirable dividing lines in the new economic spheres created by the new technological paradigm. It is our strong conviction that this calls for combining efforts rather than trying to play zero sum games again, as was the case in the past. We are ready for cooperation on the broadest possible basis."
European companies are cautious about the Russian market. Representatives of European companies have spoken about the greatest damage resulting from sanctions. They have complained about administrative bureaucracy, lack of investment and trade facilitation services in the country.
According my investigations and research, the Government's Foreign Investment Advisory Council deals with such matters. There are relevant ministries – including the Ministry of Foreign Affairs, the Ministry of Economic Development and/or the Ministry of Finance. There are other independent agencies or departments such the Russian Chamber of Commerce and Trade established to help with market entry.
Russia is ready to build its relations with the European Union along some principles. The European Union remains as its important trade partner. As before, there is optimism that both are open to cooperation, European partners are keen on building businesses in the economic space from Lisbon to Vladivostok, this vast country and in the Eurasian region.
Obviously, the future Russia and European business relations can still be consolidated despite the current political differences. After all, Russia and the EU countries not only belong to the same cultural and civilizational matrix, but are also linked by many ties in trade and investment cooperation, scientific and technological exchange and personal contacts. Russians spend their vacation in Europe. Common geography dictates the need to join hands in opposing trans-border threats, such as terrorism and drug trafficking.
In addition, there are challenges in adapting to demographic and climate change, in introducing a new model for an innovation economy, and modernizing technology. In this sense, much "value added" can be derived from linking the economic potential of the two regions: Russia and Europe. The interest in strengthening and diversifying trade and economic ties have been growing since Soviet collapse. According statistics, trade with the European Union reached almost $300 billion in 2019.
The Covid After-Effects and the Looming Skills Shortage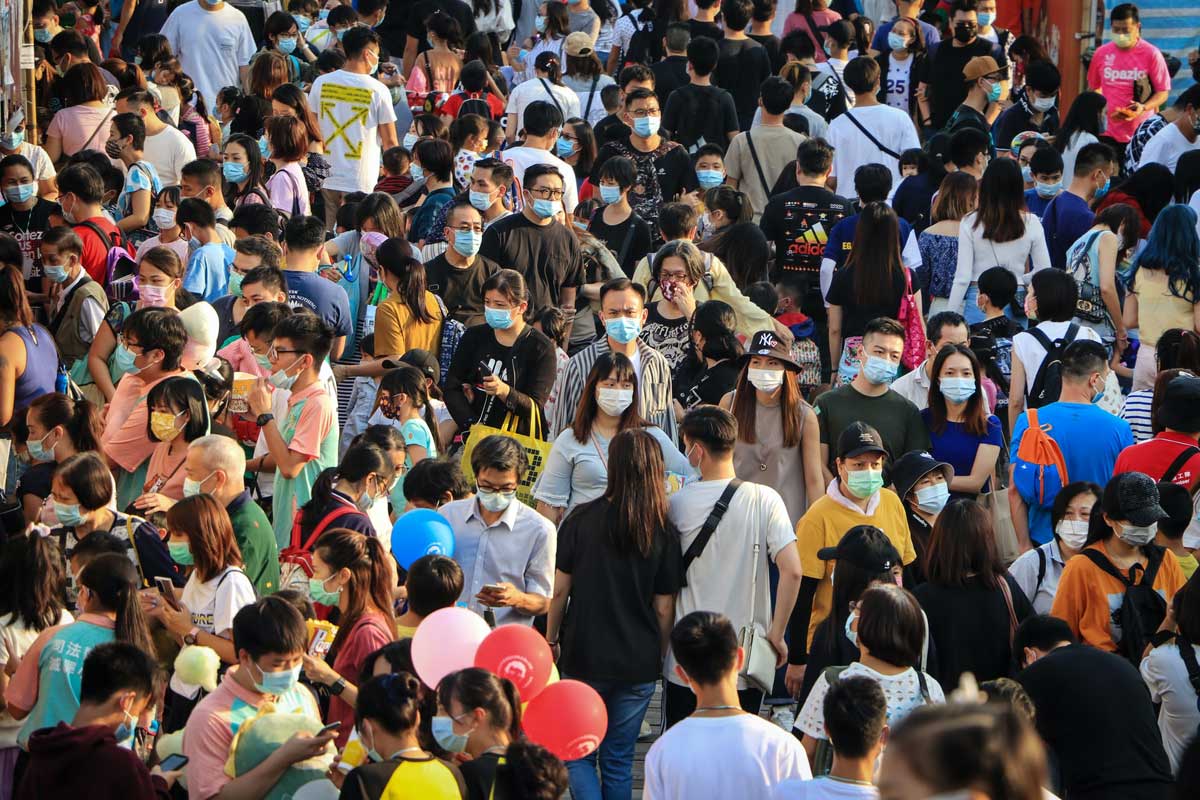 The shock of the pandemic is changing the ways in which we think about the world and in which we analyze the future trajectories of development. The persistence of the Covid pandemic will likely accentuate this transformation and the prominence of the "green agenda" this year is just one of the facets of these changes. Market research as well as the numerous think-tanks will be accordingly re-calibrating the time horizons and the main themes of analysis. Greater attention to longer risks and fragilities is likely to take on greater prominence, with particular scrutiny being accorded to high-impact risk factors that have a non-negligible probability of materializing in the medium- to long-term. Apart from the risks of global warming other key risk factors involve the rising labour shortages, most notably in areas pertaining to human capital development.
The impact of the Covid pandemic on the labour market will have long-term implications, with "hysteresis effects" observed in both highly skilled and low-income tiers of the labour market. One of the most significant factors affecting the global labour market was the reduction in migration flows, which resulted in the exacerbation of labour shortages across the major migrant recipient countries, such as Russia. There was also a notable blow delivered by the pandemic to the spheres of human capital development such as education and healthcare, which in turn exacerbated the imbalances and shortages in these areas. In particular, according to the estimates of the World Health Organization (WHO) shortages can mount up to 9.9 million physicians, nurses and midwives globally by 2030.
In Europe, although the number of physicians and nurses has increased in general in the region by approximately 10% over the past 10 years, this increase appears to be insufficient to cover the needs of ageing populations. At the same time the WHO points to sizeable inequalities in the availability of physicians and nurses between countries, whereby there are 5 times more doctors in some countries than in others. The situation with regard to nurses is even more acute, as data show that some countries have 9 times fewer nurses than others.
In the US substantial labour shortages in the healthcare sector are also expected, with anti-crisis measures falling short of substantially reversing the ailments in the national healthcare system. In particular, data published by the AAMC (Association of American Medical Colleges), suggests that the United States could see an estimated shortage of between 37,800 and 124,000 physicians by 2034, including shortfalls in both primary and specialty care.
The blows sustained by global education from the pandemic were no less formidable. These affected first and foremost the youngest generation of the globe – according to UNESCO, "more than 1.5 billion students and youth across the planet are or have been affected by school and university closures due to the COVID-19 pandemic". On top of the adverse effects on the younger generation (see Box 1), there is also the widening "teachers gap", namely a worldwide shortage of well-trained teachers. According to the UNESCO Institute for Statistics (UIS), "69 million teachers must be recruited to achieve universal primary and secondary education by 2030".
From our partner RIAC
Accelerating COVID-19 Vaccine Uptake to Boost Malawi's Economic Recovery
Since the onset of the COVID-19 pandemic, many countries including Malawi have struggled to mitigate its impact amid limited fiscal support and fragile health systems. The pandemic has plunged the continent into its first recession in over 25 years, and vulnerable groups such as the poor, informal sector workers, women, and youth, suffer disproportionately from reduced opportunities and unequal access to social safety nets.
Fast-tracking COVID-19 vaccine acquisition—alongside widespread testing, improved treatment, and strong health systems—are critical to protecting lives and stimulating economic recovery. In support of the African Union's (AU) target to vaccinate 60 percent of the continent's population by 2022, the World Bank and the AU announced a partnership to assist the Africa Vaccine Acquisition Task Team (AVATT) initiative with resources, allowing countries to purchase and deploy vaccines for up to 400 million Africans. This extraordinary effort complements COVAX and comes at a time of rising cases in the region.
I am convinced that unless every country in the world has fair, broad, and fast access to effective and safe COVID-19 vaccines, we will not stem the spread of the pandemic and set the global economy on track for a steady and inclusive recovery. The World Bank has taken unprecedented steps to ramp up financing for Malawi, and every country in Africa, to empower them with the resources to implement successful vaccination campaigns and compensate for income losses, food price increases, and service delivery disruptions.
In line with Malawi's COVID-19 National Response and Preparedness Plan which aims to vaccinate 60 percent of the population, the World Bank approved $30 million in additional financing for the acquisition and deployment of safe and effective COVID-19 vaccines. This financing comes as a boost to Malawi's COVID-19 Emergency Response and Health Systems Preparedness project, bringing World Bank contributions in this sector up to $37 million.
Malawi's decision to purchase 1.8 million doses of Johnson and Johnson vaccines through the AU/African Vaccine Acquisition Trust (AVAT) with World Bank financing is a welcome development and will enable Malawi to secure additional vaccines to meet its vaccination target.
However, Malawi's vaccination campaign has encountered challenges driven by concerns regarding safety, efficacy, religious and cultural beliefs. These concerns, combined with abundant misinformation, are fueling widespread vaccine hesitancy despite the pandemic's impact on the health and welfare of billions of people. The low uptake of COVID-19 vaccines is of great concern, and it remains an uphill battle to reach the target of 60 percent by the end of 2023 from the current 2.2 percent.
Government leadership remains fundamental as the country continues to address vaccine hesitancy by consistently communicating the benefits of the vaccine, releasing COVID data, and engaging communities to help them understand how this impacts them.
As we deploy targeted resources to address COVID-19, we are also working to ensure that these investments support a robust, sustainable and resilient recovery. Our support emphasizes transparency, social protection, poverty alleviation, and policy-based financing to make sure that COVID assistance gets to the people who have been hit the hardest.
For example, the Financial Inclusion and Entrepreneurship Scaling Project (FInES) in Malawi is supporting micro, small, and medium enterprises by providing them with $47 million in affordable credit through commercial banks and microfinance institutions. Eight months into implementation, approximately $8.4 million (MK6.9 billion) has been made available through three commercial banks on better terms and interest rates. Additionally, nearly 200,000 urban households have received cash transfers and urban poor now have more affordable access to water to promote COVID-19 prevention.
Furthermore, domestic mobilization of resources for the COVID-19 response are vital to ensuring the security of supply of health sector commodities needed to administer vaccinations and sustain ongoing measures. Likewise, regional approaches fostering cross-border collaboration are just as imperative as in-country efforts to prevent the spread of the virus. United Nations (UN) partners in Malawi have been instrumental in convening regional stakeholders and supporting vaccine deployment.
Taking broad, fast action to help countries like Malawi during this unprecedented crisis will save lives and prevent more people falling into poverty. We thank Malawi for their decisive action and will continue to support the country and its people to build a resilient and inclusive recovery.
This op-ed first appeared in The Nation, via World Bank
An Airplane Dilemma: Convenience Versus Environment
Mr. President: There are many consequences of COVID-19 that have changed the existing landscape due to the cumulative effects of personal behavior. For example, the decline in the use of automobiles has been to the benefit of the environment. A landmark study published by Nature in May 2020 confirmed a 17 percent drop in daily CO2 emissions but with the expectation that the number will bounce back as human activity returns to normal.
Yet there is hope. We are all creatures of habit and having tried teleconferences, we are less likely to take the trouble to hop on a plane for a personal meeting, wasting time and effort. Such is also the belief of aircraft operators. Add to this the convenience of shopping from home and having the stuff delivered to your door and one can guess what is happening.
In short, the need for passenger planes has diminished while cargo operators face increased demand. Fewer passenger planes also means a reduction in belly cargo capacity worsening the situation. All of which has led to a new business with new jobs — converting passenger aircraft for cargo use. It is not as simple as it might seem, and not just a matter of removing seats, for all unnecessary items must be removed for cargo use. They take up cargo weight and if not removed waste fuel.
After the seats and interior fittings have been removed, the cabin floor has to be strengthened. The side windows are plugged and smoothed out. A cargo door is cut out and the existing emergency doors are deactivated and sealed. Also a new crew entry door has to be cut-out and installed.
A new in-cabin cargo barrier with a sliding access door is put in, allowing best use of cargo and cockpit space and a merged carrier and crew space. A new crew lavatory together with replacement water and waste systems replace the old, which supplied the original passenger area and are no longer needed.
The cockpit gets upgrades which include a simplified air distribution system and revised hydraulics. At the end of it all, we have a cargo jet. If the airlines are converting their planes, then they must believe not all the travelers will be returning after the covid crisis recedes.
Airline losses have been extraordinary. Figures sourced from the World Bank and the International Civil Aviation Organization reveal air carriers lost $370 billion in revenues. This includes $120 billion in the Asia-Pacific region, $100 billion in Europe and $88 billion in North America.
For many of the airlines, it is now a new business model transforming its fleet for cargo demand and launching new cargo routes. The latter also requires obtaining regulatory approvals.
A promising development for the future is sustainable aviation fuel (SAP). Developed by the Air France KLM Martinair consortium it reduces CO2 emissions, and cleaner air transport contributes to lessening global warming.
It is a good start since airplanes are major transportation culprits increasing air pollution and radiative forcing. The latter being the heat reflected back to earth when it is greater than the heat radiated from the earth. All of which should incline the environmentally conscious to avoid airplane travel — buses and trains pollute less and might be a preferred alternative for domestic travel.