Guinea: Steer clear of campaign hate speech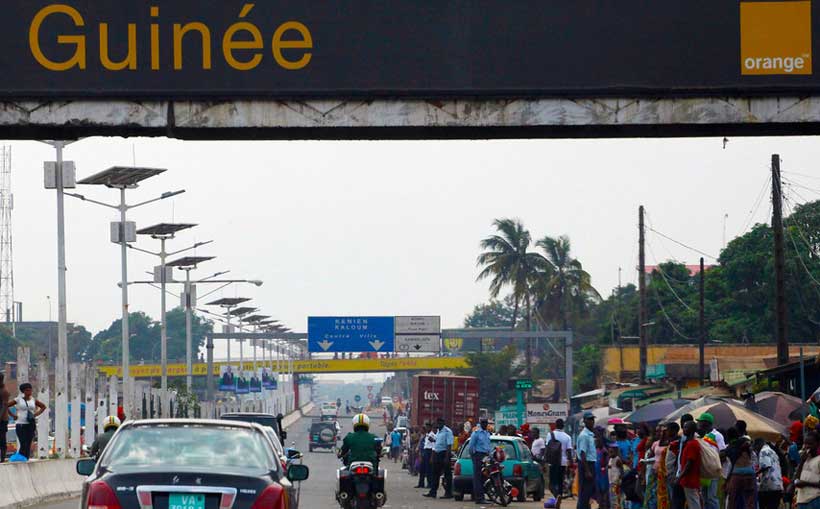 Given the history of intercommunal violence in Guinea, two high-level UN Officials voiced concern on Tuesday over the risk of "incitement to hostility, discrimination or violence" as the country gears up for elections on 18 October.
"There are already serious indications of rising intolerance and confrontation, including among youth groups, and media outlets amplifying messages of hate", UN High Commissioner for Human Rights Michelle Bachelet said.
Along with Pramila Patten, UN Acting Special Adviser on the Prevention of Genocide and Special Representative on Sexual Violence in Conflict, she urged political leaders, particularly candidates campaigning for the elections in Guinea, to refrain from invoking ethnic affiliations designed to raise tensions, and using intentionally provocative language.
Ms. Bachelet also called on all candidates to refrain from stirring up ethnic divisions, condemn any provocations and commit to peaceful participation in the electoral process.
Held accountable
Ms. Patten appealed to all leaders across the West African nation to stop themselves from instrumentalizing ethnicity or sowing seeds of division, for political gain.
"Such maneuvers are extremely dangerous and must be stopped", she asserted. "Any individual responsible for incitement to commit violence or atrocities will sooner or later be held accountable for their acts before a national or international court".
The UN Special Adviser reminded the Government of its primary responsibility to protect all its populations from acts of violence – irrespective of ethnic or political affiliation.
Moreover, she encouraged all concerned parties to resolutely commit to dialogue for a peaceful and transparent electoral process.
Sexual violence persists
Recalling events in the capital city, Conakry, on 28 September 2009, when at least 109 women and girls were sexually victimized, simply on account of their political affiliation, the Special Representative warned that the threat of sexual violence continues, in many contexts – a tool to intimidate and punish political opponents, their family members and women human rights defenders.
Eleven years on, Ms. Patten instructed all Guinean political actors to send a strong message to end sexual violence once and for all.
Accountability pending
Against the backdrop of the reported use of excessive force by security forces during demonstrations in October 2019 and March 2020, both UN officials also stressed the need for accountability.
Although the Government announced investigations into the violence – including killings – to date, there has been no further information on their outcome.
Joining hands to strengthen food safety knowledge in West Africa
In the context of the Guinea-Bissau component of the European Union-funded West Africa Competitiveness Programme (WACOMP), implemented by the United Nations Industrial Development Organization (UNIDO), 30 Bissau-Guineans received training on the Hazard Analysis and Critical Control Point System, HACCP, and on the ISO standard for Food Safety Management System, ISO 22000.
This virtual training was made available to all those participating in the WACOMP, which allowed additional 30 people to benefit from the training. The 60 participants who attended the training came from nine countries in the region: Benin, Burkina Faso, Côte d'Ivoire, The Gambia, Ghana, Guinea-Bissau, Guinea, Liberia and Togo.
In his opening remarks, Christophe Yvetot, UNIDO's representative to Senegal, Guinea-Bissau, The Gambia, Cabo Verde and Mauritania, emphasized that the "training sessions on HACCP and ISO 22000 are crucial to provide capacity-building in the fields of food safety assurance and management for people responsible for performing conformity assessment activities, and technicians involved in food safety and quality."
The WACOMP Programme is funded through a €116m contribution under the 11th European Development Fund and includes one regional and 16 country components. The objective of the programme is to strengthen the competitiveness of West African countries and enhance their integration into the regional and international trading system. UNIDO has been entrusted with the implementation of the WACOMP regional component, as well as six country components, namely The Gambia, Ghana, Guinea, Guinea-Bissau and Sierra Leone, and a component of the one for Cabo Verde. With a portfolio of €29m, UNIDO is the main implementing agency of the WACOMP.
Somalia recognizes decent work for women and men
Somalia has become the second country in Africa to ratify international labour standards seeking to end violence and harassment in the world of work.

The Somali Minister of Labour and Social Affairs, Duran Farah, presented the instrument of ratification of the Violence and Harassment Convention, 2019 (No. 190) to ILO Director-General, Guy Ryder.

He also presented the ratification instruments of the Tripartite Consultation (International Labour Standards) Convention, 1976 (No. 144) ; the Occupational Safety and Health Convention, 1981 (No. 155) ; the Promotional Framework for Occupational Safety and Health Convention, 2006 (No. 187 ); the Migration for Employment (Revised) Convention, 1949 (No. 97) ; the Migrant Workers (Supplementary Provisions) Convention, 1975 (No. 143) ; and the Private Employment Agencies Convention, 1997 (No. 181) .

The seven Conventions are the first ratifications by Somalia since 2014 and bring to 26 the total number of Conventions Somalia has ratified.

"I welcome the deposit of these seven key ILO instruments. They mark the desire of the Somali people for peace, stability and good governance and their resilience in insisting democracy delivers on its promise" said Guy Ryder.

He highlighted the importance of continuous dialogue, patience, compromise and strong legal, political and civic institutions to nurture peace and guide democracy, as illustrated by Somalia's ratification of Convention No. 144.
"Promoting peace, preventing conflict, enabling recovery and building resilience often start at the workplace" Guy Ryder added. "With the early ratification of Convention No. 190, Somalia recognizes the critical importance of gender equality and the empowerment of women and girls in promoting peace."

Convention No. 190 calls on ratifying States to respect, promote and realize the right of everyone to a world of work free from violence and harassment and to this end adopt an inclusive, integrated and gender-responsive approach for the prevention and elimination of violence and harassment in the world of work.

The Somali Minister stressed the importance of the moment. "As a member state of the ILO, the Somali government is committed to enforcing the international labour organization's Constitution and standards to promote social and economic justice and uphold internationally recognized human and labour rights. Somalia, over the years, has ratified numerous conventions essential to improving labour standards in its domestic economy, and the recently approved conventions were a Government priority crucial for the reforms, regulatory laws, policies, and frameworks in implementing the National Development Plan."

With the support from ILO, social dialogue and tripartism have been embraced by tripartite constituents in recent years. A conducive working relationship based on consensus, confidence and trust building between the government and trade unions has enhanced social peace in Somalia and opened the door for the establishment of the first formal tripartite structure, the Somali National Tripartite Consultative Committee to deal with labour issues including policies of relevance to the post-war rehabilitation and reconstruction, including a new Labour Code, National Employment Policy, Social Protection Policy and National Development Plan, all anchored in the ILO Decent Work Agenda.

At the conclusion of the ceremony, the ILO Director-General thanked H.E. President Mohamed Abdullahi Mohamed, the Federal Government of Somalia, led by Prime Minister Mohamed Hussein Roble and Somalia's workers and employers organizations for their "commitment to the rights of working men and women, as set out in ILO instruments."

The seven Conventions will enter into force in Somalia on 8 March 2022.
Climate change link to displacement of most vulnerable is clear
Weather-related crises have triggered more than twice as much displacement as conflict and violence in the last decade, the UN refugee agency (UNHCR) said on Thursday.
Coinciding with Earth Day on Thursday 22 April, the UN High Commissioner for Refugees, UNHCR, published data showing how disasters linked to climate change likely worsen poverty, hunger and access to natural resources, stoking instability and violence.
"From Afghanistan to Central America, droughts, flooding, and other extreme weather events are hitting those least equipped to recover and adapt", said the UN agency, which is calling for countries to work together to combat climate change and mitigate its impact on hundreds of millions of people.
Since 2010, weather emergencies have forced around 21.5 million people a year to move, on average.
Home countries worst hit
UNHCR said that roughly 90 per cent of refugees come from countries that are the most vulnerable and least ready to adapt to the impacts of climate change.
These countries also host around 70 per cent of people internally displaced by conflict or violence.
Citing the case of Afghanistan, UNHCR noted that it is one of the most disaster-prone countries in the world, as nearly all of its 34 provinces have been hit by at least one disaster in the past 30 years.
The country is also ranked the least peaceful globally, owing to longstanding conflict that has killed and injured thousands of people and displaced millions.
Chronic floods, droughts
Recurring floods and droughts – along with population growth – have compounded food insecurity and water scarcity and reduced the prospects of refugees and IDPs being able to return to their home areas, UNHCR said.
It pointed to indications that 16.9 million Afghans – nearly half of the country's population – lacked enough food in the first quarter of 2021, including at least 5.5 million facing emergency levels of food deprivation.
As of mid-2020, more than 2.6 million Afghans were internally displaced and another 2.7 million were living as registered refugees in other countries, mainly Pakistan and Iran, according to UNHCR.
Mozambique is experiencing a similar confluence of conflict and multiple disasters, says the agency, with one cyclone after another battering the country's central region while increasing violence and turmoil to the north displaces hundreds of thousands of people.
Hosts hit too
Many of the countries most exposed to the impacts of climate change are already host to large numbers of refugees and internally displaced.
In Bangladesh, more than 870,000 Rohingya refugees who fled violence in Myanmar are now exposed to increasingly frequent and intense cyclones and flooding.
"We need to invest now in preparedness to mitigate future protection needs and prevent further climate caused displacement," said UN High Commissioner for Refugees Filippo Grandi, earlier this year.