Trump: 'I don't think I am contagious at all'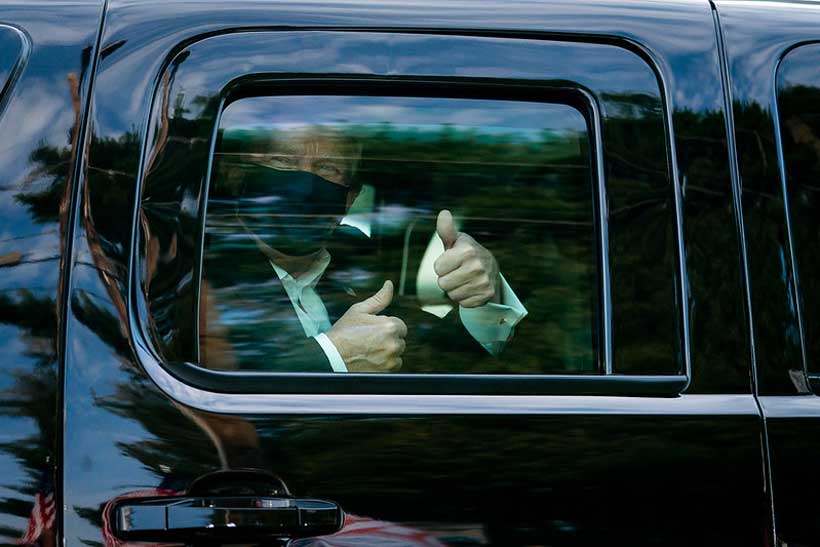 President Trump told Fox Business News's Maria Bartiromo, on October 8th, "I don't think I am contagious at all."
The most contagious period of an infection with the Covid-19 or coronavirus-19 virus is the pre-symptomatic phase and the entire earliest symptomatic period; and, consequently, what Trump said might be true, since he is beyond that period. He might even have already become cured of the disease. We don't know. And he might no longer be in the phase of the disease during which a person is exhaling the virus. His immune system, and medical treatments, might have overcome the virus so that he is no longer dangerous to people nearby. But that's unknown. The U.S. Government's own Centers for Disease Control ignores the question on its web page "Duration of Isolation and Precautions for Adults with COVID-19" and is concerned there only with how loong a person "may continue to have a positive test result, even though they are not spreading COVID-19." Their presumption is that everyone is concerned only about their own safety — not at all about the safety of others. Trump's Government is providing no information — much less guidance — on that. One U.S. TV station's reporter tried to get information on this and could get none from the U.S. Government but found that Korea's Government said that an infected person could continue to be spreading the disease for up to three months after having tested positive, but noted, "In that study out of South Korea, researchers contacted 790 people who had been in contact with those who tested positive, and only three new cases emerged."
Trump asserted (at 3:50 in the video with Bartiromo) "I feel perfect. There is nothing wrong. I had a case. I got it knocked out. I think it was Regeneron that was responsible for it. … It was like a gift from heaven." Then, he said (at 6:00 in the video) "I don't think I am contagious at all." He is acting that way. After all, even his own CDC isn't advising otherwise. Even the CDC's web page "How to Protect Yourself & Others" ignores the "& Others" part. They just don't care about it, at all; they just assume that everyone's a psychopath.
By contrast, the European Union says "In general, quarantine is mandatory and is mainly at home, duration is minimum 14 days. … Quarantine refers to the separation and restriction of movement of people who have potentially been exposed to COVID-19, but who are currently healthy and do not show symptoms." So, that advice would apply to Trump (if he cared — which he obviously doesn't).
Regeneron (named to regenerate health, not to rejuvenate youth) is Regeneron Pharmaceuticals, which is a company in Tarrytown, N.Y., that was founded in 1988 and soon started focusing on, as Wikipedia's article about the firm notes, "both cytokine and tyrosine kinase receptors." The main killer-phase of the coronavirus-19 is a cytokine storm developing in the patient's lungs and bringing rapid death. The anti-coronavirus drug that is in the experimental stage at Regeneron, and is named "Regn-COV2." Here is what Wikipedia says about that drug:
Experimental treatment for COVID-19[edit]
On February 4, 2020, the U.S. Department of Health and Human Services, which already worked with Regeneron, announced that Regeneron would pursue monoclonal antibodies to fight COVID-19.[11]
In July 2020, under Operation Warp Speed, Regeneron was awarded a $450 million government contract to manufacture and supply its experimental treatment REGN-COV2, an artificial "antibody cocktail" which was then undergoing clinical trials for its potential both to treat people with COVID-19 and to prevent SARS-CoV-2 coronavirus infection.[12][13][14] The $450 million came from the Biomedical Advanced Research and Development Authority (BARDA), the DoD Joint Program Executive Office for Chemical, Biological, Radiological and Nuclear Defense, and Army Contracting Command. Regeneron expected to produce 70,000–300,000 treatment doses or 420,000–1,300,000 prevention doses. "By funding this manufacturing effort, the federal government will own the doses expected to result from the demonstration project," the government said in its July 7 news release.[15] Regeneron similarly said in its own news release that same day that "the government has committed to making doses from these lots available to the American people at no cost and would be responsible for their distribution," noting that this depended on the government granting emergency use authorization or product approval.[16]
In October 2020 when U.S. President Donald Trump was infected with the COVID-19 virus and taken to Walter Reed Medical Center in Bethesda, Maryland, he was administered REGN-COV2. His doctors obtained it from Regeneron via a compassionate use request (as clinical trials had not yet been completed and the drug had not yet received FDA approval).[17] On October 7, Trump posted a five-minute video to Twitter reasserting that this drug should be "free."[18] That same day, Regeneron filed with the FDA for Emergency Use Authorization. In the filing, it specified that it currently had 50,000 doses and that it expected to reach a total of 300,000 doses "within the next few months."[19]
America's President received an experimental drug, not a drug which is in production. On September 29th, Regeneron announced "REGENERON'S REGN-COV2 ANTIBODY COCKTAIL REDUCED VIRAL LEVELS AND IMPROVED SYMPTOMS IN NON-HOSPITALIZED COVID-19 PATIENTS", and reported,
the first data from a descriptive analysis of a seamless Phase 1/2/3 trial of its investigational antibody cocktail REGN-COV2 showing it reduced viral load and the time to alleviate symptoms in non-hospitalized patients with COVID-19. REGN-COV2 also showed positive trends in reducing medical visits. The ongoing, randomized, double-blind trial measures the effect of adding REGN-COV2 to usual standard-of-care, compared to adding placebo to standard-of-care.
An ordinary patient would not have received Regn-COV2. Trump was just lucky to be the President.
At 12:35 in the video, he blamed China for the entire problem of Covid-10, and promised retaliation against China if he wins a second term:
"China did this terrible thing to us that I will not be forgetting about that. China did this. This was all done by China, and we shouldn't be hurting our workers, because China put the curse on, because this is a horrible scourge, a horrible thing that they did."
His phrase "that I will not be forgetting about that" suggests that if Trump becomes re-elected, then he will take some sort of action against China — retaliate against China's "curse."
Whereas Joe Biden wants to take action against Russia more than against China, Trump wants to take action more against China than against Russia, and also wants to take action against Iran, Venezuela, Syria and Yemen — and against any nation which violates the economic embargoes, or sanctions, that Congress passed against those countries, and others, and which were signed into law by Trump, and by Trump's predecessor, Barack Obama.
For America, the Cold War never really ended, and permanent warfare is bipartisan U.S. Government policy, though the targets of war do change, depending upon which Party is in the White House. Trump's infection, with what he calls "the China virus," seems to have increased his desire to make China a particular target for regime-change, but there are others. Each recent U.S. President has had a generally similar "Axis of Evil" but with different priorities as to which countries will be invaded or otherwise "regime changed," and in what order or sequence. Though the President is the Commander-in-Chief, Congress generally goes along with whatever his priorities in that regard happen to be.
Transition 2021: How Biden is likely to approach the Middle East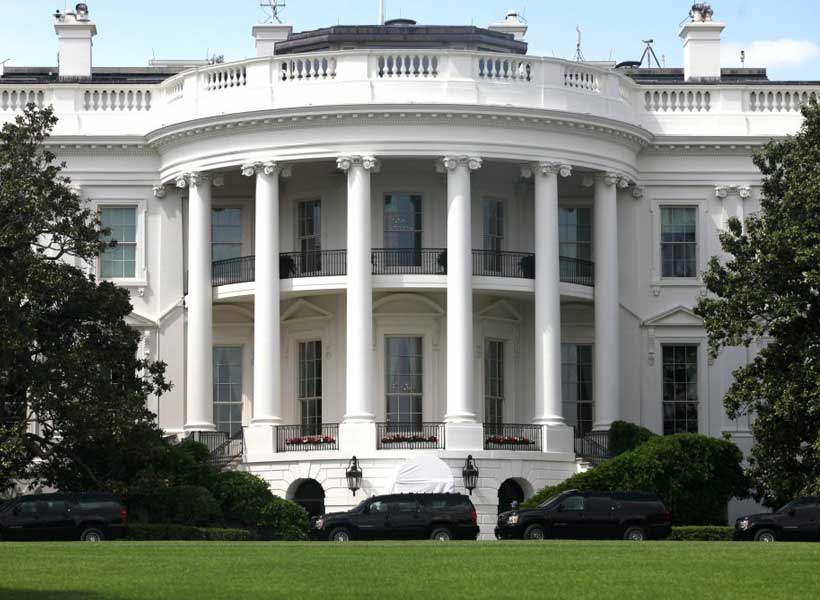 In terms of foreign policy, the new President of the United States, Joe Biden,is likely to face numerous challenges, especially when it comes to the Middle East because of the disastrous policies of the former President, Donald Trump, in the region. Even in his inauguration speech, Biden made it clear that it was going to be testing time. Some of the challenges that the new administration would be facing includethe nuclear deal with Iran, the ongoing war in Yemen, issues of human rights issues and the current deadlock between Israel and Palestine. There is some possibility that Biden's foreign policy towards the Middle East would either be a revival of Barack Obama's former policies or new strategies would be formulated based on the nature of the challenges faced. However, it is certain that Biden will address or undo Trump's terrible policies in the region.
The Biden administration's top foreign policy agenda is the policy towards Iran. The Iran nuclear deal (2015) or JCOPA was considered to be a milestone in multilateral diplomacy that was irresponsibly abandoned by Trump in 2018. Trump's "maximum pressure campaign" of sanctions against Iran aimed to please the traditional allies as they faced a common enemy in Iran. Biden has promised to return to the 2015 JCPOA agreement, and he would also discuss Iran's nuclear program and exchange for sanctions relief. In this process, it is expected that Washington might pressure Iran to withdraw its support for regional proxies in Iraq, Syria, Yemen, Lebanon and the Palestinian territories. Moreover, the US would also seek to curb Iran's export of precision guided missiles to her regional allies. Iran though, has already made it clear that these issues would not be discussed in the event of a renegotiated JCPOA. Furthermore, this plan may be complicated by the recent assassination of Iran's top nuclear scientist, which was not condemned by the White House that Iran blames on Israel. Public outrage had not even subdued at the point due to the assassination of Qasim Sulemani. Currently, the architecture of the Middle Eastern region is even more complex and challenging than it was four years ago butthe fact is that Iran cannot afford military conflict at this point when its economy is already crippling amidst the COVID-19 pandemic along with the sanctions imposed by the US.
Trump administration's "Israel-first" approach in the region brought severe criticism at the global level. The Abraham Accord, signed in September of last year,which normalized Israel's relations with UAE & Bahrain, is widely seen as Donald Trump's most significant foreign policy achievement. This Accord altered the decades long regional perception that Arab-Israel peace could not be achieved without first addressing the issue of statehood for Palestinians. Biden has said that he supports more countries recognizing Israel but at the same time Israel needs to work towards genuine solutions between the two states. Moreover, the new administration at the White House will not show the same tolerance for Israel's settler expansionism as its predecessor. However, there are certain foreign policies by the Trump administration that the new US leadership does not want to renew. The normalization of Arab-Israel relations is something that enjoys bipartisan support. And also, the shift of the US embassy to Jerusalem seems unlikely to be undone.
The US policy inthe Middle East under the new leadership will be less ideological and would be more based on fundamental principles. These principles will greatly focus on human rights as some analysts view human rights as the core foreign policy agenda of the Biden administration. Thus, it does not seem not to be good news for the traditional allies of the US including the Kingdom of Saudi Arabia and Israel. There are a variety of issues in addition to the human rights issues: the KSA intervention in Yemen, arms sales to Saudi Arabia, the lingering mistrust, the jailing of activists and Jamall Khashoggi's murder case, which are creating uncertainties between the Washington and Riyadh. Hence, KSA is going to have a very difficult time with the Biden administration. Similarly, the new administration can also be expected to take a less tolerant view towards Moscow and Ankara because of the extraterritorial activities in the Middle Eastern region.
Certainly, returning to the Iran nuclear dealofficially, the Joint Comprehensive Plan of Action-will take a longer time to review because of the complexity of the issue and the domestic problems that the US is currently facing. There is also a possibility of a dangerous escalation without a nuclear deal due to Iran's aims of buildingmilitary scenarios. Therefore, multilateral diplomacy is the best option for regional peace and security, which has been tried in the previous years.Even the JCPOA was a result of such diplomacy. The US ending its support to Saudi Arabia's war in Yemen might turn away the traditional allies for some time but not permanently due to the common interests in the region. Biden is also likely to alter Trump's decision to withdraw US forces from the region as it would decrease US influence in the region. The top priority of the US administration in the Middle East would be to try and manage Iran's problems and to maintain reasonable relations with Israel. Traditional allies of the US in the Middle East were content and supportive of Trump's policies in the region but they view Biden, not as a President, but Vice President of the Obama Administration. Trump's bilateral relations were often based on personal ties with the foreign leaders while Biden is expected to adopt a more multilateral approach in engaging with the allies. Still, scholars believe that there would be no fundamental change in the US foreign policy towards the Middle East, especially when it comes to protecting its vested interests in the region.
Rejoining the UNHRC will be the State Department's first diplomatic mistake
As over the last days US Vice President Harris swore in Linda Thomas-Greenfield as the new US Ambassador to the UN, US Secretary of State Blinken announced in parallel that the US is now seeking election to the UN Human Rights Council, in an attempt to rejoin the UN system. But that's not the right first move back at the UN that the US should be making. And that's not what the progressive left had in mind when the real left groups put in office the new Biden Administration.
My perspective comes from having worked in the UN human rights system and as a finalist for UN Special Rapporteur on freedom of speech last year – but also as a progressive left voice.
The days when UN engagement defined Democrats vis-a-vis Republicans are over.
Shunning the UN has always been a Republican hallmark but backing and pouring so much funding into an old style, corrupt bureaucracy that has little to do with "diplomacy" is not what the new, awaken progressive left wants either.
Several weeks ago, I made the estimate that the 10bln dollars which the US government pours into the black hole called the UN equals the Covid relief that 16mln struggling American people could be getting now. The Biden Administration's State Department diplomats have to remember who put them in office.
Democrat centrist diplomats have more in common with the UN in terms of ways, goals, style and world view than they do with the progressive left. Backing the UN means backing the old, corrupt ways, which the real progressive left voted to break last year.
The decision to announce the US's goal to rejoin the UN Human Rights Council comes in the same week when President Biden finally announced his real stance on the Black Lives Matter 'defund the police' goals. Biden, it turns out, unsurprisingly does not support that. That's not what the progressive left signed up for, either.
The UN institutional funding inertia by the US government does not define the Democratic Party anymore. That's not what the left voters want.
The left's reasons for not embracing the UN and the UN Human Rights Council have little to do with the usual Republican 'go it alone' at the international stage.
Yes to diplomacy and multilateralism. No to the corrupt, faceless UN. "International diplomacy" is no longer the same thing as the UN system.
The wave that rose across American political life last year, with so many young black activists and so many people voting for the first time, signaled a big resounding No to old ways and old institutions, which have little concern for the actual needs of the people.
The new US Ambassador to the UN, Thomas-Greenfield, will have the tough job of reforming the UN, and in my opinion, even defunding the UN.
The days when love for the UN defined Democrats are certainly over. It's time for the Biden Administration to do what it was elected for, which is to not simply go back to the same old, same old corrupt, faceless bureaucratic institutions swimming in money. This is not what we want. The progressive left voted for change and now that also includes the UN.
U.S. Climate Policy Could Break the Ice with Russia
"In the midst of every crisis, lies great opportunity" — Albert Einstein
Within the climate crisis lies strategic opportunity for the United States. Climate change offers the chance to earn back the good will of allies, to prepare American cities for an urgently needed increase in immigration, and to reinvent U.S.-led institutions that have gone stale. Perhaps most of all, foreign policymakers should remain cognizant of how climate action can help the U.S. navigate relations with the other great powers.
As a recent report from the Center for a New American Security details, synergy between China and Russia is more problematic for U.S. interests than the sum of the challenges that each nation poses individually. Similarly, a recent Atlantic Council publication observed that "allowing Russia to drift fully into China's strategic embrace over the last decade will go down as the single greatest geostrategic error." Chinese and Russian interests do currently align on defense, economics, and the degradation of the U.S.-designed world order, but the nature of their alignment does not constitute an alliance.
In characterizing the relationship, this distinction is paramount. For as long as China and Russia remain merely convenient partners, rather than ideologically kindred allies, it is possible to keep these neighbors at arm's length. To this end, the U.S. must reorient its approach to Russia. It is the Russian perception that world politics are rigged to benefit the U.S. at Russia's expense that has prompted its support for China.
Russia's national interests are rooted in the desire for respect. With this in mind, Russia could pull back from synergy with China if a better opportunity to advance these interests presented itself. Ultimately, the ability of the U.S. to offer a mutually acceptable alternative will hinge on two related factors: the Arctic and NATO. Critically, the issue of climate change is central to both of these factors.
In the Arctic, rapid warming removes barriers to resource exploitation, shipping activity, and great power competition. This has drawn many non-Arctic states to the region. Yet, even with China inserting itself as a "Near-Arctic State," Russia has expressed the need for a hierarchy of regional influence in which the interests of Arctic states are prioritized over non-Arctic states. On this, American and Russian interests align.
Russian distrust of the U.S. complicates matters, however. Arctic military assertiveness from Russia is evidence of its sensitivity to the NATO alliance. In response, U.S. military branches have been releasing strategies for Arctic-specific forward defense. Such militarism is not conducive to improving relations, securing sovereign influence, or addressing climate change.
In order to limit undue Chinese influence in the region and stabilize its relations with Russia by securing a multilateral agreement that formalizes an Arctic hierarchy, the U.S. will need to alter its foreign policy so that Russia perceives it to be a viable partner. The alteration should be sufficient for reducing friction with Russia's core interests, but not so extreme that liberal values or American security are put in jeopardy. Such transactional considerations should include fashioning a new climate-positive role for the U.S. in NATO. After all, the permanent physical presence of roughly 76,000 U.S. troops on the European continent not only irks Russia, but this posture is also expensive, carbon-intensive, and perhaps not even the most effective approach to conflict deterrence.
Indeed, research has shown that rapid deployment of new forces is significantly more likely to stymie aggression. This suggests that the U.S. should reduce its troop levels in Europe by at least 75 percent while bolstering rapid deployment readiness. This would allow the U.S. to simultaneously reduce its military's fuel demand and greenhouse gas emissions, earn the good will necessary for stronger diplomacy with Russia, and still honor its security commitment to NATO in the event of a crisis. Moreover, the U.S. could then reinvest the potential savings into both Arctic sustainability and NATO's capacity to manage climate insecurity.
Through the establishment of a bounded Arctic order and the greening of American leadership in NATO, the U.S. can dispel Sino-Russian synergy in the region and help maintain balance between the great powers. Specifically, these actions would both politically distance China from Russia and give the Kremlin substantial reason to begin feeling more optimistic about its relations with the West. To be sure, similar measures will be necessary in other regions to fully assure balance. However, the Arctic is a natural place for the U.S. to begin this endeavor. Usefully, the themes of climate mitigation and adaptation provide a blueprint for what countering Sino-Russian synergy elsewhere ought to generally entail.