Greening of India's railway network on track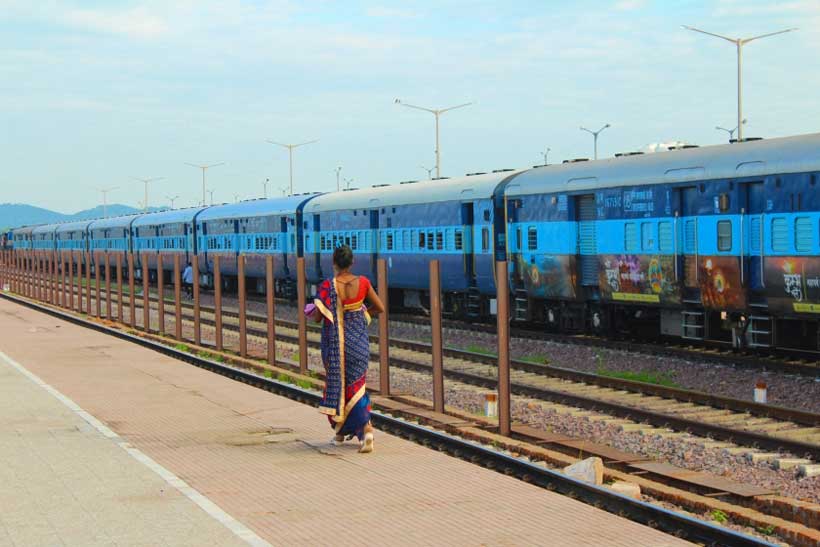 An ambitious plan to make one of the world's largest and most complex railway networks a net zero carbon emitter by 2030 is moving full steam ahead, although without the steam, thanks, in part, to support from the United Nations Environment Program (UNEP).
With over 68,000 kilometres of track and serving over a mind-boggling eight billion passengers a year, Indian Railways is vast and amongst the most complicated and involved transport systems in the world.
And, perhaps not surprisingly, moving hundreds of thousands of passengers each day across tens of thousands of kilometres of network requires enormous amounts of energy, energy which in the past has often been provided by burning polluting fossil fuels. Those fuels have been identified as one of the key drivers of climate change.
India's transport sector contributes to 12 per cent of the country's harmful climate-inducing gas emissions with railways accounting for about 4 per cent of that. One solution is to actually use the railways more and road transport less. Indian railways has committed to increasing the amount of freight transported by rail from about 35 per cent in 2015 to 45 per cent by 2030.
Even though it takes a lot of fuel to move a train, passenger and freight-mile emissions are much lower than levels recorded by vehicle traffic.
"Due to economic development and increased consumption, there is an increasing demand on the resources," said Vinod Kumar Yadav, Chairman of the Railways Board.
The Indian Government has been working on greening the railways, with over half of the network electrified, and a target to electrify the entire network in the next three to four years. Electrification would introduce a more centralized, efficient power system and make higher emitting diesel engines redundant.
"We need to take care of the environmental concerns along with the economic development to ensure sustainability', said Mr. Yadav. "Indian Railways has embarked on a mission to improve energy efficiency and replace fossil fuel sources with renewable energy sources like solar and wind to achieve net zero carbon emissions by 2030".
Reaching that goal would mean eliminating emissions of 7.5 million tonnes of carbon dioxide (CO2) each year, about the same as two coal power plants.
The United Nations Environment Programme (UNEP) has been supporting the efforts of Indian Railways, providing advice and training on sustainability and the green economy.
Atul Bagai, Head of UNEP's India Office, said, "India's rail network has long been an integral part of the country's societal fabric. Greening the railways not only is vital to achieve the Government's climate objectives but is also an important symbol of India's environmental initiative. UNEP is proud to assist these efforts through training and other support."
Emissions from power generation are only one part of the equation. Indian Railways is also looking to make stations and installations green-certified. Over 100 water treatment and recycling plants have been established.
And, in a unique development, the railroad operator has fitted long-distance coaches with bio tanks to deal with human waste from passengers. These bio tanks may prevent emissions of up to 155 tonnes of CO2 annually.
With more people and more freight set to ride the rails as India's economy grows, it will be more important than ever to ensure that the future of India's renowned rail network is sustainable.
UNESCO 'eDNA' initiative to 'unlock' knowledge for biodiversity protection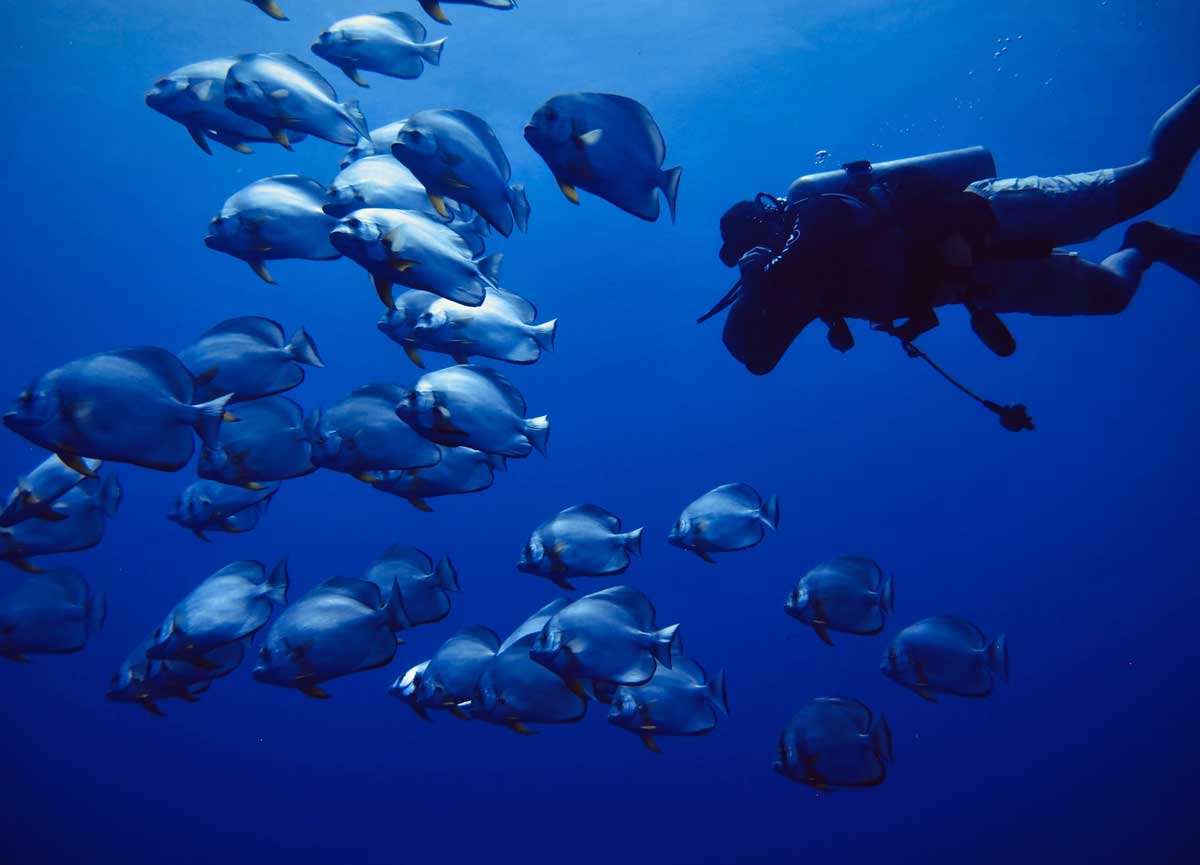 To understand the richness of biodiversity across World Heritage marine sites, the UN scientific organization launched on Monday a project to protect and preserve biodiversity, based on the study of environmental DNA – cellular material released from living things into their surroundings.
Launching the new programme, the UN Educational, Scientific and Cultural Organization (UNESCO) said that scientists and local residents would take samples of genetic material from fish waste, mucous membranes or cells, eDNA, to monitor species.
"Marine World Heritage sites play a critical role in protecting marine ecosystems of exceptional universal value and provide opportunities for the public to appreciate and preserve marine environments", reminded UNESCO Assistant Director-General for Culture, Ernesto Ottone Ramírez.
Species under threat
UNESCO said that the two-year initiative would help measure the vulnerability of marine biodiversity to climate change and its impact on the distribution and migration patterns of marine life across World Heritage sites.
The eDNA project, which involves collecting and analyzing samples from the environment – such as soil, water and air – rather than an individual organism, will also better monitor and protect endangered species included in the International Union for Conservation of Nature (IUCN) Red List. 
"Climate change is affecting the behaviour and distribution of underwater life and we must understand what is happening so we can adapt our conservation efforts to evolving conditions", explained the UNESCO official.
Beneath the waves
UNESCO's marine World Heritage sites are recognized for their unique biodiversity, outstanding ecosystems, or for representing major stages in Earth's history.
In the context of the UN Decade of Ocean Science for Sustainable Development (2021-2030), the project was launched to contribute to the understanding of global trends and knowledge to preserve marine ecosystems.
Since 1981, when Australia's Great Barrier Reef was inscribed at UNESCO's first marine site, a global network of 50 others are now included as "beacons of hope for healing the ocean", according to the UN agency.
Guided by expert support, the eDNA project will engage local citizens to gather material, so samples such as particles gathered through water filtering, can be genetically sequenced in specialized laboratories, without having to disturb animals themselves.  
Implemented by UNESCO's Intergovernmental Oceanographic Commission (IOC) and World Heritage Centre, IOC chief Vladimir Ryabinin described the project as "a step toward the Ocean Decade's vision of unlocking the knowledge we need to create the ocean we want by 2030".
Breaking new ground
The use of eDNA in ocean monitoring and data collection is still in its infancy and standard protocols for sampling and data management will be streamlined in UNESCO's groundbreaking eDNA project. 
For the first time, it will apply a consistent methodology across multiple marine protected areas simultaneously, helping establish global standards, data monitoring and management practices while making that information available to the public.
All data will be processed and published by the Ocean Biodiversity Information System (OBIS), the world's largest open-access data system on the distribution and diversity of marine species, maintained and collectively supported by a worldwide network of scientists, data managers and users. 
Sustainability goal
The project works to advance the world's understanding of life in the ocean, and establish conservation and management policies indicators.  
"eDNA sampling can provide an innovative, affordable, and long-awaited capacity to better understand the ocean ecosystems, their composition and behaviour, and to start managing ocean resources more sustainably", said Mr. Ryabinin.
Act Urgently to Preserve Biodiversity for Sustainable Future — ADB President
The world must act urgently to preserve ecosystems and biodiversity for the sake of a sustainable future and prosperity, Asian Development Bank (ADB) President Masatsugu Asakawa said at the opening of a global event on biodiversity here today.
"The world is at a critical turning point. If we are to reverse the alarming decline in nature, we must respond with urgency and coordinated action," Mr. Asakawa said. "These efforts are needed to ensure the survival of our ecosystems, and for the sake of our shared future and prosperity."
Asia and the Pacific is one of the most biodiverse regions in the world—home to 17 of the 36 global biodiversity hotspots, 7 of the 17 megadiverse countries, and the greatest marine diversity. "If restored and well-managed, these natural capital assets can help to mitigate global climate change and biodiversity loss in a cost-effective and impactful manner," Mr. Asakawa said in his opening remarks at the Ecological Civilization Forum at the 15th Conference of Parties to the Convention on Biological Diversity (COP15) in Kunming, the People's Republic of China (PRC).
The event is cohosted by the PRC's Ministry of Ecology and Environment, Yunnan provincial government, and the Secretariat of the Convention on Biological Diversity. Participants include high-level representatives from governments, the private sector, development agencies including ADB, and civil society.
ADB is committed to helping accelerate and increase nature-positive investments in Asia and the Pacific. "Through our ADB Nature-Positive Investment Roadmap, we are working with partners to scale up finance, develop knowledge of natural capital, and generate financially sustainable projects that deliver on biodiversity and healthy ecosystems," Mr. Asakawa said.
At COP15, ADB is launching a new publication, Greening Development in the People's Republic of China, which outlines how ADB and the PRC have successfully partnered to promote green development and ecological restoration in a way that complements economic and social priorities.
In partnership with the Chinese Academy of Science and Stanford University, ADB is sharing progress on its new Natural Capital Lab due for launch in 2022. This will be a digital platform for sharing methods for valuing biodiversity and ecosystems, and for building knowledge, capacities, and alliances across the region.
In addition, ADB with partners will be launching the Regional Flyway Initiative that will conserve ecosystem services that support people and critical habitats for more than 50 million migratory waterbirds.
Greenpeace Africa reacts to DRC President's decision to suspend illegal logging concessions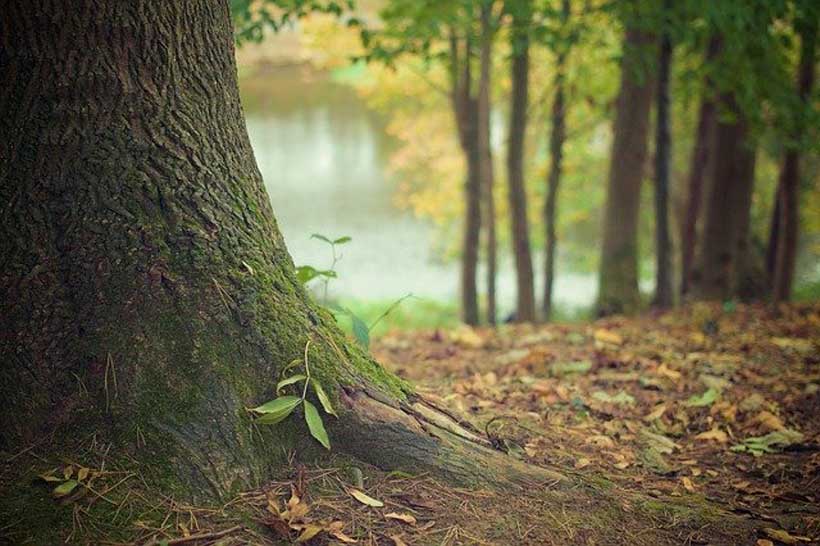 The President of the Democratic Republic of Congo (DRC), Félix Tshisekedi, ordered on Friday, October 15th, the suspension of all dubious logging concessions, including the 6 granted in September 2020. Greenpeace Africa, one of the civil society organizations that denounced these concessions, applauds the decision taken by the Head of State and encourages him to remain vigilant and ensure its effective execution by Deputy Prime Minister Ms. Eve Bazaiba.
Greenpeace Africa reiterates its call for maintaining the moratorium on new industrial logging concessions to prevent a human rights and climate catastrophe. This logging sector, characterized by bad governance, favors corruption and remains out of touch with the socio-economic needs of the Congolese people and the climate crisis we live in.
Irène Wabiwa Betoko, Head of the International Congo Basin Forest Project of Greenpeace: "The decision of H.E. President Tshisekedi against the illegal actions of former Minister Nyamugabo sends an important message to the Congolese people and their government. It is also a red light for the plans of Ms. Ève Bazaiba, current Minister of the Environment, to open a highway to deforestation by multinational logging companies through lifting the moratorium on new industrial concessions."
The President asks to "Suspend all questionable contracts pending the outcome of an audit and report them to the government at the next cabinet meeting." Greenpeace Africa maintains that the review of illegalities in the forest sector must be transparent, independent, and open to comments from civil society organizations.
Ms. Wabiwa adds that "Both the protection of the rights of Congolese peoples and the success of COP26 require that the moratorium on granting new forest titles be strengthened. We again call on President Tshisekedi to strengthen the 2005 presidential decree to extend the moratorium."
Ms. Wabiwa concludes that "instead of allowing new avenues of destruction, the DRC needs a permanent forest protection plan, taking into account the management by the local and indigenous populations who live there and depend on them for their survival."