Highlighting the impact of brands in an increasingly digitalization-driven world economy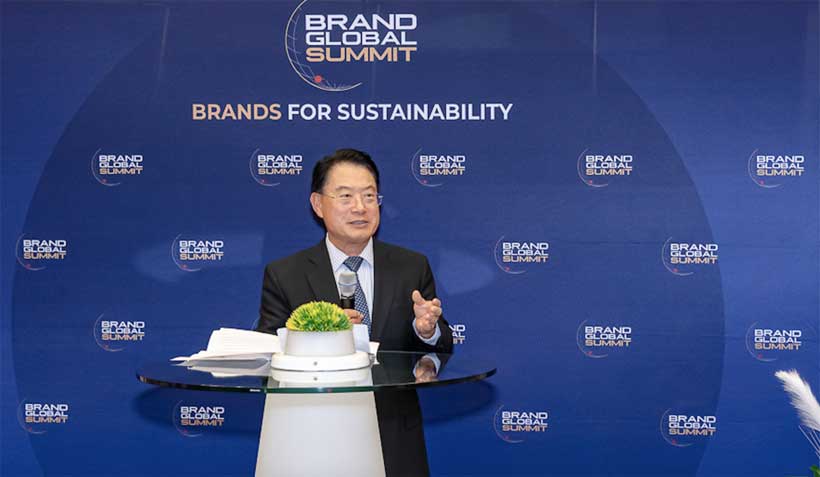 The United Nations Industrial Development Organization (UNIDO), and the European Brand Institute (EBI), held the 16th Brand Global Summit at the Vienna International Centre and online. The Summit brought together leading branding experts and government representatives, and showcased success stories of Branding for Sustainability – a theme that raises awareness of brands' impact on business performance, upgrading and sustainable development.
The event was held in an online and offline hybrid format, gathering hundreds of participants from government, business, academia and international organizations. Discussions highlighted the ever-growing importance of branding and intellectual property, particularly in times of COVID-19 and increased digitalization.
"The pandemic has brought inevitable challenges, but also opportunities. As we have seen during this pandemic, digitalization has accelerated dramatically. It has opened a window of opportunity for new approaches, including in branding," noted LI Yong, Director General of UNIDO.
Gerhard Hrebicek, President of the EBI, underlined the fact that "brands are the most valuable intangible assets that, unfortunately, remain the least understood".
UNIDO has pioneered branding as a tool for sustainable and inclusive industrial development. Since launching the service module, "Branding for competitiveness and sustainable growth (B4C)", the approach has generated a number of success stories across the globe and industries. Examples of corporate-, destination-, city- and region- branding initiatives showd the value of (umbrella) branding initiatives for improving product quality, leading to more competitiveness, sales and contributing to sustainable development.
Investment in brands show superior returns and short payback times, as UNIDO's project beneficiaries showcased. UNIDO's branding initiatives have had a large impact on Armenia's textile sector, Cuba's agribusiness development, Namibia's sustainable bush harvesting, Morocco and Tunisia's food-processing, and Tajikistan's carpet industries, leading to an increase in tax income, exports and job creation.
Representatives from the private sector also emphasized the value of brands and highlighted the need for a uniform approach to brand evaluation. Only 10% of companies make use of brands, so "branding has to be democratized, proactively managed and measured, thereby resulting in increased competitiveness, innovation and sustainable development, contributing to the SDGs," Hrebicek added.
Speakers identified financing for companies through brands and the potential and challenges of digitalization for brands as among the main challenges. It is easier than ever to become global, by going online, but that requires integrated planning and a strategic branding and digitalization initiative, suggested Austria's Federal Minister of Digital and Economic Affairs, Margarete Schramböck, who underlined that "branding for digitalization is key, and comes first in all the initiatives."
Hhighlighting the benefits, UNIDO's Li noted: "As digitalization continues to accelerate dramatically during the pandemic, UNIDO incorporates the perspective of developing countries that turn towards innovation-intensive production and intelligent marketing, including strategic branding as a tool to advance inclusive and sustainable industrial development".
To address the challenges going forward, UNIDO and the EBI will further expand their branding activities globally. Raising awareness of the value of brands and realize their potential for sustainability will require the combined efforts of this partnership, the private sector's awareness and public support. Bringing the discussion to the highest levels and decision-makers, branding can guide companies on innovative paths to increase their value added and achieve sustainability. Therefore, UNIDO and EBI are planning a Brand Global Summit roadshow, with worldwide coverage, to address the bottlenecks of branding and increase strategic brand management's efficacy for sustainable development.
US Anti-Inflation Law threatens Europe
Europe and the US are heading towards a serious trade and economic conflict, writes "Berliner Morgenpost".
In the European Union hopes are fading that the US government will significantly amend the controversial subsidies law by providing billions in bailouts to US manufacturers. This forces the EU to protect domestic companies from threatening competitive advantages over US competition and to prevent investment from moving to America.
Fear of the "de-industrialization" of Europe is spreading. For example, buyers of a "Made in USA" electric vehicle with a battery also made in the USA receive a $7,500 subsidy. Subsidies also go to companies that make wind turbines or solar panels from American steel. Europeans are worried that not only will they have to contend with heavily subsidized US competition in future strategic sectors, but industrial cooperation with US companies could also be threatened.
The head of the trade committee in the European Parliament, Bernd Lange, told: "I assume that a few small changes to implement the IRA can still be agreed upon in the negotiations. But I do not think that anything will change significantly, because the Law has already been passed."
The US IRA law goes into effect on January 1. By that time, the EU countries should have found a common line. France is already openly threatening a trade war and agitating for a tough counterattack: the EU should take a protectionist course and respond with the Buy European initiative. But there are also concerns in Berlin.
An EU trade expert argues that lower energy prices for industry should be considered, as they are currently ten times higher than in the US. European Commission economic policy spokesman Markus Ferber is also calling for a hard line: If the US side doesn't give in now, the EU commission should "put all instruments of torture on the table" and consider boosting trade. Disappointment with the protectionist course of US President Joe Biden is great, Ferber says: "The American anti-inflationary law threatens Europe, and can make its economic situation much worse."
International Affairs
Macron vs U.S. Inflation Reduction Act
Emmanuel Macron warned that the U.S. risked "fragmenting the West" with a flagship climate law that the French president said would distort competition by massively subsidizing American companies to the detriment of European industries, informs "The Financial Times". The harsh words, which came on the first day of his state visit to Washington hosted by president Joe Biden.
In a speech at the French embassy in Washington, Macron said while he agreed with the objectives of Biden's Inflation Reduction Act, it would have negative repercussions for Europe by making it less attractive for companies to invest there. "We need to co-ordinate and re-synchronize our policy agendas."
Macron called the new U.S. Inflation Reduction Act (IRA) "super aggressive for our companies," according to comments reported by Agence France-Presse and confirmed by a person present. "Perhaps this law will solve your problems but it will make mine worse," he said, adding that many jobs would be destroyed.
Macron has also called on the EU to pass a so-called "Buy European Act" that would offer similar subsidies to local industries. Other countries such as Germany are less supportive of the idea.
U.S. President Joe Biden was forced to retract. He said that new laws that give incentives for domestic production of computer chips and renewable energy parts were never intended to exclude European allies and could be tweaked.
Speaking with French President Emmanuel Macron at a joint press conference at the White House, Biden said "There are tweaks that we can make that can fundamentally make it easier for European countries to participate and/or be on their own."
The United States and France also announced the formation of 'Joint task force' between the Unites States and the European Union to deal with trade disputes around clean energy issues emerging from the IRA.
Europe's industry fears that the bill, which gives tax credit for each eligible renewable energy component produced in a U.S. factory, would take away potential investment from the continent.
Biden said he makes no apologies for promoting American manufacturing of essential goods, but said large legislation often requires tweaks to deal with unintended consequences.
"We're going to continue to create manufacturing jobs in America but not at the expense of Europe," Biden said.
Macron told reporters that he was encouraged by his talks with Biden and is hopeful of a fair resolution.
…We'll see whether Biden keeps his word or not.
International Affairs
FOCUS: The German economy is in a dangerous pliers
The politicization of trade relations is proceeding rapidly. German Economics Minister Robert Habeck said: "The phase where many thought markets should rule and politicians should stay out is definitely over. Previously, this idea was wrong," – quotes FOCUS.
The German economy is in a dangerous pliers. The craziness is that it is not the Russians or the Chinese who move with both hands in the tongs, but the Americans, who are clearly determined to organize their future prosperity at the expense of the Chinese and Europeans.
Pliers consist of two very different legs:
– On the one hand, the US Inflation Reduction Act (IRA) is primarily aimed at reducing US inflation. In fact, this is a gigantic program to subsidize new technologies. The legislative package plans to spend $369 billion over the next decade on energy security and climate change programs, putting pressure on European industry. The US wants to reinforce its industrial base again.
In some cases, subsidies offered by the US government are four to ten times the maximum government support allowed by the European Commission, French Finance Minister Bruno Le Mer said.
– On the other hand, US government sanctions against China's semiconductor industry are putting pressure on China, and German industry is also suffering from restrictions. Chinese manufacturers make up one-fifth of the global semiconductor industry, and their European customers and suppliers are required to follow US policy.
Dutch company ASML was under pressure from US officials to stop selling individual chip-making machines to China, Bloomberg reported.
International Affairs