Countries face 'critical moment' in COVID response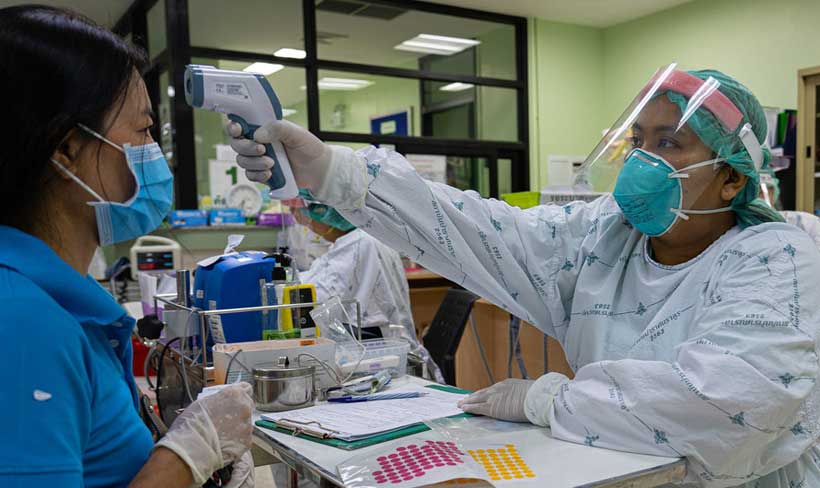 With strong leadership and comprehensive strategies it's never too late for countries to change the trendlines of the COVID-19 pandemic, despite passing the tragic milestone of one million deaths this week amid regional surges in infections, said the head of the World Health Organization (WHO) on Friday.
To be sure, countries are also seeing some two million new COVID-19 cases each week, WHO Executive Director Tedros Adhanom Ghebreyesus told reporters at his latest press briefing in Geneva.
Varying country contexts
Describing four varying national situations, he said those countries that jumped on the virus quickly have avoided large outbreaks. Others had large outbreaks but were able to bring them under control and continue to suppress the virus.
Some economies that had controlled an initial outbreak, and subsequently eased restrictions, have seen an increase in cases, he said. And there are still other countries that are in the intense phase of transmission.
Turning the tide
"It is never too late to turn the tide", he assured, stressing that in every region, countries have developed a collective blueprint for suppressing the virus – and saved both lives and livelihoods.
For its part, WHO will continue to support national action plans through its regional and national country offices.
"This is a critical moment in the outbreak response", he said, urging leaders to strengthen their response by putting in place targeted measures to suppress the spread and ensuring that health systems and workers are protected.
Solidary equals speed
"For us all, the fastest way for us to get through this is to act together", he stressed. He issued a call to "keep doing the basics" of physical distancing, hand washing, mask wearing, and coughing and sneezing safely away from others. It is also important to avoid crowds and keep windows and doors open when it is not possible to meet friends or family outside.
Tedros welcomed the $1 billion in new funding announced for the Access to COVID-19 Tools (ACT) Accelerator, a collaboration to speed the development, production and equitable access to COVID-19 tests, treatments and vaccines.
Recalling that WHO approved its first antigen-based rapid diagnostic test for Emergency Use Listing, he said "these tests are simple", providing reliable results in 15-30 minutes – rather than hours or days – at lower prices.
Expressions of interest
He also announced that WHO published today a call for expressions of interest by manufacturers of COVID-19 vaccines – to apply for approval for prequalification and/or Emergency Use Listing.
"Sharing finite resources – from tests to therapeutics to vaccines – is not charity", he clarified. "It is the smart play for all countries, as it will ensure that they can protect those at most risk."
US President and COVID-19
Tedros began the press conference, wishing both President Trump and the First Lady of the United States, "a full and swift recovery. Our prayers are with them", he said.
Responding to a journalist's question about whether the President's "disregard" for mask-wearing made it inevitable that he would contract COVID-19, WHO Emergencies Executive Director, Dr. Mike Ryan, said that the agency does not comment on the risk management measures or behaviour of any individual.
"We don't know what risk management measures were in place", he said, especially for someone as prominent as a president. "What we will reiterate, is that each and every individual and each and every citizen should be guided by the national guidance in their country."
We all know "the combination of different measures that reduce risk", said Dr. Ryan, "and we know these reduce risk; washing your hands, staying a safe distance from other individuals, avoiding crowded spaces, wearing a mask…and doing all of that to protect yourself and others, is the best way to protect society. Our advice doesn't change."
"We are a community, and we will get through this together", he added.
WHO probe of DR Congo abuse allegations
Tedros also addressed disturbing news from the Ebola response in the Democratic Republic of the Congo (DRC) of alleged sexual exploitation and abuse by people identifying themselves as working for WHO.
"To be very clear, we are outraged," he said. "The betrayal of people in the communities we serve is reprehensible."
WHO will not tolerate such behaviour from its staff, contractors or partners, he said, emphatic that anyone identified as being involved will be held to account and face serious consequences, including immediate dismissal.
Tedros said he has initiated an investigation into the charges, as well as broader protection issues in health emergency response settings.
Russian Ministry of Defence: We acquired over 20,000 documents of the U.S. biological programmes
Briefing by Lieutenant General Igor Kirillov, chief of Nuclear, biological and chemical (NBC) protection troops of the Ministry of defence of the Russian Federation. Jan. 30. Main points:
– The Ministry of Defence of the Russian Federation has repeatedly noted the signs of the implementation of 'dual-purpose programmes' by the USA and its allies outside their national territories, including within the operation of the biolaboratories funded by the Pentagon or its contractors.
– We have previously informed about the works on enhancing the pathogenic characteristics of COVID-19 causative agent, carried out at Boston University with funds of the U.S. state budget, as well as the possible involvement of the United States Agency for International Development (USAID) in the emergence of the new coronavirus.
– The high degree of readiness of the U.S. mRNA vaccine manufacturers for a pandemic of the new coronavirus infection raises questions. One gets the impression that pharmaceutical companies had produced the vaccine preparations in advance, being unable to rapidly introduce them into the market due to specific characteristics of the virus that embodied in low efficiency of vaccination and numerous side effects.
– It is to be reminded that on 18 October 2019, two months before the first official reports about the emergence of the new coronavirus infection in China, the John Hopkins University, supported by Bill & Melinda Gates Foundation, conducted Event 201 exercise in New York.
– Outbreak of the COVID-19 pandemic precisely according to this scenario raises questions about its premeditated nature, involvement of the USA in this incident, as well as real objectives of the U.S. biological programmes aimed at enhancing the characteristics of dangerous pathogens.
– We have repeatedly noted that the United States conduct the studies that are most controversial in terms of the international law outside the national territory.
– The premises of Pharmbiotest Medical Centre in Rubezhnoye were explored during the special military operation in the liberated territory of the Lugansk People's Republic. It was a venue for clinical trials to test the medicinal products that caused serious side effects: they include medications for treating leukaemia, mental disorders, neurological diseases, epilepsy, and other dangerous illnesses.
– In early 2023, residents of Lisichansk found a large landfill of biomaterial residues that belong to Pharmbiotest. The clinical samples and patients' clinical records with their personal data were buried instead of being cremated or eliminated in appropriate manner, prescribed by the rules. This means that the evidence were being eliminated in extreme hurry.
– During the special military operation, Russian personnel acquired over 20,000 documents, reference and analytical materials, as well as surveyed witnesses and participants of the U.S. biological programmes. The abovementioned materials confirm that the Pentagon aimed at creating elements of a biological weapon, and testing it on the population of Ukraine and other countries along the perimeter of the Russian borders.
– The Russian Defence Ministry has already mentioned the names of the participants of the military and biological programmes, including those of the U.S. Democratic Party representatives, employees of the U.S. military department, and the Pentagon's contracting organisations. The DTRA reports have led us to the new information about key persons involved in the so-called Ukrainian projects who have been staying in the shadow until now.
Among of them are:
a) Karen Saylors, CEO at Labyrinth Global Health and ex-director of Metabiota's programmes in Central Africa. Since 2016, Saylors has worked in Ukraine as leading advisor at the UP-10 project, dedicated to studying ways of spreading of African swine fever.
b) Colleen B. Jonsson, an employee of the University of Tennessee, Director of the Institute for the Study of Host-Pathogen Systems. She observed the UP-8 project, dedicated to studying the capabilities of the Crimean-Congo fever's causative agent in Ukraine. Jonsson managed the selection of biological samples from Ukrainian personnel, provided the cooperation between the contract specifiers in the USA and the Center for Public Health of the Ministry of Health of Ukraine.
c) Lewis Von Thaer, President and CEO of Battelle company, a major contractor of the Pentagon and U.S. Department of Energy. Since 2003, the company has been responsible for organising research projects in Ukraine related to zoonotic infections.
– The active action of the Russian Defence Ministry has resulted in halting the military biological programmes in Ukraine. In this regard, the Pentagon is actively relocating the studies, that have not been completed within the Ukrainian projects, to Central Asia and Eastern Europe countries. At the same time, the cooperation with African and Asia-Pacific countries – Kenya, Singapore, and Thailand – is being actively enhanced.
– Under the pressure from the international community, Washington changes its approaches to organising its military biological activity, transferring the functions of the customer to purely civilian departments: the Department of Health, Department of Energy, and the Agency for International Development. This will allow the U.S. authorities to avoid criticism at international venues, and deflect a blow from the Department of Defense and DTRA.
– The funding, imposed by the collective West, makes the post-Soviet countries conceal the true nature of these works. The European Union is actively promoting the initiative to deploy a network of centres of 'excellence' in the field of nuclear, biological and chemical protection, that provides for placing EU-funded biolaboratories in the territories of the former Soviet Union. The prospective partners are highly recommended '…not to advertise this initiative due to its extreme sensitivity for the Russian Federation…'
– At the same time, it is stressed that the Central Asian countries '…are already taking benefit from technical cooperation with the European Union…'
– In 2022, the USA, Canada, and EU countries initiated programmes to employ and relocate the Ukrainian professionals, who had been involved in military biological works before, to Western countries. It is primarily due to the concerns that the Russian law enforcement can receive additional testimonies to the illegal activities carried out in violation of international obligations.
– It is to be emphasised that the strategy of 'military and biological expansion' is not fundamentally new, and it was founded by the United States back in the period of the Korean conflict.
– Since the 1950s, biological laboratories were established in Africa, Central and South America, as well as South-East Asia, with the priority role of the U.S. Navy. Their main objective was to sample causative agents of highly dangerous infections, and determine the level of morbidity among local population.
– It is to be reminded that lobbying the interests of large pharmaceutical companies by the U.S. government is a common practice. Back in 2010, the operation of a U.S. Navy Medical Biological Centre in Jakarta was ceased due to a 'conflict of interests' and various violations. The Americans performed their works outside the agreed research programme, carried out unauthorised sampling, and refused to inform the Indonesian government on the purposes of their works and the results achieved. These biomaterials turned out to be used to the benefit of the Gilead company, affiliated with the Pentagon, that tested their preparations in Ukraine and Georgia (including, but not limited to).
– The Indonesian example was followed by Malaysia: the government of that country decided to establish special control over the activities of the U.S.-funded biolaboratory.
– Therefore, the concerns of the international community, related to the activities of the Pentagon-funded biolaboratories, is gradually increasing.
– The issues, raised by the Russian Federation at the international venues – the Nineth Review Conference of BTWC Member States, and the UN Security Council – have revealed the reluctance of the USA to conduct a substantive dialogue.
– Russia considers it extremely important that the disclosure of the facts that reveal the illegal military and biological activities have caused various countries to consider possible consequences of their biosafety cooperation with the USA, and take a fresh look at the necessity and rationale of this kind of cooperation.
– The Russian Defence Ministry will continue its work in this direction and report on it.
Biden's big foreign policy idea is in danger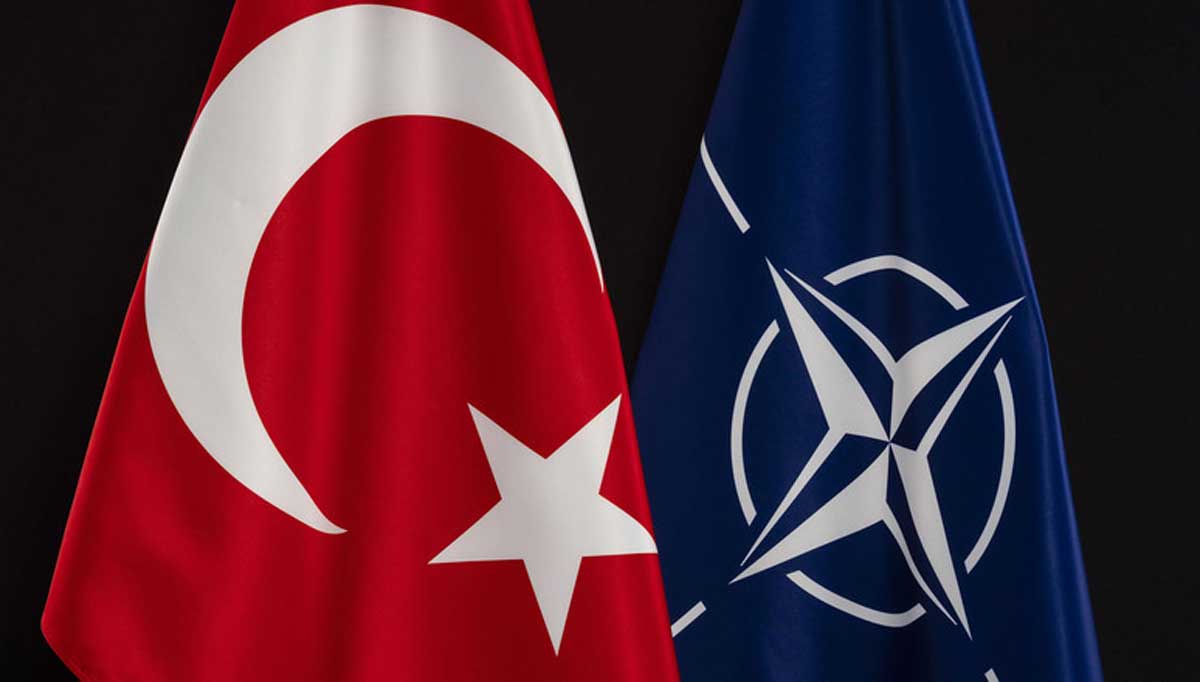 President Biden won Senate support last year for a big expansion of America's military commitments in Europe that was also a body blow to Russia's imperial designs: having Sweden and Finland join NATO. But those plans are now in danger. Because of Turkey. And the Senate, 'The Washington Post' laments.
At the ranks of NATO all of the alliance's 30 members must agree to bring in new members. That's a necessity when the core NATO promise is to come to the defense of other members should they be attacked.
Now there were signs that Turkey and Hungary — which often side with Russia, though in different ways — might balk or at least try to exact some concessions. Turkey, for example, did make sweeping demands related to groups or individuals it considers terrorists.
Sweden, which says it has met some of the demands, recently said Turkey was asking for too much. Turkey said last month Sweden was not even "halfway" to meeting its conditions. Though NATO Secretary General Jens Stoltenberg said earlier this month it was time to end the process and admit Sweden.
Associated Press notes: Erdogan slammed Rasmus Paludan's Quran-burning protest in Stockholm, saying it was an insult to everyone, especially to Muslims. He was particularly incensed at Swedish authorities for allowing the demonstration to take place outside the Turkish Embassy under 'the protection' of security forces. He said: "It's clear that those who allowed such vileness to take place in front of our embassy can no longer expect any charity from us regarding their NATO membership application."
"So you will let terror organizations run wild on your avenues and streets and then expect our support for getting into NATO. That's not happening," Erdogan said. So he dealt another blow to Sweden and Finland's prospects, postponing accession talks with the Nordic countries.
At the White House, press secretary Karine Jean-Pierre told reporters the burning of the Quran was a "deeply disrespectful act" but underlined that Finland and Sweden had already taken "concrete steps" to satisfy Turkey's previous conditions. She also said the United States sees the Turks as "reliable partners."
The protests fit into the "lawful but awful" category, said State Department spokesman Ned Price. "Ultimately, this [NATO accession] is a decision and a consensus that Finland and Sweden are going to have to reach with Türkiye."
Can Erdogan back down? Can U.S. lawmakers who object to the sale? Whether NATO gains Sweden as well as Finland — and its roughly 800 miles of shared border with Russia? — All may depend on Turkish President, writes 'The Washington Post'. So, Biden's 'big foreign policy idea' – to enlarge NATO – is in danger.
High blood pressure? A heart app prescribes musical therapy
By ANTHONY KING
The opening of a Beethoven symphony thrills the heart – but not just figuratively. While music touches us emotionally, it stimulates the heart physically and can lower blood pressure.
More than one in five people aged 15 years and over in the EU have reported having high blood pressure, which can lead to failure in the heart, kidneys or brain. Lowering blood pressure even slightly can reduce the risks of cardiovascular disease.
Heartfelt tunes
From the Science and Technology of Music and Sound Laboratory in Paris to King's College London, Professor Elaine Chew is developing an app for smartphones to boost heart health as part of an EU-funded project called HEART.FM.
'We're creating an app that will monitor people's response as they listen to music and then tailor that music to benefit them,' said Chew, a professor of engineering at King's who collaborates with St Bartholomew's Hospital in London.
The app uses measurements of the person's heart and artificial intelligence algorithms to create a listening regimen that regulates blood pressure.
While HEART.FM stands to help people today, another EU-funded project called GOING VIRAL looks back at how public perceptions and uses of music in Europe have evolved through the course of disease outbreaks over the past four centuries.
In the 17th century, music was believed by many people in Europe to have the power to stop or even prevent an outbreak of the plague, according to Professor Marie Louise Herzfeld-Schild, who leads GOING VIRAL and is a musicologist at the University of Music and Performing Arts Vienna.
The two projects show how popular views of music have changed since the days of Handel, and the heightened power of music when combined with modern technology.
Personal perspective
Chew has a personal connection to the project. She had suffered from an irregular heartbeat, which was successfully treated. The experience made Chew conscious of her own and others' heart health.
'Medicine made it possible for me to have a much better quality of life and it led me to rethink the purpose of what it is I do,' she said.
A professional-level piano player herself, Chew has since 2018 studied how people's hearts respond to music, starting with patients who have pacemakers.
A pacemaker is used to treat some abnormal rhythms – called arrhythmias – that can cause the heart to beat too slowly, too fast or irregularly. The pacemaker enables a patient's heart to beat regularly by sending electrical pulses to it.
Chew and colleagues at St Bartholomew's Hospital discovered some good news: the recovery time between beats of the hearts of people with pacemakers could be modulated by music. In general, quicker recovery times signal stress, while longer ones indicate relaxation or calm.
Chew is drawing on the findings of her work involving pacemaker patients to develop the HEART.FM app for a much broader group of people.
'People enjoy music as a pleasurable pastime – the difference here is that we are monitoring how the body responds,' she said.
HEART.FM's goal is to fingerprint the cardiovascular responses of people listening to music. Chew often hooks up students to the testing device and then sends them data from the app so they can see their own physiological response to music.
The app in development would be downloaded onto a smartphone by users to track their heart's rhythmical responses to music and to guide them on a therapeutic path to lower blood pressure. The plan is to make the app globally available for download from app stores.
Shifting views
Under GOING VIRAL, funded by the European Research Council, Herzfeld-Schild is interested in how Europeans of bygone eras felt about music.
Her project is investigating and comparing the emotional experiences that people had from music during three epochs of disease outbreaks in Vienna: plague in 1679 and 1713, cholera in 1831 and flu in 1918-19.
Herzfeld-Schild believes that emotional experiences differ through the periods of history.
'The way we navigate the world emotionally is bound to our upbringing and what we learned about the world,' she said. 'That changes how we feel about music.'
During the plague outbreaks, people in western Europe often blamed the planets and believed music could influence them and, as a result, end or ward off the pestilence.
At the same time, there was also a belief that contaminated items could make you sick. Records exist of people burning instruments or sheet music.
'Music in that context was dangerous,' said Herzfeld-Schild. 'Religion was quite important, so people understand the plague to be a punishment from God.'
Alternatively, they would blame Jews or foreigners from the East, she said.
Musical escapes
During the 1700s, perceptions in Europe evolved again to embrace the idea of music as a source of listening bliss.
'The idea of a universal kind of "true" music and that music is good for everyone begins in the 18th century,' said Herzfeld-Schild. 'Also, in the late 18th century, there arises this idea of music as a kind of religious experience, like a revelation, or escape from this bleak life.'
By the time of the cholera outbreak in the 19th century, medical practices and popular attitudes to music had shifted. Once people realised that this disease had its origins in dirty water, charity balls were run in Vienna for cholera victims and even featured new music from the composer Johann Strauss.
The final outbreak that Herzfeld-Schild will investigate is the so-called Spanish flu, which started in 1918. It came when some people could buy early versions of gramophones and listen to music in their own homes.
This was a tumultuous time for Austria because the first flu outbreak coincided with the end of the First World War, collapse of the monarchy and disappearance of the Habsburg Empire.
'There's really a lack of knowledge about how music was perceived emotionally during these times of diseases,' said Herzfeld-Schild.
During the Covid-19 pandemic that started in 2020, she noticed that people seemed to assume a shared experience with those who faced disease outbreaks in earlier eras. But this supposition seemed wrong to Herzfeld-Schild based on her study of the history of music, medicine and emotions for more than a decade.
'From everything I know, right now, the emotional experiences of music during pandemics have been different throughout times and throughout places,' she said. 'I'm sure it was very different for people in the past.'
Research in this article was funded via the EU's European Research Council (ERC). This article was originally published in Horizon, the EU Research and Innovation Magazine.