Within the framework of the joint declaration adopted in Sochi, the Ministry of Foreign Affairs of the Russian Federation created a Secretariat of Russia-Africa Partnership Forum. The Secretariat's primary task is to coordinate efforts for promoting cooperation between Russian and African business associations, ensure political and diplomatic support for projects carried out by Russia's state-run and private companies in Africa, and coordinating aspects of preparations for future Russia-Africa summits.
During its September meeting, the Secretariat created Coordinating Council headed by Chief Executive Officer and Chairman of the Roscongress Foundation Alexander Stuglev. Early October, Alexander Stuglev gave an exclusive interview to Modern Diplomacy's Special Regional Representative, Kester Kenn Klomegah, in which he discussed some aspects of Russia's plan to raise its economic, investment and trade profile in Africa.
Q: Is it comfortable for you to discuss the key questions that were raised during September meeting of the Secretariat under the slogan "Time to Act" and what is the main advantage to have Roscongress Foundation acting as the coordinator for business-related aspects with Africa?
A: The main objective of the event held in Moscow was to make all stakeholders based in Russia and African States aware of two specialized bodies that were established following the Russia–Africa Summit and Economic Forum in 2019. These are the Russia–Africa Partnership Forum Secretariat and the Association of Economic Cooperation with African States.
The Summit and Economic Forum laid the foundations for further collaboration. The wide-ranging and ambitious task now ahead of us is to create the conditions and to identify opportunities which will allow us to strengthen and increase Russian-African cooperation across the board.
Three interdepartmental councils have been established within the Russia-Africa Partnership Forum Secretariat: a coordinating council, research council, and public council. By working together, these three bodies will enable us to take a comprehensive approach to fulfilling existing and new emerging tasks. We have a great deal of work ahead of us right now, and the outcomes will be discussed at the next Russia-Africa Summit and Economic Forum, which is set to take place in 2022.
For our part, we will continue working hard to promote the African agenda, including at key events organized by the Roscongress Foundation. We will involve all stakeholders in the process, especially our African partners. I have every confidence that the Foundation's experience, extensive international ties, and expertise will enable us to build an integrated ecosystem which will facilitate effective collaboration between the business, political, and expert communities of Russia and Africa. That is our long-term objective as we see it.
Q: What are your views on trade between Russia and Africa following the inaugural Russia-Africa Summit and Economic Forum in October 2019? Trade needs to flow in both directions. What can Russia offer Africa, and vice versa?
A: Russia has achieved impressive results across numerous areas to date, and is ready to share its experience and expertise with its African partners. Specific examples would include agriculture, energy, medicine, digital technologies, and infrastructure projects. There is interest on both sides in working together in these areas – a fact which was demonstrated at the Economic Forum in Sochi. Something that is crucial and extremely relevant for the times we currently live in is the successful experience of working together in healthcare. Up to 60% of yellow fever vaccines imported by Africa are produced in Russia. A Russian vaccine against Ebola has also shown to be highly effective, and is currently being used in Guinea.
At the same time, I am convinced that Africa possesses enormous potential to become, for example, one of the key players on the international food market. It is Russia's objective to help Africa achieve this by entering into an equal and mutually beneficial partnership. By working together, we can fully deal with any of the difficulties which can be encountered in certain regions of Africa. We can increase the amount of cultivated land, improve irrigation systems, and increase the use of fertilizers. I believe that close collaboration in this area could serve as a good example of a mutually beneficial endeavour which results in African states improving their agricultural sectors and increasing production, and over time, in Russia having the opportunity to purchase high-quality agricultural products.
Q: According to official statistics, Russia's current exports to Africa are worth US$20 billion. However, two thirds of exports go to the Maghreb region or North Africa. What could be the reasons for the low level of trade with countries in sub-Saharan Africa?
A: I would highlight two key problems here which have negatively impacted trade with countries in sub-Saharan Africa. Firstly, there is a lack of mutual awareness. Unfortunately, the African continent remains little known in Russia, and in Africa, there's only a vague notion of what Russia is. All of this ultimately leads to the creation and reinforcement of stereotypes, and puts up barriers to more productive cooperation. Russian businesses simply don't know what to expect from Africa or vice versa.
Secondly, the risks can be high, and investors are often not willing to assume all these risks alone. I think that a possible solution to this problem could lie in the creation of mechanisms to facilitate inter-governmental collaboration and provide support. That way, an investor can feel assured that in the event of force-majeure, such as socio-political unrest, their investment is protected by the state in question. An additional security guarantee for investments could be provided by having two or more states involved via subregional organizations and large African banks, for example.
Q: For many years now, trade between Russia and Africa has been unbalanced, and has often been one-sided in Russia's favour. What measures could be taken to overcome this disparity?
A: As I have already mentioned above, the experience and expertise that Russia is able to offer African states can, in the long-run, positively impact the level of exports from Africa to our country. It therefore follows that balancing out trade between Russia and Africa depends, to a specific extent, on the willingness of Russian businesses to invest in promising areas of Africa's economy and to share their knowledge, and on the willingness of partners in Africa to facilitate this process by putting in place all the necessary prerequisites for this to happen.
The mutual awareness factor I mentioned will also play an important role. As far as that is concerned, it will be crucial to raise awareness in our countries, both through having an increased Russian media presence on the continent, and as a result of joint humanitarian initiatives. I believe that centres of expertise and business support centres will do a great deal to help resolve this issue locally, as will working together with the local population on a regular basis.
Furthermore, I would like to highlight the question of mutual trust. An initiative by our partner -the African Export-Import Bank – deserves special attention in this regard. They have built a platform called MANSA, which collates verified information about African organizations which are registered there. That means that MANSA operates as a guarantee of sorts, and as a one-stop resource to find reliable partners on the continent. We will step up our collaboration with Afreximbank in this area and identify common areas of interest together with members of the Russian business community.
Q: Do you see any difficulties for African exporters? What advantages exist, particularly in light of the establishment of the new Eurasian Union, which is made up of five former Soviet republics?
A: Of course, Russian imports of goods from Africa make up the smallest percentage of total trade by some distance (accounting for around 15%). However, this figure is growing faster than the average rate of growth of imports among all trading partners in Africa. There are also no global barriers in this area. You are correct to note that trade and economic ties are being strengthened through regional and continent-wide intergovernmental organizations. Of course, one of the main outcomes of the Summit was the signing of a memorandum between the Eurasian Economic Commission and the African Union Commission. We see enormous potential in this area.
Indeed, since 2010, trade between the EAEU and African nations has grown by almost 170%.Presuming that free talks between the EAEU and Egypt conclude successfully, the parties involved will be able to enjoy free movement of goods, services, and capital. This in itself is already unprecedented in the context of our trade relations with the continent. The EAEU and a number of African countries are already discussing mutual settlements in national currencies in order to avoid incurring cross-rate costs. This, in my objective view, will help boost trade.
Q: The African Union has established the African Continental Free Trade Area (AfCFTA), which allows for the free movement of goods and services across the entire continent. With that in mind, what would be your advice to Russian exporters?
A: For my part, I can say that the establishment of the African Continental Free Trade Area represents an important step forward, both in terms of trade on the continent, and trade with foreign partners. I believe that as competition for African markets increases, it is essential to increase the number of trading partners we have in Africa, to increase the amount of trade we do, and to provide assistance in creating the right conditions for increasing African exports to Russia.
Q: What immediate plans does Roscongress have with regard to Africa? What prospects exist for strengthening relations between Russia and African countries?
A: The Roscongress Foundation's priority is to create opportunities, build communication platforms, and to make it possible for members of the Russian and African business communities to discuss their ideas and proposals directly. Dialogue lies at the heart of everything. Without dialogue, it is difficult to build trusting relations.
That is why we are continuing to collect ideas and proposals from our colleagues and partners so that we can analyse them and try to implement them in practice. There is no doubt in my mind that there is enormous potential to build relations between Russia and Africa, starting with the investment and financial sphere, and ending with various humanitarian projects in culture and sport. Each area is unique and significant in its own way. That is why it is vital to pay close attention to everything, even details which may appear, at first glance, to be wholly insignificant. A comprehensive approach must be employed when building Russian-African relations. It was with this aim in mind that the interdepartmental councils were established.
I would like to highlight the role of the Roscongress Foundation's regional partners who have expressed an interest in working together with Russia. It is our hope that the Foundation's partnerships in Africa will only become stronger and encompass more countries on the continent. For our part, we are always open to new initiatives and mutually beneficial partnerships. After all, it is by working together that we will be able to create a space defined by trust, which is vital in the current environment, as it continues to be shaped by a new reality.[Modern Diplomacy]
Muscle Alone Will Not Be Enough to Release Nigeria from a Perpetual Stage of Instability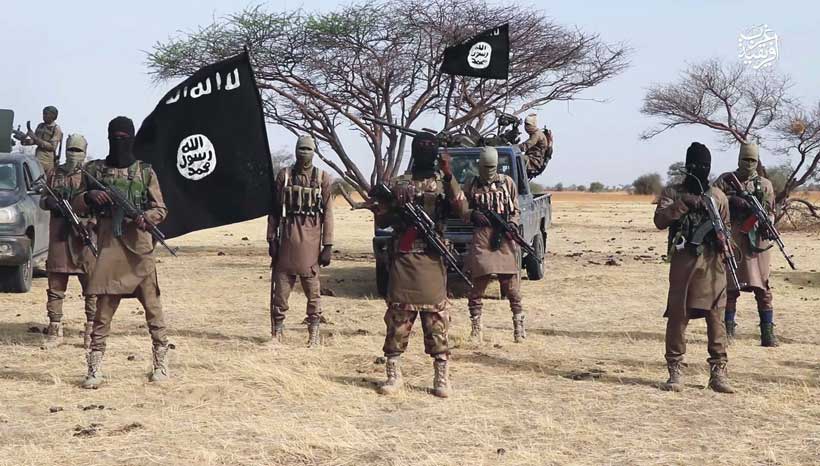 Nigeria is facing a multitude of security challenges, including kidnappings, banditry and successionist movements. The government solution has been consistently militaristic, as exemplified in Buhari's June 2nd incendiary tweets threatening to treat Biafran separatists "in a language they understand." However, the incessant insecurities facing the country are evidence that this response and rhetoric are not only ineffective in terms of conflict resolution but may in fact be aggravating tensions and stoking violence. Instead, to ensure the long-term effectiveness of security efforts, Nigeria requires a comprehensive policy that marries military tools with economic development and responsible governance.
Buhari's problematic tweet was in reference to a wave of attacks by the armed wing of the Indigenous People of Biafra (IPOB) group in the country's southeast. Sentiments of political and economic marginalization in this region, which were at the root of the Biafran Civil War from 1967 to 1970 and killed upward to six million Nigerians, have regularly flared into violence. The secessionist movement in the southeast is just one of the many insecurities facing the country, in which government has consistently employed a military response as its overarching solution, failing to establish a comprehensive strategy that employ a whole-of-government approach. The Nigerian military has mobilized against militant Islamist groups, including Boko Haram in the northeast, since 2009 and intensifying the campaign between 2015 and 2018. Violence, however, has persisted and even increased since 2018. And now, in response to rising kidnappings in the northwestern states of Zamfara, Kaduna, Niger, Sokoto, Kebbi and Katsina, the government bombarded suspected kidnappers' hideouts. Still, these air strikes have not prevented additional kidnappings. While the Buhari government has opted for the traditional belligerent rhetoric and military response to kidnappings, state governments either aligned with the federal government strategy as is the case in Kaduna State, or paid ransoms to kidnappers as we have seen in Zamfara State.
For instance, to quell the rise in kidnappings, the Governor of Kaduna, Nasir El-Rufai, vowed not to further negotiate with kidnappers, nor pay any ransoms, arguing that such practices have made the enterprise highly profitable for criminals. Additionally, any affected family found adhering to the demands of the bandits will be subject to prosecution. The governor has insisted on deploying the military to tackle the insecurity. This approach, too, has been ineffective due to the lack of local governance structure, vast ungoverned spaces, including forests used as hideouts, and inadequate presence and capability of the police. The payment of ransoms, on the other hand, is a paradox as it is an offence against Nigerians, motivating more individuals to join the kidnapping business and fueling a perpetual cycle of instability in the region.
The twin approaches of an aggressive military response and payment of millions of dollars to miscreants that fuels criminality in the northwest can only exacerbate Nigeria's security problems. The country's security challenges cannot be solved and risk worsening if the government does not address the underlying issues of "weakened, stretched and demoralized security services," as former U.S. Ambassador to Nigeria John Campbell puts it, as well as poor governance, high poverty rates, and the exponentially dire lack of economic opportunities for the youth population. Criminality, however rampant, does not call for a heavy military response, as at its core it is a law-and-order failure. And as such, it ought to be the responsibility of the national police and law enforcement. The challenge, however, is the lack accountability of the police, as epitomized by the 2020 ENDSAR movement. An emphasis must be placed on community policing structures, wherein a collaborative partnership between the police units and relevant stakeholders within the communities they serve are formed, to build trust in the police and to develop solutions to insecurity. It is imperative for the relevant local stakeholders involved in the community policing structure to also serve as a watchdog organization to hold the police accountable and publicize any potential overreach of power. This will not only be an accountability mechanism but will help foster trust in law enforcement amongst the community, making citizens more likely to report suspicious activities in areas with inadequate police presence. Moreover, obstacles to youth participation in the country political process must be eliminated to pave the way for their integration in their respective communities' policy making process. Coming out of the COVID-19 crisis, the Nigerian government must focus on a developmental project aimed at creating economic opportunities for its increasing youth population. The lack of which has been the catalyst of youth turning to criminality.
Nigeria currently has an opportunity to shift its strategy and address insecurity before it gets worse. While insecurity covers much of the country, groups wreaking havoc in the country do not appear to be connected to each other beyond their criminal character. At best, malign groups in the northeast and northwest are learning from each other. Should these groups be allowed to continue undermining state authority and public security, they may eventually decide to coordinate operations, significantly aggravating challenges for the government's response as well as consequences for civilians. Militant groups affiliated with Boko Haram and with Al-Qaeda sub-groups in the Sahel have already proved adept at exploiting local grievances for support.
While both the federal and state governments appear committed to addressing insecurity in the country, lacking in their rhetoric and actions is their determination to incorporate governance and economic development solutions, the absence of which serves as a driver of insecurity in the country. An unwavering commitment by the country's leadership in addressing sociopolitical and socioeconomic inequality is necessary to attain peace in the country, and the emphasis of said commitment must be on upholding accountability of the police, governance, and development.
Shaping the Future Relations between Russia and Guinea-Bissau
Russian Foreign Minister Sergey Lavrov and Guinea- Bissau Suzi Carla Barbosa have signed a memorandum on political consultations. This aims at strengthening political dialogue and promoting consistency in good cooperation at the international arena.
Russia expects trade and economic ties with Guinea-Bissau will continue developing; they must correspond to the high level of the political dialog between the countries, Russian Foreign Minister Sergey Lavrov said in his opening remarks at the meeting with his counterpart from Guinea-Bissau Suzi Carla Barbosa.
"Probably, the next natural step will be to build up our trade-economic, investment cooperation in order to bring it to the level of our sound, confident political dialogue," the Russian Minister added.
Speculation aside, the face-to-face diplomatic talks focus on effective ways for developing tangible cooperation in most diverse areas in Guinea-Bissau. The meeting agreed to take a number of practical steps, including reciprocal visits by entrepreneurs both ways.
"We talked about more efficient ways of developing our trade and economic cooperation. We agreed to undertake a range of specific steps, including the trips of businessmen from Guinea-Bissau to Russia and then from Russia to Guinea-Bissau," Lavrov said.
Last year, Prime Minister of Guinea-Bissau Nuno Gomes Nabiam met with representatives of the Russian business community. The areas of interest mentioned in this respect included exploration of natural resources, construction of infrastructure facilities, as well as development of agriculture and fisheries.
Guineans are keen on deepening bilateral cooperation in fishing. The five Russian fishing trawlers have recently resumed their operations in the exclusive economic zone of Guinea-Bissau.
As explained the media conference, the topics discussed for cooperation included such spheres as natural resources tapping, infrastructure development, agriculture and fisheries
In terms of education, over 5,000 people have already entered civilian professions, and more than 3,000 people have acquired military specialties, which is important for Guinea-Bissau. In addition, military and technical intergovernmental cooperation agreement is about to enter in force. According to reports, Russia would continue to pursue military cooperation with the country.
Both ministers reviewed the situation in Mali, the Republic of Guinea and some other African areas, with an emphasis on West Africa and the Sahara-Sahel region.
Lavrov and Carla Barbosa discussed preparations for the second Russia-Africa summit planned for 2022. With high hopes that the collective attendance will include President of Guinea-Bissau Umaro Sissoco Embalo.
Guinea-Bissau, like many African states, has had political problems. In April 2020, the regional group of fifteen West African countries often referred to as ECOWAS, after months of election dispute finally recognized the victory of Umaro Sissoco Embaló of Guinea-Bissau.
Perspectives for future development are immense in the country. The marine resources and other waterbodies are integral part to the livelihood. Steps to increase agricultural production are necessary. The economy largely depends on agriculture: fish, cashew nuts and peanuts are its major exports. Its population estimated at 1.9 million, and more than two-thirds lives below the poverty line.
Sharing borders with Guinea (to the southeast), Gambia and Senegal (to the north), Guinea-Bissau attained its independence in September 1973. Guinea-Bissau follows a nonaligned foreign policy and seeks friendly and cooperative relations with a wide variety of states and organizations. Besides, Eсonomic Community of West African States (ECOWAS), Guinea-Bissau is a member of the African Union (AU) and the United Nations.
Analyzing The American Hybrid War on Ethiopia
Ethiopia has come under unprecedented pressure from the U.S. ever since it commenced a military operation in its northern Tigray Region last November. Prime Minister Abiy Ahmed ordered the armed forces to respond to the Tigray People's Liberation Front (TPLF), which used to be the most powerful faction of the former ruling party, after it attacked a military barracks. Addis Ababa now officially considers the TPLF to be a terrorist group. It fell out with PM Abiy after initially facilitating his rise to power as a result of disagreements over his fast-moving socio-political reforms.
The TPLF refused to join PM Abiy's Prosperity Party upon its formation in December 2019. It also regarded his decision to postpone national elections last August until this June due to the COVID-19 pandemic as resulting in him illegitimately remaining in power. In response, the TPLF organized its own elections in the Tigray Region in September 2020 that were not recognized by the central government. This set a tense backdrop against which the group attacked the military a few months later in early November, which was what triggered the ongoing conflict.
The U.S. and its allies claim that Ethiopia is carrying out a campaign of ethnic cleansing in Tigray, which Addis Ababa, of course, denies. This set the basis upon which the U.S. began to sanction the country. The first sanctions were imposed in late May to target Ethiopian officials as well as some of their Eritrean allies who, the U.S. claimed, were supporting them in their military campaign. The Ethiopian National Defense Force (ENDF) pulled out of Tigray a month later in June, claiming that this unilateral move would facilitate the international community's relief efforts in the war-torn region that had attracted so much global attention.
The conflict did not end, however, but actually expanded. The TPLF felt emboldened to invade the neighboring regions of Afar and Amhara, parts of which it continues to occupy. Addis Ababa suspected that the group was receiving various equipment and other forms of support under the cover of UN aid shipments. It also accused the TPLF of manipulating international perceptions about the region's humanitarian crisis in order to generate more support and increase pressure on the Ethiopian government. PM Abiy published an open letter to U.S. President Joe Biden last month, urging him to reconsider his country's policy towards the conflict.
It regrettably went unheeded but deserves to be read in full, since the Ethiopian leader compellingly argued that the American policy is counterproductive and influenced by the TPLF's lobbyists. Shortly after that, his government expelled seven UN officials at the end of September, who it accused of meddling. In early October, CNN published a report claiming that Ethiopian Airlines was illegally transporting weapons to and from Eritrea during the early stages of the conflict. This, in turn, prompted more sanctions threats from the U.S. The situation is such that the U.S. is now actively working in support of the TPLF against PM Abiy's government.
This American hybrid war on Ethiopia is waged in various ways that deserve further study. They closely resemble the American hybrid war on Syria in the sense that the U.S. is using humanitarian pretexts to justify meddling in the country's internal affairs. Its motivations to backstab its regional ally are entirely self-interested and zero-sum. The U.S. is uncomfortable with PM Abiy's geopolitical balancing between Washington and Beijing. Although the former TPLF-led government was also close to China, the U.S. likely expected PM Abiy to distance Ethiopia from it, considering the pressure that Washington exerts upon its partners to do so.
He came to power in early 2018 around the time when the U.S. began to intensify its ongoing New Cold War with China. From the American perspective, it is unacceptable for the country's partners to retain close ties with its top geopolitical rival. It is for this reason why the US far from appreciates PM Abiy's balancing act since it likely expected for him to move away from China. This leads to the next motivation for the American Hybrid War on Ethiopia, which is to return the TPLF to power there, if not in a national capacity, then at least in its home region. Such an explanation will now be elaborated on more at length.
Ethiopia finds itself at a crossroads whereby the country can either continue on the path of centralization, like PM Abiy has attempted to do, or pursue the course of further federalization to the point where its regions receive more autonomy than before. One of the TPLF's primary criticisms of the Ethiopian leader is that he is allegedly going against the country's post-civil war federal foundation. If it can succeed at least in securing broad autonomy for its home region by force after failing to do so peacefully, this might then trigger radical reforms that result in advancing its federal vision throughout the rest of the country.
The U.S. could exploit the broad autonomy that these regions might receive in order to individually pressure them to distance themselves from China. Ethiopia is, after all, Africa's second most populous country and used to have one of the world's fastest rates of economic growth before the COVID-19 pandemic. From a continental standpoint, the U.S. might believe that turning Ethiopia against China could eventually become a game-changer in the New Cold War's African theater. In other words, everything that the U.S. is doing against Ethiopia is motivated by its desire to "contain" China. It is now time to explain its modus operandi in detail.
The U.S. immediately exploited the TPLF-provoked conflict in Ethiopia to pressure PM Abiy to treat the group as his political equals. This was unacceptable for him, since doing so would legitimize all other groups that attack the armed forces in pursuit of their political objectives. The Ethiopian leader rightly feared that it could also trigger a domino effect that results in the country's "Balkanization", which would advance American interests in the sense of taking the country out of the "geopolitical game" with China. In response to his recalcitrance, the U.S. alleged that his government was carrying out ethnic cleansing.
American officials knew that this would attract global attention that they could manipulate to put multilateral pressure upon his government. Even so, PM Abiy still did not relent but continued waging his war in the interests of national unity. With time, the U.S. began to portray him as a "rogue leader" who did not deserve his Nobel Peace Prize in 2019 for resolving his country's frozen conflict with the neighboring Eritrea. Its perception managers presented him as a power-hungry dictator, who was ruthlessly killing the ethnic minorities that opposed his government, including by deliberately starving them to death.
The ENDF's withdrawal from the Tigray Region over the summer was interpreted by the U.S. as having been commenced from a position of weakness. It believed that ramping up the pressure at this sensitive point in the conflict could lead to him politically capitulating to the TPLF's demands. This was a wrong assessment since PM Abiy hoped that everything would stabilize after his decision facilitated international relief efforts to the war-torn region. These were unfortunately exploited, according to Addis Ababa, in order to provide more support for the TPLF, which is why his government recently expelled those seven UN officials.
The U.S. "humanitarian imperialism", as one can now call its policy against Ethiopia, is very pernicious. It focuses solely on the humanitarian crisis in the Tigray Region while ignoring the ones that the TPLF caused in the neighboring Afar and Amhara regions. This policy also manipulates perceptions about the situation in Tigray in order to delegitimize PM Abiy, the ENDF and the political cause of national unity that they are fighting for. The purpose is to encourage more members of the international community to pressure Ethiopia to the point where it finally feels compelled to politically capitulate. This policy, however, has proven to be counterproductive.
Far from giving up the fight, Ethiopia is doubling down and is now more motivated than ever before to see the war to its end, though ideally through a political rather than military solution due to humanitarian considerations. This does not imply treating the terrorist-designated TPLF as an equal but envisions replacing its leadership in the Tigray Region with a pro-government/unity party instead. That is, of course, easier said than done, which is why military means might continue to be relied upon to this political end. Throughout the course of its struggle, Ethiopia has begun to be seen as an anti-imperialist icon across Africa and the rest of the Global South.
PM Abiy's open letter to Biden was full of powerful statements articulating Ethiopia's sovereign interests. It showed that African leaders can resist the U.S., which could inspire the Ethiopian leader's counterparts who might also come under similar pressure from their partner sometime in the future—due to its zero-sum New Cold War geopolitical calculations. Ethiopia's sheer size makes it an African leader, not to mention it hosting the headquarters of the African Union, so it can influence the rest of the continent. It also has a very proud anti-imperialist history which motivates its people not to submit to foreign pressure.
China, Russia and India have politically supported Ethiopia against the U.S. at the UN, thereby debunking The Economist's lie last week that "Ethiopia is losing friends and influence". To the contrary, Ethiopia is gaining friends and influence, especially among the rising powers and the rest of the Global South. Its principled resistance to the American hybrid war on it has shown others that there is an alternative to capitulation. It is indeed possible to fight back in the interests of national unity. Not all American destabilization plots are guaranteed success. Just like the U.S. failed to topple the Syrian government, so too has it failed to topple the Ethiopian regime.
Ethiopia, however, is many orders of magnitude larger than Syria. This makes its hitherto successful resistance to the American hybrid war all the more significant. The leader in the Horn of Africa is a very diverse country, whose many people could be pitted against one another through information warfare to provoke another round of civil war that would help the TPLF's U.S.-backed anti-government crusade. That worst-case scenario has not materialized, though, due to the majority of the population's commitment to national unity even among some of those who might have misgivings about the present government.
This year's elections saw the Prosperity Party win by a landslide, which shows how much genuine support it and its founder have among the masses. Furthermore, PM Abiy's concept of "medemer" ("coming together") aims to counteract "Balkanization" processes by pragmatically reforming socio-political relations inside the country. It is a very promising idea that could inspire other very diverse states across the Global South and help them ideologically thwart divide-and-rule plots like the one presently waged against Ethiopia.
Assessing the strategic situation as it presently stands, the American Hybrid War on Ethiopia is expected to intensify on manipulated humanitarian pretexts. More sanctions and even the threatened revocation of Ethiopia's access to the U.S. market through the African Growth and Opportunity Act (AGOA) could worsen the economic situation for millions of people. The purpose in doing so would be to provoke anti-government protests that the U.S. hopes would be violent enough to catalyze a self-sustaining cycle of destabilization throughout the country after the security services crack down on the rioters.
The supplementary purpose is to encourage some Ethiopians to join anti-government terrorist groups allied or working in coordination with the TPLF unless the U.S. succeeds in pulling off a Color Revolution. This modus operandi is identical to the one that it relied upon in its hybrid war on Syria. In the Ethiopian context, the U.S. hopes to forcefully "Balkanize" the country, whether de jure or de facto through an extreme form of federalization. The point is to punish Ethiopia for balancing between China and the U.S., which showed other Global South states that such a pragmatic approach is possible instead of the U.S.-practised zero-sum one.
Nevertheless, the U.S. might still fail. The ENDF and other security services retain control throughout all the country's regions with the exception of Tigray. It is therefore unlikely that any Color Revolution or Unconventional War there will succeed. Furthermore, Ethiopia enjoys close ties with the rising multipolar powers like China, Russia and India who can help it weather the current crisis by neutralizing U.S. attempts to isolate the country. In addition, the "medemer" concept ensures that national unity remains at the core of the Ethiopian society, reducing the appeal of foreign-backed "Balkanization" narratives.
Altogether, it can be said that Ethiopia is successfully resisting the U.S. hybrid war against it. There have certainly been some serious costs to its international reputation, but it remains committed to the cause of national unity, and it does not seem likely to politically capitulate to the terrorist-designed TPLF's foreign-backed demands. Expelling those seven UN officials for meddling was a major move which speaks to how serious the country is about protecting its sovereignty. The same can also be said about PM Abiy's open letter to Biden which preceded that development and explained why the U.S. is wrong for meddling in Ethiopia.
The American Hybrid War on Ethiopia will likely continue since the US doesn't like to lose. It keenly understands what's at stake in the realm of international perceptions, and it's that the US cannot afford to have an African country – let alone one as large and influential as Ethiopia is – successfully resist its pressure campaign. Ethiopia's resolute resistance can inspire other countries across the Global South, which can complicate the US' efforts to pressure them into curtailing ties with China in the New Cold War. Had the US simply accepted Ethiopia's balancing act, then the conflict might have ended by now, but its zero-sum policies prevented that.
From our partner RIAC