The lone woman in the ice
As Dr. Madhubala Chinchalkar walked in for the interview, the panel asked," You will be the only woman in the team, is that alright for you?". She replied, "That's not even a problem."
Antarctica, the fifth largest continent in the world with a huge wall of ice shelf surrounding it can be described in all superlatives, the country with coldest, highest, windiest, driest weather. Breaking the mould, Dr. Madhubala brings us a real story in the documentary film named, "And the Skua Returned Early" where she narrates her journey of surviving all odds and completing her expedition in Antarctica as the medical professional.
Isolation, confinement, very dry air, no access to supplies, danger, extreme weather conditions, the monotony of everyday life. Except for lack of gravity, living in Antarctica is the closest thing to a long journey to Mars, for example. This time of year — our summer, their winter — there is sunlight for only three hours a day, and it's like being on the moon, and just as isolated
While there is no native population on Antarctica, there are 40 permanent research stations, with an average of 1,000 people living there year-round (around 25 people per station), braving harsh winds and an inhuman cold
As Antarctica is so difficult to get to, once you arrive, you can't leave — until the next ship/airdrop comes six to eight months later. You are completely isolated from February to October, when the cold and the dark make flights too dangerous to attempt.
Dr. Madhubala describes her eight-month long expedition to Antarctica as a spiritual experience of which she became a part. On clear winter nights, seeing Southern lights better known as Aurora Australis from behind an ice shelf often rolling waves of green, blue, red like giant reels of fairy dust and painting over the head while spreading to fill the sky is a spectacular scene which will stay forever captured in her mind camera. Silvery moon light on glistening white snow reflecting all around is a sight to behold. The naturally occurring ice caves are the mysteries that mother nature unfolds where the wall is decorated with delicate ice crystals. The ice is so vast, it stretched all the way to the horizon and continued to extend for hours as they walked to explore it.
In summer nature's magic touch creates a miracle as plant and animal life blossoms. The team habits in the Indian research station-Maitreyi which stays busy in summer. The work stretches from geological survey, ozone study, geomagnetism, ice core drilling, recording new climatic history to observing plant and animal life.
It's a mix of emotions as the sun sets welcoming winter. It's exciting for the winter to start. There's also a little bit of trepidation too because it's unknown: How are you going to react without the sun 24/7 for six months? What's it going to be like working in extreme cold conditions that you really haven't seen up to that point yet? There's just a lot of unknowns, so it's both exciting and a little bit frightening.
Planes with supplies stop flying to Antarctica during the winter, as it's physically too cold for them to fly when the temperatures plummet to minus 40 F. Fuel freezes to slush, skis can stick to the ice and the hydraulics begin to falter in the harsh conditions. What the team has on hand starting in February is what they'll have to rely on to last them through the dark, brutal winter.
She remembers as she pens down an instance where Dr. Madhubala was advised by a fellow team member that she should stay indoors and do the domestic work like cooking rather than going outside and taking generator readings. She smiled as she braved the harsh temperature, took more accurate readings than her peers, proving that there is no such thing that women cannot do. She is an example of how you can break a glass ceiling even without making a noise! Her advice for people is always to explore their options and seize opportunities when they present themselves. Keep your eyes open, being open to taking some risk is great too and will take you places you didn't know exist
The climate is so cold, windy and harsh there, one immediately feels like an intruder. Antarctica is not made for humans, and rightfully so as there should be one place on this planet that we cannot put our sticky, oily handprints all over. But we are doing just that, even from our comfortable homes in temperate climes, and the ice in Antarctica is waking up and shifting in response. The central message that Dr. Madhubala tries to convey is, how much impact global warming is having on Antarctica. You might not feel the effect around you right now, but it isn't inevitable.
Global sea levels will also rise, because the Earth's finite reserves of freshwater that were once stored as ice on the land, end up melting into the ocean instead.
The term "climate change" is a bit misleading, because what's happening is about so much more than rising temperatures — it's about how all the different parts of the Earth's system are being affected by the climate. We need to protect the last naturally occurring delicately balanced ecosystem of Antarctica isn't our responsibility but a ticket to live on the planet a little longer
We're all dancing among the icebergs now, and we have a choice: we can try to hold onto the futile dream of returning to the way things once were, or we can talk, think and prepare for how we'll live on this new Earth
COVID-19 has given a fillip to biodiversity
The COVID-19 outbreak caused many problems for the world, but in return gave the planet's environment and biodiversity a chance to breathe. The high mortality rate may be worrisome, but it provided us with the opportunity to think more about how we should treat biodiversity in a better way.
Biodiversity is an important feature of life explained by the vast diversity of plants and animals, which is a non-renewable resource and its loss will be irreparable, Kioumars Kalantari, head of the natural environment and biodiversity of the Department of Environment said.
The growing importance of biodiversity is due to its role in maintaining the stability of ecosystems, because in an ecosystem, the greater the species diversity, the longer food chains, resulting in a more stable environment, he added.
According to him, today the protection of biodiversity, habitats, and natural ecosystems is among the most important indicators of sustainable development in the world.
Fortunately, Iran benefits from rich biodiversity due to special climatic, geographical, and topographic conditions and characteristics, and more than 8600 species of plants and 1300 species of vertebrates live in the country, he highlighted.
Unfortunately, the environment faces a variety of threats and challenges, including pollution, habitat destruction, climate change, sand and dust storms, natural disasters such as droughts, floods, and increasing disease outbreaks, he noted.
He went on to say that despite all the efforts that have been made nationally as well as internationally worldwide, the environment today is no better than it was in the early twentieth century.
The sudden prevalence of COVID-19, followed by lock-downs and restrictions around the world, reduction in human activity, the evacuation of highways, reduction in travel, air, and land transport, and a significant drop in greenhouse gas emissions, has benefited the nature much, he explained.
It greatly improved air quality and reduced the risk of lung and cardiovascular diseases, key environmental indicators that have been steadily deteriorating for more than half a century, remained fixed, or moved towards improvement, he emphasized.
The extent of the disease and the human casualties may be so painful that it does not give us a chance to rejoice in the healing process of nature and the environment, but the good condition of climate and nature can be a fillip for each of us on this planet, especially those in charge, to think more about our past actions and slow down our exponential pace of unsustainable development and the destruction of valuable biological resources, he also highlighted.
Perhaps changing our plans and behaviors to use more of renewable energy, while increasing the use of telecommunications facilities such as video conferencing, webinars, online meetings, can greatly reduce travel as well as greenhouse gas emissions and thus help preserve nature and valuable biodiversity treasures, he said.
Biodiversity conservation is in fact the protection of ourselves and the resources without which we cannot survive, he stated, adding, human health depends on the health of other creatures and the environment in which they live.
The outbreak of the coronavirus and its pathogenic consequences highlights the importance of the dependence of the health of all organisms on the planet on each other and the environment.
"Our Solutions Are in Nature" which expresses the importance of nature in responding to the challenges we face in terms of sustainable development and the necessity of comprehensive cooperation to achieve a future in harmony with nature, he added.
According to experts, "the most important and largest public asset of any country is the environment", unfortunately, due to the wrong approach and underestimation of its vital importance, its capacity is declining every day, and it cannot be exchanged or bought, although some officials, especially economists, suggest ways to price these environmental resources, they are invaluable, he stated.
Kalantari further expressed hope that by living in harmony with nature, humans will be able to benefit as much as possible from the valuable resources and to protect and preserve the biological richness of the world in the best possible way.
Why human absence prospers nature?
Pointing out that protecting the planet is important to humans, and we need to maintain the best conditions on Earth after Coronavirus, Mohammad Darvish, a member of the National Security Council for the environment, said that the pandemic has caused the earth to breathe deeply, and now the wise man is faced with the question that "why, when human activity as a member of the ecosystem decreases, not only does nothing happen, but the condition of nature improves."
Think of bees being removed from nature. In this case, the integrity of the Earth's environmental property, the reproduction of many species and humans themselves will be damaged, or if brown bears are removed, soil fertility will decrease, or if wild boars are removed, water permeability will decrease and floods will increase, he explained.
Therefore, there have been wise in the creation of all plant and animal species or even insects, and have contributed to the earth's resilience, he emphasized.
Why has it now happened that man, who considers himself the best of creatures, that must be more responsible, has behaved in such a way that his absence is in favor of nature and the earth?
Such happening should give us a lesson to change our development programs in favor of nature and try to understand the laws of nature, instead of spending budgets on warfare, larger and more horrific weapons, he noted, implying that environmental research and health is now more essential as well as improvement of the education system so that in the post-corona crisis world we can appear wiser, more knowledgeable, and more responsible.
From our partner Tehran Times
Global Warming: Past as Prologue to the Future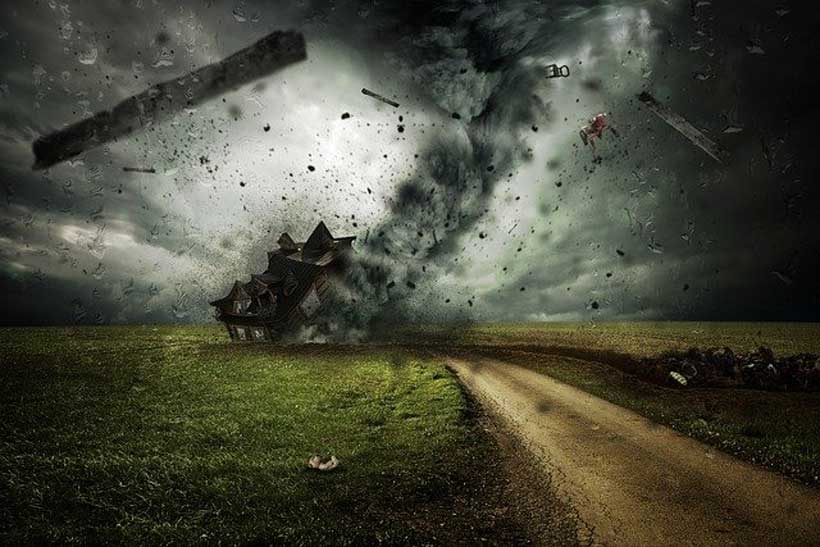 Dr. Arshad M. Khan and Meena Miriam Yust
If the vice-presidential debate lacked direction, hurricane Delta did not. It slammed into the Louisiana coast as a Category 2 causing widespread damage with its 100 mph winds, then continued inland as a Category 1 storm. If Delta sounds like an unusual name for a hurricane, it is.
The World Meteorological Organization has a list from A to W of 21 potential storm names. The letters Q, W, X, Y and Z are omitted. In all there are six lists meaning that the 2020 list will be repeated in 2026.
Using names for storms facilitates identification in communications when compared to the prior method using latitude and longitude particularly when the storm itself is moving.
So here we are in 2020 with 25 storms so far. The residents on the Louisiana coast have had a double whammy with hurricane Laura slamming them earlier in the last week of August. It was a deadly Category 4 with maximum sustained winds of 150 mph. Just 7 mph short of a Category 5 (the deadliest) Laura was only the fourth Category 4 to strike Louisiana since records were kept.
In addition to the numbers of storms, there are other climate anomalies. September this year has been the hottest on record and Death Valley reached a temperature of 130 F (54.4 C) the highest ever observed. September 2019 in turn had also been the hottest on record for our planet.
If there are storms along the coasts and flooding due to a warming ocean, inland it is not only warmer but drier. Forests are like tinder needing only a lightning spark or a downed electricity line to set them off. Thus the forest fires in southeastern Australia and California.
Europe too is warmer. Forest fires particularly in the south, and inundation are more frequent. Reading in England for example has just suffered the wettest 48 hours ever.
The south of France usually associated with blissful weather experienced torrential downpours with more than a half meter of rain (about 20 inches) in a day. It was an event Meteo-France noted that occurs once in a hundred years. And then it happened again. Storm Alex, the cause of this misery, hit France and also Italy and England. Floods and landslides caused serious damage north of Nice destroying roads, bridges and houses. In adjoining Italy a section of a bridge over the Sesia river collapsed in the rising waters. Affecting the Piedmont, Lombardy and Liguria regions, it dropped over 23 inches (0.63 m) of rain. The Po river rose more than 9 ft (3 m ) in 24 hours.
The key lesson from all this is that global warming is making rare events more common, that the window for action is narrowing, and that the longer such action is delayed the more onerous will be the burden on humanity. In the meantime, the global warming already built into the system will continue to affect climate for the foreseeable future.
Climatic refugees: Natural calamities and migration flows
The London-based Institute of Economics and Peace has presented a Report with a profound insight into environmental dangers that threaten countries and territories and could jeopardize socio-economic stability worldwide. According to the Report, "in 2050 the living space of more than one billion people may turn out under threat". This could be the result of climatic changes, "hurricanes, floods, deficit of water and food". "Many residential areas will no longer be habitable"
In the estimates of the authors of the Report, climate changes affect the rate and direction of movement of masses of people in at least two ways. Firstly,  the more profound they are, the stronger the impact of natural disasters on the living environment will be. Secondly, these processes will depend on the extent of the climate change – caused destabilization in the sphere of food security, on whether they will restrict or close access to fresh water and food for a significant number of people.
In turn, the dynamics and geography of migration have an immediate impact on the structure of the population in countries and regions. Meanwhile, in terms of politics,  demography plays a major role in determining the level of  stability and ascertaining the historical prospects for political regimes. It produces a tangible influence on social policy, geopolitical potential, and domestic electoral processes.
Poor countries with a growing population will run the risk of plunging into "political instability and violence". A decrease in the number of employable residents will likely have a negative impact on the rates of the economic growth "in mainly developed and in some developing countries".  Cross-border migration will become an ever more important factor in political processes. Maximum population growth is expected over the next 20-30 years in Africa, which is home to most poor and unstable countries. Under a negative scenario, this will trigger a new wave of global migration "of unprecedented scale" which will provoke blatant interference in the affairs of the region on the part of foreign powers.
According to the Report, such countries as India and China are more than others likely to experience shortages of fresh water. While Pakistan, Iran, Kenya, Mozambique and Madagascar are facing "a combination of threats which they find ever more challenging". In the estimates of the authors of the research, Pakistan, Ethiopia and Iran are countries where "a slight deterioration" of the environmental situation, along with natural calamities, can produce a significant number of migrants.
In general, the authors of the Report predict that the most acute shortage of social and economic resources, which has been caused by negative climatic changes, will take place, in decreasing order, in countries of Africa,  South Sahara, the Middle East, North Africa,  and South  Asia. 17 of 28 countries that are most affected by the  deficit of essential resources are located in "black" Africa, another 4 – in Maghreb and in the Middle East.
Citing the given trends, the authors of the Report predict the formation of "powerful migration flows which may first affect European countries, which are believed to be relatively resistant to crisis". "Ever since 2015 we have observed how a relatively small number of migrants may provoke large-scale political unrest and disorder", – chief of the research Steve Killelea said in an interview with dpa.
Undoubtedly, a dramatic rise in the  number of climatic refugees and forced migrants may be envisaged in case there is an unfortunate combination of a population growth, on the one hand, and an increase in territories suffering from shortages of water resources, on the other. As history shows, the political instability caused by an ever growing deficit of fresh water may put into question the long-term plans of socio-economic development of entire regions and even continents.
Regions which will see climate change – caused conflicts in the next few years  include territories south of Russian borders. For example, the number of territories in Central Asia, Iran, Afghanistan, and Turkey which suffer from low precipitation rises year after year. In this way, "climatic refugees" are becoming a potential threat to stability and security of the Russian Federation.
The environmental issues which are frequently overlooked by observers  but which can send people fleeing comprise so-called "heatwaves" – periods of abnormally hot weather. Meanwhile, these problems are already causing "superfluous" mortality in many regions, including the developed countries. According to The Economist, the heatwave that hit Europe in 2003 killed about 70,000 people. This issue will acquire still more urgency as yearly temperatures continue to rise and urbanization proceeds at fast pace.
A dramatic increase in the number of climatic refugees can also evoke an increase in the level of the World Ocean. Under a forecast made by the Institute of Economics and Peace, coastal territories in China, Bangladesh, India, Vietnam, Indonesia and Thailand are at a particular risk over the next 30 years. Estimates presented in the Report maintain that water levels in the World Ocean may rise by more than 2 meters by 2100. As a result, territories populated by at least 200 million people will face the danger of flooding.
Cross-border migration, which was caused, among other things, by ecology-related factors, is contributing to the strengthening of "extreme" political forces.  Poor nations with a growing population are particularly exposed to violence and political instability. Trends of this kind tend to lead to revision of political agenda. This means a new stage of regulating social and economic processes on the part of the state. In addition, according to Professor Rubinsky of the French Research Center of the Institute of Europe of the Russian Academy of Sciences, «mass migration is becoming a target, and at times, an instrument of the foreign policy of a whole range of countries».
Climatic changes lead to ever more cross-border and internal migration and may contribute to the strengthening of separatist movements in many regions of the world, including Europe. Disintegration of countries into smaller territorial entities stimulates conflicts and encourages intervention from foreign powers. In the long run, the natural need for expanding international cooperation for settling global problems will go hand in hand with the equally natural growth of nationalism and isolationism.
The issue of climatic refugees has been recognized at the international level. Formally, the UN Convention on the status of refugees does not  embrace people who flee their homes because of the deterioration of the climate. Nevertheless,  the Executive Committee of the Agency of the UN High Commissioner for Refugees has passed a decision to expand the Agency's mandate "to include commitments regarding refugees who cannot return to their countries because of climatic changes". UN Secretary General Antonio Guterres in person is rendering substantial assistance to the victims of environmental disasters.
However, there is no international system of a long-term assistance for refugees and migrants, including climatic, to help them move and adapt to their new place of residence. The policy of countries and territories that most climatic migrants strive for is fairly controversial. In the first place, due to the growing public discontent over "an influx of migrants" in the past decades.
"The European Union boasts one of the most elaborated systems of migration policy, which has no analogues elsewhere». One of the most remarkable achievements of the EU is the European Commission – suggested «mechanism of using an emergency trust fund to ensure stability and assistance in connection with the problem of migrants and refugees in Africa». But, as we know, this does little to solve the problems of Europe, which stem from migrants and public discontent over their growing numbers.
For this reason, it is easy to understand why some European countries refuse to support the UN Pact on Migration, which was signed in December 2018. More than two million refugees that arrived on the European continent after 2013 caused serious upheavals on the political scene of leading countries of Europe. They even put into question the mere existence of the EU in its present format. As a result, most EU countries are involved in an intense political battle with Brussels for regaining their sovereignty in regulating migration flows.
In the USA, a country which has always received millions of migrants, immigration issues had acquired so much urgency by 2016 that they became a top point on the agenda of the presidential election campaign. However, like in previous years, emotions took upper hand ousting the attempts to produce a balanced and comprehensive solution. At present, the opponents are criticizing the Trump administration for the draconian migration policy, which is depriving America of thousands of highly qualified immigrants.  They point to Canada, which, they say, is much more open to migrants, though on the basis of fairly tough criteria.
Until recently, a particular approach to this issue was demonstrated by Japan, which makes considerable contributions to the funds of the Agency of the UN High Commissioner for Refugees but does not receive migrants. In recent years, public opinion has become more tolerant towards refugees and forces migrants. Tokyo has been examining the experience of Australia, which is ready to receive a large number of immigrants as long as the process is well-organized. Meanwhile, Canberra's tough policy regarding the "illegals", who are sent to detention camps in difficult-of-access areas in New Guinea and Nauru, вis facing ever more reprimands from the international community.
On the whole, as it appears, climatic changes which trigger degradation of the environment and socio-political conflicts will produce an ever more significant, and, at times, decisive, influence on migration processes. This, in turn, will cause political, social, economic and geopolitical problems.
Degradation of the environment leads to socio-political conflicts while military operations or long-lasting public unrest can easily inflict damage on ecosystems. There is thus a vicious circle. Given the situation, the international community will sooner or later have to focus on political, economic and social measures which could help the humanity to better adapt to the changing natural environment.
However, judging by the current state of affairs, the world's leading countries are highly unlikely to step up their coordination on migration issue in the years to come.  As the 2010s experience shows, the migration issue will be resolved by every recipient nation progressively, "one at a time". For many ordinary voters the problem of migration "seems obvious and relevant" but they hardly know of the many aspects associated with it. For this reason, only "simple", tactical in essence and consequences solutions, enjoy most support. The main challenge of the present-day migration will still be a search for a balance between humanistic issues and global security in the context of changes of the climate. The importance of this context is bound to increase over time.  
From our partner International Affairs