According to China Finance, an edition of People's Bank of China, China should become the first country to launch into circulation a digital national currency. Reports by Reuters say a move of this kind will facilitate China's efforts to expand the international status of yuan and reduce the country's dependence on the international system of payments in dollars.In addition, the right to issue and control of digital currency will spill into a "new battlefield" of competition between sovereign states.
According to reports by the Bank of International Settlements, nearly four fifths of the central banks worldwide have been looking into the possibility of creating national digital settlements systems. The key element of such systems will be national digital currencies, also known as Central Bank Digital Currencies (CBDC). CBDC is virtual money which is controlled by the national or supranational central bank, as in the case of the  European Central Bank, and which exists only in the form of information recorded on computer memory chips and is not issued in cash.
CBDC is fully controlled by state-run financial institutes. Unlike most present-day crypto currencies, these currencies are emitted on a centralized basis and are equivalent to the traditional "paper" money in the digital form. The Central Bank, which issues CBDC, acts as both a regulator and a holder of the accounts of all owners of the national digital currency. Every CBDC unit acts as an equivalent to a paper banknote. Overall, CBDC is supposed to assume the best properties of crypto currencies – convenience and security – and borrow the time-tested features of the traditional banking system: regulation of currency circulation and its support with appropriate reserves.
China is acting as a pioneer in introducing digital national currencies. The first theoretical research into digital yuan got under way in 2014, at the initiative of People's Bank of China, and the research laboratory on digital currencies appeared in 2017. At the end of April 2020 a spokesperson for People's Bank of China confirmed that digital yuan tests were under way in several cities of China:  Shenzhen, Suzhou, Chengdu, Xiong'an, and "on the sites of 2022 Winter Olympics" in Beijing. The practical work is carried out by "relevant structures" in the person of commercial banks and settlements systems. Such a structure makes it possible to avoid concentration of risks at the level of Central Bank and to cut spending on creating and developing the corresponding infrastructure. As for other countries, Sweden has come closest to starting testing the digital currency – e-crown.  
China's CBDC is considerably different from the current private crypto currency projects. Emission  is carried on a centralized basis, while the reputation of the Central Bank is beyond doubt; this makes blockchain technology, which is normally key for private crypto currencies, superfluous. Should the proposal to issue digital yuan receives support, these money units will become part of Defense Ministry aggregate, along with banknotes, coins and deposits on the accounts of People's Bank of China. It is necessary to point out that at present, there is no talk of replacing all cash with digital currency.
Sceptics believe that the "digital yuan" will preserve for the near future the same restrictions, for example, in terms of convertibility, as the fiat one. They say "Beijing's main objective is not to internationalize yuan, but to establish a total control of people's and companies' payments, fight against shadow economy and corruption". What is meant is not "the invention of money yet again",  but that "China's prospects relative to the status of the reserve currency depends on the same factors as applicable to the emitter of this currency".
Nevertheless, the geopolitical consequences of CBDC emission could be fairly significant. A few years ago Newsweek pointed out that the US authorities and special services began to keep a close eye on the first private crypto currency,  bitcoin, from the very first days of its appearance. What they fear most is that "America's foes", be it governments or non-governmental organizations, will manage to create a financial network which will not in the least depend on the US dollar. In that case  the United States would lose an important instrument of non-military pressure which they could use against opponents and enemies.
At present, the dollar accounts for more than four fifths of all currency exchange transactions worldwide. As a result, all Washington needs to do to block the unwelcome financial operations is to put suspected individuals, organizations or countries on the "blacklist" to be sent to all banks across the globe. For fear of losing an opportunity to make payments in dollars an overwhelming majority of financial institutions obediently follow the US instructions. In this context, Washington's concerns about private crypto currencies are of legal, rather than political nature.
Another matter is if and when emission of crypto currencies becomes the business of states or inter-state institutions. In this case unilateral sanctions could lose sense; and so could the withdrawal of one country, even such a powerful one as the USA, from multilateral agreements the provisions of which must be implemented under threat of facing sanctions. Finally, Washington will no longer be able to freely track down monetary flows in dollars.
State digital currencies threaten such a weighty instrument of US political influence as the inter-bank settlements system SWIFT. They guarantee nearly  instant payments without participation of the dollar. Amid the growing anger over the escalation of US sanctions, Canada, Singapore, Hong Kong and Thailand have been testing exchange of information and payments without SWIFT and American correspondent banks. The European Central Bank has set up a working group to look into the possibilities of establishing interaction of national digital currency projects, with the participation of Canada, Japan, Sweden, Switzerland, and Britain.
Considering this, the appearance of the digital yuan could be particularly threatening for the US. Provided Beijing exerts efforts to this end, there will quickly appear a circle of countries in Africa, in the Middle East and in South East Asia which will conduct trade without using the US dollar.
China's top positions in digital finance technology enables it to offer an extensive range of infrastructure solutions, both on the government level, and for end consumers, private businesses and private individuals. These include making payments, receiving and paying off loans, payment terminals, online purchases and online payments for services. In their turn, measures of this kind will boost the demand for yuan as a reserve currency. China will de facto receive the right of veto to any decision by other countries to impose sanctions.
An example of possible geoeconomics consequences of such a development was presented a year ago by Danish Saxo Bank as part of a series of its usual "shocking forecasts". Under one of them, by 2020 there will appear "a new reserve asset", an Asian Digital Right (ADR), and the Asian Bank of Infrastructure Investments could act as an emitter. ADR would become "a clear step" towards "removing the American dollar from regional trade" and apparently, from global trade as well. Under such conditions, the dollar is expected to weaken "by 20% against ADR and by 30% — against gold" "in just a few months".
For today, there exist several scenarios of the formation of digital currency "multipolarity". Amid the current trade and financial confrontation between the USA and China and should China's progressive movement to expand its presence in global economy persist, the most likely development is a movement towards a "bipolar" system of digital currencies, the dollar and the yuan, with an important but mainly regional role of digital euro and Japanese yen.
However, in the conditions of the growing concern on the part of international economic and financial institutions over the escalation of the dollar-yuan confrontation, there is a chance for "a third party" to gather strength and transform into a global digital instrument of payments and a reserve asset. The first candidate is  the currently hypothetical "digital euro". What could play into the hands of an ECB-emitted digital currency is the political "aloofness" of the main institute of monetary policy in the euro zone. From time to time the European Central Bank comes under criticism from the finance authorities of nearly every member country of the euro zone, which makes it "equally distant" and consequently, potentially attractive for international trade entities.
A third scenario provides for the appearance of a "global", "worldwide digital currency". For example,  "digitalization" of Special loan drawing rights of the IMF. The idea of "a synthetic hegemon currency" based on top currencies was voiced not long ago by former President of the Bank of England Mark Carney. At the same time, trends towards economic division  along with the corona crisis-caused need of many countries for re-industrialization, and also the desire to protect national banking systems, may breathe a new life into the idea of "non-state" international digital currency or currencies. What could become an interim stage is a system where state, private and corporate digital payment instruments co-exist side by side.
In general, a national digital currency makes it possible to overcome such drawbacks of private crypto currency projects as instability of the rate, and limited usage. The issue of a crypto currency by a central bank reduces to zero the number one problem of such monetary instruments – the problem of trust, including on the part of government agencies and monetary policy regulators.
The arrival of a digital currency, emitted by the monetary authorities of one of the world's top economies, would make, if not a breakthrough, then an economic and political effect. It would reduce considerably the importance of a number of traditional instruments of international politics. Simultaneously, it would trigger the arrival of new policies, if not paradigms.
However, at present, the main challenge for digital payment instruments is whether it is possible to create a technology which would be immune to external influence and easy to use. Unforeseen "influxes" of users regularly lead to "collapses" of government electronic resources across the globe, even in the absence of intentional attacks. In the case of a national digital currency, nobody can predict what will happen in the event "the service is denied". 
From our partner International Affairs
Mosul's recovery moves towards a circular economy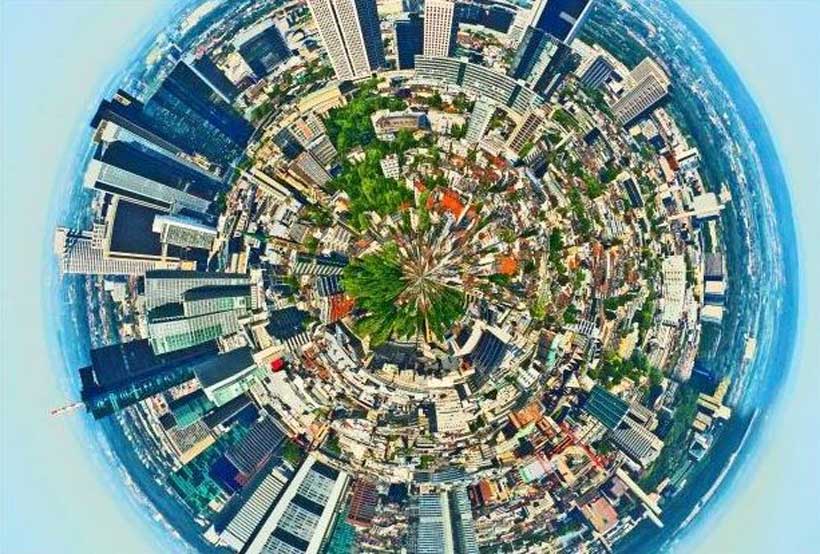 Five years since the end of the ISIL(so-called Islamic State in Iraq and the Levant) conflict in 2017, the International Organization for Migration (IOM) in Iraq and the UN Environment Programme (UNEP), with funding from the Government of Japan, has established a debris recycling centre in Mosul. After its initial use, the centre has now been handed over to Mosul Municipality for its continued, sustainable operation.
"On behalf of the Iraqi Government, the Ministry of Environment expresses its gratitude to the Government of Japan for generously supporting this important project and to UNEP and IOM for enabling the sustainable management of the huge quantities of conflict debris and restabilization of the liberated areas in an environmentally sustainable manner," said Iraq's Minister for Environment, Dr. Jasim Abdulazeez Humadi.
The handover of the Mosul debris recycling centre marks a significant step in the sustainable management of the huge volumes of debris — an estimated 55 million tonnes — created by the ISIL conflict. It also opens the way for the recycling of routine construction and demolition waste, contributing to 'building back better' and an increased circularity in Iraq's development.
UNEP West Asia Regional Director, Sami Dimassi, emphasized that "by reducing waste, stimulating innovation and creating employment, debris recycling also creates an important business opportunity." Indeed, construction companies in Mosul have expressed interest in purchasing the recycled aggregate, thereby underscoring the longer-term sustainability of debris recycling.
"This project supports recovery and livelihoods by drawing on principles of a circular economy, wherein waste and land pollution is limited through production processes that reuse and repurpose materials for as long as possible," explained IOM Iraq Chief of Mission, Giorgi Gigauri. "Collaboration and sustainability are key priorities in IOM's work toward durable solutions to displacement, and we are pleased to have partnered with UNEP and the Government of Japan so that this is represented not only in the function of the plant itself, but also in its functioning, by supporting local authorities to be prepared to effectively operate the plant moving forward."
On 28 July 2022, Mosul Municipality hosted an event to officially hand over the debris recycling centre, attended by senior government officials and academia, as well as representatives from IOM, UNEP and the United Nations Assistance Mission for Iraq (UNAMI).
Masamoto Kenichi, Charge d'Affaires, Embassy of Japan to Iraq stated: "We are glad to know that the project funded by the government and people of Japan has contributed to cleanup of debris and reconstruction of Mosul. We would like to commend UNEP, IOM and the city of Mosul for their tremendous efforts of turning the legacy of ISIL's devastation into building blocks of reconstruction".
Through the rubble recycling project, nearly 25,000 tonnes of debris have been recovered and sorted, of which around half was crushed into recycled aggregate. Material testing of the recycled aggregate endorsed by the National Center for Structural Tests of the Ministry of Planning confirms its compliance with the Iraqi State Commission for Roads and Bridges design standards for road foundational layers and its suitability for several low strength end-use applications such as concrete blocks and kerbstones.
The project created 240 much-needed jobs through cash-for-work schemes targeting vulnerable persons, including 40 women.
Building on this experience, IOM has set up two other debris recycling operations in Sinjar and Hamdaniya in Ninewa Governorate, and a third in Hawija in Kirkuk Governorate, where a pilot phase using a mobile crusher was implemented in al-Buwaiter Village in 2021. In addition, two other conflict-affected governorates — namely Salah al-Din and Anbar — have also shown a high-level of interest in replicating and scaling up debris recycling in their own regions.
UNEP has been supporting Iraq in cleaning up the huge volumes of debris created by the ISIL conflict since June 2017. Initially, this included carrying out technical assessments and planning workshops with UN-Habitat, and subsequently designing and implementing debris recycling pilot projects to support returns in Mosul, Kirkuk and other conflict-affected areas in cooperation with IOM.
Digital Futures: Driving Systemic Change for Women
Authors: Erin Watson-Lynn and Tengfei Wang*
As digital technology continues to unlock new financial opportunities for people across Asia and the Pacific, it is critical that women are central to strategies aimed at harnessing the digital financial future. Women are generally poorer than men – their work is less formal, they receive lower pay, and their money is less likely to be banked. Even when controlling for class, rural residency, age, income, and education level, women are overrepresented among the world's poorest people in developing countries. Successfully harnessing digital technology can play a key role in creating new opportunities for women to utilise formal financial products and services in ways that empower them.
Accelerating women's access to the formal economy through digital innovations in finance increases their opportunity to generate an income and builds resilience to economic shocks. The recently issued ESCAP guidebook titled, Harnessing Digital Technology for Financial Inclusion in the Asia Pacific, highlights the fact that mechanisms to bring women into the digital economy are different from those for other groups, and that tailored policy responses are important for women to fully realise their potential in the Asia-Pacific region.
Overwhelmingly, the evidence tells us that how women utilise their finances can have a beneficial impact on the broader community. When women have bank accounts, they are more likely to save money, buy healthier foods for their family, and invest in education. For women who receive Government-to-Person (G2P) payments, there is significant improvement in their lives across a range of social and economic outcomes. Access to safe, secure, and affordable digital financial services thus has the potential to significantly improve the lives of women.
Despite the enormous opportunity, there are numerous constraints which affect women's access to financial services. This includes the gender gap in mobile phone ownership across Asia and the Pacific, lower levels of education (including lower levels of basic numeracy and literacy), and lower levels of financial literacy. This complex web of constraints means that country and provincial level diagnostics are required and demands agile and flexible policy responses that meet the unique needs of women across the region.
Already, across Asia and the Pacific, governments are implementing innovative policy solutions to capture the opportunities that come with digital finance, while trying to manage the constraints women often face. The policy guidebook provides a framework to examine the role of governments as market facilitators, market participants and market regulators. Through this framework, specific policy innovations drawn from examples across the region are identified which other governments can adapt and implement in their local markets.
A good example of how strategies can be implemented at either the central government or local government levels can be found in Pakistan. While central government leadership is important, embedding tailored interventions into locally appropriate strategies plays a crucial role for implementation and effectiveness. The localisation of broader strategies needs to include women in their development and ongoing evaluation. In the Khyber Pakhtunkhwa province, 50,000 beneficiary committees comprising local women at the district level regularly provide feedback into the government's G2P payment system. The feedback from these committees led to a biometric system linked to the national ID card that has enabled the government to identify women who weren't receiving their payments, or if payments were fraudulently obtained by others.
In Cambodia and the Philippines, governments have implemented new and innovative solutions to support remittance payments through public-private-partnerships and policies that enable access to non-traditional banks. In Cambodia, Wing Money has specialised programs for women, who are overwhelmingly the beneficiaries of remittance payments. Creating an enabling environment for a business such as Wing Money to develop and thrive with these low-cost solutions is an example of a positive market intervention. In the Philippines, adjusting banking policies to enable access to non-traditional banking enables women, especially those with micro-enterprises in rural areas, to access digital products.
While facilitating participation in the market can yield benefits for women, so can regulating in a way that drives systemic change. For example, in Lao People's Democratic Republic and India, different mechanisms for targets are used to improve access to digital financial products. In Lao People's Democratic Republic, the central government through its national strategy, introduced a target of a 9 per cent increase in women's access to financial services by 2025. In India, their targets are set within the bureaucracy to incentivise policy makers to implement the Digital India strategy and promotions and job security are rewarded based on performance.
These examples of innovative policy solutions are only foundational. The options for governments and policy makers at the nexus of market facilitation, participation and regulation demands creativity and agility. Underpinning this is the need for a baseline of country and regional level diagnostics to capture the diverse needs of women – those who are set to benefit the most of from harnessing the future of digital financial inclusion.
*Tengfei Wang, Economic Affairs Officer
This article is the second of a two-part series based on the findings of the United Nations Economic and Social Commission for Asia and the Pacific (ESCAP) Policy Guidebook: Harnessing Digital Technology for Financial Inclusion in Asia and the Pacific, and is jointly prepared by ESCAP and the Griffith Asia Institute.source: UNESCAP
Empowering women-led small businesses in Nepal to go digital
Authors: Louise Anne Sophie Lavaud and Mitch Hsieh*
Throughout the years, Laxmi Shrestha and her husband saw the opportunities that opening an online shop could bring to her family business.
"Looking at the trend of TikTok and other sites, we thought selling online could help us but we weren't technically sound," said Laxmi, the owner ofLaxmi Hastakala Store, in Banepa, Nepal, and part of a family of artisans.
As she learned about selling online, she picked up on how to market her shop digitally and, according to Laxmi: "It has surely given our business a push we always wanted. Recently we started selling our products online and we also receive payments online."
Laxmi Hastakala Store is among the 1,800 women-led micro, small and medium enterprises (MSMEs) in Nepal being trained on digital and financial literacy by Sparrow Pay – one of the winners of the Women Fintech MSME Innovation Fund launched in 2019 by the United Nations Economic and Social Commission for Asia and the Pacific (ESCAP) and the United Nations Capital Development Fund (UNCDF).
Sparrow Pay has created a local digital marketplace where women-led MSMEs can offer products and services to its existing 800,000+ digital payment service users. Additionally, Sparrow Pay is supporting these women entrepreneurs in adopting digital payments and creating a payment history to support access to additional financial services.
MSMEs are a vital source of employment and a significant contributor to a country's GDP. However, more than 45 per cent of MSMEs in Asia and the Pacific are constrained from accessing finance and other support for their businesses. Socio-cultural norms mean women-led enterprises have to overcome gender-specific barriers to access institutional credit and other financial services.
ESCAP and UNCDF aim to encourage easy access to digital finance for MSMEs in Asia and the Pacific, break the financial barriers surrounding women-led enterprises and support entrepreneur-centric growth and inclusiveness throughout the region. Initiatives by the 10 winning fintech companies are currently supporting more than 9,000 women-led MSMEs in Bangladesh, Cambodia, Fiji, Myanmar, Nepal, Samoa and Viet Nam.
Just like Laxmi, these women business owners plan on successfully growing their companies in the digital area.
The Women Fintech MSME Innovation Fund is part of a regional programme "Catalyzing Women's Entrepreneurship: Creating a Gender-Responsive Entrepreneurial Ecosystem," which seeks to support the growth of women entrepreneurs in Asia and the Pacific by enabling a policy environment for such business owners, providing them with access to finance and expanding the use of ICT for entrepreneurship.
*Mitch Hsieh Chief, Communications and Knowledge Management Section