New Project to Support the Improvement of Air Quality in Greater Cairo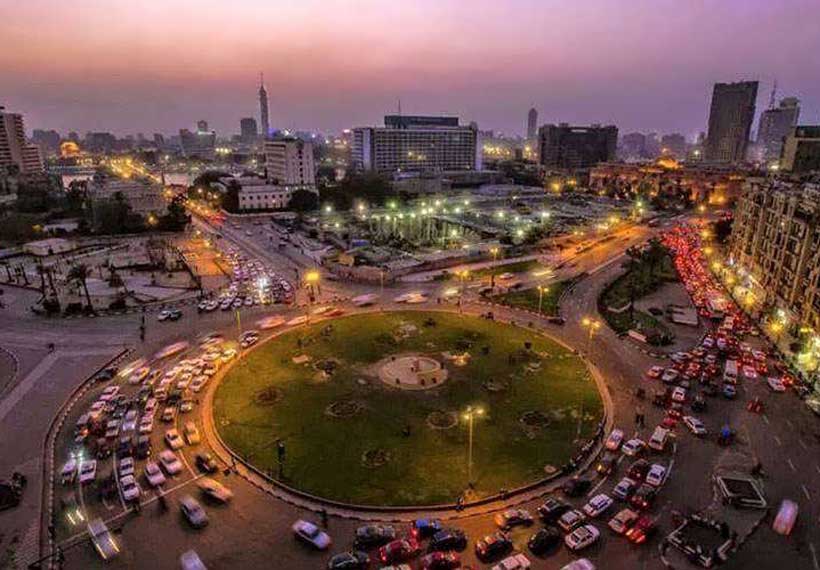 The World Bank's Board of Executive Directors today approved a US$200 million project to support Egypt's initiatives to reduce air and climate pollution from critical sectors and to increase resilience to air pollution in Greater Cairo. The project will focus on reducing vehicle emissions, improving the management of solid waste, and strengthening the air and climate decision-making system.
Greater Cairo's air quality has recently seen an improvement; however, ambient air pollution remains the city's most significant environmental health issue—one that weighs heavily on residents' quality of life and on the economy. Recent studies have estimated the annual economic cost of air pollution on health in the Greater Cairo area alone at about 1.4% of Egypt's Gross Domestic Product (GDP).
The six-year Greater Cairo Air Pollution Management and Climate Change Project aims to support Egypt's efforts to reduce both air pollution and climate pollutant emissions in line with the country's Sustainable Development Strategy: Egypt Vision 2030. The project will contribute toward Egypt's key environmental goal of halving Particulate Matter pollution and toward developing and implementing a strong, economically feasible climate impact mitigation program that would meet Egypt's 2030 targets for reduced emissions.
"This project supports our Green Recovery Plan to mitigate and adapt simultaneously, promoting new methods and technologies that help reduce air pollution and curb climate change," said Dr. Rania Al-Mashat, Egypt's Minister of International Cooperation. "This way, we are prioritizing integrated climate solutions that strengthen resilience, protect the health of Egyptians and promote an economically productive society."
"The hazards of air pollution and climate change are endless and can span decades," said Dr. Yasmine Fouad, Minister of Environment. "Through this partnership with the World Bank, we aim to give our children and youth a healthier future, where they can prosper, grow, and fulfill their potential."
The new air pollution reduction and climate change project aims to: i) modernize Egypt's Air Quality Management System and strengthen the ability of Greater Cairo's population to cope with high pollution events, including events caused or exacerbated by emissions and climate extremes; ii) support solid waste management in Greater Cairo, including plans for the construction of an integrated waste management facility at the 10th of Ramadan City, the closure and rehabilitation of the Abou-Zaabal dumpsite, and strengthening the regulatory framework for waste management; iii) contribute to vehicle emissions' reduction by supporting the piloting of electric buses in the public sector and related infrastructure, including charging stations, and assessing the technical and financial feasibility of scaling this up; and, iv) to implement activities aimed at behavioral change by communities and service providers and ensure citizen engagement in project design and implementation.
"Egypt is undertaking steps to accelerate the transition towards a more green, sustainable, resilient and inclusive development model," said Marina Wes, World Bank Country Director for Egypt, Yemen, and Djibouti. ''This operation is an integral part of our work to improve the quality of life for Egyptians, including the most vulnerable groups of society, enabling them to benefit from a whole array of development projects, while staying healthy and productive.''
Confrontation between US and Chinese ships in South China Sea
A US Navy destroyer sailed near the disputed Paracel Islands in the South China Sea and sparked yet another confrontation between the US and China for the second day in a row, informs London's 'The Independent'.
The first confrontation occurred when the USS Milius guided-missile destroyer sailed near the group of islands.
Next day the ship was spotted again in the vicinity of the islands, as part of a "freedom of navigation operation" challenging requirements from China, Taiwan, and Vietnam, that require advance notification or permission before a military vessel can pass through.
China said that the US's actions violate its sovereignty and security and said its navy and air force had forced the American vessel away, something the US military has denied. Beijing also warned the US of "serious consequences".
The latest incident comes as tensions between the US and China have plumetted to new lows.
"The United States challenges excessive maritime claims around the world regardless of the identity of the claimant," said US 7th Fleet spokesman Luka Bakic.
China's Ministry of National Defense responded by accusing the US of "undermining the peace and stability of the South China Sea".
"The act of the US military seriously violated China's sovereignty and security, severely breached international laws, and is more ironclad evidence of the US pursuing navigation hegemony and militarizing the South China Sea," ministry spokesman Tan Kefei said.
He said China will take "all necessary measures" to ensure security, but did not elaborate further.
In recent years, China has become increasingly assertive in the region, prompting the US to push back.
The South China Sea is an important waterway for global trade, with around $5 trillion in trade passing through each year. Additionally, the area holds valuable fish stocks and undersea mineral resources.
Seymour Hersh: The cover-up
This is a new comment of American journalist Seymour Hersh: "It's been six weeks since I published a report, based on anonymous sourcing, naming President Joe Biden as the official who ordered the mysterious destruction last September of Nord Stream 2, a new $11-billion pipeline that was scheduled to double the volume of natural gas delivered from Russia to Germany.
The story gained traction in Germany and Western Europe, but was subject to a near media blackout in the US.
Two weeks ago, after a visit by German Chancellor Olaf Scholz to Washington, US and German intelligence agencies attempted to add to the blackout by feeding the New York Times and the German weekly Die Zeit false cover stories to counter the report that Biden and US operatives were responsible for the pipelines' destruction.
Press aides for the White House and Central Intelligence Agency have consistently denied that America was responsible for exploding the pipelines, and those pro forma denials were more than enough for the White House press corps.
There is no evidence that any reporter assigned there has yet to ask the White House press secretary whether Biden had done what any serious leader would do: formally "task" the American intelligence community to conduct a deep investigation, with all of its assets, and find out just who had done the deed in the Baltic Sea.
According to a source within the intelligence community, the president has not done so, nor will he. Why not? Because he knows the answer.
In early March, President Biden hosted German Chancellor Olaf Scholz in Washington. The trip included only two public events — a brief pro forma exchange of compliments between Biden and Scholz before the White House press corps, with no questions allowed; and a CNN interview with Scholz by Fareed Zakaria, who did not touch on the pipeline allegations.
The chancellor had flown to Washington with no members of the German press on board, no formal dinner scheduled, and the two world leaders were not slated to conduct a press conference, as routinely happens at such high-profile meetings. Instead, it was later reported that Biden and Scholz had an 80-minute meeting, with no aides present for much of the time.
There have been no statements or written understandings made public since then by either government, but I was told by someone with access to diplomatic intelligence that there was a discussion of the pipeline exposé and, as a result, certain elements in the Central Intelligence Agency were asked to prepare a cover story in collaboration with German intelligence that would provide the American and German press with an alternative version for the destruction of Nord Stream 2.
In the words of the intelligence community, the agency was "to pulse the system" in an effort to discount the claim that Biden had ordered the pipelines' destruction…" stresses Seymour Hersh.
FORBES: Where is the Russian banking crisis?
"Sanctions were supposed to kill the Russian financial sector. It did, and it didn't. Where is the Russian banking crisis?" – FORBES is perplexed.
Yes, sanctions have hurt Russia's financial institutions. But a Russian banking crisis, one that looks like we have seen in the U.S. recently with Silicon Valley Bank and in Switzerland with Credit Suisse, has not occurred.
There were never any runs on Russian banks. The ruble strengthened. And while most banks are protected by the state – led by Sberbank and VTB – the Russian Central Bank has spent much of the last decade working to clean up the financial system.
For this reason, Russian banks have survived the West's sanctions regime and stock market delistings better than anyone would have imagined. For a cynical Russian, watching Silicon Valley Bank and Credit Suisse burn down while their bankers are gainfully employed is like smirking before the camera lens in front of a burning building.
Had the sanctions come at the time when the Russian Central Bank was cleaning up its "zombie banks" – all hell would have broken loose. But seeing how much of that mess was swept away prior to the 2022 sanctions regimes taking hold, Russia's banks remain safe and sound, even if Russian investors in those banks have lost their shirt.
The sanctions policy, the hardest ever taken out on Russia, is 13 months old. New ones pop up regularly. It is unclear what can possibly be next, as Russia's financial institutions have already been largely cut off from the Western system.
Russia's financial sector, and its banks at home, aren't making headlines like banks in the U.S. and Europe are. They have withstood the onslaught of sanctions.
They've lost their European and U.S. assets, which will not be recovered for years to come, if ever. Sberbank CEO Herman Gref said in press reports that Sberbank is "the most attacked entity" in the country, which experiences "unprecedented challenges in terms of complexity and power." He said Sberbank lost nearly all of its assets abroad, leading to massive write-downs.
Yet, Russian president Vladimir Putin smirks at the burning buildings of Credit Suisse and the lost $200 billion in Silicon Valley Bank deposits, needing unprecedented FDIC support to protect account holders. The bank is now insolvent. His biggest banks remain only because most of Russia's banks over the years have been folded and rendered insolvent. And a danger to the Russian financial system was liquidated.
"Thanks to the professional actions of our banking community, government agencies, and the efforts of the central bank, I want to emphasize that we managed to overcome all these (sanctions) difficulties in general," Putin reportedly said in Moscow earlier this month after meeting with Sberbank's CEO. He said that Sberbank's current stable position was "a good signal for the whole economy."
With sanctions expected to remain for a long time to come, will Russia's heavily sanctioned banks fold one day, too?
"Who knows what will happen in Russia, because we all only know what we read in the press and what we read in the press is that Russia did a smart job handling their banks pre-sanctions and so after sanctions they have managed okay," says famous commodities investor Jim Rogers from his home in Singapore, who has been a director of Russian fertilizer company PhosAgro. "We saw the ruble go down when sanctions were first imposed, then it went up. So in that case alone, the market tells me that somebody in Russia did something right," he says.