Why FATF treats India as a protégé and Pakistan as a bête noire?
Indian media is never tired of describing Pakistan as hub of money laundering and terror financing in the world. Indian representatives echoed their babble in recent United Nations' meeting also.
India makes no bones in declaring its intention to link Pulwama blasts with money trail to Pakistan. By doing so India hopes to get Pakistan blacklisted by Financial Action Task Force.
Little focus on money laundering and terror financing by India: Nowadays, Major powers' geo-political and economic interests have forced them to ignore suspicious financial transactions by India. However, not long ago, the world was more concerned about money laundering in India than in Pakistan.
Even the USA called upon India to do more to prevent financing of terror networks. USA's Assistant Secretary of State for Economic and Business Affairs Anthony Wayne told the Senate Banking Committee, 'In India, two accounts belonging to terrorist individuals/entities have been identified, but the Government of India has not frozen any assets to date. It is aware of the UN 1267 Committee List, however', Wayne noted that India's Prevention of Money Laundering Act `criminalises money laundering and requires banks and other financial institutions and intermediaries to report individual transactions valued over US$ 23,000 to the financial-investigation unit'. Wayne added, 'India has also indicated it wants to join the Financial Action Task on Money Laundering. However, at a recent FATF plenary meeting in Paris, concerns were raised regarding its ability to provide effective international cooperation in a timely manner and to extend mutual legal assistance'.
Here is a glimpse of corrupt India. World Bank estimated that capital flight of Rs 50 to 100 crore took place in four fertilizer plants projects via Italian firm Snam Projetti. Minimum commission of seven percent was charged on imports of the public sector. Indian government paid no regard to the recommendations adopted by the Financial Action Task Force on money laundering, set up in July 1989 by the Paris summit of the seven most-developed countries. The conventional money-laundering techniques (smurfing, cover companies, etc.) are used to the hilt in India. The average amount stashed away from India during 2002-06 is US$27.3 billion (about 136,466 crore). It means that during the 2007-2018 period, the amount stashed away is 27.3×15=US$ 4, 095 billion. Just imagine the volume of money stashed abroad since 1947, including Nehruvian era when Birlas and Tatas gave blank cheque to Congress.
Lid on laundered money lifted: To what end, the laundered money is put is anyone's guess. However, a recent document-based report by the International Consortium of Investigative Journalists has blown the lid off the suspicious financial transactions by Indian banks, public and private sector companies.
The ICIJ report based on Financial Crimes Enforcement Network (FinCEN) files "represent less than 0.02% of the more than 12 million suspicious activity reports that financial institutions filed with FinCEN between 2011 and 2017."
Earlier a study, conducted by Conflict Armament Research, had confirmed that seven Indian companies were involved in the supply chain of over 700 components including fuses or detonating cords used by the Islamic State to construct improvised explosive devices .Even the Sri Lanka blasts were linked to terrorists hiding in Indian Southern States. As an eye wash, India arrested Islamic State moles. To bypass banking channels, even gold and diamond are `legal tender' for money laundering.
How the FATF favoured India: In both India and Pakistan, money laundering is popularly known as hawala, or hand –to-hand-transaction. The Financial Action Task Force was scheduled to review India's money laundering and terrorist financing regime, a ten year cycle, in September-October 2020. But, it has been tentatively postponed to January February 2021 ostensibly `in view of COVID19 pandemic in India. The year-long review evaluates `Indian legal system against financial crimes at its plenary meeting in February 2022 and subsequently issue a statement and recommendation about the country.
The FATF happily agreed with India that `it is impossible for assessed jurisdictions and asssessories alike to conduct on-site visits and in-person meetings' (no relaxation for Pakistan).
How India hoodwinked the 2013 FATF team: In the 2013 review, India managed to hoodwink the FATF by pleading that `it has set up a joint working group comprising 22 central investigation, intelligence-gathering and regulatory agencies to check illegal financial transactions. The agencies include the Central Bureau of Investigation. Enforcement Directorate, Income Tax Department, Directorate of Revenue Intelligence, Financial Intelligence Unit, Customs, Market regulator, Securities and Exchange Board of India, banking regulator and insurance regulator TRDAL.
The 2013 review team was much impressed by Rahul Navin, a 1993-batch Indian Revenue Service Officer of the Income Tax Department deputed with the Enforcement Directorate. Navin who had earlier worked with the Organisation for Economic Cooperation and Development had authored a book Information Exchange and Tax Transparency: Tackling Global Tax Evasion and Avoidance.
How the ICIJ blew lid off India's US$ 2 trillion money laundering and terror financing: The International Consortium of Investigative Journalists based its report on two million Suspicious Activity Reports filed by prestigious banks with Financial and Crime Enforcement Network (FinCEN). The ICIJ report is just tip of the iceberg. Its revelations are based on `only 0.02% of the more than 12 million suspicious activity reports that financial institutions filed with FinCEN between 2011 and 2017'. The US banks who filed reports include Deutsche Bank Trust Company Americas, BNY Mellello, Citibank, Standard-Chartered and JP Morgan. The reasons mentioned in the reports include `high-risk jurisdiction for money laundering or other financial crimes, adverse media or public information on the client', unidentified parties, and the fact that source of funds and purpose of transaction could not be ascertained'. Not only the banks but also the public and private sector companies were the culprits. They include Hindustan Aeronautics Limited, Bhushan Steel Limited, Bharti Airtel and Essar. Heretofore is a bird's-eye view of the findings.
Indian banks figure in over 2000 transactions, linked to Indian entities, valued at over US$ 1 billion (Rs. 7, 369 crore) between 2011 to 2017. These banks include State Bank of India, Punjab National Bank, Canara Bank, HDFC Bank, Kotak Mahindra Bank, Axis Bank, and Indus Ind Bank.
Open Question: While the ICIJ has shared the information with Buzzword and 108 other media outfits, India's `Special Investigation Team on Black Money' stays mum. The SIT was formed on the directions of India's Supreme Court.
Inference: The FATF should undertake an even handed investigation to India's multi-facetred money laundering and terror financing.
'Disturbing spike' in Afghan civilian casualties after peace talks began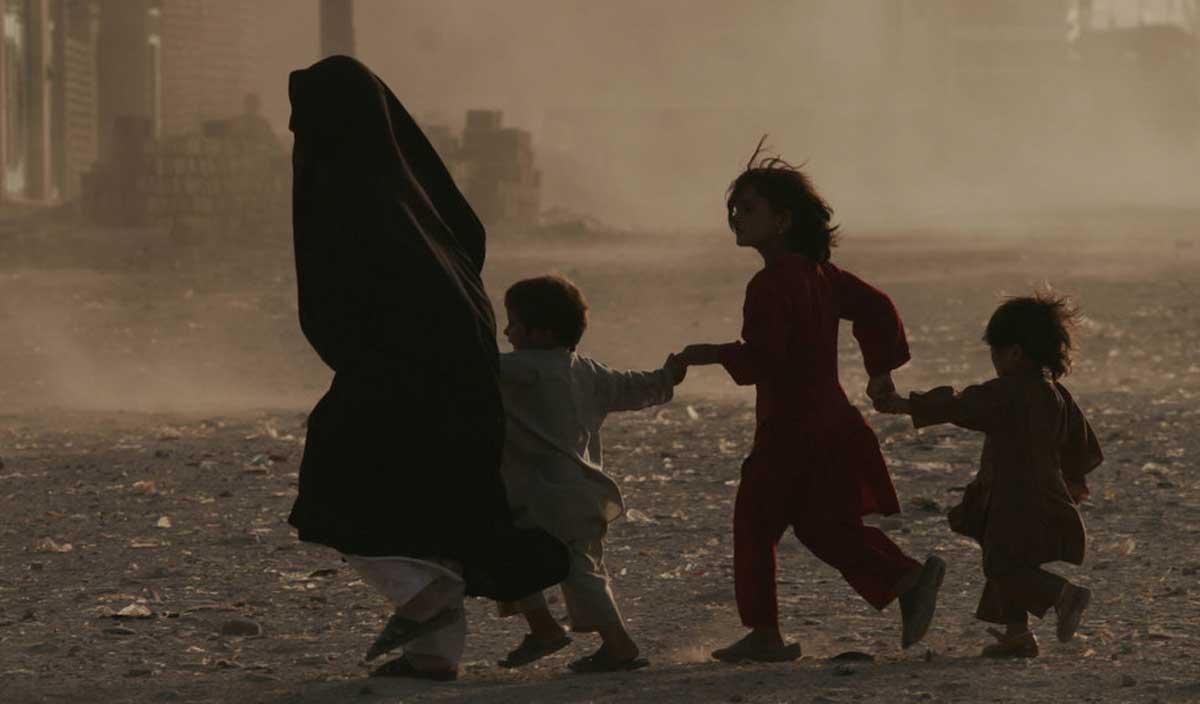 Civilian casualties in Afghanistan witnessed a sharp rise since peace negotiations started in September last year, even though overall deaths and injuries dropped in 2020, compared to the previous year, according to a UN human rights report launched Tuesday.
In their annual Afghanistan Protection of Civilians in Armed Conflict Annual Report, the Office of the UN High Commissioner for Human Rights (OHCHR) and the UN Assistance Mission in the country (UNAMA) documented some 8,820 civilian casualties (3,035 deaths and 5,785 injuries) in 2020, about 15 per cent less than in 2019.
It was also the first time the figure fell below 10,000 since 2013.
However, the country remains amongst the "deadliest places in the world to be a civilian", according to Michelle Bachelet, UN High Commissioner for Human Rights.
"I am particularly appalled by the high numbers of human rights defenders, journalists, and media workers killed since peace negotiations began in September", she said.
At least 11 rights defenders, journalists and media workers lost their lives since September, resulting in many professionals exercising self-censorship in their work, quitting their jobs, and even leaving their homes and the country – in hope it will improve their safety.
Rise in 'targeted killings'
According to the report, the overall drop in civilian casualties in 2020 was due to fewer casualties from suicide attacks by anti-Government elements in populated areas, as well as drop in casualties attributed to international military forces.
There was, however, a "worrying rise" in targeted killings by such elements – up about 45 per cent over 2019. The use of pressure-plate improvised explosive devices (IEDs) by the Taliban, air strikes by the Afghan Air Force, and ground engagements also resulted in increased casualties, the report said.
According to the report, anti-Government elements bore responsibility for about 62 per cent civilian casualties, while pro-Government forces were responsible for about 25 per cent casualties. About 13 per cent of casualties were attributed to crossfire and other incidents.
2020 could have been 'a year of peace'
Deborah Lyons, Special Representative of the UN Secretary-General for Afghanistan and head of UNAMA, called on all parties to take immediate and concrete action to protect civilians, urging them "not to squander a single day in taking the urgent steps to avoid more suffering".
"2020 could have been the year of peace in Afghanistan. Instead, thousands of Afghan civilians perished due to the conflict", Ms. Lyons said.
The "overriding objective" of the report is to provide the parties responsible with the facts, and recommendations, so they take immediate and concrete steps to protect civilians, she added.
Ms. Lyons highlighted that "ultimately, the best way to protect civilians is to establish a humanitarian ceasefire" – a call consistently made by Secretary-General António Guterres and the Security Council.
"Parties refusing to consider a ceasefire must recognize the devastating consequences of such a posture on the lives of Afghan civilians."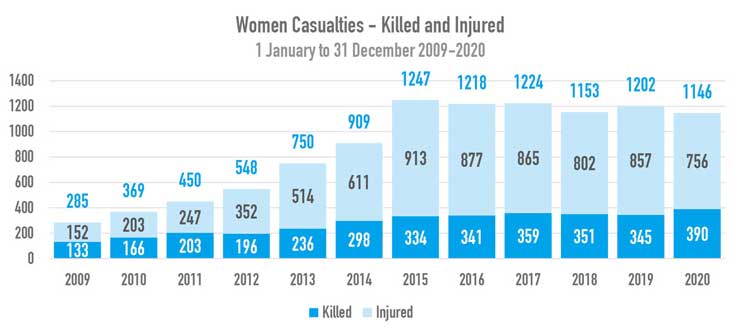 UNAMA-OHCHR report: Women casualties (killings and injuries) documented between 1 January 2009 and 31 December 2020
'Shocking toll' on women and children
The report went on to note that the years-long conflict in Afghanistan "continues to wreak a shocking and detrimental toll" on women and children, who accounted for 43 per cent of all civilian casualties – 30 per cent children and 13 per cent women.
"This report shows the acute, lasting needs of victims of the armed conflict and demonstrates how much remains to be done to meet those needs in a meaningful way", High Commissioner Bachelet said.
"The violence that has brought so much pain and suffering to the Afghan population for decades must stop and steps towards reaching a lasting peace must continue."
Attacking civilians 'serious violations'
With the conflict continuing, parties must do more to prevent and mitigate civilian casualties, the report said, urging them to fully implement the report's recommendations and to ensure that respect and protection of human rights is central to the ongoing peace negotiations.
It also reminded the parties that deliberately attacking civilians or civilian objects are serious violations of international humanitarian law that may amount to war crimes.
Is Blacklisting on Cards for Pakistan?
Financial Action Task Force (FATF) has been an integral part of the economic decision making and regulatory procedures of the country. The days of the ultimate decision are finally on cards as the Global Watchdog is expected to evaluate and review the performance and strategies of Pakistan via virtual meeting tentatively scheduled for February 22-25, 2021. This would be a much-anticipated review since a keen eye would be payed following a long hiatus to the litigations recently undertaken by the country to eliminate the risks and gaps in the financial framework which might earn Pakistan, a way out from the grey list. However, while the preceding meeting only guided more hopes for better litigation and measures to curb terror financing, brimming foreign propaganda and nefarious rulings within the country itself might hamper the way out but instead could dig the trench further towards a harrowing financial turmoil.
Pakistan was placed on the grey list back in June 2018 due to strategic deficiencies. Just before the Covid-19 pandemic wreaked havoc in the world, Pakistan was allowed a breather of 4-months to comply with the 27-point action plan; of which Pakistan met only 14 targets while missing out on the rest of 13 targets. Moreover, Pakistan could only satisfy 10 of a total of 40 recommendations devised by the task force. These lags led to a major pitfall in the Pakistan's Stock Market; PSX plummeting bellow 30,000 points. Furthermore, a bitter narrative started blooming regarding arch-rival India pulling all the strings to push Pakistan down further, even in the blacklist. This was largely shunned by the Indian representatives but the failure of the economic and diplomatic front of Pakistan was evident by now.
The FATF plenary was scheduled, like traditionally, in June. However, all scheduled evaluations and review procedures were deferred for 4-months in the wake of the Covid-19 pandemic, allowing yet another unforeseen yet thoroughly welcomed relief span to Pakistan to strive more actively to meet the requirements.
In the preceding 4 months, Pakistan acutely worked to amend the contradicting laws and policies, the parliament playing an agile role to introduce new bills relating to counter-terrorism and countering money laundering as an act to expedite compliance to the international laws and ultimately meeting up all 27 points in the action plan. Almost all the bills presented, albeit some political resistance, were eventually passed which even led to optimism in the stock market; PSX climbing back over 40,000 points after more than half a year, rallying to record high levels despite of the pandemic wreaking havoc on the investors' mentality across the globe.
The meeting held, after a steep deferral, back in October 2020; the FATF committee observed and commended on the vigilant stance assumed by Pakistan to crawl out of the Grey list. Pakistan has since delivered on 22 out of the 27 core points of the action plan defined. However, the meetings adjourned till February, retaining Pakistan in the grey list under the tag of 'jurisdiction under enhanced monitoring' whilst praising the steps of counter-terrorism and anti-money laundering adopted by Islamabad.
Pakistan was warned back in February last year that if not complied by the 27-point action plan, it could be a great threat to the foreign mechanism and would be eventually moved to the monitored jurisdiction, notoriously also known as the 'Blacklist'. Later this month, FATF would examine if Pakistan meets the 8 key categories of the action plan; remedial actions taken against money laundering, counterfeit terrorism while also reviewing the vigilance of the institutions in countering Terror Financing and actively managing risk. The committee representing Pakistan would perpetually convince the plenary that the country in-fact meets the criteria and transitioning over the next month, the fate of the tormented economy would finally prevail in light of the decision made.
However, Pakistan has been sluggish in taking action against the notorious entities linked to terrorism around the region. The meeting nears with the pinned watch of UN regarding Pakistan's role of providing a safe haven to Lashkar-e-Taiba founder, Hafiz Saeed, or the notorious acquittal of Ahmed Omer Sheikh, the prime culprit of the Daniel Pearle Murder case of 2002. Pakistan, however, claims to have made virtue on 22 of the defined 27 points while has garnered 'Substantial progress' on the remaining 5 points. Thus, the optimism brews that the meeting would push the country out of the list and would open more financial avenues especially in these distressful conditions.
Although Pakistan's Foreign Office including the Foreign Minister, Shah Mahmood Qureshi, appears optimistic to climb out of the grey list after 3 years, the infamous decisions passed by the Supreme Court of Pakistan, the excessive money laundering cases surging against the ex-office holders of Pakistan and the determined efforts of India to subvert Pakistan in global politics, all thwart down that optimism bit by bit. And while some of the economic experts claim that the decision of advancing Pakistan off the Grey list would be naïve move and would arguably impact regional dynamics, the decision could fall in tandem with the preceding outcome of sustaining the grey list status or could deteriorate the level further as gauged by a political expert, opining his narrative: "The facts demand that Pakistan remain on the grey list. The FATF shouldn't just keep Pakistan on the grey list. It should rather warn Islamabad that absent rapid and wide-ranging reform; blacklisting is coming".
Europe Must Confront Iranian Regime's Terrorism
After a two-and-a-half-year investigation, on 4thFebruary 2021, a Belgian court sentenced four culprits for attempting to bomb a large gathering of tens of thousands, including politicians and dignitaries, at a global summit organized by the Iranian opposition – the National Council of Resistance of Iran (NCRI) – in Villipinte, France in June 2018.
The perpetrators who attempted to attack the global summit included Assadollah Assadi, a senior accredited Iranian diplomat, who received the maximum sentence of 20 years in prison on attempted murder and terrorism charges – and his three accomplices who were imprisoned for 15,17, and 18 years, respectively. This was the first time that an Iranian diplomat was convicted in Europe.
The conviction and the sheer scale of the crime requires the EU to reconsider its approach to the Iranian regime.
The 2018 global summit was attended by tens of thousands of people who advocate for democracy and freedom in Iran. If the foiled terrorist plot had been successful, thousands of innocent people, including European citizens and prominent political figures, would have been killed or injured. The head of Belgium's national security has blamed the Iranian regime for orchestrating the attack, including Iran's Foreign Ministry and Ministry of Intelligence and Security who played a significant part in the execution of the attack.
Such terrorism-related trials are not new for the regime. In 1997, the regime was tried for a major terrorist act in Germany. The proceedings were called the Mykonos trial after a Berlin restaurant in which regime agents gunned down several opponents.
In a report dated April 10, 1997, the European Union's Presidency stated: "The High Court of Justice's findings in Berlin in the Mykonos case indicates Iranian regime officials' involvement at the highest level."
On April 29, 1997, the Council of the European Union reaffirmed that progress in normalizing relations between the EU and Iran would only be possible if Tehran's officials respect international law and cease terrorist acts, including those against Iranians residing abroad. When the regime refused to comply,Europe made a declaration to expel Iranian nationals with intelligence and security ties. Twelve countries that were not members of the European Union at the time also complied with the declaration.
21 years after the Mykonos trial, Assadi used his diplomatic cover to take a high-powered explosive on a passenger plane from Iran to Austria. He then personally handed it over to two intelligence agents to detonate it at the NCRI rally in Paris. The irrefutable evidence in this case shows Iranian regime officials' involvement at the highest levels.
Separately, the regime's ambassador and three diplomats were expelled from Albania (January 2020), three diplomats were expelled from France and the Netherlands (March 2018), and a diplomat was expelled from Denmark (October 2018) in the wake of the regime's terrorist plots. All of these expulsions reveal the involvement of the regime's embassies, Foreign Ministry and Ministry of Intelligence and Security to create terror in the European region.
Despite all of this, the EU has not taken any serious measures to counter the regime's belligerence.
Europe's failure to take appropriate actions has emboldened Tehran. Inaction reassures the regime that it can act with impunity, even in Europe. Europe has essentially communicated to the world's foremost state sponsor of terrorism that not even an attempt to bomb a peaceful gathering, which could lead to the killing of hundreds of European citizens, would bear any consequences. Thus, Europe's appeasement is in large part fueling the regime's aggression.
It is naive to speculate that Tehran's Foreign Minister Javad Zarif did not know about this conspiracy. Zarif sits on the Supreme National Security Council, which approves all such major security decisions. Additionally, his ministry and embassies serve as logistical and operational centers for terrorism and espionage.
Those who hatched and approved this terrorist plot, none other than senior Iranian leadership, must be brought to justice. This step is a necessary deterrent against Tehran, the godfather of international terrorism.
German security officials are reportedly still investigating the numerous trips that Assadi made throughout Europe, where he helped establish an extensive Iranian regime spy network across the region. At the time of his arrest, he had received several receipts for payment of money. The identities of money recipients have yet to be determined. The regime has always used its embassies and so-called religious and cultural centers abroad as centers of espionage against its opponents.
Normalizing diplomatic relations with the Iranian regime must be made contingent on disbanding its terrorist apparatus in Europe and ensuring that it will never again engage in terrorism in Europe. By taking this critical step, European leaders will protect their own citizens and effectively counter the regime's terrorist threats.