Renewable Energy Jobs Continue Growth to 11.5 Million Worldwide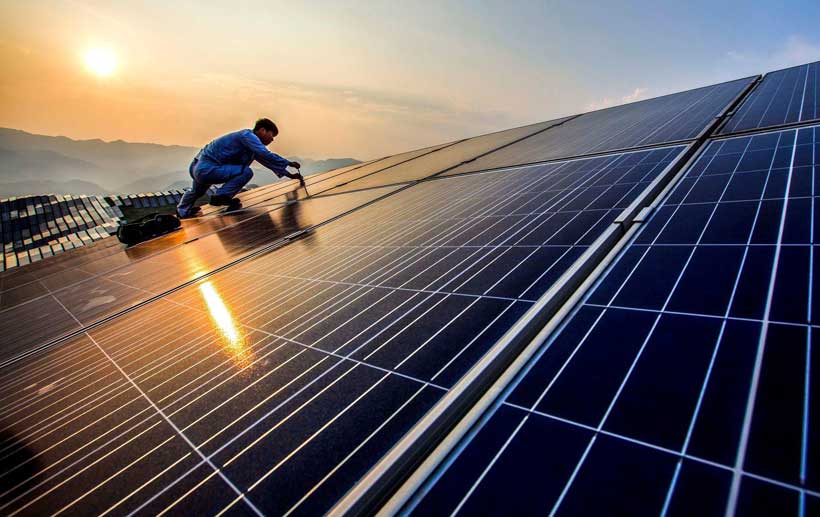 Renewable energy continues to bring socio-economic benefits by creating numerous jobs worldwide, according to the latest figures released by the International Renewable Energy Agency (IRENA) today. The seventh edition of Renewable Energy and Jobs – Annual Review shows that jobs in the sector reached 11.5 million globally last year, led by solar PV with some 3.8 million jobs, or a third of the total.
"Adopting renewables creates jobs and boosts local income in both developed and developing energy markets," said IRENA's Director-General Francesco La Camera. "While today we see a handful of countries in the lead, each country can harness its renewable potential, take steps to leverage local capabilities for industrial development, and train its workers."
Last year, sixty-three per cent of all renewables jobs were recorded in Asia, confirming the region's status as a market leader, the new report reveals. Biofuels jobs followed closely behind solar PV, reaching 2.5 million. Many of these jobs are in the agricultural supply chain, particularly in countries like Brazil, Colombia, Malaysia, the Philippines and Thailand, with labour-intensive operations. Other large employers in the renewables sector are the hydropower and wind industries, with close to 2 million and 1.2 million jobs, respectively.
Renewables jobs have shown more inclusion and a better gender balance than fossil fuels. The report highlights that women held 32 per cent of total renewables jobs, as opposed to 21 per cent in fossil fuels sectors.
Although precise estimates remain scarce and absolute numbers are small for now, off-grid renewables are creating growing employment, led by solar technology. Decentralised renewable energy can also propel productive uses in rural areas. This job multiplier effect can be seen in farming and food processing, healthcare, communications, and local commerce.
Comprehensive policies, led by education and training measures, labour market interventions, and industrial policies that support the leveraging of local capacities, are essential for sustaining the renewables jobs expansion.
The 2020 edition of the Annual Review highlights promising initiatives to support the education and training of workers. Such efforts revolve around vocational training, curricula-building, teacher training, the use of information and communications technology, promotion of innovative public-private partnerships, and recruitment of under-represented groups such as women.
Policymakers must also prioritise reskilling for fossil fuel sector workers who have lost or are at risk of losing their livelihoods. Many have considerable skills and expertise to contribute to a reoriented, clean energy industry.
The world has seen encouraging growth in renewables jobs. But it can bring about much larger employment by adopting a comprehensive policy framework that drives the energy transition. Never has the importance of such a push been clearer than at this momentous juncture. Even as the world is still dealing with the COVID-19 pandemic, humanity receives near-daily reminders of what lies in store if we fail to address the gathering climate disruptions.
The need to chart a different course is undeniable, as are the benefits to be reaped. IRENA's recently-released Post-COVID Recovery Agenda found that an ambitious stimulus programme could create up to 5.5 million more jobs over the next three years than a business-as-usual approach. Such an initiative would also allow the world to stay on track for creating the 42 million renewables jobs that the agency's Global Renewables Outlook projects for 2050.
Read the full report
Countries Raise the Sails on Offshore Renewables Sector
Offshore renewables, including offshore wind, wave, tidal, ocean thermal, and floating solar PV, will witness substantial growth in capacity over the next decade and play an essential role in the global energy transformation. In this context, representatives from 40 countries gathered to identify collaboration areas and agree on concrete actions to accelerate progress and ensure rapid uptake of these promising technologies.
According to the International Renewable Energy Agency's (IRENA) projections, global offshore wind and ocean energy installed capacity will reach 228 GW and 10 GW respectively by 2030.
During his welcoming remarks, IRENA Director-General Francesco La Camera stressed offshore renewables' importance in meeting growing energy demands and improving living conditions. "Offshore renewables have the potential to meet more than four times the global energy demand of today, foster a blue economy, and bring socio-economic benefits to some of the most vulnerable areas to climate change such as small island territories and coastal areas," he said.
The Collaborative Framework on Ocean Energy/Offshore Renewables first met on 25 June 2020, during which Members and States in Accession provided inputs on the thematic scope of the Collaborative Framework and agreed to include relevant stakeholders in future meetings. In response, this second meeting of the Collaborative Framework, moderated by H.E Ambassador 'Akau'ola, Tonga's Permanent Representative to IRENA, included participation, insights, and support from the Global Wind Energy Council (GWEC) and Ocean Energy Europe (OEE).
Currently, 90% of global installed offshore wind capacity is commissioned and operated in the North Sea and the nearby Atlantic Ocean. Mr. Ben Backwell, CEO of GWEC, attributed the rapid uptake of offshore wind in Europe to regional cooperation on interconnection, marine spatial planning (MSP), and sector coupling in the North Sea. Mr. Backwell highlighted the critical role that the Collaborative Framework can play in fostering similar regional partnerships in other parts of the world.
Representing the ocean energy sector in the Collaborative Framework, Mr. Rémi Gruet, CEO of OEE, suggested that ocean energy will become a game-changer, estimating that the sector can provide more than 1.2 million jobs worldwide by 2050. Mr. Gruet also underscored the predictability of ocean energy, which complements the variable renewable energy sources, as a compelling reason to make wave and tidal energy technologies essential additions to power systems that will be dominated by solar PV and wind.
Members also agreed on 13 topics of focus for the Collaborative Framework, around the areas of technology development, research and innovation, market incentives, and sustainability. The topics include analyses on accelerating technology cost reduction, grid integration, resource mapping, and coupling of offshore renewables with Power-to-X technologies. Participants also indicated the important role of IRENA and the Collaborative Framework in moving a global Offshore Renewables agenda forward in other relevant multilateral venues including the G20 and the COP26.
IRENA Members also agreed on modalities for future meetings under the Collaborative Framework, including the selection of Italy and Tonga as co-facilitators.
South Africa: industrial energy efficiency project wins international award
South Africa's largest energy efficiency initiative: Industrial Energy Efficiency Improvement in South Africa through Mainstreaming the Introduction of Energy Management Systems and Energy Systems Optimization, has won the highest international accolade for an energy programme – the International Energy Project of the Year – awarded by the global Association of Energy Engineers (AEE).
The project, which has been led by South Africa's National Cleaner Production Centre (NCPC-SA) and the United Nations Industrial Development Organization (UNIDO) since 2010, received the award in recognition of its efforts to transform energy use patterns in South African industry and to mainstream energy management systems across economic sectors.
Since the project began in 2011, it has successfully trained 39 SANS/ISO 50001 lead auditors, held more than 320 training workshops, and achieved the participation of more than 150 large companies and 227 small and medium-sized enterprises. The project team has assisted industrial companies in saving 6.5 terawatt-hours (TWh) of energy, representing cumulative cost savings of R5.3 billion (€270m.) for these companies.
The AEE's International Awards recognize achievements in energy around the world. According to the organizers' official communication, the awards identify those who exemplify the very best in their fields, and recognize the important work that is being done by individuals, organizations, agencies and corporations.
The AEE International Project of the Year award was accepted by national project manager, Alf Hartzenburg of the NCPC-SA, at the AEE International Virtual Awards ceremony. AEE members and executives from around the world responded with enthusiastic accolades when the summary of the IEE project achievements was read by the chairperson of the awards committee.
The IEE project, currently its second phase, funded by the Global Environment Facility, is set to run until December 2021. Other IEE project phase II partners include South Africa's Department of Trade, Industry and Competition, which funds the NCPC-SA, the Department of Energy and Mineral Resources and its agency, the South African National Energy Development Institute (SANEDI).
According to Hartzenburg, what sets this project apart is that it partners with and equips industry to tackle practical energy management in companies of all sizes.
He said, "Through expert-level training of industry professionals, demonstration of actual impact and methodologies aligned to international standard ISO50001, the project partners have ensured that both the skills and the appetite exist to implement energy management."
Hartzenburg continued, "The benefits are made clear in the energy savings, which result in direct financial savings on utilities and other energy sources, and we don't leave the companies to go it alone, but support them with skills and financial linkages, where possible."
Hartzenburg believes that the return to post-lockdown operations offers companies an ideal opportunity to consider changes that will ultimately save them operating costs, thus aiding in the recovery process and long-term sustainability.
"SANS/ISO 50001, the energy management best practice standard, actually saves companies money. We are offering companies technical support to comply with this standard, and even some financial support if they want to apply for certification through the South African Bureau of Standards (SABS)."
Hartzenburg said his team is particularly proud of the huge environmental impact of the project. "Energy savings, particularly in a fossil-fuel based economy such as South Africa, have a direct climate mitigation benefit – which is why the GEF has funded our second phase."
Based on internationally accepted calculations, the NCPC-SA reports that energy saved by companies through the IEE project has mitigated 6.4 million tonnes of carbon dioxide equivalent (CO2e) since April 2011 when the first savings were measured.
SANEDI is working with the information gathered through the NCPC-SA interventions, and is using them together with relevant international and national energy trends to inform national energy and policy planning, including the adaptation of the National Energy Efficiency Strategy.
Rana Ghoneim, head of UNIDO's Energy Systems and Infrastructure Division, said the award was an excellent recognition of the strong ownership, committed leadership and multi-stakeholder partnership that is driving industrial energy efficiency in South Africa. "The programme has always been a great example, inspiring other countries within the UNIDO global programme, where its impacts transcend beyond South Africa."
The IEE project has a strong focus on gender mainstreaming and promoting the participation of women in energy. To date, 43% of the professionals trained through the project are female.
The project also includes awareness-raising in its activities, as evidence strongly supports the idea that sustained energy savings are brought about through behaviour change. This active communication approach made the project an even stronger candidate for the AEE International Award which encourages projects with "significant success in savings and/or visibility".
Islands Aim to Phase out Fossil Fuels and Build Climate Resilience
From the Atlantic Ocean and the Caribbean to the farthest reaches of the Indian and Pacific oceans, island communities face common and increasingly daunting energy challenges.
On top of their vulnerability to climate change, Small Island Developing States (SIDS) tend to have limited primary energy resources, leaving them dependent on imported fossil fuels. This means severe price volatility and import dependencies, along with climate damage.
Small system size, however, makes island grids good candidates to demonstrate the shift in power generation from fossil fuels to local renewable sources.
In one instance, in Vanuatu, the power utility of Espiritu Santo undertook a grid assessment study that estimated 87% of electricity demand could be met with renewables by 2030. New operational procedures and enabling measures could boost solar photovoltaic (PV) power in the system as well as adding more hydropower.
Moving from predominantly thermal, fossil-based power generation to a system rich in wind and solar energy is not without challenges for SIDS. The variable nature of those sources – the sun must shine and the wind must blow – requires careful integration with existing power systems. The transition must be approached in a structured manner, with studies undertaken at key stages.
In Viti Levu, an island in the Republic of Fiji, grid assessments showed that the share of PV could increase as much as 65 megawatts (MW) with infrastructure upgrades and grid code changes to reduce constraints in the power system. After a thorough evaluation by power engineering experts, effective grid codes can be adopted and adapted from other countries with similar demand and generation profiles.
In the Dominican Republic, assessments have showed ways to integrate variable renewables into the existing power system.
By 2030, some 63% of real-time demand could be met by wind and solar energy. This means over a third more wind and nearly a quarter more solar than in recent years, while slashing the use of natural gas and oil-based fuels by more than a quarter. This could cut system operating costs as well as carbon-dioxide (CO2) emissions.
After an island state sets its policies and targets for renewables, grid assessment studies can indicate feasible shares for the existing power system, as well as future investment needs. Such studies can also offer valuable recommendations on solar and wind integration.
While SIDS contribute only to a very small percentage of global emissions, they are taking decisive steps to scale up renewable energy and fulfil their own international climate pledges.