Presidential Evil And American Good: Can They Coexist?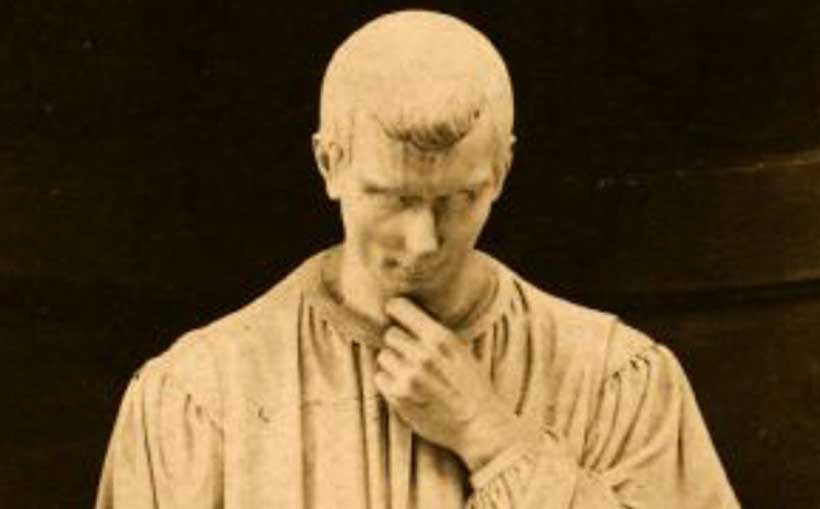 If men or nations do evil in a good cause; if they cover themselves with guilt in order to fulfill some high responsibility; or if they sacrifice some high value for the sake of a higher or equal one they make a tragic choice.-Reinhold Niebuhr, The Irony of American History
When Protestant theologian Reinhold Niebuhr posited the tragic choice of evil for the sake of good – a choice inherent in both the "human condition" and the anarchic state of nations – he was not focused on differences within a specific national government. Today, however, in the dissembling United States, a similarly tragic choice confronts America's citizens in particular. Here the apparent choice is bold and straightforward:
Shall Americans support an evil president in the greater interest of some wider political good?
Though plausible in principle, no such dilemma actually exists. In current US political circumstances, there is no supportable argument that Donald Trump's disjointed and seat-of-the-pants policies, either foreign or domestic, can bestow any verifiable net benefits. To the main point, by allowing a willfully corrosive president to act in its name, the United States has defiled American national interests and global human interests simultaneously.
Apropos of proper logic, one presumptive conclusion is unambiguous: There is no "tragic" choice involved here (the choice identified above by Realpolitiker[1] Reinhold Niebuhr), just an obvious and overriding imperative to rid both nation and planet of Trump-era toxicity. Prima facie, in this case at least, presidential evil and American good are mutually exclusive.
There is more. With each passing day, weary Americans must face several stark and ironic contradictions. At an historical moment when uplifting numbers of good people are making great personal sacrifices to help others (e.g., medical communities working against Covid19; firefighters in the west; hurricane search-and-rescue personnel in the south, etc.), a US president acts wittingly to undermine his own country's safety and security. This behavior includes a continuously incomprehensible stance of support for Vladimir Putin, the Russian president who it would appear can wish no harms upon the United States.[2]
While according to any reasonable criteria of intellectual assessment these cumulative Trump behaviors are injurious and inexcusable,[3] millions of US citizens still maintain that his plainly deranged presidency represents a calculable "net positive."
What does this really mean? By definition, even now, these Trump-supporting Americans believe that manifest presidential evil can be compatible with national welfare and national progress. Somehow, in this case, they believe that such once-unimaginable evil can also be good. Credo quia absurdum, said the ancient philosophers, "I believe because it is absurd."
How can all this be helpfullyexplained? Conceptually, it would be best to begin at the beginning. The contradiction we are so painfully witnessing with this stumbling White House administration is not uniquely American. Already, back in the sixteenth-century, philosopher Niccolo Machiavelli observed famously, "A man who wishes to make a profession of goodness in everything must necessarily come to grief among so many who are not good."
Machiavelli need not always be clarifying or relevant. There is nothing here to suggest that this classic argument from The Prince would in any way support Donald J. Trump's foreign and/or domestic policies. This president's particular descents into wrongdoing and dereliction are not an expression of any gainful policy "realism." Rather, they are singularly lamentable expressions of wantonly gratuitous harms.
In an unsteady age when the risks of a nuclear war[4] could coincide with expanding biological destructions – that is, with the devastating microbial assaults of a Corona-Virus "plague"[5] – such harms can have no conceivable justifications.
None at all.
There is more. Context is important. All humans, wherever they may live, must bear persistent witness to the distressingly thin veneers of "civilization." Recalling William Golding's marooned boys in Lord of the Flies, we must repeatedly discover, beneath any delicate varnish of supposed coexistence, a lascivious human inclination to brutalize certain "others."
However informally it may be calculated, this primal inclination is "normally" judged agreeable and cost-effective.
Science and technology notwithstanding, empathy and compassion remain in calculably short supply on planet earth. Accordingly, substantial fractions of humankind remain slouched in a perpetually bruising darkness, hoping not to create promising new forms of human civilization, but to "better" inflict myriad varieties of unspeakable slaughter. During the debilitating "Trump Years," years of steadily-expanding presidential evil, the United States has made an egregious choice.
Knowingly, it has placed itself directly within such nefariously cascading "darkness."
As "analysts," Americans should now be more policy-specific. In Donald Trump's United States, there is always some blatantly self-serving presidential explanation for human rights abuse. To wit, we are instructed, the latest victims are despicable, "illegal" or, in some ways at least, not fully human. Always, they are "others," mere others. And as we are repeatedly informed by the president's reliably obsequious minions, this particular victim population is not at all like us. It is deserving of necessary "punishment."
Credo quia absurdum. "I believe because it is absurd." It is a very old story. The struggle between "Us and Them" is very plainly generic, not US-specific. If we are "good," they are not. Period. Such grimly bifurcated reasoning is especially perverse and ironic today, during a pandemic crisis when the common biological "oneness" of the human species couldn't possibly be more obvious
In high tragedy, as originally performed back in fifth-century BC Athens, humans were routinely presented as inherently flawed guests in a divinely-created universe. This ancient presentation, though presently "modified" with assorted regional and religious nuances, remains difficult to dispute. After all, following even a "small" nuclear war – a plausible event, at least in the currently downward trajectory of world affairs – cemeteries the size of whole cities could be needed to bury the uncountable dead.
Then, recalling the pre-nuclear imagery of poet T S Eliot, there could be no "lilacs breeding out of the dead land." Then, there would be no discernible "good," only variously decaying bearers of "evil."
Promptly, in far-flung parts of the world, both within and between individual nation-states, a "waste land" could become the new normal. Such "normalcy," one substantially worse than even the new-normal of Covid19 life on earth, ought never become an intentionally sought-after expectation. For rational thinkers, this point hardly requires any present-moment clarifications.
No sane person can be in favor of necropolis.
"Art is a lie," noted Pablo Picasso, "that lets us see the truth." In this paradoxical description, theatrical tragedy can remind us that earthly spheres of order, justice and good remain severely compromised by evil, and that no amount of technology or science can ever compensate for our species' multiple leadership transgressions. If, as in high tragedy, we humans should sometimes be punished in apparent excess of our specifically personal wrongdoings – "Whom God wishes to destroy," warned the Greek tragedian, Euripides, "He first makes mad." – even this "unfair" fate could not declare us to be "innocent."
Not reasonably.
There is more. Always, it is the gripping silence and self-inflicted fears of ordinary people that sustain the human world's abundant madness. Often, these primal fears center on certain irrepressible expectations of personal death. But sometimes they can also rest on various corollary anxieties about personal exclusion. More than anything else, and for several markedly different yet intersecting reasons, we humans continue to seek the comfortingly calming warmth of "mass."
It is the "mass man." an elucidating and derivative construct of Spanish existentialist philosopher Jose Ortega y'Gasset (The Revolt of the Masses,1930) who created US President Donald J. Trump. Stated differently, this American president, who promises to "Make America Great Again" is the openly evil product of American "mass."[6] By itself, this collective does not intend to create evil, but intent is not at all determinative.
It is quite enough that the mass prefers baseless opinion to documented fact and a willful anti-Reason to proper learning or tangible science.
There is more. As a species, not just as Americans, there exists no compelling or defensible reason for us to fawn upon myriad past mistakes. Now, instead, with a view to achieving some still-plausible and verifiable progress, Americans must look back courageously. "How much treasure," they must finally inquire, "how much science, how much labor and planning, how many vast oceans of sacred poetry, have we already ransacked, just to render our disparate human civilizations even more miserable and more imperiled?"
I don't know each pertinent answer. I do know, however, that our shallow and corrupted civilizational institutions, including America's humiliating presidential elections, can never save us. This nation's most revered universities, perched deliberately above the distressingly mundane clamor of work, politics and family, remain unmindful of the world's most urgently important intellectual questions.
Thoroughly unmindful.
Unassailably, though painfully indelicate to acknowledge, higher education in the expansively deranged Trump-Era proceeds hand in hand with a ubiquitously crude and predatory commerce. In partial consequence, our colleges and universities shamelessly crush most residual reflexes of lingering student intellect or individuality. This crushing is not undertaken with any insidious intent – and the challenges to academic success during a pandemic are anything but minor – but the US posture of anti-Reason is nonetheless destructive. Sorely destructive.
In today's Trump-defiled United States, American Transcendentalist philosopher Ralph Waldo Emerson's once venerable goal of a people that is "plain living and high thinking" is more than just forgotten. This once-lofty objective presently now lies very far beyond any identifiable popular interest or hint of public imagination. Why not? Living together with unhidden presidential evil, what else should we expect?
The American university, a dutifully obliging adjunct of the wider corporate/political universe, now lies distant not only from human learning, but also from human survival. French philosophers of the eighteenth-century Age of Reason had preferred to speak optimistically of a siècle des lumieres, a "century of light," but today, the ivy-covered walls are inestimably fouled by a congealing darkness, by a suffocating pall of excruciating conformance, vulgar self-interest and even a peculiarly-fashionable loathing of anything detached from money.
There is a professionally favored euphemism here. It's called "wealth maximization." The language provides cover for a nation's abject indifference to serious learning.
None of this devaluation was initially created by the Trump "ascendancy,"[7] but it has been strongly reaffirmed in absolutely every respect by a starkly unworthy American president.[8]
As an easily verifiable matter of human history, resisting evil has had little to do with human intelligence. More often than we may care to admit, such intelligence is conveniently manipulated to justify or enlarge certain "others'" most excruciating forms of human suffering. Indeed, looking over the still-mounting wreckage of Donald Trump's presidency in the United States, we see the palpably grim results of such manipulation, both domestically and in various other countries harmed by the dissembling American foreign policies.
In some cases, these are harms of US omission or inaction, rather than of commission. A specific case in point would by Syria, where Trump's immutable unwillingness to get on the wrong side of Vladimir Putin has already created societal disintegration and unspeakable torment.[9]
The main theme or question before us allows only a single coherent response. There is no way that a "good" American society can be created or sustained by an "evil" American president. Period. Before the United States allows itself to become even more thoroughly lost to any still credible hopes for human improvement and national survival, American citizens will have to build more purposefully upon this rudimentary wisdom. To be sure, we remain disturbingly far from understanding (let alone electing) Plato's "Philosopher King,"[10] but now we are at least better advised to reject American presidential evil at absolutely all costs.
Donald J. Trump does no evil for the sake of good. There is nothing "tragic" about his persistent across-the-board choice of evil postures and policies. In essence, he makes these barbarous choices because he is authentically committed to evil for evil's own sake.
Left uncorrected, Trump will continue to bring to these deeply unhappy United States a self-inflicted future of national humiliation and determined anti-reason.
No such future could ever "make America great again."
---
[1] On Realpolitik or power politics, see, by this author, Louis René Beres, Reason and Realpoliitk: US Foreign Policy and World Order (Lexington Books, 1984). See also his later book: Louis René Beres, America Outside the World: The Collapse of US Foreign Policy (Lexington Books, 1987).
[2] Incontestably, of course, Russia remains a significant nuclear threat to the United States. See, for example, by this author, Louis René Beres, at The War Room (US Department of Defense: Pentagon): https://warroom.armywarcollege.edu/articles/nuclear-decision-making/
[3] Journalist Bob Woodward called Trump's efforts to conceal his knowledge of the virus from the public "one of the most tragic, outrageous acts by a sitting president in, maybe in history."
[4] For early and informed assessments of nuclear war risks and consequences by this author, see: Louis René Beres, Surviving Amid Chaos: Israel's Nuclear Strategy (Rowman & Littlefield, 2016; 2nd. ed., 2018); Louis René Beres, Apocalypse: Nuclear Catastrophe in World Politics (Chicago: University of Chicago Press, 1980); Louis René Beres, Mimicking Sisyphus: America's Countervailing Nuclear Strategy (Lexington MA: Lexington Books, 1983); Louis René Beres, Reason and Realpolitik: US Foreign Policy and World Order (Lexington MA; Lexington Books, 1984); and Louis René Beres, ed., Security or Armageddon: Israel's Nuclear Strategy (Lexington MA: Lexington Books, 1986). See also, by Professor Beres, at The Bulletin of the Atomic Scientists: https://thebulletin.org/2016/08/what-if-you-dont-trust-the-judgment-of-the-president-whose-finger-is-over-the-nuclear-button/
[5] Such biological assaults have thus far been considered only as natural occurrences. Going forward, however, it is possible that pertinent pathogens could be weaponized, and that future instances of "plague" could emerge as a deliberate form of warfare and/or terrorism.
[6]Like Jose Ortega y'Gasset, the Swiss psychologist Carl G. Jung spoke usefully of "mass." Earlier, Friedrich Nietzsche, had referenced this demeaning phenomenon as the "herd;" Sigmund Freud, as the "horde;" and Soren Kierkegaard, as the "crowd."
[7] See, by this author, at The Daily Princetonian, Louis René Beres: https://www.dailyprincetonian.com/article/2018/06/a-core-challenge-of-higher-education
[8] See, by this author, at Yale Global Online, Louis René Beres: https://yaleglobal.yale.edu/content/trump-and-destruction-american-mind
[9] These are not just matters of moral responsibility. The United States is obligated by the international law of human rights to intervene on behalf of such cruelly victimized populations. These international legal obligations are also incorporated in the national law of the United States, per Article 6 of the US Constitution (the "Supremacy Clause") and several major US Supreme Court decisions. In the precise words of Mr. Justice Gray, delivering judgment of the US Supreme Court in Paquete Habana (1900): "International law is part of our law, and must be ascertained and administered by the courts of justice of appropriate jurisdiction…." (175 U.S. 677(1900)) See also Opinion in Tel-Oren vs. Libyan Arab Republic (726 F. 2d 774 (1984)).
[10] See, by this author, at Oxford University Press, Louis René Beres: https://blog.oup.com/2011/08/philosopher-king/
How the Republican Party Has Tightened U.S.-Taiwan Ties
Taiwan, also known as the sovereign Republican of China (ROC), set up in the aftermath of the revolution in 1911 in China. The U.S. government recognized the ROC as the legal government of China till the end of 1978 and has thereafter maintained a non-diplomatic relationship with the island after its official recognition of People's Republic of China (PRC) as the legal government of China in 1979. Even though the U.S.-Taiwan relationship is deemed as "unofficial" by the U.S. Department of State, official contacts between the two governments based on the Taiwan Relations Act have never ceased, the most important of which includes U.S.-Taiwan arms sales. The "strategic ambiguity" embedded in the three U.S.-PRC Joint Communiqués in 1972, 1979 and 1982 allows the U.S. to maintain its involvement in the regional security of Taiwan Strait under a statutory framework despite PRC's countless opposition.
America's long-standing commitment to Taiwan and involvement in the region is not only bound by the jurisdiction of the Taiwan Relation Act, but has created "historical and ideological connections". The support for Taiwan, especially when in the face of an increasingly aggressive China, is usually bipartisan in the U.S., but the Republican party seems to be more provocative when it comes to defending Taiwan from the threat of mainland China. Historically, Republican politicians usually stroke first to take a pro-Taiwan stance when disputes across the Taiwan Strait arose. Meanwhile, the ongoing "asymmetric polarization" in the U.S. – the Republican Party is turning conservative more than the Democratic Party turning liberal – is influencing Washington's policies involving the Taiwan Strait. In 2020, conservative Republican senators Josh Hawley and Ted Cruz introduced the Taiwan Defense Act (TDA) and Taiwan Symbols of Sovereignty (Taiwan SOS) Act respectively, both of which aimed at defending Taiwan from Chinese Communist Party's oppression and even invasion. As Republicans are rapidly turning more conservative, is it likely that the U.S.-Taiwan relations will enter a honeymoon phase? And how that would affect U.S.-Taiwan arms sales?
Historical links between U.S. Republican Party and Taiwan
1949 – 1971: The China Lobby
Throughout the history U.S.-Taiwan relations, there have been multiple times when conservative Republican officials and public figures have worked at the forefront of campaigning for closer U.S.-Taiwan ties, often along with anti-PRC policies.The Republican Party's intimacy with Taiwan dates back to 1949 when the Chinese Civil War ended. The defeat of Chiang Kai-shek split U.S. policymakers on the issue of whether to defend Taiwan if Communists from China initiated an attack. Democratic Secretary of State Dean Acheson was prone to abandon the island while Republican Senators Robert Taft and William Knowland, together with former Republican President Hoover adamantly demanded that America should protect Taiwan.
In the 1950s, the China Lobby, a broad network of people who shared the common goal of support Chiang Kai-shek's recovery of mainland China from Mao Zedong-led communism, represented the apex of Taiwan's success in America. It involved both Nationalist Chinese officials and right-wing American politicians who were mostly Republican politicians, including Senator Barry Goldwater, Jesse Helms, Senator Bob Dole, and Representative Dana Rohrabacher. Although not every supporter of Chiang actually cared about Taiwan issues since many of them simply took advantage of it to advance their own political agendas, the China Lobby, supported by the Republican Party, was capable of arguing for their cause aggressively and intimidating dissidents.
2.2 1971-1991: The Sino-US Normalization – Inner Conflicts among Republicans
Republican President Nixon won bipartisan support for his trip to China in 1972, which marked the end of U.S. efforts to isolate People's Republic of China. Praises for Nixon's China initiative came not only from leading congressional Democrats such as Senator Ted Kennedy and Mike Mansfield, but liberal communist James Reston. However, domestic controversy and criticism also arose and mostly came from conservative Republicans who complained that the preliminary rapprochement undermines America's longtime ally – Taiwan. As the conclusion of Nixon's visit to China, the "U.S.-PRC Joint Communique (1972)" was issued, which incurred opposition and even wrath of Nixon's conservative Republican supporters who were upset by the gradual reduction in U.S. forces in Taiwan as implied by the communique.
A decade later, Republican President Ronald Reagan issued the "U.S.-PRC Joint Communique on Arms Sales" – also known as 1982 Communique – which clarified that the U.S. intended to gradually decrease its arms sales to Taiwan, but Reagan's secret Memorandum on the 1982 Communique specified that the reduction in U.S. sales of arms to Taiwan was "conditioned absolutely upon the continued commitment of China to the peaceful solution of the Taiwan-PRC differences". As a matter of fact, not only did the Reagan administration have Republicans in Congress reassured through his written clarification that the communique would not disadvantage Taiwan, but he continued to work to assuage potential criticism from the pro-Taiwan Republicans by selling twelve C-130H military transport aircraft to Taiwan in 1984.
2.3 1992-2016: The Gradual Revival of Republican-Taiwan Ties
In 1992, an agreement was reached by PRC and ROC governments in the name of "1992 Consensus" in which the commitment of "one China, respective interpretations" was shared and seen as the foundation of the rapprochement between the two sides of Taiwan Strait ever since. Douglas H. Paal, the Director of American Institute in Taiwan (AIT) between 2002 and 2006, buttressed the 1992 Consensus by emphasizing its critical importance to maintaining cross-strait peace in 2012, days before the presidential election of Taiwan. However, the former Republican Senator Frank H. Murkowski supported Tsai Ing-wen's challenge to the 1992 Consensus – "Taiwan consensus", and claimed that Tsai' proposal "represents the will of the Taiwan people".
Two years after the proposal of 1992 Consensus, the Clinton administration sought to upgrade the U.S.-Taiwan relations but still restricted high-level Taiwanese government officials' access to U.S. visas. In the same year, Republicans swept the mid-term elections, which led to a growing movement in the Congress that favored closer relations with Taiwan. In 1995, Newt Gingrich, the Speaker of the House as well as the conservative Republican representative of Georgia stated that president of ROC should not only be able to visit the United States, but ROC itself deserved a seat in the United Nations.
The majority of House Republicans' support for Clinton Administration's efforts into bringing China into WTO was surprising, but harsh criticism against China also came from Republican politicians and public figures such as Representative Chris Smith, Representative Dana Rohrabacher, and 1992 Republican presidential candidate Patrick Buchanan, most of whom were allies of conservative forces that held anti-PRC and pro-sentiment.
2.4 2017 – present: Increasingly Conservative Republicans and Closer U.S.-Taiwan Ties
After winning the 2016 U.S. president election, the Republican president-elect Donald Trump had a 10-minute conversation with the President of Taiwan Tsai Ing-wen, an unprecedented move for a soon-to-be U.S. president and Taiwan's top leader. This led many people to label Trump as a pro-Taiwan president and some even speculate his intention to support the independence of Taiwan.
The conservative Republican president's policies toward Taiwan were as bold and aggressive as his domestic policies. Even though some may claim Trump's attitude was "neither new nor Taiwan-specific", it cannot be denied that his leadership, directly or indirectly, accelerated Republican Party's right-leaning dash and that came with more pro-Taiwan policies that got under Beijing' nerve. In 2018, Trump "gladly signed" the Taiwan Travel Act that encourages all levels of U.S. government officials to travel to Taiwan and high-level Taiwanese officials to enter the U.S.. The bill was introduced by the Republican representative Steven Chabot and won bipartisan support before being signed into law by Trump. In 2020, the Republican Senator Josh Hawley introduced the Taiwan Defense Act (TDA) to ensure America's obligations of defending Taiwan from Chinese Communist Party's invasion. In the same year, the Republican Senator Ted Cruz recognized Taiwan's National Day and introduced Taiwan Symbols of Sovereignty (Taiwan SOS) Act.
The conservative Republican Secretary of State Mike Pompeo is also known for his staunch support for Taiwan. During the final days of Trump's presidency, Pompeo announced that the U.S. was lifting restrictions on U.S.-Taiwan relations by allowing U.S. government contacts with Taiwan despite an increasing risk of invoking Beijing to trigger a new cross-strait crisis. Even in the post-Trump era, Republicans does not seem to put a stop to their pro-Taiwan cause. In April 2021, the Republican Representative John Curtis introduced the "Taiwan International Solidary Act" to condemn China's overreach of the sovereignty of Taiwan – a year after he authored the "Taipei Act" to strengthen Taiwan's international diplomatic recognition and had it passed by bipartisan support. The ongoing partisan divide has yet to show a sign of deceleration after Trump left the office. Based on the redder Republican Party's historical favor toward Taiwan, it is likely that there will be more Republicans initiating anti-PRC and pro-Taiwan policies, including increasing U.S. arms sales to Taiwan.
Asymmetric Polarization in the U.S.
As early as in the 1990s, themes of polarization, division, and fragmentation started to be discussed by media and political commentators of American politics. The editor of the Columbia Journalism Review declared the conservative politician Patrick Buchanan's speech at the Republican convention in 1992 a "culture war" and asserted "There is increasing polarization in American society over race, religion, family life, sex education and other social issues". Similar perceptions include "the sharpening cultural polarization of U.S. society after the mid-1970" and the two dividing values camps in America – the "culturally orthodox" and the "culturally progress". As shown in Figure 1, Republican legislators have been turning more conservative and Democratic legislators more liberal, which makes the Senate and House more divided than ever since the end of the first World War.
Figure 1: Increasing Polarization in Congress 1870-2010 based on DW-NOMINATE Index
Each point represents the discrepancy between two parties' mean DW-NOMINATE scores. Higher values along the y-axis indicate stronger political polarization. (source: Moskowitz & Snyder, 2019)
The Republicans and Democrats in the U.S., with their ongoing conflicts commonly acknowledged, are not simply mirror images of each other. A wealth of studies find that the two parties are not moving away from the center at equal speeds. Scholars such as Jacob Hacker and Paul Pierson point out that the phenomenon "asymmetric polarization" – Republicans have marched much further right than Democrats have moved left – is what has escalated partisan conflicts, which is also demonstrated by Figure 2. Nolan McCarty, the professor of Politics and Publica Affair of Princeton University, asserts that the polarization is "a Republican-led phenomenon where very conservative Republicans have replaced moderate Republicans and Southern Democrat". The disproportionate share of rising polarization is thereby greatly explained by Republican party's march toward the ideological extreme.
Figure 2: Asymmetric Polarization based on DW-NOMINATE Scores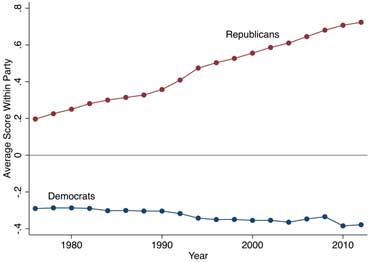 (source: Moskowitz & Snyder, 2019)
Correlations between U.S. Asymmetric Polarization and US-Taiwan Relations and Arms Sales
Compared to 1991 when it had more than 20 countries as suppliers of arms, Taiwan only has the U.S. as its supplier nowadays. America, however, remains Taiwan's sole and largest supplier of arms by taking advantaging of the strategic ambiguity of the U.S.-PRC Joint Communique of 1982 and the Taiwan Relations Act. More importantly, keeping arms sales to Taiwan can be used as political leverage by the U.S. for the U.S.-RPC relations. The U.S. military sales agreements with Taiwan amounted to $9 billion and delivers totaled $12.3 billion between 1991 and 1998. During the Bush and Obama Administration, U.S.-Taiwan arms sales were oftentimes delayed or cancelled due to concerns over relations with the RPC or U.S. domestic political disputes in Taiwan. However, to counter the cross-Strait military imbalance, the arms sales to Taiwan during the Trump Administration exceeded any previous administrations over the last four decades, including seven packages of arms sales in 2017, C-130 and F-16 fighter parts and accessories in 2018 and 2019. As shown by Figure 3, the overall volume of U.S.-Taiwan arms sales experiences an increase between 1981 and 2010 despite some fluctuations.
 Figure 3: U.S. Government Arms Deliveries to Taiwan 1981 – 2010 ($billion, values not adjusted for inflation)
The scatterplot is composed by the author of this article (source: Arms Control Association, n.d.)
For years, Republicans constantly praise the common value shared by the U.S. and Taiwan and never attempt to hide their stance on defending Taiwan under the Taiwan Relations Act should China violate the peaceful status quo across the strait. The U.S. support for Taiwan is oftentimes dominated by Republicans who tend to convert their anti-CCP ideology to pro-Taiwan policies. Those prominent Republican politicians include Senator Marco Rubio, Senator John McCain, and former National Security Advisor John Bolton. Republicans' pro-Taiwan impression culminated when Donald Trump, the Republican then-President-elect, had a phone call from Taiwan's President Tsai Ing-wen, the first official U.S.-Taiwan conversation since 1979. Throughout history, most prominent pro-Taiwan Republican politicians have shown a higher level of conservatism than their colleagues based on DW-NOMINATE ideology scores, including Senator Barry Goldwater, Senator Frank H. Murkowski, and Senator John Curtis, whom of which have made great contributions to tightening the relations between the U.S. and Taiwan. According to those Republicans, Taiwan is a loyal friend of the United States who deserves their strong support which includes the timely sale of defensive arms.
With Republicans' accelerating right-leaning dashing, the anti-China sentiment has been rising and a large portion of it has been translated into pro-Taiwan actions. The Trump Administration's hardline reprimand of CCP has starkly juxtaposed Taipei and Beijing in the current international political environment. This has enhanced the image of Taiwan as "a tiny democratic ally threatened by a totalitarian neighbor", which has given Republicans more legitimacy to take aggressive actions to defend democracy of Taiwan by means of promoting more arms sales to the island.
However, is the asymmetric polarization the only reason behind the increasing U.S.-Taiwan arms sales? Even the polarization of Republicans seems to proceed at a faster pace, Democrats' process of radicalization is tagging along. The boundary between liberal and left had almost vanished by the end of the 1980s, and the self-identifying radicals started to be replaced by leftists relabeled as "progressive". The progressive movement of Democrats has been accelerated by "neoliberal globalism" and the "Cyber Left" – an amalgamation of hundreds of thousands of online organizations, blogs, Twitter and Facebook groups. A study of Brookings finds that the ratio of progressive non-incumbent House winners to total democratic candidates was as high as 41% in 2018, a huge increase compared to 26% in 2016 and 17% in 2014. There is a chance that Democrats could also show stronger support for Taiwan to help the island stand up to the presence of increasingly aggressive China, which is also consistent with their emphasis on a harmonious global community and "social responsibility". It is true that notable Democrats such as Senator Bob Menendez, Senator Ted Kennedy or Speaker Nancy Pelosi do have been open about their appeal for Taiwan's rightful place on the global stage and have never been shy about celebrating Taiwan's democracy. Whereas, it is also progressive Democrats' pro-globalization stance that makes them tend to downplay anti-Communism ideology and thus provide insufficient legislative support for Taiwan. Therefore, military support for Taiwan is still and will be dominated by the conservative Republicans who uphold anti-Communism ideology and value a strong military power to increase security and peace.
Conclusion
The history has proven the Republicans' overall pro-Taiwan stance from the perspective of ideological similarity, strategic purposes and common values. The increasingly right-leaning Republicans' support for Taiwan is not only confined to the legislative branch, but has permeated the executive branch. Being regarded as the most pro-Taiwan president in the US history, Donald Trump lifted U.S.-Taiwan arms sales "to the next level" by not only upgrading the quality of arms, but significantly changing the frequency and procedure of sales.
Biden's ambition to reunite the U.S. is not likely to happen on a short notice given the highly divided American society in terms of income inequality, identity politics, race divergence and so on. The ongoing asymmetric polarization is only going to get worse before it gets better, and that would lead more conservative Republicans, instead of moderate ones, to take power in the foreseeable future. Against the backdrop of deteriorating U.S.-PRC relations, hawkish policies for China will become the mainstream among Republicans. That may not necessarily increase the arms sales to Taiwan under the Biden Administration, but the partisan divide in the current American political environment has made and will make pro-Taiwan policies one of the few agendas that can reach a bipartisan agreement. Therefore, that would neither leave sufficient scope for the Biden administration to adjust its Taiwan policy nor make its China policy too different than his predecessor despites his eager to fix the relations with the second largest economy.
New Paradigm of US Foreign Policy and Relations with Russia
US foreign policy is undergoing an important transition. The US withdrawal from Afghanistan drew a final and symbolic line under the period of its foreign policy, which began not on September 11, 2001, but in the early 1990s — what's commonly called the "post-Cold War" period. In the early 1990s, intoxicated by the "victory in the Cold War" declared by George Bush Sr., the United States, being confident of the "end of history" and not meeting any resistance from outside in the context of the emerging "moment of unipolarity", embarked on a course to transform everything else in the world in accordance with its values. These included the universalisation of the collective West and the spread of the American-centric "New World Order". It was then that the goal of American policy towards Russia and China became their liberal-democratic transformation in accordance with Western patterns and integration into the American-centric world as junior players. US policy objectives regarding so-called "Rogue countries" (that is, those who stubbornly did not want to go over to the "right side of history") became regime change.
That policy reached an impasse in the second half of the 2000s; since then the United States has been mired in a deep foreign policy crisis, due to the fact that the world had "suddenly" stopped developing in line with the American ideological guidelines. Russia and China refused to be transformed in accordance with Western patterns and integrate into the American world order as junior players, and attempts to democratise Iraq, Afghanistan and the Middle East generally failed. It was obviously not possible to extend the American-centric world order to the entire international system, and this order itself gradually began to burst at the seams.
Barack Obama tried to find a way out of this crisis by changing the instruments of American foreign policy, but maintaining the paradigm of spreading the American-centric world order to the rest of the world. The "reset" of relations with Russia and the Trans-Pacific Partnership (Washington hoped that China would eventually be forced to join the TPP) were, in fact, the latest attempts to "draw" Moscow and Beijing into the American-centric world order. Supporting the Arab Spring and fighting Arab dictators was the latest attempt to transform the Middle East. Both attempts failed again.
The first president of the United States to abandon the paradigm of transforming the rest of the world in accordance with American values was Donald Trump. Under his administration, for the first time since the Cold War, the US didn't initiate any new military interventions, openly declared its refusal to spread democracy by military means, and made a fundamental decision to leave Afghanistan by signing an agreement with the Taliban (banned in Russia). It announced that henceforth, US foreign and defence policy would be focused primarily on the confrontation with Washington's global rivals and adversaries, namely China and Russia. However, both the American elite and the establishment of most of the US allies mistakenly perceived Trump and his policies as a temporary aberration, after which a "return to normal" US policy (as it was after the end of the Cold War) should occur. Trump's turnaround did not seem real or final to many. However, their projections were all in vain.
Biden's historical significance lies in the fact that, despite being flesh and blood part of the traditional American establishment, having removed Trump from the White House, and receiving the support of elites and the "deep state", he not only did not abandon the foreign policy of Trump, but also saw it to its conclusion. In doing so, he gave it a much more systemic and complete character. The main ways in which Biden's foreign policy differs from that of Trump are that the United States has increased the importance of combating transnational threats (primarily climate change), and also changed its rhetoric towards its European allies, making it more sympathetic. On most fundamental issues, however, continuity prevails.
The abandonment of the paradigm of universalisation of the American-centric world order is in no way a signal of the readiness of the United States to form a joint multipolar world order with non-Western centres of power, primarily with China and Russia. The fundamentals of American foreign policy — the commitment to primacy and ideological messianism — remain unchanged: they are the result of the nature of the American state as an ideological project and its position as the most powerful player in its environment. The history of US foreign policy does not know the joint formation of a multipolar world order and participation in it; the American ideology simply excludes this.
As a result, a new paradigm of American foreign policy is already being shaped. Its defining priority is the fight against global rivals, this time China and Russia, and attempts to build a new bipolarity, where one pole would be the "world of democracies" led by the United States, and the other pole would be the "world of authoritarians" with the leading roles played by China and Russia. From attempts to universalise the American-centric world order, the United States has moved to its consolidation and defence, and from the "post-Cold War" era to the era of a new global confrontation.
US foreign policy is by no means becoming less ideological. Liberal ideology in its newest left-liberal form is turning from a means of expansion into an instrument for consolidating the "collective West", defining "us and them" and splitting the international community into opposing blocs.
By rejecting the old, failed foreign policy paradigm and adopting a new one, Biden has been able to lead America out of the foreign policy crisis of the past decade and a half. The fiasco in Afghanistan was associated with an incorrect assessment of how long the Ghani government would hold out after the withdrawal of American troops. However, this dramatic narrative should not be misleading: Washington was well aware that this government would fall and that the Taliban would inevitably come to power (within between several months and two years), but nevertheless decided to leave.
The new global confrontation is intended to restore meaning, order and self-confidence to American foreign policy. With its help, the United States seeks to rally allies and partners around itself, consolidate the "collective West" and strengthen its leadership, and, perhaps, even mitigate its internal problems — to try and glue back together a divided American society, albeit partially, and reduce the polarisation of the political elite.
Of course, the practice of American foreign policy is more complex and multidimensional than the rhetoric about a new global confrontation between democracies and autocracies.
First, the world does not fit into the Procrustean bed of a new ideological confrontation. As in the previous Cold War, in the fight against global adversaries, the United States needs to partner with a number of non-democratic countries (for example, Vietnam). Many of the official US allies are authoritarian (including most allies in the Middle East, including Turkey), and Washington is unlikely to abandon these alliances, even though relations with some of them have deteriorated. Loyal NATO allies such as Poland also face serious problems with democracy. However, most importantly, an increasing number of countries, including democracies, do not want to join the US-China or US-Russia confrontation on the side of one of the powers, and are striving to pursue an increasingly independent foreign policy. An illustrative example is South Korea, which, being an ally of the United States and a democracy, in every possible way avoids being drawn into anti-Chinese policies.
Therefore, it is already reasonable to raise the question of how soon the United States will enter a new foreign policy crisis associated with its inability to achieve a new global demarcation along ideological lines and rally around itself most of the "free world" in opposition to China and Russia. Where, in this case, will the American foreign policy strategy develop? But these are questions of a more distant future.
Second, an important priority of the Biden administration is the fight against transnational challenges, primarily climate change, which requires cooperation with global opponents of the United States and non-democratic countries in general. So far, the Biden administration has been trying to combine its geopolitical rivalry with Moscow and Beijing with cooperation with them regarding climate change and other global challenges. It is difficult to say whether such a combination works. Moreover, Russia and China are invited to cooperate on the basis of the Western agenda, not a joint agenda, and at the same time the United States is using the same climate agenda to discredit Moscow and Beijing, exposing them as "climate spoilers" that refuse to reduce carbon emissions on a larger scale.
Third, the Biden administration makes it clear that China, perceived as the only rival capable of undermining American global primacy today, is a much more important and strategic adversary than Russia, and the Pacific region is a much higher priority region than Europe.
It is precisely at the containment of China and the consolidation of the anti-Chinese coalition that the United States is trying to throw its main forces, sometimes to the detriment of its policy of consolidating the Atlantic community and containing Russia. The history of the creation of AUKUS and NATO's decision to designate China in its future strategic concept (planned to be adopted in 2022) as a threat to the security of the alliance, along with Russia, speak of the same thing: Europe is interesting for the Biden administration not only as a springboard and an ally for containment Russia, but also as an assistant in the fight against China.
Equally, it is the desire of the United States to focus maximum resources and attention on the fight against China, as well as to weaken the tendency towards further rapprochement between Moscow and Beijing, which has led to their mutual strengthening, including the military strengthening of China. That is the main reason why the Biden administration is now aiming to stabilise the confrontation with Russia, and to prevent its further escalation. While maintaining the existing deterrent tools (sanctions, information war, support for the current governments in Ukraine and Georgia and their Euro-Atlantic orientation, etc.), Washington, nevertheless, has not provided a qualitative increase in support for Kiev and Tbilisi and seeks to prevent what could lead to a new escalation of the military conflict in the Donbass or in the South Caucasus.
However, while confrontation with Russia is not an equal priority of US foreign policy versus confrontation with China, it remains and will remain an important issue. The United States has neither the desire nor the ability to overcome or at least significantly reduce the confrontation with Russia at the cost of its own concessions, and will strive to make it more passive.
There is no possibility of reducing confrontation on the part of the United States, primarily due to its domestic political restrictions:
In recent years, a strong anti-Russian consensus has developed there. US policymakers perceive Russia as both a geopolitical and an ideological adversary that seeks to undermine the position of the United States around the world, strengthen its main strategic rival (China), as well as undermine the American political system, and undermine America's faith in democracy and liberal values. This perception and the need to combat it is one of the few issues on which there is almost complete agreement in the polarised political system of the United States.
In the context of this polarisation, which has turned many foreign policy topics into instruments of domestic political struggle, any positive step towards Russia becomes a pretext for accusations of treason, and anyone who takes this step pays a high price. This limitation has been observed since the time of Barack Obama, but since then, its scale has increased many times over.
Since the adoption of the Countering America's Adversaries Through Sanctions Act (CAATSA) in 2017, no administration has been able to significantly reduce the scale of anti-Russia sanctions.
In addition, NATO will try to maintain the Russian-American confrontation; the anti-Russian focus has sharply increased since the failure in Afghanistan. Finally, in the wake of the Afghanistan fiasco, the United States simply cannot afford to diminish support for countries directly involved in the conflict with Russia, such as Ukraine and Georgia. In order to reduce reparation damage and convince allies and partners of the reliability of American commitments, the Biden administration must show in every possible way that, although it is ready to turn away from "unnecessary" satellites, by no means will it abandon those that play an important role in the fight against global adversaries. The visits of US Secretary of Defense Lloyd Austin to Georgia and Ukraine in October 2021 confirmed this very task.
The lack of any desire to improve relations with Russia is primarily due to the perception of Russia as a weakening power, which, in the opinion of the US, will in the foreseeable future be forced to seek cooperation with the West from the position of a vassal due to either a large-scale internal crisis or a geopolitical clash with China as a result of the growing asymmetry between Russia and the PRC (something the majority in the American mainstream stubbornly believe in).
As a result, the Biden administration's policy towards Russia is essentially to wait and see as Russia returns to the western orbit while continuing the confrontation, but minimising the damage associated with this confrontation, that is, preventing it from creating an immediate threat to American security.
Thus, given the impossibility and unwillingness of the United States to reduce the intensity of the confrontation with Russia, let alone to overcome it, it is quite possible to conclude that the global confrontation with China and Russia has indeed become, and will remain in the near future, a new core and organising principle of US foreign policy. It will serve as the basis for the development of their national interests, determining the scale of their presence and the nature of their obligations in different regions of the world. One reservation: containing China and consolidating allies and partners against it will remain a higher priority than containing Russia.
In practical terms, this means that the United States will strive to increase its presence, range of partners and military-political commitments in Asia and strengthen relations with those countries it considers important in containing China (the creation of AUKUS and Biden's statement that Washington will provide military assistance to Taiwan in the event of a military invasion by the PRC is a direct confirmation). It also intends to maintain its presence in Europe and support for Ukraine and Georgia as countries playing a central role in the geopolitical struggle with Russia at the current level. Additionally, it will seek to weaken the US presence and commitments in countries and regions that Washington does not consider central or important to the fight against China and Russia.
The latter include, for example, the Middle East. Washington does not see this region as an arena for fighting global opponents and therefore can afford to reduce its military presence and political role there. The US was guided by the same logic toward Afghanistan: they knew that the "vacuum" left there by their departure would not be filled by either Beijing or Moscow.
So, for Russian-American relations, the new paradigm of US foreign policy creates the preconditions for the formation of a model resembling a controlled or stable confrontation, when the parties are not interested in further escalation or in overcoming it through their own concessions.
From our partner RIAC
Biodiversity vs. economy: The dilemma of Ecuadorian politics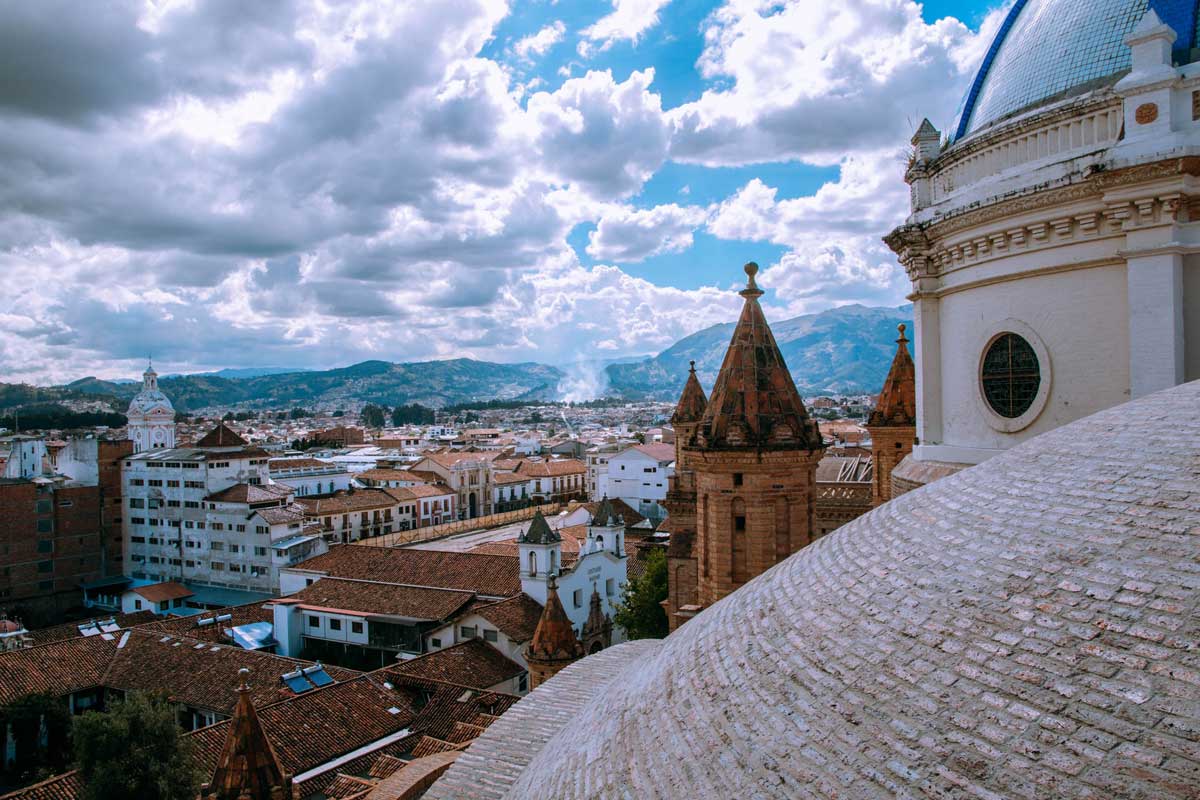 Mega Diversity is the term used to refer to those countries that have a majority of diverse species, especially the endemic species (species unique to the region). There are 17 countries listed as Mega Diversity countries by Conservation International, Ecuador falls 6th on this list. The massive biodiversity of the region is due to the fact that the country has four different natural geographical zones- coast, mountain range, the Amazon and the Galapagos Islands. Three of the world's ten biodiversity hot areas are found in the country, as well as red-listed animals, birds, and reptiles. Ecuador is home to around 8% of the world's amphibian species, 5% of reptile species, 8% of mammalian species, and 16% of bird species. To put this broadly, Ecuador is home to more species than the United States and Canada, although the country is only 0.2% of the world's land area. Ecuador is the first country to write 'right of nature' (Pachamama) in its 2008 constitution, but inspite of this, the mega diversity status of Ecuador is under threat caused by resource extraction and deforestation. The high levels of deforestation are so alarming in the country that it is a constant threat to the conservation of certain species and plants that are intrinsic to a specific region. The fading forest cover has resulted in countless species at the risk of extinction and indigenous people being forced to displace. Further, the mining activities have contributed to increased pollution of natural water sources, contaminating them and thereby negatively affecting aquatic life, a notable incident being the 90's Chevron-Texaco crude oil spill in the Lago Agrio region.
Threats to Ecuador's Mega Diversity – the Case of Yasuni National Park
Despite being a hotspot of biodiversity in flora and fauna, Ecuador ranks second among Latin American countries in terms of deforestation, with 42 percent of the land covered in forest. The high levels of deforestation in Ecuador are caused by high levels of resource extraction mainly in the form of mining and oil extraction. Ecuador has been a major oil exporter since 1967 after the discovery of great oil wealth beneath the Ecuadorian Amazon region. However, without the knowledge or agreement of the public, the government has awarded mining concessions to roughly 1.7 million hectares of forest reserves and indigenous territory. The country is so dependant on oil extraction as the backbone of its economy that the government has to frequently oversee their commitment to preserving biodiversity and indigenous rights. In 2016 oil extractions began in Yasuní National Park, a UNESCO recognised Biosphere Reserve, shocking the international community.
Yasuní National Park is home to endangered white-bellied spider monkey (Ateles belzebuth) and giant otter (Pteronura brasiliensis), and the near-threatened golden-mantled tamarind monkey (Saguinus tripartitus); along with a plethora of other unique flora and fauna. Moreover, the park is home to three indigenous tribes, the Huaorani, Tagaeri, and Taromenane. However, with the oil extractions, both the biodiversity and the lands of indigenous population are under great threat. The Galapagos National Park and the Marine Reserve of Ecuador, UNESCO World Heritage Sites, are also in danger.
When the government faced a $3 billion debt crisis in 2009, then President Rafeal Correa had to reach an agreement with China on 'oil for cash.' Oil prices were surging at the time when the agreement was signed, but the commodities bubble was short-lived. Ecuador would have to come up with a lot more oil to repay its loans as a result of this. They didn't have a choice but to begin extracting in the oil-rich Yasuni National Park. Rafael highlighted Ecuador would leave the oil on the ground and safeguard indigenous rights if the international community agreed to compensate the country for lost revenue. After the international community failed to offer funds to help Ecuador get out of debt, Correa's government had no choice but to approve permission for oil exploration. As a result of extractive interest, the park's oil-rich zone within the ITT (Ishpingo-Tambococha-Tiputini) project is also at risk.
Biodiversity and developing countries in the neoliberal world order
The country's dependence on oil extraction and export has led to negative development rather than positive development in the country in terms of poverty alleviation, job creation, a stable economy or a stable government. The Ecuadorian example confirms Jeffrey's Sachs findings of a negative association between oil exports and economic growth and the association of oil dependence with fragile economies, corrupt government and the frequent interference of foreign countries on their foreign policies to extract mineral wealth. This situation is not exclusive to Ecuador but is happening in almost all developing economies where the government is pressured to give contracts to transnational corporations for mining and oil extraction. All 17 mega diversity countries of the world are developing countries that struggle to run under political and economic instability; making things difficult to make strategic action plans to conserve all that is left of biodiversity and forest cover in the world. A developing country like Ecuador being economically disadvantaged is struggling to take the huge responsibility of biodiversity and indigenous lives. These countries often fall victims to transnational corporations, businesses and foreign governments who are more concerned about extracting the oil than protecting biodiversity. As Noam Chomsky famously quotes in his Profit over People "Fascism is Capitalism with gloves off" and "Neo-Liberalism is Capitalism with the gloves off". They systematically rationalize cooperate domination of the society by making it sound as if fair and democratic allocation of goods and services only through free market policies, but at the macro level it threatens "social welfare" in the developing countries. Neoliberalism doesn't always act as an economic system; it also exerts its domination as a prominent cultural and social force, by favoring elite interest for profit.
Oil extraction increased to pay off debts, on the other hand, the last of the world's major biodiversity hot spots in Ecuador is under threat of getting decimated by oil extraction activities. The livelihood and habitat of indigenous people in the forest are also getting affected due to increased deforestation and pollution. The future of Ecuador's Mega diversity and indigenous life is a great question as the country is struggling with an unstable economy and with governmental support to large scale extraction. Different agents of neoliberalism are also at play to the disadvantage of a developing country like Ecuador often in the form of large transnational oil corporations and through foreign interference in domestic politics. The current problem that Ecuador faces in sustaining its Mega diversity status can only come by means of economic diversification. Instead of viewing biodiversity conservation as the responsibility of domestic Ecuadorian affairs, the international community and those countries involved in mining projects should take responsibility by promoting sustainable investment. Ecuador can only reverse the negative consequences that are intensifying through strong regional and international partnerships, along with continual monitoring of the condition of biodiversity and indigenous life by environmental and human rights organizations.