Rebuilding Cities to Generate 117 Million Jobs and $3 Trillion in Business Opportunity
COVID-19 recovery packages that include infrastructure development will influence the relationship between cities, humans and nature for the next 30 to 50 years. With the built environment home to half the world's population and making up 40% of global GDP, cities are an engine of global growth and crucial to the economic recovery.
Research shows that nature-positive solutions can help cities rebuild in a healthier and more resilient way while creating opportunities for social and economic development. The World Economic Forum's new Future of Nature and Business Report found that following a nature-positive pathway in the urban environment can create $3 trillion in business opportunity and 117 million jobs.
"Business as usual is no longer sustainable," said Akanksha Khatri, Head of the Nature Action Agenda at the World Economic Forum. "Biodiversity loss and the broader challenges arising from rapid urban population growth, financing gaps and climate change are signalling that how we build back can be better. The good news is, there are many examples of nature-based solutions that can benefit people and planet."
Cities are responsible for 75% of global GHG emissions and are a leading cause of land, water and air pollution, which affect human health. Many cities are also poorly planned, lowering national GDP by as much as 5% due to negative impacts such as time loss, wasted fuel and air pollution. However, practical solutions exist that can make living spaces better for economic, human and planetary health.
The study, in collaboration with AlphaBeta, highlighted examples of projects deploying nature-positive solutions and the business opportunities they create.
Cape Town: Cape Town was just 90 days away from turning off its water taps. Natural infrastructure solutions (i.e. restoring the city's watersheds) were found to generate annual water gains of 50 billion litres a year, equivalent to 18% of the city's supply needs at 10% of the cost of alternative supply options, including desalination, groundwater exploration and water reuse

Singapore: Singapore's water leakage rate of 5% is significantly lower than that of many other major cities thanks to sensors installed in potable water supply lines. Globally, reducing municipal water leakage could save $115 billion by 2030. Returns on investment in water efficiency can be above 20%.

Suzhou: Suzhou Industrial Park's green development in China has seen its GDP increase 260-fold, partially through green development. The park accommodates 25,000 companies, of which 92 are Fortune 500 companies, and is home to 800,000 people. The park has 122 green-development policies, including stipulations on optimizing and intensifying land use, improvement of water and ecological protection, and the construction of green buildings. As a result, 94% of industrial water is reused, 100% of new construction is green, energy is dominantly renewable and green spaces cover 45% of the city.

San Francisco: San Francisco requires new buildings to have green roofs. The "green" roof market is expected to be worth $9 billion in 2020 and could grow at around 12% annually through 2030, creating an incremental annual opportunity of $15 billion.

Philippines: The loss of coastal habitats, particularly biodiverse and carbon-rich mangrove forests, has significantly increased the risk from floods and hurricanes for 300 million people living within coastal flood zones. A pilot project in the Philippines, one of the countries most vulnerable to climate change, is monetizing the value of mangroves through the creation of the Restoration Insurance Service Company (RISCO). RISCO selects sites where mangroves provide high flood reduction benefits and models that value. Insurance companies will pay an annual fee for these services, while organizations seeking to meet voluntary or regulatory climate mitigation targets will pay for blue carbon credits. Overall, restoring and protecting mangrove forests in human settlements can reduce annual flood damage to global coastal assets by over $82 billion while significantly contributing to fighting climate change.
The report identifies five complementary transitions to create nature-positive built environments and outlines the business opportunities and potential cost savings for programmes targeting urban utilities for water, electricity and waste, land planning and management, sustainable transport infrastructure and the design of buildings.
Office space the size of Switzerland
Global examples call out areas to be improved. For example, an estimated 40 billion square metres of floor space is not used at full occupancy during office hours – an area roughly equivalent to the size of Switzerland. The COVID-19 upheaval has prompted a surge in flexible and remote working models in many countries – greater application of such models could help reduce the need for private office space in the future.
Governments' role to raise and steer finance
The report calls for both government officials and businesses to play their part in raising and steering finance for sustainable urban infrastructure. "Regulations in areas including urban master planning, zoning and mandatory building codes will be critical to unlocking the potential of net-zero, nature-positive cities and infrastructure," said Khatri. "We are at a critical juncture for the future of humanity. Now is the time to treat the ecological emergency as just that. A net-zero, nature-positive path is the only option for our economic and planetary survival and how we choose to use COVID-19 recovery packages might be one of our last chances to get this right."
WEF Launches Toolbox of Solutions to Accelerate Decarbonization in Cities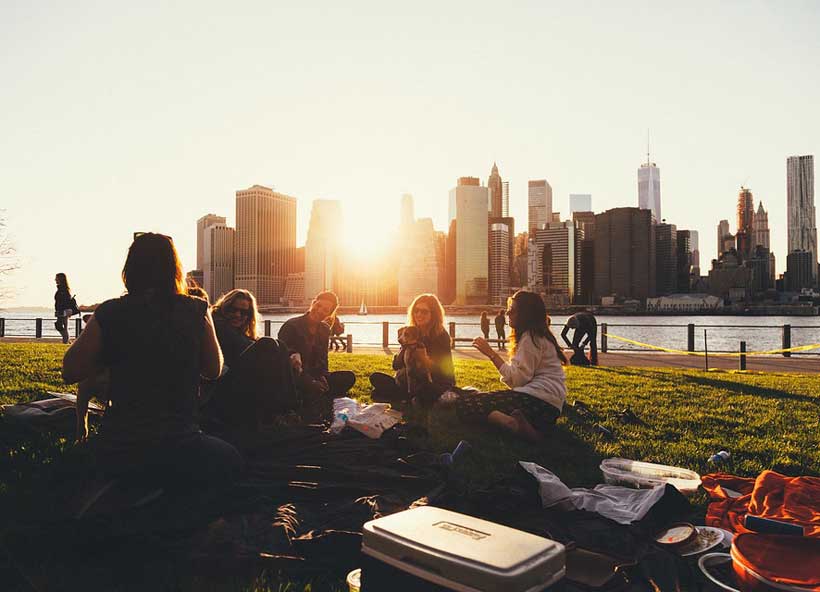 With the percentage of people living in cities projected to rise to 68% by 2050, resulting in high energy consumption, greater infrastructure needs and, carbon emissions, cities have a critical role to play in the race to reach net zero. To help address this challenge, the World Economic Forum, is releasing today the first iteration of its Toolbox of Solutions, designed and built in collaboration with Accenture.
The toolbox is an interactive digital platform containing more than 200 practical solutions to help city leaders, national governments and businesses evaluate and identify optimal solutions for near-term implementation, kick-starting their decarbonization journey. The first-of-its-kind toolbox draws on input and case studies from more than 110 cities, businesses, academics, civil society leaders and other urban stakeholders around the world and across sectors to capture best practices and case studies for urban transformation and decarbonization.
The solutions include policy, business and finance models that result in reduced emissions and other valuable outcomes such as job creation and improved air quality. These solutions are also tailored to specific city attributes including the electricity grid's health, local population density and income level.
"Decarbonization solutions already exist – we don't need to wait for the next big innovation. This platform provides examples of policies and business models that have been used successfully around the world. We are starting with 200 solutions and expect to have many more over the course of the next year," said Kristen Panerali, Head of Energy, Materials and Infrastructure Programme, Net-Zero Carbon Cities, World Economic Forum.
"Urban ecosystems are pivotal in our global journey to net zero, driven by clean and smart electrification. These sustainability initiatives can help accelerate efforts to address climate change with practical and integrated energy solutions for urban transformation for cities of any size around the world," said Jean-Marc Ollagnier, Chief Executive Officer, Europe, Accenture.
Achieving net-zero emissions at city scale will require a transformation in how energy is produced, distributed, and consumed. A related report shows how the built environment and mobility can serve as a catalyst for urban transformation and decarbonization anywhere in the world.
The Toolbox of Solutions is part of the Forum's Net-Zero Carbon Cities programme, which brings together businesses with city, regional and national government leaders to accelerate urban transitions to a net-zero future. The programme's objective is to align and scale efforts across businesses, cities and national-level governments to deliver urban ecosystems that are sustainable, resilient and equitable. The programme aims to enable transformation towards clean electrification and circularity, using integrated energy solutions to address energy, buildings and mobility. The Net-Zero Carbon Cities programme is co-chaired by Jean-Pascal Tricoire, Chairman and Chief Executive Officer, Schneider Electric, and Francesco Starace, Chief Executive Officer, Enel.
As cities fill tech gaps, power of smart cities unleashes
Governing Smart Cities, a report released today by the World Economic Forum, provides a benchmark for the ethical and responsible use of smart city technologies by looking into the inner workings of 36 Pioneer Cities. The authors of the report seek to help city leaders identify gaps, protect long-term interests and keep up with the pace of technology.
According to the report, cities of all sizes, geographies and levels of development have serious governance gaps, such as the failure to designate a person accountable for cybersecurity or to assess privacy risks when procuring new technology systems. However, leaders can close these gaps and protect long-term interests by acting now.
Written in partnership with Deloitte, the report follows the call to action from G20 ministers in 2019 that resulted in the creation of the G20 Global Smart Cities Alliance. The Alliance and its partners represent over 200,000 cities, local governments, leading companies, start-ups, research institutions and civil society communities. It acts as a platform to help cities strengthen their knowledge, expertise and governance of smart city technologies. The Forum is its secretariat.
The 36 Pioneer Cities surveyed span six continents and 22 countries, and have populations ranging from 70,000 to over 15 million. Policy experts and government officials were interviewed from January to March 2021 to assess the implementation of a set of five essential policies identified by the G20 Alliance last year.
Key findings
Nearly all the cities surveyed – including those that are generally regarded as leading global cities – have critical policy gaps related to their governance of smart city technologies
Despite an unprecedented increase in global cybersecurity attacks, most cities have not designated a specific government official as ultimately accountable for cybersecurity.
While the majority of cities recognize the importance of protecting the privacy of their citizens, only 17% of cities surveyed carry out privacy impact assessments before deploying new technologies.
Less than half of the cities surveyed have processes in place to ensure that technologies they procure are accessible to elderly residents or individuals with limited physical abilities.
Open data policy is perhaps the only area in which most cities in the sample have achieved a level of basic implementation. Even here, only 15% of the Pioneer Cities have integrated their open data portals with their wider city data infrastructure, which is a necessary step towards making a city "open by default".
"Cities are continuing to invest heavily in new technologies to automate and improve city services and urban life. Yet our findings validate our fears that most cities are falling behind when it comes to ensuring effective oversight and governance of these technologies," said Jeff Merritt, Head of Internet of Things and Urban Transformation, World Economic Forum. "The G20 Global Smart Cities Alliance is working with cities across the globe to address this gap, beginning with more than 15 policy workshops with city officials this summer."
"Cities have an array of opportunities to become more resilient and sustainable. Technology is an enabler but, to fulfill its full potential, Cities need to revise their governance, operational, and financing models. Here lies the biggest challenge Cities face. Deloitte is proud to have worked with the Forum in this initiative. It is fundamental for us all to gain consciousness of the complexity of the issues and focus on how the moment we are all living can be a key opportunity", said Miguel Eiras Antunes, Global Smart Cities Leader, Deloitte Global. "Now is the moment for a great urban transformation. Addressing urban challenges through the lenses of sustainability, inclusion, and technology is critical to develop and implement a roadmap to guide cities with their governance of smart technology and make an impact that matters."
How to take action
The report concludes that city leaders and officials need to take action before these governance gaps become material risk and affect residents. The report's authors also call for national policymakers, civil society and the business community to help support local governments in overcoming these challenges. Inclusion, data privacy and cybersecurity attacks are top concerns and the G20 Global Smart Cities Alliance has a mandate to help cities close the governance gaps that this report has uncovered. Cities looking for assistance in identifying and addressing their policy gaps are encouraged to contact the Alliance via their website.
New Report Shows Shape of Urban Growth Underpins Livability and Sustainable Growth
A first-of-its-kind World Bank analysis, of the shape and growth of nearly 10,000 cities between 1990 and 2015, finds that the most successful urban areas are those that connect their growth to economic demand and then support this with comprehensive plans, policies and investments that help avoid uncontrolled sprawl.
The new report, Pancakes to Pyramids – City Form for Sustainable Growth, analyzes the dynamic, two-way relationship between a city's economic growth and the floor space available to residents and businesses. It finds that a city is most likely to be its best version when its shape is driven by economic fundamentals and a conducive policy environment – namely, a robust job market, flexible building regulations, dependable public transit and access to essential services, public spaces, and cultural amenities.
Ultimately, getting livable space right, hinges on how a city manages its growth as populations and incomes increase, factoring in three dimensions of expansion – horizontal, vertical or within existing spaces (known as infill), the report finds. This will be key as cities, on the frontlines of the COVID-19 crisis, begin planning for a long-term, resilient, and inclusive recovery.
"Cities are at the frontier of development; they are where people go to chase their dreams of a better life for themselves and their families," said Juergen Voegele, Vice President for Sustainable Development, World Bank. "This report helps us understand why a city grows outward, inward or up. As we support countries with their COVID-19 recovery efforts, this will also help us reflect on what makes a city livable and remind us that well-planned urban growth is good for both people and planet."
In the average Sub-Saharan African city, 60 percent of the population lives in slums—a much larger share than the 34 percent average in cities in developing countries. The lack of floor space takes a severe toll on livability—with major consequences in times of pandemics like COVID-19. Many South Asian cities face similar issues.
Horizontal growth is inevitable for most cities. People will continue to migrate to urban areas for opportunities and a better quality of life, so it is crucial for cities to plan for this trend. As urban populations grow, one way to create more space per inhabitant is by building up instead of out. This could also help reduce crowding, discourage long commutes, draw more people to public transit and drive down greenhouse gas emissions. But building tall, or accommodating more people in a city, is dependent on economic demand and the business environment as it requires better technology, large investments, and higher returns on capital.
"Understanding the multiple drivers of city growth—a precondition for livable density in cities—can help city leaders focus on the right policy actions," said Somik Lall, co-author of the report. "If managed well, cities that take a more pyramid-like shape can provide an impetus to accelerate sustainable development by getting people out of cars, cutting commute times, and limiting greenhouse gas emissions."
Today, around 55 percent of the world lives in urban areas. By 2050, this number is projected to surpass two-thirds of the global population, with much of the new urbanization happening in Sub-Saharan Africa and South Asia. While such growth signals opportunities and better livelihoods for millions of people, it also puts immense strain on cities, especially in countries that contend with low incomes and weak institutional and fiscal capabilities.
By describing how economic productivity shapes decisions by households and firms to locate in cities, and how the quantity and spatial distribution of urban floor space respond to these changes in demand, the report aims to help decision makers sort through competing legal and regulatory approaches, evaluate their investments in infrastructure, and mobilize finance for durable urban investments, particularly for essential services such as transport, water provision, solid waste management, and sewage removal and treatment.