Countries urged to act against COVID-19 'infodemic'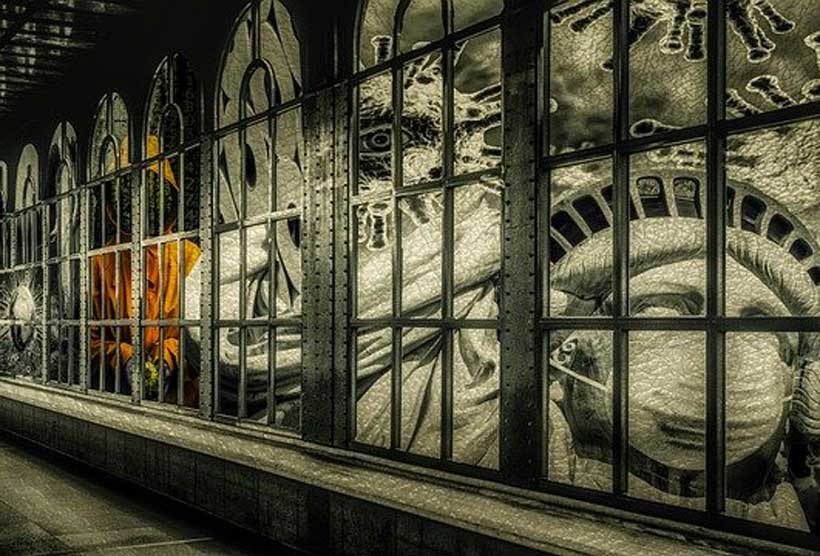 The UN and partners have urged countries to take urgent action to address what they have described as the "infodemic" that has surfaced in tandem with the COVID-19 pandemic, both in the real world and online.
The pandemic is the first in history in which technology and social media are being used to both inform people and keep them connected, but also to undermine global response to the crisis and jeopardize measures to contain the disease, they explained.
"Misinformation costs lives. Without the appropriate trust and correct information, diagnostic tests go unused, immunization campaigns (or campaigns to promote effective vaccines) will not meet their targets, and the virus will continue to thrive", the partners said in a statement issued on Wednesday.
"We call on Member States to develop and implement action plans to manage the infodemic by promoting the timely dissemination of accurate information, based on science and evidence, to all communities, and in particular high-risk groups; and preventing the spread, and combating, mis- and disinformation while respecting freedom of expression."
Authorities also were urged to empower communities to develop solutions and resilience against the infodemic.
Stakeholders such as the media and social media platforms were called on to collaborate with the UN system, and each other, "to further strengthen their actions to disseminate accurate information and prevent the spread of mis- and disinformation."
Communications emergency
The statement signed by the United Nations, eight of its entities, and the International Federation of the Red Cross (IFRC), followed a virtual meeting organized by the World Health Organization (WHO) on the sidelines of the UN General Assembly.
In a video message for the event, UN Secretary-General António Guterres underlined how the COVID-19 pandemic is also a communications emergency.
"As soon as the virus spread across the globe, inaccurate and even dangerous messages proliferated wildly over social media, leaving people confused, misled and ill-advised", he recalled.
"The antidote lies in making sure that science-backed facts and health guidance circulate even faster, and reach people wherever they access information."
Science, solutions, solidarity
Throughout the pandemic, the UN chief has highlighted the need to fight the tide of harmful health advice, hate speech and wild conspiracy theories that has surfaced alongside COVID-19.
In May, the UN launched the Verified initiative, encouraging people everywhere to serve as "digital first responders", who share trusted, accurate information on their social media platforms.
"Working with media partners, individuals, influencers and social media platforms, the content we spread promotes science, offers solutions and inspires solidarity," he said.
As Mr. Guterres told the meeting, fighting misinformation will be critical as the UN and partners work to build public confidence in the safety and efficacy of any COVID-19 vaccines being developed.
Catching up on routine vaccinations
That message was echoed later on Wednesday at another WHO virtual meeting to galvanize governments and humanitarians to safeguard immunization campaigns during the pandemic, and to ensure infrastructure is in place for the future equitable distribution of COVID-19 vaccines.
Although the UN estimates some 80 million children worldwide have not received routine immunizations due to the pandemic, services are resuming with the goal of "catching up to build better", according to Kate O'Brien, Director of WHO's Department of Immunization, Vaccines and Biologicals.
She said partners are also working "closer than ever", and with greater integration; principles that will be applicable for the future delivery of any COVID-19 vaccines.
"Our goal is to ensure fair and equitable access to vaccines against COVID-19 for all countries, harnessing the partnerships to work together to bring safe and effective and affordable vaccines…and do it because nobody is safe until everybody is safe", said Ms. O'Brien.
A 'global insurance policy'
WHO along with Gavi, the Vaccine Alliance, and the Coalition for Epidemic Preparedness Innovations (CEPI) spearhead a global initiative that has pledged to put COVID-19 vaccines in the hands of anyone, anywhere who needs them.
GAVI chief Dr. Seth Berkley described the COVAX Global Vaccines Facility as a "global insurance policy", committed to ensuring no one is left behind. The goal is to produce two billion vaccine doses by the end of 2021.
Dr. Berkley reported that more than 160 countries either have committed to the Facility, or are eligible to receive vaccines, with others expected to join this week.
"Gavi right now helps vaccinate half the world's children. But the global delivery of COVID vaccines will be the single largest and most rapid deployment the world has ever seen", he said.
"Also, with the levels of rumours and false information, we will need to work with communities everywhere to provide accurate information."
The COVAX Facility is part of the Access to COVID-19 Tools (ACT) Accelerator which aims to speed up the development and production of tests, medicines and vaccines that will be available to all countries.
The ACT Accelerator was launched in April and has so far received around $2.7 billion. The UN Secretary-General recently appealed for a "quantum leap in funding" to meet the $35 billion still needed.  
10 new cities chosen for World Economic Forum circular economy initiative
The World Economic Forum's Scale360° initiative announced today the 10 city-based hubs joining its Circular Shapers programme.
Scale360° leverages innovation hubs in cities, countries and regions worldwide, bringing together leaders in science, policy and business to trigger circular change. Circular Shapers engage with local public, private, and civil society stakeholders to design, organise, and deliver circular economy projects tailored to local needs.
Circular Shapers are competitively selected from the Global Shapers Community, a network of committed and energized young volunteers in 448 city-based hubs around the world. These changemakers have the energy, skill, networks and commitment needed to transform their cities into centres of circular economy innovation.
The latest Circular Shaper cohort hails from four continents and includes: Ankara, Asuncion, Auckland, Beijing, Bucharest, Lahore, Manama, Milan, Morelia, and Thimphu.
The cities selected to the latest cohort will apply Scale360°'s tested methodology – the Scale360° Circular Innovation Playbook – to fast-track Fourth Industrial Revolution impact to keep more goods in use. Their initiatives will explore ways to apply circular design principles, improve reuse, and to eliminate waste, all while strengthening economies and boosting job growth.

These join the successful pilot cohort which included four Global Shapers hubs in Mexico City, Brussels, Turin and Bangkok and ran from February to July 2021.

In just a few months, those pilot cities built critical relationships with leaders in government, the private sector, and NGOs, making critical early steps towards driving circular innovation. Specific achievements include:
Bangkok: Mobilized a range of partners from researchers to advertising agencies to popularize solutions to air pollution and plastics. Solutions included: assembling a catalogue to help businesses choose alternatives to single-use plastics in food packaging and a social media campaign to build momentum for clean air regulation.
Brussels: Partnered with local NGOs on its "Eat, Play, Live Circular" initiatives to create bottom-up solutions for more circular lifestyles. Initiatives included an 'Idea-thon' for food and packaging waste solutions and a series of experiments with the public to make one Brussels public space more circular.
Mexico City: Trained public, private and government stakeholders in Scale360° methodology to bridge circular economy knowledge gaps and drive the circular transition through focusing early conversations.
Turin: Built critical relationships with stakeholders from 14 organizations including regional policy makers, members of the private sector, academia, and existing networks to help foster and support much-needed discussions and collaboration on circular needs and priorities.

The Circular Shapers tap into World Economic Forum networks of experts and leaders in civil society, government, industry global organizations, including the Platform for Accelerating Circular Economy (PACE).

"It's powerful to see how Scale360° methodology has spread so rapidly and empowered Global Shapers to become leaders driving circular innovation in their cities. Now in 14 hubs around the world, Circular Shapers is one of the largest cross-hub collaborations in the Global Shapers Community," said Katie Hoeflinger, Specialist, Climate and Environment, Global Shapers Community.
The United Arab Emirates, a key supporter of Scale360°'s approaches, agrees that these new hubs will play an important role in building circular innovation. "The UAE supports Scale360° in driving the transition to circular economy locally and globally," said his Excellency Dr. Abdullah Belhaif Al Nuaimi, Minister of Climate Change and Environment. "This program will go a long way in fostering innovations that have the potential to fast-track the implementation of the circular economy principles around the world."

These efforts can also fuel a just transition, noted Head of Global Opportunities for Sustainable Development Goals (GO4SDGs), United Nations Environment Programme (UNEP), Adriana Zacarias Farah. "Jobs and skills are central to getting the political buy-in for the transformation from linear to circular. UNEP through the initiative Global Opportunities for SDGS (GO4SDGS) is happy to collaborate with the Forum and Scale360° on circular cities and the just transition narrative."

Building circular capabilities can help meet critical climate goals. "Scaling up circular business models and solutions is vital for environmental reasons and needs to happen fast," said Carsten Gerhardt, Partner at Kearney and Founder at Circular Valley (leading partners of Scale360° Germany).

With new Circular Shaper hubs in place, momentum for circular innovation can build further. Added Scale360°'s Global Lead, Helen Burdett: "This latest cohort is another example of local action for global impact on the circular economy transition."
World Bank Group's $157 Billion Pandemic Surge Is Largest Crisis Response in Its History
In response to COVID-19 severely damaging the lives and livelihoods of millions of people in developing countries, the World Bank Group deployed over $157 billion to fight the pandemic's health, economic, and social impacts over the last 15 months (April 1, 2020 – June 30, 2021). This is the largest crisis response of any such period in the Bank Group's history and represents an increase of more than 60% over the 15-month period prior to the pandemic. Bank Group commitments and mobilizations in fiscal year 2021 (FY21) alone (July 1, 2020 – June 30, 2021) amounted to almost $110 billion (or $84 billion excluding mobilization, short-term financing, and recipient-executed trust funds).
Since the start of the pandemic, the Bank Group supported countries to address the health emergency, strengthen health systems, protect the poor and vulnerable, support businesses, create jobs and jump start a green, resilient, and inclusive recovery.
Following last year's COVID-related economic deterioration, the global economy is expected to expand 5.6% in 2021. Thus far, the recovery is uneven and many of the world's poorest countries are being left behind. While about 90% of advanced economies are expected to regain their pre-pandemic per capita income levels by 2022, only about one-third of emerging market and developing economies are projected to do the same. In 2020, global extreme poverty rose for the first time in over 20 years, with nearly 100 million people pushed into extreme poverty.
"Since the start of the pandemic, the World Bank Group has committed or mobilized a record $157 billion in new financing, an unprecedented level of support for an unprecedented crisis," said World Bank Group President David Malpass. "We will continue to provide critical assistance to developing countries through this ongoing pandemic to help achieve a more broad-based economic recovery. The Bank Group has proven to be a rapid, innovative, and effective platform to support developing countries as they respond to the pandemic and strengthen resilience for future shocks. But we must do more still. I remain deeply concerned about limited availability of vaccines for developing countries, which are critical to save lives and livelihoods."
World Bank Group Commitments (in U.S. billions)
World Bank Group
Q4-FY20
FY21*
15-mo ending June 21*
IBRD
15.1
30.5
45.6
IDA
17.2
36.1
53.3
IFC
11.2
31.5
42.7
Long-term finance (own account)
4.9
12.5
17.4
Mobilization
4.1
10.8
14.9
Short-term finance
2.2
8.2
10.4
MIGA
2.4
5.2
7.6
Recipient-executed trust funds (RETF)
1.5
6.4
7.9
TOTAL (excluding short-term finance, mobilization, and RETF)
39.6
84.3
123.9
TOTAL (including short-term finance, mobilization and RETF)
47.4
109.7
157.1
*Preliminary and unaudited numbers as of July 14.
In the 15 months ending June 30, 2021, the Bank Group stretched its balance sheets, accelerated leveraging and disbursements, and front-loaded resources. Support to countries from the International Bank for Reconstruction and Development (IBRD) totaled $45.6 billion – including drawing down IBRD's $10 billion crisis buffer in addition to Board-approved sustainable annual lending limits. Grants and zero or low-interest loans to the world's poorest countries from the International Development Association (IDA) amounted to $53.3 billion. To meet increased financing needs, the World Bank fully used all remaining IDA18 resources in FY20 and frontloaded about half of all the three-year envelope of IDA19 resources in FY21. In February 2021, IDA donor and borrower country representatives agreed to advance IDA20 by 12 months to enable continued surge financing in the coming years.
In addition, over the same 15 months, the International Finance Corporation (IFC), the Bank Group's private sector development arm, reached a record high of $42.7 billion in financing, including short-term finance ($10.4 billion) and mobilization ($14.9 billion), 37% of which was in low-income and fragile and conflict-affected states. IFC provided liquidity for businesses to remain in operation, while ramping up investments in companies on the frontlines of the pandemic response. To address the COVID-induced increase in the trade gap, IFC has expanded its trade and supply chain finance activities. IFC's "Upstream" work continues to create the conditions to attract much-needed private investment to some of the world's most difficult places and preparing the ground for a faster private sector recovery.
Despite a challenging year for borrowers and financial markets, IDA doubled the amount it raised last fiscal year from investors, reaching almost $10 billion. IBRD raised $68 billion, by mobilizing financing from investors around the globe. IBRD and IDA, both rated AAA/Aaa, raised awareness for a variety of development themes to successfully mobilize finance for sustainable development. The year also included innovations such as a unique $100 million five-year bond issued by IBRD to support the global response to COVID-19 through UNICEF. IFC, also rated AAA/Aaa, issued close to $13 billion in bonds for private sector development and job creation in emerging markets.
The Multilateral Investment Guarantee Agency (MIGA), whose mandate is to drive impactful foreign direct investment to developing countries, issued $7.6 billion in new guarantees over the same 15-month period since the onset of the pandemic, of which 19% supported projects in IDA countries and fragile settings.
In FY21, the World Bank Group's climate finance totaled over $26 billion, it's largest year of climate finance ever (25% above FY20, which was itself also a record). The new Climate Change Action Plan for 2021-2025 aims to integrate climate and development goals, and commits 35% of Bank Group financing to climate, on average, over the next five years, with at least 50% of World Bank climate finance supporting adaptation. In the same time frame, the Bank Group will align financing with the goals of the Paris Agreement, while helping client countries meet their Paris commitments, including supporting and implementation of development of their Nationally Determined Contributions (NDCs) and Long-Term Strategies.
Greenpeace Africa responds to the cancellation of oil blocks in Salonga National Park
On Monday the UNESCO World Heritage Committee decided to remove Salonga National Park in the Democratic Republic of the Congo from the List of World Heritage in Danger. The decision follows clarification "provided by the national authorities that the oil concessions overlapping with the property are nul[l] and void and that these blocks will be excluded from future auctioning."
Oil blocks overlapping with Salonga were awarded by President Joseph Kabila in the twilight of his regime. Greenpeace Africa has repeatedly demanded their cancellation, while local leaders voiced their opposition to the project in light of its impacts on communities.
"A decision by President Felix Tshisekedi to cancel all oil blocks in Salonga Park must be followed by a decision to cancel oil blocks in Virunga Park and across the Cuvette Centrale region. These are vast areas rich in biodiversity that provide clean water, food security and medicine to local communities and which render environmental services to humanity," says Irene Wabiwa Betoko, International Project Leader for the Congo Basin forest.
The Salonga National Park, which is Africa's largest tropical rainforest reserve, was inscribed on the World Heritage List in 1984. The park plays a fundamental role in climate regulation and the sequestration of carbon. The park is also home to numerous endemic endangered species such as the pygmy chimpanzee (or bonobo), the forest elephant, the African slender-snouted crocodile and the Congo peacock. Salonga had been inscribed on the List of World Heritage in Danger in 1999, due to pressures such as poaching, deforestation and poor management. The government of DRC later on issued oil drilling licences that encroached on the protected area, posing a threat to the wildlife-rich site.
"DRC's auctioning of oil blocks has not only been scandalously lacking transparency and menacing for particularly sensitive environmental areas – they neither benefit Congolese people nor the planet. Instead of privileging a small group of beneficiaries of the toxic fossil fuels industry, diversifying the DRC's economy should be done through renewable energy investments that will make energy accessible and affordable for all," Irene Wabiwa concluded.
Greenpeace Africa urges full transparency from both UNESCO and the DRC government and calls for the publication of all supportive documents regarding the decision to cancel the aforementioned oil blocks, as well as the map of the nine oil blocks that are still being auctioned in the Cuvette Centrale region.