Countries urged to act against COVID-19 'infodemic'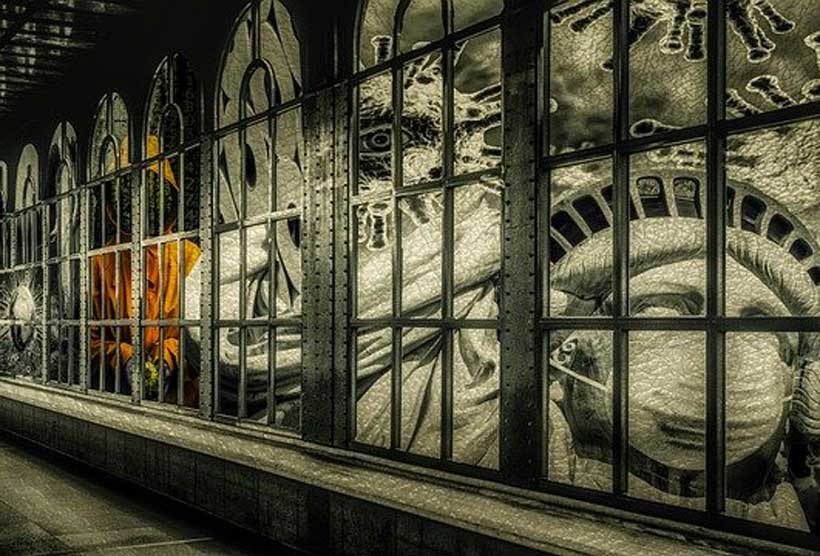 The UN and partners have urged countries to take urgent action to address what they have described as the "infodemic" that has surfaced in tandem with the COVID-19 pandemic, both in the real world and online.
The pandemic is the first in history in which technology and social media are being used to both inform people and keep them connected, but also to undermine global response to the crisis and jeopardize measures to contain the disease, they explained.
"Misinformation costs lives. Without the appropriate trust and correct information, diagnostic tests go unused, immunization campaigns (or campaigns to promote effective vaccines) will not meet their targets, and the virus will continue to thrive", the partners said in a statement issued on Wednesday.
"We call on Member States to develop and implement action plans to manage the infodemic by promoting the timely dissemination of accurate information, based on science and evidence, to all communities, and in particular high-risk groups; and preventing the spread, and combating, mis- and disinformation while respecting freedom of expression."
Authorities also were urged to empower communities to develop solutions and resilience against the infodemic.
Stakeholders such as the media and social media platforms were called on to collaborate with the UN system, and each other, "to further strengthen their actions to disseminate accurate information and prevent the spread of mis- and disinformation."
Communications emergency
The statement signed by the United Nations, eight of its entities, and the International Federation of the Red Cross (IFRC), followed a virtual meeting organized by the World Health Organization (WHO) on the sidelines of the UN General Assembly.
In a video message for the event, UN Secretary-General António Guterres underlined how the COVID-19 pandemic is also a communications emergency.
"As soon as the virus spread across the globe, inaccurate and even dangerous messages proliferated wildly over social media, leaving people confused, misled and ill-advised", he recalled.
"The antidote lies in making sure that science-backed facts and health guidance circulate even faster, and reach people wherever they access information."
Science, solutions, solidarity
Throughout the pandemic, the UN chief has highlighted the need to fight the tide of harmful health advice, hate speech and wild conspiracy theories that has surfaced alongside COVID-19.
In May, the UN launched the Verified initiative, encouraging people everywhere to serve as "digital first responders", who share trusted, accurate information on their social media platforms.
"Working with media partners, individuals, influencers and social media platforms, the content we spread promotes science, offers solutions and inspires solidarity," he said.
As Mr. Guterres told the meeting, fighting misinformation will be critical as the UN and partners work to build public confidence in the safety and efficacy of any COVID-19 vaccines being developed.
Catching up on routine vaccinations
That message was echoed later on Wednesday at another WHO virtual meeting to galvanize governments and humanitarians to safeguard immunization campaigns during the pandemic, and to ensure infrastructure is in place for the future equitable distribution of COVID-19 vaccines.
Although the UN estimates some 80 million children worldwide have not received routine immunizations due to the pandemic, services are resuming with the goal of "catching up to build better", according to Kate O'Brien, Director of WHO's Department of Immunization, Vaccines and Biologicals.
She said partners are also working "closer than ever", and with greater integration; principles that will be applicable for the future delivery of any COVID-19 vaccines.
"Our goal is to ensure fair and equitable access to vaccines against COVID-19 for all countries, harnessing the partnerships to work together to bring safe and effective and affordable vaccines…and do it because nobody is safe until everybody is safe", said Ms. O'Brien.
A 'global insurance policy'
WHO along with Gavi, the Vaccine Alliance, and the Coalition for Epidemic Preparedness Innovations (CEPI) spearhead a global initiative that has pledged to put COVID-19 vaccines in the hands of anyone, anywhere who needs them.
GAVI chief Dr. Seth Berkley described the COVAX Global Vaccines Facility as a "global insurance policy", committed to ensuring no one is left behind. The goal is to produce two billion vaccine doses by the end of 2021.
Dr. Berkley reported that more than 160 countries either have committed to the Facility, or are eligible to receive vaccines, with others expected to join this week.
"Gavi right now helps vaccinate half the world's children. But the global delivery of COVID vaccines will be the single largest and most rapid deployment the world has ever seen", he said.
"Also, with the levels of rumours and false information, we will need to work with communities everywhere to provide accurate information."
The COVAX Facility is part of the Access to COVID-19 Tools (ACT) Accelerator which aims to speed up the development and production of tests, medicines and vaccines that will be available to all countries.
The ACT Accelerator was launched in April and has so far received around $2.7 billion. The UN Secretary-General recently appealed for a "quantum leap in funding" to meet the $35 billion still needed.  
Reasons for Choosing Temporary and Permanent Industrial Buildings
Professional temporary solution providers have become very innovative in designing industrial buildings. While temporary industrial structures are made of lighter materials such as aluminum and fabric or PVC covers, permanent solutions are made of steel or metal frames and sheets. All of them require good preparation of the ground, pre-fabrication of the frames and sheets, and proper installation to serve their purpose well.
Most beneficiaries of these structures are processing factories, manufacturing plants, sports clubs, schools, and many other organizations and companies. Choosing temporary and permanent industrial buildings from a reputable supplier has many perks.
So, let us dive into the reasons for choosing temporary and permanent industrial buildings to understand this topic better.
Amazing Speed of Constructions
Bye-bye brick and mortar industrial buildings that are time-consuming. Temporary and permanent industrial buildings are the way to go because they are fast and easy to fabricate and install using modern technology.
According to experts, these structures save a lot of time, especially if the frames and panels are already fabricated in the factory. Companies that need to set up new companies or expand the current ones will have everything ready in a matter of a few weeks.
Excellent Cost Saving
The economy is hard enough and the investor needs to save on capital when setting up companies or doing expansions. The good news is that temporary and permanent industrial buildings save costs by up to 30% when done by a professional company.
Smart-Space is not only innovative in their technology but they save you a lot of money when setting up your industrial structures. You can rent these structures if you only need them for a short time to save more money.
Absolute Flexibility and Versatility
If you are looking for structures that can be moved after a few years, then temporary and permanent industrial buildings are the way to go. As mentioned, they are made of frames and panels that are fastened together using bolts. Hence, they are easy to dismantle and move to a different location.
However, this work should be done by professionals to reduce damage and ensure the safety of the structures at all times.
High Level of Customization
If you are looking for functional sizes and unique designs that will maintain the theme of your company or organization, the temporary and permanent industrial buildings done by experts will be best. After a discussion of what will serve your business well, the solution provider will take a few days to do the designs with your preferred sizes and colors.
Customization also applies during the extension of an existing factory where everything is done to your preference or in the best possible way. To achieve a high level of customization, you should consider experienced solution providers.
Surprising Durability
Both temporary and permanent industrial buildings are surprisingly durable. Take steel industrial structures for example. They provide service for many years without the need for complicated maintenance. Since steel does not rust, the structure will withstand harsh weather conditions including moisture.
Structures made of metal frames and fabric are equally durable, especially when used as recommended. They also require low maintenance with no paintwork needed after every few years.
Manufacturer's Warranty
The buyers of temporary and permanent industrial buildings enjoy different manufacturer's warranty benefits. This could be the bought structures or the materials used to make them. What's more is that many reputable service providers also give warranties on the workmanship, which will save cost when there is a problem.
Conclusion
To enjoy all of these benefits, it is good to buy or lease your temporary and permanent industrial buildings from a reliable and trusted supplier. Well, there are even more benefits that you will realize once you start using these structures. So, make the right choice now.
Coronavirus: EU Strategy for the development and availability of therapeutics
The European Commission is today complementing the successful EU Vaccines Strategy with a strategy on COVID-19 therapeutics to support the development and availability of much-needed COVID-19 therapeutics, including for the treatment of 'long COVID'. Today's Strategy covers the full lifecycle of medicines: from research, development and manufacturing to procurement and deployment.
It is part of the strong European Health Union, in which all EU countries prepare and respond together to health crises and ensure the availability of affordable and innovative medical supplies – including the therapeutics needed to treat COVID-19.
The Strategy includes clear actions and targets, including authorising three new therapeutics to treat COVID-19 by October 2021 and possibly two more by end of the year. Concretely:
Research, development and innovation

Invest €90 million in population studies and clinical trials to establish links between risk factors and health outcomes to further inform public health policy and clinical management, including for long-COVID patients.
Set up a 'therapeutics innovation booster' by July 2021 to support the most promising therapeutics from preclinical research to market authorisation. It will build on current initiatives and investments in therapeutic development, working in a close cooperation with the European Health Emergency Preparedness and Response Authority (HERA) preparatory action on mapping therapeutics. It will therefore ensure the coordination of all research projects on COVID-19 therapeutics, stimulating innovation and boosting therapeutic development.

Access to and swift approval of clinical trials

Invest €5 million under the EU4Health programme to generate better, high-quality safety data in clinical trials, which will help produce robust results in a timely manner.
Provide EU countries with financial support of €2 million under the EU4Health 2021 work programme for expedited and coordinated assessments to facilitate approval of clinical trials.
Explore how to support developers of therapeutics to build capacity to produce high-grade material for clinical trials.

Scanning for candidate therapeutics

Invest €5 million to map therapeutics and diagnostics to analyse development phases, production capacities and supply chains, including possible bottlenecks.
Establish a broader portfolio of 10 potential COVID-19 therapeutics and identify five of the most promising ones by June 2021.

Supply chains and delivery of medicines

Fund a €40 million preparatory action to support flexible manufacturing and access for COVID-19 therapeutics under the EU Fab project, which in turn will become over time an important asset for the future the European Health Emergency Preparedness and Response Authority (HERA).

Regulatory flexibility

Authorise at least three new therapeutics by October and possibly two more by the end of the year and develop flexible regulatory approaches to speed up the assessment of promising and safe COVID-19 therapeutics.
Start seven rolling reviews of promising therapeutics by end-2021, subject to research and development outcomes.

Joint procurement and financing

Launch new contracts for the purchase of authorised therapeutics by the end of the year.
Secure faster access to medicines with shorter administrative deadlines.

International cooperation to make medicines available to all

Reinforce engagement for the therapeutics pillar of the Access to COVID-19 Tools Accelerator.
Boost 'OPEN' initiative for international collaboration.
Next Steps
The Commission will draw up a portfolio of 10 potential COVID-19 therapeutics and by June 2021, identify the five most promising ones. It will organise matchmaking events for industrial actors involved in therapeutics to ensure enough production capacity and swift manufacturing. New authorisations, rolling reviews and joint procurement contracts will be up and running before the end of the year.
The therapeutics innovation booster, matchmaking events and preparatory action to support flexible manufacturing and access for COVID-19 therapeutics under the EU Fab project, will feed into the HERA, for which a proposal is due later in the year. The pilot project on access to health data will feed into the European Health Data Space proposal expected later this year.
Members of the College said:
Vice-President for Promoting our European Way of Life, Margaritis Schinas, said: "The situation in many intensive care units across the continent remains critical. We need to focus both on vaccines and therapeutics, as two powerful and complementary ways to combat COVID-19. But currently we have only one authorised medicine to treat COVID-19. By acting on better availability of medicines today, we are making sure patients receive the treatments they need while also preparing our future biomedical preparedness. A coordinated strategy on quick access to therapeutics will boost our strategic autonomy and contribute to a strong Health Union."
Commissioner for Health and Food Safety, Stella Kyriakides, said: "Vaccinations save lives, but they cannot yet eradicate COVID-19. We need a strong push on treatments to limit the need for hospitalisation, speed up recovery times, and reduce mortality. Patients in Europe and across the world should have access to world-class COVID-19 medicines. This is why we have set a very clear goal: by October, we will develop and authorise three new effective COVID-19 therapeutics that can have the potential to change the course of the disease. We will do so by investing in research and innovation, the identification of new promising medicines, ramping up production capacity and supporting equitable access. Our Therapeutics Strategy is a strong European Health Union in action."
Commissioner for Innovation, Research, Culture, Education and Youth, Mariya Gabriel, said: "By increasing vaccine availability across Europe, more and more Europeans are now protected against COVID-19. In the meantime, the development of innovative medicines to treat coronavirus patients remains a priority when it comes to saving lives. Research and innovation is the first step to finding effective and safe therapeutics, which is why we are proposing to establish a new COVID-19 'therapeutics innovation booster' and will invest € 90 million in population studies and clinical trials."
Background
The Strategy on COVID-19 therapeutics complements the EU strategy for COVID-19 vaccines from June 2020 and builds on ongoing work by the European Medicines Agency and the Commission to support research, development, manufacturing and deployment of therapeutics.
The Strategy forms part of a strong European Health Union, using a coordinated EU approach to better protect the health of our citizens, equip the EU and its Member States to better prevent and address future pandemics, and improve the resilience of Europe's health systems.
Circular solution to Mosul's conflict debris launched
Mosul – Iraq's second largest city – suffered massive devastation during the conflict with the Islamic State in Iraq and the Levant (ISIL). An estimated 7-8 million tonnes of debris was created by the fighting, mainly in the Old City on the banks of the Tigris River. To deal with this huge debris challenge, the UN Environment Programme (UNEP) and the International Organization for Migration (IOM) are joining forces with Mosul Municipality – with the support of Japan – to establish the city's first debris recycling center.
In the conflict's immediate aftermath, clean-up campaigns cleared hundreds of thousands of tons of debris blocking streets to allow residents access to their homes and businesses, and enable rehabilitation of critical infrastructure such as hospitals, schools and water treatment plants.
The cleared debris, however, was often dumped in an uncontrolled manner in open spaces, gullies and strewn along roadsides for lack of designated disposal sites, creating problems in this city where land is a premium. Furthermore, much of the debris remains locked in damaged buildings which will require complex explosive hazard clearance and demolition and will take many years to release.
"By processing the rubble to produce quality materials that can be used in reconstruction efforts, creating much needed job opportunities for returnees and cleaning-up the urban environment, this initiative practically illustrates how humanitarian needs and sustainable development goals can be addressed in a joint manner," said Dr. Jassim Humadi, Iraq's Deputy Environment Minister. "We are very grateful to the Government of Japan for their support in helping turn the debris problem in Mosul into a means of positive change."
The project builds upon lessons learned and best practices gathered under debris recycling pilots implemented jointly by IOM and UNEP in Mosul and Kirkuk. Where conventional practice had been to clear and dump the debris, this new initiative will concentrate on reusing the recycled aggregate for reconstruction.
"Material testing results confirming that the recycled aggregate complies with Iraq's standards for road construction should also help pave the way for embedding circular economy principles in dealing with routine construction and demolition waste, thereby promoting a 'building back better' approach to crisis recovery," said Gary Lewis, Director of UNEP's Disasters and Conflicts Branch.
In the destroyed village of Buwaiter, where the pilot debris recycling project in Kirkuk was implemented, "unemployed youth with no work opportunities benefited immensely," said Salal Othman, who guards the recycling site and used the crushed gravel to pave the area in front of his house, which is typically impassable during the rains.
"Young people in our village view debris recycling as a golden chance in terms of job creation, which additionally, by clearing the rubble, is allowing us to return and rebuild our homes," added Mijbel Mar'i, a 24-year-old day labourer.
Remarking on the debris recycling in Buwaiter, Hassan Al-Jubouri, the head of Multaqa sub-district, described it as "an excellent step to dispose of huge volumes of debris while simultaneously employing people," adding that "with this project, in addition to removing the debris we now have the possibility to reuse it. And given that many rural roads in our sub-district need surfacing, the crushed materials are ideal for this end."
"Japan has provided over USD 500 million as humanitarian assistance to the people affected by the crisis since 2014. Additionally, Japan decided this year to provide a new assistance package to Iraq, amounting to USD 50 million, including this project by UNEP," said Japan's Ambassador to Iraq, His Excellency Mr. Kotaro Suzuki. "I commend UNEP's initiative together with IOM on recycling debris which cleans up the urban environment and produces materials for road construction as well as creating job opportunities for unemployed youth."
"In Japan, after the earthquakes, people mourned their loss and started to clean up the debris which was all that was left of their homes and memories of loved ones. Our fathers' generation did the same in scorched cities after the war, to rebuild towns for their people, for their future children," he added. "We want to assist people in Mosul and Kirkuk in their efforts to revive their towns, rebuild their lives once again."