"Is it an end that draws near, or a beginning?"-Karl Jaspers, Man in the Modern Age (1951)
INTRODUCTION TO THE ANALYSIS:  Day by day, traditional global anarchy (with discernible roots in the seventeenth century Peace of Westphalia) is being supplanted by chaos. This exponential replacement has very substantial implications for (1) comprehensive global stability; (2) regional stability in the Middle East; and (3) Israeli national stability. Because the replacement  is taking place alongside a still-expanding global pandemic, variously resultant forms of chaos must be considered as multi-layered, tangled and synergistic.
What next? Among others, Israel's senior strategists and policy-makers will have to examine these dissembling expressions of chaos by proceeding with continuously capable scholarship. Accordingly apt emphases in Jerusalem and Tel Aviv should soon be placed upon plausible alterations to decisional rationality (both Israeli and adversarial) and on prospective nuclear competitions oriented to achieving intra-crisis "escalation dominance." In the worst case scenario, such analyses would pertain to certain potential instances of nuclear war-fighting, a sobering narrative that reinforces Israel's unceasing imperative to seek nuclear deterrence ex ante, and not revenge ex post.
There is more. The article that follows is self-consciously conceptual/theoretical. By design, it is unlike other more usual essays that concern global/ regional stability in world politics.
This article can be useful to military practitioners and national security planners because it could lead them well beyond any orthodox or narrowly "current events" focus on applicable strategic thought. By explaining this historically unprecedented transition from anarchy to chaos, it can also point serious readers toward a new corpus of pertinent strategic theory. "Theory is a net," we all learned earlier from Karl Popper's classic The Logic of Scientific Discovery (1959), "only those who cast, can catch."
—————–
As Chair of "Project Daniel," a special policy task force assembled to analyze the Iranian nuclear threat to Israel two decades ago,[1] the author is not new to analytic assessments of complex geo-strategic hazards, including existential ones. Still, twenty years back, when Daniel sprang from a private conversation he was having in Tel-Aviv with two-time Israeli Ambassador to the United States Zalman Shoval,[2] overriding security perils were being examined as part of some presumptively coherent world order. This is not meant to suggest that the post-Westphalia[3] order was ever reassuringly stable or satisfactory, but only that the classical balance-of-power regime had not yet become entirely unpredictable.
That was then. Today, all serious scholarly assessments, irrespective of specific country particularity, must be undertaken with a starkly different view. This updated perspective assumes, inter alia, that the world order system is no longer "merely" anarchic,[4] but is also chaotic. Now, a crucial part of this dissembling context is worldwide disease pandemic, a devastating plague that only renders an already unstable global structure even worse.[5]
In essence, an incremental metamorphosis of system-wide anarchy into chaos has been underway for some time, but the sudden and sweeping comprehensiveness of Covid19 has produced a quantum jump in this already-significant transformation.
Though a decidedly global issue, some states will be affected more than others by any spreading chaos. In the specific case of Israel, our focus here, the prospective impacts of certain ongoing change patterns are apt to be considerable. This is because of that country's conspicuously small size, its still-multiple enemies and its correspondingly unique dependence (for deterrence,[6] not war-fighting)[7] upon nuclear weapons and strategy.[8]
Looking ahead, the challenging security tasks for Israel need not be regrettable or without any tangible benefits. There do exist sound and science-based reasons to acknowledge advancing chaos as a security positive for Israel, at least in part. While distinctly counter-intuitive, such compelling reasons ought now be more closely and capably examined.
These reasons should not be casually minimized or disregarded.
As drawn from its core meanings in classical philosophy and mythology, chaos represents the literal beginning of everything, the good as well as the bad.
This "positive" concept of chaos now warrants very serious and meticulous scholarly assessment. This is not the same thing as suggesting, more prosaically, that scholars and policy makers should try to make better analytic sense of assorted security threats and circumstances, e.g., the Iran nuclear threat or the Palestinian terror threat (neither of which has in any way been diminished by the new Israel-UAE agreement). What is being urged here is the more self-conscious construction of pertinent theories, a painstaking process that must inevitably be contingent upon an antecedent and more refined conceptual understanding.
Analysts may begin such epistemological processes at their most proverbial beginnings. To wit, Jewish theology discovers its primal roots in Genesis, an observation to be generally viewed with favor in a Jewish State. Whether in the Old Testament or in more-or-less synchronous Greek and Roman thought, chaos can be understood as an intellectual tabula rasa, a blank slate which, when thoughtfully completed, can best prepare the world for all things, both sacred and profane.
Most significantly, chaos can represent that inchoate place from which absolutely all civilizational opportunitymust credibly originate.
With such unorthodox thinking, chaos is never just a repellant "predator" that swallows everything whole; callously, indiscriminately, and without purpose. Here, instead, it is more usefully considered as an auspicious "openness," that is, as a protean realm within which entirely new kinds of human opportunity may be suitably revealed or gleaned. For Israel, this means that any advancing chaos in the Middle East need not necessarily be interpreted by the country's senior military planners as a portentous harbinger of regional violence and instability, but rather, in at least some respects, as a potentially gainful condition for critically improving national security.
There is more. By extrapolation, this same caveat should be extended to include any discernible elements of chaos in certain other regions of the world, though the intellectual or analytic arguments would then be based upon determinably other underlying conditions or outcomes.
The next question arises. How best to harness such a radical re-conceptualization of chaos in Jerusalem (politics) and Tel Aviv (military strategy)? This is a manifestly difficult, subtle and many-sided question. Still, it would be better answered imperfectly than be wholly disregarded. Such an answer should suggest the following: Israel's authoritative decision-makers must more intentionally stray beyond ordinary or usual national security assessments,[9] and then venture more wittingly in the direction of illuminating avant garde analyses.[10]
To be sure, any such venture would have its detractors. "Whenever the new muses present themselves," warned Spanish existentialist philosopher Jose Ortega y' Gasset in The Dehumanization of Art, "the masses bristle.
Among these studies would be scholarly examinations that hypothesize various radical redistributions of power in the Middle East, including some never-before considered alignments. Such unexpected alignments, born of a now palpably expanding regional chaos, could include not only assorted state-state relationships (e.g., Israel-Egypt; Israel-Jordan; Israel-Saudi Arabia; Israel-UAE; Israel-Russia), but also state-sub state or "hybrid" connections (e.g., Hezbollah-Iran; Hezbollah-Russia). Just as with certain state-state relationships, relevant intersections could sometime be synergistic. In these potentially most worrisome cases, the "whole" of any specific intersection would exceed the simple sum of its constituent "parts." Of course, for Israel, not every expected synergy would necessarily be harmful or "bad." Some of these intersections could be determinably auspicious or "good."
As an example of positive synergistic outcome for Israel, scholars and planners could consider alignments that would favor directly Israeli goals or objectives, and alignments that would be presumptively harmful or injurious to that country's acknowledged foes.
Similarly unprecedented but also worth considering would be steps taken toward alleviating the more expressly structural conditions of chaos in the Middle East region, including certain specific forms of cooperation that could move incrementally toward assorted forms of regional governance. Such forms would have to be tentative, and also very partial, but they could nonetheless provide a generally welcome start toward greater area order than area chaos.[11] In specifically Hobbesian terms, these forms of governance would be intended to supplant the generally corrosive "war of all against all"[12] in the Middle East with some designated "common power."[13]
Recalling English philosopher Thomas Hobbes, the core objective here would be to keep all state and sub-state parties "in awe."[14]
Ironically, a unique opportunity for regional movements toward greater area collective security would have been made possible by decision-maker perceptions of a more general revulsion with anarchy or chaos. This opportunity will have been born of a growing existential desperation, that is, of a sense that "business as usual" in Middle East peacemaking can no longer suffice. Of course, it is altogether possible that this particular sense of opportunity could sometime be mistaken or misunderstood, in which case any presumed benefits of chaos might turn out to be a double-edged sword.
There is more. With regard to any such injurious inversions of opportunity for Israel, Jerusalem need only be reminded of its unchanging obligation to avoid taking existential risks wherever possible.[15] Ultimately, this fixed and immutable obligation can be fulfilled only by assessing all risks and opportunities according to well-established and optimally rigorous intellectual standards. Among other things, even when chaos might beckon seductively to Israel as an unanticipated font of future strategic opportunity, there could be no adequate substitute for capable scholarly or intellectual analysis.
Reciprocally, however, any such diligent analysis must eschew "seat of the pants" determinations, and rely instead upon an amply-refined strategic theory. Always, theory is a "net." Only those who "cast" such an indispensable net can ever expect to "catch."
What else? When "casting," Israel's strategic planners should pay especially rapt attention to any discernible links between a prevailing or still-anticipated chaos, and the expected rationality of its relevant adversaries.[16] What might first appear as an unwittingly promising source of improved national safety could be reversed promptly by those enemies who would value certain normally subsidiary preferences in world politics more highly than national or collective survival.
Credo quia absurdum, said the ancient philosopher Tertullian. "I believe because it is absurd."
Such "absurd" enemies are not historically unknown in world politics.[17]
Not at all.
At this moment, the most compelling threat of such enemy irrationality appears to come from a seemingly still-nuclearzing Iran. Significantly, there is no way for Israel's decision makers to systematically or scientifically evaluate the authentic probabilities of any such uniquely formidable threat.[18] This is because (a) any truly accurate assessments of event probability must be based upon the determinable frequency of pertinent past events; and (b) there have been no pertinent past events (i.e., no nuclear war).
All the same, an eventual Iranian nuclear threat to Israel remains plausible; it should thus suggest certain worrisome prospects for a "final" sort of regional chaos. To make reassuringly positive or at least gainful use of this vision, Israel ought soon to focus explicitly and meticulously on its still-tacit "bomb in the basement" nuclear strategy. Preparing to move beyond the prospectively lethal limits of "deliberate nuclear ambiguity," Jerusalem would need to (1) rank-order identifiable thresholds of enemy nuclear peril as tangible "triggers" for its incremental nuclear disclosures; and (2) prepare for rank-ordered release some very specifically limited sets of information concerning the invulnerability and penetration-capability of its own nuclear forces.
These sets would include selected facts on nuclear targeting doctrine; number; range; and yield.
As Israel can learn from certain intimations of some impending chaos, the country's national security might be better served by reduced nuclear ambiguity than by any more traditional commitments to complete strategic secrecy. This seemingly counter-intuitive argument is rooted in the altogether reasonable presumption that Israel's continued survival must depend very considerably on successfully sustained nuclear deterrence.
When 19th century philosopher Friedrich Nietzsche initially explained chaos as something contained deeply within each individual human being,[19] he did not intend this to represent a distressingly negative portent. On the contrary, like the German poet Hölderlin,[20] with whose work he was intimately familiar, Nietzsche understood that even from apparent formlessness can emerge things of great or even inestimable value. Accordingly, at this currently precarious moment in its contemporary history, Israel's leadership would be well advised (a) to think seriously and inventively about such challenging conceptual opportunities; and (b) to fashion strategic theories that begin but do not end with conspicuous portents of the apocalyptic "abyss."
This would not be a task for the intellectually faint-hearted, or for those who are constitutionally unable to recognize promising strategic "muses"[21] But the security payoff for Israel's national defense could still prove overwhelmingly gainful. It follows that such a task would be determinably "cost-effective."
One last point in this broad argument now bears repeating. It is that Israel has absolutely no choice about either welcoming or rejecting chaos. Incontestably, this condition is not something that Israel can in any way push aside, negotiate, forestall or prevent. Because chaos in some form will inexorably emerge from a traditional global anarchy, Jerusalem must do whatever it can (as soon as it can) to reconcile and optimize its pertinent security strategies with chaos. A full acknowledgment of this unavoidable imperative could represent the acme of Israel's decisional acumen and decisional rationality.[22]
In the months and years ahead, Israel's overriding obligation remains plain and obvious. To best meet this evident security imperative of collective survival, that nation's strategic analysts and planners will first have to better understand the relevant policy correlates of any expanding chaos, and to accomplish this goal by means of a markedly advanced conceptual scholarship. At a particularly fragile moment in contemporary history when biology could prove even more fundamentally worrisome than capable enemy armies, this scholarship will need to take special note of our current and still-expanding Corona virus pandemic.
This "plague," though "merely" biological, will likely produce certain unanticipated and hard to remediate forms of social and political disintegration, both expressly regional (Middle East) and worldwide. At the same time, should Israel and its relevant area foes sometime recognize this viral pandemic as an exceptional menace that is nonetheless common to all – one best diminished by some generally shared strategies of cooperation – it could conceivably become a welcome agent of a more genuine Middle East peace.[23] Though ironic and more-or-less implausible, microbial assault could represent just the right agent for enhanced geopolitical vision, for shaping a tabula rasa from which more promisingly audacious national security opportunities could sometime be born.
If this novel opportunity for embracing chaos were sufficiently acknowledged, it could be a "beginning" that "draws near," not an "end."
---
[1] Our formal report, "Israel's Strategic Future," was discussed widely in global media and delivered by hand to PM Ariel Sharon in Jerusalem on January 16, 2003. http://www.acpr.org.il/ENGLISH-NATIV/03-ISSUE/daniel-3.htm
[2] Ambassador Shoval has been Professor Beres' several times co-author on vital matters of Israeli security and international law. Most recently, see Louis René Beres and Zalman Shoval, West Point (Pentagon) https://mwi.usma.edu/creating-seamless-strategic-deterrent-israel-case-study/
[3] The historic Peace of Westphalia (1648) concluded the Thirty Years War and created the still-existing state system. See: Treaty of Peace of Munster, Oct. 1648, 1 Consol. T.S. 271; and Treaty of Peace of Osnabruck, Oct. 1648, 1., Consol. T.S. 119. Together, these two treaties comprise the "Peace of Westphalia."
[4] Hobbes, the 17th- century English philosopher, argues that anarchy in the "state of nations" is the only true "state of nature." In Chapter XIII of Leviathan ("Of the Natural Condition of Mankind, as concerning their Felicity, and Misery"), Hobbes explains famously: "But though there had never been any time, wherein particular men were in a condition of war, one against the other, yet in all times, kings and persons of sovereign authority, because of their independence, are in continual jealousies, and in the state and posture of gladiators; having their weapons pointing, and their eyes fixed on one another; that is their forts, garrisons, and guns upon the frontiers of their kingdoms, and continual spies upon their neighbors, which is a posture of war."
[5] With chaos, but not anarchy, even the usual mainstays of decentralized world politics (e.g., deterrence and balance of power processes) are replaced by more eccentric or idiosyncratic factors of national decision making.
[6] As emphasized at Israel's Strategic Future: The Final Report of Project Daniel (Israel, 2003): "The primary point of Israel's nuclear forces must always be deterrence ex ante, not revenge ex post."
[7]See, for example: Louis René Beres, https://thestrategybridge.org/the-bridge/2018/5/29/israels-nuclear-strategy-enhancing-deterrence-in-the-new-cold-war-part-i; Louis René Beres, INSS Israel, https://www.inss.org.il/publication/changing-direction-updating-israels-nuclear-doctrine/
and, at Harvard Law School, Louis René Beres: https://harvardnsj.org/2014/06/staying-strong-enhancing-israels-essential-strategic-options-2/
[8] See, by Professor Beres, https://paw.princeton.edu/new-books/surviving-amid-chaos-israel%E2%80%99s-nuclear-strategy
[9] Such proposed "straying," which might range anywhere from an eleventh-hour preemption to much greater commitments to regional collective security, could still be in more-or-less complete accord with pertinent international law. In this connection, a core or jus cogens principle of international law remains the unambiguous imperative: "Where the ordinary remedy fails, recourse must be had to an extraordinary one." (Ubi cessat remedium ordinarium, ibi decurritur ad extraordinarium." (Black's Law Dictionary, 1520 – 6th ed., 1990).
[10] In his 1927 preface to Oxford Poetry, W.H. Auden wrote: "All genuine poetry is in a sense the formation of private spheres out of public chaos…." Looking ahead with an appropriately avant-garde orientation, Israeli strategists must essentially seek to carve out livable national spheres from a steadily expanding global chaos. Ultimately, of course, following Nietzsche, they must understand that such chaos originally lies within each individual human being, but – at least for the moment of their present strategic deliberations – they must focus upon collective survival in a true Hobbesian "state of nature." This is a condition wherein "the weakest has strength enough to kill the strongest," normally possible only where individual human beings coexist in nature, but possible also in world politics wherever there exists nuclear proliferation. Accordingly, the German legal philosopher Samuel Pufendorf reasoned, like Hobbes, that the state of nations "lacks those inconveniences which are attendant upon a pure state of nature…." Similarly, said Baruch Spinoza: "A commonwealth can guard itself against being subjugated by another, as a man in the state of nature cannot do." (See: A.G. Wernham, ed., The Political Works: Tractatus Politicus, iii, II; Clarendon Press, 1958, p. 295).
[11] Back at Princeton in the late 1960s, I spent two full years in the University library, reading everything available about world order. The initial result was published in my early book The Management of World Power: A Theoretical Analysis (University of Denver, 1973) and two years later, in Transforming World Politics: The National Roots of World Peace (University of Denver, 1975).
[12] This Hobbes-described orientation represents the explicit underpinning of US President Donald Trump's announced foreign policy, and stands in direct opposition to the core jurisprudential assumption (i.e., international law) of imperative solidarity between all states. This immutable or jus cogens assumption was already mentioned in Justinian's Digest (533 CE); Hugo Grotius' Law of War and Peace (1625); and Vattel's The Law of Nations, or the Principles of Natural Law (1758). According to General McMaster, Mr. Trump's earlier National Security Advisor, this policy is an expression of "pragmatic realism." Historically, this term is essentially a self-reinforcing falsehood, as no forms of "realism" or "Realpolitik" have ever worked for long. For Israel, the best "lesson" to be extracted from this egregious US policy error is to think of the erroneous Trump-era posture as one of "naive realism," and to draw upon certain expectations of advancing chaos to inspire more promising forms of both national strategy and international cooperation.
[13] Following the recently negotiated Israel-UAE and Israel-Bahrain agreements, it could be assumed or alleged that this "corrosive" condition has been correspondingly modified or reduced. Nonetheless, Israel's principal security challenges have never come from these Gulf states; it is also arguable that the threat of renewed Palestinian terrorism has actually been increased by these US-brokered pacts.
[14] See Hobbes, Leviathan, especially Chapter XVII, "Of Commonwealth." More generally, the presumed obligation to use force in a world of international anarchy forms the central argument of Realpolitik from the Melian Dialogues of Thucydides and the Letters of Cicero to Machiavelli, Locke, Spykman and Kissinger. "For what can be done against force without force?' inquires Cicero. Nonetheless, the sort of chaos that Israel could confront shortly is much different from traditional anarchy or simply decentralized global authority. In essence, it is conceivably more primordial, more primal, self-propelled and potentially even self-rewarding.
[15] Such a primary warning is the central motif of Yehoshafat Harkabi's The Bar Kokhba Syndrome: Risk and Realism in International Politics," (New York: Rossel Books, 1983).
[16] See, by Professor Beres: https://besacenter.org/wp-content/uploads/2017/06/516-Israeli-Security-and-Enemy-Rationality-Beres-Author-approved-version.pdf
[17] See Sigmund Freud in Civilization and its Discontents: "Fools, visionaries, sufferers from delusions, neurotics and lunatics have played great roles at all times in the history of mankind….usually they have wreaked havoc."
[18] Regarding also the expected consequences or "disutilites" of a nuclear war, by this author, see: Louis René Beres, SURVIVING AMID CHAOS: ISRAEL'S NUCLEAR STRATEGY (London: Rowman and Littlefield, 2016/2018); Louis René Beres, APOCALYPSE: NUCLEAR CATASTROPHE IN WORLD POLITICS (Chicago: University of Chicago Press, 1980); Louis René Beres, MIMICKING SISYPHUS: AMERICA'S COUNTERVAILING NUCLEAR STRATEGY (Lexington MA: Lexington Books, 1983); Louis René Beres, REASON AND REALPOLITIK: U S FOREIGN POLICY AND WORLD ORDER (Lexington MA; Lexington Books, 1984); and Louis René Beres, ed., SECURITY OR ARMAGEDDON: ISRAEL'S NUCLEAR STRATEGY (Lexington MA: Lexington Books, 1986).
[19] "I tell you," says Friedrich Nietzsche in Thus Spoke Zarathustra, "ye have still chaos in you."
[20] In philosophy, Hölderin, Nietzsche and Heidegger struggled with the fundamentally same ontological problems of existence, or "being,"
[21] Once again, "Whenever the new muses present themselves," cautions Spanish existentialist José Ortega y' Gassett in The Dehumanization of Art, "the masses bristle."
[22] Reciprocally, a rational state enemy of Israel will always accept or reject a particular option by comparing the costs and benefits of each alternative. Wherever the expected costs of striking first are taken to exceed expected gains, this enemy will be deterred. But where these expected costs are believed to be exceeded by expected gains, deterrence will fail. Here, whatever the prevailing levels of order or chaos, Israel would be faced with an enemy attack, either as a "bolt-from-the-blue" or as an outcome of anticipated or unanticipated crisis-escalation. In this connection, too, Israeli planners will want to stay abreast of each side's ongoing search for "escalation dominance."
[23] More generally, see by this writer, Louis René Beres, at Jurist: https://www.jurist.org/commentary/2020/04/louis-beres-trump-empathy/ To be sure, the recent US-brokered Israel agreements with UAE and Bahrain are actually net-negative for Middle East Peace because they provide no per se Israeli advantages with these Gulf states, and because they exacerbate Israel's much more essential relationships with Iran, the Palestinians and Hezbollah.
The Changing Political Dynamics of the Middle East
It is often said that the politics of the Middle East is as clear as mud. The fresh events that unfolded in the region indicate the significance of this assumption. The strict and hyper-strategic alliances that characterized the region during the Cold War are now vanishing as a new order seems to emerge that is much more hybrid, unpredictable, and pragmatic. With Russia's invasion of Ukraine, the Middle Eastern states are keen on keeping their distance as they refuse to take sides. The dynamics were quite opposite in the Cold War era and during the unstable period that dominated the region afterward. The shift evident in the region today is thoroughly complex and complicated but it is different from the Cold War period.
The Middle East was a playground for the two dominant sides during the Cold War. It was subjected to major foreign invasions and large-scale conflicts. The Iranian Revolution in 1979 added further spices to the bitter Saudi-Iran rivalry and the race continued throughout the war. Unlike other parts of the world, the post-Cold War era was even further devastating for the Middle East as Arab Spring ignited some of the world's deadliest conflicts. The wars in Yemen, Syria, and other countries portray the arch rivalry of global and regional players to dominate the region. However, today it seems that the major actors in all these conflicts are tired and fatigued. As the regional crisis meets dead ends, a new geo-political environment is emerging in the Middle East.
In the last few months, the two major powers, the United States and Russia have focused comprehensively on the Middle East as it is a major economic and strategic zone. The trilateral summit between Iran, Russia, and Turkey and the American-Arab summit held in Jeddah demonstrate the efforts. The summit in Jeddah signaled a divergence and lack of trust between the United States and its partners in the region. Unlike the previous talks, the environment lacked confidence and the actors could not agree on most of the views. It was more of a stage to blame each other as the Saudi Prince defended himself against the opprobrium of Biden by mentioning the war crimes committed by the United States in Iraq. Riyadh and Cairo also questioned the strategic competency and power of the United States given its humiliating withdrawal from Afghanistan and Iraq. President Biden also tried to convince and pressurize Saudi Arabia, the United Arab Emirates, and Egypt to cut off all ties with Russia and cease all cooperation. Although increasing oil production was agreed upon but no party indicated to stop dealing with Russia on trade and energy. More surprisingly, Israel, Washington's closest ally in the region has also shown a diversion from following the orders of the United States. It is a tipping point in history where it seems that the United States has lost its hegemony in the Middle East, and it has become a client state of the Saudis. The events delivered a clear message that countries in the Middle East only want America's aid and arms, not its advice.
In the same way, another important ally of the United States in the region, Turkey has been following a hybrid model for quite a time. The trilateral summit held in Tehran was a milestone in strengthening Turkey's ties with Russia and Iran. Turkey has even proposed arms sales to Iran which shows a clear diversion from a major NATO member. Turkey has also turned towards Russia to attain the S-400 system after NATO refused to sell the air defense system. More importantly, Saudi Arabia has also shown the intention to get the system from Moscow. As is the case with other states, Iran is also keen on building good ties with China and Russia. The country is collaborating with the European nations to reestablish the Nuclear Deal on acceptable terms. Despite having disagreements over most of the issues, Iran and Saudi Arabia are involved in diplomatic talks to de-escalate the tensions in the region. MBS is looking for diplomatic accommodations with Iran to help the region in development through trade. While speaking with CNN, Saudi Foreign Minister Faisal bin Farhan Al Saud said that they are hoping for a kind response from Iran in order to build a diplomatic solution. He favored giving incentives to Iran on the negotiations table to have a peaceful future in the region. UAE's normalization of ties with the Assad regime in Syria and exit from the war in Yemen also indicate the concerns of the major powers in the region about the instability. It is indeed the beginning of a changing regional order in the Middle East where the Cold War model is evaporating.
In short, the changes undergoing in the Middle East do not look similar to the hyper and rigid order during the Cold War. More governments in the region are opting for hyper, hybrid, and pragmatic policies that favor their national interests and regional stability over the benefits of foreign powers. The Middle East is a powerhouse of the world and the shifting plates in the region would surely influence world politics. It is still unsure so make predictions about the future since the ongoing situation is very complicated and complex. The political dynamic of the Middle East is unpredictable and it will further complicate global affairs. What might come next is a mystery and where the next explosion would occur is a sheer guess.
To conclude, the world seems to be changing now as China is threatening the position of the United States and the resurgence of Russia is a clear challenge to the dominance of the United States. In such an uncertain environment, the Middle East is a center of gravity for the "haves" of the world. President Biden's visit to the region and the trilateral talks between Russia, Iran, and Turkey mark the significance of dominating the region today. An evaluation of the recent events portrays that the rigid and hypersensitive environment of the Middle East is converting into a hybrid, pragmatic, and unpredictable domain. The divergence of the allies of the United States in the region from the dictated course and tilt towards Russia signals a tectonic shift. Iran's involvement in the affairs is another point of importance to decide the future of the region. It is impossible to correctly predict the rapid changes in the Middle East, however, the years ahead are surely of vital significance.
Winter sports in Saudi Arabia? An unproven concept except for the surveillance aspect
Temperatures in north-western Saudi Arabia, on average, seldom, if ever, drop below eight degrees Celsius except in the 2,400-metre high Sarawat mountains, where snow falls at best occasionally. However, that hasn't prevented Crown Prince Mohammed bin Salman from envisioning Saudi Arabia as competing for winter sports tourism.
The kingdom would do so by including winter sports in Mr. Bin Salman's US$500 billion Neom fantasia, a futuristic new city and tourism destination along the Red Sea in a mostly unpopulated part of the kingdom.
In the latest mind-boggling Neom-related announcement, Saudi Arabia's Olympic committee said it was bidding to host the 2029 Asian Winter Games in the city, essentially still a project on paper that has a science-fiction feel to it in a country that has no winter sports facilities and whose plans so far envisioned only ones that would be indoors.
The games would be held at Trojena, a yet-to-be-built resort on mountain peaks overlooking Neom slated to be home to 7,000 people by 2026 and annually attract 700,000 visitors. Trojena would be the Gulf's first outdoor ski resort.
Powered by renewable energy, Trojena expects to create an outdoor ski slope by blasting artificial snow at the mountains.
Plans for the resort also include a ski village, luxurious family and wellness facilities, the region's largest freshwater lake, and an interactive nature reserve. Trojena would also feature a yoga retreat and an art and entertainment residency.
Executive director Philip Gullett predicts that Trojena will offer a "seamless travel experience" in which "we are looking into delivering luggage via drones, using biometrics to fulfill security requirements, and allowing interested parties to explore the site first using the latest virtual reality."
In Mr. Gullet's anticipation, visitors will be able to scuba dive, ski, and hike or climb, all on the same day.
At least 32 Asian nations compete in the Asian games that include alpine skiing, ice hockey, biathlon, cross-country skiing, and figure skating competitions.
To be fair, Saudi Arabia sent its first winter Olympics team to the Beijing games in February, where Fayik Abdi ranked number 44 in the men's giant slalom.
The winter sports bid is part of a big-splash Saudi effort to establish itself as the Gulf's foremost player in international sports, a position so far occupied by Qatar with its hosting of this year's World Cup and the United Arab Emirates that, like Qatar, owns one of the world's top European soccer clubs.
Saudi Arabia recently bought English Premier League club Newcastle United and sparked controversy by attracting with vast sums of money some of the world's top golf players to compete in a new tournament that kicked off in one of former US President Donald J. Trump's resorts.
Tiger Woods reportedly turned down a US$700 to 800 million offer to join the Saudi-backed LIV Golf Invitational Series. However, others, including Greg Norman, Phil Mickelson, Dustin Johnson, and Bryson DeChambeau, have jumped on the Saudi bandwagon.
Saudi Arabia has also signed a 10-year, $650m deal for a Formula One motor racing event, partnered with World Wrestling Entertainment for annual shows, and hosted the world heavyweight championship rematch between Anthony Joshua and Andy Ruiz.
Less than a year after signing with Qatar-owned Paris Saint-Germain, soccer superstar Lionel Messi has emerged as the tourism ambassador for the Saudi Red Sea port of Jeddah.
Families of activists and dissidents imprisoned in Saudi Arabia unsuccessfully tried to persuade Mr. Messi not to engage with the kingdom. "If you say 'yes' to Visit Saudi, you are in effect saying yes to all the human rights abuses that take place today in modern Saudi Arabia," they said in a letter to the player.
A Saudi national and former Twitter employee is currently on trial in the United States for spying for the kingdom on Saudi users of the social media platform.
Areej Al-Sadhan said the information potentially provided by the former employee may have led to the arrest of her brother Abdulrahman Al-Sadhan because of his satiric social media posts. Mr. Al-Sadhan was tortured and sentenced to 20 years in prison.
Saudi officials killed journalist Jamal Khashoggi in Istanbul in 2018 in what the kingdom has said was an unauthorized rogue operation. However, others, including US intelligence, assert that it was anything but.
Adding to Neom's futurism, Saudi sources said last month that the city, funded by the kingdom's sovereign wealth fund, the Public Investment Fund, would be home to the world's largest buildings, twin 500-metre-tall skyscrapers dubbed The Line that would stretch horizontally for dozens of miles.
By 2030, Mr. Bin Salman expects some 1.5 million people to live in the skyscrapers.
"Everything about Neom…seems fantastical. From flying elevators to 100-mile long skyscrapers to a floating, zero-carbon port, it seems to owe more to Coruscant and Wakanda than to any urban forms outside of science fiction," said Bloomberg columnist David Fickling, referring to Star Wars' city-covered planet and Fantastic Four's fictional country in East Africa.
In Mr. Bin Salman's mind, Neom – derived from the Latin word neo for new and the first letter of the Arabic word for future, Mustaqbal, and built with advanced smart city technologies — will likely not only be an example of artificial intelligence increasing life's conveniences but also the creation of the perfect surveillance state.
Speaking to Bloomberg in 2017, Mr. Bin Salman envisioned residents and visitors managing their lives with just one app. Neom, Mr. Bin Salman said the city would have no supermarkets because everything would be delivered.
"Everything will have a link to artificial intelligence, to the Internet of Things – everything. Your medical file will be connected with your home supply, with your car, linked to your family, linked to your other files, and the system develops itself in how to provide you with better things," Mr. Bin Salman envisioned.
"Today all the clouds available are separate – the car is by itself, the Apple watch is by itself, everything is by itself. There, everything will be connected. So, nobody can live in Neom without the Neom application we'll have – or visit Neom," he added.
Mr. Bin Salman's vision of Saudi Arabia as the world's latest top-of-the-line winter sports destination attracts headlines but has yet to be proven as a concept. That is true for much of the futurism embedded in plans for Neom except for the surveillance state – that is already a reality in various parts of the world.
How Russia's Policy in the Middle East and North Africa is Changing After February 24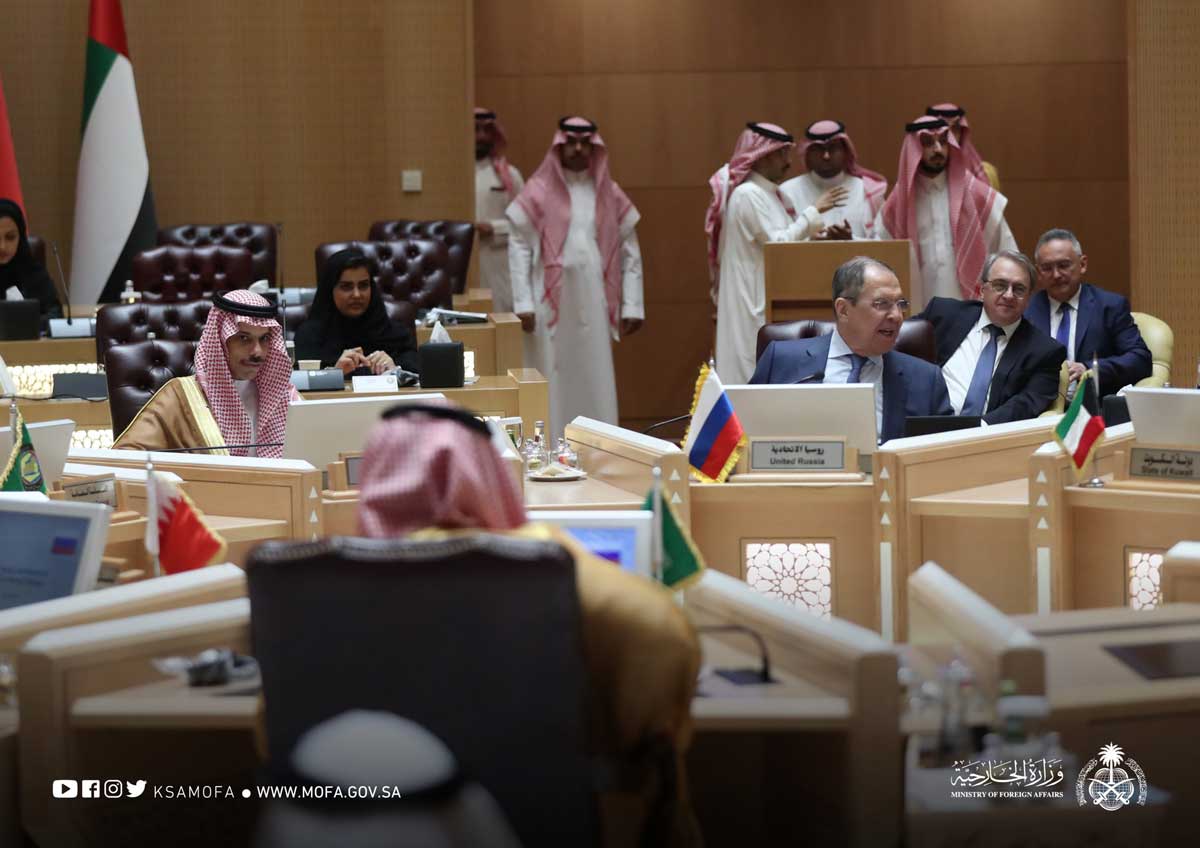 U.S. President Joe Biden has now visited the Middle East, and this week, President of Russia Vladimir Putin also pays a visit to Iran, where he is expected to hold trilateral meetings with President of Iran Ebrahim Raisi and President of Turkey Recep Tayyip Erdogan on Syria's Astana process.
On February 24, 2022, the Russia–Ukraine military conflict began. Five months into it, the world has undergone global changes. Under the new conditions, Russia's foreign policy in regions of the country's strategic interest is changing as much. Among such regions are the Middle East and North Africa (MENA), which are traditionally in the focus of the Kremlin's attention. Arab countries have taken an intermediate position in responding to Russia's actions in Ukraine. Some of them supported the UN General Assembly resolution condemning Russia. However, unlike the U.S. and countries of the EU, the Arab world did not impose sanctions of their own. There are some difficulties on trade, but this is due to the desire of the Arab states to reduce the sanctions risks.
In recent years, the claim that the United States is leaving the Middle East has been popular in expert and academic circles. Some of them even spoke of Russia filling the emerging vacuum. However, the likelihood has now increased that Moscow's activity in the MENA region will also significantly decrease. Nowadays, almost all the attention of Russia, and of the whole world, is focused on Ukraine. Some countries have already managed to use this to realize their own ambitions. In particular, Turkey announced the start of new military operation in Syria. Although Moscow has asked Ankara to abandon the operation, this is unlikely to influence the decision of President of Turkey Recep Tayyip Erdogan.
It seems to me that, at least in the coming months, and possibly years, we can expect a sharp decline in Russia's efforts to resolve the humanitarian crisis in Syria. The involvement of the Kremlin in Libyan affairs will also decrease. Moscow may not have the resources to defend its interests in Libya by military-political means in the event of another possible escalation.
Big changes await Russia's economic cooperation with the Arab countries. On the one hand, due to problems with logistics and sanctions, cooperation may be difficult. On the other hand, Russia is reorienting its economy towards the East, which could have a positive effect on economic cooperation with the Arab East. The most interesting thing is how the food supply situation will develop. Arab countries are highly dependent on Russian and Ukrainian grain exports. That is why the conflict between these countries has such a strong impact on the MENA region. This will have an impact on how Russian-Arab relations will change in the future.
There is some contradiction. On the one hand, dependence on Russian and Ukrainian food exports continues to persist. On the other hand, in the short term, the conflict creates the prerequisites for a reorientation to other markets—in particular, to buy grain from India. However, it should be taken into account that India, like other major food exporters, may not have enough resources to cover the needs of the Arab states quickly.
Moscow's influence may be reduced in matters related to military-technical cooperation with the countries of the MENA region. Previously, the United States reacted quite sharply if someone bought Russian weapons. Among the most striking examples are the deal between Russia and Turkey for the purchase of S-400 long-range surface-to-air missile systems or the agreement with Egypt for the purchase of Su-25 aircraft. Washington opposed such purchases and responded with a threat of sanctions in order to force the countries of the Middle East to abandon Russian weapons. After February 24, the reaction to such purchases will be much stronger, and this may expand from traditional U.S. partners in the region to a wider range of states. Sanction risks are highly likely to lower the level of military-technical cooperation between Russia and the MENA countries.
Of course, the Arab countries take into account the risks of sanctions in economic matters, which can negatively affect trade as well as investment cooperation with Russia. At the same time, Russia and the MENA countries have a number of large long-term infrastructure and industrial projects. There are many projects in oil and gas, as well as in nuclear energy. Let's pay attention to the position of Saudi Arabia. It shows that Riyadh values cooperation with Russia under the OPEC+ deal. It did not increase oil production despite requests from Washington.
Some political cooperation will continue. This is especially evident in the example of the Arab countries of the Gulf. Not so long ago, the 5th Ministerial Meeting for Strategic Dialogue between GCC and Russia took place. The meeting discussed the situation in Yemen and Libya. In addition, the participants considered issues of further elaboration of Russian proposals for the creation of a collective security system in the Gulf zone. Thus, Russia's political influence in the region still remains, and it is possible that Moscow will be involved in a number of political projects. However, in my opinion, in the long term, this influence will be reduced gradually. The main question now is how much Russia will be considered a security provider after February 24.
From our partner RIAC