"Is it an end that draws near, or a beginning?"-Karl Jaspers, Man in the Modern Age (1951)
INTRODUCTION TO THE ANALYSIS:  Day by day, traditional global anarchy (with discernible roots in the seventeenth century Peace of Westphalia) is being supplanted by chaos. This exponential replacement has very substantial implications for (1) comprehensive global stability; (2) regional stability in the Middle East; and (3) Israeli national stability. Because the replacement  is taking place alongside a still-expanding global pandemic, variously resultant forms of chaos must be considered as multi-layered, tangled and synergistic.
What next? Among others, Israel's senior strategists and policy-makers will have to examine these dissembling expressions of chaos by proceeding with continuously capable scholarship. Accordingly apt emphases in Jerusalem and Tel Aviv should soon be placed upon plausible alterations to decisional rationality (both Israeli and adversarial) and on prospective nuclear competitions oriented to achieving intra-crisis "escalation dominance." In the worst case scenario, such analyses would pertain to certain potential instances of nuclear war-fighting, a sobering narrative that reinforces Israel's unceasing imperative to seek nuclear deterrence ex ante, and not revenge ex post.
There is more. The article that follows is self-consciously conceptual/theoretical. By design, it is unlike other more usual essays that concern global/ regional stability in world politics.
This article can be useful to military practitioners and national security planners because it could lead them well beyond any orthodox or narrowly "current events" focus on applicable strategic thought. By explaining this historically unprecedented transition from anarchy to chaos, it can also point serious readers toward a new corpus of pertinent strategic theory. "Theory is a net," we all learned earlier from Karl Popper's classic The Logic of Scientific Discovery (1959), "only those who cast, can catch."
—————–
As Chair of "Project Daniel," a special policy task force assembled to analyze the Iranian nuclear threat to Israel two decades ago,[1] the author is not new to analytic assessments of complex geo-strategic hazards, including existential ones. Still, twenty years back, when Daniel sprang from a private conversation he was having in Tel-Aviv with two-time Israeli Ambassador to the United States Zalman Shoval,[2] overriding security perils were being examined as part of some presumptively coherent world order. This is not meant to suggest that the post-Westphalia[3] order was ever reassuringly stable or satisfactory, but only that the classical balance-of-power regime had not yet become entirely unpredictable.
That was then. Today, all serious scholarly assessments, irrespective of specific country particularity, must be undertaken with a starkly different view. This updated perspective assumes, inter alia, that the world order system is no longer "merely" anarchic,[4] but is also chaotic. Now, a crucial part of this dissembling context is worldwide disease pandemic, a devastating plague that only renders an already unstable global structure even worse.[5]
In essence, an incremental metamorphosis of system-wide anarchy into chaos has been underway for some time, but the sudden and sweeping comprehensiveness of Covid19 has produced a quantum jump in this already-significant transformation.
Though a decidedly global issue, some states will be affected more than others by any spreading chaos. In the specific case of Israel, our focus here, the prospective impacts of certain ongoing change patterns are apt to be considerable. This is because of that country's conspicuously small size, its still-multiple enemies and its correspondingly unique dependence (for deterrence,[6] not war-fighting)[7] upon nuclear weapons and strategy.[8]
Looking ahead, the challenging security tasks for Israel need not be regrettable or without any tangible benefits. There do exist sound and science-based reasons to acknowledge advancing chaos as a security positive for Israel, at least in part. While distinctly counter-intuitive, such compelling reasons ought now be more closely and capably examined.
These reasons should not be casually minimized or disregarded.
As drawn from its core meanings in classical philosophy and mythology, chaos represents the literal beginning of everything, the good as well as the bad.
This "positive" concept of chaos now warrants very serious and meticulous scholarly assessment. This is not the same thing as suggesting, more prosaically, that scholars and policy makers should try to make better analytic sense of assorted security threats and circumstances, e.g., the Iran nuclear threat or the Palestinian terror threat (neither of which has in any way been diminished by the new Israel-UAE agreement). What is being urged here is the more self-conscious construction of pertinent theories, a painstaking process that must inevitably be contingent upon an antecedent and more refined conceptual understanding.
Analysts may begin such epistemological processes at their most proverbial beginnings. To wit, Jewish theology discovers its primal roots in Genesis, an observation to be generally viewed with favor in a Jewish State. Whether in the Old Testament or in more-or-less synchronous Greek and Roman thought, chaos can be understood as an intellectual tabula rasa, a blank slate which, when thoughtfully completed, can best prepare the world for all things, both sacred and profane.
Most significantly, chaos can represent that inchoate place from which absolutely all civilizational opportunitymust credibly originate.
With such unorthodox thinking, chaos is never just a repellant "predator" that swallows everything whole; callously, indiscriminately, and without purpose. Here, instead, it is more usefully considered as an auspicious "openness," that is, as a protean realm within which entirely new kinds of human opportunity may be suitably revealed or gleaned. For Israel, this means that any advancing chaos in the Middle East need not necessarily be interpreted by the country's senior military planners as a portentous harbinger of regional violence and instability, but rather, in at least some respects, as a potentially gainful condition for critically improving national security.
There is more. By extrapolation, this same caveat should be extended to include any discernible elements of chaos in certain other regions of the world, though the intellectual or analytic arguments would then be based upon determinably other underlying conditions or outcomes.
The next question arises. How best to harness such a radical re-conceptualization of chaos in Jerusalem (politics) and Tel Aviv (military strategy)? This is a manifestly difficult, subtle and many-sided question. Still, it would be better answered imperfectly than be wholly disregarded. Such an answer should suggest the following: Israel's authoritative decision-makers must more intentionally stray beyond ordinary or usual national security assessments,[9] and then venture more wittingly in the direction of illuminating avant garde analyses.[10]
To be sure, any such venture would have its detractors. "Whenever the new muses present themselves," warned Spanish existentialist philosopher Jose Ortega y' Gasset in The Dehumanization of Art, "the masses bristle.
Among these studies would be scholarly examinations that hypothesize various radical redistributions of power in the Middle East, including some never-before considered alignments. Such unexpected alignments, born of a now palpably expanding regional chaos, could include not only assorted state-state relationships (e.g., Israel-Egypt; Israel-Jordan; Israel-Saudi Arabia; Israel-UAE; Israel-Russia), but also state-sub state or "hybrid" connections (e.g., Hezbollah-Iran; Hezbollah-Russia). Just as with certain state-state relationships, relevant intersections could sometime be synergistic. In these potentially most worrisome cases, the "whole" of any specific intersection would exceed the simple sum of its constituent "parts." Of course, for Israel, not every expected synergy would necessarily be harmful or "bad." Some of these intersections could be determinably auspicious or "good."
As an example of positive synergistic outcome for Israel, scholars and planners could consider alignments that would favor directly Israeli goals or objectives, and alignments that would be presumptively harmful or injurious to that country's acknowledged foes.
Similarly unprecedented but also worth considering would be steps taken toward alleviating the more expressly structural conditions of chaos in the Middle East region, including certain specific forms of cooperation that could move incrementally toward assorted forms of regional governance. Such forms would have to be tentative, and also very partial, but they could nonetheless provide a generally welcome start toward greater area order than area chaos.[11] In specifically Hobbesian terms, these forms of governance would be intended to supplant the generally corrosive "war of all against all"[12] in the Middle East with some designated "common power."[13]
Recalling English philosopher Thomas Hobbes, the core objective here would be to keep all state and sub-state parties "in awe."[14]
Ironically, a unique opportunity for regional movements toward greater area collective security would have been made possible by decision-maker perceptions of a more general revulsion with anarchy or chaos. This opportunity will have been born of a growing existential desperation, that is, of a sense that "business as usual" in Middle East peacemaking can no longer suffice. Of course, it is altogether possible that this particular sense of opportunity could sometime be mistaken or misunderstood, in which case any presumed benefits of chaos might turn out to be a double-edged sword.
There is more. With regard to any such injurious inversions of opportunity for Israel, Jerusalem need only be reminded of its unchanging obligation to avoid taking existential risks wherever possible.[15] Ultimately, this fixed and immutable obligation can be fulfilled only by assessing all risks and opportunities according to well-established and optimally rigorous intellectual standards. Among other things, even when chaos might beckon seductively to Israel as an unanticipated font of future strategic opportunity, there could be no adequate substitute for capable scholarly or intellectual analysis.
Reciprocally, however, any such diligent analysis must eschew "seat of the pants" determinations, and rely instead upon an amply-refined strategic theory. Always, theory is a "net." Only those who "cast" such an indispensable net can ever expect to "catch."
What else? When "casting," Israel's strategic planners should pay especially rapt attention to any discernible links between a prevailing or still-anticipated chaos, and the expected rationality of its relevant adversaries.[16] What might first appear as an unwittingly promising source of improved national safety could be reversed promptly by those enemies who would value certain normally subsidiary preferences in world politics more highly than national or collective survival.
Credo quia absurdum, said the ancient philosopher Tertullian. "I believe because it is absurd."
Such "absurd" enemies are not historically unknown in world politics.[17]
Not at all.
At this moment, the most compelling threat of such enemy irrationality appears to come from a seemingly still-nuclearzing Iran. Significantly, there is no way for Israel's decision makers to systematically or scientifically evaluate the authentic probabilities of any such uniquely formidable threat.[18] This is because (a) any truly accurate assessments of event probability must be based upon the determinable frequency of pertinent past events; and (b) there have been no pertinent past events (i.e., no nuclear war).
All the same, an eventual Iranian nuclear threat to Israel remains plausible; it should thus suggest certain worrisome prospects for a "final" sort of regional chaos. To make reassuringly positive or at least gainful use of this vision, Israel ought soon to focus explicitly and meticulously on its still-tacit "bomb in the basement" nuclear strategy. Preparing to move beyond the prospectively lethal limits of "deliberate nuclear ambiguity," Jerusalem would need to (1) rank-order identifiable thresholds of enemy nuclear peril as tangible "triggers" for its incremental nuclear disclosures; and (2) prepare for rank-ordered release some very specifically limited sets of information concerning the invulnerability and penetration-capability of its own nuclear forces.
These sets would include selected facts on nuclear targeting doctrine; number; range; and yield.
As Israel can learn from certain intimations of some impending chaos, the country's national security might be better served by reduced nuclear ambiguity than by any more traditional commitments to complete strategic secrecy. This seemingly counter-intuitive argument is rooted in the altogether reasonable presumption that Israel's continued survival must depend very considerably on successfully sustained nuclear deterrence.
When 19th century philosopher Friedrich Nietzsche initially explained chaos as something contained deeply within each individual human being,[19] he did not intend this to represent a distressingly negative portent. On the contrary, like the German poet Hölderlin,[20] with whose work he was intimately familiar, Nietzsche understood that even from apparent formlessness can emerge things of great or even inestimable value. Accordingly, at this currently precarious moment in its contemporary history, Israel's leadership would be well advised (a) to think seriously and inventively about such challenging conceptual opportunities; and (b) to fashion strategic theories that begin but do not end with conspicuous portents of the apocalyptic "abyss."
This would not be a task for the intellectually faint-hearted, or for those who are constitutionally unable to recognize promising strategic "muses"[21] But the security payoff for Israel's national defense could still prove overwhelmingly gainful. It follows that such a task would be determinably "cost-effective."
One last point in this broad argument now bears repeating. It is that Israel has absolutely no choice about either welcoming or rejecting chaos. Incontestably, this condition is not something that Israel can in any way push aside, negotiate, forestall or prevent. Because chaos in some form will inexorably emerge from a traditional global anarchy, Jerusalem must do whatever it can (as soon as it can) to reconcile and optimize its pertinent security strategies with chaos. A full acknowledgment of this unavoidable imperative could represent the acme of Israel's decisional acumen and decisional rationality.[22]
In the months and years ahead, Israel's overriding obligation remains plain and obvious. To best meet this evident security imperative of collective survival, that nation's strategic analysts and planners will first have to better understand the relevant policy correlates of any expanding chaos, and to accomplish this goal by means of a markedly advanced conceptual scholarship. At a particularly fragile moment in contemporary history when biology could prove even more fundamentally worrisome than capable enemy armies, this scholarship will need to take special note of our current and still-expanding Corona virus pandemic.
This "plague," though "merely" biological, will likely produce certain unanticipated and hard to remediate forms of social and political disintegration, both expressly regional (Middle East) and worldwide. At the same time, should Israel and its relevant area foes sometime recognize this viral pandemic as an exceptional menace that is nonetheless common to all – one best diminished by some generally shared strategies of cooperation – it could conceivably become a welcome agent of a more genuine Middle East peace.[23] Though ironic and more-or-less implausible, microbial assault could represent just the right agent for enhanced geopolitical vision, for shaping a tabula rasa from which more promisingly audacious national security opportunities could sometime be born.
If this novel opportunity for embracing chaos were sufficiently acknowledged, it could be a "beginning" that "draws near," not an "end."
---
[1] Our formal report, "Israel's Strategic Future," was discussed widely in global media and delivered by hand to PM Ariel Sharon in Jerusalem on January 16, 2003. http://www.acpr.org.il/ENGLISH-NATIV/03-ISSUE/daniel-3.htm
[2] Ambassador Shoval has been Professor Beres' several times co-author on vital matters of Israeli security and international law. Most recently, see Louis René Beres and Zalman Shoval, West Point (Pentagon) https://mwi.usma.edu/creating-seamless-strategic-deterrent-israel-case-study/
[3] The historic Peace of Westphalia (1648) concluded the Thirty Years War and created the still-existing state system. See: Treaty of Peace of Munster, Oct. 1648, 1 Consol. T.S. 271; and Treaty of Peace of Osnabruck, Oct. 1648, 1., Consol. T.S. 119. Together, these two treaties comprise the "Peace of Westphalia."
[4] Hobbes, the 17th- century English philosopher, argues that anarchy in the "state of nations" is the only true "state of nature." In Chapter XIII of Leviathan ("Of the Natural Condition of Mankind, as concerning their Felicity, and Misery"), Hobbes explains famously: "But though there had never been any time, wherein particular men were in a condition of war, one against the other, yet in all times, kings and persons of sovereign authority, because of their independence, are in continual jealousies, and in the state and posture of gladiators; having their weapons pointing, and their eyes fixed on one another; that is their forts, garrisons, and guns upon the frontiers of their kingdoms, and continual spies upon their neighbors, which is a posture of war."
[5] With chaos, but not anarchy, even the usual mainstays of decentralized world politics (e.g., deterrence and balance of power processes) are replaced by more eccentric or idiosyncratic factors of national decision making.
[6] As emphasized at Israel's Strategic Future: The Final Report of Project Daniel (Israel, 2003): "The primary point of Israel's nuclear forces must always be deterrence ex ante, not revenge ex post."
[7]See, for example: Louis René Beres, https://thestrategybridge.org/the-bridge/2018/5/29/israels-nuclear-strategy-enhancing-deterrence-in-the-new-cold-war-part-i; Louis René Beres, INSS Israel, https://www.inss.org.il/publication/changing-direction-updating-israels-nuclear-doctrine/
and, at Harvard Law School, Louis René Beres: https://harvardnsj.org/2014/06/staying-strong-enhancing-israels-essential-strategic-options-2/
[8] See, by Professor Beres, https://paw.princeton.edu/new-books/surviving-amid-chaos-israel%E2%80%99s-nuclear-strategy
[9] Such proposed "straying," which might range anywhere from an eleventh-hour preemption to much greater commitments to regional collective security, could still be in more-or-less complete accord with pertinent international law. In this connection, a core or jus cogens principle of international law remains the unambiguous imperative: "Where the ordinary remedy fails, recourse must be had to an extraordinary one." (Ubi cessat remedium ordinarium, ibi decurritur ad extraordinarium." (Black's Law Dictionary, 1520 – 6th ed., 1990).
[10] In his 1927 preface to Oxford Poetry, W.H. Auden wrote: "All genuine poetry is in a sense the formation of private spheres out of public chaos…." Looking ahead with an appropriately avant-garde orientation, Israeli strategists must essentially seek to carve out livable national spheres from a steadily expanding global chaos. Ultimately, of course, following Nietzsche, they must understand that such chaos originally lies within each individual human being, but – at least for the moment of their present strategic deliberations – they must focus upon collective survival in a true Hobbesian "state of nature." This is a condition wherein "the weakest has strength enough to kill the strongest," normally possible only where individual human beings coexist in nature, but possible also in world politics wherever there exists nuclear proliferation. Accordingly, the German legal philosopher Samuel Pufendorf reasoned, like Hobbes, that the state of nations "lacks those inconveniences which are attendant upon a pure state of nature…." Similarly, said Baruch Spinoza: "A commonwealth can guard itself against being subjugated by another, as a man in the state of nature cannot do." (See: A.G. Wernham, ed., The Political Works: Tractatus Politicus, iii, II; Clarendon Press, 1958, p. 295).
[11] Back at Princeton in the late 1960s, I spent two full years in the University library, reading everything available about world order. The initial result was published in my early book The Management of World Power: A Theoretical Analysis (University of Denver, 1973) and two years later, in Transforming World Politics: The National Roots of World Peace (University of Denver, 1975).
[12] This Hobbes-described orientation represents the explicit underpinning of US President Donald Trump's announced foreign policy, and stands in direct opposition to the core jurisprudential assumption (i.e., international law) of imperative solidarity between all states. This immutable or jus cogens assumption was already mentioned in Justinian's Digest (533 CE); Hugo Grotius' Law of War and Peace (1625); and Vattel's The Law of Nations, or the Principles of Natural Law (1758). According to General McMaster, Mr. Trump's earlier National Security Advisor, this policy is an expression of "pragmatic realism." Historically, this term is essentially a self-reinforcing falsehood, as no forms of "realism" or "Realpolitik" have ever worked for long. For Israel, the best "lesson" to be extracted from this egregious US policy error is to think of the erroneous Trump-era posture as one of "naive realism," and to draw upon certain expectations of advancing chaos to inspire more promising forms of both national strategy and international cooperation.
[13] Following the recently negotiated Israel-UAE and Israel-Bahrain agreements, it could be assumed or alleged that this "corrosive" condition has been correspondingly modified or reduced. Nonetheless, Israel's principal security challenges have never come from these Gulf states; it is also arguable that the threat of renewed Palestinian terrorism has actually been increased by these US-brokered pacts.
[14] See Hobbes, Leviathan, especially Chapter XVII, "Of Commonwealth." More generally, the presumed obligation to use force in a world of international anarchy forms the central argument of Realpolitik from the Melian Dialogues of Thucydides and the Letters of Cicero to Machiavelli, Locke, Spykman and Kissinger. "For what can be done against force without force?' inquires Cicero. Nonetheless, the sort of chaos that Israel could confront shortly is much different from traditional anarchy or simply decentralized global authority. In essence, it is conceivably more primordial, more primal, self-propelled and potentially even self-rewarding.
[15] Such a primary warning is the central motif of Yehoshafat Harkabi's The Bar Kokhba Syndrome: Risk and Realism in International Politics," (New York: Rossel Books, 1983).
[16] See, by Professor Beres: https://besacenter.org/wp-content/uploads/2017/06/516-Israeli-Security-and-Enemy-Rationality-Beres-Author-approved-version.pdf
[17] See Sigmund Freud in Civilization and its Discontents: "Fools, visionaries, sufferers from delusions, neurotics and lunatics have played great roles at all times in the history of mankind….usually they have wreaked havoc."
[18] Regarding also the expected consequences or "disutilites" of a nuclear war, by this author, see: Louis René Beres, SURVIVING AMID CHAOS: ISRAEL'S NUCLEAR STRATEGY (London: Rowman and Littlefield, 2016/2018); Louis René Beres, APOCALYPSE: NUCLEAR CATASTROPHE IN WORLD POLITICS (Chicago: University of Chicago Press, 1980); Louis René Beres, MIMICKING SISYPHUS: AMERICA'S COUNTERVAILING NUCLEAR STRATEGY (Lexington MA: Lexington Books, 1983); Louis René Beres, REASON AND REALPOLITIK: U S FOREIGN POLICY AND WORLD ORDER (Lexington MA; Lexington Books, 1984); and Louis René Beres, ed., SECURITY OR ARMAGEDDON: ISRAEL'S NUCLEAR STRATEGY (Lexington MA: Lexington Books, 1986).
[19] "I tell you," says Friedrich Nietzsche in Thus Spoke Zarathustra, "ye have still chaos in you."
[20] In philosophy, Hölderin, Nietzsche and Heidegger struggled with the fundamentally same ontological problems of existence, or "being,"
[21] Once again, "Whenever the new muses present themselves," cautions Spanish existentialist José Ortega y' Gassett in The Dehumanization of Art, "the masses bristle."
[22] Reciprocally, a rational state enemy of Israel will always accept or reject a particular option by comparing the costs and benefits of each alternative. Wherever the expected costs of striking first are taken to exceed expected gains, this enemy will be deterred. But where these expected costs are believed to be exceeded by expected gains, deterrence will fail. Here, whatever the prevailing levels of order or chaos, Israel would be faced with an enemy attack, either as a "bolt-from-the-blue" or as an outcome of anticipated or unanticipated crisis-escalation. In this connection, too, Israeli planners will want to stay abreast of each side's ongoing search for "escalation dominance."
[23] More generally, see by this writer, Louis René Beres, at Jurist: https://www.jurist.org/commentary/2020/04/louis-beres-trump-empathy/ To be sure, the recent US-brokered Israel agreements with UAE and Bahrain are actually net-negative for Middle East Peace because they provide no per se Israeli advantages with these Gulf states, and because they exacerbate Israel's much more essential relationships with Iran, the Palestinians and Hezbollah.
Israel and Turkey in search of solutions
Twelve and eleven years have elapsed since the Davos and Mavi Marmara incidents, respectively, and Turkey-Israel relations are undergoing intense recovery efforts. They are two important Eastern neighbours and influence regional stability.
Currently, as in the past, relations between the two countries have a structure based on realpolitik, thus pursuing a relationship of balance/interest, and hinge around the Palestinian issue and Israel's position as the White House's privileged counterpart. However, let us now briefly summarise the history of Turkish-Jewish relations.
The first important event that comes to mind when mentioning Jews and Turks is that when over 200,000 Jews were expelled by the Spanish Inquisition in 1491, the Ottoman Empire invited them to settle in its territory.
Turkey was the first Muslim country to recognise Israel in 1949. Israel's first diplomatic Mission to Turkey was opened on January 7, 1950 but, following the Suez crisis in 1956, relations were reduced to the level of chargé d'affaires. In the second Arab-Israeli war of 1967, Turkey chose not to get involved and it did not allow relations to break off completely.
The 1990s saw a positive trend and development in terms of bilateral relations. After the second Gulf War in 1991 -which, as you may recall, followed the first Iraqi one of 1980-1988 in which the whole world was against Iran (with the only exception of the Democratic People's Republic of Korea, Syria, Libya and the moral support of Enver Hoxha's Albania) – Turkey was at the centre of security policy in the region. In that context, Turkey-Israel relations were seriously rekindled.
In 1993, Turkey upgraded diplomatic relations with Israel to ambassadorial level. The signing of the Oslo Accords between Palestine and Israel led to closer relations. The 1996 military cooperation agreement was signed between the two countries in the fight against the Kurdistan Workers' Party (PKK) in Turkey, which provided significant logistical and intelligence support to both sides.
In the 2000s, there was a further rapprochement with Israel, due to the "zero problems with neighbours" policy promoted by Erdoğan's Justice and Development Party. I still remember issue No. 3/1999 of the Italian review of geopolitics "Limes" entitled "Turkey-Israel, the New Alliance".
In 2002, an Israeli company undertook the project of modernising twelve M-60 tanks belonging to the Turkish armed forces. In 2004, Turkey agreed to sell water to Israel from the Manavgat River.
Prime Minister Erdoğan's visit to Israel in 2005 was a turning point in terms of mediation between Palestine and Israel and further advancement of bilateral relations. In 2007, Israeli President Shimon Peres and Palestinian President Mahmud Abbas spoke at the Turkish Grand National Assembly one day apart. High-level visits from Israel continued.
On December 22, 2008, Israeli Prime Minister Ehud Olmert came to Ankara and met with Prime Minister Recep Tayyip Erdoğan. In that meeting, significant progress was made regarding Turkey's mediation between Israel and Syria.
Apart from the aforementioned incidents, the deterioration of Turkish-Israeli relations occurred five days after the above stated meeting, i.e. Operation "Cast Lead" against Gaza on December 27, 2008. After that event, relations between the two sides were never the same as before.
Recently, however, statements of goodwill have been made by both countries to normalise political relations. In December 2020, President Erdoğan stated he wanted to improve relations with Israel and said: "It is not possible for us to accept Israel's attitude towards the Palestinian territories. This is the point in which we differ from Israel – otherwise, our heart desires to improve our relations with it as well".
In its relations with Israel, Turkey is posing the Palestinian issue as a condition. When we look at it from the opposite perspective, the Palestinian issue is a vital matter for Israel. It is therefore a severe obstacle to bilateral relations.
On the other hand, many regional issues such as Eastern Mediterranean, Syria and some security issues in the region require the cooperation of these two key countries. For this reason, it is clear that both sides wish at least to end the crisis, reduce rhetoric at leadership level and focus on cooperation and realpolitik areas.
In the coming months, efforts will certainly be made to strike a balance between these intentions and the conditions that make it necessary to restart bilateral relations with Israel on an equal footing. As improved relations with Israel will also positively influence Turkey's relations with the United States.
Turkey seeks to avoid the USA and the EU imposing sanctions that could go so far as to increase anti-Western neo-Ottoman rhetoric, while improved relations with Israel could offer a positive outcome not only to avoid the aforementioned damage, but also to solve the Turkish issues related to Eastern Mediterranean, territorial waters, Libya and Syria. Turkey has no intention of backing down on such issues that it deems vital. Quite the reverse. It would like to convey positive messages at the level of talks and Summits.
Another important matter of friction between Turkey and Israel is the use of oil and gas in the Eastern Mediterranean reserves between Egypt, Israel, Greece and Cyprus (Nicosia).
This approach is excluding Turkey. The USA and the EU also strongly support the current situation (which we addressed in a previous article) for the additional reason that France has been included in the equation.
The alignment of forces and fronts in these maritime areas were also widely seen during the civil war in Libya, where Turkey, Egypt, the United Arab Emirates, France, as well as other players such as Russia, Italy, etc. came into the picture.
Ultimately, a point of contact between Turkey and Israel is the mediation role that the former could play in relations between Iran and Israel, especially after the improvement of Turkish-Iranian relations.
Indeed, in the aftermath of the U.S. airstrike in Baghdad – which killed Iranian General Qassem Soleimani on January 3, 2020 -the Turkish Foreign Minister stated that the U.S. action would increase insecurity and instability in the region. He also reported that Turkey was worried about rising tensions between the United States and Iran that could turn Iraq back into an area of conflict to the detriment of peace and stability in the region. There was also a condolence phone call from President Erdoğan to Iranian President Rouhani, urging him to avoid a conflictual escalation with the United States following the airstrike.
Consequently, it is in the Turkish President's interest to maintain an open channel with Iran, so that he himself can soften the mutual tensions between Israel and Iran, and – in turn – Israeli diplomacy can influence President Biden's choices, albeit less pro-Israel than Donald Trump's.
Turkey is known to have many relationship problems with the United States – especially after the attempted coup of July 15-16, 2016 and including the aforementioned oil issue – and realises that only Israel can resolve the situation smoothly.
In fact, Israel-USA relations are not at their best as they were under President Trump. President Erdoğan seems to be unaware of this fact, but indeed the Turkish President knows that the only voice the White House can hear is Israel's, and certainly not the voice of the Gulf monarchies, currently at odds with Turkey.
Israel keeps a low profile on the statements made by President Erdoğan with regard to the Palestinians- since it believes them to be consequential – as well as in relation to a series of clearly anti-Zionist attitudes of the Turkish people.
We are certain, however, that President Erdoğan's declarations of openness and Israeli acquiescence will surely yield concrete results.
The 25-year China-Iran agreement
On March 27, 2021, a document entitled "Comprehensive Document of Iran-China Cooperation" was signed by Javad Zarif, Iran's Foreign Minister, and his Chinese counterpart. The Iranian regime's Supreme Leader Ali Khamenei had previously called "the agreement between the presidents of Iran and China correct and wise." However, the Iranian people have widely criticized it as entirely against their national interests. Iranian officials have not even publicized the document's contents yet probably because it is highly contentious.
In 2019, excerpts from this document were revealed by the Economist Petroleum news site. The details included:
China invests $460 billion in Iranian oil and transportation sectors. China will get its investment back from the sale of Iranian crude during the first five years.
China buys Iranian petroleum products at least 32% cheaper.
The Chinese can decide before other companies whether to participate in completing all or part of a petrochemical project.
50,000 Chinese security personnel will be deployed to protect Chinese projects in Iran.
China has the right to delay the repayment of its debts for up to two years in exchange for Iranian products' purchase.
At least one Russian company will be allowed to participate in the Tabriz-Ankara gas pipeline design together with the Chinese operator.
Every year, 110 senior Revolutionary Guards officers travel to China and Russia for military training. 110 Chinese and Russian advisers will be stationed in Iran to train Revolutionary Guards officers.
Development of Iranian military equipment and facilities will be outsourced to China, and Chinese and Russian military aircraft and ships will operate the developed facilities.
Even some circles within the regime have criticized the agreement. The state-run Arman newspaper wrote, "China has a 25-year contract with Iran and is investing $460 billion in Iran. It is somewhat ambiguous. Presently, China is holding the money it owes us and blames it on the U.S. sanctions. How can we trust this country to invest $460 billion in Iran?"
Last year, Iran and China had the lowest trade in the previous 16 years, and according to statistics, by the end of 2020, the volume of trade between Iran and China was about $16 billion, which, including undocumented oil sales, still does not reach $20 billion.
Jalal Mirzaei, a former member of Iran's parliament, said: "If in the future the tensions between Tehran and Washington are moderated, and we see the lifting of some of the sanctions, China can also provide the basis for implementing the provisions of this document, but if the situation continues like today, Beijing will not make any effort to implement the document, as it is essentially unable to take concrete action on the ground because of the sanctions."
China's objectives
Iran is vital to China in two ways, through its geopolitical location and its geo-economic importance. China knows that it does not have enough natural resources and is currently having a hard time supplying them from Russia and Saudi Arabia. Saudi Arabia supplies its energy needs from oil giant Aramco, half of which is owned by the United States. That is why China is looking for a safe alternative that the United States will not influence, and the only option is Iran. They may also have a two-pronged plan in Iran, which involves using Iran's profitable market and making Iran into a lever of pressure against the United States for additional concessions.
The Iranian regime's objectives
The deal could deepen China's influence in the Middle East and undermine U.S. efforts to isolate the Iranian regime. While the international dispute over the Iranian regime's nuclear program has not been resolved, it is unclear how much this agreement could be implemented. The regime intends to make it a bargaining chip in possible future nuclear negotiations. However, some of Iran's top authorities believe that China and Russia cannot be trusted 100 percent.
Due to the sanctions, the regime has a tough time to continue providing financial support to its proxy militias in the region. The regime also faced two major domestic uprisings in 2017 and 2019. Khamenei's regime survived the widespread uprisings by committing a massacre, killing 1,500 young protesters in the 2019 uprising alone, according to the Iranian opposition, the National Council of Resistance of Iran (NCRI) and later confirmed by the Iranian regime's Interior Ministry officials. Now with the coronavirus pandemic, Khamenei has been able to delay another major uprising.
Iran's economy is on the verge of collapse. Khamenei must bow to western countries' demands regarding the nuclear issue, including an end to its regional interventions and its ballistic missile program. Khamenei will struggle to save his regime from s imminent uprisings and a deteriorating economy that will undoubtedly facilitate more protests by the army of the unemployed and the hungry at any moment.
Unlike the 2015 JCPOA, the Iranian regime in 2021 is in a much weaker position. In fact, by many accounts, it is the weakest in its 40-year history. By signing the recent Iran-China agreement and auctioning Iranian resources, Khamenei wants to pressure the United States to surrender and restore the 2015 JCPOA as quickly as possible. But in the end, this pivot will not counteract domestic pressures that target the regime's very existence.
China-Arab Relations: From Silk to Friendship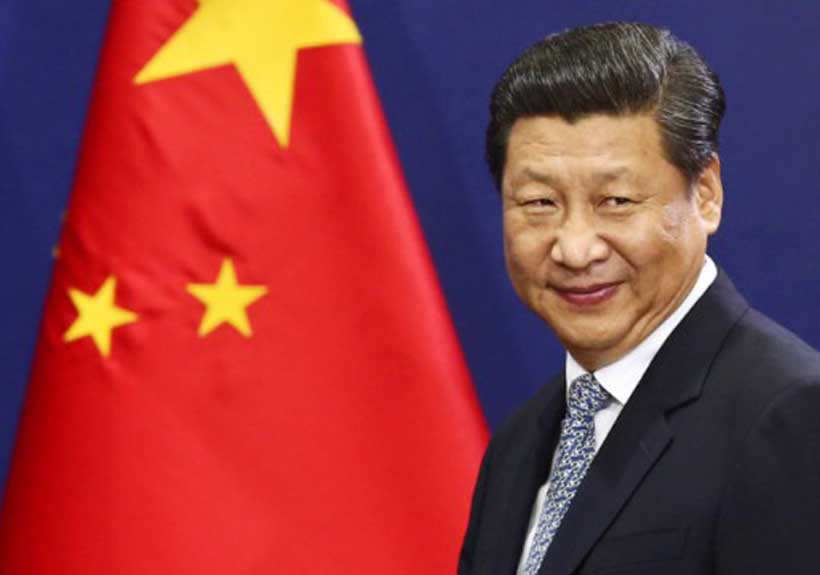 China and the Arabs have a long and rich economic and cultural history, and this distinguished relationship still exists today, with a promising future. This bilateral relationship between the two nations is based on the principles of respect and non-interference in internal affairs or foreign policies. Therefore, China's relationship with the Arabs as well as with other nations is unique and a model to be followed. If you meet a Chinese person, the first phrase will be "Alabo" or an Arab in Mandarin, and he/she will welcome you. The Chinese state's dealings with its counterparts can be measured based on the model of this Chinese citizen. China deals with the Arabs on the basis of friendship and historical ties.
The history of Sino-Arab relations goes back to the Tang Dynasty, and these relations developed with the flourishing of trade between the two nations. Since China was famous for its high quality silk, this trade route was called the "Silk Road". Baron Ferdinand Freiherr von Richthofen, better known in English as Baron von Richthofen, was a German traveller, geographer, and scientist. He is noted for coining the terms "Seidenstraße" and "Seidenstraßen" = "Silk Road" or "Silk Route" in 1877.
Chinese-Arab relations have developed in contemporary history. In 1930, China established official relations with the Arab Republic of Egypt and the Kingdom of Saudi Arabia. A library in China was named the "Fouad Islamic Library", after the late Egyptian king, "Fuad the First". In 1956, Egyptian President Gamal Abdel Nasser cut ties with China and established relations with the Communist People's Republic of China and inaugurated an embassy in Egypt. In the same year, the Arab League established relations with the People's Republic of China. By the year 1990, all Arab countries cut their relations with the Republic of China and established diplomatic relations with the People's Republic of China.
In 2004, the China-Arab Cooperation Forum was established, and today it is considered a milestone for the Sino-Arab relationship. At its inauguration, Chinese Foreign Minister Li Zhaoxing delivered a speech stating:"The Arab world is an important force on the international scene, and that China and the Arab countries have enjoyed a long friendship. Our similar history, our common goals and our broad interests have been credited with enhancing cooperation between the two sides; no matter how the international situation changes, China has always been the sincere friend of the Arab world". The China-Arab Cooperation Forum was officially established during the visit of Chinese President Hu Jintao to the headquarters of the League of Arab States in January of 2004.
Hu Jintao indicated at that time that the formation of the forum is a continuation of the traditional friendship between China and the Arab world. The Chinese president said at the time, "The establishment of the forum is conducive to expanding mutual cooperation in a variety of fields. He added that China had made four proposals; First, maintaining mutual respect, fair treatment and sincere cooperation at the political level. Second, strengthening economic and trade relations through cooperation in the fields of investment and trade, contracted projects, labor services, energy, transportation, communications, agriculture, environmental protection and information. Third, expand cultural exchanges. Finally, conducting training for the employees."
During the second session of the forum in Beijing in 2006, China showed its sympathy for the issues of the Arab world and its interest in the peace process between Palestine and Israel, since China is a peace-loving country; it presented the idea of "a nuclear-free Middle East". China is the best friend of the Arab countries today. Although some Arab countries have strong relations with the West whose policy does not match the Chinese policy, but all Arab countries agree on friendly and good relations with the People's Republic of China.
The Arab citizen is not interested today in the foreign policy of the US, the deadly weapons of the US and Russia, or European culture, but rather the livelihood and economy, and this is what China provides through its wise economic policy. In 2013, Chinese President Xi Jinping launched the Belt and Road Initiative, or New Silk Road, which will restore glow to China-Arab relations; as the Arab world is in a strategic location on the initiative map. Thus, the Arab countries are an important partner for China in the initiative. Although the volume of trade exchanges between China and the Arab countries exceeded 200 billion US dollars, which increased 10 times over the past decade, there was no commercial and institutional arrangement to facilitate trade between the two sides.
China, as a peaceful and non-invasive country, aims to promote economic cooperation with Arab region on an equal basis because it considers the Arab world a historic partner. The historical experience of the Arabs with the Chinese through the Silk Road has confirmed that China differs from the nations of colonialism and imperialism, which consider the Arab region a place rich in natural resources only. In his historic speech at the Arab League, Chinese President Xi stressed that China will not seek to extend influence and search for proxies in the Middle East. The Chinese initiatives will contribute to establishing security and stability through economic development and improving the people's livelihood, in line with the post-2015 development agenda and the aspirations of the Arab people for a better life, as the Chinese experience proves that development is the key to digging out the roots of conflicts and extremism in all its forms.
China is a neutral country and does not favor the use of violence. During the Syrian crisis, for example, the Chinese envoy to the Security Council raised his hand three times, meaning that China, with its wise diplomacy, supported the Syrian regime without entering the military war. During the recent Chinese military parade, Chinese President Xi Jinping revealed some Chinese military capabilities and thus sent a message to the enemies that China will always be ready if a war is imposed on it, and a message of support to China's allies. The Arab region today needs a real partner who possesses economic and military power and international political influence, such as China; to ensure the success of the Belt and Road Initiative, and to consolidate the China-Arab relations and raise it to the level of a strategic alliance.