China "seems" to be moving closer to the Holy See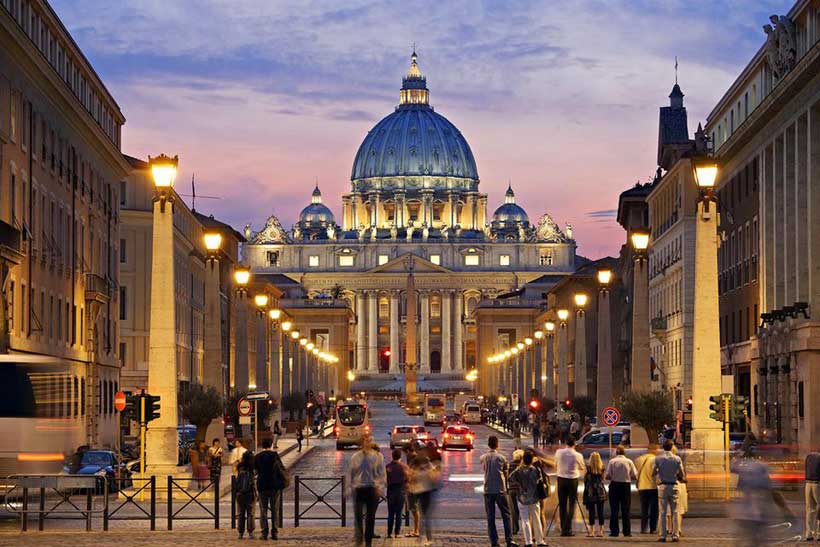 The two-year provisional agreement which was signed on September 22, 2018 between the holy see and China for the appointment of bishops in China, with the pope having veto power over such appointments, is likely to be renewed by mutual consensus before the accord nears its expiry later this month.
The agreement was initially seen as a clincher for both China and Vatican, especially after diplomatic ties were completely severed in 1951. However, many observers and experts have claimed that, the agreement does more harm than good to the credibility and popularity of the monolithic Catholic institute. Besides the main propaganda campaign of the Chinese to retain unabridged control over bishop nominations, their ultimate goal is to get Vatican to discredit the government in Taiwan to assert its One-China policy. Although, the Vatican has agreed to support China on its One-China policy, it should still be weary and apprehensive of the Chinese politics.
How is Taiwan central to this agreement
Taiwan, a small island in East Asia, which China claims as part of its own territory, considers Vatican as its last partner in Europe. This puts Vatican in a critical situation while China is struggling to maintain cordial relations with the West.
According to Francesco Sisci, a senior researcher at the Remnim University in Beijing, China wants to be seen as an ally of the Pope because it realizes the soft superpower that the Catholic church yields over millions of followers within China and abroad. He says, When the pope speaks, everyone listens.
A logical conclusion thus one can derive from it, is that the Vatican's endorsement of the One-China policy by discounting Taiwan's authority to maintain independent diplomatic ties, will generate currency in China's favour.
Two-years of signing the provisional agreement. What it means for China's Catholics?
In a bid to renew the agreement, the Chinese foreign ministry spokesperson stated last week that the interim accord has been implemented successfully. However, the ground scenario provides a different factual story. Even after the deal was signed in 2018, there were several reports of harassment and detention of the underground Catholics and Clergy in China. Many Churches have been shut down, crosses and other religious symbols have disappeared from public spaces. These events have taken place even after the Vatican tabled such concerns during negotiation with China.
This is the direct result of the "Sinicization" policy of the Xi administration, that calls for showcasing loyalty to the state and the Communist Party during religious processions and practice. As per this restrictive policy, people below 18 years of age are strictly barred from entering places of worship and publication of any religious material is only allowed following a close scrutiny.
Cardinal Joseph Zen, retired cardinal of Honk Kong had expressed wide concerns for this accord. He had described the Vatican's overtures with China as selling out of the Catholic Church in China. Zen knows that the agreement is largely going to benefit the Chinese authorities and the Communist Party in asserting its policies and international agendas.
It is also essential to highlight that the exact details and terms of the agreement are kept secret between the two parties. This may mean that if any violations of the agreement that may have taken place in the two years it was in place, it would become difficult to prove it in a court of law, owing to the confidentiality. This almost gives China full immunity over its inability to fulfill its obligation under the agreement. Vatican must therefore be cautious about China's commitment towards the agreement and must device alternate ways to shelter and safeguard its priests and followers in China.
The EU-China angle
2020 was supposed to be the year for refinement of EU-China relations. The pandemic has however forced cancellations of governmental meetings, bilateral programs, and other scheduled events. And on the contrary, it has deepen the cracks between certain EU countries and China because of China's propaganda campaign and geopolitical policies.
Last year saw a hard stance being adopted by EU legislators and policymakers, which was reflected in the policy paper released by the Federation of German Industries. The paper had described China as a "systemic competitor" and highlighted grave concerns over its international economic practices. The same line of charge was showcased in European Commission's strategic reflection paper, where it referred to China as a negotiating partner with a need for finding a balance of interests and a systemic rival promoting alternative model of governance.
This position is attributed to China's unfair and biased foreign policy that limited European companies from major EU countries to venture into the Chinese market. At the same time, China was employing economic tactics to woo smaller European countries to promote investments and improve trade relations with itself. The effect of this has been that many economically weaker countries have started looking towards China for monetary aid and trade related matters rather than cooperating with their fellow EU members. This has led to some kind of frustration and discordance amongst the EU nations.
The tensions might have heightened due to China's diplomatic missteps, from its infamous wolf warrior diplomacy to its amoralistic mask diplomacy during the Covid outbreak. This will however not completely change the course in the relation between EU-China because there is too much at stake for both sides to risk everything. These instances must however caution Vatican about its handshake with China because, although it may have soft superpower but there's nothing stopping China from pulling off an economical stunt.
A closer perspective
Taking the EU-China experience and the Sinicization policy collectively into consideration, it will be safe to assume for the Pope and his council of minister to rethink and weigh the merits and demerits of its diplomatic ties with China with utmost seriousness. Even if China promises more stability and monetary benefits in the short run, the Vatican must not forget that the deal indeed puts at risk, the values and principles that it has preached over the decades, to its people and followers globally, the repercussions of which may be beyond repair.
It needs to consider the plight of its brothers and sisters who have unlawfully been punished and detained in China and must push for more humane laws and remedies for them.This can be done by carefully executing a three-level approach. Firstly, the Vatican must put in place a strict mechanism to scrutinize and verify the inflow of investments so as to limit the interference of Chinese money in its decision making. This is similar to the foreign policy introduced by EU last year. Secondly, the Vatican must try to accommodate and align its interests with its European allies so as to strengthen the unity and solidarity in the region. It will also help them to collectively stand up against China if China tries to play hard ball against them, in terms of trade policy or indulges in any human rights violations for that matter. Lastly, the Vatican must push for transparency and openness with respect to the terms of the agreement that it has signed with China. This will allow the Holy See to rightfully claim any damage or remedy if any wrongful act or omission is committed by the Chinese side.
Talking Turkey With Greece: Turkey and Israel's Marriage of Convenience
On January 25, Graeco-Turkish talks begin, at which Turkish claims to Greek island territories will be high on the agenda. Before we briefly consider the Israeli position, herewith a spot of recent history.
Scorned countries sometimes seek out other scorned countries, for reasons of self-interest. Thus Germany, humiliated after the First World War, co-operated with the Soviet Union, first with secret military agreements, and then more openly after the Treaty of Rapallo in 1922; both countries also had problems with the same country, Poland. Both were considered international pariahs at the time, whether rightly or wrongly.
Israel co-operated closely with South Africa when the latter, under its apartheid regime, was internationally blackballed, with most of the balls being black. The co-operation was largely military, overt and covert. Links between the countries' external security services, Boss and Mossad, were close. Both countries ignored numerous UN resolutions.
The most recent example of the scorned seeking the scorned is, or course, that of Israel and Turkey, who revived a military co-operation agreement in 1996, that goes back to the late Fifties. Again, both states are hardly a paragon of international virtue, supported only consistently by the USA and its strategic acolyte, Britain, but also by Germany, for atavistic business reasons in the case of Turkey, and a contrived feeling of guilt in the case of Israel.
Both Israel and Turkey ignore numerous UN resolutions; both fear Russia; their respective security services exchange information on Syria; and both have a common enemy, also Syria. Both countries occupy parts of other countries, illegally, Cyprus and Palestine, and Syria's Golan Heights. An interesting quirk is that Syria has territorial claims on its former coloniser, Turkey: with the connivance of France, Hatay (Alexandretta) was stealthily 'acquired' by Turkey in 1939, despite the fact that Syrians were in a majority.
The question is whether this is just another ephemeral unholy alliance, an alliance of pure self-interest, that works in spite of deep-seated historico-cultural differences, or something more significant. The evidence suggests that it is more than a simple marriage of convenience. Anyone who knows about the plethora of secret meetings between the two states, that has gone on for years, of the deep-seated mutual disdain between much of the Arab world and its former coloniser, Turkey, will realise that the military co-operation agreement is but the tip of an iceberg, an iceberg being pushed by hoards of American frogmen, with the avowed objective of achieving firm control over the Middle East and eastern Mediterranean. In this way, Russian influence in the Mediterranean and the Middle East can be contained, á la Kennan, and Israel can be subtly inserted into the de facto NATO fold, with Jordan perhaps being brought into the equation for good measure, while the Turkish mercenaries continue to kill Kurds and Israel conveniently buries the Oslo accords, continuing its ethnic cleansing and illegal settlements.
The U.S. Embassy in Athens has justified Israeli-Turkish co-operation with the following words: 'US military co-operation with Turkey and Israel is a matter of long-standing policy and practice. As a NATO ally and friend with Turkey and as a special ally with Israel, both democracies and key regional players, the United States shares core values and mutual security and political objectives in the Eastern Mediterranean. Israel and Turkey have likewise found that they share common objectives, in part from confronting the same set of neighbours which have pursued weapons of mass destruction programmes, have been sponsors and supporters of terrorism, and which have been inimical to democracy, the rule of law and regional stability.'
These neighbours are not actually named, but are obviously Iran and Syria, not to mention some others. There is no mention of Israeli terrorism at home and abroad (vis. Vanunu) or of the treatment of innocent and unarmed Kurdish villagers, no mention of Israel's nuclear arsenal and chemical and biological weapons programmes, nor of its disregard for international law. Above all, the core values and common objectives shared by the USA, Turkey and Israel are difficult to locate, unless it is to help the U.S. contain Russia.
A few years ago the essentially pro-American Economist wrote that Syria's concerns about Turkish-Israeli military co-operation were 'fairly well grounded.' The article undoubtedly embarrassed the Pentagon and angered the Turkish and Israeli governments. It represented one of those very occasional but authoritative Economist warnings that things had gone too far. The last time the Economist had said anything so risqué was just after the abortive American attempt to rescue the American hostages at the U.S. Embassy in Tehran, by printing a front-page cartoon of President Carter dressed as a cowboy, with his six-guns at the ready. Cruel stuff, and exaggerated criticism, maybe unjustified, even, yet nevertheless telling.
Turkey has in the past threatened to attack Syria. Today it occupies part of it, claiming that Syria supports the Kurds in Turkey. Israel also bombs Syria periodically. In 2008, published Israeli-Turkish military co-operation involved a 1998 $ 700 million contract for Israel to upgrade 54 Turkish F4's, a $70 million one to upgrade 48 F5's, and joint manufacture of 1000 tanks and 'some helicopters.' Israel also hoped to sell Turkey an early warning system, and also used Turkish territory for low-flying exercises.
Then came a sudden deterioration in Turkey-Israel relations, with Israeli commandos killing of nine Turks on a vessel trying to break the Gaza blockade. Military co-operation between Israel and Turkey was suspended. Backstage American pressure on its two key allies, however, along with an American sponsored joint military love-in between Greece and Israel is leading to new Turkish diplomatic pirouetting: relations between Israel and Turkey could be improving. Bilateral talks are in the offing, and full diplomatic relations could be restored by March, meaning re-activating Turkish-Israeli diplomatic and military relations.
For Greece, the unholy alliance could become more than an irritant, because of Cyprus. However far-fetched it may sound, Turkey could easily encourage the Israeli air force and navy to train in occupied Cyprus, with the Pentagon publicly tut-tutting, but privately sniggering. It could even offer a home in northern Cyprus to would-be Jewish immigrants, as it did in the sixteenth century. There is even a small minority of extreme Zionists in Israel that claims Cypriot territory as part of the Jewish heritage. Thus, an already overcrowded Israel could find more Lebensraum. When one looks at the extremist elements in Turkey and Israel, such plans are not beyond the bounds of possibility.
Greece is now part and parcel of the "new" Cold War, co-operating with Israel and the U.S. militarily more than ever before, in the naïve hope that Turkey will drop its claims on Greek territory. But despite irritation with recent Turkish behaviour, the U.S. and Israel are unlikely to be of much help when it comes down to diplomatic detail: in 2003, the U.S. Embassy wrote the following to me: 'We recognize Greece's border with Turkey, but not all the territorial waters implications which Greece asserts. We have not taken a position on sovereignty over Imia/Kardak, in part because of the lack of an agreed maritime boundary.'
When I asked about Greece's twelve mile nautical and ten-mile airspace limits, the reply was: 'We recognize the six [!]-mile territorial sea claim and a claim to the superjacent air space. We do not recognize Greece's claim to territorial air space seaward of the outer limit of its territorial sea.' I doubt that their position has changed. Similarly, the Israel Embassy refused to answer my question about Greece's air and sea limits.
Clever Turkish diplomacy currently involves balancing itself between the U.S. and Russia, in the knowledge that neither the U.S. nor Israel will do more than protest diplomatically – á la Cyprus invasion – if Turkey snatches a small Greek island. The U.S.'s main aim is to keep Greece in the anti-Russian camp by not agreeing with Greece's position on its Aegean borders. For if the U.S. – and Israel – came out in support of Greece's position, this would push Ankara more towards Moscow.
From our partner RIAC
Has The European Integration Process Reached A Dead End?
As part of the Geneva Lecture Series concepted and conducted by prof. Anis H. Bajrektarevic, President of the Republic of Austria Dr. Heinz Ficher (2004-16) and current Co-chair of the Vienna-based Ban Ki–moon Centre for Global Citizens centered his two-hour long mesmerizing talk on Europe and its future prospects. University scholars and diplomats based in Geneva and beyond enjoyed the first hand insights in the very history of Europe and ist integrations since the end of the WWII.
Excellency Fischer elaborated on the important historic moments that forged today's relations between member states of the EU and pointed out the weaknesses and challenges that the European continent will have to face in order to not reach a dead end in terms of the so-valued integration process.
Dr. Fischer introduced the topic by asking whether we have learned from our previous mistakes. According to him, we did learn from history. However, he believes that "after one or two generations, lessons of history start to fade away and get lost again [and that] we must keep that in mind to avoid dead end".
Going back to World War II (WW2), the well-known European diplomat reminded us how Germany's defeat changed the global balance of power, especially with the US and the USSR emerging as the two superpowers. The year 1945 has also been a crucial in the history of Austria, which reborn and reconstructed as an independent state in April 1945.
The end of WW2 left Europe with many questions; how to restore Germany? How to rebuild Europe? How to establish and protect peace and avoid mistakes that have been done after WW1? After the traumatizing events that happened during the war, peace "had a very high value and was a great priority almost worldwide". Heinz Fischer remarks that "economic and politic cooperation between France, Germany, Italy and other European countries was the best way to retain and reduce nationalistic egoism and link the economist in a way that war cannot be an option to solve problems anymore as it happened so many times before". However, we should not forget that, at the same time, the tension between Stalin and the western world on the other side was growing.
The Ban Ki-moon Center Co-chair continued by talking about the Cold War and describing the first steps towards the European Union that we know today.
"The US officials urged (western) Germany to take full responsibility for the development in their country and for good cooperation with other democracies. The next importation step was the announcement of the so-called Marshall plan for Europe. [It] was originally designed for the whole Europe but got rejected by countries under soviet dominance. Austria government was in a difficult situation because the eastern part of the country was, in that time, in the soviet occupation zone and, nevertheless, Austria joined the Marshall plan under heavy critics from its Communist party and Soviet officials.
[The] first peak of Cold War was the blockade of Berlin in 1948 and the foundation of NATO in 1949, which consequently made European integration faster and stronger."
Nonetheless, Europe was still divided between the East and the West. It was only when Stalin died in 1953, that the beginning of a new era with a more collective leadership started. Fischer believes that his death was an important element for successful negotiations about the Austrian state treaty in April because the new leaders in Moscow wanted to demonstrate that they were ready for substantial negotiations and for compromises.
Adding to that, two years later, the Treaty of Rome was signed in March 1957, creating the European Economic Community (EEC) between Western Germany, Belgium, France, Italy, Luxembourg and the Netherlands. This accelerated further political integration.
By early 1960s, about 30% of the Old continent was gathered in the EEC – like-minded democracies, neighboring states of a growing politico-economic influence with good preconditions to strengthen and deepen such cooperation. The EEC was successful and attractive. Naturally, the decision-making of the Six was far easier than in today's Union.
The step from the EEC to the EU was the basis for a better coordinated foreign policy, a precondition for the introduction of the euro currency and it strengthened the role of the European parliament. It was very attractive to join the EU as the union formulated strict conditions and admissions procedures for membership in the club.
In 1989, after the fall of the Berlin wall, Austria, Finland, Sweden and Norway, four democratic countries with good economic performance, applied for the EU. On January 1995, all of them, excepted Norway, became member of the EU. Then, in 2004, the number of member states jumped from 15 to 25 and soon after 27, etc. These years were the best moments in the European integration process but it was also a turning point, the number of diverging interests was enlarging and it was growing parallel to the number of members. As EU became more and more the voice of Europe, it also brought more and more difficulties in terms of decision making.
Eastern countries were united in their anti-Communist and anti-Russian feelings however in other fields of politics they were more and more not united with each other and the rest of Europe. But the question remained: what was the reason for that development?
Dr. Fischer observed that the national identity of new democracies from the 90s, those that were under soviet dominance, had been brutally suppressed during soviet supremacy and their so-called internationalism was not a genuine development, it had been enforced and, soon after the collapse of European communism and the dissolution of Russia pact, these countries showed that they were fed up with internationalism even European internationalism and nationalism saw a powerful renaissance. With this background, populistic nationalism in some countries, but not all the eastern European countries, became step by step stronger than European thinking and European solidarity.
While growing nationalism is one big obstacle, for the European cooperation and integration, the necessity of consensus in the constitution of the European union in many fields of European policy is another big problem. Consensus is, indeed, recommendable and necessary for very far-reaching decisions with long time consequences. However, too many necessities for consensus are poison for a coherent European policy, the more consensus is necessary, the bigger is the role of national interests and the bigger the role of national interests is the more we have a union with injured wings and the more it is difficult to compete with the other big powers in the world.
Since decades we can observe new developments dimensions and challenges of ecological environmental policy, the figures of climate change and global warming speak a very clear language on global level but also in Europe we have a lot to do in these fields. The Paris climate agreement set the goal of keeping global warming below 2 degrees but the question remains whether we will reach this goal and whether this will be enough to prevent further catastrophes such as biodiversity losses, glacier melting, intensified western conditions, etc. The EU is more and more trying to promote climate-friendly policies. It is indeed trying to reach progress and to mobilize the member countries on this field, they know that this must be a priority. Former President Fischer added that, in the last couple of years, China took more and more the lead in green and renewable energy whereas Trump administration withdraw from Paris agreement. However, the fact that Biden promised to re-enter Paris accord and put effort into fighting climate changes leads to careful optimism.
On the other hand, Excellency Fischer pointed out that the issue of forced migrations should not be forgotten. He added that this represent a huge global problem which the EU cannot solve alone and, even though nobody is expecting them to, they should be ready to contribute to a solution and to do their part. The number of refugees at the border of Europe between 2014 and 2015 increased rapidly to 1,3 million asylum seekers and this caused a lot of problems, troubles, hostilities and a wave of population and nationalism.
Observing the policies in some European countries and Austria is not an exception, the problem is not so much, some governments can solve the issue but the problem is whether they want to solve it.
In the meantime, the second wave has counted higher numbers than ever, we had time to place some coordination at EU level to fight jointly the virus. The Commission has made useful proposals in some areas such as cross-border commuting transport of goods, external borders purchase and distribution of vaccines. Also it tackled the international cooperation of comparable statistics and the strategic introduction of the next generation of EU recovery instrument amounting to 750 million euros which is linked to the next financial framework and the EU budget for the years 2021-2027. All being promising signs of a rapid reaction capacitation.
"The EU is facing challenging times. Cross-European cooperation has no alternative – it is today as fundamental as ever" – was the closing point of Heinz Fischer's farsighted and comprehensive Geneva talk.
*President Hein Fischer answered the call of the Swiss UMEF University in Geneva on December 10th 2020, and gave this lecture under the auspices of so-called Geneva Lecture Series – Contemporary World of Geo-economics. Lecture series so far hosted former Secretary-General of the Paris-based OECD,current Rector of the Tokyo-based UN University, notable intellectuals such as prof. Ioannis Varoufakis and Nobel prize laureates. Some of the following guests are presidents and prime ministers of western countries, distingushed scholars as well as the chief executives of the important intergovernmental organisations.
The projection of Turkish power in the Eastern Mediterranean
The recent military conflict between Greece and Turkey over potential gas fields located in disputed waters is linked to a complex historical and political conflict between the two nations, so geographically close, but also culturally and politically distant. The superpowers have problems and alliances linked to the two countries, thus globalizing the conflict. Furthermore, all the countries concerned need the cooperation of Greece and Turkey in various fields such as the refugee crisis.
It is symptomatic of the changing nature of geopolitics, geoeconomics and the aftermath of Covid-19. The frictions reflect Turkey's strategic rebalancing. The conflict in the eastern Mediterranean is mainly the result of a dispute between Turkey and Greece. Two aspects in particular of this balance of power form an explosive mixture in the Eastern Mediterranean, firstly the conflict stems from the fact that there are no agreed maritime borders between Turkey and Greece. The two countries contest their mutual claims on maritime territories and thus contest their respective rights to search for underwater energy resources in the eastern Mediterranean and the Aegean Sea.
Secondly, Turkish policy in the Middle East has helped lure other powers into maritime conflict.
The rift between Turkey and its eastern Mediterranean neighbors mainly affects Cyprus. While the Republic of Cyprus is internationally recognized as a sovereign state, the Turkish Republic of Northern Cyprus has only been recognized by Ankara since its establishment in 1974. And above all, it sees the southern part of the island as secessionist. Turkey has longstanding objections to exploration licenses Cyprus offers to international energy companies, including ENI and Total. These licenses are mainly concentrated in the south and southwest of the island. These zones are included in the exclusive economic zone claimed by Cyprus but which, according to Ankara, violates its continental shelf as well as the territorial waters belonging to.
International law currently offers few possibilities for resolving maritime complaints. The 1982 United Nations Convention on the Law of the Sea states that coastal nations are entitled to a 200 mile exclusive economic zone where they can claim the rights to fishing, mining and drilling. But shorter distances in the eastern Mediterranean force states to settle on a negotiated dividing line. Turkey's position adds further complexity to these issues: Turkey is in fact not a signatory to the UN convention and defends a different interpretation of maritime rights, arguing that the waters adjacent to the Greek Cypriot administration remain an integral part of the continental shelf of Turkey.
The agreement of 27 November 2019 signed between Turkish President Recep Tayyip Erdogan and Libyan Prime Minister Fayez al-Sarraj defined a maritime border between the two signatories. The agreement was the most important signal of Turkey's ambitions. The text delineates a 35-kilometer line that will form a maritime border from the southwestern coast of Turkey to the north of Libya, and crosses the areas claimed by Greece and Cyprus. It tilts the balance of power in the eastern Mediterranean in favor of Turkey. This disrupts the planned route of the 1,900-kilometer Eastern Mediterranean gas pipeline that would carry gas from Israel through Cyprus and Greece to southern Europe. Greece called on the United Nations Security Council and NATO to condemn Turkey's maritime agreement and for this expelled the Libyan ambassador to Greece. Apparently, as a countermeasure to Turkey's tactics, Israel, Cyprus and Greece have teamed up to carry out the Eastern Mediterranean pipeline.
It must be said that Ankara has the ambition to be an energy hub for Europe. The Turkish state wishes both to guarantee the Turkish Cypriots a share of future gas revenues and to free Turkey from its dependence on Russian gas supplies. Erdogan had sent his own drilling vessels into disputed waters north-east and west of Cyprus, as well as south of Kastellórizo.
Turkey fears it will be cut off from most of the Aegean Sea and therefore from major sea routes if Greece unilaterally expands its territorial waters and creates new areas of maritime jurisdiction. Erdogan responded by adopting a more assertive line with more aggressive rhetoric. The Turkish government says that as long as talks on maritime disputes are pending and Greece and the Republic of Cyprus continue to do research or drilling, Ankara will too. For their part i Greek officials say Turkey's new policy is what has reignited the dispute and strained Ankara's relations with its neighbors. Greeks are increasingly concerned about the safety of hundreds of islands that are very close to Turkey.
Whether it is Turkey or Greece, the two countries are using the migration issue to exert pressure. The situation on the Greek-Turkish borders in fact remains tense and very unstable; the current status quo in the region has all the hallmarks of a hybrid battle. Turkish officials and security forces push migrants to the neighboring country, often even helping them with illegitimate means. Meanwhile, the press and social media are fully used to shape public opinion in favor of interested parties. Propaganda in this context plays a vital role in this conflict. In addition, Ankara also uses its strategic position with the Bosphorus Strait and threatens to close the US Incirlik base to serve its interests.
Turkey has pursued an aggressive and expansive policy in its region for the past decade. This Turkish government approach is steeped in neo-Ottomanism and pan-Islamism. We find in this approach the ramifications of a much older school of Ottoman imperialist thought. The wave of bellicose maneuvers by the Turkish government can be attributed to the 2016 coup attempt, which gave the Erdogan government carte blanche to implement its long-sought power projection policy.
The government's strategy to create a sense of successful foreign policy in the country, and thereby destroy most of the opposition parties, involves a discourse that emphasizes national interest. This vague but extremely useful term has had a paralyzing effect on the various opposition factions in the country, as they are unable to formulate a counter-narrative without risking being accused of lack of patrioticism. Very often the analysis of modern Turkey's foreign policy as neo-Ottoman politics ends with the assertion that Erdogan and his party are nostalgic for the restoration of Ankara's influence in the ancient regions of the Ottoman Empire.
If we take the example of Libya, one of Turkey's goals in Libya is to completely control the country's market and establish economic dependence on Turkey. It should be added that Turkey has signed two memoranda with LNG, one on military support and the other on demarcation at sea. Under the maritime border demarcation agreement, LNG has supported Turkey's demands on part of the waters of Greece and Cyprus. Furthermore, Ankara intends to exploit any gas reserves on the Libyan coast. Indeed, in exchange for military support, Ankara imposed a treaty on Tripoli to take control of a significant portion of the country's oil and gas wealth and forced LNG chief Fayez Sarraj to support its territorial claims in neighboring countries. This is a classic example of Turkish imperialist politics.
As a result, Recep Tayyip Erdoğan's Turkey has engaged in the past two years in a remarkable series of geopolitical foreign interventions from Syria to Libya via Cyprus and more recently alongside Azerbaijan. Some have called it Erdogan's "New Ottoman Empire" strategy. Yet a collapsing lira and a collapsing national economy threaten to unexpectedly put an end to its great geopolitical ambitions. To date, in 2020, the lira has fallen 34% against the US dollar and 70% over the past five years. While some believe it would increase Turkey's exports of goods, what it does is expose the entire Turkish banking system and economy to a colossal debt explosion. It can also be noted that at this point Erdogan's interventions met with unserious sanctions or opposition from the EU. One obvious reason is the high exposure of EU banks to Turkish lending. Spanish, French, British and German banks have invested more than $ 100 billion in Turkey. Spain is the most exposed with 62 billion, followed by France with 29 billion. This means that the EU is walking on eggshells, unwilling to pour more money into Turkey but hesitant to precipitate a collapse on economic sanctions.
The eastern Mediterranean has become a hot spot for the natural gas industry. The discoveries have generated growing interest among several international oil companies and countries. It all started with Noble Energy (based in Texas) which announced the discovery of the Tamar field off the coast of Israel in 2009, with an estimated capacity of 280 billion cubic meters. In the space of two years, Noble Energy announced two further discoveries: the Leviathan field, also off the coast of Israel, in 2010 and the Aphrodite field, in Cypriot waters, in 2011. This has reinforced regional ambitions to make the Eastern Mediterranean a gas exporting region. . These ambitions were also based on two assessments made by the US Geological Survey (USGS) in 2010, which estimated the presence of nearly 9.8 trillion cubic meters of undiscovered technically recoverable gas and over 3.4 billion barrels of petroleum resources in the area. However, the real turning point (for regional energy ambitions) came in 2015 when the Italian Eni announced the discovery of the gigantic Zohr gas field off the coast of Egypt. With its 850 billion cubic meters of estimated average gross resources, the Egyptian offshore field is the largest ever discovered in the Mediterranean Sea. It should be added that these fields have another feature: geographical proximity. Thus was born a regional alliance with a pipeline project that excludes Turkey from the energy dynamic. The presence of natural gas has become an axis of cooperation and rivalry in the region. It can be said that gas is the main motivation behind Erdogan's maneuvers. Indeed, Turkey's unique geopolitical situation stems from the fact that it is poor in hydrocarbon reserves while its neighborhood has abundant resources. It is therefore imperative for Ankara to maintain stable energy ties with neighboring energy-rich countries or regions. In line with Turkey's growing domestic demand, efforts to focus on energy security have become an integral part of the country's foreign policy over the past two decades. The search for hydrocarbons, in particular natural gas, has become a fundamental geopolitical and geo-economic objective for the country.
The rationale for Turkish natural gas policies can be described by three aspects:
1. Being a country dependent on imports, Turkey's main objective is to guarantee its access to natural gas supplies to satisfy its internal demand.
2. aims to diversify its current supply structure and counterbalance Russia's dominant role in its energy portfolio.
3. Turkey aims to strengthen / increase its integration into the regional energy security architecture by promoting its role as an energy transit country and a potential hub for supplying Europe.
At the moment, the Eastern Mediterranean region does not supply gas to Turkey, with the exception of market agreements with Egypt. However, it emerges as a critical point on the Turkish foreign policy agenda, as the region is viewed by Ankara not only through the prism of energy security, but also through the prism of its protracted conflict with Cyprus and in the broader context of competition for regional power in the eastern Mediterranean.
In line with the above, it is possible to identify at least five key factors that explain Turkey's greater involvement in the Eastern Mediterranean:
1. Turkey looks for potential gas reserves in its waters that could bring economic benefits to the country.
2. Turkey does not want to be excluded from developing a new regional energy agenda and is ready to protect its interests.
3. Turkey intends to be an energy transit country that could strengthen its role as an energy hub and undermine rival projects such as the EastMed pipeline.
4. Turkey intends to involve other countries in the region to support its objectives, as seen in the case of the maritime border agreement with the government of national agreement based in Tripoli in Libya, to promote its position by preventing it from doing so. way for others to gain influence;
5. Turkey intends to demonstrate its capabilities as a military power in the eastern Mediterranean.
The Greek-Turkish crisis is likely to influence the shift in the balance of power in the Eastern Mediterranean region. It is possible that over time the United States will relocate its military base from Incirlik to one of the military installations in Greece. Athens wishes to modernize and strengthen the army and navy to contain Ankara. Greece, Cyprus, France but also regional actors such as Egypt and Israel do not agree with the Libyan-Turkish synergy. Analyzing the differences in this balance of power, it is clear that Erdogan appears to be in a position of strength. But from this analysis it also emerges that Ankara does not have sufficient capacity to realize its imperialist ambitions .