Reimagining Economies: The Move Towards a Digital, Sustainable and Resilient Future
Under the patronage of His Highness Sheikh Mohammed bin Rashid Al Maktoum, Vice-President and Prime Minister of the UAE and Ruler of Dubai, The Annual Investment Meeting, organized by theUAE Ministry of Economy, scheduled to be held from 20th to 22nd October 2020, under the theme " Reimagining Economies: The Move Towards a Digital, Sustainable and Resilient Future."
As the very first digital edition of the Annual Investment Meeting, AIM Digital will be the first mega digital event in the region to surmount the COVID -19 pandemic that will set a new benchmark for future virtual events in the UAE. It will utilize digital technology to create, showcase, and facilitate new investment opportunities for investors from different parts of the world, providing boundless possibilities across diverse sectors leading towards economic recovery, transformation, and sustainability.
To continue AIM's mission of creating a roadmap to build a resilient future for the global economy despite the current pandemic, the three-day digital event will support and strengthen the investment environment and generate the most attractive and secure investment projects and opportunities for investors.
In this regard, His Excellency Abdullah bin Touq Al Marri, Minister of Economy, said: "The Annual Investment Meeting is an important global platform that brings together officials, experts, investors and major local, regional and international companies to exchange ideas and experiences and work together to develop the investment climate and link stakeholders to enhance development opportunities and come up with innovative solutions. The UAE has managed over the past years to consolidate its position as a pioneering and attractive investment destination for value-added projects, especially in the new economy sectors, and the country has also succeeded in developing its capabilities in planning and anticipating the future, and developing proactive solutions to enhance the resilience of its national economy in the face of global economic changes.
His Excellency added that the UAE government launched a comprehensive plan of 33 initiatives to support all economic sectors in the country and create a more flexible economic environment capable of generating diverse and sustainable opportunities, and encouraging investment in future sectors, especially digital transformation, advanced industries, applications of modern technology, research, development and innovation." He said that the development of a digital model for a global platform for dialogue, such as the annual investment forum, is gaining great importance under the current circumstances and strengthens the country's ability to review its future vision and promote the opportunities offered in its priority sectors to attract and attract investments to it through innovative means.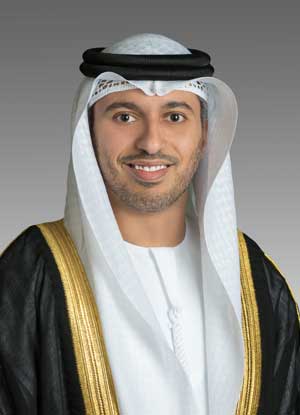 His Excellency Dr. Ahmad Belhoul Al Falasi, Minister of State for Entrepreneurship and Small and Medium Enterprises, said: "The UAE continues its pioneering role as a hub for trade, investment development and business activities, whether in its local markets or at the regional and global levels, and is confirmed today by launching the first digital version of the Investment Forum. Its ability to adapt to the changes in the economic landscape and find innovative solutions to various challenges, such as those that we are witnessing today as a result of the spread of the Covid-19 pandemic, which highlighted the importance of adopting new methods in economic activity, stressing that the establishment of the forum hypothetically at this huge level with the participation of 170 countries represents a new success story that reflects the readiness of the country's economic and trade system to rapidly shift towards digital activities and adopt a more competitive, resilient and sustainable economic model.
Al Falasi added that the Annual Investment Meeting has provided over the past years a pioneering platform to support emerging companies and small and medium enterprises. His Excellency explained by saying: "We will work through this year's edition of AIM to continue supporting and encouraging entrepreneurs and owners of small and medium enterprises by providing them with vital channels for communication with their counterparts in other participating countries to acquire new ideas and knowledge, exchange experiences and attend relevant exhibitions, as well as to establish partnerships and open new markets for their products and services, and this would immediately reflect on their commercial success and their ability to continue and expand. "stressing that the transition to the digital model this year It will allow for wider participation from different countries of the world and will thus increase opportunities for cooperation and growth for entrepreneurs.
"This year's Annual Investment Meeting, in its first digital edtion of its kind, is being held under unusual circumstances that the global economy is going through that requires intensifying dialogue and creating new links that support commercial and investment activities in various world markets."He explained thatthe event will focus on discussing the countries and institutions efforts to provide new solutions and measures that support sustainability, business continuity and flexibility in facing various challenges. said His Excellency Dr. Thani Bin Ahmed Al Zeyoudi, Minister of State for Foreign Trade.
His Excellency added: "Through this year's edition of AIM, we will make sure to allow businessmen and capital owners to meet and conclude strategic agreements and partnerships, and to open new and vital channels for work in various investment fields, explaining that the forum's agenda for this year will be rich in sessions, dialogues and digital exhibitions. Over the course of three days, and expressing optimism that the outcomes of this session will contribute to creating more creative ideas, initiatives and qualitative projects that represent an added value to international efforts in enhancing the global economic climate and preparing it for the post-Covid-19 phase.
AIM's unique digital exhibition will be participated by Ministries and Government Departments, International and Regional Organisations, Investment Promotion Agencies, Special Economic Zones, Private Equities, Angel Investors, Venture Capitalists, Banking & Financial Institutions, International Investment Institutions, Startups, Incubators and Special Programmes, SME Financing Institutions, Smart City Solution Providers, and Technology Providers, among others, from more than 170 countries, which means even more abundant opportunities for economic productivity and expansion.
"We are all aware that the global economy has been severely affected by the COVID-19 pandemic. However, this global outbreak must not cause economic paralysis and impede recovery but must serve as a stimulus to persistently look for opportunities to surmount the challenges. Technology is one of the tools available to us that we need to take advantage of to fight the impact of pandemic, which is why AIM Digital was conceived. It is indeed a major initiative that brings innovation and investment opportunities together in one virtual platform for investors to fuel economic resilience and transformation" said Mr. Dawood Al Shezawi, the Head of the Organizing Committee of the Annual Investment Meeting.

Diverse topics have been meticulously discussed such as Economic Fallout of Covid 19 on Female Founders, Accelerating Technologies during Time of Crisis, Ensuring Food Security & Sustainability against Pandemic: Innovation and Business Opportunities of Agriculture in SMEs, Strengthening the Global Partnership in International Trade during Pandemic Crisis, Post-Pandemic Cities: What Will They Look Like, Business Opportunities of Agriculture in SMEs, The Vision From Investors in The Middle East, Urban Mobility: Road To Recovery And The Effectiveness Of Attracting FDI in The Times Of Crisis, Smart Cities Of The Future Workshop, Challenges For Agribusiness in Latin America And The Vision From Investors in The Middle East. Additionally, AIM Digital continues to offer interactive investment activities 365 days of the year to support the global investment community.
AIM Digital Features
Placing the spotlight on AIM's six pillars – Foreign Direct Investment, Foreign Portfolio Investment, Small and Medium-sized Enterprises, Startups, Future Cities, and One Belt, One Road, AIM Digital will showcase different features that will extensively boost investment opportunities in various sectors.
Pre-Conference Workshop: Conducted by renowned industry experts from across the globe, this series of interactive professional coaching sessions have been tailor-made to enrich the experience of its participants and prepare them in finding lucrative opportunities for investment.
Conference: A platform where expert insights, best practices, and ideal investment policies are shared with participants. Leaders and specialists from the investment community will lead the virtual discussions to explore relevant topics about each of the six pillars of AIM.
Exhibition: Participated by the best local and international exhibitors across the globe, the Exhibition features different countries, smart city solution providers, startup companies, and SMEs, with the ultimate goal of achieving economic growth for their respective country and region.
Digital Country Presentation: It unveils the world's best investment destinations by featuring every country's key economic and investment environment features digitally. A platform for municipalities, cities, and countries to promote investment opportunities at their location and highlight the potential of their sector to prospective investors.
Startups Virtual Pitch Competition: An opportunity to present business ideas to a diverse array of global investors on the lookout for the next big thing. The winners of the start-up virtual pitch competition will compete for the National Champions League. Individual startups may register for the Global Technopreneurs.
Conglomerate Presentations: A virtual line up of Large Multi-Industry Groups keen on showcasing their investment roadmaps and key sectors of interest to an impressive panel of AIM investment promotion agencies, SMEs and government officials enthusiastic about making sustainable investments in their respective countries.
Awards: Recognizing the outstanding contributions of Investment Promotion Agencies, SMEs and Start-ups in bolstering and securing investment for a particular location. Awards will be presented to various investments made to regions and countries that have resulted in significant economic growth.
Investors' Hub: Held within a digitally secured environment, a virtual meeting where top investors will have an audience with official government representatives to cultivate the formation of investment partnerships and collaboration.
Regional Focus Sessions: Centered on three regional conversations that examine the economic landscapes of Africa, Asia and Latin America, the discussions will be an informed exploration of the regions' risks, challenges and opportunities for growth that are waiting to be harnessed through regional cooperation.
Made in Series: This viable digital feature is open to all SMEs who wish to showcase their local products and services to an international platform. Being a part of the series could help the participating country to promote their locally manufactured products or services, present value proposition to a focus global audience, and network with potential global partners for future collaboration.
Investment Roundtables:The investment roundtable feature of AIM 2020 is a gathering of Ministers, Deputy Ministers and Heads of Investment Promotion Agencies (IPAs), Investors and Decision Makers. The main objective of this feature is to facilitate a platform for government decision makers to discuss with investment companies to create a feasible investment model matching government and investor requirements. At the end of the sessions, a feasible investment model shall be developed.
Networking Features: A medium to strengthen business relationships and serve to the expansion of business portfolios. Vast features are conveniently available and accessible for ease of communication and networking on the platform.
The Annual Investment Meeting also plans to expand its footprint across the economic landscape as it gears up for its upcoming hybrid edition which will take place on March 21 – 23 followed by its Mega edition during EXPO2020, the World's Greatest Show. The Hybrid Edition will be primed to feature massive investment opportunities from more than 170 countries, securing the highest return of investments for investors across the globe.
Furthermore, the Annual Investment Meeting is also delighted to launch its official e-magazine, Global Catalyst, which will serve as the global investment community's no.1 digital source of the latest news, feature articles on trending topics, and critical analysis on fundamental issues affecting the investment environment, serving as a powerful catalyst for global economic growth. The Global Catalyst, is a quarterly digital publication that provides a captivating blend of news and features about the investment environment, as well as thorough analyses and research studies on major issues concerning the global economy. It also features success stories and in-depth interviews from prominent personalities in the global investment community to offer invaluable insights. In its first issue, Global Catalyst will give emphasis on its theme, "Rebooting the Future of Global Economy" which sparks the revitalising idea of starting anew, finding innovative methods and strategies, and building new perspectives in relation to the global economy.
Acknowledging the shift to the digital landscape and integrating technological advancements assists in developing smart, digital and sustainable nations as AIM Digital generates boundless possibilities towards economic recovery, transformation, and sustainability.
For more information on AIM Digital, visit www.aimcongress.com
About the Annual Investment Meeting
The Annual Investment Meeting (AIM) is an initiative of the UAE Ministry of Economy, held under the patronage of His Highness Sheikh Mohammed bin Rashid Al Maktoum, Vice-President and Prime Minister of the UAE, and Ruler of Dubai. AIM is the world's leading investment platform with over 16,000 participants coming from more than 140 countries. Over 400 exhibitors and co-exhibitors, 60+ high-level dignitaries, 150+ investment specialists and experts have participated in AIM 2019.
Norwegian scientists finally find good news from Norilsk Nickel
The state of the environment in the border areas is the main topic of the «Pasvikseminaret 2021», organized by the public administrator in Troms county and Finnmark in cooperation with the municipality of Sør-Varanger municipality.
The purpose of the annual Pasvik seminar is to provide the local population and local politicians all information about the environmental situation in the border area Norway – Russia. Program focused on pollution from the Nickel Plant and monitoring of the environment in the border area.
The activities of Norilsk Nickel have been the main focus of the workshop for many years.
For the first time in many years, Norwegian scientists have found only positive news from Russia.
Tore Flatlandsmo Berglen, a researcher at the Norwegian Institute for Atmospheric Research (NILU), noted a significant improvement in air quality in the border area. Berglen remembered the 70-80s of the last century, when one of the divisions of Norilsk Nickel "Pechenganikel" annually emitted 400 thousand tons of sulfur dioxide into the atmosphere, in the 90s this figure dropped to 100 thousand tons. After the closure plant in Nikel in December 2020, the content of sulfur dioxide and heavy metals in the atmosphere at the border between Norway and the Murmansk region meets all international requirements.
"And I know that these emissions from the Kola MMC will continue to decline. Compared to 2015, this figure will be 85 percent. This is very positive news. Air quality issues are being addressed in the right direction. We have been talking about this for many years and finally the problem has been resolved, emissions significantly reduced. This is the most excellent presentation I have ever make! " – said Tore Berglen.
Earlier it was reported that Russia's Norilsk Nickel, the world's largest producer of nickel and palladium, closed its smelter in the city of Nickel in northern Russia at the end of 2020. Kola is a subsidiary of Norilsk Nickel on the Kola Peninsula with mines, processing plants and pellets in Zapolyarny, as well as metallurgical plants in Monchegorsk and a plant in Nikel, which closed at the end of December 2020.
The Norwegian environmentalists who participated in the workshop also noticed positive changes.
"The smelter is closed and Norilsk Nickel is working hard to become a 'green' metallurgical company – it reduces emissions, uses advanced technology and cooperates with Pasvik nature reserve which is our good partner in Russia. Today, a lot of interesting things are happening in the border areas. We have many common interests and there is a certain key to ensuring that everything works out for us – this is good coordination, cooperation, a large knowledge base," said the representative of the environmental center NIBIO Svanhovd.
Other studies examining water resources, fish, berries, also prove that nature in the border area is recovering. All this testifies to the work of ecologists who care about the environment.
"We see examples of what has already been done. And this allows us to plan with confidence our future joint work, projects," says senior adviser representative Anne Fløgstad Smeland at the county governor in Finnmark.
World Adds Record New Renewable Energy Capacity in 2020
Global renewable energy capacity additions in 2020 beat earlier estimates and all previous records despite the economic slowdown that resulted from the COVID-19 pandemic. According to data released today by the International Renewable Energy Agency (IRENA) the world added more than 260 gigawatts (GW) of renewable energy capacity last year, exceeding expansion in 2019 by close to 50 per cent.
IRENA's annual Renewable Capacity Statistics 2021 shows that renewable energy's share of all new generating capacity rose considerably for the second year in a row. More than 80 per cent of all new electricity capacity added last year was renewable, with solar and wind accounting for 91 per cent of new renewables.
Renewables' rising share of the total is partly attributable to net decommissioning of fossil fuel power generation in Europe, North America and for the first time across Eurasia (Armenia, Azerbaijan, Georgia, Russian Federation and Turkey). Total fossil fuel additions fell to 60 GW in 2020 from 64 GW the previous year highlighting a continued downward trend of fossil fuel expansion.
"These numbers tell a remarkable story of resilience and hope. Despite the challenges and the uncertainty of 2020, renewable energy emerged as a source of undeniable optimism for a better, more equitable, resilient, clean and just future," said IRENA Director-General Francesco La Camera. "The great reset offered a moment of reflection and chance to align our trajectory with the path to inclusive prosperity, and there are signs we are grasping it.
"Despite the difficult period, as we predicted, 2020 marks the start of the decade of renewables," continued Mr. La Camera. "Costs are falling, clean tech markets are growing and never before have the benefits of the energy transition been so clear. This trend is unstoppable, but as the review of our World Energy Transitions Outlook highlights, there is a huge amount to be done. Our 1.5 degree outlook shows significant planned energy investments must be redirected to support the transition if we are to achieve 2050 goals. In this critical decade of action, the international community must look to this trend as a source of inspiration to go further," he concluded.
The 10.3 per cent rise in installed capacity represents expansion that beats long-term trends of more modest growth year on year. At the end of 2020, global renewable generation capacity amounted to 2 799 GW with hydropower still accounting for the largest share (1 211 GW) although solar and wind are catching up fast. The two variable sources of renewables dominated capacity expansion in 2020 with 127 GW and 111 GW of new installations for solar and wind respectively.
China and the United States of America were the two outstanding growth markets from 2020. China, already the world's largest market for renewables added 136 GW last year with the bulk coming from 72 GW of wind and 49 GW of solar. The United States of America installed 29 GW of renewables last year, nearly 80 per cent more than in 2019, including 15 GW of solar and around 14 GW of wind. Africa continued to expand steadily with an increase of 2.6 GW, slightly more than in 2019, while Oceania remained the fastest growing region (+18.4%), although its share of global capacity is small and almost all expansion occurred in Australia.
Highlights by technology:
Hydropower: Growth in hydro recovered in 2020, with the commissioning of several large projects delayed in 2019. China added 12 GW of capacity, followed by Turkey with 2.5 GW.
Wind energy: Wind expansion almost doubled in 2020 compared to 2019 (111 GW compared to 58 GW last year). China added 72 GW of new capacity, followed by the United States of America (14 GW). Ten other countries increased wind capacity by more than 1 GW in 2020. Offshore wind increased to reach around 5% of total wind capacity in 2020.
Solar energy: Total solar capacity has now reached about the same level as wind capacity thanks largely to expansion in Asia (78 GW) in 2020. Major capacity increases in China (49 GW) and Viet Nam (11 GW). Japan also added over 5 GW and India and Republic of Korea both expanded solar capacity by more than 4 GW. The United States of America added 15 GW.
Bioenergy: Net capacity expansion fell by half in 2020 (2.5 GW compared to 6.4 GW in 2019). Bioenergy capacity in China expanded by over 2 GW. Europe the only other region with significant expansion in 2020, adding 1.2 GW of bioenergy capacity, a similar to 2019.
Geothermal energy: Very little capacity added in 2020. Turkey increased capacity by 99 MW and small expansions occurred in New Zealand, the United States of America and Italy.
Off-grid electricity: Off-grid capacity grew by 365 MW in 2020 (2%) to reach 10.6 GW. Solar expanded by 250 MW to reach 4.3 GW and hydro remained almost unchanged at about 1.8 GW.
New project to help 30 developing countries tackle marine litter scourge
A UN-backed initiative aims to turn the tide on marine litter, in line with the global development goal on conserving and sustainably using the oceans, seas and marine resources.
The GloLitter Partnerships Project will support 30 developing countries in preventing and reducing marine litter from the maritime transport and fisheries sectors, which includes plastic litter such as lost or discarded fishing gear.
The project was launched on Thursday by the Food and Agriculture Organization (FAO) and the International Maritime Organization (IMO), with initial funding from Norway.
Protecting oceans and livelihoods
"Plastic litter has a devastating impact on marine life and human health", said Manuel Barange, FAO's Director of Fisheries and Aquaculture. "This initiative is an important step in tackling the issue and will help protect the ocean ecosystem as well as the livelihoods of those who depend on it."
Protecting the marine environment is the objective of Sustainable Development Goal 14, part of the 2030 Agenda to create a more just and equitable future for all people and the planet.
The GloLitter project will help countries apply best practices for the prevention and reduction of marine plastic litter, in an effort to safeguard the world's coastal and marine resources.
Actions will include encouraging fishing gear to be marked so that it can be traced if lost or discarded at sea. Another focus will be on the availability and adequacy of port reception facilities and their connection to national waste management systems.
"Marine litter is a scourge on the oceans and on the planet", said Jose Matheickal, Head of the IMO's Department for Partnerships and Projects. "I am delighted that we have more than 30 countries committed to this initiative and working with IMO and FAO to address this issue."
Five regions represented
The nations taking part in the GloLitter project are in Asia, Africa, the Caribbean, Latin America and the Pacific.
They will also receive technical assistance and training, as well as guidance documents and other tools to help enforce existing regulations.
The project will promote compliance with relevant international instruments, including the Voluntary Guidelines for the Marking of Fishing Gear, and the International Convention for the Prevention of Pollution from Ships (MARPOL), which contains regulations against discharging plastics into the sea.