Reimagining Pakistan Transforming a Dysfunctional Nuclear State- Book Review
Pakistan: A Lost Cause?
In his book, 'Reimagining Pakistan', Husain Haqqani discusses the origins of Pakistan as a state while laying bare the genesis of the state it has evolved into, ultimately culminating with his formula, for a reimagined Pakistan. As he rightly points out, Jinnah, when calling for a separate state of Pakistan, invoked religion as a way of giving a semblance of unity and solidity to his divided (by ethnicity, language, geography) Muslim constituents. Consequently, his demand for Pakistan was perforce "specifically ambiguous and imprecise" (p.7) (Jalal)so as to command general support. This base of religious nationalism also became the country's foundation for successive governments.
Then, taking a look behind the scenes, Haqqani says, even as the new state of Pakistan, was formed disadvantageously, with no functioning capital city, government or financial resources, its ill prepared founders unlike their Congress counterparts had no plans for the smooth functioning of a new country. Even, the concept of a common Governor General with India was rejected and Jinnah became the first head of state thereby losing for Pakistan all advantages financial and otherwise of having a moderating influence of a common governor general. Delineating the chemistry of Pakistani politics since independence, Husain with absolute clarity tells us that almost from the beginning part of the state apparatus used religion and religious groups for political ends. This unleashed a rampaging genie of religious–political chaos from time to time with the army stepping in to return the rampaging genie to its proverbial bottle. In this context Haqqani tells us that it was Zia's US backed "religious militancy" (p.100)in the form of jihad which Pakistan is dealing with till this day.
The author succinctly says Pakistan has thus become home to the world's "angriest Muslims" (p.112), with successive civilian and military governments choosing to appease "dial-a-riot" (ibid)Islamist hardliners, rather than confronting them. Drawing upon Shuja Nawaz's telling comment that "Pakistan's history is one of conflict between an under developed political system and a well – organized army"(Nawaz), Husain invokes this argument to point to consistent authoritarianism in the history of Pakistan when he refers to its four key military dictators.
The author also invokes Bengali leader Suharwardy's prophetic commentary on possible economic chaos in Pakistan, wherein he had warned that there would be no commerce, business or trade if Pakistan were to keep "raising the bogey of attacks" (p.58), and engage in constant "friction with India" (ibid). Husain in his book, 'India vs Pakistan – Why can't we just be Friends' talks of this pathological obsession with India and the consequent pressure points in their relationship. Ignoring, Jinnah's vision of two countries, with porous borders, "like the United States and Canada" (Jinnah, p.58).Unfortunately, with policy making playing second fiddle to national pride and morale, the narrative in Pakistan has become that of a victim not only of conspiratorial enemies but also an army which expands the magnitude of threats to match its size.
Hence, as the author points out most Pakistani leaders, except Ayub Khan have shown little interest in economic matters. Ignoring fundamentals of economics, aid gathered internationally by Pakistan as rentier to the western world, was frittered away in building military capacity just as it sank ever lower in terms of human development indices. With the culture being one of extolling the "warrior nation" (p.62) over the "trader nation" (ibid), Pakistan then fell into a state of "ideological dysfunction" (p.63). Like Husain says, Justice Munir of the Munir Commission in 1953 was prescient when he said that, "you can persuade the masses to believe that something they are asked to do is religiously right or enjoined by religion, you can set them to any course of action, regardless of all considerations discipline, loyalty, decency, morality or civic sense"(p.83). The author quickly links this up to "Islamist Rage" (p.96), with jihad as a panacea for all the ills that befell the nation. Before long, the self-proclaimed Pakistani upholders of the honour of Islam and its prophet re-wrote their history with falsehoods to fit a fictional narrative born from an inherent insecurity which even acquisition of nuclear weapons could not assuage.
Ultimately, in his quest to offer a roadmap for a reimagined Pakistan, the most telling suggestion that comes from Haqqani is his exhortation that Pakistan should embrace its "multi-ethnic" (p.274) and "multi lingual reality" (ibid)just like Belgium did many years back and forever rid itself of the spectre of disintegration. He would thus, like his country to draw away from its focus on survival and resilience, a concept partially imparted by its military moorings and truly reimagine itself as a non- confessional state where the "individual can be pious and the society can be religious"(p.120). Going further, to him Pakistan has to have a national identity other than its self -obsessive and ever draining competition with India and not forever depend on God alone to ensure its survival.
Thus, wanting Pakistan to stop its "march of folly"(Tuchman), by creating a national identity which bypasses the nexus between power and bigotry, quoting Ayesha Jalal he talks of the damaging lack of territorial nationalism in the definition of Pakistan as an Islamic State. In this context he traces the breaking away of East Pakistan and possible future disintegration of Pakistan along ethnic lines just as it happened in say, Russia. Undeniably, Haqqani exhibits great courage when he says that if Pakistan has to have a future different from its past, it must identify the various confabulations of its leaders so as to not fulfill Barbara Tuchman's "march of folly", due to "governmental folly and obstinacy" (p.244).
All this notwithstanding, in this book Husain has laid bare the origins and development of Pakistan, in to what it is today. As an expert on radical Islamic movements, he traces the stranglehold that the jihadists and Islamic movements have on the state players and also tells us that it is the army which acts as a check and balance whatever else the other negatives might be in allowing the army to play such a pivotal role in the formation of the Pakistan nation and creation of jihadist movements. Quoting extensively from primary and secondary sources, he shows the proverbial mirror to the collective psyche of his nation. Jinnah's speeches and Munir Commission's findings are excellent primary sources in this regard, while among others Ayesha Jalal and Shuja Nawaz add credibility and meaningful insights to Husain's process of reasoning. At the same time research and data is indeed exhaustive and the research team not lacking in extending support to his rubric, while Haqqani himself does not draw away from some uncomfortable truths that Pakistan must face. Even though, Husain has done a remarkable and honest job in analysing the dysfunctional aspects of the state of Pakistan, where the book lacks is that though the title suggests we are going to read about a roadmap to reimagine Pakistan, the emphasis is more on how the state was formed, its ideological moorings, and the role of the various players as it evolved over time. The suggestions for reimagining obviously need more reimagining as the suggestions provided by the author are not in the form of a coherent roadmap and his suggestions are few and far between besides being scattered randomly at times, through the course of the book. Also, to my mind, the author does not face the real tough questions as to how the cat (army) is to be belled, the monolithic behemoth that it has become. Over here, G Parthasarthy's comment, "Every country has an army but in Pakistan, an army has a country"(G.Parthasarthy), comes to mind, something which its leaders would do well to remember. Besides this Husain does not seem to hold the western powers to account as they were probably just as much to blame for the current state of affairs when they played the renewed "great game"(Hopkirk)in this part of the world. From his unique perspective as an advisor to four ex-prime-ministers and the ambassadorship to U.S.A at a time when there was a global war on terrorism(Haqqani, Hudson Institute ), Haqqani should have dwelt as much on reimagining as he did on cautioning his homeland from its precipitous "march to folly" (p.264)(.Tuchman). Perhaps a second volume could take up this slack wherein the excellent foundational analysis of the state of Pakistan is the launch pad for a futuristic road map for reimagining.
Reimagining Pakistan Transforming a Dysfunctional Nuclear State by Husain Haqqani, Harper Collins ,2018
Rohingya crisis: How long will Bangladesh single-handedly assume this responsibility?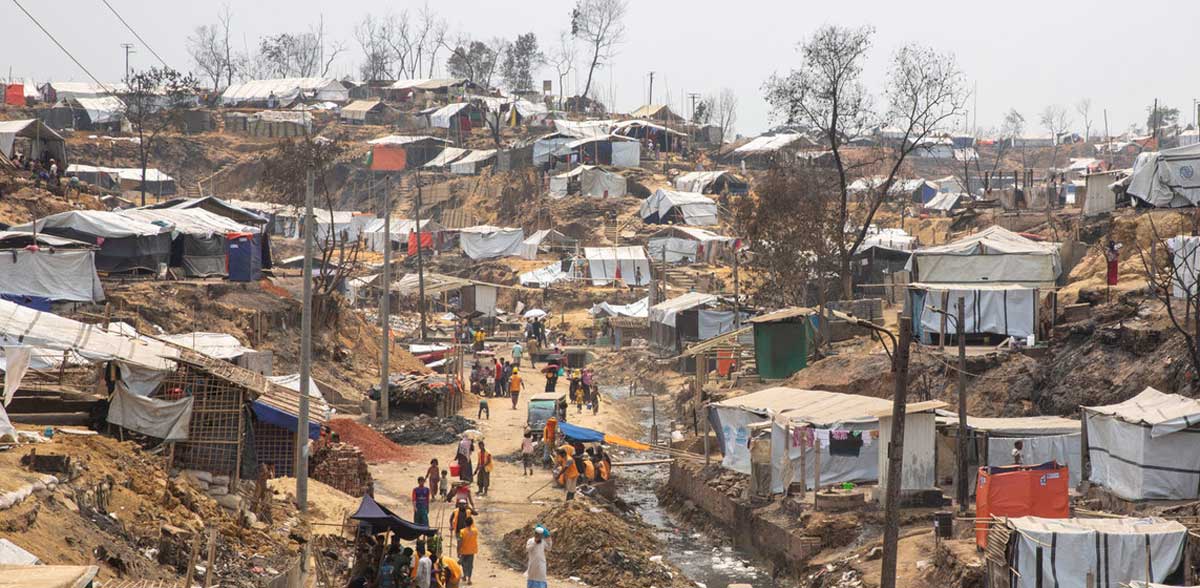 At least 8,60,000 Rohingya FDMNs, mostly women and children entered Bangladesh fleeing unbridled murder, arson and rape by the Tatmadaw in Rakhine, what the United Nations has decried as textbook example of ethnic cleansing and genocide, beginning on August 25, 2017. The latest influx of Rohingyas brought the number of undocumented and registered Rohingya refugees in Bangladesh to more than 1.1 million. Not a single Rohingya returned home to Rakhine when the Myanmar government blocked the repatriation process in various ways. Owing to critical socio-economic, environmental and security concerns, the Bangladesh government launched a project of relocating one-tenth of the Rohingyas to Bhashan Char on a voluntary basis. So far 18,334 Rohingyas have been relocated to Bhashan Char and they expressed "high satisfaction" over the existing considerable safe, secured and crime-free environment compared to the mobbed camps in Cox's Bazar.
Bangladesh government invested more than US $310 million from its own funds to develop the 13,000-acre island with all amenities and facilities of drinkable water, electricity, sanitation, agricultural plots, 120 cyclone shelters in each cluster, two hospitals, four community clinics, mosques, warehouses, telecommunication services, police station, learning centers and playgrounds which is far better than the facilities in the Cox's Bazar camps. From the outset, the initiative was called into question by some human rights organizations and NGOs. However, in the wake of recent visits by high officials of the international community and donor states, it has been proven that the allegations against Bangladesh were merely political and propaganda.
Delegates from the EU, the OIC and the UN all demonstrated their prima facie satisfaction by seeing the facilities and living conditions of the Rohingya refugees in the Bhashan Char. Previously, a few INGOs and interest groups disseminated that the conditions in Bhashan Char are inhabitable and the relocation plan is a wrong decision of the Bangladesh government. But now all the foreign delegates and human rights proponents agreed that the decision to relocate some 100,000 Rohingyas to Bhashan Char under the Ashrayan-3 project was a timely decision for the well-being of the Rohingya community itself. Since the massive influx of Rohingya into Bangladesh in August, 2007, Bangladesh has actively carried out its humanitarian role. But, has the international community fulfilled its duty, apart from criticizing Bangladesh's initiatives and raising funds for refugees for the time being? Bangladesh has done its part, and it is now time that the international community shares the burden and puts pressure on Myanmar to repatriate the Rohingya refugees.
Bangladesh is trying to solve the crisis with its utmost efforts using all of its diplomatic maneuvers in the bilateral, trilateral and multilateral levels. Acknowledging the outstanding assistance in hosting 1.1 million Rohingya in Bangladesh, the US special envoy for climate change John Kerry during his recent visit to Bangladesh said that the global community must hasten its efforts to resolve the crisis as it is not merely responsibility for the country. Bangladesh in every multilateral forum has been desperately raising the issue of the Rohingya crisis as it has a far reaching social, economic, environmental and security concerns not only for Bangladesh but also for the South Asian region. For instance, Bangladesh raised the Rohingya issue at the 10th D-8 summit held in Dhaka and sought international support. But it is ironic, due to lack of goodwill of the concerned parties, the situation is protracting. All the international community including the UN, the EU and the OIC members should work in a coordinated way to find a comprehensive and durable solution to the Rohingya crisis.
Covid19 mismanagement in India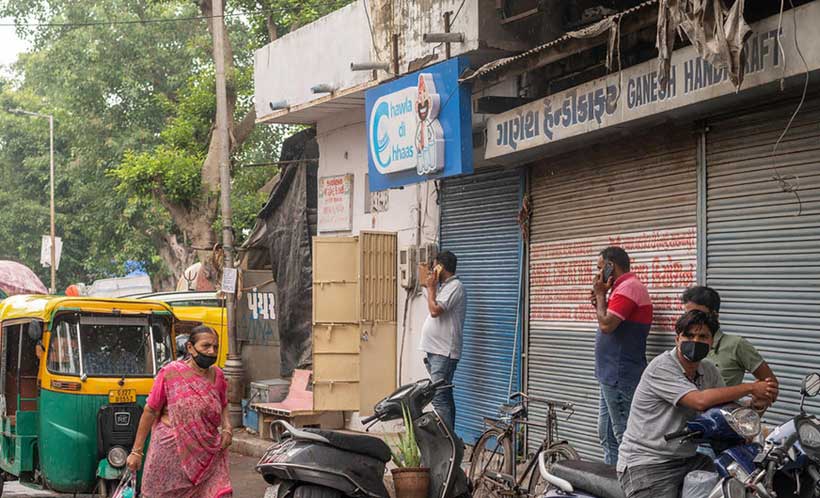 The writer is of the view that the pandemic in India would have been less virulent if the Indian government had been more truthful and egalitarian in its preventive policies. India prematurely claimed a "victory" against the virus. It vowed to export vaccines to other countries while its own states groaned under shortage of vaccine, drugs and oxygen. The government called the foreign Muslim preachers "super spreaders of the virus" and "terrorists" while allowing elections rallies and Kumbh congregation. The pandemic brought home one truth. Lies do not always fructify.
India is struggling to contain the spread of the new 'double mutant' Covid-19 variant which has turned out to be quite lethal. The positivity peaked with 3, 82,315 new Covid-19 cases pushing the country's overall caseload to over 2, 06, 65,148. With fresh infections, the total active coronavirus cases in the country has mounted to 34, 87,229, according to the data released by India's health ministry. The New York times reported, 'The sudden surge in recent weeks, with an insidious newer variant possibly playing a role, is casting increasing doubt on India's official Covid-19 death toll of nearly 200,000, with more than 2,000 people dying every day (New York Times April 24, 2021). However some reports indicate death of 2, 26, 000 to 3, and 23,000.
How the virus ran amok
White House chief medical adviser and America's top pandemic expert Dr Anthony Fauci says, `India's home-grown COVID-19 vaccine (Covaxin), has been found to neutralise the 617 variant of the deadly virus'. The mounting deaths are apparently due to India's failure to inoculate its whole population. India's prime minister Modi had declared a premature "victory" against the virus. India announced that it has enough vaccines to export to over 76 countries. The government looked the other way when police carried out a witch hunt against the foreign Muslim preachers when they visited India. They were labeled "corona super spreaders" and even "terrorists". However, the courts exonerated most of the preachers of the charges.
The ruling Bharatiya Janata Party fumed and fretted about the preachers. But, it allowed a Hindu religious congregation of naked or semi-naked pilgrims (Kumbh) to be held without any let up or hindrance. The BJP chief minister of Uttarkhand declared that faith and the purifactory power of the Ganga River would suffice as a Covid shield, though it did not. The mounting deaths are apparently due to India's failure to stop congregations and inoculate its whole population. India's prime minister Modi had declared a premature "victory" against the virus. India's health minister, Harsh Vardhan, audaciously claimed that India's fatality rate is still "the lowest in the world". Two months back, he declared that his nation was "in the endgame" of the pandemic.
His boss, Modi, boasted to the World Economic Forum in January that India had "saved humanity from a big disaster by containing corona effectively". Narendra Modi's claim was preceded by the announcement that he was bringing a "message of confidence, positivity and hope from 1.3 billion Indians amid these times of apprehension".
He looked the other way when police carried out a witch hunt against the foreign Muslim preachers when they visited India. They were labeled "corona super spreaders" and even "terrorists".
White House chief medical adviser and America's top pandemic expert Dr Anthony Fauci says, `India's home-grown COVID-19 vaccine (Covaxin), has been found to neutralise the 617 variant of the deadly virus'.
The new variant 'B.1.618' is a major immune escape variant. India hit the world's highest single-day tally when it recorded more than 300,000 active cases in a day. Hospitals in the country are running out of oxygen supply, resulting in a sharp rise in the number of deaths. Viral videos showed desperate people exhaling into mouths of their dying kins. Wood became short to cremate dead bodies. While patients kept dying for want of a bed or oxygen, par-medical staff kept minting money by stealing medicines from hospital stores, allocating and re-allocating beds, or charging exorbitant price of about Rs. 3000 a kilometer.
Situation in occupied Kashmir
The situation in occupied Kashmir became particularly gruesome. Oxygen cylinders from the disputed state were "bought out" for other states. Vaccinations centres soon vanished as no vaccine was available. The viral videos indicated that Kashmiri leaders were languishing in jails without medical treatment. Kashmiri women mourned deaths of their relatives outside hospitals. Simultaneously,
cordon-and search operations continued to kill innocent Kashmiris.
For a population of nearly 1.2 crore, there are only 600 ventilators. In Srinagar city, there is an availability of only 13,000 litres of oxygen per minute which, the medical experts say, was too low to cater to the ongoing rise in the cases. Several doctors said that each patient requires between 5-10 litres of oxygen per minute and the existing supplies at Srinagar hospitals are sufficient only for 2,000-3,000 people in a given time.
The work on the oxygen plants at the government hospitals is either stalled or has been going on at a snail pace. Although two more plants were opened in the northern Kashmir areas of Kupwara and Sopore on Sunday and another one was ready for use in southern Kashmir's Shopian. The plants with their capacities of 1,000-litre per minute could cater to a few hundred people in a given time only.
Hospitals have no drugs, not even Remdesivir. A court observed, 'Death of Covid patients due to non-supply of oxygen not less than genocide'. Another court asked people to register murder charges against the election commission for allowing election gatherings.
Taking advantage of abrogation of special status, the Indian government is bringing people affected by the Corona epidemic into the Kashmir Valley.
Covid19 exposed limitations of propaganda
Modi's gung-ho announcements of victories against the virus did not end the pandemic. He owes many of his electoral victories to the power of propaganda. He blamed Pakistan for bomb blasts in India and Kashmir. A self-styled businesswoman Madi Sharma (RAW surrogate) arranged a guided tour of far-right members of European parliament to the occupied Kashmir (October 30, 2013) through a fake International Institute for Non-Aligned Studies. The Institute paid for the travel and accommodation of an unofficial far-right delegation of 23 European Union parliamentarians to Srinagar on. The delegation's shikara (boat) ride in Kashmir Lake (dal) pictured Kashmir as a heaven in serene peace. Some members however smelt a rat and abandoned the free joy ride. The aim was to convince the world that it was all hunky-dory in the occupied Kashmir after abrogation of the special status and age-old hereditary-ownership law.
Modi acted on Hitler's propaganda playbook
It appears India has meticulously implemented Hitler's propaganda theorems: `The bigger the lie, the better the results. The success of any propaganda campaign ultimately depends on the propagandist's down-to-earth understanding of the "primitive sentiments of the popular masses". Mein Kampf (pp. 179-180).
The Arnab Goswami transcripts exposed Modi's fake "surgical strikes". Goswami referred to the Pulwama attack on 14 February 2019. Three days before the Balakot air strike on 26 February 2019, Goswami purportedly said India's response would be: "Bigger than a normal air strike. And on the same time something major on Kashmir (abrogation of Special Status)".
The leaks of the WhatsApp messages of Arnab Goswami (Republic TV) brought into limelight some bitter truths. One bitter truth is that the general public is a 'bewildered herd' (to quote Noam Chomsky) who could easily be made a fool of.
The leaked WhatsApp chats revealed that the Balakot 'surgical strikes' were conducted to shore up Narendra Modi's image as a `strong man', a Brobdignagian among the self-centered Lilliputian Indian politicians. The 'strike' helped Modi win elections with a thumping majority.
Though Modi is educated only up to high school, he understands the power of propaganda. He has done a three-month course in the USA on Image Management and Public Relations. His campaign blitz cost about $700 million. Modi is considered the most techno-savvy leader of India as he is very active on various social media platforms including Twitter, Facebook and Instagram.
The WhatsApp chats between Republic TV Editor-in-Chief Arnab Goswami and former Broadcast Audience Research Council (BARC) CEO Partho Dasgupta run into 500 long pages. They revealed the nexus between the media and politicians to hoodwink the masses.
Modi considers Indian people a "herd". Modi owed his electoral victory to the power of propaganda. He made a fool of not only the Indian masses but also the world around until the West Bengal debacle.
History tells that the people, even the Americans, are gullible. Propaganda deeply influenced even independent-minded Americans who laid down a constitution, beginning with the words 'we the people'. Chomsky says even the American masses are like a "bewildered herd" who have stopped thinking. He asserts that, in a "properly functioning democracy", there are a "small percentage of the people", a "specialised class of citizens" who … "analyse, execute, make decisions and run things in the political, economic, and ideological systems". Chomsky reminds, 'Woodrow Wilson was elected President in 1916 on the platform "Peace without Victory", right in the middle of World War I. The American population was extremely pacifistic and saw no reason to become involved in a European War. The Wilson Administration established a government propaganda commission, called the Creel Committee, which succeeded, within six months, in turning a pacifist population into a hysterical, war mongering population which wanted to destroy everything German, tear the Germans limb from limb, go to war and save the world…. After the war the same techniques were used to whip up a hysterical Red Scare…'.
Conspiracy theories exposed
One of the first conspiracy theories that came to light was that China created COVID-19 as a biological weapon in a laboratory in Wuhan (Jaaved, 2020). Another widespread conspiracy theory is that 5G technology is the primary cause of the highly contagious virus or even the amounts of deaths. Without enough evidence there are two sides to this theory: it is the direct cause of the virus because it has a very high level of frequency or it uses these high levels of frequency to weaken people's immune systems and that way causing a lot of damage and fear. But this 5G theory also comes back to China. China has a very impressive technological security that uses 5G technology, and some traces show a connection between 5G hotspots and the first COVID-19 outbreaks (Thomas, 2020).
According to "The WHO terms the conspiracy theories as "infodemic" that "spreads faster and more easily than this virus, and is just as dangerous".
Concluding remarks
The pandemic has proved that propaganda does not always succeed. Abraham Lincoln was right in saying "You can fool some of the people all of the time, and all of the people some of the time, but you cannot fool all of the people all of the time."
The World Biggest COVID-19 Crisis: Failure of India's Vaccine Diplomacy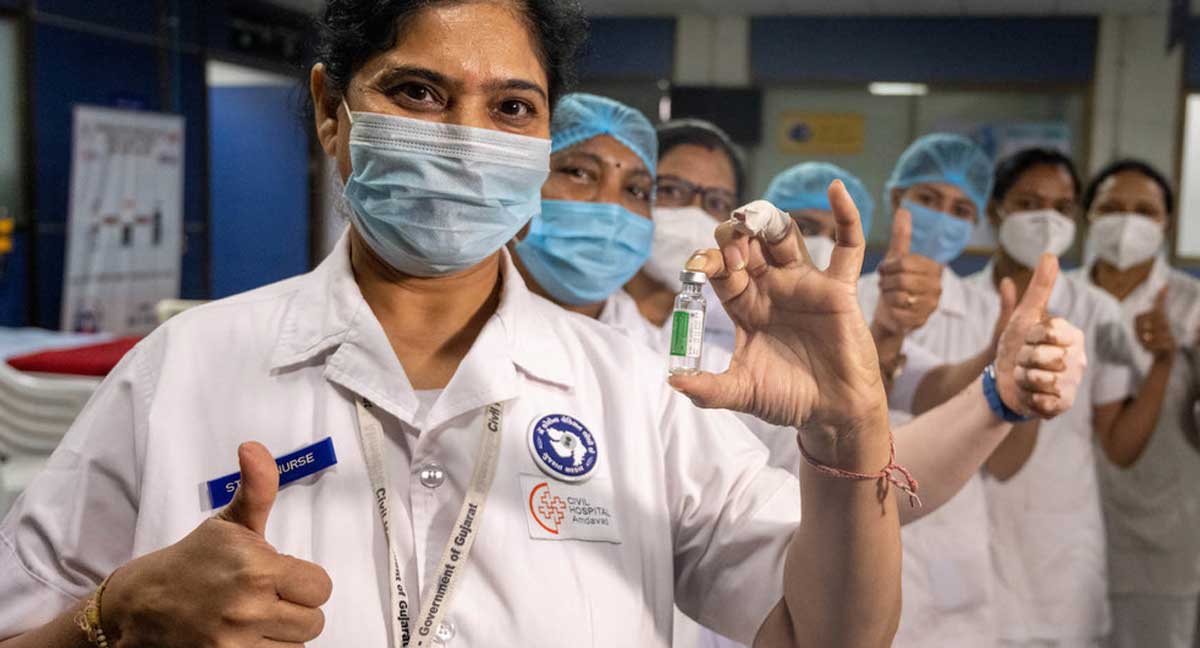 As over 100 million people in the U.S. are fully vaccinated and the world's daily count of new cases is falling, India faces healthcare system collapse as a second coronavirus wave is devastating. In accordance with the recent statistics of the WHO, in the past week approximately 2 million new confirmed cases were reported worldwide – almost half were from India. Interestingly, India is one of the main producers and exporters of coronavirus vaccines in the world and since mid-January, the federal government has approved a British-made Oxford-AstraZeneca, and a locally developed– a national pride Covaxin (both are being produced in India) for the massive immunization drive that has set the ambitious goal of fully immunizing 300 million people, particularly healthcare workers by the end of summer. Meanwhile, India had initially been planning to set the world record for mass vaccination but they ended up with the world record coronavirus cases, surpassing 400.000 daily COVID-19 cases for the first time.
The development and deployment of an effective and safe vaccine against the coronavirus was a key pillar in the authority's current strategy to break down the chain of transmission. However, despite a promising start of a vaccination campaign at the beginning of this year, one of the largest immunization programs across the globe, it turns out there is not a sufficient amount of vaccine supplies in a number of states across the country. As cases continue to surge, many across the country have rushed to register for shots but most states are running out of doses and a large number of vaccination centers across India turned away people due to chronic shortages or complete lack of availability of jabs. While India is one of the major producers of COVID-19 vaccines with a monthly capacity of 70 million doses, now forced to import jabs, as local manufacturing facilities are facing challenges to meet growing demand. As India's expansion of its immunization campaign has been failing badly, it makes a disastrous situation even worse. On the other hand, the current devastation leads to a depression in global vaccine supply and consequently, it hits the low and middle-income countries, as they rely on the Indian pharmaceutical industry.
The second devastating wave was hitting the country since mid-April and apparently, India's poorly funded public healthcare system is not capable enough to overcome the world's largest surge in COVID cases. Health facilities overwhelmed as infection rates explode; therefore, many hospitals in the large cities already suspended admitting even the critically ill coronavirus patients as all beds were full and medical equipment, particularly oxygen concentrators, ICU beds, test kits, PPEs and ventilators in short supply, while corpses pile up at morgues and crematoriums. As a death toll rises sharply, additional crematoriums are being built in order to deal with the grim situation, especially in the hardest-hit cities and states. Furthermore, in the midst of a big surge Indian government also launched a vaccination drive for anyone over the age of 18 starting 1st of May. Ironically, along with China and Russia, India was a country that had begun exporting home-grownCOVID-19 vaccine doses to foreign countries, but only less than 3% of its population has been fully vaccinated so far. During a global pandemic, thanks to its massive production capacity, India actively donated locally produced Coronavirus vaccines to the Southeast Asian, Middle Eastern and African low and middle-income nations under the "Vaccine Friendship" program. The initiative was launched in early 2021 and it sought to promote cooperation and cement ties by distributing a dozen of jabs through the Vaccine Diplomacy. In reality, in the battle to gain political influence across the developing world, India shipped millions of doses to poorer countries before managing to secure an adequate amount of vaccines for its own people.
India's infections keep surging due to the unavailability of medical resources and thus the crisis also affecting the global vaccine and medical supply chains, as over 40 countries, including Russia, European Union, China and the United States and numerous international charities are proactively providing a range of humanitarian aid and emergency assistance.
Many events marking religious festivals and cultural events across the world have been banned because of Coronavirus; on the contrary, despite the high risks of infection several crowded religious festivals and gatherings have been taking place in India's various holy sites and places of worship with a thousand of unmasked pilgrims and devotees. Additionally, Prime Minister Narendra Modi's total23campaign rallies that brought tens of thousands of incautious supporters together caused the spike in coronavirus cases. Hence, the federal government acted reluctantly to impose major restrictions for containing the virus by relying on local authorities to take action.
Indeed, India is the third country with over130 million doses administrated in the world, the highest figure just behind the United States and China respectively, but even the large-scale vaccination process was insufficient to prevent the second wave for a population of more than 1.3 billion people. Although international flights are being suspended to and from India by many governments, a more transmissible India COVID variant, formally known as B.1.617has already been detected in multiple countries and territories worldwide. India's COVID -19 crisis warns that the risk of infection remains high and many countries could face a strong resurgence of COVID-19similar to India. Health experts concern that a new and more contagious strain spreads more easily and it could even evade vaccines. The current outbreak shows that every country remains vulnerable and could find itself in dire straits unless the adaptation and implementation of strict anti-pandemic measures and policies. However, strengthening the public health system, enhancing safety protocols and sanitary measures, ensuring transparency and accountability, and initiating a successful immunization campaign will be seemingly crucial to combat the pandemic, otherwise, a similar crisis could soon become a common tragedy for the entire world in the foreseeable future.