No More Business as Usual: Green Deal Needed in Europe's Recovery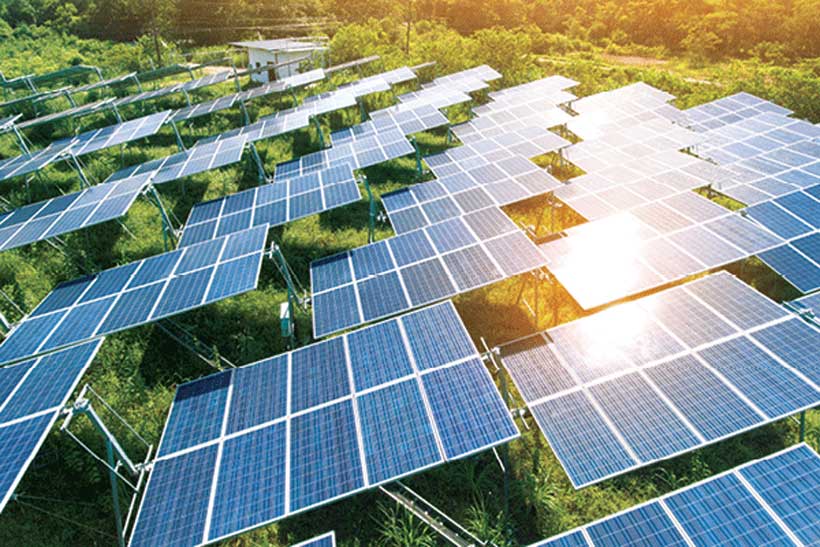 Chief executive officers (CEOs) and senior representatives of around 30 European companies expressed today their support for the European Green Deal as a growth strategy for Europe with a joint statement. The COVID-19 recovery is the opportunity to reset Europe's economy with a new growth model on the path to net-zero emissions, based on circularity, renewable energy and low-carbon industries.
The CEOs said they firmly believe the way out of the current crisis cannot be more of the same. They commit to reducing their carbon footprint and to embrace new production and work models to play their part in decarbonizing Europe's economy and achieving climate-neutrality by 2050.
"The COVID-19 pandemic requires a massive and coordinated economic stimulus to both mitigate the economic repercussions of the pandemic and, above all, to accelerate the necessary transition to a low carbon economy. We have to take more and faster action with more emphasis on sustainability and circularity. The European Green Deal presents an opportunity to do just this. It requires a strong partnership between business, politics and society. Together we can make Europe the greenest, most innovative and inclusive region in the world, where the Green Deal should provide jobs and economic prosperity at the same time. The action plan announced today by the WEF CEO Action Group for the European Green Deal is an important step with concrete actions to support this agenda." commented the CEO Action Group Co-Chairs, Axa's CEO Thomas Buberl and Feike Sybesma, Royal DSM's Honorary Chairman.

"The EU is putting in place the largest and greenest stimulus plan ever. It is the right time for businesses to show how they can effectively contribute to achieving the EU's climate targets. As a next step, this group is working on lighthouse projects, which demonstrate how to step up action in areas such as sustainable transport and mobility, food and agriculture and renewable energy markets," Børge Brende, President of the World Economic Forum, added.
The EU Commission President Ursula von der Leyen, in her State of the European Union speech today, is expected to reassert the Green Deal as a central element of Europe's growth strategy and the region's recovery efforts. Frans Timmermans, the European Commission's Executive Vice-President in charge of the European Green Deal, welcomed the CEO statement: "The Green Deal is a once-in-a-generation effort to transform our economy. It is crucial to have European businesses on board, as we'll need every company to contribute to climate neutrality and help deliver on the Green Deal. I very much support the efforts of the CEO Action Group to implement the European climate agenda."
CEOs and senior representatives supporting the statement are:
Michael Altendorf, Co-Founder and Chief Executive Officer, Adtelligence GmbH, Germany
Marco Alverà, Chief Executive Officer, Snam S.p.A., Italy
Claudia Azevedo, Chief Executive Officer, SONAE SGPS SA, Portugal
Kai Beckmann, Chief Executive Officer, Performance Materials, Member of the Executive Board, Merck, Germany
Dick Benschop, President and Chief Executive Officer, Royal Schiphol Group, Netherlands
Jesper Brodin, Chief Executive Officer, Ingka Group (IKEA), Netherlands
Thomas Buberl, Chief Executive Officer, AXA SA, France*
Levent Cakiroglu, Chief Executive Officer, Koç Holding AS, Turkey
Bertrand Camus, Chief Executive Officer, SUEZ, France
Liam Condon, President, Bayer Crop Science, Bayer AG, Germany
Claudio Descalzi, Chief Executive Officer, Eni SpA, Italy
Hanneke Faber, President, Foods and Refreshment Division, Unilever, Netherlands
Camilla Hagen Sørli, Member of the Board, Canica AS, Norway
André Hoffmann, Vice-Chairman, F. Hoffmann-La Roche Ltd, Switzerland
John Holland-Kaye, Chief Executive Officer, Heathrow Airport Holdings Limited, United Kingdom
Svein Tore Holsether, President and Chief Executive Officer, Yara International ASA, Norway
Paul Hudson, Chief Executive Officer, Sanofi, France
Nuno Matos, Chief Executive Europe, HSBC Holdings Plc, United Kingdom
Gerald Podobnik, CFO Corporate Bank, Deutsche Bank AG, Germany
Jonas Prising, Chairman and Chief Executive Officer, ManpowerGroup, USA
Nicolas Namias, Chief Executive Officer, Natixis, France
Yves Robert-Charrue, Member of the Executive Board and Head of Switzerland, Europe, Middle East & Africa, Bank Julius Baer & Co. Ltd, Switzerland
Michael Schernthaner, Chief Executive Officer, Schur Flexibles Group, Austria
Veronica Scotti, Chairperson, Public Sector Solutions, Swiss Re Management Ltd, Switzerland
Marco Settembri, Executive Vice-President and Chief Executive Officer, Europe, Middle East and North Africa, Nestlé, Switzerland
Feike Sybesma, Honorary Chairman, Royal DSM NV, Netherlands*
Jean-Pascal Tricoire, Chairman and Chief Executive Officer, Schneider Electric, France
Loic Tassel, President, Europe, Procter & Gamble, Switzerland
Bernhardt von Spreckelsen, Fashion Photographer & Developing Hyper Luxury, Brand Owner, Bernhardt von Spreckelsen, United Kingdom
The CEO Action Group for the European Green Deal, launched in autumn 2019 in cooperation with the World Economic Forum and the European Commission, seeks to mobilize business to step up commitments towards achieving the Green Deal and the EU greenhouse gas reduction targets for 2030 in order to drive a clean and inclusive economic recovery.
*Co-chairs of the CEO Action Group for the European Green Deal
World Migratory Bird Day illuminates the dark side of light pollution
Governments, cities, companies, and communities around the world are taking action to address a significant and growing threat to wildlife, including many species of migratory birds – light pollution.
The issue is the focus for World Migratory Bird Day, observed this Saturday, 14 April, under the theme "Dim the Lights for Birds at Night."
Light pollution is increasing, with artificially lit outdoor areas rising by 2.2 per cent per year from 2012 to 2016, according to one study cited by the Secretariat of the Convention on Migratory Species of Wild Animals (CMS), a UN environmental treaty.
Currently, more than 80 per cent of the world's population is estimated to live under a "lit sky", and the figure is closer to 99 per cent in Europe and North America.
Altering natural patterns
"Natural darkness has a conservation value in the same way as clean water, air, and soil. A key goal of World Migratory Bird Day 2022 is to raise awareness of the issue of light pollution and its negative impacts on migratory birds," said Amy Fraenkel, the CMS Executive Secretary.
Artificial light alters natural patterns of light and dark within ecosystems, and contributes to the deaths of millions of birds each year.
Light pollution can cause birds to change their migration patterns, foraging behaviours and vocal communication, resulting in disorientation and collisions.
Disorientation and death
Migrating birds are attracted to artificial light at night – particularly when there are low cloud conditions, fog, rain, or when flying at lower altitudes – luring them to dangers in cities.
Birds become disorientated and, as a result, may end up circling in illuminated areas. With their energy reserves depleted, they risk exhaustion, or worse.
"Many nocturnally migrating birds such as ducks, geese, plovers, sandpipers and songbirds are affected by light pollution causing disorientation and collisions with fatal consequences," said Jacques Trouvilliez, Executive Secretary of the African-Eurasian Waterbird Agreement (AEWA), another UN treaty.
"Seabirds such as petrels and shearwaters are attracted by artificial lights on land and become prey for rats and cats."
Safer skies
Two years ago, countries that are party to the CMS endorsed guidelines on light pollution covering marine turtles, seabirds, and migratory shorebirds.
The recommendations call for Environmental Impact Assessments to be conducted for projects that could result in light pollution.
Projects should consider the main sources of light pollution at a certain site, the likely wild species to be affected, and facts about proximity to important habitats and migratory pathways.
New guidelines focused on migratory landbirds and bats are currently being developed and will be presented for adoption at a CMS conference next year.
Solutions to light pollution are readily available, said Ms. Frankel. More and more cities worldwide are taking measures to dim building lights during migration phases in spring and autumn, according to the UN Environment Programme (UNEP).
Call to action
World Migratory Bird Day is celebrated twice a year, on the second Saturday in May and October, in recognition of the cyclical nature of bird migration and the different peak migration periods in the northern and southern hemispheres.
It is organized by a collaborative partnership among the two UN wildlife treaties and the non-profit organization, Environment for the Americas (EFTA).
"World Migratory Bird Day is a call to action for international migratory bird conservation," said Susan Bonfield, the EFTA Director.
"As migratory birds' journey across borders, inspiring and connecting people along the way, it is our aim to use the two days in 2022 to raise awareness of the threat of light pollution and the importance of dark skies to bird migrations."
UN focus on plant health, crucial for boosting food security worldwide
On the very first International Day of Plant Health, marked on Thursday, the UN Food and Agriculture Organization (FAO) has called for more investment in innovation to boost food security, especially for the billions worldwide living close to the bread line.
Plants under threat
Healthy plants have the power to help end hunger, reduce poverty, protect the environment, and boost economic development. But even though plants make up 80 per cent of the food we eat, and provide 98 per cent of the oxygen we breathe, threats to their survival in many cases, are piling up.
According to recent data, up to 40 per cent of food crops are lost due to plant pests and diseases every year, and this affects both food security and agriculture, the main source of income for vulnerable rural communities.
Climate change and human activities are also altering ecosystems and damaging biodiversity while creating new niches for pests to thrive in.
Furthermore, FAO says that protecting plants from pests and diseases is far more cost effective than dealing with plant health emergencies. That is because once established, plant pests and diseases are often difficult to eradicate, and need to be controlled through sustainable pest and pesticides management.
Human health depends on plants
"On this very first International Day of Plant Health, we reflect on plant health innovations for food security," said FAO Director-General QU Dongyu, adding that investments are needed in research to find more resilient and sustainable additions to the human diet.
"We need to continue raising the global profile of plant health to transform agrifood systems to be more efficient, more inclusive, more resilient and more sustainable", he continued.
The protection of plants is essential for people and for the planet, and that is why the UN Food and Agriculture Organization has mapped several priorities for plant health, coinciding with the inaugural Day.
Focusing on sustainable pest management and pesticides through promotion of green and digital plant protection; and creating enabling surroundings for plant health by enhancing the health of soils, seeds, and pollinators, are among the main priorities.
FAO is calling on governments to prioritize plant health and its sustainable management in formulating policies and legislation, and on academia and research institutions to deliver science-based solutions.
Why an International Day?
Having been established as a key legacy of the International Year of Plant Health 2020, the International Day of Plant Health (IDPH) was designated to raise global awareness on how protecting plant health can help end hunger, reduce poverty, protect biodiversity and the environment, and boost economic development.
Championed by Zambia, it was unanimously adopted in a General-Assembly resolution co-signed by Bolivia, Finland, Pakistan, the Philippines, and Tanzania.
Following the first IDPH this year, FAO will organize celebrations for the Day every 12 May at global, regional, national levels, and even potentially, down on a farm, near you.
Climate: World getting 'measurably closer' to 1.5-degree threshold
There is a 50:50 chance of average global temperature reaching 1.5 degrees Celcius above pre-industrial levels in the next five years, and the likelihood is increasing with time, according to a new report by the World Meteorological Organization (WMO), published on Tuesday in Geneva.
The Global Annual to Decadal Climate Update also reveals a 93 per cent likelihood of at least one year between 2022 to 2026 becoming the warmest on record, thus knocking 2016 from the top spot.
The chance of the five-year average for this period being higher than the last five years, 2017-2021, is also 93 per cent.
The 1.5 °C target is the goal of the Paris Agreement, which calls for countries to take concerted climate action to reduce greenhouse gas emissions in order to limit global warming.
Probability rising
"This study shows – with a high level of scientific skill – that we are getting measurably closer to temporarily reaching the lower target of the Paris Agreement on Climate Change," said Petteri Taalas, the WMO Secretary-General.
"The 1.5°C figure is not some random statistic", he added, but "rather an indicator of the point at which climate impacts will become increasingly harmful for people and indeed the entire planet."
The chance of temporarily exceeding the 1.5°C threshold has risen steadily since 2015, according to the report, which was produced by the United Kingdom's Met Office, the WMO lead centre for climate update predictions.
Back then, it was close to zero, but the probability increased to 10 per cent over the past five years, and to nearly 50 per cent for the period from 2022-2026.
Wide-ranging impacts
Mr. Taalas warned that as long as countries continue to emit greenhouse gases, temperatures will continue to rise.
"And alongside that, our oceans will continue to become warmer and more acidic, sea ice and glaciers will continue to melt, sea level will continue to rise and our weather will become more extreme. Arctic warming is disproportionately high and what happens in the Arctic affects all of us," he said.
The Paris Agreement outlines long-term goals that guide governments towards limiting the global temperature increase to well below 2 °C, while pursuing efforts to limit the increase even further to 1.5 °C.
'Edging ever closer'
The UN's Intergovernmental Panel on Climate Change further states that climate-related risks are higher for global warming of 1.5 °C than at present, but lower than at 2 °C.
"Our latest climate predictions show that continued global temperature rise will continue, with an even chance that one of the years between 2022 and 2026 will exceed 1.5 °C above pre-industrial levels," said Dr. Leon Hermanson of the UK Met Office, who led the report.
"A single year of exceedance above 1.5 °C does not mean we have breached the iconic threshold of the Paris Agreement, but it does reveal that we are edging ever closer to a situation where 1.5 °C could be exceeded for an extended period."
Last year, the global average temperature was 1.1 °C above the pre-industrial baseline, according to the provisional WMO report on the State of the Global Climate. The final report for 2021 will be released on 18 May.
WMO said back-to-back La Niña events at the start and end of 2021 had a cooling effect on global temperatures. However, this is only temporary and does not reverse the long-term global warming trend.
Any development of an El Niño event would immediately fuel temperatures, the agency said, as happened in 2016, the warmest year on record.