No More Business as Usual: Green Deal Needed in Europe's Recovery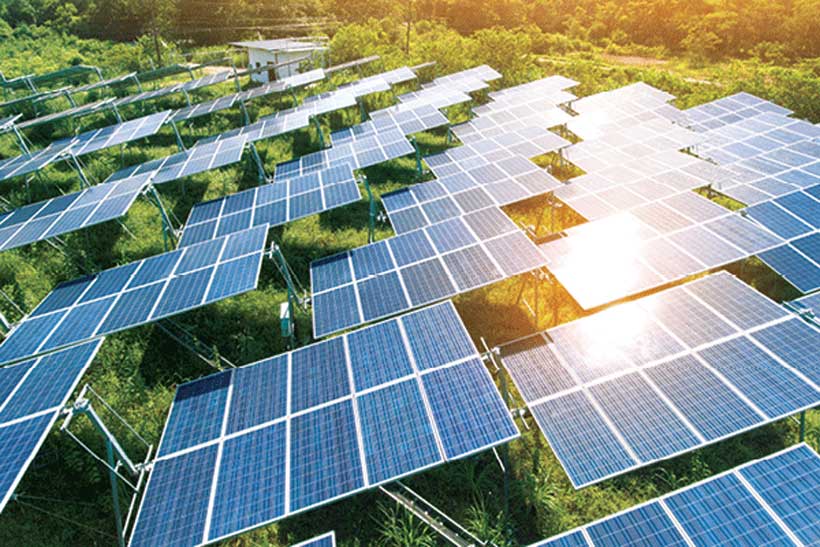 Chief executive officers (CEOs) and senior representatives of around 30 European companies expressed today their support for the European Green Deal as a growth strategy for Europe with a joint statement. The COVID-19 recovery is the opportunity to reset Europe's economy with a new growth model on the path to net-zero emissions, based on circularity, renewable energy and low-carbon industries.
The CEOs said they firmly believe the way out of the current crisis cannot be more of the same. They commit to reducing their carbon footprint and to embrace new production and work models to play their part in decarbonizing Europe's economy and achieving climate-neutrality by 2050.
"The COVID-19 pandemic requires a massive and coordinated economic stimulus to both mitigate the economic repercussions of the pandemic and, above all, to accelerate the necessary transition to a low carbon economy. We have to take more and faster action with more emphasis on sustainability and circularity. The European Green Deal presents an opportunity to do just this. It requires a strong partnership between business, politics and society. Together we can make Europe the greenest, most innovative and inclusive region in the world, where the Green Deal should provide jobs and economic prosperity at the same time. The action plan announced today by the WEF CEO Action Group for the European Green Deal is an important step with concrete actions to support this agenda." commented the CEO Action Group Co-Chairs, Axa's CEO Thomas Buberl and Feike Sybesma, Royal DSM's Honorary Chairman.

"The EU is putting in place the largest and greenest stimulus plan ever. It is the right time for businesses to show how they can effectively contribute to achieving the EU's climate targets. As a next step, this group is working on lighthouse projects, which demonstrate how to step up action in areas such as sustainable transport and mobility, food and agriculture and renewable energy markets," Børge Brende, President of the World Economic Forum, added.
The EU Commission President Ursula von der Leyen, in her State of the European Union speech today, is expected to reassert the Green Deal as a central element of Europe's growth strategy and the region's recovery efforts. Frans Timmermans, the European Commission's Executive Vice-President in charge of the European Green Deal, welcomed the CEO statement: "The Green Deal is a once-in-a-generation effort to transform our economy. It is crucial to have European businesses on board, as we'll need every company to contribute to climate neutrality and help deliver on the Green Deal. I very much support the efforts of the CEO Action Group to implement the European climate agenda."
CEOs and senior representatives supporting the statement are:
Michael Altendorf, Co-Founder and Chief Executive Officer, Adtelligence GmbH, Germany
Marco Alverà, Chief Executive Officer, Snam S.p.A., Italy
Claudia Azevedo, Chief Executive Officer, SONAE SGPS SA, Portugal
Kai Beckmann, Chief Executive Officer, Performance Materials, Member of the Executive Board, Merck, Germany
Dick Benschop, President and Chief Executive Officer, Royal Schiphol Group, Netherlands
Jesper Brodin, Chief Executive Officer, Ingka Group (IKEA), Netherlands
Thomas Buberl, Chief Executive Officer, AXA SA, France*
Levent Cakiroglu, Chief Executive Officer, Koç Holding AS, Turkey
Bertrand Camus, Chief Executive Officer, SUEZ, France
Liam Condon, President, Bayer Crop Science, Bayer AG, Germany
Claudio Descalzi, Chief Executive Officer, Eni SpA, Italy
Hanneke Faber, President, Foods and Refreshment Division, Unilever, Netherlands
Camilla Hagen Sørli, Member of the Board, Canica AS, Norway
André Hoffmann, Vice-Chairman, F. Hoffmann-La Roche Ltd, Switzerland
John Holland-Kaye, Chief Executive Officer, Heathrow Airport Holdings Limited, United Kingdom
Svein Tore Holsether, President and Chief Executive Officer, Yara International ASA, Norway
Paul Hudson, Chief Executive Officer, Sanofi, France
Nuno Matos, Chief Executive Europe, HSBC Holdings Plc, United Kingdom
Gerald Podobnik, CFO Corporate Bank, Deutsche Bank AG, Germany
Jonas Prising, Chairman and Chief Executive Officer, ManpowerGroup, USA
Nicolas Namias, Chief Executive Officer, Natixis, France
Yves Robert-Charrue, Member of the Executive Board and Head of Switzerland, Europe, Middle East & Africa, Bank Julius Baer & Co. Ltd, Switzerland
Michael Schernthaner, Chief Executive Officer, Schur Flexibles Group, Austria
Veronica Scotti, Chairperson, Public Sector Solutions, Swiss Re Management Ltd, Switzerland
Marco Settembri, Executive Vice-President and Chief Executive Officer, Europe, Middle East and North Africa, Nestlé, Switzerland
Feike Sybesma, Honorary Chairman, Royal DSM NV, Netherlands*
Jean-Pascal Tricoire, Chairman and Chief Executive Officer, Schneider Electric, France
Loic Tassel, President, Europe, Procter & Gamble, Switzerland
Bernhardt von Spreckelsen, Fashion Photographer & Developing Hyper Luxury, Brand Owner, Bernhardt von Spreckelsen, United Kingdom
The CEO Action Group for the European Green Deal, launched in autumn 2019 in cooperation with the World Economic Forum and the European Commission, seeks to mobilize business to step up commitments towards achieving the Green Deal and the EU greenhouse gas reduction targets for 2030 in order to drive a clean and inclusive economic recovery.
*Co-chairs of the CEO Action Group for the European Green Deal
UN spotlights transformational potential of family farming for world food supply
A Global Forum highlighting the UN's Decade of Family Farming (UNDFF) got underway on Monday, aimed at identifying priority policies to boost support for family farmers and agricultural development worldwide.
The UNDFF runs through the end of 2028, and the Forum is being convened by the UN Food and Agriculture Organization (FAO) and the International Fund for Agricultural Development (IFAD).
FAO Director-General QU Dongyu, pointed out in his video address to the Global Forum's opening that the world is moving backwards in its efforts to eliminate hunger and malnutrition.
Growing hunger
He said the number of people facing hunger increased in 2021, and it risks rising further especially among the most vulnerable, of which almost 80 percent live in rural areas and are small-scale, family farmers.
Family farmers around the world are also subject to the new challenges to food systems everywhere, created by the climate crisis, as well as conflict. The war in Ukraine has added further pressure, to already fragile agrifood systems, UN agencies said.
Mr. QU said the forum provides a way, firstly, to discuss "the unique role of family farmers in transforming our agrifood systems; two, take stock of achievements and challenges in the implementation of the UN Decade; and three, strengthen collaboration to ensure global food security, enhance livelihoods and achieve the Sustainable Development Goals".
80 percent
"Family farmers need to be at the centre of efforts to transform agrifood systems if we are to make real progress towards ending hunger," Mr. Qu said.
He added that "family farming is the main form of agriculture in both developed and developing countries and is responsible for producing 80 percent of the world's food," in terms of value.
Family struggle
He noted that often, these family farmers struggle to feed their own families.
Since its launch three years ago, the UN Decade of Family Farming has been promoting integrated policies and investments to support family farmers, and FAO has been assisting national implementation of international tools and guidelines to strengthen family farming, Mr. Qu told the virtual forum.
He also noted that FAO hosts the Family Farming Knowledge Platform to facilitate the exchange of experience, innovation and specialised knowledge.
In addition, the FAO Strategic Framework 2022-31 includes a priority area of work aimed at better supporting small-scale food producers and delivering concrete results.
Push for the future
The main objectives of the Global Forum are to provide a general overview of policy trends and the relevance of family farming to the global push towards reaching the Sustainable Development Goals; highlight the main outcomes of the first three years of implementation; and re-orient the UNDFF agenda through the practical lessons learned so far.
Participants include representatives from national governments, governmental agencies, UN agencies, family farmers and their organizations, civil society organizations, as well as NGOs; the private sector, the media and academia.
Microalgae promise abundant healthy food and feed in any environment
By Sofia Strodt
Feeding a growing world population that will reach 9.8 billion by 2050, according to United Nations forecasts, and the need to conserve natural resources for generations to come may seem conflicting at first.
But a solution, while not yet in sight, is certainly not out of reach. European scientists recently have developed an appetite for microalgae, also called phytoplankton, a sub-group of algae consisting of unicellular photosynthetic microorganisms.
Most people are familiar with the largest form of algae, kelp or seaweed. It can grow up to three metres long and, in some forms, is a well-known delicacy. The related species microalgae, which can be found in both seawater and freshwater, have gained attention in research due to their extraordinary properties.
These microscopic organisms can be used for animal feed, particularly in aquaculture, and various foods including pasta, vegan sausages, energy bars, bakery products and vegetable creams.
Most commercial microalgae cultivation centres on the production of dried biomass such as chlorella or spirulina powder as a food providing considerable health benefits. Some microalgae strains not only accumulate up to 65–70% of protein but also are sustainable sources of omega-3 fatty acids – a substance that is conventionally derived mainly from fish and fish oil.
Additional bioactive compounds, such as vitamins B12, K or D, mean microalgae contain significant health properties, potentially reducing the risk of cancer and cardiovascular illness.
Desert algae
'Microalgae can be cultivated in many different locations, under very different conditions,' said Massimo Castellari, who is involved in the Horizon-funded ProFuture project aimed at scaling up microalgae production. 'We can grow it in Iceland and in a desert climate.'
The technologies for the intensive cultivation of microalgae have been in development since the 1950s.
Today, microalgae are cultivated in open- or closed-system photobioreactors, which are vessels designed to control biomass production. The closed-system version, while more expensive to build, offers more control over experimental parameters and less risk of contamination.
The substance is by no means just a trendy food supplement. For example, in Chad, a landlocked, low-income country, the consumption of spirulina harvested from Lake Chad has significantly improved people's nutritional status because spirulina is an excellent source of proteins and micronutrients.
On top of its nutritional value, microalgae offer climate benefits by sequestering carbon dioxide as well as economic advantages by using farming areas more efficiently and – through the use of non-arable land – expanding the possibility of biomass production.
With a total of less than 57 000 tonnes cultivated in 2019, according to the UN Food and Agriculture Organization (FAO), production of microalgae is still very much in its early stages. By comparison, primary-crop output was 9.4 billion tonnes in 2019.
Food inflation
Russia's continuing war in Ukraine has highlighted just how vulnerable global food supply can be. Halts to Ukrainian grain exports and increases in energy prices have helped push food inflation around the world to record highs, with developing countries being hit disproportionately hard. In May this year, costs for food had risen by 42% compared with 2014-2016, the UN reported.
Last year, as many as 828 million people were affected by hunger – an increase of roughly 46 million compared with 2020 and a surge of 150 million since the outbreak of the COVID-19 pandemic.
The FAO projects that some 670 million people will still face hunger by the end of the decade.
While the benefits of cultivating organic microalgae for food and feed are substantial, market growth will require overcoming obstacles including a lack of automated production in the industry, according to Castellari, who works at the Institute of Agrifood Research and Technology in Barcelona, Spain.
'The automatisation is still not completely implemented,' he said. 'There are small producers in Europe – many steps still involve manual labour. So they are still working on optimising the process.'
Processed biomass
The challenges go well beyond cultivation. With microalgae, biomass has to be processed, cleaned and dried before a usable powder can be obtained. The next step is to scale up production to drive down costs.
In addition, there are regulatory challenges. Only a few species of microalgae are currently authorised in the European Union.
'In Europe it's still in a preliminary stage of development,' said Castellari. 'There are thousands of species of microalgae, but for food consumption or feed there are only seven species authorised.'
To gain knowledge about the possibilities to use other species, Castellari and his team are also investigating these other kinds of microalgae.
Due to these challenges, the portfolio of products containing microalgae remains limited today. But, if these hurdles can be overcome, the overall prospects for the microalgae industry are promising. Besides being a source of food and feed, the plant can be used for biofuels, cosmetics, fertiliser and health supplements.
Astaxanthin, a blood-red pigment extracted from algae, already has notable uses. A powerful antioxidant, astaxanthin can be found in seafood and is commonly used to colour shrimp. It is also sold in the form of pills as a food supplement.
Astaxanthin is thought to have potentially a positive impact on brain function, athletic performance and ageing skin, among other things.
Matteo Ballottari, associate professor of biotechnology at the University of Verona in Italy, helped start the European Research Council's Horizon-funded project AstaOmega simultaneously to produce astaxanthin and omega-3 fatty acids in microalgae for aquaculture and human nutrition.
Quality and quantity
Most omega-3 supplements are derived from fish oils. This, however, raises sustainability concerns such as damage to marine ecosystems as a result of overfishing.
'There is more demand for eating high-quality foods, along with an awareness for incorporating omega-3 rich ingredients in our diets,' Ballottari said. Responding to this trend while feeding a growing world population is 'a big challenge,' he said.
Meanwhile, on the astaxanthin front, the AstaOmega researchers have made progress. They have been able to obtain a new strain that can produce astaxanthin on its own, without needing to be "stressed". This means the researchers don't have to change production parameters such as light intensity, temperature or nitrates concentration. Also, extracting the substance has become easier, resulting in lower costs.
Scientists agree that microalgae have the potential to change the ways in which we eat for the better.
'Microalgae can help us to increase the protein production within Europe to reduce our dependence on other countries,' said Castellari of the ProFuture project.
Research in this article was funded by the EU and it was originally published in Horizon, the EU Research and Innovation Magazine.
Integrating Climate Change into Nepal's Development Strategy Key to Build Resilience
TheWorld Bank Group's Country Climate and Development Report for Nepal underscores the urgency of building resilience to climate change and recommends policies and investments for integrated climate and development solutions for green, resilient, and inclusive development.
Nepal's supply chains, farmers, and urban dwellers are already facing devastating climate impacts such as landslides, droughts, and flooding. Without concerted steps to shore up resilience, future climate hazards will threaten the country's long-term development. Climate variability is already a major driver of food insecurity and poverty in Nepal, with increased flooding and heat stress seen in the southern regions, while the north experiences increased landslides, water stress, and glacial lake overflow. The report states that Nepal's GDP could be at least 7 percent smaller by 2050 due to unchecked climate impacts.
As Nepal's economy grows, it also needs to address its greenhouse gas and air pollution emissions. While the country is a negligible contributor to climate change – producing 0.1 percent of total global greenhouse gas emissions – the country's emission rate is growing rapidly. Nepal also has one of the highest levels of air pollution in the world, with emissions from transport, biomass burning, and industrial activities significantly impacting health and productivity.
"With increased evidence of more severe climate change impacts, Nepal stands at a critical juncture to embark on a path for recovery and growth that is more sustainable, more inclusive, and more resilient to future shocks," said World Bank Vice President for South Asia Martin Raiser. "The good news is that the country's notable successes in community forestry and hydropower investments are a strong foundation for future climate-smart growth."
Nepal has pledged to achieve net zero emissions by 2045 and to significantly scale up hydropower investment in the coming decade. In 2021, Nepal adopted the Green, Resilient and Inclusive Development (GRID) approach as a national vision to guide long-term green growth and build resilience to climate and other shocks that are barriers to Nepal's development ambitions. Under Nepal's federal structure, the local governments are placed at the center of climate resilience and development efforts with extensive implementation responsibilities and play a crucial role in translating the GRID strategy into action.
To help Nepal achieve its development goals while implementing its climate commitments, the report proposes actions on two fronts: building resilience to climate impacts and pursuing public and private investments in low-carbon solutions, notably hydropower and its export. The report also highlights that women, indigenous people, and other marginalized groups are often excluded from mainstream development and suffer from cumulative and cascading impacts of climate change and disasters.
Based on the report's modeling and analytical work, the World Bank Group recommends four priority transitions.
Taking an integrated approach to water, agriculture, and forests. Nepal's agriculture and forestry sectors together comprise 24 percent of GDP and provide the main source of livelihoods for the poor. Agriculture will be hard hit by climate variability which strains forests, soil, water, and other natural assets in the rural landscape. To shore up resilience, the report recommends enhancing water resource management, including water storage investments; embracing climate-smart agriculture; and transitioning to sustainable forest management.
Harnessing the hydropower opportunity. Nepal has among the world's largest hydropower potential, which can enable the decarbonization of the country and its higher-emitting neighbors. The report finds that an annual average of US$200 million of additional export revenues could be generated from 2022 to 2025. Hydropower development also offers the potential to grow climate-smart solutions such as electric mobility and green hydrogen. To prepare for this opportunity, more work is needed to assess climate impacts on future river flow, invest in supporting infrastructure to firm up exports, engage the private sector more systematically, and continue to work with regional partners.
Managing sustainable urbanization. Nepal is the fastest-urbanizing country in South Asia, and cities can benefit from the climate transition catalyzing new jobs, innovation, and improved service delivery to residents. To tap into these opportunities, the report recommends strategic urban planning to invest in municipal solid waste and water treatment infrastructure, green, resilient buildings, and low-carbon transport options such as e-mobility and mass transit.
Strengthening low-carbon resilient connectivity. Road transport is critical to Nepal's economic development; disaster-related closures and damage lead to reduced access to jobs, healthcare, and education, and lower profitability for businesses. The report estimates that the costs of climate damages to the transport sector could be as much as US$250 million annually. To increase resilient connectivity, Nepal can shore up the most critical transport corridors and develop a climate-smart maintenance plan.
To support these transitions, Nepal needs to prioritize three key enablers: scale-up all types of finance for resilience and low-carbon development; strengthen household and community resilience through social protection and well-managed built and natural capital; and strengthen governance for climate change and disaster risk management through deeper federalization of responsibilities.
"Nepal's transition to a prosperous low-carbon economy that is resilient to climate adversity will also require significant mobilization of private expertise and capital," said Ruth Horowitz, IFC's Regional Vice President for Asia and the Pacific. "The private sector already plays a crucial role in harnessing clean energy—and with targeted reforms, more private finance, including foreign direct investments, can be crowded in to sustainably green the entire economy while reducing fiscal pressure on public finance."