With economies experiencing contractions across the globe and with governments in the third world most vulnerable, discussions of debt relief have been revived. Yet, forgiving old debts is nothing new to the Kremlin. For the Russian government, it has been just one part of a wider diplomatic toolkit to rekindle ties that have faltered since the end of the Cold War.
Once the primary backer of numerous states over large swathes of the globe, Moscow largely retreated from the non-Soviet space during the presidency of Boris Yeltsin and it continued to not be a primary concern during Vladimir Putin's first two terms as head of state. However, Russia's resurgence on the international arena over the past few years has not only made the country more willing to re-engage with the region but also more capable.
International media has primarily viewed this through the lens of military strength. Whether it is sending trainers and advisors to the Central African Republic, allegedly supporting rebels in Libya, or deploying Wagner Group forces to fight an Islamic State-offshoot in Mozambique, the focus has primarily been conflict-oriented. However, less explored is the quieter and more economic measures that the Russian government has taken in order to win hearts and minds outside of the West.
As part of a debt-for-development programme, Russia has forgiven approximately $20 billion worth of debt to various African governments that was accrued during the Soviet period. Beneficiaries include the Commonwealth nation of Tanzania and Francophonie member Madagascar, along with others. In forgiving these loans, the Kremlin has acknowledged a reality that many countries continue to deny: such debts are unpayable. At the first ever Russia-Africa Summit, Putin stated explicitly that "It was not only an act of generosity, but also a manifestation of pragmatism, because many of the African states were not able to pay interest on these loans."
These measures have yielded concrete benefits for the previously indebted countries. For example, the decision to forgive Mozambique's $40 million debt was done in conjunction with the United Nations World Food Programme, with the money that was intended for debt repayment instead being used to provide free school meals for 150,000 children over the course of five years.
While Russia will potentially be losing some money in the short term, debt forgiveness is likely to open new doors moving forward. Many of the countries that have seen their debts written off have significant economic and geopolitical potential. With improved political relations as a consequence, it is hoped that Russian companies will get preferential treatment should contracts be offered to international firms. This could help explain the Kremlin's decision to forgive 90% of North Korea's $11 billion debt despite the latter's weak position. Russia has been eager to develop a trans-Korean gas pipeline that would transport fuel to South Korea. While the likelihood of this being realised remains slim, in the context of Pyongyang's inability to repay the debt in any case, it is a reasonable gamble to make on the part of the Russian government.
This is somewhat similar to China's efforts over the past few years, albeit in an inverse form. With Beijing less cash-strapped than Moscow, it is able to invest directly whereas Russia is using debt forgiveness to redirect cash payments away from servicing old debts and instead towards domestic reinvestments. Free projects, such as the Chinese-funded and constructed headquarters of the African Union, have been followed by ever-growing economic and political relations.
Russia's debt policy has been used to strengthen existing alliances and partnerships. While not all Soviet-era allies have retained close ties to Moscow, many have done so continuously since the Cold War. One of the biggest beneficiaries of Russian debt forgiveness has been Cuba. In July 2014, ahead of a visit to the island nation by Putin, the Russian government wrote off 90% of Cuban debt. Though Russia was not only the country that showed willingness to restructure Cuba's debt obligations at the time, it was by far the most generous. China restructured approximately $6 billion while Japan and Mexico forgave $1.4 billion and $478 million, respectively; Russia forgave $32 billion.
The decision did reaffirm the close relations between Moscow and Havana. Cuba has repeatedly voted in support of the Russian Federation at the United Nations on sensitive topics, such as Crimea, and Russian firms have received multiple drilling and mining contracts from the Caribbean country.
However, this strategy has its limitations. The overwhelming majority of these debts date back to the Soviet era and are therefore limited in scope. Some countries, such as Angola and Ethiopia (which saw most of their debts forgiven in the 1990's), were primarily recipients of military support during civil wars so their debts were not as vast as other heavily indebted countries with other creditors. Since then, despite respite from Moscow, such countries have continued to become increasingly burdened by growing debts. While Ethiopia is often heralded as an example of rapid economic growth, its debt, both in total but also has a percentage of GDP, has grown considerably during the post-Soviet era.
While debt relief is undeniably beneficial to the third world, the fact that Russian-owned debts constitute a mere fraction of all foreign-owned debts in most cases means that the act of writing debts off cannot achieve much in of themselves. Consequently, in several countries, the gesture is mostly a PR move. In the case of Afghanistan, where Russia was the largest creditor due to loans handed out during the 1980's, Kabul had for decades refused to recognise the debt. The decision to forgive the debt was therefore more of a signal of a desire to improve relations than any hope to achieve instantaneously tangible rewards.
The largest stumbling block for the Kremlin's efforts remain structural issues afflicting the indebted nations, the nature of which vary considerably from country to country. For example, while Russia has forgiven a majority of Iraq's debt to the country, which in turn helped revive talks over potential oil contracts, the continued instability in the Middle Eastern nation makes it difficult to reap many benefits. Though it is true that Baghdad has continued to purchase Russian T-90 tanks and attack helicopters, this is more of a sign that Russia has partially managed to pivot Iraq away from the United States' sphere of influence as opposed to gaining economically.
With the onset of coronavirus, however, Russia might not be the leading debt forgiver for very long. In places such as sub-Saharan Africa, where economies are expected to continue shrinking while deficits are set to grow, other creditors could potentially step in and likewise forgive debts. In April of this year, G20 leaders agreed to extend debt relief in the form of a moratorium on debt repayment yet this can only serve as a short term solution. With many governments already increasing their borrowing, creditor nations are well positioned to leverage their position in order to improve geopolitical relationships as well as set the stage for favourable contracts for their firms. If more countries follow Moscow's path, then the significance of what the Kremlin has done will only recede and lose much of its relevance.
Debt forgiveness can win friends but can only go so far. For Russia's diplomatic maneuvers to stick, they will need to continue complementing it with other efforts, such as improving trade and boosting security partnerships, in order to truly make the most of its financial generosity.
Eight Principles of the "Greater Eurasian Partnership"
It is common knowledge that Eurasia is the largest continent on Earth, spanning over one-third of the planet's total area. It is also the most populous, with over two-thirds of the global population calling the continent home. Eurasia has tremendous natural resources, from oil and gas to freshwater and fertile lands. The peoples of Eurasia can be rightfully proud of the fact that it was here that the oldest human civilizations first appeared, that they have managed to settle in both scorching deserts and freezing tundra, built huge cities and wonderful architectural monuments, laid extensive networks of railways and motorways, and made an invaluable contribution to human culture in all its aspects.
It would only be natural for the sprawling spaces of Eurasia to become united in a single system, where different geographic components would organically complement each other. It would be natural for customs tariffs and visa restrictions dividing our countries to become a thing of the past, for mutual suspicions, long-standing grievances and endless disputes to give way to mutual understanding, a multilateral balance of interests, and an awareness of our common historical destiny. Such a union would primarily benefit the peoples of the Eurasian continent, who would be able to expand their horizons, shed their old fears and biases, and gain radically new opportunities for economic, social and spiritual prosperity. Eurasian unification would also benefit the rest of the world, which would be the beneficiary of a powerful development engine ready to pull other continents along with it and make a decisive contribution to resolving the global problems facing humanity.
Sadly, the Eurasian continent continues to be disjointed or, rather, split into a host of large and small fragments. This applies to Eurasian security, the Eurasian political space, the Eurasian economy, and science and culture. Right now, the concept of "Eurasian identity" does not even exist, and the numerous attempts to construct one have not brought anything particularly promising.
The current lack of unity in Eurasia can be put down to a number of factors – the continent's trying history, the tragic mistakes of national leaders, the nefarious activities of external forces, and so on. However, whatever the reasons for the current circumstances might be, it is crystal clear that radically changing the situation will take both strong political will and a generous helping of perseverance, patience and flexibility, as well as a readiness to deal with unexpected failures, irritating reversals of fortune and temporary setbacks. What is more, Eurasia will never be unified if it is something the continent's inhabitants do not seek. And right now, it is something that only the leaders of certain Eurasian states want. Success here also depends on selecting the right sequence of practical steps that would lead to a single Eurasian space.
The "Greater Eurasian Partnership Concept" first introduced by President of the Russian Federation Vladimir Putin in late 2015 proceeds from the premise that the first steps in this direction should be taken in the economic architecture of the Eurasian continent, rather than in the political or military spheres. The economy forms the base of modern society, even though politics frequently gain the upper hand over economics in terms of imposing priorities and precepts on states. Yet, ultimately, no one can ignore their economic interests. As a rule, these interests are more stable, more rational and less subject to the influence of subjective factors than political precepts. Comparing the two most memorable attempts to unite Eurasia in the past – one by force (the Mongol Empire) and one through trade (the Great Silk Road), we cannot but conclude that trade ties generally proved a more reliable unification tool than armed violence.
Consequently, Eurasian unification today should start with the economy. The Partnership envisions consistent progress towards a network of free trade areas and inter-regional trade and economic alliances, and connecting integration projects throughout the vast Eurasian space. It is crucial that the practice of politicizing economic ties be eliminated and unilateral economic sanctions or other forms of economic pressure as a foreign policy instrument be abandoned.
We are clearly talking about an extremely ambitious project here that will take decades to implement, at the very least. It would not be much of an exaggeration to say that the economic consolidation of Eurasia would be the most ambitious integration project of the 21st century. Nevertheless, we can already identify several basic principles that underlie this initiative and set it apart from other plans of Eurasian unification. Let us list of the most important of these principles.
First, the Partnership is not viewed as a potential competitor for regional integration structures (ASEAN, EAEU, RCEP) or trans-border economic projects (BRI) or organizations (the SCO, APEC, ASEM). On the contrary, all of those structures, projects and organizations are seen as nodes and individual parts of the future single Eurasian economic mechanism. The objective of the Partnership is to assemble these parts and nodes together without detriment to those elements that have already demonstrated their efficiency.
Second, the Partnership is not a union of the Eurasian East against the European West. Ultimately, Europe is a large peninsula in the north-west of the Eurasian continent, and it should not be opposed to Eurasia – rather, it should become an integral part of it. Therefore, the Partnership remains open for the European Union, which could join the activities of the Partnership in the forms and to the extent that it deems appropriate.
Third, when building the Partnership, the parties need to proceed from the understanding that significant differences will remain in the models of their social, political and even economic development. Eurasia has socialist states and liberal democracies, market and planned economies. The Partnership does not set itself the task of eliminating political plurality and imposing some common denominator or a single set of values. The activities of the Partnership should be based on universally recognized norms of international law and offer the best level of comfort for all participants. Equally, the Partnership should not have leaders and outsiders, "pilots" and "wingmen," a "central nucleus" and a "periphery," as is the case with many integration projects.
Fourth, unlike the rigid integration structures like the European Union, the Partnership envisages highly flexible forms of involving individual states or their regional groups in its activities. As they are ready, these countries may join individual dimensions of the Partnership (trade, finance, infrastructure, visa, etc.) with due account of their current needs and capabilities.
Fifth, even though the Partnership is focused on the economic unification of the Eurasian continent, the expansion of economic interaction will inevitably influence other areas of cooperation, such as science and education, culture and humanitarian contacts. Eurasian integration will fail if it is reduced to increasing trade and investment. Social interaction between the peoples of Eurasia and the economic cooperation between Eurasian states should supplement and stimulate each other.
Sixth, it is impossible to develop economic integration projects in Eurasia without simultaneously creating a parallel process of bolstering continental security and resolving problems inherited from the 20th century and earlier. These problems include territorial disputes, separatism, the "divided peoples" phenomenon, the arms race, the danger of WMD proliferation, international terrorism and religious extremism. Consequently, the building of the Partnership should go hand in hand with developing mechanisms for military and political cooperation on the continent, such as the Conference on Interaction and Confidence-Building Measures in Asia (CICA).
Seventh, implementing the Partnership project should never mean "Eurasian isolationism," i.e. closing Eurasian states off from partners in other regions, be it Africa, or North or South America. On the contrary, migration within the Eurasian space should serve as a powerful incentive for further developing economic ties in the basins of the Pacific, Atlantic and Indian oceans, and for achieving progress in resolving such universal human problems as climate change, combating pandemics, ensuring food and energy security, and managing migration.
Eighth, the building of the "Greater Eurasian Partnership" should proceed from the ground up, and not top-down, that is, it should be based on specific, even if very modest agreements between regional integration unions and individual states. Concluding the work on connecting the EAEU and the BRI should be the crucial first stage in building the Partnership. Creating independent Eurasian payment systems and rating agencies, decreasing dependence on the U.S. Dollar, establishing a Eurasian economic information centre like the OECD, etc., are other promising areas of activity.
Even though the idea of the "Greater Eurasian Partnership" was first put forward about five years ago, we are still in the very beginning of a lengthy historical project. At the moment, we can only talk about some very preliminary pencil sketches of the very complex Eurasian structure of the future. These sketches contain more questions about the future of our continent than they do answers. This is why broad international expert interaction to work out individual elements of the future roadmap for this colossal continental project is particularly important today. Bilateral cooperation between Russian and Chinese experts in international relations, economics, sociology and security could play a very important role in this process.
From our partner RIAC
Development of human capital is the key goal of BRICS: The outcomes of BRICS Civil Forum 2020
On September 23-25, the international multimedia press center of Russia hosted an online conference in Moscow, focusing on the results of the BRICS Civil Forum 2020.
Speakers listed the cases and measures pertaining to their implementation as part of previous groups, and announced the topics of their upcoming meetings.
Victoria Panova, co-chair of the BRICS Civil Forum and Managing Director of the National Committee on BRICS Research, said that a total of eight working groups were present at the forum, including dedicated groups on ecology, digital economy, culture, science and education. Panova pointed to the development of human capital as the primary goal of the forum.
"We all remember how, during a meeting by world leaders in Brazil, Vladimir Putin laid out measures aimed at boosting the living standards and quality of life of the peoples of the five BRICS countries as the main goal of this organization," she emphasized.
Each year, the BRICS organization is becoming more independent and cohesive across the board, including through the use of digital technologies.
Victoria Panova also enumerated the main recommendations and measures based on the results of the work done by some groups. For example, recommendations made by the Healthcare group in 2015 on measures to handle a global pandemic have been supplemented. As part of the Education and Science group, the BRICS Network University and the BRICS University League have been created and now start working together. The group on ecology, which faces a host of paramount and urgent tasks, deserved a special mention.
Oleg Zhiganov, co-chairman of the BRICS Civil Forum's Information Strategies and Society working group, said that they would concentrate on the issue of post-truth in the modern-day media of the BRICS countries.
"During this event, we agreed with our colleagues that we will speak the truth and nothing but the truth," Zhiganov said, having in mind critical approach and fact-checking in a rapidly developing information society.
"The main thing that we are going to discuss is providing support for educational projects in universities and schools in order to instill a sense of critical thinking in young people and the ability to assess the objectivity of certain facts," Zhiganov noted.
Natalia Tsaizer, co-chair of the BRICS Civil Forum's Women and Girls working group, shared the results of her group's meetings, highlighting the current issue of gender equality in the BRICS countries. She noted that her working group is out to eliminate gender imbalance and equalize men and women when it comes to career growth and their role in decision-making structures, including in the military.
"There are a huge number of areas in the economy, politics, and the social sphere, where women are underestimated in terms of their involvement in the processes, not only as observers, performers and 'beautifiers' of the working process, but as actors ready to make decisions, set goals and implement them," Tsaizer said.
The issue of gender equality is extremely relevant not only in the BRICS countries, but elsewhere in the world. However, while it is imperative to provide equal opportunities for men and women to be involved in various organizations, Natalia Tsaizer still warned against sliding into what she described as "militant feminism." The participants in the working group's meeting proposed involving women in the decision-making process in various areas, and setting up anti-crisis committees within BRICS where women would make up at least 50 percent of their membership.
"On the one hand, this is quotas, but on the other, this is something we just can't do without because we need to regulate our presence that we could rely on," Tsaizer argued. She also noted that right now the working group consists of women only, since men are not very actively involved in tackling such issues, even though achieving gender balance is high on the agenda of the Women and Girls group.
Stepan Kanakin, the coordinator of the BRICS Civil Forum, answered questions regarding the technical aspects of organizing the forum in conditions of a pandemic.
From our partner International Affairs
Did Russia-China Relations Successfully Pass the "COVID," "Hong Kong," "India" and "Belarus" Tests?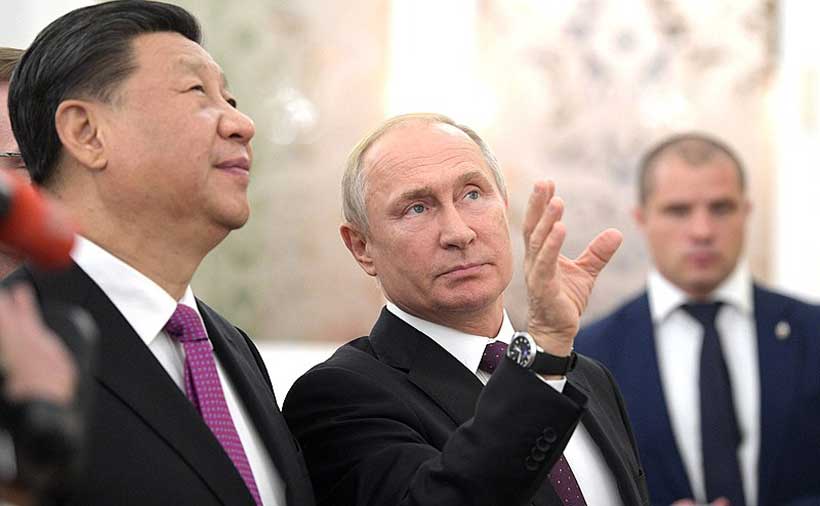 Russia-China relations have been steadily improving since at least 2013, when the leaders of both countries presented a joint statement calling for deepening bilateral relations of "comprehensive strategic partnership of coordination." This formula has been modified with an addition of the "new era," signifying both countries recognising new global challenges and the changing geopolitical environment. COVID-19 has largely contributed to the intensification of certain trends, including antagonism with the U.S. and the pursuit of more robust bilateral ties.
If before both countries would challenge and combat U.S. hostility (economic sanctions, political pressure, adversary rhetoric, etc.) mainly on their own, they are now more inclined to align and coordinate actions to elaborate more coherent voices towards the West. In late July, Russia's Ministry of Foreign Affairs stressed that the U.S. could not drive a wedge between Russia and China by expecting Moscow to join its anti-China alliance. Rather, Russia views further improvement of relations with China as a major factor that will contribute to stability in global politics.
In May, the Chinese Ministry of Foreign Affairs noted that, amid the virus outbreak, bilateral support between Russia and China became a safe fortress for "political viruses." During a telephone conversation in July, Putin and Xi stressed that the agenda for the strategic partnership in Russia-China relations was materialised during the pandemic in the form of mutual help provided at a critical moment.
China and Russia have recently demonstrated the historical legacy of their close relations through the publication of a co-authored report by Russian and Chinese ambassadors to the U.S. The report unambiguously states that all countries must combine their efforts to tackle pressing issues such as climate change, terrorism, world pandemics, economic downturns, etc. These concerns are all focal points in which Russia and China have achieved mutual understanding.
Notably, even during the very vague political gridlock of the Belarusian leadership in the aftermath of the August presidential elections, China and Russia immediately demonstrated their support to the re-elected president Lukashenko. While President Putin congratulated the Belarusian president with a telegram, President Xi-Jinping opted for a personal phone call, during which he reassured Mr Lukashenko of China's strong commitment to "push forward Chinese-Belarusian comprehensive strategic partnership." Such profound political signals did not go unnoticed in Minsk, which has expressed gratitude to Russia and China for their support during these challenging times. China's position on Belarus is important for Russia, as Moscow regards Belarus as its closest and most faithful ally. Belarus is now moving towards a higher level of political and economic integration with Russia, becoming a "Union State."
As a signal of recognition and respect for Chinese core interests, Russia extended its support to China over Hong Kong, which came under the global spotlight following the introduction of the National Security Law in June. In a very crucial moment for China, when it received widespread criticism from all other major powers, Russia bluntly stressed that "the situation in Hong Kong as a purely internal matter of China," thus fending off all speculation on the city's juridical status.
China and Russia have recently vowed to strengthen their coordination on international platforms, which was seen in early July in the UN during their opposition to the extension of cross-border aid in Syria. The opposition to the U.S. initiative in June within the UN Security Council to reimpose an arms embargo on Iran following the break-up of the 2015 nuclear deal was another display of harmonised action. Multiple international issues were touched upon during the meeting between the Russian and Chinese foreign ministers on September 11. Both countries reaffirmed the "closeness of their views on effective solutions to them," and stressed that "the destructive character of Washington's actions undermines global strategic stability." Overall, the meeting once again confirmed the shared views of Russia and China in both the multilateral and bilateral dimensions.
The Russia-India-China format has made significant progress after a period of relatively little activity. The latest gathering of the RIC group took place in June. At that time, Moscow highlighted that India-China border conflicts were to be solved based on bilateral agreements only. Recently, Moscow has initiated negotiations between the defence ministers of India and China in order to find conflict mitigation solutions. As a result, Chinese and Indian officials met for the first time since the border dispute in May.
By organising peace talks involving China and India, Russia is playing a critical role in regional affairs. The upcoming meeting of the respective ministers of foreign affairs reinforces this statement. Meanwhile, the U.S. has repeatedly pitched its own candidacy as an intermediary, with the most recent attempt in early September. Russian media positioned the Moscow-hosted China-India meeting on September 10 as a rare foreign policy success. During their "frank and constructive" discussion in Moscow, India and China reached an important agreement to deescalate border tensions which are not in "the interest of either side."
Economically, Sino-Russian cooperation experienced a COVID-19 blow, with trade volume falling by 5,6 per cent in June, amounting to USD 50 billion. Although it may have a tangible impact on the annual statistics, moving the 2019-set milestone for 2024 away from the predicted USD 200 billion in trade follows the global trend of economic contraction, with consumer demand in free fall. For example, the overall volume of Chinese foreign trade from January to June dropped by 6,6 per cent. However, this trade contraction reflects more about global trade dynamics at the moment than changes in Russia-China relations.
As a recent sign of combined efforts to contain U.S. global ambitions, Russia and China were able to decrease U.S. dollar transaction for trade to its historical minimum – from 51 per cent in 2019 to 46 per cent in 2020. The same trend for intensified bilateral cooperation can also be seen in the energy sphere. Following the successful launch of "Power of Siberia" last December, the Russian state energy giant "Gazprom" is embracing a new audacious initiative, the "Power of Siberia-2" gas pipeline. The project will connect Russia, China and Mongolia. On behalf of the President of Russia, Gazprom started the design and survey work on the project in May.
Energy cooperation remains a crucial element of bilateral relations. Fresh statistics show that in July, Russia once again secured its position as the largest importer of oil to China, with a 30 per cent spike. This amounted to 7.38 million tons (compared to 2019). In April, Russia took over Saudi Arabia as the biggest crude oil supplier, delivering 7.2 million tons. This is 18 per cent more than in 2019.
Russia-China relations represent a "strategic partnership," which means that the two countries view themselves as partners on strategic issues. Indeed, on a majority of topics, be it global governance, world economic structure, geopolitics or security, Russia and China are on the same page. Many of them are of strategic significance pertaining to both sides. Both countries enjoy fruitful cooperation on multilateral platforms such as BRICS, SCO and the UN.
Nevertheless, despite their flawless facade, Russia-China relations have a weak spot – their difference in strategic and national interests. This is normal for global powers. For example, Beijing can never compromise its core national interests such as the South China Sea (SCS), Xinjiang, Taiwan, and Tibet, even to please its tried and tested partner, Moscow. This explains why China has repeatedly pressured Vietnam to halt all oil extraction activities in the SCS over the last two years. This has resulted in Vietnam suspending business cooperation in the SCS with the Russian state oil giant, Rosneft. On the other hand, Russia will never put its core interests at risk (especially concerning territorial integrity), irrespective of Beijing's rhetoric concerning Russian Far East territories.
As long as Russia and China base their partnership on coinciding strategic interests and avoid any ubiquitous and provocative moves – their relations are likely to remain in the current burgeoning state or under the best circumstances can even be elevated to a higher level. Overall, during the first half of the year, relations between China and Russia were challenged several times. Despite some small cracks, like decreasing trade and frictions regarding energy projects in the South China Sea, their flawless mutual propaganda remains untarnished. As long as they can maintain a close and mutually beneficial bilateral tie, they should be able to endure any future challenges with ease.
From our partner RIAC