Will They or Won't They? Saudi Recognition of Israel is the $64,000 Question
Will the Saudis formalize relations with Israel or will they not? That is the 64,000-dollar question.
The odds are that Saudi Arabia is not about to formalize relations with Israel. But the kingdom, its image tarnished by multiple missteps, is seeking to ensure that it is not perceived as the odd man out as smaller Gulf states establish diplomatic relations with the Jewish state.
Bahrain's announcement that it would follow in the footsteps of the United Arab Emirates was as much a Bahraini move as it was a Saudi signal that it is not opposed to normalization with Israel.
Largely dependent on the kingdom since Saudi troops helped squash mass anti-government protests in 2011, Bahrain, a majority Shia Muslim nation, would not have agreed to establish diplomatic relations with Israel without Saudi consent.
The Bahraini move followed several other Saudi gestures intended to signal the kingdom's endorsement of Arab normalization of Israel even if it was not going to lead the pack.
The gestures included the opening of Saudi air space to Israeli commercial flights, and publication of a Saudi think tank report praising Crown Prince Mohammed bin Salman's stewardship in modernizing the kingdom's religious education system and encouraging the religious establishment to replace"extremist narratives" in school textbooks with "a moderate interpretation of Islamic rhetoric."
They also involved a sermon by Abdulrahman al-Sudais, the imam of the Grand Mosque in Mecca – the world's largest mosque that surrounds the Kaaba, Islam's holiest site, that highlighted Prophet Mohammed's friendly relations with Jews.
Mr. al-Sudais noted that the prophet had "performed ablution from a polytheistic water bottle and died while his shield was mortgaged to a Jew," forged a peace agreement with Jewish inhabitants of the Khaybar region, and dealt so well with a Jewish neighbor that he eventually converted to Islam.
The imam's comments, a day before US President Donald J. Trump was believed to have failed to persuade King Salman to follow the UAE's example, were widely seen as part of an effort to prepare Saudi public opinion for eventual recognition of Israel.
Criticism on social media of the comments constituted one indication that public opinion in Gulf states is divided.
Expression of Emirati dissent was restricted to Emirati exiles given that the UAE does not tolerate expression of dissenting views.
However, small scale protests erupted in Bahrain, another country that curtails freedom of expression and assembly. Bahraini political and civil society associations, including the Bahrain Bar Association, issued a statement rejecting the establishment of diplomatic relations with Israel.
"What results from normalization will not enjoy popular backing, in line with what generations of Bahrainis have been brought up on in terms of adherence to the Palestinian cause," the statement said.
Bahrain has long been home to a Jewish community and was the first and, so far, only Arab state to appoint a Jew as its ambassador to the United States.
The criticism echoes recent polls in various Gulf states that suggest that Palestine remains a major public foreign policy concern.
Polling by David Pollock of The Washington Institute for Near East Policy found that Palestine ranked second to Iran.
Earlier polls by James Zogby, a Washington-based pollster with a track record that goes back more than a decade, showed Palestine ranking in 2018 as the foremost foreign policy issue followed by Iran in Emirati and Saudi public opinion.
The same year's Arab Opinion Index suggested that 80 percent of Saudis see Palestine as an Arab rather than a purely Palestinian issue.
Mr. Pollock said in an interview that with regard to Palestine, Saudi officials "believe that they have to be a little cautious. They want to move bit by bit in the direction of normalizing at least the existence of Israel or the discussion of Israel, the possibility of peace, but they don't think that the public is ready for the full embrace or anything like that."
Gulf scholar Giorgio Cafiero noted in a tweet that "Israel formalizing relations (with) unelected Arab (governments) is not the same as Israel making 'peace' (with) Arab people. Look at, for example, what Egypt's citizenry thinks of Israel. Iran and Turkey will capitalize on this reality as more US-friendly Arab [governments] sign accords [with] Israel."
This year's Arab Opinion Index suggest that in Kuwait, the one country that has not engaged with Israel publicly, Turkey—the Muslim country that has taken a lead in supporting the Palestinians—ranked highest in public esteem compared to China, Russia, and Iran.
A rift in a UAE-backed Muslim group created to counter Qatari support of political Islam and promote a state-controlled version of Islam that preaches absolute obedience to the ruler serves as a further indication that Palestine remains an emotive public issue.
In Mr. Al-Sudais' case, analysts suggest that the criticism is as much about Palestine as it is a signal that religious leaders who become subservient to the whims of government may be losing credibility.
Mr. Al-Sudais' sermon contrasted starkly with past talks in which he described Jews as "killers of prophets and the scum of the earth" as well as "monkeys and pigs" and defended Saudi Arabia's conflict with Iran as a war between Sunni and Shiite Muslims.
The criticism coupled with indications earlier this year that Saudi Arabia's religious establishment was not happy with Prince Mohammed's handling of the coronavirus pandemic may be one reason why Saudi Arabia is gesturing rather than formalizing already existing relations with Israel.
Authorities reportedly arrested in March Sheikh Abdullah al-Saad, an Islamic scholar, after he posted online an audio clip criticizing the government for banning Friday prayers. Mr. al-Saad argued that worshippers should be able to ask God for mercy.
An imam in Mecca was fired shortly after he expressed concern about the spread of the coronavirus in Saudi prisons.
Scholars Genevieve Abdo and Nourhan Elnahla reported that the kingdom's Council of Senior Clerics had initially drafted a fatwa, or religious opinion, describing the closing of mosques as a violation of Islamic principles. They said that government pressure had persuaded the council not to issue the opinion.
Concern among the kingdom's ultra-conservative religious scholars that the ruling Al-Saud family may break the power-sharing agreement with the clergy, concluded at the birth of the kingdom, predates the rise of King Salman and Prince Mohammed.
Indeed, the clerics' concern stretches back to the reign of King Abdullah and has focused on attitudes expressed both by senior members of the ruling family who have since been sidelined or detained by Prince Mohammed and princes that continue to wield influence.
The scholars feared that the ruling family contemplated separating state and religion. This is a concern that has likely been reinforced since Prince Mohammed whipped the kingdom's religious establishment into submission and downplayed religion by emphasizing nationalism.
Ultra-conservative Saudi religious scholars are also certain to have taken note of post-revolt Sudan's recent decision to legally remove religion from the realm of the state.
Ultra-conservative sentiment does not pose an imminent threat to Prince Mohammed's iron grip rule of a country in which many welcomed social reforms that have lifted some of the debilitating restrictions on women, liberalized gender segregation, and the as yet unfulfilled promise of greater opportunity for a majority youthful population.
It does however suggest one reason why Prince Mohammed, who is believed to favor formal relations with Israel, may want to tread carefully on an issue that potentially continues to evoke passions.
An initial version of this story was first published by Inside Arabia
UAE-Israel relations risk being built on questionable assumptions
A year of diplomatic relations between the United Arab Emirates and Israel has proven to be mutually beneficial. The question is whether the assumptions underlying the UAE's initiative that led three other Arab countries to also formalise their relations with the Jewish state will prove to be correct in the medium and long term.
UAE Crown Prince Mohammed bin Zayed laid out the strategic assumptions underlying his establishment of diplomatic relations, as well as its timing, in a conversation with Joel C. Rosenberg, an American-Israeli evangelical author and activist, 18 months before the announcement.
Mr. Rosenberg's recounting of that conversation in a just-published book, Enemies and Allies: An Unforgettable Journey inside the Fast-Moving & Immensely Turbulent Modern Middle East, constitutes a rare first-hand public account of the Emirati leader's thinking.
Mr. Rosenberg's reporting on his conversation with Prince Mohammed is largely paraphrased by the author rather than backed up with quotes. The UAE's interest in building good relations with American Evangelicals as part of its effort to garner soft power in the United States and project itself as an icon of religious tolerance, and Mr. Rosenberg's willingness to serve that purpose, add credibility to the author's disclosures.
Mr. Rosenberg's reporting, wittingly or unwittingly, has laid bare the potential longer-term fragility of the relationship that is evident in Prince Mohammed's timing for the UAE's recognition of Israel as well as the assumptions on which the Emirates has argued that relations would contribute to a resolution of the Israeli-Palestinian conflict.
What emerges is that the UAE and Israel have a geopolitical interest in cooperating to contain Iran and militias in Lebanon, Syria, Iraq and Yemen that are associated with the Islamic republic. They also reap economic benefit from the formalisation of a relationship that has long existed de facto.
When it comes to the Israeli-Palestinian conflict, however, the implication is that public support for the relationship could prove to be fickle even though comment on social media in a country that tightly polices freedom of expression was dominated by supporters of the Emirati government.
Prominent Emirati political analyst Abdulkhaleq Abdulla described the public backing as "a show of support for the government rather than a show of support for 'normalization' (with Israel) as such." Mr. Abdulla was speaking in May as Israeli warplanes bombarded the Gaza Strip in a conflict, sparked by protests in East Jerusalem, with Hamas, the Islamist group that governs the territory.
He noted that "no matter what your national priorities are at the moment or regional priorities are at the moment, when stuff like this happens, the Palestinian issue comes back and hits you."
It was this sensitivity that persuaded Prince Mohammed that the door would close on establishing diplomatic relations with Israel without a solution to the Palestinian problem if then Israeli Prime Minister Benyamin Netanyahu were to go ahead with his plans to annex parts of the West Bank occupied by Israel during the 1967 Middle East war.
"The only way to stop Netanyahu from grabbing what the Emiratis saw as Palestinian land was to go full Godfather and make Bibi an offer he couldn't refuse," Mr. Rosenberg wrote referring to Mr. Netanyahu by his nickname.
A proposal by the Trump administration that the UAE and other Arab states sign a non-aggression and non-belligerency pact with Israel without establishing diplomatic relations with the Jewish state gave Prince Mohammed the opening to push his plan.
"MbZ was open to the idea, but he now realized it would not be enough to pull Netanyahu away from his desire to annex large swaths of the West Bank. The only way to get what he wanted, MBZ recognized, was to give Netanyahu what he wanted most – full peace, full recognition, full normalization. But MbZ would have to move fast" to pre-empt the Israeli prime minister Mr. Rosenberg summarised, referring to Prince Mohammed by his initials.
Quoting then Emirati minister of state for foreign affairs, Anwar Gargash, rather than Prince Mohammed, Mr. Rosenberg regurgitates hopes publicly expressed by Emirati officials that the establishment of diplomatic relations would reinvigorate moribund Israeli-Palestinian peace talks.
The establishment of diplomatic relations promised to be "a 360-degree success, one that goes beyond trade and investment," Mr. Rosenberg quoted Mr. Gargash as saying.
Emirati economy minister Abdulla Bin Touq said the UAE hoped to boost trade with Israel to US$1 trillion over the next decade. Emirati officials were further banking on the fact that strong cultural and people-to-people ties – absent in Israel's initial peace treaties with Egypt and Jordan in the 1980s and 1990s – would put flesh on a skeleton of Arab-Israeli relations and ensure that Israel refrains from acts like annexation that would upset the apple cart.
Mr. Netanyahu's successor, Prime Minister Naftali Bennett, has put those hopes to bed. He has unequivocally rejected the notion of an independent Palestinian state alongside Israel, refused to negotiate peace with the Palestinians during his term, and suggested that the improvement of social and economic conditions would satisfy Palestinian aspirations.
That could prove to be a risky bet given a shift to the right in Israeli public opinion, the growing influence of conservative religious segments of society, and the fact that some 600,000 Israelis who populate settlements built on the West Bank and in East Jerusalem make a two-state solution de facto impossible. That would leave a one-state solution as the only solution.
For that to work, Palestinians would have to buy into Mr. Bennett's approach that is informed by the concept of "shrinking the conflict" that seeks to marginalise the Palestinian problem, put forward by Micah Goodman, an Israeli academic who chose to build a home in a West Bank settlement.
"Twenty per cent of Israelis are on the extremes, for either withdrawing from the territories or annexing them," Mr. Goodman says. "The remaining 80 percent who don't want to rule over the territories or relinquish them don't have a way to talk about the conflict, so they just don't think about it. Which is the tragedy of the Israeli center."
Shrinking the conflict, rather than solving it, is what Mr. Goodman calls "replacing indifference with pragmatism." He suggests that initiatives such as the creation of corridors between Palestinian enclaves on the West Bank and a border crossing to Jordan "up to the level that the Palestinians feel they are ruling themselves, without the capacity to threaten Israel" would tempt Palestinians to buy into his concept. Mr. Goodman's plan would ensure, in his words, that Palestinians "don't get anything like the right of return, a state or Jerusalem."
Prince Mohammed appears, based on Mr. Rosenberg's account of his conversations with the UAE leader and other Emirati officials, to have adopted the approach.
"MbZ believed that by breaking the mould and making peace with Israel without giving the Palestinian leadership veto over his freedom of movement, he could open the door for other Arab countries to see the benefits and follow suit," Mr. Rosenberg wrote.
Bahrain, Sudan and Morocco were quick to follow the UAE's example. Some 300 Iraqi tribal and religious leaders, activists and former military officers called last week for diplomatic relations with Israel in a gathering in the Iraqi Kurdish city of Erbil.
"Just as we demand that Iraq achieve federalism domestically, we demand that Iraq join the Abraham Accords internationally. We call for full diplomatic relations with Israel and a new policy of mutual development and prosperity," said Wisam Al-Hardan, a spokesman for the group and onetime tribal militia leader that aligned with the United States to fight al-Qaeda in 2005.
Mr. Rosenberg noted that "as more Arab states normalized relations with Israel, MbZ and his team believed it could create the conditions under which the Palestinians could finally say yes to a comprehensive peace plan of their own with Israel."
That may prove to be over-optimistic. Addressing the United Nations General Assembly this week, President Mahmoud Abbas warned that the Palestine Authority would withdraw its recognition of Israel and press charges against Israel in the International Criminal Court if Israel did not withdraw in the next year from the West Bank and East Jerusalem and lift the 14-year-long blockade of the Gaza Strip.
The assumption underlying Prince Mohammed's hopes that Palestinians as well as Syria, Jordan, and Lebanon for that matter, would ultimately fall into line, creates a false equation between most Arab states and those bordering on Israel or under Israeli occupation.
Most Arab states like the UAE have existential issues with Israel that need to be resolved, which makes public opinion the potentially largest constraint on recognition of the Jewish state. There is no doubt that for Palestinians the issue is nothing but existential. The same is true for Jordan that has historic connections to the West Bank and whose population is more than half of Palestinian descent.
Similarly, Lebanon and Syria host large numbers of Palestinian refugees. Syria, moreover, has its own issues with Israel given the latter's occupation of the Golan Heights since 1967.
Improving the social and economic conditions of the Palestinians are unlikely to satisfy their minimal needs or those of Israel's immediate neighbours. Not to mention what the accelerated prospect of a de facto one-state solution to the Palestinian problem would mean for an Israel confronted with the choice of being a democratic state in which Palestinians could emerge as a majority or a Jewish state that sheds its democratic character and claim to be inclusive towards its citizens.
Syria: 10 years of war has left at least 350,000 dead
A decade of war in Syria has left more 350,200 people dead, High Commissioner Michelle Bachelet told the Human Rights Council on Friday, noting that this total was an "under-count of the actual number of killings".
These are a result of a war that spiralled out of the 2011 uprising against President Bashar al-Assad's rule.
Based on the "rigorous work" of the UN Office for the Coordination of Humanitarian Affairs (OCHA), she said that the tally, which includes civilians and combatants, is based on "strict methodology" requiring the deceased's full name, the date of death, and location of the body.
People behind the numbers
In the first official update on the death toll since 2014, Ms. Bachelet informed the Council that more than one in 13 of those who died due to conflict, was a woman – 26,727 in all – and almost one in 13 was a child – a grim total of 27,126 young lives lost.
The Governorate of Aleppo saw the greatest number of documented killings, with 51,731 named individuals.
Other heavy death tolls were recorded in Rural Damascus, 47,483; Homs, 40,986; Idlib, 33,271; Hama, 31,993; and Tartus, 31,369.
"Behind each recorded death was a human being, born free and equal, in dignity and rights", reminded the High Commissioner.
"We must always make victims' stories visible, both individually and collectively, because the injustice and horror of each of these deaths should compel us to action."
More accountability needed
Her office, OHCHR, is processing information on alleged perpetrators, recording victims civilian or combatant status and the type of weapons used, Ms. Bachelet said.
To provide a more complete picture of the scale and impact of the conflict, the UN agency has also established statistical estimation techniques to account for missing data.
The High Commissioner explained that documenting deaths complements efforts to account for missing people and that her office has been helping the families of the missing, to engage with international human rights mechanisms.
Given the vast number of those missing in Syria, Ms. Bachelet echoed her call for an independent mechanism, with a strong international mandate, to "clarify the fate and whereabouts of missing people; identify human remains; and provide support to relatives".
No end to the violence
Today, the daily lives of the Syrian people remain "scarred by unimaginable suffering", the UN human rights chief said, adding that they have endured a decade of conflict, face deepening economic crisis and struggle with the impacts of COVID-19.
Extensive destruction of infrastructure has significantly affected the realization of essential economic and social rights, and there is still no end to the violence.
"It is incumbent upon us all to listen to the voices of Syria's survivors and victims, and to the stories of those who have now fallen silent for ever", the High Commissioner concluded.
Lessons Learned: US Seek to Salvage their Relations with the Syrian Kurds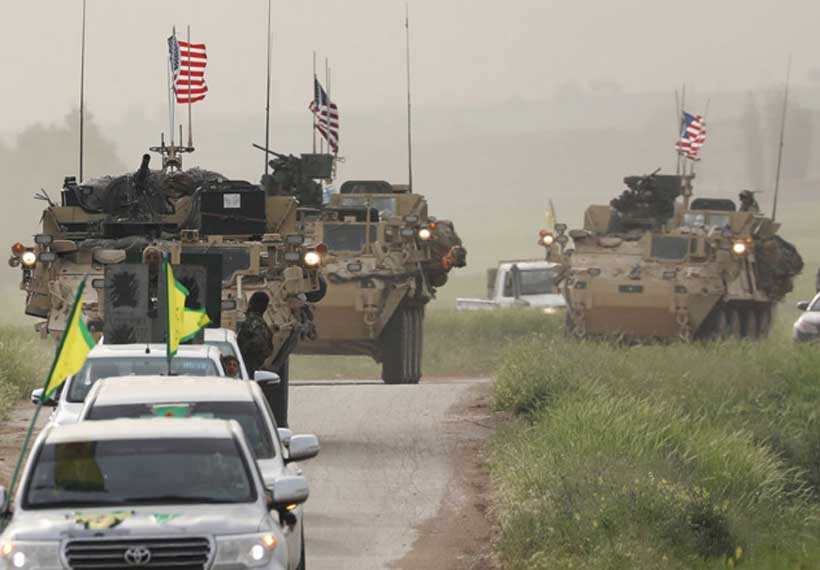 The hasty retreat of the US troops from Afghanistan has left a sizeable dent in the reputation of the White House among the American public, in the Middle East and the world in general. Washington was criticised heavily for the betrayal of the Afghan government, which paved the way for Taliban to storm to power.
It's only natural that such events created a breeding ground for uncertainty among US allies in the region. Some of them started to reevaluate their relationship with the White House after the Afghan fiasco; others were having doubts about the US' commitment beforehand. Current situation forces Washington to take firm actions to validate their status as a powerhouse in the region. There are indicators that US leadership has found a way to regain trust from its allies starting with Kurdish armed units in Syria.
The Kurds became a key ally to the US in their quest to defeat ISIS in Syria. Washington helped to create the predominantly Kurdish Syrian Democratic Forces (SDF), who consequently established control over oil-rich regions in the north-eastern Syria. However the rapid rise of Kurdish influence triggered discontent from other parties of the Syrian conflict: the Assad government and Turkey, who considers SDF an offshoot of the PKK, designated as a terror group by the Turkish authorities. Under this pretext Ankara conducted three full-scale military operations against the Kurds in spite of its membership in the US led coalition.
Turkey remains a major headache for the US in northern Syria as it obstructs the development of a Kurdish autonomy. US failure to act during the Turkish offensive on Al-Bab and then Afrin is still considered one of the most agonizing experiences in the recent history of American-Kurdish partnership. On the flip side, this relationship had its bright moments. US forces were persistent in their cooperation with the Kurds despite Donald Trump's efforts to withdraw US military presence from Syria. Furthermore, former Pentagon's chief James Mattis increased funding of SDF in 2019 to a record high of $300 million.
Although the US cut back its support for the Kurds after proclaiming victory over ISIS, it's still sufficient for SDF to stay among the most combat-capable forces in Syria. US provide machinery, equipment and ammunition, but most importantly teach the Kurds the skills to profit from their resources. Besides training SDF rank soldiers, the American troops prepare their special forces HAT (Hêzên Antî Teror, Anti-Terror Forces) primarily tasked with establishing security on oil facilities as well as detection and elimination of terrorists. In terms of their equipment they practically hold their own even against US troops. During their operations HAT fighters use standardized weaponry, night goggles and other modern resources.
Regardless of all the US aid military capabilities of SDF have one critical vulnerability, namely the lack of air defense. This weakness is successfully exploited by Turkey who uses their drones to bomb Kurdish positions. For the last couple of months the number of air strikes has significantly increased, which brought SDF to find new methods of deflecting air attacks.
There are good grounds to believe that Washington accommodated their partner's troubles. Thus a source from an US air-base in Middle-East who asked to keep his name and position anonymous told us that on the 18th of September three combat-capable trainer aircraft T-6 Texan have been deployed to Tell Beydar air-base in Hasakah province, Syria. According to the source American instructors have begun a crash course in air pilotage with the candidates picked form the SDF ranks long before the airplanes arrived to their destination. This is implicitly confirmed by the large shipment of US weaponry, machinery and ammunition to Tell Beydar delivered on the 17th of September that included missiles compatible with Texan aircraft.
The sole presence of airplanes, even trainer aircraft, prompts a change in the already existing power balance. T-6 Texan can be used not only for air cover but also as a counter tool to Turkish "Bayraktar" UAVs especially if US grant Kurds access to intel from the radars situated on US air bases. Ultimately, from Turkey's standpoint it must look like an attempt from the US military to create PKK's own air force.
This being said the US are better off using political means rather than military if the goal is to handicap Turkish interests in Syria. The groundwork for this has been laid thanks to a reshuffle in the White House under Biden administration. First came the resignation of former US Special Representative for Syria Engagement James F. Jeffrey infamous for his soft spot for Turkey, who has been openly promoting pro-Turkish views in the White House during his tenure. In addition to the loss of their man in Washington, Turkey has gained a powerful adversary represented by the new National Security Council coordinator for the Middle-East and North Africa Brett McGurk. McGurk is a polar opposite to Jeffrey and has sided with the Kurds on numerous occasions. He is well respected among the leaders of SDF because of his work as Special Presidential Envoy for the Global Coalition to counter ISIS.
The only yet the most important question that is yet to be answered is the position of US president Joe Biden. So far Biden's administration has been avoiding radical shifts regarding its Syria policy. Development of cooperation with the Kurds considering they have proven their reliability might come as a logical solution that will also allow the White House to show their teeth. Washington cannot endure another Afghanistan-like fiasco that will destroy their reputation figuratively and their allies literally. Even with all possible negative outcomes taken into account the enhancement of cooperation with the Kurds outweighs the drawbacks and remains the optimal route for the US.