Historic Afghan talks present 'major opportunity' for peace
The first ever direct talks between Afghan Government representatives and the Taliban which began on Saturday, present "a major opportunity" to finally realise the "long-held aspirations" of the people, for a peaceful future, the UN chief has said.
In a special video message released as the historic negotiations got underway in Doha, António Guterres thanked the Qatari hosts for facilitating, and said the "consistent calls for an end to violence" by Afghans themselves, and the chance to develop the country after silencing the guns, "underpin today's inaugural meeting."
Inclusive process
"Afghans themselves must determine the content and nature of the negotiations", added the UN chief. "An inclusive peace process, in which women, youth and victims of conflict are meaningfully represented, offers the best hope of a sustainable solution."
The country has seen four decades of conflict, with thousands killed, but up until now, there have never been face-to-face talks between the militant group which controlled the country before being toppled by a US-led coalition in 2001, and the democratically-elected Afghan Government.
Saturday's first meeting comes in the wake of a security agreement inked between the United States and Taliban representatives in February, which paved the way. Continued near-record violence and satisfying the complex preconditions, including prisoner exchanges, had jeopardized the talks throughout recent weeks.
Stressing the importance of women's involvement, Mr. Guterres said all parties "must do their part to ensure that women participate in a variety of roles, and that the peace process reflects the experiences and expertise of Afghan women in all their diversity."
Protect civilian lives
He said the two temporary ceasefires that took place earlier in the year, offered an encouraging sign, but with negotiations now underway, "I urge the redoubling of efforts to protect civilians and to deescalate the conflict, in order to save lives and to create a conducive environment for the talks.
"It is my hope that progress toward peace can lead to the return of millions of Afghans displaced internally and across borders, to their homes in a safe, dignified and orderly manner."
The UN chief said it was crucial that all Afghan leaders together with the international community, "do everything possible to make peace a reality. Please be assured of the readiness of the United Nations to support the process of intra-Afghan peace negotiations, and the sustainable development of the country."
Enough suffering: 'seize this historic opportunity'
In a statement issued on Friday, the head of the UN assistance mission in Afghanistan (UNAMA), Deborah Lyons, said the people had suffered "for far too long".
"The UN joins the country's brave and resilient people in urging all Afghan leaders and negotiators to seize this historic opportunity to end the fighting and usher in a new era of peace and prosperity."
She said the negotiators now have a "unique opportunity to save the lives of many of their compatriots and to lift the country out of poverty and misery."
"We wish them every success and the United Nations will be there to support them, as required.
Ms. Lyons stressed that "an immediate and unconditional reduction in violence would create a more conducive environment for constructive talks", noting that "with continuing health and economic challenges posed by COVID-19, poverty and natural disasters, a humanitarian pause to the fighting would enable critical humanitarian support to reach the many millions requiring assistance across all areas of the country, as well as provide an opening for Afghans to start to rebuild their lives and livelihoods and give their children hope."
Sarah Frier wins the Financial Times and McKinsey & Company Business Book of the Year Award 2020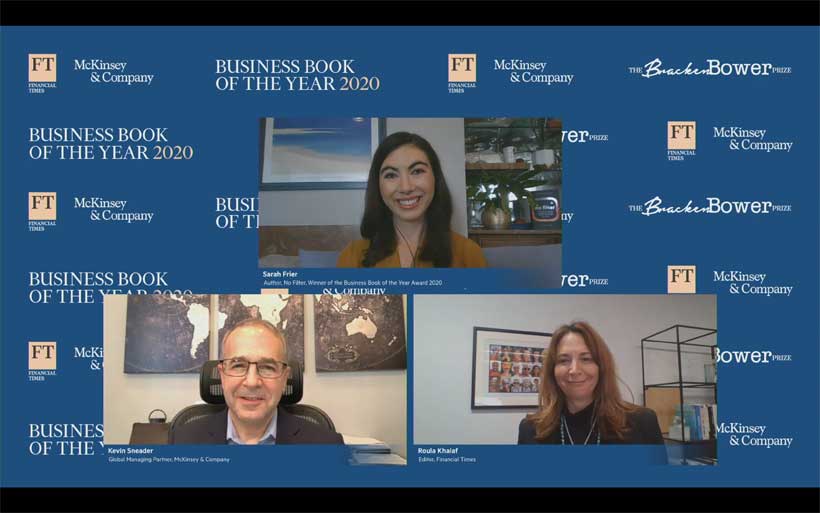 Stephen Boyle wins the Bracken Bower Prize 2020
The Financial Times and McKinsey & Company today announce that Sarah Frier is the winner of the 2020 Business Book of the Year Award for No Filter: The Inside Story of How Instagram Transformed Business, Celebrity and Our Culture, published by UK Random House Business in the UK, and Simon & Schuster in the US.

The Award recognises a work which provides the 'most compelling and enjoyable insight into modern business issues'. It was awarded today to Sarah Frier at a virtual event, co-hosted by Roula Khalaf, Editor of the Financial Times and chair of the panel of judges, and Kevin Sneader, Global Managing Partner, McKinsey & Company. The keynote speaker at the event was Laxman Narasimhan, Chief Executive of Reckitt Benckiser.

No Filter saw off strong competition from a shortlist of titles with a focus on subjects ranging from the future of work, corporate culture, technology and the US economy, to win the £30,000 prize. Each of the five runners-up will receive £10,000.

Roula Khalaf, Editor, Financial Times said, "No Filter is a topical and well-reported account of the rise of Instagram and its takeover by Facebook. But it also tackles two vital issues of our age: how Big Tech treats smaller rivals and how social media companies are shaping the lives of a new generation."

Kevin Sneader, Global Managing Partner, McKinsey & Company, said: "Sarah Frier has written a compelling saga about how this start-up phenomenon deeply embedded itself into the global cultural Zeitgeist of this digital era, in just one decade after its creation."

The distinguished judging panel for the 2020 Financial Times and McKinsey Business Book of the Year Award, chaired by Roula Khalaf, comprised:
Mitchell Baker, Chief Executive Officer, Mozilla Corporation; Chairwoman, Mozilla Foundation

Mohamed El-Erian, President of Queens' College, Cambridge, and Chief Economic Advisor, Allianz (BBYA Winner, 2008, When Markets Collide)

Herminia Ibarra, Charles Handy Professor of Organisational Behaviour, London Business School

Randall Kroszner, Professor of Economics and Deputy Dean for Executive Programs, University of Chicago Booth School of Business

Dambisa Moyo, Global Economist and Author, Non-Executive Director, 3M Company, Chevron & Conde Nast

Raju Narisetti, Global Publishing Director, McKinsey & Company

Shriti Vadera, Chair-elect of Prudential

The Financial Times and McKinsey & Company also announced Stephen Boyle as the winner of the 2020 Bracken Bower Prize. The Prize is designed to encourage young authors to tackle emerging business themes in a proposal for a book that is not yet published. Its aim is to unearth new talent and encourage writers to research ideas that could fill future business books of the year.

Stephen Boyle was awarded £15,000 for his book proposal, New Money, about how central bank digital currencies could transform the economy – and why you might not want them to.

The distinguished judging panel for the Bracken Bower Prize comprised:
Lorella Belli, Founder and Director, Lorella Belli Literary Agency Limited

Isabel Fernandez-Mateo, Adecco Professor of Strategy and Entrepreneurship, London Business School

Jorma Ollila, former Chairman, Royal Dutch Shell and Nokia

Saadia Zahidi, Managing Director and Head of the Centre for the New Economy and Society, World Economic Forum. (BBP Winner, 2014, Fifty Million Rising)
A 'digital canyon': 1.3 billion school-aged children can't log on to internet at home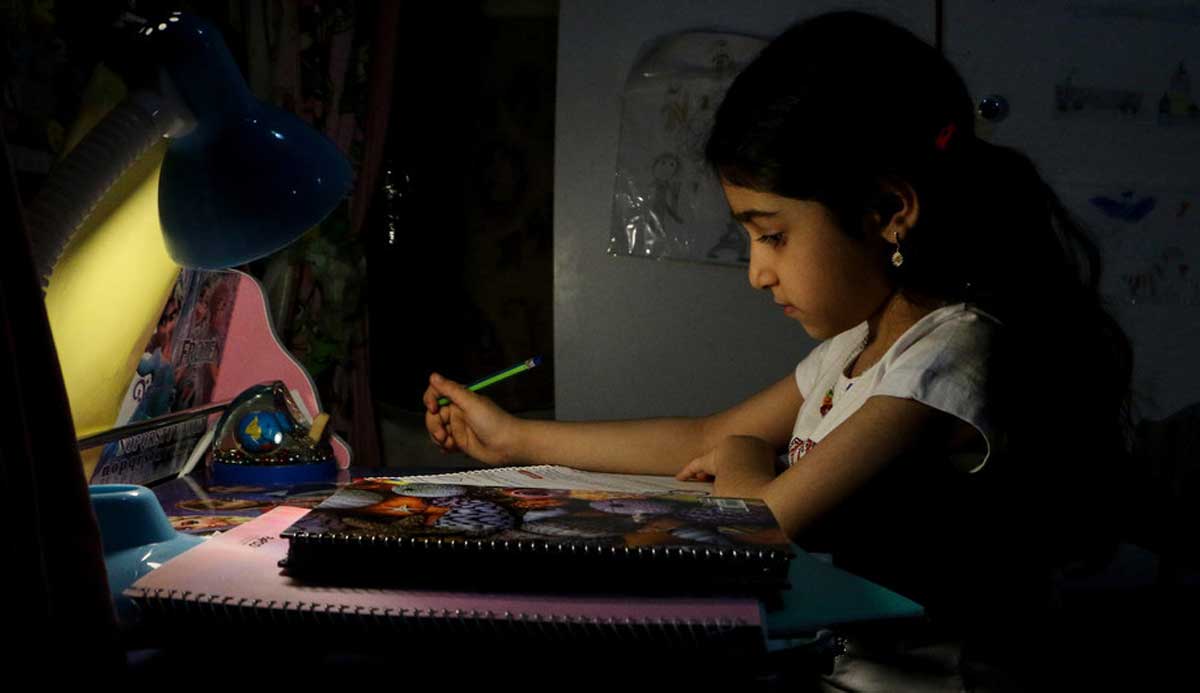 A staggering two-thirds of world's school-aged children – 1.3 billion children aged 3-17 – do not have internet connection in their homes, preventing them from learning vital skills needed to compete in the modern economy, a new UN report has revealed.
The UNICEF–ITU report How Many Children and Youth Have Internet Access at Home? also found a similar lack of access for young people aged 15-24, with 759 million or 63 per cent unconnected at home.
The massive number "is more than a digital gap – it is a digital canyon", said Henrietta Fore, UN Children's Fund (UNICEF) Executive Director.
The lack of connectivity, she continued, doesn't just limit children and young people's ability to connect online, it isolates them from the work and prevents them from competing in the modern economy.
"And in the event of school closures, such as those currently experienced by millions due to COVID-19, it causes them to lose out on education. Put bluntly: Lack of internet access is costing the next generation their futures," Ms. Fore added.
'Education out of reach'
According to UNICEF, a quarter of a billion students worldwide are still affected by COVID-19-related school closures, forcing hundreds of millions of students to rely on virtual learning.
For those with no internet access, education can be out of reach. Even before the pandemic, a growing cohort of young people needed to learn foundational, transferable, digital, job-specific and entrepreneurial skills to compete in the 21st century economy.
'A formidable challenge'
Houlin Zhao, International Telecommunication Union (ITU) Secretary-General, outlined that connecting rural populations remains a formidable challenge.
"Large parts of rural areas are not covered with a mobile-broadband network, and fewer rural households have access to the internet. The gap in mobile broadband adoption and internet use between developed and developing countries is especially wide," he said.
Perpetuating inequalities
The report also revealed that the digital divide is perpetuating inequalities between countries and communities. According to the report, globally, 58 per cent school-age children from richest households have internet connection at home, compared with only 16 per cent from the poorest households.
The situation is similar between urban and rural populations and between high-income and low-income countries: around 60 per cent of school-aged children in urban areas do not have internet access at home, compared with around 75 per cent in rural households. School-aged children in sub-Saharan Africa and South Asia are the most affected, with around 9 in 10 children not connected.
Only So Much We Can Do: State Identity and Citizen Diplomacy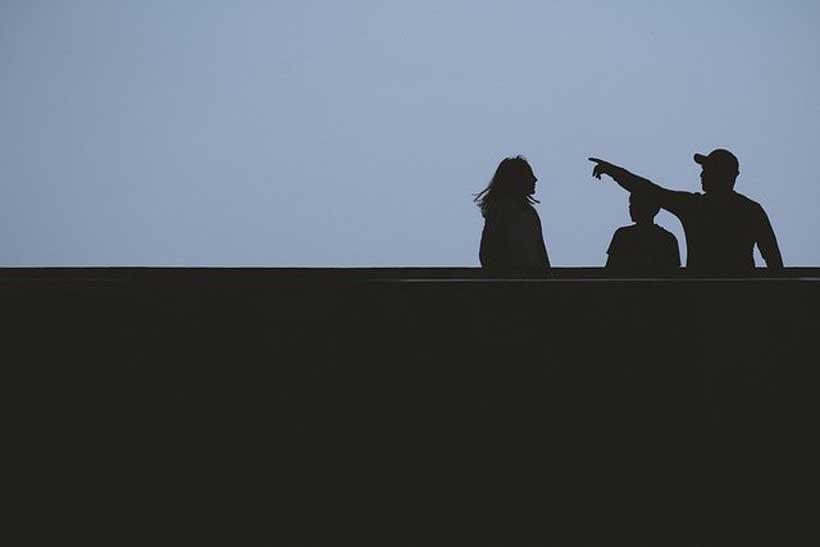 Online discussion on the interconnection between state images and civic initiatives in the area of foreign policy
Call for participants
While identity and image are not the same, both are constructed and promoted by certain groups in the name of their respective interests. For citizens who have little chance to influence foreign policy decision-making, owing to the nature of the state and other basic societal limitations, they understandably do not place a high priority on this in the first place. Consequently, the distinction between identity and image is obfuscated for many.
We invite rising scholars from student circles, along with senior researchers and practitioners interested in making a contribution, to submit a brief description of a presentation on one of the topics listed below. Selected candidates will be asked to deliver a 15-minute talk on the appointed date.
Key details
Estimated date: December 20, 2020
Approximate duration: 3 hours
Selection criteria: Citizenship: any Age: 20-35 years
Written piece: relevance and proper formatting
List of topics
Citizen diplomacy: origin and conceptual boundaries
Correlation between the nature of political regimes and the emergence of grassroots diplomacy projects
Addressing perception problems: how can citizens engage and what are their goals?
Putting the state in question: is there a need for systemic reforms or attempts at bottom-up democratization in foreign policy?
Citizen diplomacy in conflict resolution, mediation, and settlement: case studies
Youth in a post-COVID world: advocates of globalization or proponents of regionalization? The role of WHO. Can it be replaced by other forms of cross-national medical exchange? States apart: the limits of interjurisdictional cooperation on a societal level
Civil engagement in economic diplomacy. Tensions between the state, corporate and workers'interests
Note. This list should be used for guidance; further suggestions are encouraged. You are welcome to bring in any titles closely related to the general theme as well as to submit issue specific proposals.
Practical requirements
Deadline: December 13, 2020
Outline: introduction to the topic; detalization of the talk (3-5 points); contemporary significance
Length: 600-1000 words
Kindly forward your submission in PDF format to reasonanceforum@gmail.com by December 13 at the latest. Include your full name, date of birth, citizenship and affiliation in the email. We would appreciate it if you also share your motivation to become a participant.