ADB Forecasts 1.8% Growth for China in 2020 and 7.7% in 2021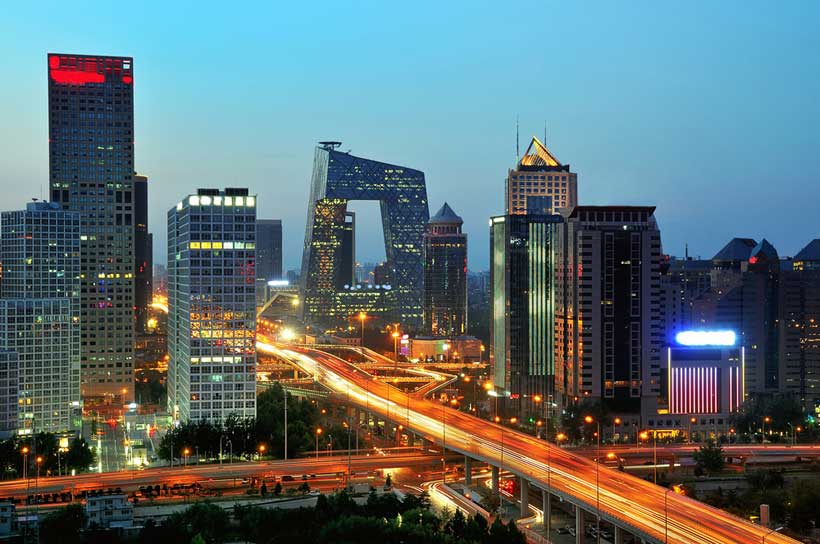 Gross domestic product (GDP) in the People's Republic of China (PRC) is forecast to grow 1.8% this year as the economy continues to feel the brunt of the coronavirus disease (COVID-19) pandemic—both domestically and externally, according to a new report by the Asian Development Bank (ADB).
The 2020 forecast in ADB's Asian Development Outlook (ADO) 2020 Update is down from the April forecast of 2.3% in ADO 2020 but is retained from its June forecast in ADO 2020 Supplement. ADB forecasts growth in the region's largest economy of 7.7% in 2021, an increase of 0.4 percentage points from the April forecast, and 0.3 percentage points from the June forecast, with expected recoveries in domestic consumption and external trade.
"Strong monetary and fiscal policy support helped the PRC economy rebound from a deep contraction in the first quarter of 2020 to post growth of 3.2% in the second quarter," said ADB Chief Economist Yasuyuki Sawada. "To return to a sustainable growth path, it is vital for the PRC to focus on and implement policies that support and promote the continuous recovery of key economic sectors and industries post-COVID-19."
Economic performance in the first half of 2020 was hit hard as consumption, exports, services, and retail sales all contracted, with only investment contributing to growth. Risks to the PRC outlook include the protracted trade conflict with the United States, mounting credit risk for banks, and intensifying fiscal revenue pressure on local governments.
Investment, which contributed 1.5 percentage points to the PRC's growth in the first half of 2020, is expected to be the main growth driver for the rest of the year, with infrastructure investment to maintain momentum supported by ongoing local government special bond issues. Consumption is expected to recover gradually this year and regain its role as the PRC's main growth driver in 2021. Recovery in services, meanwhile, will be subdued for the rest of 2020 as household demand and the labor market are yet to normalize. Manufacturing and external trade are forecast to remain lackluster for the rest of 2020.
The labor market is expected to improve following pressure from COVID-19 mobility restrictions and lessened economic activities. Labor market expansion slowed in the first 7 months of 2020, creating 1.96 million fewer new urban jobs compared to the same period last year. The country's current account surplus is forecast to widen to 1.5% of GDP this year, before moderating to 1.3% in 2021.
Consumer price inflation is forecast to average 3.0% in 2020, lower than ADB's April forecast of 3.6%, as consumer demand recovers slowly. Normalizing pork prices toward the end of the year will ease inflation in 2021 to 1.8%. Fiscal policy is expected to stay supportive for the rest of 2020, while monetary policy is likely to stay accommodative this year but without much further easing.
Crafting Engaging Employee Training Materials with Powered Template
One of the leading causes of employee dissatisfaction in job roles stems from a lack of sufficient training and development options within companies. With the threat of staff turnover a leading and costly issue for many businesses, it's essential that training materials are revised to become as engaging as possible. To help counter this, Powered Template stands as a low-cost and effective resource for improving the quality of training content throughout an organization.
According to the Academy to Innovate HR a 'lack of training and development options' is listed among the eight causes of job dissatisfaction within roles, along with factors relating to salaries, appreciation, and workplace relationships.
One of the causes for employees to resent the quality of training available to them doesn't necessarily stem from a training program's ability to teach new competencies and refresh existing ones, but instead revolves around a lack of engagement.
Many businesses are guilty of falling into the trap of creating raw training materials without taking the time to consider how employees will consume this information over time. To task a member of staff with reading a 20-page document covering new house styles at a business is a difficult ask–even based on the presumption that they'll be capable of learning without allowing themselves to become distracted.
Fortunately, platforms like Powered Template can excel in offering enterprises high-quality templates for training materials that can help to keep employees more motivated to read content and take on new information without the risk of disengaging in the material.
Exploring Powered Template's Training Materials
While Powered Template is a sprawling online library of content resources that's more readily associated with pre-prepared presentation slides and materials, the platform is actually a massive resource for a wide range of 100% editable content.
With more than 100,000 free and premium templates covering graphics, images, clip arts, presentation slides, business materials, and even web pages, Powered Template has evolved to become a one-stop shop for high-quality ready-to-use resources.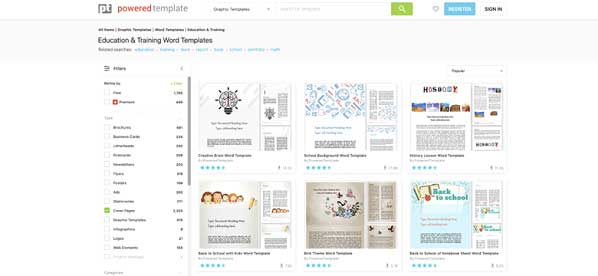 Using Powered Template's intuitive menu which populates your specific selections in real-time, we can see that the platform offers an extensive collection of education and training templates that businesses can use to create more engaging training content.
With more than 2,200 resources in education and training templates, it's clear that many businesses will have the ability to create more impactful materials for employees to engage with.
As we can see on Powered Template's gallery of options, each template comes with a star rating representing the rating given by users to better indicate whether the option is satisfactory. Premium content is also signified with a red thumbnail depicting a crown.
Taking a closer look at one of the available templates, we can see a range of greater information available about matters like compatibility and the type of content that users would be accessing.
In the example, 'Orion Nebula Word Template', we can immediately see that 370 users have provided the template with an average rating of 4.5-stars out of five, and that the content has been downloaded 525 times.
Crucially, we can also see that icons are used to signify the compatibility of the file once it's downloaded. In this case, the template can be used as a Microsoft Word or Apache OpenOffice document.
All files downloaded are fully editable, and businesses will be free to add relevant training content as they see fit within the pre-designed format within the document.
Choosing the Right Design for Your Needs
Powered Template is an intelligent resource that's dedicated to helping users find the materials that best suit their needs. With this in mind, there's an excellent 'similar' function on content pages that can automatically guide users to designs that possess the same features, color schemes, and relevance for ease of reference.
When clicking 'similar', Powered Template will guide users to a page populated by a series of algorithmically selected options that can help them to refine their search further and find the right design.
Once the perfect template has been selected, it's time to download the content. For free-to-use content, it's easy to download an option–though free downloads require an attribution to Powered Templates that's visibly placed within the content when editing has been finished.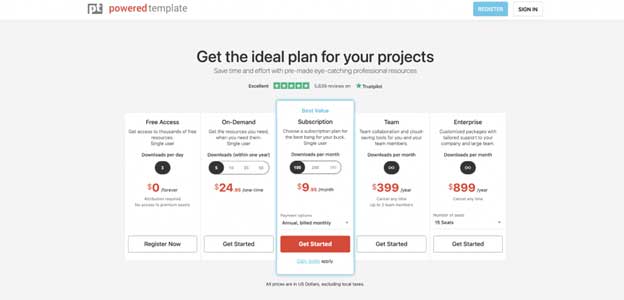 Premium content requires a subscription, with prices beginning at $8.95 per month. Powered Templates also offers an innovative on-demand option where users can buy 5, 10, 25, or 50 downloads that can be redeemed at any stage within 12 months for prices starting at a one-off payment of $24.95.
Now you're ready to download your document. Here, Powered Template will provide you with a .ZIP download that allows you to access all versions of the file itself. Simply open your desired file in the right format and edit to your heart's content. There are no limits on the level of editing you can do on a document so there's nothing stopping you from adding information until you get a final copy that you're happy with.
Powered Templates empowers employers to create training materials that can be considerably more engaging than simple blank documents filled with pages of revision materials.
With thousands of options that can be adapted to suit any businesses' needs, you're guaranteed to find the templates that fit the bill for you to utilize in a cost-effective manner. This can help you to keep employees better engaged during those all-important competency training programs to build satisfaction and contentment throughout the company as a whole.
EU joins efforts to address the global water crisis and ensure water security for all by 2050
From tomorrow, at the United Nations Water Conference in New York from 22 to 24 March, the EU will be confirming its strong engagement for global water security by announcing 33 commitments for action starting now. These commitments will underpin the EU vision that by 2050, the world should be resilient to increasing water stress, providing water security for all.
The world is currently facing a water crisis driven by overdemand, mismanagement and the impacts of the triple crisis of climate change, biodiversity loss and pollution. 40% of the world's population live in areas affected by water stress. Water resilience is key to prevent and address the current and future health, food and energy crises.
The UN 2023 Water Conference is the first of its kind in almost 50 years, aiming to mobilise global action for water resilience and security. The EU delegation, led by Commission Vice-President Dubravka Šuica, will be presenting the EU voluntary commitments to the Water Action Agenda – a platform to accelerate global progress on the water-related sustainable development goals. The EU priorities for the conference include:
Ensuring access to safe drinking water and sanitation as a human right;
Protecting and restoring aquatic ecosystems for sustainable development, climate mitigation and adaptation;
Promoting a more integrated approach to the management of water resources across sectors;
Promoting circularity in the use of water for industry, energy and agriculture by increasing water efficiency and water reuse;
Promoting transboundary water cooperation, as a catalyst for peace and security; and
Mobilising public and private finance, research and innovation, and knowledge sharing.
EU commitments
The EU brings together a range of commitments to the Water Action Agenda. They draw on a number of policy actions and EU laws, leading water technologies, as well as extensive support to partner countries on water and sanitation. The EU contributions include:
Supporting the improved access to water and sanitation for 70 million people worldwide;
Securing safe drinking water in the EU and enhancing the availability of tap water in public spaces;
Contributing to the reduction of water use in the EU by setting water-saving standards for products, and developing non-conventional supplies, such as reuse of treated water for agricultural irrigation or desalinisation;
Tackling the pollution of our rivers and oceans, by 50% reduction of pesticides, nutrients, antimicrobials and plastic litter at sea as well as 30% reduction in microplastics;
Increasing research and innovation, citizen engagement and blue investments: the EU as a whole and the EU Member States have committed over € 1.4 billion from 2021-2024 and additional commitments are expected until 2027;
Increasing the restoration of rivers in the EU;
Increasing the resilience of society to floods, droughts and sea level rise, by improving risk management, preparedness, and response;
Reducing greenhouse gas emissions in water management, among others by reducing energy needs of urban wastewater treatment plants;
Improving transboundary water cooperation, supported by Global Gateway investments: EU and Member States have committed over €1.1 billion for transboundary water management in Africa and Central Asia covering 47 countries and 18 major transboundary water basins.
The full list of commitments can be found here.
Background
Safe water is a precondition for human and environment health, and a human right. Water is an indispensable resource for the economy and plays a fundamental role in the fight against climate change.
Yet this vital natural resource is being depleted, polluted and mismanaged. 2.2 billion people still lack access to safe drinking water worldwide, and more than half of the global population does not have access to safe sanitation. 80% of the world's wastewater is discharged untreated directly into the environment. Pressure on both quality and quantity of water is mounting. Across the globe, extended periods of severe drought and massive flooding affect the availability of water for human consumption as well as productivity in agriculture, industry and the energy sector. Water stress contributes to the increasing risk of conflicts and instability.
In the EU, access to safe drinking water and sanitation is high, and water quality is improving overall. At the same time, with the increasing frequency and intensity of droughts and floods the EU is confronted with many water challenges, which require new solutions. The progress in reducing water pollution from agriculture is stalling and most European water bodies are not yet in good status. The conference offers the opportunity to look for common solutions and best practises.
At the conference, the EU will participate in the five interactive dialogues. Together with China, the EU will co-chair the inter-active dialogue "Water for sustainable development".
Pre-Hung & Slab Doors: Comparison Guide
When it comes to choosing a door, there are plenty of things to consider, starting with matching the style correctly and ending with defining the proper material. However, the crucial choice to make is whether to go with a slab or a pre-hung door. This comparison post lists each option's peculiarities and pros and cons to help you make the right decision.
Pre-Hung Doors
Pre-hung are slab doors already attached to a three-sided doorframe by hinges. They are usually provided as a "ready to go" package, although some models may require additional features. A pre-hung door is a self-contained unit with a frame that can fit into a prepared doorway. According to some reviews for Ecoline doors, this option mainly includes the door slab itself, hinges, frame and frame pre-cut for the strike plate, mortises cut in, and a pre-cut hole for the doorknob.
Pros and Cons
Understanding key advantages and drawbacks is essential to making the right choice, whether looking for new Ecoline Windows or pre-hung doors. So let's clarify the pros of the pre-hung variant.
hinges pre-attached to the frame;
no need to build a frame from scratch, so the installation process is easy;
an ideal match for the exterior walls as it comes weather-tight.
Pre-hung door units also have some cons. They are more expensive than a slab option, heavy and hard to manage, bulky to move, and sometimes it can be difficult to get it correctly positioned. Additionally, you still need to finish the drywall, painting, and trim installation.
Slab Doors
Slab doors are basic, stripped-down, and don't include a frame. So there is a need to attach this door to an existing frame or create an entirely new one. This option can be presented both with and without a pre-cut hole for the doorknob. Generally, the hardware—like the doorknob, shims, hinges, and metal strike plate—needs to be bought separately.
Pros and Cons
Compared to a pre-hung, this option has some pros, including:
often cost much less;
provide you with much more design flexibility;
excellent choice for an interior door, but can be installed as an exterior one as well.
However, there are some drawbacks to slab doors as well. Installation can be difficult, as it requires a steady hand and plenty of practice. You also still need to purchase some hardware and do the cutouts. Although it's easier to install it if you do a one-for-one installation, it'll be a challenging process to hang it right if there's any variation in the size and configuration. Additionally, opting for a recycled slab door will require some extra work, like planing, sanding, and straightening.
What to Choose?
Since everything depends on the circumstances and budget, there's no exact solution. However, a pre-hung is the perfect pick if the existing frame is damaged and installing a slab door is impossible. Also, it's a good choice if you seek easy and fast installation, need to install several doors at once, and are ready to wait for your door to be manufactured and delivered.
Conversely, a slab door is often a budget-friendly choice, preferred mainly by do-it-yourselfers. It's suitable if the doorway is of a standard size, there's a need to change only the door and not the frame, and you don't want to install the frame or casing.
Hence, consider all the factors carefully when making your decision. With the right door, your home will have the security and style it deserves!