An occasion for the EU to reaffirm its standing on Security policies and Human Rights
Vice-President of the EU Commission Margaritis Shinas was a keynote speaker at this summer's Diplomatic Conference in Vienna organised by the International Institute IFIMES, Media Platform Modern Diplomacy and their partners. High dignitary of the Commission seized the occasion to express the EU's take on the 75th anniversary of victory over fascism, unfolding health crisis and to it related pressure on human and labour rights, as well as on the Union's continued efforts towards remaining a 'rock' amid the volatile climate.
It is known by now – and acknowledged by the EU Commission VP – that the COVID-19 crisis has had some severe implications for Human Rights and, to a lesser extent, for cooperation outlooks. In the face of the first wave, countries in Europe and elsewhere have adopted different courses of actions in order to manage the health crisis and attempt at containing its threats. Placed in an unprecedented situation, governments have undoubtedly each reacted in ways they deemed most appropriate at the time.
However, the pandemic itself topped with the varied policies have caused notable restrictions on Human Rights. Most notoriously, the right to life and that to health have been challenged in extreme circumstances where, at the peak of the crisis, health institutions were so overflowed that the provision of maximal care to every single individual was compromised. The effective and equal access to healthcare has therefore quickly become a central preoccupation of many governments, drawing on some dramatic first-hand experiences.
On that, I will say that if the global health crisis has been a synonym for many negative impacts, it has also been a precious opportunity to rethink carefully the existing narrative of programmatic and progressive rights – such as the right to health – needing no immediate attention, nor realisation. This narrative held predominantly by some Western democracies ever since the adoption of the UN International Covenants, has been unduly weakening the universal and indivisible stance of Human Rights. Needless to say, in adhering to that dangerous narrative, planning for and prioritizing health access, resources and system capabilities is undermined. This, in turn, contributes to the difficult and insufficient responses of some governments that have been witnessed. May the victims of inadequate infrastructures due to an obsolete distinction between rights serve as a poignant reminder: social, cultural and economic rights need be readily available to all.
Equally interesting is the toll taken on a whole other range of Human Rights – an international system built up in last 75 years on the legacy of victory of antifascist forces in Europe and elsewhere. Numerous individual freedoms have also suffered limitations, often as a direct result of actions taken to promote and ensure the right to life and the right to health for the most vulnerable. Indeed, people's freedom of movement, that of religion (external dimension), that of assembly and association, as well as their procedural rights – only to name a few – have all been greatly affected during the crisis.
Of course voices have raised their discontent at those restrictions put in place to mitigate the crisis, considered by many to be too incisive and too manifold when cumulated. But despite an apparent clash between two groups of interests protected by different rights, the resolution which has emerged from the approaches followed by most countries is very telling. In fact, a balancing exercise revealed that protecting the right to health and to life of the minority of people ought simply to be considered predominant in comparison to the other individual freedoms and rights of the majority. This reasoning, grounded in solidarity and the protection of minorities and vulnerable persons, is in fact very encouraging in an era of growing individualism combined with overwhelming challenges which will certainly require peoples to unite against them.
Nevertheless, this does not take away from the fact that the full and optimal enjoyment of Human Rights has generally been seriously affected as many interests have been caught in the crossfire of the fight against Coronavirus' harmful effects. Moreover, the crisis has also created some divides amongst European countries. This is because the sanitary emergency has caused for precarious contexts of resources shortages and sometimes unfruitful cooperation, even shift in alliances.
This has naturally brought about separate criticisms and questioning of the EU cooperation strategy and security arrangements. In that sense, growing expectations are felt for the EU to uphold and promote its fundamental values including the rule of law, solidarity, non-discrimination and antifascist line.
Vice-PresidentSchinas is well aware of that reality and reiterates the EU's unalterable commitment to peaceful cooperation, human dignity, liberty, equality and solidarity in these troubled times. He further ensures that the most recent security strategies led by the Union do not – and never will – eat away at the protection of fundamental rights. What is more, whilst the EU's arrangements can be seen as slightly 'under attack' currently, the VP feels that rather than seeing this period as a high-stakes test on EU democracies it should be seen as an opportunity to take a bigger stand than ever for the European common values and call for strengthened multilateralism. This necessities constructive reciprocal and respectful active engagement with the EU Mediterranean and eastern European neighbourhood.
All that is because it is not too difficult to imagine that the aftermath of the C-19 crisis can open several paths of new dynamics in international relations. Yet, as it cannot be stressed enough, an upcoming change in the conception of relations between nations could be decisive for numerous other contemporary challenges – namely: migration crisis, armed conflicts, climate change. While one of the paths could consist in an increase in protectionism and nationalist attitudes, another one would involve, on the contrary, a shift towards reinforced cooperation and enhanced solidarity. The latter outward approach, advocated by the EU Vice-President and believed to be the best hope for the future, is one deeply enshrined in the antifascist legacy and the very raison d'être of the Union.
Above all, at the occasion of the 75th anniversary of the Victory Day, Excellency Schinas reminds us with much humbleness that the journey for safeguarding Human Rights is one that is perpetually underway.
Council of Europe fights for your Right to Know, too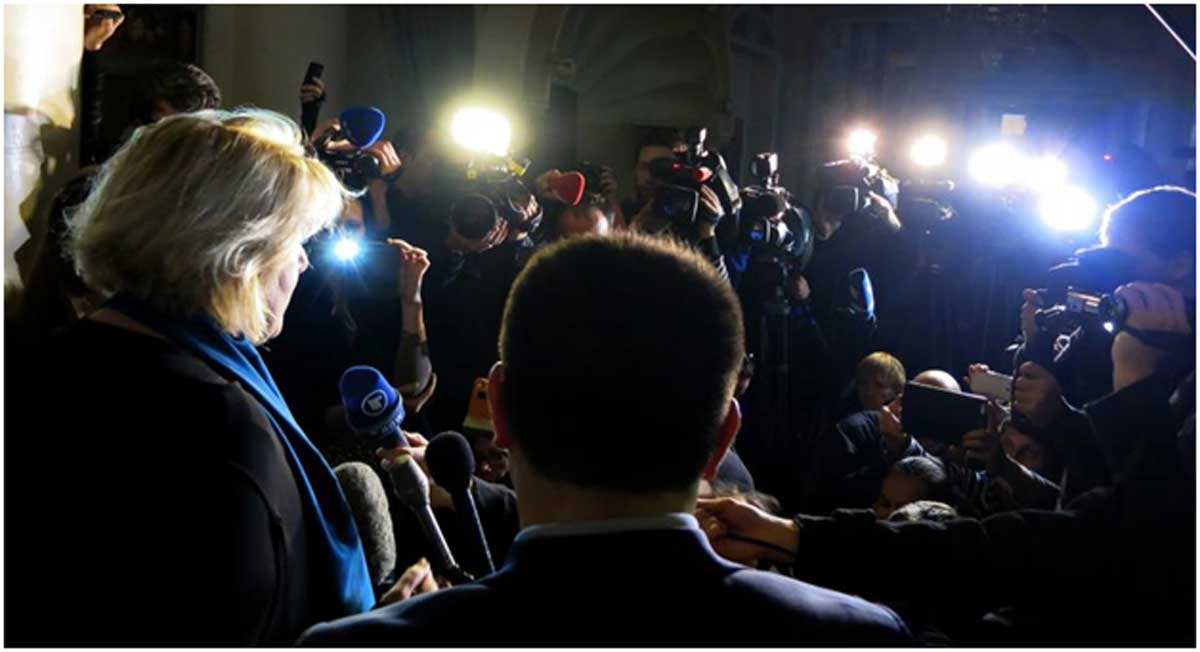 Authors: Eugene Matos de Lara and Audrey Beaulieu
"People have the right to know what those in power are doing" -Dunja Mijatovic Council of Europe, Commissioner for Human Rights.
Access to information legislation was first seen in 1766 in Sweden, with parliamentary interest to access information held by the King. Finland in 1951, the United States in 1966, and Norwayin 1970 also adopted similar legislation. Today there are 98 states with access laws; of these, more than 50 incorporated in their constitution. The Inter-American Court of Human Rights 2006 and the European Court of Human Rights 2009 both ruled that access to information is a human right, confirmed in July 2011 by the United Nations Human Rights Committee, a sine qua non of 21st-century democracy.
Global civil society movements have been promoting transparency, with activists and journalists reporting daily on successes in obtaining information and denouncing obstacles and frustrations in the implementation of this right. To this end, the Council of Europe was inspired by pluralistic and democratic ideals for greater European unity, adopted the Council of Europe Convention on Access to Official Documents recognising a general right of access to official documents held by public authorities. It brings a minimum standard for the fair processing of requests for access to official documents with the obligation for member states to secure independent review for restricted documents unless with held if the protection of the documents is considered legitimate.
The right to freedom of information
Access to information is a government scrutiny tool. Without it, human rights violations, corruption cases, and anti-democratic practices would never be uncovered. Besides exposing demerits, the policy is also known to improve the quality of public debates while increasing participation in the decision making process. Indeed, transparency of authorities should be regarded as a fundamental precondition for the enjoyment of fundamental rights, as guaranteed by Article 10 of the European Convention on Human Rights. The policy equips citizens and NGOs with the necessary tool to counter refusal from authorities to provide information. The European Court of Human Rights recognized that withheld documents could be accessed in specific circumstances. In principle, all information should be available, and those upheld can also be accessed, particularly when access to that particular information is crucial for the individual or group to exercise their freedoms unless of course, the information is of national security or of private nature.
Access to information in times of crisis a first line weapon against fake news
The COVID pandemic has enabled us to test access policies and benchmark the effectiveness of the right to know during trivial times, as Dunja Mijatovic mentioned. In fact, having easy access to reliable information protects the population from being misled and misinformed, a first-line weapon dismantling popular fake news and conspiracies. Instead, during COVID, access to information has supported citizens in responding adequately to the crisis. Ultimately, transparency is also a trust-building exercise.
Corruption and environmental issues
Information is a weapon against corruption. The Council of Europe Group of States against Corruption (GRECO) is looking at the specific issue of access to official documents in the context of its Fifth Evaluation Round, which focuses on preventing corruption and promoting integrity in central governments and law enforcement agencies. In about a third of the reports published so far, GRECO has recommended the state to improve access to official documents. In regards to the environment, the United Nations Convention on Access to Information, Public Participation in Decision-Making and Access to Justice in Environmental Matters, commonly referred to as the Aarhus Convention, expands the right of access to information on environmental matters thus complementing the Tromsø Convention. Declaring these policies as the primary tools that empower citizens and defenders to protect the environment we live in.
Good models exist
Most Council of Europe member states have adequate mechanisms regarding the right to information. For example, in Estonia, "the Public Information Act provides for broad disclosure of public information" states Mijatovic. Moreover, "in Croatia, Serbia, Slovenia and several other countries there is an independent oversight body – such as an Information Commissioner – responsible for monitoring and enforcing the right to information, while some other countries entrust Parliamentary Ombudsmen with supervision of the right of access to information". Finally, "the constitutions of several European countries do indeed guarantee the fundamental right to information." Nonetheless, there are still in consistent levels of transparency among state institutions or a failure to meet the requirement for proactive disclosure. The entry into force of the Tromso Convention willbe an opportunity to bring back to the table the importance of the right to information and to read just European States practices regarding the enhancement.
Barriers and Challenges
Digitization is still recent, and authorities are not accustomed to dealing openly. There is a sentiment of reservation and caution. Before the advent of the internet, governments enjoyed a level of political efficiency and practical obscurity. Viewing public records required the time and effort of a visit to the records' physical location and prevented easy access to details of individual files. Openness has made the policy cycle longer, with a more thorough consultation process and debates. The availability of digital documents has caused an unavoidable conflict.
One of the conflicts is a privacy protection and policy safeguards invoked against freedom of information requests. Requirements to provide transparency of activities must be mitigated with national security, individuals' safety, corporate interests, and citizens' right to privacy. Finding the right balance is essential to understand how local governments manage the dichotomy between providing open access to their records by maintaining the public's privacy rights.
Several governments think twice before pursuing transparency policies. Access to information hasn't been a priority for some of the European States. Mijatovic reported that "filtering of information and delays in responses to freedom of information requests have been observed in several member states". Although there is a growth in these laws' popularity, we are always a step behind meeting the supply and demand of information objectives in an era of digitization.
Legal perspectives
Tromso Convention has only been ratified by eleven countries, which are mostly located in Scandinavia (Finland, Norway and Sweden) or in Eastern Europe (Bosnia, Estonia, Hungary, Lithuania, Moldavia and Ukraine). Reading this statement, three questions should come to our minds:
1. Why not all European states have ratified Tromso Convention?
2. Why do Scandinavian countries have chosen to ratify the Convention?
3. Why are most of the Member States from Eastern Europe?
Regarding the first question, the answer resides in the fact that the ones who haven't taken part in the Convention already have strong national laws protecting freedom of information and don't need to bother with extra protection and external surveillance. For instance, Germany passed a law in 2005, promoting the unconditional right to access information. Many other European states such as Belgium, Croatia, Denmark, France &Poland have similar national law.
Regarding the second question, considering that all Scandinavian countries already have national laws assessing freedom of information, the most likely reason behind their ratification would be symbolic support to the cause or because the Convention's framework is less restrictive than their national laws.
Finally, concerning the last question, we could suppose that most Eastern countries have an interest in demonstrating themselves as more transparent, more following the rule of law. For example, if we examine Montenegro's case, we could assume that taking part in the Tromso Convention is a step closer to their accession to the EU in 2025.
As for the reservations that have been made, only Finland, Norway and Sweden have made some noticeable. Regarding Norway, the country declared that "communication with the reigning Family and its Household" will remain private in accordance with Article 3,paragraph 1 of the Convention. This limitation covers something interesting, considering that, as mentioned earlier, access to the data type of legislation was first adopted in order to get access to information held by the King. In parallel, Finland declared that "the provisions of Article 8 of the Convention concerning the review procedure [will] not apply to a decision made by the President of the Republic in response to a request for access to a document. Article 8 provides protection against arbitrary decisions and allows members of the population to assert their right to information. Sweden has made a similarreservation on Article 8 paragraph 1 regarding "decisions taken by the Government, ministers and the Parliamentary Ombudsmen".
Thoughts towards better implementation
For smoother data access implementation, governments can act on transparency without waiting for legislation through internal bureaucratic policy. These voluntary provisions for openness can be an exercise towards a more organic cultural transformation.
Lengthy debates on open access are entertained by exceptions to access. To be sure, governments have enough legal and political tools to withhold information, regardless of how exemptions have been drafted. Instead, a more productive and efficient process is possible if we concentrate on positive implementation and enforcement, including the procedures for challenges on legal exemptions.
The implementation phase of access laws is challenging due to a lack of leadership motivation, inadequate support for those implementing these requests, especially since they require a long term social and political commitment. To do so, an overall dedication and government bureaucratic cultural shift should take place. Although the implementation of access to information should be included internally in all departments, considering a standardized centralized approach to lead the new regime with authority could send an important message. Record keeping and archiving should be updated to respond to requests with improved information management systems. As such, the goal would be to make a plethora of information immediately and unconditionally available.
France's Controversial 'Separatism' Bill
In his very first days at the Elysee Palace, French President Emmanuel Macron vowed to detail his views on secularism and Islam in a wide-ranging speech. It took more than three years for this to happen, with the much awaited speech actually taking place in October a week after a teacher was violently killed for revealing the caricatures of Prophet Muhammad(PBUH) during a lecture on freedom of expression. Macron said during his speech that "Islam is a religion which is experiencing a crisis today, all over the world", adding that there was a need to "free Islam in France from foreign influences". Mr. Macron and his Parliament allies have described the bill as a reaction to the rise of Islamic separatism, which the President defines as a philosophy that seeks to create a parallel state in France where religious laws replace civil law. Referring to the cartoons at a citizenship ceremony earlier and before the latest attacks, Macron defended the "right to blasphemy" as a fundamental freedom, even as he condemned "Islamic separatism."
"To be French is to defend the right to make people laugh, to criticize, to mock, to caricature," the president said. The proposed law allows religious associations and mosques to report more than €10,000 ($12,000) in international support and to sign a promise to uphold the French republican ideals in order to obtain state subsidies. The bill will also make it possible for the government to close down mosques, organizations and colleges that have been described as criticizing republican values.The controversial bill is blamed for targeting the Muslim people and enforcing limits on nearly every part of their lives. It allows government to oversee the funds of associations and non-governmental organizations belonging to Muslims. It also limits the schooling options of the Muslim community by prohibiting families from providing home education to children. The law also forbids people from selecting physicians on the grounds of gender for religious or other purposes and mandates a compulsory 'secularism education' on all elected officials. Physicians will either be charged or jailed under the law if they conduct a virginity test on girls. Critics argue the so-called "separatism law" is racist and threatens the 5.7 million-strong Muslim population in France, the highest in Europe. Its critics include the 100 imams, 50 teachers of Islamic sciences and 50 members of associations in France who signed an open letter against the "unacceptable" charter on 10 February.
A criminal act for online hate speech will make it easier to easily apprehend a person who shares sensitive information about public sector workers on social media with a view to hurting them and will be disciplined by up to three years in jail and a fine of EUR 45.000. The banning or deleting of pages spreading hate speech would now be made smoother and legal action accelerated. The bill expands what is known in France as the 'neutrality clause,' which forbids civil servants from displaying religious symbols such as the Muslim veil and holding political opinions, outside public sector workers to all commercial providers in public utilities, such as those working for transport firms.
French Members of Parliament held two weeks of heated debates in the National Assembly. People of Muslim faith interviewed outside the Paris Mosque and around Paris on the outdoor food market before the vote had hardly heard of the rule. "I don't believe that the Muslims here in France are troublemakers or revolutionaries against France," said Bahri Ayari, a taxi driver who spoke to AP after prayers inside Paris' Grand Mosque. "I don't understand, when one talks about radicalism, what does that mean — radicalism? It's these people who go to jail, they find themselves with nothing to do, they discuss amongst themselves and they leave prison even more aggressive and then that gets put on the back of Islam. That's not what a Muslim is," he added.
Three bodies of the French Council of Muslim Worship (CFCM) have unilaterally denounced the "charter of principles" of Islam, which reaffirms the continuity of religion with France. The three parties said that the Charter was accepted without the full consensus of the other integral components of the CFCM, including the provincial and departmental councils and the imams concerned. "We believe that certain passages and formulations of the submitted text are likely to weaken the bonds of trust between the Muslims of France and the nation. In addition, certain statements undermine the honor of Muslims, with an accusatory and marginalizing character," the Milli Görüş Islamic Confederation (CMIG) and the Faith and Practice movement said in a joint statement. The bill is blamed for targeting the Muslim community and enforcing limits on nearly any part of their lives. It allows for interference in mosques and organizations responsible for the operation of mosques, as well as for the oversight of the funds of associations and non-governmental organizations belonging to Muslims.
It is a difficult time for the nation, which has also accused its protection bill of containing the press freedom. The law introduced aims at making it unlawful to post photographs of police officers in which it is identifiable by "malicious intent" However, law enforcement has criticized the government after the declaration by Macron of the development of an online forum to flag police brutality.
Why Is Europe Hostile Towards Russia?
In his seminal 1871 work Russia and Europe, the famous Russian intellectual and Slavophile Nikolay Danilevsky set forth his theory that "Europe recognizes Russia as something alien to itself, and not only alien, but also hostile," and that Russia's fundamental interests should act as a "counterweight to Europe."
One hundred and fifty years have passed since that work was published. The world has changed. No matter what anti-globalists might say, the rapid development of modern technologies and their use in our everyday lives has forced us to re-evaluate many of our beliefs about relations between states and people. The exchange of information, scientific discoveries and knowledge, and the sharing of our cultural wealth bring countries closer together and open up opportunities for development that did not exist before. Artificial intelligence does not know any boundaries and does not differentiate users by gender or nationality. Along with these new opportunities, the world is also faced with new problems that are increasingly supranational in nature and which require our combined efforts to overcome. The coronavirus pandemic is the latest example of this.
It is against the background of these rapid changes, which for obvious reasons cannot unfold without certain consequences, that we can occasionally hear this very same theory that "Europe is hostile towards Russia." Although the arguments put forward to support this claim today seem far less nuanced than those of Nikolay Danilevsky.
Even so, ignoring this issue is not an option, as doing so would make it extremely difficult to build a serious long-term foreign policy given the prominent role that Europe plays in global affairs.
Before we dive in, I would like to say a few words about the question at hand. Why should Europe love or loathe Russia? Do we have any reason to believe that Russia has any strong feelings, positive or negative, towards another country? These are the kind of words that are used to describe relations between states in the modern, interdependent world. But they are, for the most part, simply unacceptable. Russia's foreign policy concepts invariably focus on ensuring the country's security, sovereignty and territorial integrity and creating favourable external conditions for its progressive development.
Russia and Europe have a long history that dates back centuries. And there have been wars and periods of mutually beneficial cooperation along the way. No matter what anyone says, Russia is an inseparable part of Europe, just as Europe cannot be considered "complete" without Russia.
Thus, it is essential to direct intellectual potential not towards destruction, but rather towards the formation of a new kind of relationship, one that reflects modern realities.
At the dawn of the 21st century, it was clear to everyone that, due to objective reasons, Russia would not be able to become a full-fledged member of the military, political and economic associations that existed in Europe at the time, meaning the European Union and NATO. That is why mechanisms were put in place to help the sides build relations and cooperate in various fields. Bilateral relations developed significantly in just a few years as a result. The European Union became Russia's main foreign economic partner, and channels for mutually beneficial cooperation in many spheres were built.
However, EU-Russia relations have stalled in recent years. In fact, much of the progress that had been made is now being undone. And positive or negative feelings towards one another have nothing to do with it. This is happening because the parties have lost a strategic vision of the future of bilateral relations in a rapidly changing world.
Speaking at the World Economic Forum in Davos, President of the Russian Federation Vladimir Putin said that Russia is part of Europe, and that, culturally, Russia and Europe are one civilization. This is the basic premise—one that is not based on emotions—that should underlie Russia's policy in its relations with Europe.
Russia and the European Union disagree on many things, but the only way to overcome misunderstandings and find opportunities to move forward is through dialogue. In this context, the recent visit of the EU High Representative to Moscow was a much-needed step in the right direction, despite the criticism that this move received from the European side. Nobody was expecting any "breakthroughs" from the visit, as the animosities and misunderstandings between the two sides cut too deep. Yet visits and contacts of this kind should become the norm, for without them we will never see any real progress in bilateral relations.
In addition to the issues that currently fill the agendas of the two sides, attention should be focused on developing a strategic vision of what EU-Russia relations should be in the future, as well as on areas of mutual interest. For example, it is high time that Europe and Russia broached the subject of the compatibility of their respective energy strategies, as well as the possible consequences of the introduction of "green energy" in Europe in terms of economic cooperation with Russia. Otherwise, it will be too late, and instead of a new area of mutually beneficial cooperation, we will have yet another irresolvable problem.
In his work Russia and Europe, Nikolay Danilevsky, while recognizing the good that Peter the Great had done for his country, reproached him for "wanting to make Russia Europe at all costs." No one would make such accusations today. Russia is, was and always will be an independent actor on the international stage, with its own national interests and priorities. But the only way they can only be realized in full is if the country pursues an active foreign policy. And one of the priorities of that policy is relations with Europe.
From our partner RIAC