On August 27, Foreign Policy reported that Secretary of State Mike Pompeo was considering suspending $130 million worth of US aid to Ethiopia. Within less than a week, the US on the orders of President Trump suspended some of the aid, in the hope that such action would cajole Addis Ababa to reach an agreement over the Grand Ethiopian Renaissance Dam (GERD) with Egypt. The view from Washington DC is that they want an agreement reached before Ethiopia continues to fill the dam.
The American decision shows a limited understanding of the GERD, Horn of Africa geopolitics, and that a transactional foreign has many limitations. Fundamentally, the decision does not further American interests in the region, but rather weakens it as Ethiopia can easily find others to make up the shortfall.
Construction for the $4.8 billion the GERD begun in April 2011. The Dam, which draws water from the Blue Nile, should hold 74 billion cubic metres. It is expected to generate up to 6,000 megawatts of power and in doing so address Ethiopia's energy insecurity: around 60 million Ethiopians have no access to electricity or very limited access. Moreover, the Ethiopian government was also hoping to export energy to some of its neighbours thus earning the country valuable foreign currency. Thus, the dam has become an important national symbol, with popular musicians releasing songs exalting the construction and what it would mean to Ethiopians ordinary people, as the government sold the dam to the people as the great panacea for Ethiopia's energy insecurity.
The GERD as expected has become a major issue, primarily for Egypt, which relies extensively on the Nile. Egyptians are concerned that the dam would siphon off much of the water that Egypt needs for its burgeoning population, agriculture, and industry. There have been many attempts at negotiation, some sponsored by the United States and some by the African Union. But to date, no resolution to the dispute has been reached in part because Egypt cannot accept that it does not have full control over the Nile. Conversely, for Ethiopia, the GERD is the great hope for a better tomorrow.
One reason why the US decision is unlikely to encourage the Ethiopian government to change course stems from the recognition that Abiy Ahmed Ali is under enormous domestic pressures and compromising on the dam would only weaken his position. Abiy is dealing with anger at the way his government went about postponing the federal elections, leading to accusations of authoritarianism. Abiy is also contending with anger at the way the security services responded to the killing of musician-activist, Hachalu Hundessa, on 29, including the decision to arrest and detain thousands of people, many of whom are opponents of the government. There is also unhappiness with how the government has dealt with the Tigray Regional Zone, the centre of Abiy's key political opponents, the Tigray for Democracy and Justice Party, and its demand to hold a regional election, which it has since held. The conflict with the Tigray stems in part from Tigray's unhappiness of losing political power, which they have held since 1991, even though they account for about 5% of the population. The push for regional election emphasises growing demand by Ethiopia's many ethnic groups for more power at the expense of the federation.
Another major challenge for Abiy is the state of the economy. He came to power on the back of an ambitious economic policy aimed at liberalising such sectors as telecommunication and finance but theCOVID-19 pandemic has derailed much of that program. Some of the measures adopted to combat the spread have had a dire impact on key sectors primarily agriculture but also construction. For example, the travel restrictions have affected the agriculture sector, already under pressure from desert locust infestations and perpetual underinvestment. It was therefore unsurprising to learn that in a World Bank survey many Ethiopians expressed great apprehension for the future.
Several things are working in Abiy's favour as we look at the American decision to suspend the aid and why it is unlikely to dissuade the Ethiopians from reaching an agreement first with Egypt. The first is China. Sino-Ethiopian relations, which began in 1970, have always been strong. Early onBeijing recognised Ethiopia's geostrategic importance whether in respect to its African policy (Addis Ababa is home to the African Union) or to Beijing's revisionist foreign policy as symbolised by the Belt and Road Initiative (BRI).
Ethiopia was quick to sign up to the BRI, seeing it as a way to gain needed capital and expertise as successive governments seek to develop Ethiopia. China and Chinese companies provide capital for the construction of the Ethiopia-Djibouti Railway, it constructs roads, a national sports stadium, and it has supported the construction of the dam. China has also provided humanitarian and specifically COVID-19 assistance to Ethiopia, including helping Ethiopia manufacture its COVID-19 test kits instead of relying on others. These are just some of the measures undertaken by Beijing to ensure that it has a strong footing in Ethiopia. Abiy knows he can rely on Beijing, which wants access to one of Africa's fastest growing population.
A second thing working for Abiy is that he does have international support. Soon after coming to power in 2018, he reached out to Ethiopia's long time enemy Eritrea and made important concessions such as giving up the village of Badme, which was awarded to Eritrea in 2002, without any preconditions. This led him to a Noble Peace Prize. Abiy has also benefitted from having a progressive domestic policy including releasing countless high-profile political prisoners.
The US decision, which allegedly was made by President Trump, is shortsighted because the size of the aid is relatively small to entice Addis Ababa to change course. Moreover, the cut will not affect US humanitarian assistance to Ethiopia, which has remained unaffected as USAID recognises over 16 million people need aid because of COVID-19 and other crises such as the locust infestation and climate change.
Secondly, Abiy knows that slowing down the filling up process or making significant concessions to Egypt would infuriate many Ethiopians who are looking to the dam as a panacea and the beginning of a golden tomorrow.
Thirdly, Abiy has support from key riparian states who are supportive of the dam and see the potential for their energy security. There is more distaste towards Egyptian attitude, with many of the affected states taking the view that Egypt has bullied the region for too long. Concomitantly, having President Trump in your corner when it comes to African affairs is not necessarily a good thing, as many on the continent, which he has never visited,remember the disparaging comments he has made towards the continent and its people.
Fourthly, Abiy knows that he can easily replace American aid, as countries recognise Ethiopia's importance as it is a huge country, with over 100 million people many of whom are young and who look to benefit from the fruits of industrialisation. Moreover, it is believed that President Trump intervened because he supports President al-Sisi, an authoritarian leader. In other words, the US President is preferring an authoritarian, unpopular leader over a democratically elected popular leader.
To have a transactional foreign policy one need to have leverage but in this specific instance, the United States has seriously overestimated its leverage, thus limiting its ability to affect change and becoming less relevant in the Horn of Africa, at a time when China is cementing its presence in this crucial region.
Kenya's Peter Mathuki appointed as Head of EAC Secretariat
Kenya's Peter Mutuku Mathuki has been appointed to head the East African Community (EAC), the regional bloc that brings East African countries under one umbrella. Mathuki replaces Burundi's Liberat Mfumukeko, whose five-year term ended early 2021. The post is usually rotational for five years.
As Secretary-General of the regional bloc, his key tasks include regional development, increasing inter-regional trade and addressing investment possibilities for both potential internal and external investors.
According to his profile, Mathuki has worked as Executive Director at the East African Business Council, and consequently emerged as the top candidate for the new position. Over the years, he has been dealing with the corporate business sector, and believed to have sufficient experience and contacts useful to address incessant wrangles in the East African Community.
Mathuki previously served as a member of the East African Legislative Assembly, chairing the Committee on Legal Affairs and Good Governance as well as Accounts, Trade and Investment.

He has held political positions in Kenya and in international bodies including the International Labour Standards at the former International Confederation of Free Trade Unions (ICFTU-Africa), now ITUC-Africa, which he served as director. He was also a consultant for European Union programmes in Kenya.
Mathuki comes on board as the African continent implements the Africa Continental Free Trade Area (AFCFTA) agreement, where he has been involved in the creation of the nascent African Business Council. Trading under this AfCFTA began on January 1, 2021 and opens up more opportunities for both local African and foreign investors from around the world.
Mathuki was taken on as a rectification strategy by Kenya, following a low-key leadership by Mfumukeko. Under his term, countries routinely skipped summits and member states wrangled over tariffs and political accusations. His secretariat faced financial constraints as member states delayed remitting their membership dues and donors reduced funding following allegations of corruption.
The latest report from the East African Community Secretariat for this year shows, for example, that South Sudan is the most indebted member of the EAC. It owes US$24.6 million in funding towards the main budget even though it should pay up to US$32.4 million including this year's dues. It should also pay US$2.8 million to the Inter-University Council of East Africa and another US$345,000 to the Lake Victoria Fisheries Organization.

The main budget usually funds the operations of the EAC Secretariat, the East African Court of Justice, the East African Legislative Assembly and other bodies dealing with specified fields. The Secretary-General is the principal executive and accounting officer of the community as well as the secretary of the summit and serves for a fixed period of five years.
Many businesses and market players perceive the region as progressively stable for long-term beneficial business, investment and trade. With a combined population estimated at 173 million, the region is relatively large. The East African Community (EAC) is an intergovernmental organization composed of six countries in the Great Lakes region in Eastern Africa. The members are Burundi, Kenya, Rwanda, South Sudan, Tanzania and Uganda.
A Fault Line Named Farmajo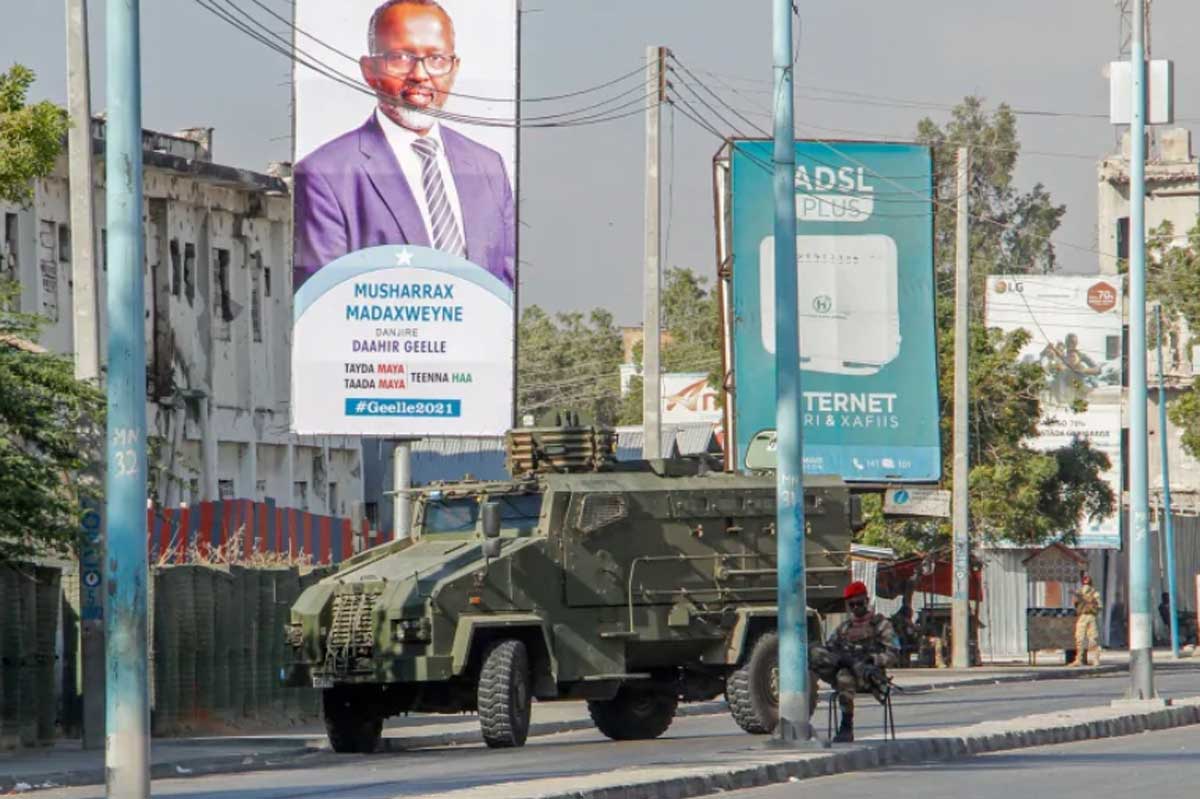 Somalia, a country of many political fault lines that indicate looming earthquakes of great magnitude, now has a new one- the Farmajo fault. Mohmed Abdullahi Farmajo is the malignantly polarizing president of Somalia.
Two of the Farmajo fault's severe foreshocks or preliminary shakers have occurred on Thursday 18 February and Friday 19 February. In the first one, government troops have attacked two former presidents and current candidates at a hotel where they were organizing to lead a peaceful march against Farmajo's illegally delayed election the next day.
The second one occurred on Friday when the government fired indiscriminately at a peacefully marching citizens led by Farmajo's former prime minister, former ministers and a few other candidates. An estimate of twenty people was reported dead or seriously injured.
That was the most callous act that any leader or ruler could have ordered at a time of high political volatility. It is the opinion of this author that that has ended Farmajo's political future. He severely wounded himself in his first reckless attack and committed suicide in his second.
Nature of the Violation
According to Article 19 of the U.N. Universal Declaration of Human Rights:
Everyone has the right to freedom of opinion and expression; this right includes freedom to hold opinions without interference and to seek, receive and impart information and ideas through any media and regardless of frontiers.
And, according to Article 20:
(1) Everyone has the right to freedom of peaceful assembly and association
(2) No one may be compelled to belong to an association.
These universal rights coupled with the freedoms expressed in Somalia's provisional constitution, affirm that those whose Friday march was violently aborted had the right to protest and chant 'Doorasho diid dooni meyno!' which means we don't want election refuser. No one should be bullied, violently attacked, injured, or killed for their verbal expressions of discontent.
What was witnessed in Mogadishu in that bloody protest was something not seen in a number of decades. The protesters were not those often seen in the streets of Mogadishu- IDPs and other poor women draped in the Somali flags who are stationed in street corners, under the baking sun, to get paid a few dollars at the end of the day, and children shouting slogans that they do not understand.
Any government that resorts to violence in order to silence its opposition, activists, or dissidents inevitably loses its legitimacy. So more often than not, such government's days become numbered.
Anyone who has been following my commentaries on Somalia knows that I neither support nor think the opposition (any one of the 14 presidential candidates) could help save this nation that is sinking deeply into quicksand of distrust, for that requires more than election. Yet, I—like many others who have no horse in this bloody race—am committed to defend their right to publicly and privately express their political views.
Spin Doctors of Halane
The aforementioned Friday violence occurred within a walking distance from Halane (Somalia's Green Zone) and key actors in that compound were well aware, at least for a few days before the event, that an anti-Farmajo protest would led by a coalition of presidential candidates who felt scorned and disenfranchised by the 'Madaxweynaha uu xiligiisu dhamaaday' or the President whose term has ended.
In reaction, the UN Assistance Mission in Somalia (UNSOM) @UNSOM offered this solution "The UN in #Somalia notes that the clashes in #Mogadishu underscore the urgent need for Federal Government and Federal Member State leaders to come together to reach political agreement on the implementation of the 17 September electoral model."
The U.S. Embassy in Somalia followed with a paraphrased version of the same statement from another planet. " We urge an end to all violence and remind all parties of their commitment to immediately conclude an FGS-FMS agreement on #election implementation."
Interestingly, the referenced 'electoral model' is at the heart of the presidential candidates' grievance. They were denied to be part of it. These statements on behalf of the U.N. and U.S. were adding insult to an injury. As a result, the coalition of presidential candidates reasserted their position of not considering Farmajo as a legal president and that they would continue protesting until he comes back to his senses.
In solidarity with the disenfranchised presidential candidates, both the leader of Puntland federal-state and Jubbaland federal-state (who were at odds with Farmajo for long) have declared said agreement null and void. The 19 February bloody event has killed 17 September agreement.
In a no hold barred televised speech, President Said Abdullahi Deni of Puntland said "We are not going to a conference with Farmajo…" He described Farmajo as a "dictator" who has been dividing the country, and warned against regression into a renewed civil war.
Recommendations
1) Allow the candidates and all others who want to march to do so freely, and all domestic and foreign stakeholders should support their right to do so
2) Farmajo must be pressured to step aside without being barred of participation in the election- a constitutional right that he cannot be denied
3) The 2009 precedent should not be followed. When then controversial president, Abdullahi Yusuf, was pressured to step aside, his Prime Minister, Nur Adde, was asked to lead the country while a new government was being formed in Djibouti. Nur Adde was not seen as partisan as the current Prime Minister, Mohamed Hussein Roble, who recently declared to unilaterally conduct elections without Puntland and Jubbaland
4) Since no official in the Executive or the Lower and the Upper House branches has a mandate to lead the country while stakeholders are negotiating the right model of election and implementing it, the Speaker of the Upper House, Abdi Hashi, should be entrusted with that responsibility for the following reasons:
a) He is a tower of patriotism among the current politicians
b) He is the oldest, most ethical, and indeed most credible member of the parliament
c) He is the only leader who has been playing by the rules
d) He is the only one who refrained from the cut-throat politics that kept all others in a state of hyper-paranoia
e) He is one of the Senators who represent Somaliland in the clan-based federal system
f) He represents one of the four 'major clans' in the so-called 4.5 system that never held the presidency, even transitionally
g) Once a new parliament is elected and a new president is elected or selected, Speaker Hashi clears the way for that new president
The Farmajo fault should not be underestimated. His prolonged stay could wholly tribalize the issue and subsequently make matters worse. Though the clan rhetoric has not been absent, so far the dichotomous divide between the political elite is not fueled by clan politics. Certain foreign actors possess more political leverage than the clans.
African problems require African solutions
In order to strengthen political dialogue and promote economic relations, Professor Robert Dussey, Minister of Foreign Affairs, African Integration and Togolese Abroad, held diplomatic talks on February 16, 2021 with his Russian counterpart Minister Sergey Lavrov in St. Petersburg. According to reports, Professor Dussey's visit was on the invitation by Moscow, and came on exactly one year after their last meeting February 15 in Munich.
After their closed-door discussion, Lavrov told the joint news conference that there is a mutual interest in intensifying and deepening the entire scope of bilateral ties, including trade, the economy and investment, and have agreed to look for specific opportunities for joint projects in areas such as energy, natural resources, infrastructure, transport, and agriculture.
Regarding issues on the African continent, Lavrov re-emphasized that African problems (of which there are many) require African solutions. "We strongly support the African Union, the G5 Sahel, and the sub-regional organizations in Africa, in their efforts to resolve numerous local conflicts and crises. We specifically focus on supporting the fight against terrorism, which poses a real threat, including for our friends in Togo and other coastal countries in the region of the Gulf of Guinea," he said.
In fact and as always, Lavrov reiterated Russia's commitment to continue to act actively in pursuing peace and, to this end, called for the peaceful settlement of all kinds of differences, and reaffirmed support for sustainable development there in Africa.
Regarding issues from the last summit held in Sochi, Lavrov stressed: "We are interested in developing the resolutions of the Russia-Africa summit. We spoke in detail about the implementation of these agreements. The coronavirus pandemic has required adjustments. Nevertheless, the results on implementing the Sochi agreements are obvious. This year we will actively continue these efforts."
The Association for Economic Cooperation with the African States was created in Russia following the 2019 Sochi summit. It includes representatives from the related departments and major Russian companies. The Russia-Africa Partnership Forum, which is a political association, was created, its secretariat is located at the Russian Foreign Ministry. The primary tasks of the Russia-Africa Partnership Forum includes preparation and organization of the next Russia-Africa summit scheduled for 2022. The venue to be chosen by African leaders.
"We are still slightly behind other states, but trade between Russia and the African countries has been growing quite rapidly lately. I think we will soon make up for the time we lost in the years when, at the dawn of the new Russian statehood, we were too busy to maintain proper ties with Africa. A very strong foundation was laid in Soviet times, though," Lavrov said further at the news conference about the current situation with relations between Russia and Africa.
It has always been the wish of both Russia and Africa to have an excellent quality of cooperation and partnership relations between the two regions and to diversify and deepen them as best as possible in order to provide an appreciable geopolitical influence and strategic power balance in Africa.
Russia and Togo, as with many other African countries, have had long time-tested relations over the years. The most recent high-level meetings were between Russian President Vladimir Putin and Togolese President Faure Gnassingbe during sidelined bilateral meeting in October 2019, when Gnassingbe participated in the Russia-Africa summit in Sochi, and on the sidelines of the BRICS summit in Johannesburg in July 2018.
With an estimated population of about 7.9 million, Togo is among the smallest countries in Africa. Its economy depends highly on agriculture. Togo pursues an active foreign policy and participates in many international organizations. Relations between Togo and neighboring states are generally good. It is particularly active in West African regional affairs and in the African Union.