On August 27, Foreign Policy reported that Secretary of State Mike Pompeo was considering suspending $130 million worth of US aid to Ethiopia. Within less than a week, the US on the orders of President Trump suspended some of the aid, in the hope that such action would cajole Addis Ababa to reach an agreement over the Grand Ethiopian Renaissance Dam (GERD) with Egypt. The view from Washington DC is that they want an agreement reached before Ethiopia continues to fill the dam.
The American decision shows a limited understanding of the GERD, Horn of Africa geopolitics, and that a transactional foreign has many limitations. Fundamentally, the decision does not further American interests in the region, but rather weakens it as Ethiopia can easily find others to make up the shortfall.
Construction for the $4.8 billion the GERD begun in April 2011. The Dam, which draws water from the Blue Nile, should hold 74 billion cubic metres. It is expected to generate up to 6,000 megawatts of power and in doing so address Ethiopia's energy insecurity: around 60 million Ethiopians have no access to electricity or very limited access. Moreover, the Ethiopian government was also hoping to export energy to some of its neighbours thus earning the country valuable foreign currency. Thus, the dam has become an important national symbol, with popular musicians releasing songs exalting the construction and what it would mean to Ethiopians ordinary people, as the government sold the dam to the people as the great panacea for Ethiopia's energy insecurity.
The GERD as expected has become a major issue, primarily for Egypt, which relies extensively on the Nile. Egyptians are concerned that the dam would siphon off much of the water that Egypt needs for its burgeoning population, agriculture, and industry. There have been many attempts at negotiation, some sponsored by the United States and some by the African Union. But to date, no resolution to the dispute has been reached in part because Egypt cannot accept that it does not have full control over the Nile. Conversely, for Ethiopia, the GERD is the great hope for a better tomorrow.
One reason why the US decision is unlikely to encourage the Ethiopian government to change course stems from the recognition that Abiy Ahmed Ali is under enormous domestic pressures and compromising on the dam would only weaken his position. Abiy is dealing with anger at the way his government went about postponing the federal elections, leading to accusations of authoritarianism. Abiy is also contending with anger at the way the security services responded to the killing of musician-activist, Hachalu Hundessa, on 29, including the decision to arrest and detain thousands of people, many of whom are opponents of the government. There is also unhappiness with how the government has dealt with the Tigray Regional Zone, the centre of Abiy's key political opponents, the Tigray for Democracy and Justice Party, and its demand to hold a regional election, which it has since held. The conflict with the Tigray stems in part from Tigray's unhappiness of losing political power, which they have held since 1991, even though they account for about 5% of the population. The push for regional election emphasises growing demand by Ethiopia's many ethnic groups for more power at the expense of the federation.
Another major challenge for Abiy is the state of the economy. He came to power on the back of an ambitious economic policy aimed at liberalising such sectors as telecommunication and finance but theCOVID-19 pandemic has derailed much of that program. Some of the measures adopted to combat the spread have had a dire impact on key sectors primarily agriculture but also construction. For example, the travel restrictions have affected the agriculture sector, already under pressure from desert locust infestations and perpetual underinvestment. It was therefore unsurprising to learn that in a World Bank survey many Ethiopians expressed great apprehension for the future.
Several things are working in Abiy's favour as we look at the American decision to suspend the aid and why it is unlikely to dissuade the Ethiopians from reaching an agreement first with Egypt. The first is China. Sino-Ethiopian relations, which began in 1970, have always been strong. Early onBeijing recognised Ethiopia's geostrategic importance whether in respect to its African policy (Addis Ababa is home to the African Union) or to Beijing's revisionist foreign policy as symbolised by the Belt and Road Initiative (BRI).
Ethiopia was quick to sign up to the BRI, seeing it as a way to gain needed capital and expertise as successive governments seek to develop Ethiopia. China and Chinese companies provide capital for the construction of the Ethiopia-Djibouti Railway, it constructs roads, a national sports stadium, and it has supported the construction of the dam. China has also provided humanitarian and specifically COVID-19 assistance to Ethiopia, including helping Ethiopia manufacture its COVID-19 test kits instead of relying on others. These are just some of the measures undertaken by Beijing to ensure that it has a strong footing in Ethiopia. Abiy knows he can rely on Beijing, which wants access to one of Africa's fastest growing population.
A second thing working for Abiy is that he does have international support. Soon after coming to power in 2018, he reached out to Ethiopia's long time enemy Eritrea and made important concessions such as giving up the village of Badme, which was awarded to Eritrea in 2002, without any preconditions. This led him to a Noble Peace Prize. Abiy has also benefitted from having a progressive domestic policy including releasing countless high-profile political prisoners.
The US decision, which allegedly was made by President Trump, is shortsighted because the size of the aid is relatively small to entice Addis Ababa to change course. Moreover, the cut will not affect US humanitarian assistance to Ethiopia, which has remained unaffected as USAID recognises over 16 million people need aid because of COVID-19 and other crises such as the locust infestation and climate change.
Secondly, Abiy knows that slowing down the filling up process or making significant concessions to Egypt would infuriate many Ethiopians who are looking to the dam as a panacea and the beginning of a golden tomorrow.
Thirdly, Abiy has support from key riparian states who are supportive of the dam and see the potential for their energy security. There is more distaste towards Egyptian attitude, with many of the affected states taking the view that Egypt has bullied the region for too long. Concomitantly, having President Trump in your corner when it comes to African affairs is not necessarily a good thing, as many on the continent, which he has never visited,remember the disparaging comments he has made towards the continent and its people.
Fourthly, Abiy knows that he can easily replace American aid, as countries recognise Ethiopia's importance as it is a huge country, with over 100 million people many of whom are young and who look to benefit from the fruits of industrialisation. Moreover, it is believed that President Trump intervened because he supports President al-Sisi, an authoritarian leader. In other words, the US President is preferring an authoritarian, unpopular leader over a democratically elected popular leader.
To have a transactional foreign policy one need to have leverage but in this specific instance, the United States has seriously overestimated its leverage, thus limiting its ability to affect change and becoming less relevant in the Horn of Africa, at a time when China is cementing its presence in this crucial region.
Conflict In Northern Ethiopia: Pathways To Peace And Normalization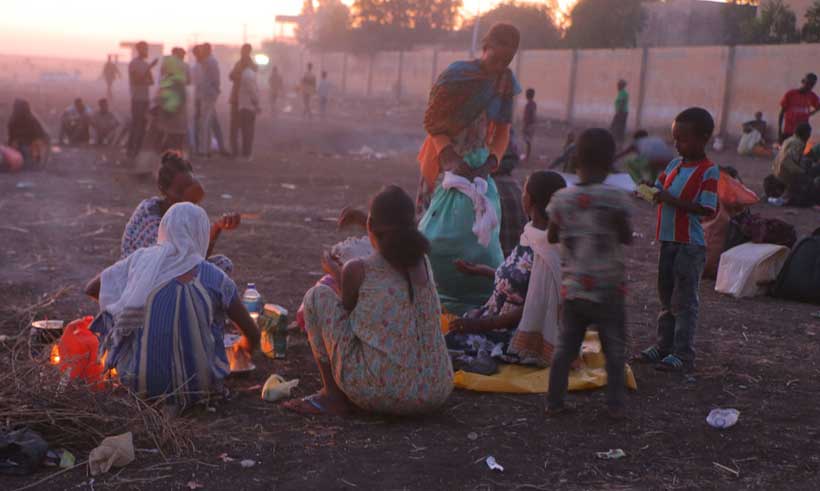 On 28 November, Ethiopian federal troops captured Mekelle, the capital of Tigray province in northern Ethiopia. For the first time in decades, the fighting involved formed military units after the Army's Northern Command had been attacked by forces loyal to the Tigray TPLF.The TPLF political group held power in Ethiopia for decades prior to the government of PM Abiy. The last major military engagement in the Horn of Africa Region was fought on the 1000-kmborder between Ethiopia and Eritrea in the border war 1998-2000over areas close to the current conflict theatre. The fighting claimed over 100,000 lives and caused massive deportations on both sides.
Although an all-out siege of Mekelle was avoided, the region contains much combustible material and security risks- hovering perilously near an inter-state conflict. This was underscored by the rocket attack last Saturday from Tigray against the airport area in Asmara in neighboring Eritrea- the third such strike since the conflict started three weeks before. In the last few years, the wider Horn of Africa and IGAD region had become a beacon of hope for increased stability and integration: this includes PM Abiy's award of the Nobel Peace Prize in 2019, political transition in Sudan after the fall of the Al-Bashir regime and peace deals with rebel groups earlier in 2020. The new conflict has once again exposed the weak state of multilateralism during the COVID-19 Pandemic, lack of consensus in the UN Security Council and the gulf between ambitions and realities in conflict prevention and conflict resolution.
All signs point to continued escalation risks in the conflict. Foreign observers agree that there is no quick end to the fighting. TPLF has apparently sidestepped the Army's assault and may still command a considerable arsenal, according to a new statement by the fugitive TPFL leader from near Mekelle. TPLFis poised to wage a guerilla campaign in the north, which has been its strength against previous central governments in Ethiopia. If the conflict spirals out of control and unrest affects other regions inside Ethiopia, there is a lot at stake: Ethiopia will be weakened as an eminent power in the region, spillover into neighboring states may occur.
Human Security, Protection Of Civilians And Economic Issues
Already before the conflict, the civilian population of northern Ethiopia was facing great challenges. The hostilities have further weakened human security in a region plagued by drought and food scarcity, experiencing climate change effects such as transboundary locust swarms. Refugee movements peaked last week in Sudan which has received some 43,000 arrivals from Tigray and increased the stress on its resources. UNHCR has appealed for about $150 mln USD in relief. Tigray also houses about 96,000 refugees from Eritrea in several camps. During the latest fighting, the killing of hundreds of civilians at Mai-Kadra on 9 November near the border between Tigray and Amhara regions of Ethiopia illustrated the lack of civilian protection and raised fears of more violence and retaliation. Ethiopian authorities have now stated they would establish humanitarian corridors after Tigray was effectively cut off from humanitarian aid for a month and the UN repeatedly urged humanitarian access.
The conflict is also deepening Ethiopia's economic trouble from the impact of the COVID-19 pandemic. with a projected decline from 1.9% in 2020 to zero in 2021, according to the IMF.Young peoplein particular struggle to find employment and have been recruited into provincial militias or political party militant groups. Despite its political differences and the expansion of a transport corridors with Djibouti and from Berbera Port in Somaliland, Tigray has long dominated the Ethiopian import business and its entrepreneurial class is quite established in Addis Ababa.
Vulnerable Neighboring States And Proxy Wars
Stability in northern Ethiopia is paramount for the regional neighbors, including Sudan and Somalia. They are in the middle of their own transitions and vulnerable to external shocks and political destabilization. Eastern Sudan saw tribal clashes and unrest in Kassala and Port Sudan cities in early 2020; Sudan still has many armed factions that might benefit from turmoil in northern Ethiopia. Ethiopian troop withdrawals from Somalia as a result from conflict in Tigray could additionally imperil the electoral calendar for Somalia and embolden Al-Shabaab terrorists. Continued and escalating violence could provoke more massive refugee flows and lead to an "African world war" scenario in the Horn Region, according to analysts. Across the Horn of Africa, the conduct of proxy wars by supporting domestic rebel groups in rival countries had been a pattern in the 20th century after de-colonization.
Just across the Tigray border, the authoritarian regime of Eritrea remains highly militarized. It remains a mercurial player with possible regional power ambitions in the new conflict. In 2018, President Afewerki and PM Abiy managed to form an understanding but neuralgic points along the border such as the disputed town of Badme persist in the absence of a demarcation line. Anecdotal information suggests that Eritrea allowed sophisticated weapons such as drones to be launched from its territory. It also sheltered Ethiopian military from TPLF forces while carrying out large sweeps for mobilization in Asmara which were reportedly extended to some refugee camps inside Ethiopia.
Unpredictable military moves in an area fraught with a history of tension can create misunderstandings and easily spark wider conflagrations. As a small state that has so far been unaffected by the violence, Djibouti prides itself of stability but remains potentially also at risk. The country is still nominally at war with Eritrea. Just after the Ethiopia-Eritrea border war, Djibouti hosted tripartite military talks under UNMEE UN-Mission auspices in the form of a Military Coordination Commission. For transparency and arms control in northern Ethiopia and its border regions, similar confidence building efforts could take place. This could manage further escalation potentials and discuss sensitive reform steps in the military and security posture of Tigray.
Geopolitics In The Red Sea Region And The Nile Basin
Although there is no evidence of any outside power interfering with the conflict in northern Ethiopia, extra-regional powers are by no means disinterested. These actors include Egypt which vigorously opposes the completion of Ethiopia's new "Grand Renaissance Dam" on the Blue Nile for fears of water security as well as the United Arab Emirates, Turkey and China. Russia is considering building a new naval base on the Red Sea in Sudan.
IGAD regional states have only recently started systematic information sharing and joint dialogue for the Red Sea Region among littoral states and some important neighbors. Consultative meetings were held with all IGAD members through an IGAD Task Force for the Red Sea and the Gulf of Aden, established in February 2019. It is in this complex geopolitical environment that Djibouti may have a role to play, as a realistic and trusted actor on the doorstep of the strategically important Babel-Mandeb Strait. Further up from Djibouti on the Red Sea along the Eritrean seacoast, the shipping lane is only about 150 km from Ethiopian territory and caries significant international traffic for Energy security in Europe. Interference or a surge in illegal migration across the Red Sea towards the Gulf States would have to be avoided at all costs. Nothing could illustrate better the sensitivity of Djibouti's strategic location than the concentrated military presence. There are no less than five foreign military bases in Djibouti. The US keeps its largest base in Africa there and China its largest overseas base, along with France, Italy and Japan.
The Way Forward In Conflict Resolution And Mediation
PM Abiy has so far refused outside mediation or negotiation with the TPLF faction, labelling the intervention a "law enforcement action" and an internal matter of Ethiopia. The designated panel of African Union mediators (three former heads of state from Liberia, Mozambique and South Africa) has not been allowed to engage after they arrived in Addis Ababa last week. Commentators have criticized the AU of being inconsistent and bowing to Ethiopian pressure, since the AU is headquartered in Addis Ababa. The EU has nominated Finland's Foreign Minister as an Envoy for the conflict, and both the EU and the UN already keep envoys for the Horn of Africa in Nairobi and in Addis Ababa. High-level coordination and cooperation are therefore well resourced. Once sufficient trust has been built for an Ethiopian-led process to bring the protagonists to the table, flanking support can be provided to an African Union mediation effort.
Despite the current challenges, an Ethiopian-led genuine dialogue and comprehensive normalization process can still gain traction. This would require a tailored set of confidence building measures (CBMs) to reassure the parties that a return to the battlefield is firmly excluded and a modicum of oversight internationally guaranteed. Incentives can be created for quick recovery, restoring trust in stability among neighboring states, and in justice and the rule of law as harbingers of reform which is a shared interest of all protagonists. Along the vectors of conflict risks outlines above, these initiatives can help open the door to national reconciliation and more comprehensive mediation processes around the time of the next Ethiopian general election in 2021.
Some analysts are proposing a basic3-Step Planto launch negotiations (including ceasefire, humanitarian access, mutual acceptance and national dialogue for a new dispensation of power in state and federal level relations as well as constitutional reform). In the Horn of Africa region, many leaders are cautious about formal 'power sharing' arrangements which showed their limits in situations such as South Sudan. Therefore, smaller discreet steps and targeted incentives run in parallel might be advisable in the short run to create a more conducive environment for broader mediated talks:
Provide expertise for an inventory of heavy and crew-served weapons and cantonment under mixed supervision, e.g. with International Observers.
Establish common principles for Security Sector Reform steps in affected areas, with focus on the regime and command and control over provincial militias / paramilitary units and police forces as well as training in Protection of Civilians; monitoring of military tribunals to ensure the conflict parties are seeing fair trials against worst offenders.
Launch rapid projects for connecting infrastructure and self-help reconstruction for returnees with the goal of normalizing conditions in Tigray province and on the borders;devise labor-intensive programs to benefit transport and trade corridors as outlined by the World Bank and African Development Bank in order to boost the region's economic potentials, create jobs and foster entrepreneurship.
Scientific and trade cooperation between China and Africa
China was crumbling into misery, degradation and despair, in the middle of that 109-year period (1840-1949) known as the era of semi-wild and semi-colonial China. As early as 1840, the year of the Opium War, declared by Britain on China to bring in the drugs that the Chinese refused, China's history had been one of rapid ruin.
The ruin was not only material, caused by the vampirism of colonial power that exploited the Middle Empire with weapons, forcing it to accept unjust treaties, burning Beijing palaces, beating and massacring the people with the British Sikh policemen, claiming huge "compensation payments" for wars waged against it. It was also spiritual ruin. None of the old values and traditions could curb that wave of destruction.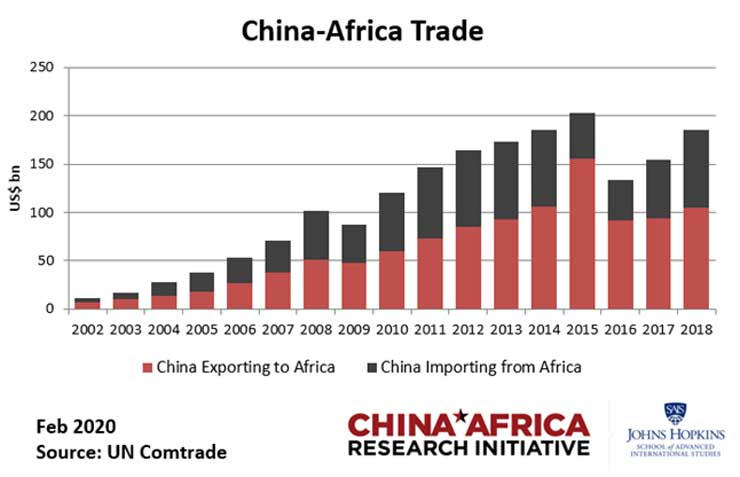 However, over the last seventy years, things have changed and the main contradiction between the pious sermons of Western democracy and the simultaneous indiscriminate exploitation of China has disappeared with the expulsion of Jiang Jieshi (Chiang Kai-shek). It has disappeared in all fields.
On December 6, 2019, during the 5th South Africa Science Forum (Pretoria, December 4-6, 2019), Chinese Ambassador Lin Songtian was invited to participate in the Forum parallel workshop,"China-Africa Scientific and Technological Cooperation: Impact and Prospects", and delivered the opening speech. The major media widely and proactively reported the diplomat's words, claiming that China's investment in Africa was second to none.
Ambassador Lin Songtian said that the Belt & Road Initiative proposed by Chinese President Xi Jinping had effectively promoted Africa's development. China's cooperation with Africa has always followed the principle of truthfulness and honesty, justice and mutual benefit. China has always been committed to achieving win-win cooperation and joint development with Africa. This stands in stark contrast to Western countries that pursue their own interests first and not those of equal and mutual benefit.
The United States, Japan and the EU are not involved in every large-scale infrastructure. Only China has invested and provided massive amounts of funds. Ethiopia, for example – once one of the poorest countries on the African continent – has become one of the fastest growing economies in the world after over ten years of development.
Several well-known scientists from the South African Republic participated in the Forum, maintaining that China – also a developing country – fully understands Africa's needs and its willingness to open the door to cooperation in the field of scientific and technological innovation on an encouraging basis.
The joint scientific research conducted by China and Africa is able to strongly promote the development of the African continent. Africa has missed the first three industrial revolutions and cannot miss the fourth. China has many useful experience gained with Africa to teach.
If China can create scientific and technological companies for training African entrepreneurs, the Black Continent will certainly be able to offer valuable candidates; with the hope that Africa will also achieve scientific, technological and managerial independence.
Some scholars have also pointed out that the survey conducted by Afrobarometer has shown that because China's aid and investment in Africa have promoted the building of infrastructure, Chinese products are high-quality and cheap, and that 63% of Africans believe that China has a positive influence on Africa. 15% of Africans have a negative attitude towards China because they know very little about it and are influenced by irresponsible news from the former colonial media criticising the People's Republic of China.
The imperialist drug dealers, the exploitative colonialists and the pimps of the past, in new guises, complain about the lack of democracy, only because they have seen their centuries-old banquetat the expense of the Chinese people precluded.
At the same time, Africa, as China's economic and trade partner, has brought huge mutual benefits. Africa has the 53 most important minerals on the planet and some rare strategic resources, but the rate of development and use of arable land is lower than 30%. Although China is the world's richest country for mineral resources, its per capita share is less than half of the world's level. Hence, together with the regular distribution of mineral resources, it is also necessary to establish greater China-Africa relations to broaden the trade channels for these resources.
Although the African market has a high rate of return, it also has a certain degree of risk, which requires foreign companies to have better conditions to withstand fluctuations in the African market.
The benefits of China's investment in Africa are indisputable. Nevertheless, the Belt & Road Initiative has always been questioned by Western countries.
Over and above the politically correct dispute over the Asian country's lack of democracy, the main controversy has focused opportunistically on whether China has increased its risks of debt to recipient countries and whether these projects have adequate environmental protection plans.
Some Western theories argue that China uses "debt trap diplomacy", a means of providing a large amount of loans that beneficiaries cannot repay, so as to influence developing countries' policies.
However, in reality, the external debt profile of the beneficiary countries is very varied. Before Africa was hit by the Covid-19 epidemic, the average debt of the ten largest beneficiary countries was 36.5% of China's total income, close to 37.2% of the rest of Africa. Moreover, the situation in each country is different: these ten countries include high debtors such as Zambia and other countries with very low debt such as Angola, Kenya and Nigeria.
The loan initiative has always been in the hands of African countries which – when the funds and blackmail of multinational financial institutions do not meet their needs – have the right to rely on China to build the necessary infrastructure.
Therefore, to a certain extent, the high demand for loans is adapted to the development needs of African countries, which would remain blocked by the inertia of the West and its financial institutions.
At present, the method for financing the building of infrastructure is relatively simple. In general, governments obtain preferential loans from the Export-Import Bank of China or the China Development Bank, with the hiring of Chinese building contractors.
Furthermore, the Chinese government and private companies are paying increasing attention to environmental protection. For example, in April 2019 the Chinese Ministry of Ecology and Environment published Guidelines on the promotion of works and a cooperation plan for environmental protection.
China has understood the importance of the eco-environmental issue in transforming the green economy and promoting the sustainable development goals developed by the United Nations, and has further improved and implemented a range of risk prevention policies and measures.
The Chinese government is also making greater efforts to regulate private companies' behaviours. The number of these companies is much higher than reported by the statistics of the Ministry of Commerce and almost all of them use their own capital. If the Chinese government can provide more funding channels for private companies, it will have more say in encouraging private companies to pay attention to social responsibility.
According to the International Energy Agency's report, in 2019 almost 70% of the world's energy-deficient population lived in Africa and energy development is a huge driving force for economic growth. This means that the energy market will become an important area of China-Africa economic cooperation.
In a situation in which sustainable development has become a global trend, China-Africa economic cooperation shall inevitably adapt: from traditional energy extraction to alternative energy development; from large loans to the development of human capital. The focus on sustainability will not only lead to short-term contractual relations, but also to long-term partnership.
'Full scale' humanitarian crisis unfolding in Ethiopia's Tigray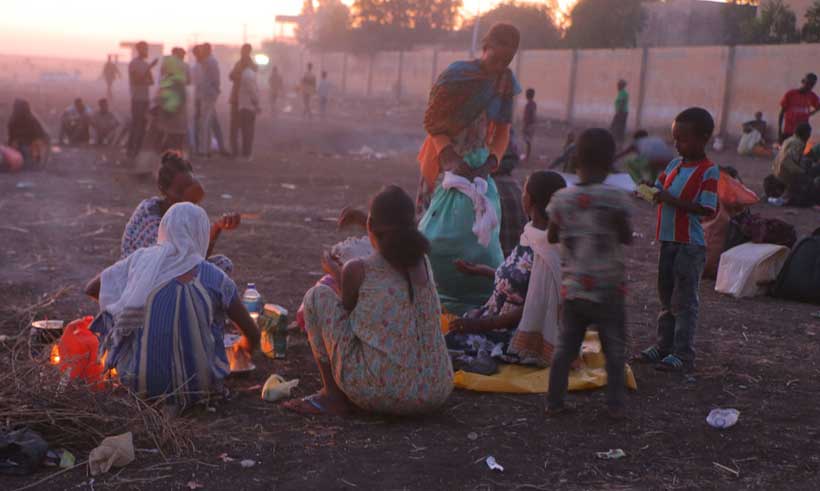 A "full-scale humanitarian crisis" is unfolding as thousands of refugees flee ongoing fighting in Ethiopia's Tigray region each day to seek safety in eastern Sudan, the UN refugee agency (UNHCR) reported on Tuesday.
More than 27,000 have now crossed into Sudan through crossing points in Kassala and Gedaref states, as well as a new location further south at Aderafi, where Ethiopian refugees started crossing over the weekend, according to UNHCR.
The scale of the influx is the worst that part of the country has seen in over 20 years, according to the agency.
"Women, men and children have been crossing the border at the rate of 4,000 per day since 10 November, rapidly overwhelming the humanitarian response capacity on the ground," said Babar Baloch, UNHCR spokesperson, briefing reporters in Geneva.
"Refugees fleeing the fighting continue to arrive exhausted from the long trek to safety, with few belongings", he added.
According to news reports, Ethiopian Prime Minister Abiy Ahmed, has indicated the military operation that was launched in response to the reported occupation of a Government military base by Tigrayan forces nearly two weeks ago, would continue, although he said it was now in its "final phase".
'Needs continue to grow'
UN agencies, along with relief partners have ramped up assistance – delivering food rations, hot meals and clean water, as well as setting up latrines and temporary shelters. They are also supporting the Sudanese Government in its response. But the needs continue to grow.
The UN World Food Programme (WFP) is also supporting other humanitarian workers in its response, providing fuel for vehicles and generators in remote locations. The UN Humanitarian Air Service, managed by WFP, has also increased flights from three times per week to daily flights for aid workers.
Since Saturday, UNHCR has relocated 2,500 refugees from the border to Um Raquba settlement site, in eastern Sudan. There is however, a "critical need" to identify more sites so that refugees can be relocated away from the border and can access assistance and services, said Mr. Baloch.
UNHCR has also issued an emergency fundraising appeal, through which people can help provide urgent, lifesaving assistance to refugees. Click here to make a donation
'On standby' in Tigray
Meanwhile in the Tigray region of Ethiopia itself, lack of electricity, telecommunications, fuel and cash, continue to severely hamper any humanitarian response, the UNHCR spokesperson said.
"After nearly two weeks of conflict, reports of larger numbers of internally displaced grow daily, while the lack of access to those in need, coupled with the inability to move in goods to the region, remain major impediments to providing assistance," he said.
UNHCR and partners are on standby to provide assistance to the displaced in Tigray, including basic items, when access and security allow.
The conflict is also a major ongoing concern for the Eritrean refugee population of nearly 100,000 in Tigray, who are reliant on assistance from UNHCR and partners.
"Potential for further displacement of refugees inside the country is increasingly a real possibility … The humanitarian situation as result of this crisis is growing rapidly" he warned, reiterating UNCHR's call for peace and urge all parties to respect the safety and security for all civilians in Tigray.