Within the framework of the joint declaration adopted at the historic Russia-Africa Summit, the Ministry of Foreign Affairs of the Russian Federation has established a Secretariat of the Russia-Africa Partnership Forum. The Secretariat of the Russia-Africa Partnership Forum has also moved to create an Association of Economic Cooperation with African States (AECAS).
The Secretariat of the Russia-Africa Partnership Forum primary task is to coordinate efforts for promoting cooperation between Russian and African integration associations, ensure political and diplomatic support for projects in Africa carried out with Russia's leading state-run and private companies' involvement, and for other aspects of preparations for Russia-Africa summits.
The Association of Economic Cooperation with African States was established as a non-profit organization on 12 April 2020 in accordance with a directive of the President of the Russian Federation Vladimir Putin dated 21 March 2020 with the assistance of the Russian Ministry of Foreign Affairs.
On September 9, the Roscongress Foundation and the Association of Economic Cooperation with African States (AECAS) held a ceremony in Moscow to sign a cooperation agreement as part of a presentation of the Secretariat of the Russia-Africa Partnership Forum. The agreement was signed by Roscongress Foundation CEO and Chairman of the Board, Head of the Russia—Africa Partnership Forum Coordinating Council Alexander Stuglev and the Head of AECAS Alexander Saltanov.
The speeches delivered at the meeting provided detailed information on the current and prospects of cooperation, and development of relations between the Russian Federation and African countries in the context of the results of the Sochi Summit. The discussions offered an insight into the main areas of activity of the Secretariat and the Association, their tasks to expand and strengthen Russian-African ties in within the framework of the dialogue mechanism of the Russia-Africa Partnership Forum.
"The Russia-Africa agenda has taken on special relevance today: the first Russia-Africa Summit and Economic Forum demonstrated the true potential of strategic relations between our countries. We are ready to make efforts and, jointly with the Association, help to create a favourable business climate, while serving as a bridge between Russian and African businesses and providing both sides with high-quality conditions for collaboration," Stuglev said at the signing ceremony.
On his part, Saltanov said "Russia's interest in economic, scientific, and cultural cooperation with African countries is long-term, sustainable and importantly, has historical roots. For their part, African countries are interested in Russian investments, technologies, and opportunities for training skilled personnel. The Association's current goal is to actively search for new growth points and build a structure to expand the scope of common interests and further cooperation with the African continent."
Mikhail Bogdanov, Special Presidential Representative for the Middle East and Africa and Deputy Minister of Foreign Affairs of the Russian Federation, attended the event. Delivering the opening speech, he said that "The first Russia-Africa Summit, a truly historic event that took place in Sochi in October last year was a response to these changing global challenges. It convincingly illustrated that Russia and its friends in Africa see each other as important and promising partners.
He further explained: "To provide efficient functionality for this new dialogue mechanism the Secretariat of the Russia-Africa Partnership Forum has been created. This structure aims to coordinate the entire range of relations with the African countries. It will oversee the formation of interagency expert groups that will come up with tangible solutions to develop and enrich economic, research, and humanitarian cooperation with the preparation for new Summits in mind."
Oleg Ozerov, Ambassador-at-Large and Head of the Secretariat of the Russia-Africa Partnership Forum, stressed that "The first Russia-Africa Summit and Economic Forum was a landmark event and achievement that made it possible to bring together all key politicians and business representatives from Russia and the African continent, establish contacts and agree on future cooperation areas. The second Russia-Africa event, in turn, will demonstrate the results of our efficient interaction, and, above all, economic results."
In May, Ozerov was appointed Ambassador-at-Large and Head of the Secretariat of the Russia-Africa Partnership Forum. The secretariat will prepare the second Russia-Africa Summit due in 2022 as per the agreements reached at the first ever Russia-Africa Summit held in Sochi. Biographical document made available says Ozerov is a diplomat with extensive experience at the Foreign Ministry, including with Arab and African countries.
As part of its preparation for the next Summit in 2022, the Secretariat of the Russia-Africa Partnership Forum has created three new Councils. (i) The Coordinating Council will be led by CEO and Chairman of the Roscongress Foundation Alexander Stuglev, (ii) The Research Council will be chaired by Irina Abramova, Director of the Institute for African Studies of the Russian Academy of Sciences and (iii) The Public Council will be headed by Yevgeny Primakov, Head of Rossotrudnichestvo.
These three councils will closely cooperate and hold regular meetings, under the control and with the participation of the Russian-Africa Partnership Forum Secretariat. Besides coordination, the Councils will deal with developing substantive conceptual offers for the development of economic, science-technical, humanitarian and other types of cooperation between Russia and the African states.
Russia has been looking for ways to continue building relations based not only on the nostalgic memories of shared past, that of the liberation of African states, but on new values as well: protection and reinforcement of the African states' sovereignty, the idea of maintaining and strengthening peace, good neighbourliness and cooperation with Russia.
Further, Russia is interested in the exploration and development of mineral resources and energy. It has not significantly invested in needed infrastructure in the continent, while agriculture remains only as a promising area for cooperation. That compared to the golden days, Soviet specialists built major infrastructure facilities, including hydroelectric power plants, roads and industrial enterprises across Africa.
Now, Russian companies are ready to work with their African partners to upgrade transport infrastructure, develop telecommunications and digital technologies, provide information security, and offer the most advanced technologies and engineering solutions.
In 2018, Russia's trade with African states grew more than 17 percent and exceeded $20 billion. During the Sochi summit, President Vladimir Putin said he would like to bring the trade figure to, at least, $40 billion in the next years. Experts, however, argue that with more than two decades of missed opportunities, Russia could significantly increase trade by improving its own export products and that means competing with other foreign players in Africa.
The first Russia-Africa Summit and Economic Forum was held in Sochi in October 2019 under the slogan – For Peace, Security, and Development. That event attracted over 6,000 participants, including representatives of all 54 African countries, 45 of which were represented by Heads of State and Governments.
The Summit culminated in the adoption of a final declaration that sets out the goals and objectives that have been endorsed for further development of Russia-Africa cooperation in different dimensions. It designated the Russia-Africa Partnership Forum as a new mechanism for dialogue in addition to summits in the Russia-Africa format once every three years. The second Russia-Africa Summit will be held in 2022.
South Sudan's transition from conflict to recovery 'inching forward'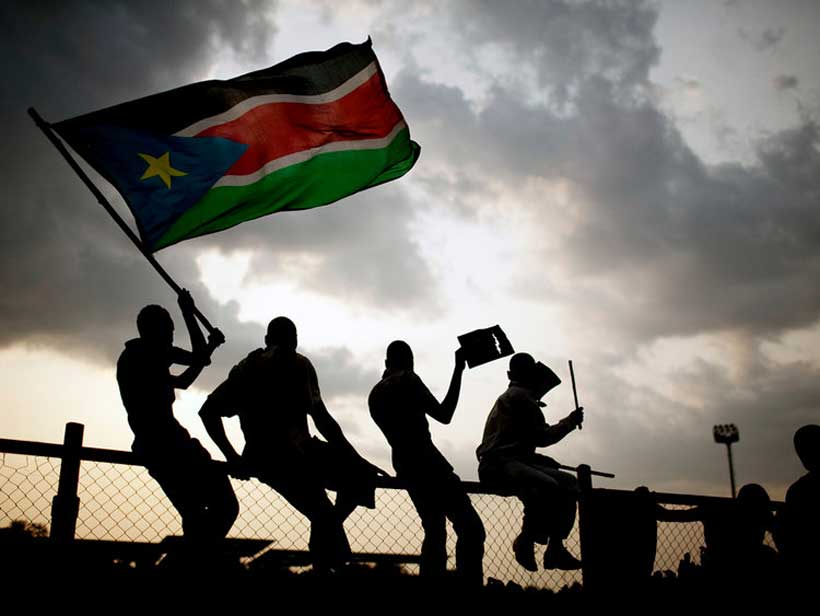 South Sudan's transformation from conflict to recovery is underway, but much needs to be done before securing "a peaceful and prosperous future", the UN Special Representative to the country told the Security Council on Tuesday.
"Because of the collective efforts of so many…South Sudan is in a better state", the head of the UN Mission in South Sudan (UNMISS), David Shearer, said in his last briefing, after serving as Special Representative for four years.
However, he stated that "it is inching forward – frustratingly slowly – with still so much to do".
Despite recently marking the one-year anniversary of the transitional government, progress is lagging – including in reconstituting a Transitional National Legislature, constitution-making, transitional justice, and economic reform, according to Mr. Shearer, who also pointed out that troops that have yet to be unified.
"Slow implementation comes at a cost. The power vacuum at a local level has opened opportunities for spoilers and national actors who have exploited local tensions and fueled violence", he said.
The UNMISS head also noted "a worrying surge in violence" between various heavily armed community militia in Warrap, in the Bahr el Ghazal region, while highlighting that despite the deaths of nine aid workers last year, humanitarian agencies continue to provide "critical assistance".
Four years later
Reflecting on how far the nascent State has come since 2018, Mr. Shearer spotlighted a ceasefire, a peace deal, improved political security, a transitional government, a presidency, council of ministers, governors and local leadership, which is "slowly being installed".
Moreover, political violence had reduced "by a power of 10" compared to those who were dying or displaced from widespread conflict in 2016, he informed the Ambassadors.
UNMISS: 'Stabilizing force'
"A caveat is our concern about the upsurge in armed community militia seemingly in open defiance of state forces", said the UN official, adding that UNMISS is making "a real difference in lowering the level of this kind of violence and bringing diverse communities together".
He called the mission "a stabilizing force that extends well beyond our physical presence – and which is welcomed by nearly 80 percent of South Sudanese who we have independently surveyed".
Mr. Shearer updated the Council that UNMISS continues to push the peace process forward by working closely with all political parties, in coordination with regional and international partners.
'Extremely fragile' peace
However, he underscored that "the peace process remains extremely fragile", noting that many citizens question the political will and fear the collapse of progress.
"It is for those people that we, the international community, must remain united and committed to pushing the peace process forward", said the Special Representative.
"We can't sit on the sidelines as spectators…That's what failure looks like", he spelled out.
Challenges ahead
The UNMISS head highlighted the need for a financial system that works for the South Sudanese.
"The wealth of this country – from oil and elsewhere – bypasses its people, siphoned off in secrecy with no public accountability for how it is spent", he said, posing the "obvious question: Why would key decision-makers benefiting from their current positions hold an election that could put their access to power and resources at risk?".
Struck by the "immense pride" of the South Sudanese in their country, Mr. Shearer explained that "true sovereignty" means being responsible and genuinely caring for the nation's 12 million citizens.
"It also means independence", he said.
Yet the UN envoy referred to the country as "perhaps one of the most dependent nations in history", drawing attention to education and health systems, roads and infrastructure "provided by outsiders".
"We have too eagerly stepped in…[and] added to their dependency – and, in doing so, undermined their dignity", he said.
Mr. Shearer maintained that the Government must also step up, saying, "State-building is a finely tuned endeavour that constantly needs to be re-evaluated and questioned".
Fond farewell
The Special Representative praised the South Sudanese as "without doubt, the toughest, most resilient people I've ever met".
Despite hardship, he said "they can sit, discuss, and…laugh in the face of huge adversity".
Mr. Shearer expressed admiration for their "seemingly endless patience and hope as they fight against huge odds to achieve the much brighter future they deserve".
"I will miss this young country and I wish it well from the bottom of my heart", concluded the outgoing UN envoy.
China's vaccine diplomacy in Africa
China appears moving steadily to deliver on its pledge by offering manufactured vaccines aim at eradicating the coronavirus in Africa. Simultaneously, China is strengthening its health diplomacy with Africa, and experts describe it as an additional step to reassert further its geopolitical influence in the continent.
Undoubtedly, the Chinese Sinopharm vaccines are increasingly becoming popular among African countries. Deliveries have already been made in Egypt, Equatorial Guinea, Namibia, Senegal, Sierra Leone, Mozambique and Zimbabwe.
Chinese Foreign Ministry has indicated that China would help 19 African countries as part of its commitment to making vaccines global public goods. Foreign Ministry spokesperson, Wang Wenbin, said on February 22 that China would also support enterprises to export Covid-19 vaccines to African nations that urgently need, recognize, and have authorized the emergency use of Chinese vaccines.
The aid is a clear manifestation of the China-Africa traditional friendship, Wang Wenbin said, adding assertively "China will continue to provide support and assistance within its capacity and in accordance with the needs of Africa." Further to that, China welcomes and supports France and other European and American nations in providing vaccines to help Africa fight the pandemic.
In West African region, Sierra Leone became the latest African country to receive 200,000 coronavirus vaccine donation, and 201,600 pieces of disposable needles and syringes from the Chinese government. According to reports, the consignment arrived at the Lungi Airport on February 25, and was received by a high-powered government delegation.
Down in Southern Africa, Zimbabwe will buy an additional 1.2 million vaccine doses from China at a preferential price, President Emmerson Mnangagwa's spokesman said, after Beijing agreed to give more free doses to the southern African country. Zimbabwe has already begun vaccinations after receiving a donation of 200,000 doses from the China National Pharmaceutical Group (Sinopharm).
Chinese Ambassador Guo Shaochun said in a statement that his country had decided to double its donation of vaccines to 400,000 as part of its "solidarity and action" with Zimbabwe.

Mnangagwa's spokesman George Charamba said the government, which had already bought 600,000 doses from Sinopharm and would increase its purchases from China. "Zimbabwe is also procuring more vaccines from China at a preferential price. Zimbabwe is set to purchase another 1.2 million doses from China," Charamba wrote on Twitter.
It targets 10 million vaccinations as the country has been hit with increasing infections. More than two thirds of Zimbabwe's 35,910 coronavirus infections and 1,448 deaths have been recorded this year, according to a Reuters tally.

Separately, on February 24, neighboring Mozambique also received 200,000 doses of Sinopharm vaccine donated by China. The delivery of the first consignment, ferried to Mozambique by an aircraft of the Chinese People's Liberation Army, was witnessed by Prime Minister, Carlos Agostinho do Rosário, Minister of Health, Armindo Tiago, Chinese Ambassador Wang Hejun and other senior government officials.
Speaking at the delivery ceremony, held at the Maputo Air Base, Agostinho do Rosario thanked the government and the people of China for the donation of the first batch consists of 200,000 doses and the same number of syringes. "The swift delivery of the vaccine mirrors the determination and commitment of the leaders of both countries to ensure the well-being of the Mozambican people," the Prime Minister said, stressing that the government has adopted a vaccination strategy that attaches priority to high risk groups particularly health professionals on the front-line of the fight against Covid-19.
Chinese Ambassador Wang Hejun, however pledged to strengthen the cooperation between the two countries in the health field and reaffirmed his country's openness to assist Mozambique in acquiring more vaccines.
He said the Mozambican health system is currently under increasing pressure, but believed the first batch of the vaccine will certainly make an enormous difference. Mozambique is among the first African countries to receive the Chinese vaccines. Vaccines are currently available from two Chinese companies, Sinopharm and Sinovac Biotech.
The vaccine that arrived in Maputo was from Sinopharm. A major advantage of the Sinopharm vaccine is that it does not need to be stored at ultra-low temperatures. It can be kept at normal refrigeration temperatures of two to eight degrees Celsius.
Indeed, Indians are also speeding with donations to the African continent. The Indian government has promised to send Mozambique 100,000 doses of the vaccine developed by the Indian pharmaceutical industry. Still in the southern Africa, Namibian officials said Beijing would donate 100,000 doses vaccine while India promised a donation of 30,000 shots to Windhoek.
In order to sustain relations and as part of a "bilateral cooperation" efforts, Portugal plans to donate 5% its excess to a group of Portuguese-speaking African countries. With a population of just over 10 million people, Portugal is entitled to 35 million vaccine doses this year under an EU-coordinated purchasing scheme, mostly for double-dose inoculation, leaving it with millions of extra shots.
The 5% share would make up 1.75 million doses. The group of countries is comprised of Portugal's former African colonies of Angola, Mozambique, Cape Verde, Guinea Bissau, Equatorial Guinea, and Sao Tome and Principe.
Besides getting vaccines through the African Union, a number of African countries by bilateral agreements will purchase vaccines directly from China, Russia and India. For example, five (5) African countries (Algeria, Gabon, Ghana, Guinea and Tunisia) have registered the Sputnik V, which was developed by Russia's Gamaleya National Research Center for Epidemiology and Microbiology.
The African Union and Africa CDC for its ongoing vaccine readiness work through the African Vaccine Acquisition Task Team. The AU has secured vaccines through the COVAX facility for Africa. WHO has listed three (3) vaccines for emergency use, giving the green light for these vaccines to be rolled out through COVAX. The Group of Seven (7) leaders have committed US$4.3 billion to fund the equitable distribution of vaccines, diagnostics and treatments. European Union has also contributed an additional 500 million euros to COVAX.
The COVAX vaccine facility – which pools financial resources and spreads its bets across vaccine candidates – has handed over the first of 337 million doses it has allocated to around 130 countries for the first half of the year. COVAX receives around 90 percent of its funds from G-7 countries and the EU, but none from China, India or Russia.
By March 2, as reported by the GhanaWeb, the number of African countries to have received vaccine doses are the following:
South Africa – Johnson and Johnson (J&J)
Rwanda – Pfizer and Moderna (reportedly)
Egypt – Sinopharm
Morocco – AstraZeneca/Sinopharm
Seychelles – AstraZeneca/Sinopharm
Mauritius – AstraZeneca
Algeria – Sputnik V
Zimbabwe – Sinopharm
Sierra Leone – Sinopharm
Equatorial Guinea – Sinopharm
Senegal – Sinopharm
Ghana – AstraZeneca/Serum Institute of India (COVAX)
Ivory Coast – AstraZeneca (COVAX)
Guinea – Sputnik V (Experimental basis)
Mozambique – Sinopharm.
Dr. Tedros Adhanom Ghebreyesus, Director-General of the World Health Organization has acknowledged that the pandemic has struck at a time of rapid transformation for Africa. "We cannot and must not see health as a cost to be contained. Quite the opposite: health is an investment to be nurtured – an investment in productive population, and in sustainable and inclusive development," he explained.
According to Adhanom Ghebreyesus, it takes a whole-of-government, whole-of-society approach, and added that "many African countries have low levels of coverage of health services, and when health is at risk, everything is at risk."
Since April last year, World Health Organization and its partners have been working through the Access to COVID-19 Tools Accelerator for the equitable distribution of vaccines as global public goods. As already known, so far around 200 million doses of vaccine have been administered, but unfortunately most of them in the world's richest countries.
WHO declared the coronavirus outbreak a pandemic in March 2020. Since then, more than 110 million cases have now been reported to this organization, and almost 2.5 million people have lost their lives. The overall number of Covid-19 cases in Africa currently stands more than 3.8 million late February, according to the World Health Organization's (WHO) Regional Office for Africa.
Kenya's Peter Mathuki appointed as Head of EAC Secretariat
Kenya's Peter Mutuku Mathuki has been appointed to head the East African Community (EAC), the regional bloc that brings East African countries under one umbrella. Mathuki replaces Burundi's Liberat Mfumukeko, whose five-year term ended early 2021. The post is usually rotational for five years.
As Secretary-General of the regional bloc, his key tasks include regional development, increasing inter-regional trade and addressing investment possibilities for both potential internal and external investors.
According to his profile, Mathuki has worked as Executive Director at the East African Business Council, and consequently emerged as the top candidate for the new position. Over the years, he has been dealing with the corporate business sector, and believed to have sufficient experience and contacts useful to address incessant wrangles in the East African Community.
Mathuki previously served as a member of the East African Legislative Assembly, chairing the Committee on Legal Affairs and Good Governance as well as Accounts, Trade and Investment.

He has held political positions in Kenya and in international bodies including the International Labour Standards at the former International Confederation of Free Trade Unions (ICFTU-Africa), now ITUC-Africa, which he served as director. He was also a consultant for European Union programmes in Kenya.
Mathuki comes on board as the African continent implements the Africa Continental Free Trade Area (AFCFTA) agreement, where he has been involved in the creation of the nascent African Business Council. Trading under this AfCFTA began on January 1, 2021 and opens up more opportunities for both local African and foreign investors from around the world.
Mathuki was taken on as a rectification strategy by Kenya, following a low-key leadership by Mfumukeko. Under his term, countries routinely skipped summits and member states wrangled over tariffs and political accusations. His secretariat faced financial constraints as member states delayed remitting their membership dues and donors reduced funding following allegations of corruption.
The latest report from the East African Community Secretariat for this year shows, for example, that South Sudan is the most indebted member of the EAC. It owes US$24.6 million in funding towards the main budget even though it should pay up to US$32.4 million including this year's dues. It should also pay US$2.8 million to the Inter-University Council of East Africa and another US$345,000 to the Lake Victoria Fisheries Organization.

The main budget usually funds the operations of the EAC Secretariat, the East African Court of Justice, the East African Legislative Assembly and other bodies dealing with specified fields. The Secretary-General is the principal executive and accounting officer of the community as well as the secretary of the summit and serves for a fixed period of five years.
Many businesses and market players perceive the region as progressively stable for long-term beneficial business, investment and trade. With a combined population estimated at 173 million, the region is relatively large. The East African Community (EAC) is an intergovernmental organization composed of six countries in the Great Lakes region in Eastern Africa. The members are Burundi, Kenya, Rwanda, South Sudan, Tanzania and Uganda.