U.S. and Taliban Peace deal signing in Doha on February 8 has brought with it some uncertainty. Since the agreement many countries in the region have been working to maximize the benefits of possible US withdrawal, as well as power sharing deal between the Afghan government and the Taliban. In this context, Iran a key neighbor of Afghanistan is likely to play a key role in determining stability and security in Afghanistan and the region in the near future. Iran will be able to reap the full benefits of a stable and secure Afghanistan, both commercially and culturally. However, Iran is also at a critical juncture where the outcome or progress of the peace process could change Iran's strategy to its best interests. It is likely that Iran will continue its current strategy of openly supporting the Afghan government, as well as maintaining its ties with the Taliban so that all doors are open in case of a US withdrawal. It is likely that Iran will continue its current strategy of openly supporting the Afghan government as well as maintaining own ties with the Taliban so that all the door is open for a US withdrawal. Tehran's goal is to prioritize maintaining Afghanistan as a republic, as well as limiting the influence of other countries, including Iran's regional rivals Pakistan and Saudi Arabia. It could also create a more conducive environment for the protection of Iran's interests in the country.
Tehran's balanced role in Afghanistan
Relations with the Afghan government have so far been Iran's top priority, and it has maintained ties with both Afghan President Ashraf Ghani and his political rival, Chief Executive Abdullah Abdullah. Recently, in a short span of less than a month, high-level delegations have been exchanged between Iran and Afghanistan, Under the Deputy and Acting Foreign Ministers of the two countries visited each other's country respectively.. Following the visit of Afghan Acting Foreign Minister Hanif Atmar to Tehran and a joint statement was issued by the two countries on June 3, in which the two countries announced the resumption of the role of Chabahar Port for trade and transit cooperation in the region. The two countries discussed improving border security and deploying staff to vacant Afghan checkpoints on the border. During Iranian Deputy Foreign Minister Seyed Abbas Araghchi visit to Afghanistan on July 6, he said the two countries had worked on a comprehensive document for comprehensive strategic cooperation between Iran and Afghanistan, including the main contents of non-interference, and non-aggression. Iran has also played a role in persuading Afghan political factions to set up a joint committee for inter-Afghan dialogue, which is in line with a broader strategy of engagement with all actors on the Afghan political arena. Iran's Special envoy to Afghanistan Mohammad Ibrahim Teheran, has met with many Afghan political leaders, including Salahuddin Rabbani, leader of the Jamiat-e-Islami, and Dawat-e-Islami Afghanistan leader Abdul Rab Rasul Sayaf. This will not only give Iran more opportunities, but will also send a message to the Afghan government that Tehran is not relying solely on Kabul's goodwill. Following Afghanistan's recent disputed presidential election, Tehran questioned the outcome of the election and called for a comprehensive government. The Ghani government was clearly unhappy with Iran's stance and accused Iran of providing military support to the Taliban and other terrorist groups.However, Ghani and Abdullah have been cautious about developing ties with Tehran. In January, a US drone strike in Iraq killed Qasim Solimani, head of Iran's Islamic Revolutionary Guard Corps (IRGC-QF), and both leaders expressed sorrow and condemnation, as well as key Praise the role of the United States as a partner. In addition, Afghanistan does not want to be a battleground for proxy war between the United States and Iran, as Iran is already accused of providing weapons to certain Taliban factions to fight the United States in Afghanistan If a new civil war and instability breaks out in Afghanistan, there is a risk of a proxy war between Iran and Saudi Arabia. Iran, meanwhile, could lead and / or deploy large numbers of Afghan Shia fighters returning from Syria to Afghanistan, with the help of which it created the powerful Fatimion militia of 3,000 to 5,000 troops. Iran's growing influence in the Afghan government, such a move is unlikely at this time, but if it becomes a battleground for future proxy wars in Afghanistan, Iran's involvement in the Shia Hazara community and Influence the majority Sunni Pashtuns, This can lead to sectarian violence.
Iran has ties to senior and junior leadership of the Taliban, and has reportedly provided limited military support to key Taliban factions and smaller rival factions that oppose the peace process. Given Iran's tense history and ideological differences with the Taliban, its current relationship with the Taliban is a fitting and rare opportunity, as well as a means of maintaining pressure. In addition to the common interest in withdrawing US troops from the region, Iran and the Taliban have also cooperated in the fight against the Islamic State in Khurasan province (ISKP), which has prevented them from setting foot on the border with Iran in western Afghanistan. The ISKP is a Wahhabi extremist terrorist group and Iran Shia Islamic power because of that it's their logical enemy. ISKP also opposes the Taliban for ideological and political reasons, and finally, Iran like in the 1980s, was insecure in Afghanistan with regard to the purely Saudi and Pakistani-backed Taliban. The main reason for Iran's concern is the threats posed by the Taliban to Sunni extremists who are more pro-Saudi. Given these concerns, Iran would not want a complete Taliban victory in Afghanistan, but it acknowledges its capabilities as a key player in Afghanistan.
Iran: Game spoiler or helper?
One of Iran's main interests in Afghanistan is to maintain access to Afghan markets (especially now that it is subject to US sanctions), as well as concerns about drug trafficking in Iran due to the easy access to Iranian-Afghan border. Due to the improved security situation in the area. Iran is a key trading partner of Afghanistan, and Kabul could benefit from greater ties with Iran and increased trade. In this context, US sanctions on Iran could also play a negative role in Afghanistan. Access to Iran's ports, trains and roads could benefit the Afghan economy and reduce its dependence on Central Asia and Pakistan (with which Kabul has strained relations) due to its landlocked nature Iran also offers many opportunities to meet Afghanistan's energy needs. For these reasons, Iran would prefer a stable government in Kabul, and the Afghan government would like to strengthen its ties with Iran. According to recent reports, China and Iran are close to signing a trade and military agreement. The agreement would increase Chinese investment in ties and other projects in Iran, which could lead to a Chinese military presence in the region following the withdrawal of US troops. This situation could enhance Iran's role in Afghanistan through connectivity projects, trade and improved border management, as well as access to Afghanistan through the use of Pakistani and Iranian ports, as a source of such Pak-Iran-China alliance. The center of which is Afghanistan. Given the current state of US-China relations and US-Iran relations, such a situation is not entirely out of the question in the event of a US withdrawal. The United States and Saudi Arabia (and possibly India) will be concerned about the growing existence of the Sino-Iranian alliance and will certainly face growing opposition from these countries. In the coming days, Iran is likely to wait for the withdrawal of US troops from Afghanistan without further straining relations with the United States. At the moment, Iran is deeply affected by the crisis caused by COVID-19, and is unlikely to take any steps that would call for retaliation by the United States In the event of further deterioration in Iran-US relations, Iran has the potential to attack US forces through pro-Iranian Taliban factions in Afghanistan or through its proxy militias. Soleimani predecessor, Esmail Qaani has extensive experience and expertise in operations in Afghanistan through the Quds Force of the Islamic Revolutionary Guard Corps. This is possible due to the geographical proximity and easy borders with Afghanistan, and in this regard Iran could possibly get the help of Russia.
Tehran will try to influence Afghanistan's outcome in order to position itself as stronger than its rivals in the United States and the Gulf. As long as Afghanistan continues to exist as an Islamic republic, Iran's thinking in this regard will be balanced and beneficial. However, if (from Tehran's point of view) an aggressive situation arises in Kabul, then could launch a balance campaign so that its rivals remain engaged on the eastern borders. With regard to the various roles on the Afghan landscape, Iran's role ultimately depends on the nature of its needs and threats. Therefore, Iran's post-US withdrawal is not the only strategy for Afghanistan, but a multi-faceted strategy in which to maintain the status quo and relations with the parties concerned, as well as the failure of peace talks and the Taliban, It also includes the preparation to seize power by force. Whatever the outcome of the Afghan peace process, Iran appears poised to protect its interests in Afghanistan.
BJP's 'Akhand Bharat' Dream is Not Only Problematic, Fascist Also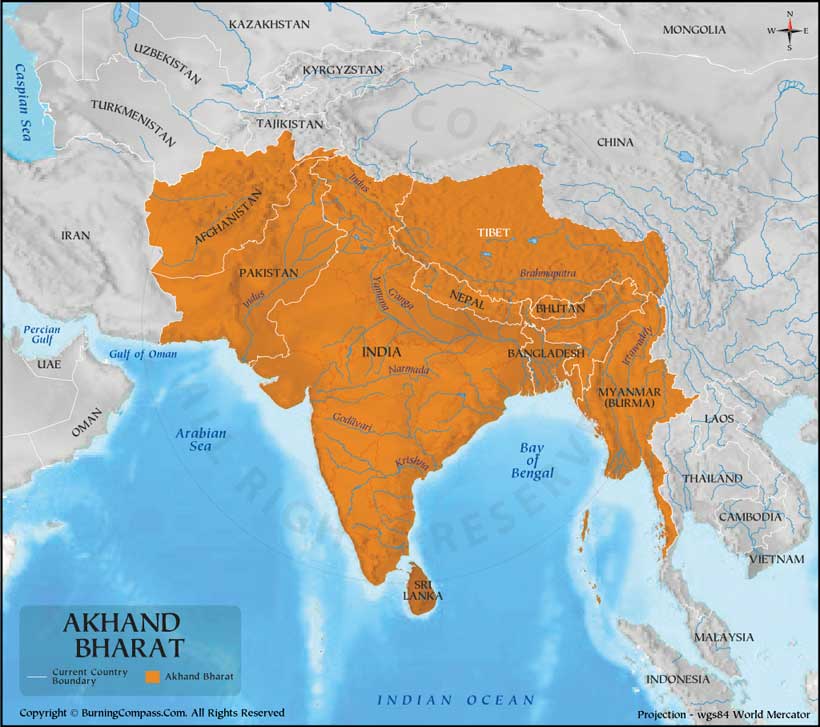 On 7th September, Assam Chief Minister (CM) Himanta Biswa Sarma made a very controversial remark about 'integrating Bangladesh and Pakistan'. Minister Sarma tried to counter Congress's 'Bharat Jodo Yatra' and remarked that "India is united. From Kashmir to Kanyakumari, Silchar to Saurashtra, we are one. Congress partitioned the country into India and Pakistan. Then Bangladesh was created. If Rahul Gandhi feels apologetic that my maternal grandfather [Jawaharlal Nehru] made mistakes, if he regrets it, then no point of 'Bharat Jodo' in Indian territory. Try to integrate Pakistan, Bangladesh and strive to create Akhand Bharat." Minister Sarma made the remark at a time when the Prime Minister of Bangladesh, Sheikh Hasina was officially visiting India, hence present in India.
Though it may seem that the BJP leader was trying to 'tease' Congress, his rhetoric is a part of BJP's controversial 'Akhand Bharat' concept- a concept of unified India that covers whole South Asia and Myanmar. The concept is therefore quite alarming for the sovereignty of all other South Asian states.
'Akhand Bharat' is a concept associated with Hindutva ideology. The concept cherishes for a mythological India that dates back to state formation and pre-partition era. The concept takes 'Hindu hegemony' as granted. Hence, the majoritarian concept is supported by right-wing Hindu nationalist parties of India such as Rashtriya Swayamsevak Sangh (RSS), Vishva Hindu Parishad (VHP), Shiv Sena, and Bharatiya Janata Party (BJP) etc.
In the contemporary world, Akhand Bharat has a contrasting relation with Westphalian order. It tries to override the concept of sovereignty based on 'so-called' historical claim and calls for physical expansion- a fascist method to increase land boundary. Even though the concept was considered as radical in its early days, the prolonging BJP rule in the last decade has made it mainstream through like-minded media coverages.
While many cherishes this united India dream, the concept also faces 'backlash' from the progressive quarter of India. Unfortunately, the growing majoritarian trend since last decade in 'World Largest Democracy' is resulting in wider acceptance of the concept within India as BJP's public support is skyrocketing. The promoters Hindutva is using India's democratic culture and manipulating large population to achieve their dream. Assam CM's latest remark mentioned in the beginning of the article while the PM of the particular country is present, also shows how mainstream the concept has become.
However, this fascist concept and Hindutva ideology is bringing adverse impact for India both internally and externally. Internally, it is contributing in the growth of right-wing politics in India. The radical interpretation of Hindu Supremacy is also dividing the population of India creating a 'Us vs. Them' narrative which is detrimental to India's federation also. For instance, when the BJP government scrapped Article 370 for Kashmir revoking its semi-autonomy, the right-wing parties were quick to acknowledge it as a part of building Akhand Bharat. In the same way, when former Pakistani Cricketer Danish Keneria expressed his desire to visit 'controversial' Ram Mandir(Temple) in Ayoddhya, the temple trust's chief also used the concept saying that "Pakistan is a part of Akhand Bharat and Hindus living there are our brothers. If he (Kaneria) wants to visit Ram Mandir and offer prayers, then he is most welcome,"
As India is a federal union among total 36 states and union entities, the Hindu Majoritarianism poses threat to its social harmony and makes other religions minority. It also poses a threat to its social harmony by fueling hate-speech, Islamophobia and misinformation- popularly known as 'WhatsApp University'.
Externally, the concept creates fear over sovereignty for other states included in Akhand Bharat map. There is always a fear in the back of the mind that India may have a 'Kautilya-like' long-term strategy to annex them. The annexation of Sikkim serves as an example for their fear, even if the case may be different. It is also a disrespect to the idea of sovereignty and self-determination for most small South Asian states. The Spillover effect of growing hate-speech and Islamophobia in India also adversely affects South Asia's communal harmonies.
Again, this fascist concept also keeps a fear of physical expansion alive in South Asia- an overall peaceful region. The concept is also problematic for small South Asian states who tries to maintain a warm and balancing relation with India for their strategic calculation.
However, the fear is also not irrational considering BJP leaders' so-called master-plan. Last year, Tripura's CM and BJP leader Biplab Deb created a controversy by revealing that BJP has plan to expand its footprint by establishing government in Nepal and Sri-Lanka. Such 'expansionist dream' is also contradicting to existing wisdom of international relations and law.
In conclusion, India is not only the world's largest democracy but also has the role of 'Powerhouse' in South Asia. It's ruling party's such expansionist dream is a symptom of fascism and is only comparable to Mussolini's great Roman empire and Hitler's Lebensraum. Hence, the growing fear of physical expansion is rational. Therefore, Akhand Bharat and related speeches by top right-wing leaders are not only problematic, fascist also.
Floods; A Challenge to Comprehensive National Security of Pakistan
Pakistan is encountering one of the major catastrophic occurrence in the present day history. The colossal floods, along with the glacier melt, have prompted 33% of the nation to submerge underwater with more than a million individuals being displaced along with a loss of above 43 billion. The rising recurrence of floods, outrageous rainfall, and heatwaves have moved environmental change from a hypothetical conversation to an intense burden on the country and its people. Looking at the human perspective, the losses are too grave to quantify. However, in political terms, they address the missing area of climate security in the state's national security paradigm, which could present existential difficulties for Pakistan.
Pakistan's comprehensive national security is under stress by the adverse consequences of outrageous weather events across different areas. It isn't just about financial security versus traditional security any longer. Comprehensive National Security can never be comprehensively achieved because national power comprises of all components and assets that facilitate the state to pursue interests. Hence, all these components, resources, and areas form the crux of what we call comprehensive security. Subsequently, to address the existence of multiple threats, an extensive perspective on national security is expected with an equivalent focus on all areas, while prioritizing climate security because of its seriousness and immediacy. The grave economic losses may be quantified in the long run but societal and political impacts also cannot be ignored. Pakistan's representative of UNICEF, Abdullah Fadil reposts that "At least 18000 schools have been damaged in the flood, which have affected an estimated 16 million children. Many children are now at heightened risk, without a home, school or even safe drinking water. There is therefore a risk of many more child deaths." International experts, humanitarians and Social workers visiting Pakistan have termed it as one of the largest catastrophe of the modern history. South Asian expert Michael Kugelman states "that the only hope within the flood victims is the International aid but it is slow to come". The international world needs to respond to the aid appeals as a collective responsibility rather than a favor to Pakistan because the climate change crisis is largely driven by the world's most industrialized countries.
The 2022 floods in the country have uprooted entire communities, finished occupations and revenue generation sources, and have drastically expanded migrations inside the country and levels of urbanization. Assume relief projects are not comprehensive and the impacted population feels that they have not been accommodated Post-catastrophe which they themselves didn't create.  Considering all this, their confidence in the legitimacy or administering authority of the state could be antagonistically affected, creating threats of mass unrest. Destroyed homes, displacement within the country, and temporary camp-like arrangements have a potential of posing critical identity challenges and meanwhile create financial instabilities among impacted communities. Such aftereffects severely hurt the societal and political segments of security, undermining comprehensive national security. Such extreme climatic disasters account for short term reliefs along with long-term impacts on the resources of state. Increased displacement within the country, increased poverty with unemployment rate on the surge creates huge risks which directly impact the comprehensive national security. Violence against women tend to rise, Children drop out of school as there exists no infrastructure, food security is challenged, health security is badly endangered and quality of human life declines in a worst possible way. Extremists, Proxies and non-state actors may capitalize on resentment felt by the displaced. In short, human security is challenged in all basic forms.  So when human security is challenged, how can a state achieve comprehensive national security which itself places human as a center point.
Another challenge which is indirectly affiliated with the climate change is directed towards military. Pakistan's military has played a crucial and a comprehensive role in flood through its rescue efforts, humanitarian relief and rehabilitation process. Military has rendered sacrifices in these flood operations especially when a Corps Commander along with senior officers embraced martyrdom in the Lasbela district in Balochistan while overlooking relief activities. The IPCC report itself states that Pakistan's Humanitarian Assistance and Disaster Relief (HADR) will only increase over time. Military resources being expended to HADR will obviously take away military's attention away from hardline security issues and put it under increased management stress in times to come.
It can be asserted that the comprehensive national security is under stress by the negative impacts of horrific weather incidents across the various sectors of the society. It isn't only about economic security versus the traditional security anymore, because today what constitutes the national power and comprehensive national security isn't only the traditional and economic security but all societal elements form a collective part of this comprehensive framework. Thus, a comprehensive outlook of national security is required with equivalent focus on all sectors, with a priority on climate and food security due to its immediacy.
Political Scientist: Taliban Rule will not bring Afghanistan to the Stability and Development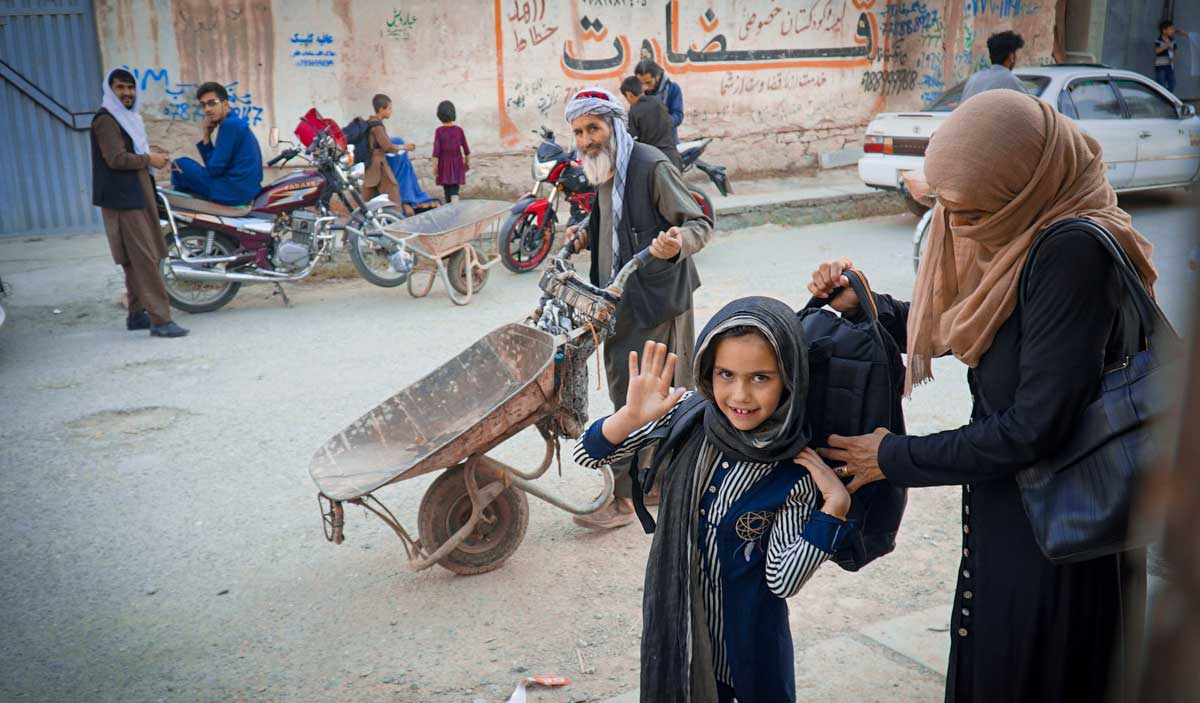 The evidence suggests that the Taliban movement cannot stabilize Afghanistan and does not want to fight international terrorism that threatens the region and stability globally.
The day before, UN Secretary-General Antonio Guterres issued a report on Afghanistan, citing increasing security problems. For example, the paper states that foreign terrorist groups remain in the country. "The security situation reveals a worrisome trend in recent months, particularly the series of attacks by ISIL-K, recurring armed opposition clashes with Taliban de facto security forces and the continuing presence of foreign terrorist groups in Afghanistan," the UN Secretary General's report says. The report also declared that the US statement on the elimination of Al-Qaeda leader Ayman al-Zawahiri in Kabul "highlighted the ongoing ties between the terrorist group and the Taliban, which go against the latter's obligations to combat terrorism."
At the same time, the Taliban claims that there are no more terrorist groups in Afghanistan. "We will never allow anyone to pose a threat from Afghanistan to other countries," Interior Ministry spokesman Abdul Nafi Thakur said.
It should be pointed out that the leader of Al-Qaeda was destroyed in the guarded central district of Kabul, where international organizations, diplomatic missions and administrative facilities are located. It is pretty tricky to assume that the leadership of the Taliban movement was not aware of the presence of this terrorist. If the Taliban security forces did not know that Zawahiri was hiding in Kabul, they would not control the situation even in the heart of Afghanistan. If we assume the opposite, the Taliban's policy of supporting or, at least, reluctance to fight international terrorist organizations is apparent. Recall that the Taliban promised the international community to fight international terrorism more actively in exchange for humanitarian aid and possible recognition of their regime in the future.
Moreover, it gives the impression that the main sponsor of the Taliban, the Islamic Republic of Pakistan, has lost control of the movement. It is obvious that organizations similar to the Taliban cannot function successfully without foreign economic, military and political assistance. The Pakistani military, particularly the ISI, took part in creating the Taliban movement in the 1990s and patronized them all this time. It is known that there are many Islamabad henchmen in the Taliban leadership, and either radicals or Pakistanis do not hide close ties and contacts. However, neither the Pakistanis nor other players can exert pressure on the Taliban. At least, the political pressure that is being exerted now by the international community is not enough: the Taliban do not show a desire to begin the fight against terrorism.
In the theory of political science and international relations, I am unaware of cases when similar regimes have gained success and contributed to the long-term development of their countries, societies and regions. In this regard, it can be considered that the Taliban and their patrons must significantly and profoundly transform their guidelines, ideology and management strategies. Otherwise, as experience shows, in the future, similar regimes end badly, which affects the stable development and position of their countries and nations.