Tackling pollution and climate change in Europe will improve health and well-being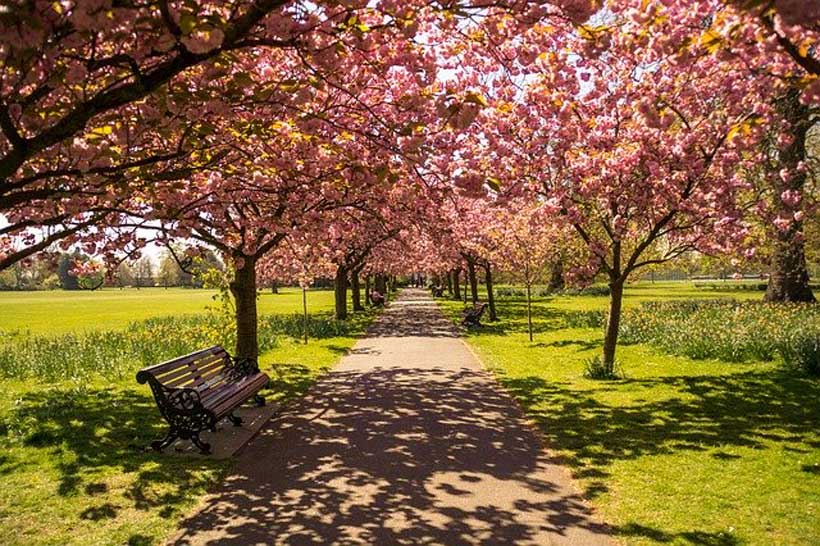 Air and noise pollution, the impacts of climate change such as heatwaves, and exposure to dangerous chemicals cause ill health in Europe. Poor quality environments contribute to 13 % (one in every eight) of deaths according to a major assessment on health and environment released today by the European Environment Agency (EEA).
Improving the health and well-being of European citizens is more important than ever, with attention currently focused on addressing the COVID-19 pandemic. The pandemic provides a stark example of the complex links between the environment, our social systems, and our health.
A significant proportion of the burden of disease in Europe continues to be attributed to environmental pollution resulting from human activity, according to the EEA report 'Healthy environment, healthy lives: how the environment influences health and well-being in Europe.' The report, which draws extensively on World Health Organization data on the causes of death and disease, highlights how the quality of Europe's environment plays a key role in determining our health and well-being. It shows how social deprivation, unhealthy behaviours and shifting demographics in Europe influence environmental health, with the most vulnerable hardest hit.
'There is a clear link between the state of the environment and the health of our population. Everyone must understand that by taking care of our planet we are not only saving ecosystems, but also lives, especially the ones who are the most vulnerable. The European Union is devoted to this approach and with the new Biodiversity Strategy, the Circular Economy Action Plan and other forthcoming initiatives we are on the path to build a more resilient and healthier Europe for European citizens and beyond,' said Virginijus Sinkevičius, Commissioner for Environment, Oceans and Fisheries.
'COVID-19 has been yet another wake-up call, making us acutely aware of the relationship between our ecosystems and our health and the need to face the facts – the way we live, consume and produce is detrimental to the climate and impacts negatively on our health. From our Farm to Fork Strategy for sustainable and healthy food to Europe's future Beating Cancer Plan, we have made a strong commitment to protect the health of our citizens and our planet' said Stella Kyriakides, Commissioner for Health and Food Safety.
'While we see improvements in the environment in Europe and a clear focus in the Green Deal on a sustainable future, the report indicates that strong action is needed to protect the most vulnerable in our society, as poverty often goes together with living in poor environmental conditions and poor health. Addressing these connections has to be part of an integrated approach towards a more inclusive and sustainable Europe,' said Hans Bruyninckx, EEA Executive Director.
Key findings
Air pollution remains Europe's top environmental threat to health, with more than 400 000 premature deaths driven by air pollution every year in the EU. Noise pollution comes second, contributing to 12 000 premature deaths, followed by the impacts of climate change, notably heatwaves.
The burden of pollution and climate change varies across Europe, with clear differences between countries in the east and west of Europe. The highest fraction of national deaths (27 %) is attributable to the environment in Bosnia and Herzegovina and the lowest in Iceland and Norway at 9 %.
Socially deprived communities typically struggle under a triple burden of poverty, poor quality environments and ill health. Poorer communities are often exposed to higher levels of pollution and noise and to high temperatures, while pre-existing health conditions increase vulnerability to environmental health hazards. Targeted measures are needed to improve environmental conditions for the most vulnerable in Europe.
People are exposed to multiple risks at any time, including air, water and noise pollution, and chemicals, which combine and in some cases act in unison to impact on health. European cities are particularly vulnerable to these multiple threats, while also having less access to green and blue spaces.
Ongoing research is investigating the links between the current COVID-19 pandemic and environmental dimensions. The virus behind COVID-19 is thought to have "jumped species" from animals to humans, an unforeseen outcome of the pressure that increasing consumption places on our natural systems. Regarding the impact of COVID-19 on communities, early evidence suggests that air pollution and poverty may be linked to higher death rates. Further research is still needed to clarify these interactions, according to an initial assessment in the report.
Better integration of policies, more green, blue spaces key part of solution
The report stresses that an integrated approach to environment and health policies is needed to tackle environmental risks, protect the most vulnerable and fully realise the benefits that nature offers in support of health and well-being.
A healthy nature is a key mechanism in the delivery of public health, reducing disease and fostering good health and well-being. Green solutions offer a triple win for health, society and the environment. Quality green and blue spaces in urban areas support health and well-being, offering venues for physical activity, relaxation and social integration, with major benefits for poor communities. Green and blue spaces cool cities during heatwaves, alleviate flood waters, reduce noise pollution and support urban biodiversity. During the COVID-19 pandemic, many commentators have noted a renewed appreciation of the benefits to mental health and well-being delivered by access to green and blue space, especially in urban areas.
Within the EU, the European Green Deal represents a critical direction-setting change in the European policy agenda and sets out a sustainable and inclusive strategy to improve people's health and quality of life, care for nature, and leave no one behind.
Flipflopi sets sail around Lake Victoria to raise awareness on pollution menace
Flipflopi, the world's first sailing boat made from 100% recycled plastic, is joining forces with the UN Environment Programme's Clean Seas Campaign once more, this time embarking on an expedition by sailing around Africa's largest freshwater ecosystem – Lake Victoria. The voyage aims to send an urgent message to the East Africa community on the need to end the unnecessary single-use plastic scourge that is threatening the region.
The current state of Lake Victoria, supporting 40 million East Africans, through food supply and livelihoods, symbolises the catastrophic effects of human activities and climate change, among other issues, resulting in significant water pollution which threatens the health and livelihoods of communities.
A recent study estimated that 1 in 5 of the fish in Lake Victoria had ingested plastic. Another recent study ubiquitously recorded microplastics in surface waters in several sites of Lake Victoria. At the heart of the plastic waste problem is the linear 'take-make-dispose' model of consumption, as products get manufactured, bought, used briefly, and then thrown away.
The Flipflopi is an initiative showcasing alternative uses of plastic waste and the possibilities of circular economy approaches. Over a three-week period, Flipflopi will sail from Kisumu, Kenya to several locations in Uganda and Tanzania, raising awareness and inspiring communities to adopt circular-waste solutions to beat plastic pollution.
"This Lake, Nam Lolwe, matters to me. It must matter to us all. Investing in research and development on blue economy investments, improving the health of the lake and riparian environment while ensuring that investments are 'lake friendly' from inception are amongst my priorities" said Governor of Kenya's Kisumu County Anyang' Nyong'o.
"The COVID-19 pandemic has accelerated the need to address the myriad environmental crises, which can only be done through regional and global consensus on key issues like single-use plastic, and climate change," said Joyce Msuya, Deputy Executive Director of the UN Environment Programme (UNEP). "Flipflopi is a great African example of the circular economy in action; we are proud to see it start this new journey around Lake Victoria, a shared resource that we must do all we can to protect."
Flipflopi's Lake Victoria expedition will include several stops along the lake engaging community leaders, conservationists, business leaders and policymakers, demonstrating alternate uses of waste plastic and other circular waste models calling for an end to single-use plastics.
"Flipflopi was built to show the world that it is possible to make valuable materials out of waste plastic, and that single-use plastic really does not make sense," said Ali Skanda, co-founder of the Flipflopi project and builder of the world's first recycled plastic dhow. "By sailing around the lake, we aim to inspire people to create their own waste-plastic innovations and adopt circular solutions that will build greener businesses, whilst also taking plastic out of the environment. Together with communities across the Lake Victoria region we hope to bring awareness and innovative solutions to beat pollution and support a green recovery in East Africa"
Flipflopi is an example of innovative circular solutions applied at a national level to the pollution challenge. In Kisumu on the shores of Lake Victoria, CIST Africa are making hand sanitizer from invasive water hyacinth.
Innovators like Sanergy are turning Nairobi's untreated organic waste into organic fertiliser for crops, feed for livestock, and fuel briquettes for energy. In Uganda, the women who set up Reform Africa are turning plastic waste into sustainable and waterproof bags, whilst providing school children in rural areas with bags for free. In Tanzania, a collective of local artisans known as 'Made by Africraft' are introducing youth and the unemployed to developing sustainable handicrafts to create a livelihood.
Flipflopi, the Clean Seas Campaign and partners aims to showcase green innovations as they sail around the lake, and inspire communities and businesses to act against plastic pollution.
As part of the expedition, the Flipflopi expedition will launch a petition calling for a regional ban on single-use plastics.
Can financial institutions invest in ocean health?
New, pivotal guidance published today by the UN Environment Programme Finance Initiative (UNEP FI) provides a market-first, practical toolkit for financial institutions to take immediate action on their lending, investment and underwriting activities which negatively impact ocean health.
The ocean covers 70% of the earth's surface, holding 97% of all water and 80% of all life forms. Major ocean sectors such as tourism, shipping, fishing, aquaculture and marine renewable energy collectively contribute to a 'blue' economy, estimated at a global gross value added of USD 1.5trn in 2010. This is projected to double in size to USD 3trn by 2030, with some ocean industries set to grow faster than the global economy (OECD, 2016).
However, ocean health is under existential threat. Faced with the triple crises of pollution, nature loss and climate change, two-thirds of our oceans have been negatively altered by human activity; leaving industries, businesses and livelihoods exposed. With existing financing still largely directed towards unsustainable sectors and activities, it is critical that all sectors of the blue economy are rapidly transitioned towards sustainable pathways.
Banks, insurers and investors have a major role to play in financing this transition to a sustainable blue economy, helping to rebuild ocean prosperity and restore biodiversity to the ocean. Through their activities, and client relationships, financial institutions have a major impact on ocean health and hold the power to accelerate and mainstream the sustainable transformation of ocean-linked industries. They thereby play essential roles in wider ocean governance, engaging in public-private partnerships, and propelling local-to-global actions for sustainability.
"Momentum is building as more banks, insurers and investors wake up to the realisation that their financial activities can have a sizeable impact on ocean health, creating a negative feedback loop for key ocean industries such as shipping, fishing, tourism and marine renewables" said Eric Usher, Head of UN Environment Programme Finance Initiative (UNEP FI).
"A new sustainable pathway for the blue economy is thus both an environmental and economic necessity. This critical new guidance provides a practical toolkit for financial institutions to understand their impact and discover how a new sustainable finance approach can help them identify key risks and opportunities in ocean-linked sectors" he added.
Leveraging best practice based on input from more than 50 pioneering institutions and experts, this guidance sets out pathways to sustainable growth across five key ocean sectors, chosen for their established connection to private finance. It presents a detailed breakdown of which activities to seek out as best practice, which activities to challenge, and which activities to avoid financing completely due to their damaging nature.
"Decades of unsustainable consumption and production is leading to environmental risks and losses in natural capital, eroding the ocean's resource base. Without engagement by financial institutions, we will not be able to change the course to sustain a healthy ocean and unlock its enormous potential. 1$ of sustainable ocean investments can yield 5x higher global benefits" said Leticia Carvalho, Head of the Marine and Freshwater Branch, UN Environment Programme.
"This new guidance can help financial institutions invest in good ocean governance at local, regional and global levels. In a nutshell, making sustainable blue economy opportunities too hard to resist" she added.
This guidance provides decision-makers across banking, insurance and investment with a science-based and actionable toolkit, giving easy-to-follow recommendations on how to approach financial activity related to:
Seafood, including both fisheries and aquaculture as well as their supply chains;
Ports;
Maritime transportation;
Marine renewable energy, notably offshore wind; and
Coastal and marine tourism, including cruising.
It builds on the foundation of the Sustainable Blue Economy Finance Principles – a keystone for financing activities in the blue economy, supported by a community of over 50 institutions worldwide with a collective total asset size of over USD 6trn.
Duck conservation takes flight in Jamaica
On January 20, 2021, the day of the inauguration of American president Joe Biden, two ducks named "Joe" and "Kamala" took flight from a remote wetland near Negril, Jamaica. And, like their namesakes, the fowl will be the focus of international attention.
That's because Joe and Kamala are West Indian whistling ducks, the rarest duck species in the Americas, with fewer than 20,000 remaining, found only in the northern Caribbean. Conservationists released the pair, which were outfitted with GPS trackers, into the wild on 20 January, kicking off a study to learn more about their species and, researchers hope, ensure their survival.
BirdsCaribbean is a partner of the United Nations Environment Programme (UNEP). The whistling duck study is supported by UNEP's Integrating Water, Land and Ecosystems Management in Caribbean Small Island Developing States (IWEco) project.
With one million species are at risk of extinction, biodiversity is a key priority of the UN Environment Programme (UNEP). Ecosystems are fundamental to human health and prosperity, availing food and water, regulating temperature, stimulating economic growth, putting roofs over heads and clothing on backs. As ecosystems degrade, so do human lives.
As the world faces the stark reality that none of the Aichi targets were met and prepares for a new, ambitious post-2020 framework, the issue is more urgent than ever. In fact, biodiversity loss and ecosystem collapse are ranked among the top five threats to humanity in the coming decade.
Whistling ducks' long-term survival has been threatened by the destruction of their wetland habitats, as well as climate change, pollution, poaching and predators. Little is known about the large waterbird that is between the size of a large duck and a goose, has a long neck, and is mostly brown in colour, but may have black-and-white patches on its neck and flanks. The duck's characteristic features is its distinctive whistling call.
"We are thrilled with the launch of this exciting project," said Lisa Sorenson, the Executive Director of BirdsCaribbean. "I expect it will lead to major improvements in our knowledge of the ducks' movements and habitat use."
The trackers attached to Joe and Kamala are expected to plot their positions every hour to within a few metres and will help the scientists to know about the species, their migration patterns, nesting sites, feeding zones and roosting locales. Researchers are aiming to use the information gathered through the initiative to plan for the species' recovery.
Led by UNEP with the backing of the Global Environment Facility, IWEco is helping 10 Caribbean countries manage their water and land resources while safeguarding biodiversity. A key part of the project has been the protection and monitoring of endemic species, like West Indian whistling ducks.
As one of the three founding Global Environment Facility partners, UNEP has been working on conservation projects supported by the facility for almost 30 years.
"Together, UNEP and the Global Environment Facility have successfully worked to address global transboundary issues since 1992, and we look forward to further strengthening and implementing actions for nature," said Sinikinesh Beyene Jimma head of UNEP's GEF International Waters Unit.
And while biodiversity targets have not been met, evidence indicates that efforts have produced results. Where action was taken, habitat loss was controlled and decades of degradation were reversed.