Strange to say, but the Libyan economy which, as is well-known – depends much, if not almost exclusively, on oil extraction and sale, performed very well in 2017 even at a time of falling prices – currently made more complex by the Covid-19 pandemic which has led to crisis in consumer countries.
It should be recalled that the 2017 good performance of the Libyan economy came six years after the silly elimination of Colonel Gaddafi, with a +67% extraction peak compared to 2016.
In 2018 it went much worse, with a 17.9% increase, but in 2019 GDP grew by 9.9% and currently, at the end of 2020, a 58.7% vertical drop in GDP is expected.
Obviously there is an inextricable combination of severe internal political and military instability, pandemic-related crisis in consumer countries, as well as a different configuration of the struggle for world oil power, especially with the arrival of the U.S. shale oil.
Basically, oil extraction and refining in Libya have almost stopped, except in the last few weeks, when some oil wells (such as El Sharara or El Feel, among the largest ones Libya) are supposed to reopen "as soon as possible", as the Minister said.
The two oil wells, however, are still controlled, by Khalifa Haftar's LNA forces. Here is the clear link between political-military destabilization and the Libyan economic crisis.
Oil production fell by 0.1 million barrels per day as from April 2019, i.e. at the beginning of the clash between the GNA and the LNA, with a public deficit that reached 28.9% of GDP in 2019, but with inflation rate falling by 4.6% in 2019 alone, although expected to reach 22.3% by the end of 2020.
The oil barrel global cost is supposed to keep on falling also in 2021, but production in Libya continued to grow, at least until March 2020, which was the expiry date of the moratorium granted to Libya by OPEC.
Nevertheless, the specifically political level of negotiations between Libya and OPEC – which is what matters – will be mediated mainly by Saudi Arabia, notoriously pro-Haftar, and the United States, often uncritical supporter of the Tripoli regime. A complex mediation.
However, both General Haftar's LNA and, in many ways, the various katibe linked to Tripoli's regime – often rather loosely – are business groups – mostly illegal – and, as always happens in these cases, constitute illegal monopolies guaranteed by the monocratic exercise of power and force.
Therefore the "mafiazation" of the economy is the obvious result of a central State which is absent, substantially unlawful or perceived as such.
General Haftar has imposed his monopoly mainly on the export of scrap metal and the sale of refined oil products.
Many monopolies, ranging from food to the sale of technological materials, have been guaranteed more or less legally to Haftar's LNA by the Tobruk House of Representatives.
The activities for controlling and managing the routes of transit and sending of sub-Saharan migrants to Italy are mostly connected to the parallel networks of Haftar's LNA, but also to Tripoli's networks of Zawiya and the "Al Nasr Martyrs" group, always operating in that city. But there are entire sectors of the Defence Ministry, the Libyan Coast Guard, the Police and the Interior Ministry cooperating and contributing, directly or indirectly, to the big bipolar system of illegal migrant trafficking and smuggling.
This is the second source of illegal income, after the smuggling of oil products. This is what happens when you destabilize an African coastal State, without any other project than the chatter of some French pseudo-intellectual on "human rights".
It is the classic anti-Machiavellian paradox of modern politics. The heterogenesis of ends, as Giovanni Gentile put it.
But Haftar's LNA, in particular, also funds itself directly with banks: Libya's Central Bank in the East has, in fact, backed the wages and material of Haftar's troops for three years, with the local equivalent of at least 6.7 billion U.S. dollars.
Furthermore, with a view to funding the State and its armies, both Tripoli and Benghazi used the credits granted by merchant banks – often manu militari or through corruption or political-military connections.
In 2018 alone, the government of Cyrenaica raised 7.9 billion U.S. dollars in loans, while the Tripoli area reached a budget of over 8.1 billion U.S. dollars only with loans from credit banks.
As mentioned above, this share includes the role of corruption, which is huge and even affects the officials of the anti-corruption structure in Tripoli – to the tune of millions of dollars. Obviously this applies also to the East.
With about 70,000 soldiers, Haftar's LNA currently controls a larger territory than France, but the core of its financial operations is still the creation, on June 5, 2017, of the "Committee for Military Investment and Public Works", led by Air Force Colonel al-Madani al-Fakhri, whose leaders immediately began to extort money from Cyrenaica's businessmen. In the West, the various military katibe of "martyrs" shared control over all trade and productive activities, sector by sector.
Based on what can be inferred from "open" local sources, the GNA has extorted at least 5-6 billion dollars from businessmen and traders in 2020 alone.
Although Western propaganda always tends to see Haftar's LNA as the den of all evils, the two forces are similar, as far as the illegal economy is concerned.
Furthermore, nobody knows how many counterfeit dinars were printed in Russia – possibly 4 billion, at least – with Gaddafi's effigy, which passed through Malta, greasing many wheels.
In May 2017, during the Ramadan, the banknotes printed in Russia were distributed particularly to banks in the South and in the East.
The idea, after all, was not bad. Libyans do not trust banks, under any circumstances, even when they make withdrawals.
Hence, when it comes to paying wages and salaries, the rulers in both East and West hurry to print new money, which is easily exchanged with the banknotes probably printed in Russia.
So much so that if everyone accepts it at a lower value than the normal dinars, it becomes only a devalued currency, no longer counterfeit money.
This is fine, even better than the official dinar, for the "grey" and "black" economy.
Moreover, the financial-oil system does not directly support Haftar's LNA, nor can it do so.
Only the state-owned National Oil Company (NOC) – which is largely answerable to the West – has the possibility to sell Libyan oil, and only the Central Bank of Tripoli can accept the related payments.
The fact is that all the military groups operating in Libya, in the East and in the West, are linked to the war economy and inextricably tied to the parallel para- or totally illegal economy.
The economic crisis, connected with the non-existence of a strong and credible central State, perpetuates the positive incentives for all those who take advantage of the State dysfunctions.
Dysfunctional and para-criminal economies are always based on three pillars: smuggling, extortion, theft of public resources and external patronage.
The latter can be of a Libyan potentate or, more often, of an "external player": Turkey, Egypt, the Russian Federation, France, Saudi Arabia, Qatar. Obviously Italy has disappeared from the Libya, since currently its foreign policy is little less than a joke.
The operations of all these countries' Intelligence Services are largely rewarded by the business that becomes possible for the companies linked to all external Services, if they operate in Libya. The operations of the various intelligence agencies fund themselves on their own in Libya.
I have been told that, regardless of the external player, the operations of the various Intelligence Services generate 20-25% gains, which are guaranteed by the extortion ability of the various local katibe to which the external States refer.
There is no return from a criminal economy which generates a failed state and, above all, eliminates any alternative legal option.
In Cyrenaica, there is now a monopoly of the illegal use of force by Haftar and his LNA. It shows signs of overstretching and some old allies are showing signs of disillusionment. But soldiers from Darfur, Chad and even Mauritania could soon strengthen Haftar and allow a new offensive towards Tripoli, also considering the presence of Syrian jihadists in the GNA, sent by the Turkish Intelligence Service.
In the West, there is Tripoli and hence Fajez al-Sarraj's government, often comically praised and hailed by Westerners.
In this case, however, there is another factor of structural weakness other than the LNA: the factionalism of the various katibe and their often completely interested and always partial relationship with the government in Tripoli.
Therefore, the analytical pair with which to study the connections between Tripoli and Benghazi is Factionalism/Ovestretch. Here is the fundamental dialectic.
Again using the very useful terms of the Mafia jargon, Tripoli's militias are a "cartel", while in the East there is a monopoly of unlawful and illegitimate force which, however, struggles to make itself credible.
Moreover, factionalism is inherent in the Arab and, above all, Bedouin soul: "my brother and I against our cousin, my cousin, my brother and I against the stranger".
Thinking about the Middle East with the typically Western and European idea of the Nation-State is a mistake that will lead us to far greater disasters than those caused by the Sykes-Picot agreement, narrated in an old book with the now famous title, A Peace to end all Peaces.
Distribution of local gangs and oil wells, updated to May 2020, source
Then there is the powerful "stone guest" of the Libyan economy that we must never neglect, namely China.
It should be recalled that China abstained in the UN Security Council voting authorising military intervention in Libya against Gaddafi and also criticized NATO's decision to create a no-fly zone. It even underlined the illegality of air strikes on the legitimate forces of Gaddafi's regime. China was right.
Even when Gaddafi was in power, China was very active in Libyan infrastructure, as Libya paid very well.
At the time of Gaddafi's fall, China had as many as 75 companies operating in Libya, with a turnover of 18.8 billion U.S. dollars.
The workers concerned were mainly the 36,000 Chinese, but also the about 28,000 Libyan ones or even many immigrants (Egyptians, Tunisians and Algerians).
Until 2011 there were 50 Chinese projects in Libya and it should be noted that Libya alone produced 3% of all Chinese oil imports, equivalent to 150,000 barrels a day.
At the time of West's maximum manipulation against Gaddafi, China always tried to maintain all its business connections, obviously rejecting the NATO military mission in its entirety.
Moreover, like the Russian Federation, China also rejected the theory – typically Western-style in its naivety and arrogance- of Responsibility to Protect, i.e. the universal rule – stuff for boy scouts or elegant socialites-whereby States can intervene directly and militarily in other States when the protection of "human rights" is needed.
However, who establishes and ascertains the violation of human rights? A French pseudo-philosopher, a former follower of Pol Pot, two articles in the New York Times or possibly the statements of an NGO invented at the moment (in this respect, the story of NGOs working for migrants from Libya to Syria would be very interesting) or the lamentation of some "intellectuals" who do not even know where Tripoli is on the map?
Obviously, with a view not to being relegated to play the role of the only protector of the vilain Gaddafi, China finally abstained in voting on the UN Security Council Resolution on Libya, but immediately recognized the National Transitional Council (NTC), as the only semblance of unitary Libyan government left.
ENI also recognized it, well before others, exactly two days after the start of the insurgency against the Colonel, staged only by the East and by French submarines.
As early as the beginning of June 2011, China held its first meeting with Mohammed Jibril, the Head of the NTC. A few days later, the Head of the Department for West-Asian and Middle East Affairs of the Chinese government, Chen Xiaodong, visited Benghazi very carefully.
Obviously China pursues a policy of careful neutrality between the two factions, namely the GNA and Haftar's LNA.
Officially China supports the GNA, which – in a Memorandum of Understanding (MoU) signed in June 2018 -even accepted that Libya would be part of the Chinese Belt and Road Initiative, albeit with some obvious twists in the map.
China, however, has also excellent relations with Haftar and, above all, with the Tobruk House of Representatives.
As to the Covid-19 pandemic, which – for those who know how to use it-is an opportunity for hegemonic penetration into the so-called "third" countries, China has rapidly included Libya in its humanitarian and health aid programmes, which are currently envisaged for as many as 82 countries.
However, what is the profound logic of Libya's political and hence economic system? Unfortunately, we always see and interpret the non-Western world through the eyes of our often idiotic, fashionable ideologies. It is the biggest mistake we can currently make.
As seen above, the fact is that Libyan institutions have always been sectarian and biased in Libya, but not less powerful for this reason.
The British Military Administration (1942-1951) built up a great deal of political-tribal mediations in Libya even equal, if not greater, than Gaddafi's. They largely remained in place, even after the 1969 coup of the "Free Officers", organised by the Italian intelligence services in a meeting at Abano Terme.
Then there is the Senussi monarchy, originating from an Islamic esoteric sect, not from a specific family lineage of the monarch.
The last King Idriss was ousted by the coup of the Nasserian and Third- World Socialist "Free Officers", led at the time by Gaddafi, who had been selected for that purpose by the Italian intelligence Services, during a comfortable meeting – I still remember – at an excellent hotel in Abano Terme.
The Senussi monarchy originated from a strange esoteric organization that started from a wide Islamic heterodoxy and finally shifted to a sort of quasi-Wahabi Koranic normativism, which is not at all contradictory, as it would appear in the poor minds of Westerners, who see only the servile adaptation to Western pluralism or simple "fanaticism", old theme of the worst and naivest18thcentury Enlightenment.
As we all know, Gaddafi's regime began in 1969, amidst counter-coup, attacks and adverse operations by the British intelligence services, which only thanks to Italy were wrecked. Revolutionary governments, however, choose only the faithful tribes, which are such because they are paid to be so.
In the case of the Senussi, the Cyrenaica Defence Forces operated – and King Idriss boasted he had never been to Tripoli – made up of agents and employees of the British Intelligence Services. Also the People's Social Committee of Executives had military roles. Gaddafi had no mercy, of course.
The Warfalla tribe made several unsuccessful attempts on Colonel's life. Therefore, after the attempted coup against the Colonel in 1991 it accepted a negotiation with Gaddafi.
Nevertheless, it was precisely because of the Gaddafian Jamahiriya (1973-1979) that the Libyan economic networks became ever more informal and sometimes tribal, but paradoxically ever less controlled by the Colonel's regime.
Exactly those networks killed him and hence ousted him from power, although the poor informal military economic networks believed in the Western promises of an economy integrated in the world market and in an opening of Libya to foreign investment.
They wanted globalisation, without too many disasters, but the West gave them a useless failed state, even for Italy.
Hence within the Great Socialist Jamahiriya of the Libyan Arab People there still were popular committees that dealt with economy and business, often very seriously – but without any coordination and control by Gaddafi's leadership, except for the NOC.
There were GECOL (General Electricity Company of Libya), a separate committee, as well as LISCO (Libyan Iron and Steel Company), ESDEF (Economic and Social Development Fund) and ODAC (Office of Development of Administrative Complexes).
A great role was played by the free zone of the port of Misrata, and by an endless number of autonomous committees, even in the Security Services, which, however, were linked to the abstract and even scarcely "informative" structure of Jamahiriya.
Generally speaking, the network of "people's" Committees that managed the economy reported to the General People's Congress, but everything was obviously in the hands of Gaddafi and his most trusted aides and collaborators – who, however, did not succeed in getting the news in time or let some operations slip away, given the level of informality of the Libyan economy, already pathological at the time.
The only two organizations with some degree of autonomy were the Central Bank of Libya, established in 1956, well before Gaddafi's coup – which, however, originated from a UN-established institution, namely the Libyan Currency Committee – and obviously the National Oil Corporation (NOC), created in 1970, immediately after Gaddafi's coup.
There is also the Libyan Investment Fund (LIA), the Libyan Sovereign Fund that supports 15 other apparently autonomous funds or financial initiatives.
It was established in 2006. At the beginning, in the good years of oil revenues, LIA had an endowment of as many as 60 billion U.S. dollars.
Gaddafi's son, Saif-al Islam, was actually its leader. But, after the anti-Gaddafi "revolution", between 2005 and 2010, also the experts who seemed capable of privatizing anything arrived. Called by France, the United States, the Libyan elite itself, but not by Italy, of course.
At that juncture, given the solidity of the old informal Gaddafian economies and of those following the destruction of the Libyan State, the new Agencies of Libyan liberals arrived. Hence the Economic Development Board and the Privatization and Investment Board were established, in addition to the Public Projects Authority.
You privatize when there is capital available, otherwise to whom do you sell in a failed state where those who have money are already out of Libya?
As early as the phase in which the war between Eastern and Western Libya was starting to emerge, the local governments had to "enlist" technicians, experts, economists and business jurists to understand the intricacies of post-Gaddafi economic structures which, in any case, had developed – in their baroque and elaborate complexity – since the last years of Gaddafi's life.
We could define Libya between Gaddafi and the two current governments as an overlap between the oil rentier States, the Socialist autocracies typical of the Third International and the chaotic and incoherent liberalization attempts that the Americans made in the old Socialist economies of the East after 1989.
This adds to the unpreparedness and factionalism of the new economic and political ruling classes that came to power after Gaddafis' elimination.
The Colonel's technocracy was often better than the current ones.
No economic unifying criteria were visible among the various factions that fought and then managed the 2011 insurgency, but all this remained even in the years 2013-2015, when the high oil barrel prices gave hope that fresh capital would right the wrongs of an authoritarian planning that added to the factionalism of the economy and the Stock Exchange short-sighted naivety of post-Soviet liberalisations.
Meanwhile, the mass of wages and salaries, in addition to subsidies, increases every year regardless of the amount of oil revenues.
There are therefore no quick fixes or effective solutions for a mechanism that is now so structured.
The World Bank predicts that oil rents will be 47% of GDP by the end of 2021, but wages and salaries will increase by up to 49%.
Public subsidies for oil or food will be equally high, to the tune of 10.6% of GDP, but then how will debt be refinanced?
In Tripoli – but the situation in Benghazi seems similar – the solution will be the cash advance from the Central Bank of Libya, in addition to the sale of Treasury Bonds, especially in Cyrenaica.
Future Economy: Micro-Manufacturing & Micro-Exports
Recovery now forces economies to emerge as dynamic entrepreneurial landscapes; today, the massively displaced working citizenry of the world may not return to old jobs, but with little help slowly shifting towards entrepreneurial startups as new frontiers to create economic independence and increased local grassroots prosperity. Today, the latest global influences of trendy entrepreneurialism optimizing available options like high quality "Micro-Manufacturing" and high value added "Micro-Exporting" now common discussions on the main streets of the world. Although, this is not an easy task, but still very doable for so many and promises local uplifts. Smart nations are awakening to such bold notions and entrepreneurial driven agencies mandated to foster local economies are using virtual events to rise up with global rhythm and rich contents.
Therefore, the blueprints and new models of today on upskilling SME exporters and reskilling for better-designed manufacturing, nation-by-nation and city-by-city are mobilization ready ideas to optimize abandoned talents. Nevertheless, such upskilling and reskilling of masses demands already skilled leadership of most of the gatekeepers of local economic development venues.
Furthermore, global competitiveness has raised the bar and now only high quality value added goods and services traded for the wide-open world. The conveyer belts of technology and zoomerang culture of virtual connectivity flourishes platform economies. Missing are the advanced skills, complex problem solving and most importantly national mobilization of entrepreneurialism on digital platforms of upskilling to foster innovative excellence and exportability. SME and Startups must advance on global thinking, optimize access, and maximize image and quality superiority to reach the farthest markets with deeper pockets.
This is not an easy task. Methodical progressions needed. Study how Pentiana Project tabled advanced thinking on such trends during the last decade. Export Promotion Agencies, Chambers of Commerce, Trade Associations and most SME and midsize economic developments bodies all called for bold and open debates. For fast track results, follow the trail of silence and help thought leadership to engage in bold and open debates and give them guidance to overcome their fears of transformation.
Small enterprises must now open to new world of 200 nations and 10,000 cites
Micro-Exporters: Upskilling Startups to think like global exporters; the pandemic recoveries across the world coping with a billion displaced all have now critical needs of both upskilling and reskilling. Upskilling is the process of learning new skills to achieve new thinking. Reskilling is the process of learning new skills to achieve new performances. What is exporting, how to start at micro-levels and how to expand globally with technology are new challenges and promising options.
Micro-Manufacturers: Reskilling Startups to think like smart manufacturers; the real goals for startups to enlarge and base thinking on reskilling for "real value creation" becomes mandatory. How to start by thinking better, design quality with creative global age strategies and advance? Advanced Manufacturing Clusters in various nations will greatly help, but understanding of global-age expansion of value offerings with fine production is a new art and commercialization to 200 nations a new science.
The future of economies, The arrival of Virtual leadership and Zoomerang culture is a gift from pandemic recovery, although at infancy, the sector will not only grow but also alter global commerce for good. Once successful the traditional advertising and marketing models dying, direct access live interaction is now far superior to mass-mailing and social media screaming. The zoomerang impact of global thought leadership now forcing institutions to become armchair Keynote speakers and Panelists to deliberate wisdom from the comfort of their homes round the clock events has arrived.
The Difficult Questions: Nation-by-nation,when 50% of frontline teams need 'upskilling' often 50% of the back-up teams need 'reskilling' so how do you open discussions leading to workable and productive programs? Each stage challenges competency levels and each stage offers options to up-skill for better performances. Talent gaps need fast track closing and global-age skills need widening. New flat hierarchical models provide wide-open career paths and higher performance rewards in post pandemic recovery phases. When executed properly such exercises match new skills and talents with the right targeted challenges of the business models and market conditions. The ultimate objective of "extreme value creation" in any enterprise must eliminate the practices of 'extreme value manipulations".
First Three Steps: In order to mobilize a startups revolution along with a small medium business economy, start by identifying 1000 to 10,000 high enterprises anxious to grow for national global markets. To quadruple exportability, select a small leadership team, from local trade Associations, Economic Development Bodies and Chambers of Commerce responsive to calls of upskilling and reskilling as critical steps. Suggest roundtable discussions to reach local, national or global audiences to spread the message. Explore such superior level debates to mobilize local businesses. Most importantly, such mobilizations are not new funding dependent they are deployment hungry and execution starved. Futurism is workless, uplifting mental powers towards better value-added production of goods and services will save economies. Optimize zoomerang culture and use virtual events to raise the bar on thought leadership. The world is moving fast and best to join the pace.
The rest is easy
Portugal's crisis management: "Economic patriotism" should not be tied to ideological beliefs
The economic policy of the Hungarian government has provoked fierce criticism in the last decade, as it deviated from the neoliberal mainstream and followed a patriotic path, putting Hungarian interests in the foreground. While many link this style of political economy to the conservative position of the Orbán-government, in Portugal, a left-wing administration followed a similarly patriotic line to overcome the symptoms of the Eurozone crisis, showcasing that economic patriotism is not tied to ideologies, but is merely responsible thinking.
The catastrophic path of austerity
According to the theory of austerity, the government by implying austerity measures, "puts its finances in order", hence the state does not become indebted and consequently investors' confidence in the economy returns. However, if we think about what we really mean by austerity (tax increases, wage cuts, budget constraints, etc.), even the theory itself sounds counterproductive. Not surprisingly, this theoretical counter productivity has been demonstrated in practice in several cases.
One of the best examples is the case of Portugal, which along with Greece and other Southern-European nations was probably hit the hardest by the financial crunch. While all of the "GIPS" (Greece, Italy, Portugal, Spain) entered a steer recession, Portugal somehow managed to overcome it more successfully than its regional peers, but before that, it felt the bitter taste of neoliberal structural reforms.
Although the case of Portugal was not as traumatic as the ones of its Southern-European counterparts, in order to keep its debt under control, stabilize its banks and introduce "growth-friendly" reforms, Lisbon negotiated a € 78 billion bailout package in 2011, in exchange for a rigid austerity program aimed at the 2011-2014 period, orchestrated by the European Commission (EC), the International Monetary Fund (IMF) and the European Central Bank (ECB), the infamous "Troika".
The neoliberal recipe did not differ much from that of Greece, and the then ruling Passos Coelho conservative government faithfully followed the structural reforms demanded by the "group of three": working hours increased, number of bank holidays fell, holiday bonuses were abolished, wages and pensions have also been cut by 20 per cent, while public spending on health and education was drastically cut, and due to escalating privatizations, public assets have also been sold off quickly.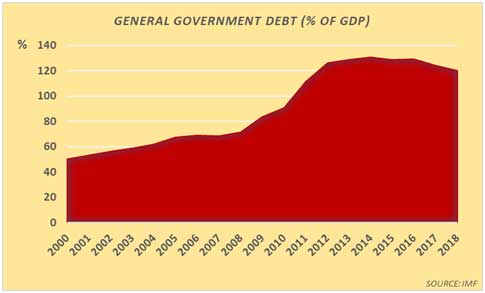 Despite the fact that by 2014 the country's budget deficit as a share of the GDP had fallen to 4.5 per cent from the staggering11.2 per cent recorded in 2011 and the current account showed a surplus – as domestic demand fell apart, forcing companies to export –Portugal was still on the brink of social and economic collapse.
Public debt soared to more than 130 per cent of the GDP, tens of thousands of businesses went bankrupt, unemployment rose to 17 per cent and skyrocketed to 40 per cent amongst the youth. As a result, many talented Portuguese fled abroad, with an estimated 150,000 nationals emigrating in a single year.
The post-2015 turnaround
Things only began to change in 2015, when the Portuguese elected Anotnio Costa as Prime Minister, who was the mayor of Lisbon under the years of the crunch. Shortly after his election, Merkel encouraged the center-left politician to follow the neoliberal prescription proposed by the "Troika", while her Finance Minister, Wolfgang Schäuble, underlined that Portugal would make a "serious mistake" if it decided not to follow the neoliberal doctrine and would eventually be forced to negotiate another rescue package.
Not being intimidated by such "threats", Costa ditched austerity without hesitation, restored working hours, cut taxes and raised the minimum wage by 20 percent in the course of just two years. Obviously, his unpopular position made him crush with Brussels, as his government allowed the budget deficit to reach 4.4 per cent, compared to the agreed 2.7 per cent target. However, in May 2016, the Commission granted Costa another year to comply, and since then Portugal has consistently exceeded its deficit targets.
Tourism also largely assisted the post-15 recovery, to which the government placed great emphasis, so that in 2017 the number of visitors rose to a record high, reaching 12.7 million. Concurrently, Portugal has significantly improved the international reputation of its businesses and products, which contributed to increasing the country's export revenues and attracting foreign investment.
Furthermore, Costa has raised social spending and at the same time planned to invest state revenues in transport, environmental infrastructure and energy, initiatives that could be extremely beneficial, as they would not only significantly improve the country's sustainability, but also boost job creation, something that yet again indicates how important public investment is to an economy.
Additionally, Portugal has become an undervalued tech-hub, with plenty of start-ups offering good employment opportunities in addition to fostering innovation. The government with several initiatives, seeks to create a business-friendly ecosystem for them, under which they can thrive and boost the economy to the largest extent. It is thus not surprising, that Portugal has been the fastest growing country in Europe when it comes to the number of programmers.
Finally, one of the Costa's top priorities, has been to lure back emigrated Portuguese who moved abroad during the crisis. To this end, tax cuts are offered to Portuguese citizens who choose to return home.
In a sum, since Costa stepped into office, Portugal has undergone a rapid recovery: economic growth has returned, unemployment has fallen radically, the public debt was also set on a downgrading path, while the budget remained well-balanced despite the increased spending, with Costa himself explaining that "sound public accounts are compatible with social cohesion". Even Schäuble acknowledged Portugal'scrisis management, by actually calling Mário Centeno – the finance minister of the Costa government – the "Cristiano Ronaldo" of finance ministers.
Of course, not everything is bright and wonderful, as the country has emerged from a large crisis, the effects of which cannot be eliminated in just a few years. Public debt is still amongst the highest in the EU and several other challenges lie ahead for the South-European nation, especially by taking into consideration that the world economy just entered yet another crisis.
Furthermore, according to many, it was not Costa who led the recovery, but Portugal passively benefited from a strong recovery in Europe, falling oil prices, an explosion in tourism and a sharp drop in debt repayment costs. Indeed, it has to be taken into account that Portugal entered the recession in a relatively better position than many of its spatial counterparts and the relatively high quality of its domestic institutional infrastructure and policy-adaptation capacity aided the previous government to efficiently complete the memorandum of understanding (MoU) as early as 2015. Nevertheless, this is not a sufficient reason to discredit the post-2015 government's efforts and justify the harsh austerity measures implied by the Troika. Taking into account that austerity never really provided decent results, it becomes evident that Costa's policies were quite effective.
Economic patriotism should not be connected to ideologies
While in the case of Hungary and Poland "economic patriotism" has been fiercely criticized despite its prosperous results, this spite tendency has been an outcome of strong politicization in economic policy analysis. Even though the political context is verily important, it is also crucial to interpret economic policy independently, in order to take away valuable lessons and identify mistakes. Political bias is not a fortunate thing, as it is absolute and nullifies debate and hence development.
The case of Portugal is a perfect example, as it provides sound evidence, that a patriotic economic policy can be exercised by governments from all across the political spectrum and that the notion should not be connected to political and ideological beliefs. The left-wing Costa-government with its policy-making demonstrated that a solution always exists and that requires a brave, strong and decisive government, that pursues its own plan in the interests of the 'patrie', regardless of its positioning.
The Question Of Prosperity
Galloping economic woes, prejudice, injustice, poverty, low literacy rate, gender disparity and women rights, deteriorating health system, corruption, nepotism, terrorism, political instability, insecure property rights, looming energy crisis and various other similar hindrances constrain any state or country to be retrograded. Here questions arise that how do these obstacles take place? How do they affect the prosperity of any country? No history, geography, or culture spawns them. Simply the answer is institutions that a country possesses.
Institutions ramify into two types: inclusive and extractive. Inclusive political institutions make power broadly distributed in country or state and constrain its arbitrary exercise. Such political institutions also make it harder for others to usurp rights and undermine the cornerstone of inclusive institutions, which create inclusive economic institutions that feature secure property rights, an unbiased system of law, and a provision of public services that provide a level playing field in which people can exchange and contract; it also permits the entry of new businesses and allow people to choose their career. On the contrary, extractive political institutions accord clout in hands of few narrow elite and they have few constrains to exert their clout and engineer extractive economic institutions that can specifically benefit few people of the ruling elite or few people in the country.
Inclusive institutions are proportional to the prosperity and social and economic development. Multifarious countries in the world are great examples of this. Taking North and South Korea; both countries garnered their sovereignty in same year 1945, but they adopted different ways to govern the countries. North Korea under the stewardship of Kim Il-sung established dictatorship by 1947, and rolled out a rigid form of centrally planned economy as part of the so-called Juche system; private property was outlawed, markets were banned, and freedoms were curtailed not only in marketplace but also in every sphere of North Korea's lives- besides those who used to be part of the very small ruling elite around Kim Il-sung and later his son and his successor Kim Jong-Il. Contrariwise, South Korea was led and its preliminary politico-economic institutions were orchestrated by the Harvard and Princeton-educated. Staunchly anticommunist Rhee and his successor General Park Chung-Hee secured their places in history as authoritarian presidents, but both governed a market economy where private property was recognised. After 1961, Park effectively taken measures that caused the state behind rapid economic growth; he established inclusive institutions which encouraged investment and trade. South Korean politicians prioritised to invest in most crucial segment of advancement that is education. South Korean companies were quick to take advantage of educated population; the policies encouraged investment and industrialisation, exports and the transfer of technology. South Korea quickly became a "Miracle Economy" and one of the most rapidly growing nations of the world. Just in fifty years there was conspicuous distinction between both countries not because of their culture, geography, or history but only due to institutions both countries had adopted.
Moreover, another model to gauge role of institutions in prosperity is comparison of Nogales of US and Mexico. US Nogales earn handsome annual income; they are highly educated; they possess up to the mark health system with high life expectancy by global standards; they are facilitated with better infrastructure, low crime rate, privilege to vote and safety of life. By contrast, the Mexican Nogales earn one-third of annual income of US Nogales; they have low literacy rate, high rate of infant mortality; they have roads in bad condition, law and order in worse condition, high crime rate and corruption. Here also the institutions formed by the Nogales of both countries are main reason for the differences in economic prosperity on the two sides of the border.
Similarly, Pakistan tackles with issues of institutions. Mostly, pro-colonial countries are predominantly inheritors of unco extractive politico-economic institutions, and colonialism is perhaps germane to Pakistan's tailoring of institutions. Regretfully, Pakistan is inherited with colossally extractive institutions at birth. The new elite, comprising civilian-military complex and handful aristocrats, has managed to prolong colonial-era institutional legacy, which has led Pakistan to political instability, consequently, political instability begot inadequacy of incentives which are proportional to retro gradation of the country.
Additionally, a recent research of Economic Freedom of the World (WEF) by Fraser Institute depicts that the countries with inclusive institutions and most economic freedom are more developed and prosperous than the least economic free countries; countries were divided into four groups. Comparing most free quartile and least free quartile of the countries, the research portrayed that most free quartile earns even nine times more than least free quartile; most free quartile has two times more political and civil rights than least free quartile; most free quartile owes three times less gender disparity than least free quartile; life expectancy tops at 79. 40 years in most free quartile, whereas number stands at 65.20 in least free quartile. To conclude this, the economic freedom is sine quo non for any country to be prosperous, and economic freedom comes from inclusive institutions. Unfortunately, Pakistan has managed to get place in least free quartile.
In a nutshell, the institutions play pivotal role in prosperity and advancement, and are game changer for any country. Thereby, our current government should focus on institutions rather than other issues, so that Pakistan can shine among the world's better economies. For accomplishing this highly necessary task government should take conducive measures right now.