On August 13, 2020, the US Justice Department announced that it seized $2 million in Bitcoin and other types of cryptocurrency from accounts of three Salafi-Jihadi extremist groups, including al Qaeda and the Islamic State, relied on to finance their organizations and violent plots. According to their statement, the U.S. authorities seized over 300 cryptocurrency accounts, four websites, and four Facebook pages all related to Sunni-Jihadi militant organizations. Indeed, the disclosed criminal case documents indicate that this was the largest-ever seizure of cryptocurrency by US intelligence agencies in the context of terrorism.
US counterterrorism agents analyzed transactions of cryptocurrency on the blockchain, a secure form of public ledger for the online funds, and employed undercover operations as well as search warrants on email accounts to establish a money trail of Sunni terror groups that was detailed in an 87-pages of the Washington DC federal court report
The revealed papers indicate, in some instances, al Qaeda and its affiliated terrorist groups in Syria acted under the cover of charities 'Al Sadaqah' and 'Reminder for Syria'. In this regard, it should be noted that some al Qaeda-linked Central Asian Salafi-Jihadi groups also have frequently acted under the umbrella of the charity 'Al Sadaqah' for bitcoin money laundering and have solicited cryptocurrency donations via Telegram channels to further their terrorist goals.
But that doesn't mean that Islamist terrorist groups from the post-Soviet space raised funds precisely through this charity 'Al Sadaqah' of al Qaeda, whose accounts were seized by the US Justice Department. It has become a tradition in the Islamic world that charity organizations and foundations widely give to themselves the names 'Al Sadaqah' and 'Zakat', as the Quranic meaning of these words (Quran 2:43; 63:10;9:103)exactly corresponds to the purposes of "voluntary charity". Analysis of the finance campaigns of al Qaeda-affiliated Central Asian militant groups demonstrates that they frequently raised cryptocurrency donations through charities called 'Al Sadaqah' and 'Zakat'.
In order to explore the scale of the Central Asian Salafi-Jihadi Jamaats' crowdfunding campaigns, we analyzed their social media activities where they raised Bitcoins, dollars, Russian rubles and Turkish lira over the past two years.The methods and sources of the Uzbek and Uighur Islamist militants' crowdfunding campaigns in bitcoins are about the same as those of their parent organizations, the global Sunni terrorist groups ISIS and al Qaeda.Due to the inclusion in the list of terrorist groups, they carry out sophisticated cyber-operations for solicitation of cryptocurrency donations.
Before "mastering" the complex technology of cyber-tools in order to raise bitcoin funds in cyberspace, Central Asian jihadists used the simple 'hawala' money transfer system (informal remittance system via money brokers).Sometimes they have resorted to conventional 'hand-to-hand' cash transfer channels, where trust, family relationships or regional affiliations play an important role.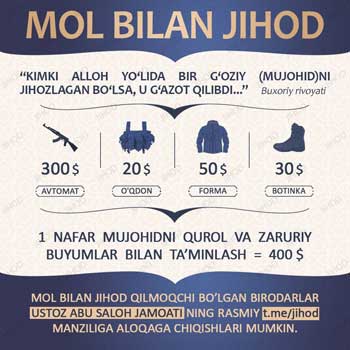 According to a UN report, Central Asian Salafi-Jihadi terrorist group Katibat Tawhid wal Jihad (KTJ), Katibat Imam al Bukhari (KIB) and the Islamic Jihad Group (IJG) leading jihad in Syrian Idlib province have close financial ties with its cells in Afghanistan. The UN Security Council's Sanctions Monitoring Team states that "regular monthly payments of about $ 30,000 are made to Afghanistan through the hawala system for KTJ."
The UN report asserts that "similarly to KTJ, KIB sends financial assistance, from its cell in Istanbul, through the hawala system to Afghanistan. Funds are brought in by informal money exchangers for Jumaboi from Maymana, the capital of Faryab. The original source of this income is the smuggling of fuel, food and medicine from neighboring Turkmenistan."According to the UN report, "suffering material losses, the Islamic Movement of Uzbekistan (IMU)and Tajik militant group JamaatAnsarullah (JA) are forced to engage in criminal activity, including transportation of drugs along the northern route in Afghanistan."For the Uighur jihadists of Turkestan Islamist Party (TIP) from China's Xinjiang province operating under the umbrella of Hayat Tahrir al-Sham (HTS) in northern Syria, "funding comes primarily from the Uighur diaspora" in Turkey, Central and Southeast Asia.
Dark Web & Bitcoin: New Endeavor of Central Asian Terrorists
With the development of digital cryptocurrencies as Bitcoin, Central Asian jihadists actively began to exploit this innovative financial transaction system to support their attacks and other terrorist activities. It is known that al Qaeda-backed Salafi-Jihadi groups of the post-Soviet space are seeking to purify Islam of any innovations (Bid'ah) and strictly following the Sharia law. They live similarly to how the Islamic prophet Muhammad and his companions lived in the seventh-century and always oppose any form of Bid'ah, considering it to be shirk and heresy. However, the Uzbek and Uighur Wahhabis did not shy away from using bitcoin innovation.
The first advertisements of Central Asian terrorist groups crowdfunding campaigns accepting bitcoin for Jihadi purposes in Syria appeared on the Telegram channel in 2017. In November of that year, a self-proclaimed charity group al-Sadaqah began a fundraising campaign on the internet from Western supporters to help the Malhama Tactical, the first private military contractor team from Central Asia working exclusively for jihadist groups in Syria.Al-Sadaqah in English on Telegram, explicitly relying on the English-speaking western sponsors, called on them to make bitcoin donations to finance the Malhama Tactical and the Mujahedeen fighting against the Assad regime in northeastern Syria.
As we have previously analyzed, Malhama Tactical is a private jihadi contractor operating in the Idlib-Aleppo region of Syria. The group, founded by an Uzbek jihadist Abu Salman (his real name is Sukhrob Baltabaev) from Osh City of Southern Kyrgyzstan in May 2016, is closely allied with Hayat Tahrir al-Sham (HTS), the strongest militant factions in northern Syria. The Malhama Tactical is known to have regularly conducted military training for jihadists of HTS, Ahrar al-Sham, Ajnad al Kavkaz and the Turkistan Islamic Party.After the death of Abu Salman in August 2019, Ali Ash-Shishani, the native of Russia's North Caucasus became the new leader of Malhama Tactical.
In 2017-18, al-Sadaqah charity on Telegram called on followers to donate via a "Bitcoin wallet anonymously and safely for the Mujahedeen brothers of Malhama Tactical". The charity group urged potential cryptocurrency contributions to benefit from "the ability to confuse the trail and keep anonymity".
We do not know how much bitcoin money al-Sadaqah managed to raise for the activities of the Central Asian Muhajireen. But according to Malhama Tactical's report on the internet, crowdfunding has been "fruitful." In an effort to explain how donations were spent, Malhama Tactical has advertised extensively to followers on 17 October 2018, in a video posted on Telegram, that a new training camp had been built and purchased airsoft rifles, night vision devices and other modern ammunitions.
Since 2018, Uzbek and Uighur militant groups KTJ, KIB and TIP have begun an agitation campaign to fundraising bitcoin money on the Internet. Judging by the widespread call for Bitcoin donation online, their need for anonymous, secure, and hassle-free funding streams have made cryptocurrencies of some potential value to them. These properties are the anonymity of fundraising, the usability of remittance and transfer of funds, the security of attack funding, acceptance of funds, reliability, and volume of web money.
And every time they announced a crowdfunding campaign, they clearly declared for what purpose the collected bitcoins would be used. For example, al Qaeda-linked KTJ's most recent call for bitcoin appeared on Telegram in May 2020 as a banner that asks to "Equip a jihadist". The poster showed a masked jihadist and the exploitation of the Quran's Hadith in Uzbek, calling on the believers to prepare and equip a fighter going on a raid for the sake of Allah.
Another picture shows a jihadist with a Kalashnikov AK-74 in his hand, over whose head enemy planes and helicopters fly. The picture gives a symbolic meaning about the empty-handed jihadists in Syria, fighting against the Russian and Syrian powerful military aircraft to protect the Islamic Ummah. Then goes on with KTJ's call to make donations in bitcoins and rubles to purchasing equipment and ammunition for the Central Asian Mujahedeen in Syria. On the bottom it was displayed the long address of the virtual wallet for Bitcoin donations along with KTJ's Telegram and web contacts promising the anonymity of potential donors.
On June 18, 2020, KTJ militants published the opinion of the well-known ideologue of modern jihadism Abu Qatada al-Falastini in Telegram from whom they asked whether the crowdfunding campaign of Bitcoin for the purposes of Jihad contradicts Islam. As it is known, there are still ongoing disputes among the world's top Islamic scholars about whether cryptocurrencies, such as Bitcoin, are deemed Sharia-compliant.
Abu Qatada from a religious point of view justified the acceptability of using Bitcoin to protect the Islamic Ummah and wage holy Jihad, but at the same time warned against full confidence in Bitcoin. In his opinion, the enemies of Islam can destroy this cryptocurrency in the future, and if it loses its current value, and then the devout Muslims who have invested their savings in Bitcoin could go bankrupt. Abu Qatada al Falastini is a greatly respected Salafi thinker among Central Asian jihadists and he gave a pep talk to KTJ when it pledged bayat (Oath of Allegiance) to al Qaeda leader Ayman al Zawahiri in 2015.
On June 25, 2020, KTJ posted another Crypto Crowdfunding campaign announcement on its Telegram channel to provide Uzbek jihadists with modern military gear and equipment. For clarity, the group published a picture entitled "Perform jihad with your property" in Uzbek, which indicates the prices for military clothing and weapons. For example, the AK-47 Kalashnikov assault rifle costs $300, unloading vest for AK-47 cartridges – $20, Field Jacket – $50, Military Combat Boots – $30.In total, $400 will be needed on the full provision of one Mujahid with weapons and uniforms. On the upper side of the picture is a Hadith quote about "He who equips a fighter in Allah's path has taken part in the fighting."
A month later, the group's Telegram channel reported that it had managed to raise $4,000, for which 8 sets of weapons and uniforms were purchased for the Uzbek Mujahedeen. Also, KTJ's media representative announced that the group is stopping the fundraising campaign for this project.
Other projects of the Central Asian Salafi-Jihadi groups were the Bitcoin crowdfunding campaign for the purchase of motorcycles for Inghimasi fighters (shock troops who penetrate into the enemy's line with no intent to come back alive), cameras, portable radios, sniper rifles and night vision devices. For each project, a separate closed account was opened on the website of jihadist groups in Telegram, after which the Bitcoin and Monero accounts, as well as contact information, were closed.
Another crowdfunding project posted on January 29, 2020, in Telegram, called 'Helping captive Muslim sisters' and claims to raise money to free Kyrgyz, Tajik and Uzbek ISIS women hold in the al-Hol refugee camp in northeast Syria controlled by the US-backed Syrian Democratic Forces. The KTJ jihadists posted pictures of Central Asian women with their children holding posters "We need help" in Kyrgyz, and asked the fellow Muslim believers to raise money to ransom them from the captivity of the Kurdish communists. It was not clear to us how much money was raised as a result of the crowdfunding campaign since this channel was later blocked by the Telegram administrator.
The annual largest crowdfunding project for the Central Asian Salafi-Jihadi groups is being implemented on the eve of the Muslim holidays of Eid al-Fitr and Eid al-Adha, during which believers pay Zakat (obligatory tax) and Sadaqah (voluntary alms).According to the Quran, recipients of the Zakat and the Sadaqah include the poor and needy, debtors, volunteers in jihad, and pilgrims.
The websites of the Central Asian Jihadist Jamaats revealed that their crowdfunding campaign to raise funds for the jihad was particularly active during Ramadan. Ramadan is known as a holy and generous month, but this year was especially generous to notorious al Qaeda-linked Central Asian extremist groups. KTJ, KIB, Uighur's TIP and Russian-speaking North Caucasian militant group Liwa al Muhajireen wal Ansar (LMA), that pledged allegiance to HTS, have boosted their military budget during Ramadan.
To avoid the risk of being blocked or tracked, they created a temporary mirror group called 'Zakat', where the donation money was received. Zakat's wallet received donations from Central Asian labor migrants in Russia in the amount of $150 to $220 each time to purchase livestock, which was then slaughtered in sacrificial prayer on behalf of the donors. After Ramadan and the holidays of Eid al-Fitr and Eid al-Adha, the 'Zakat' mirror group in Telegram was closed.
The Central Asian Islamist extremist groups have asked their supporters to make Bitcoin donations mainly at the following two virtual wallet addresses:
– 3HoWzYwaBbTg7sKGtHz3pAZxdHZoXUJRvG;
– 12SxsxvrE8zrtRveSeFJYA6sgbJZbyHDGk.
Our analysis confirmed that multiple transactions were made to these bitcoin addresses. In addition, other transactions were made in digital currencies, the addresses of which were blocked on Telegram.
Conclusion
In conclusion, the significance of the crowdfunding campaigns in bitcoin should not be given exaggerated importance, even though they have improved the position of the Central Asian Salafi-Jihadi groups in Syria and Afghanistan, and boosted their budget. Central Asian Salafi-Jihadi terrorist groups' technical abilities are not currently suited to bypass the financial controls of international counterterrorism organizations and discreetly conduct money laundering.
The history of their activities has shown that small Uzbek, Uighur and Russian-speaking Islamist extremist groups from the post-Soviet space and China have been assimilated with more powerful global Sunni terrorist organizations such as ISIS, al Qaeda and HTS. And accordingly, their potential for crowdfunding campaigns in bitcoin should be viewed through the prism of their global parent organizations.
In any case, the governments of Central Asia and Russia do not have sufficient mechanisms and leverage to combat illegal cryptocurrency transactions on the dark web by global Salafi-Jihadi movements waging jihad in the Middle East. As noted at the beginning of this article, such opportunities to monitor and investigate jihadist crowdfunding activities are available to the US government and financial institutions. For example, the U.S. Treasury" has access to unique financial data about flows of funds within the international financial and commercial system," which is invaluable for tracking illicit flows of money.
Consequently, Central Asian governments must rely not only on Moscow but also actively cooperate with Western counter-terrorism and financial institutions to disrupt the Salafi-Jihadi group's external crypto crowdfunding sources.
The New World Order: The conspiracy theory and the power of the Internet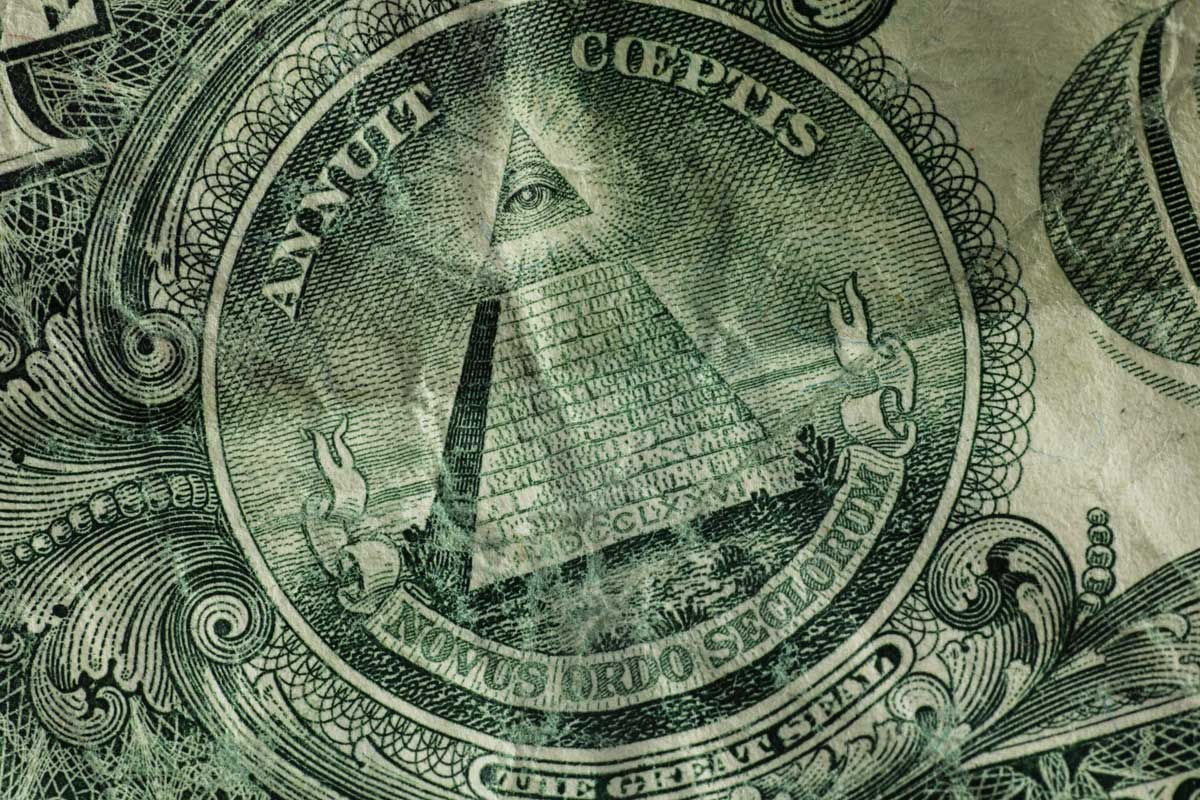 "The Illuminati, a mysterious international organisation made up of the world's top political and social elites, controls the workings of the entire world behind the scenes". This is the world's most famous conspiracy theory about the New World Order.
For hundreds of years, legends about the Illuminati have been spread and many people currently believe that the Illuminati still exist. It is believed that the Illuminati operate in various fields such as global politics, military affairs, finance and mass media and control the historical process of the entire world.
The ultimate goal is to establish a New World Order. Nobody can prove it, but many people believe it. This is the greatest paradox about conspiracy theories.
In the 2009 film, Angels and Demons – based on Dan Brown's best seller of the same name about Professor Langdon, played by Tom Hanks – the story of the Illuminati, who supposedly originated in Europe during the Age of Enlightenment, was recalled. There were physicists, mathematicians and astronomers who questioned the "erroneous teachings" of the authority of the Holy See and dedicated themselves to the scientific field of the search for truth.
Eventually, the Illuminati were forced to become a clandestine organisation and have continued to recruit members for hundreds of years to this day. In Angels and Demons, the historical facts are clearly questionable, and the movie appeared after the great economic crisis of 2007-2008.
The New World Order conspiracy theory has been circulating for a long time and is full of mysterious theories that, however, convince many people who are powerless and dissatisfied with the current state of the world.
The Illuminati, who advocate the establishment of a New World Order through the planning of a series of political and financial events (the financial tsunami of 2007-2008 is said to have been planned by the Illuminati), attempt to influence the course of world history, and ultimately establish an authoritarian world government.
Supporters of the New World Order theory believe that even the powerful US government is now just a puppet government. While another "shadow government" made up of a few people makes decisions that will change the fate of the planet.
You might think that all of the above is just crackpot theories. Many people, however, believe this is true. According to a 2013 poll conducted by the Public Policy Polling Foundation, 28% of US voters believe that the New World Order is actually taking hold.
Brian L. Keeley, a professor of philosophy at Pitts College who devotes himself to the study of modern conspiracy theories, believes that an important feature of conspiracy theorists is that they cite some trivial and overlooked incidents and then propose a perfect explanation compared to an embarrassed official response. The reason why the conspiracy theory explanation can be widely disseminated is that it has no argumentation process to deny. It is just a judgement that jumps directly from hypothesis to conclusion. In the argumentation process, it is only a subjective interpretation of the event.
Nevertheless, for the public that does not fully understand the incident, the conspiracy theory provides an "explanation" for the unknown part of the said incident, and this "explanation" cannot be denied (because its very existence is not corroborated by real arguments and facts). It is therefore recognised as a valid argument by many people.
For example, no one has substantial evidence to prove that the Illuminati actually exist, but no one can prove that the Illuminati are purely fictitious. Therefore, you cannot deny their existence because their existence is "perfection without evidence".
Columnist Martha Gill wrote in The Guardian on the subject, describing the Illuminati as the most enduring conspiracy theory organisation in world history.
"Conspiracy theories relating to the 1969 moon landing mission, the Kennedy assassination, the 9/11 attacks, etc., are all limited to a specific time and place. But conspiracy theories supporting the existence of the Illuminati can connect them. Anything about these connections, however, is difficult to prove". In other words, the supporters of conspiracy theories may have common imagination and attribute everything to this organisation, so that every irrational phenomenon in the world can be explained.
Although no one can prove the real existence of the Illuminati, there is actually an alleged "global shadow government" in the world whose name is the Bilderberg Group. The Bilderberg Group holds an annual world-class private meeting and participants include elites from all walks of society such as government, business, media, science and technology.
Known as the "World's Most Mysterious Conference", the Bilderberg Group invites various famous political and economic figures to participate in its meetings every year.
Prince Bernhard van Lippe-Biesterfeld (1911-2004) held the first meeting in 1954. As the venue for the meeting was the Bilderberg Hotel in Oosterbeek, that name was used as the name of the group.
The existence of the Bilderberg Group is not a secret, but the content of the topics discussed at the Conferences is absolutely confidential and mainstream media cannot report on the content of the meetings.
The Bilderberg Group issues a press release every year to introduce the Conference participants and the outline of the topics discussed. Over the years, participants have come from many places, including Prince Philip of Edinburgh (1921-2021) of the British Royal Family, Crown Prince Charles, former British Prime Ministers, French President Macron, German Chancellor Merkel, former US Presidents Bush and Clinton, and even Bill Gates and other Internet giants. There were also Italians, as reported years ago in a newspaper of our country.
The 2018 Conference was held in Turin, Italy, in June. According to the description on the Bilderberg Group's official website, the main topics included European populism, the development of artificial intelligence, quantum computer technology and the "post-truth" era. Obviously the actual content and results of the meeting's discussion have never been reported.
Therefore, the Bilderberg Group has naturally become a locus where conspiracy theorists want to draw material. They describe the Bilderberg Group as true evidence of the theory that a very small number of elites controls the world, and the participants are planning a New World Order.
On the subject of strange things, let us give some examples. In June 2018, the British Royal Family was also caught up in conspiracy theories. When Prince Harry and his wife Meghan attended a show, they were caught on camera motionless, like two stiff and dull robots. Later related clips went viral on the Internet and netizens were in an uproar: many people believed that the distinguished members of the Royal Family were actually robots developed by high technology.
However, the management of the London museum, Madame Tussauds, later explained the mystery by stating that Harry and Meghan were only played by two actors who wore extremely high-realism wax masks on their faces – all to promote an exhibition of wax statues – and inadvertently caused an uproar.
In that short video, Harry and Meghan did not change their facial appearance and their expressions were stiff just like robots. Consequently, conspiracy theorists used this as evidence that they were robots secretly built by the British Royal Family.
This argument is an extension of the 'trivial evidence' mentioned above. The argument proponents ignore any argumentation process and directly draw the final conclusion through the above stated "trivial evidence". This conclusion is highly topical and quite appealing. With the fast spread of the Internet, the "quick truth" will naturally be recognised and sought after by many people.
I think many people still remember the "Mandela effect" that spread wildly across the Internet in the early years as a false memory. The name "Mandela effect" is believed to have come from Fiona Broome, a self-described "paranormal consultant", who created a website called the "Mandela effect". Supporters of the 'Mandela effect' claim to "remember" that former South African President Mandela died in prison in the 1980s. But in reality, after being released from prison, Mandela served as President of South Africa from 1994 to 1999 and died in December 2013.
So why should anyone believe this seemingly absurd statement? The Internet has become a support platform for a lot of false content, fake news, as well as unreasonableness and lack of justification. When someone shared that 'false memory' with others on the Internet, many people believed it to be true, and even suddenly recalled having that memory: "Mandela died in prison that year".
As a result, lies inconsistent with facts continue to spread. The lie is repeated thousands of times and many people consider it to be the truth: this learning phase is the first misleading rule on the Internet.
In the Internet era, multidimensional and multiplatform features have generated a number of online "malignancies" of conspiracy theories. Moreover, their dissemination ability is not limited to "believers" only. Since online social media provide a widespread and wide dissemination platform, one passes it onto ten people, ten spread it to a hundred, a hundred to a thousand, and so it goes on in geometric fashion, thus turning a 'hot' topic on the Internet into an absolute truth. Those who want to believe are naturally prepared and willing to do so. Moreover, these false opinions on the Internet may even have an impact on the real world.
For example, at the political level, everyone can now comment and participate in the online arena. For politicians to get the right to speak and set the agenda, the key is to rely on the public's direction on the Internet. The Internet discourse has become the dominant factor of the political storytelling, and not vice versa. The characteristics of social networks are precisely the breeding ground for conspiracy theories.
The Internet is easy to spread among the public and it is exactly the breeding ground for conspiracy theories.
Nowadays, conspiracy theories are enough to influence politics and even political developments. A specific conspiracy theory gains a number of supporters through the Internet that promotes it to become a highly debated topic among the public. Consequently, it enters the real political arena coming from the virtual community and its influence can change the direction of governmental decisions.
Looking at it from another perspective, when conspiracy theories are put on the Internet and continue to proliferate – regardless of whether the Illuminati exist or not – they are enough to establish a New World Order. The real-world public opinions, as well as the composition of opinions and the basis of social discussions are changed, and thus world's countries, politics and rulers are affected.
USA and Australia Worry About Cyber Attacks from China Amidst Pegasus Spyware
Pegasus Spyware Scandal has shaken whole India and several other countries. What will be its fallout no one knows as we know only tip of iceberg. Amidst Pegasus Spyware Scandal USA and Australia both have shown serious concerns about Cyber Attacks on US and Australian interests. Both say that China is hub of malware software and both face millions of such attacks daily.
I am trying to understand why a software is needed to spy on a particular individual when all calls, messages, data, emails are easily accessible from server. In most of cases these servers are located in USA and some cases these are located in host country. In certain sensitive cases Government Agencies have their own server like Central Intelligence Agency and hundreds of other agencies and military establishment world over including India. Now point is who installs those servers.
A couple of years back I had talked to Mr Mike Molloy who is Chief Executive Officer of Orion Global Technologies previously known as Orion SAS. He had explained me how his company installs servers in host countries on request of private or gov bodies. He talks about contract and trust. That means even when a company or Gov buys a server or software for designated uses the "Secrecy" Factor remain on discretion of company which has supplied server or software.
Now if all data, e-mail, chat, messages, calls are accessible to Gov as per law and technology (Through Server all components of Communication are accessible and thats why me and you see start seeing call recording of a person even after many years later), I am unable to understand why a Gov will be needing a software to Spy on any one.
Now coming to where Australia and USA wants to carry the whole debate.
Australian Foreign Minister Sen Marise Payne said, "Australian Government joins international partners in expressing serious concerns about malicious cyber activities by China's Ministry of State Security.
"In consultation with our partners, the Australian Government has determined that China's Ministry of State Security exploited vulnerabilities in the Microsoft Exchange software to affect thousands of computers and networks worldwide, including in Australia. These actions have undermined international stability and security by opening the door to a range of other actors, including cybercriminals, who continue to exploit this vulnerability for illicit gain", She further added.
She opined, "The Australian Government is also seriously concerned about reports from our international partners that China's Ministry of State Security is engaging contract hackers who have carried out cyber-enabled intellectual property theft for personal gain and to provide commercial advantage to the Chinese Government".
She warned China by saying, "Australia calls on all countries – including China – to act responsibly in cyberspace. China must adhere to the commitments it has made in the G20, and bilaterally, to refrain from cyber-enabled theft of intellectual property, trade secrets and confidential business information with the intent of obtaining competitive advantage".
On other hand USA's The National Security Agency (NSA), Cybersecurity and Infrastructure Security Agency (CISA) and Federal Bureau of Investigation (FBI) released a Cybersecurity Advisory on Chinese State-Sponsored Cyber Operations. National Security Advisor said, "Chinese state-sponsored cyber activity poses a major threat to U.S. and allied systems. These actors aggressively target political, economic, military, educational, and critical infrastructure personnel and organizations to access valuable, sensitive data. These cyber operations support China's long-term economic and military objectives".
The information in this advisory builds on NSA's previous release "Chinese State-Sponsored Actors Exploit Publicly Known Vulnerabilities." The NSA, CISA, and FBI recommended mitigations empower our customers to reduce the risk of Chinese malicious cyber activity, and increase the defensive posture of their critical networks.
Afghan issue can not be understood from the simplistic lens of geopolitical blocs
Authors: Tridivesh Singh Maini and Varundeep Singh*
On July 14, 2021 a terror attack was carried out in Khyber Pakhtunkhwa (KPK) province in which a number of Chinese engineers, working on the Dasu hydropower project (a project which is part of the China Pakistan Economic Corridor) were killed. The attack predictably evinced a strong response from China. The Chinese foreign minister, Wang Yi speaking before a Shanghai Cooperation Organisation (SCO) Foreign Minister's meeting asked the Taliban to disassociate itself from 'terrorist elements' and in a meeting with Pakistan Foreign Minister, Shah Mehmood Qureshi, asked Pakistan to bring the perpetrators to book. Earlier in April 2021, a car bomb attack took place at Serena hotel in Quetta which was hosting China's Ambassador to Pakistan (four people were killed and twelve were injured)
Wang Yi significantly praised the Ashraf Ghani government, for its attempts towards building national unity and providing effective governance. Beijing clearly realizes that its economic investments in the country as well as big ticket infrastructural projects can not remain safe if there is no security. Afghanistan also criticized Pakistan for its role in sending 10000 Jihadis to Taliban, this is important in the context of the region's geopolitics.
Like all other countries, Beijing and Islamabad, would have expected uncertainty after the US withdrawal of troops but perhaps over estimated their capabilities in dealing with the turbulence which had been predicted by many.
Importance of Chinese Foreign Minister's statements
Wang Yi's statements are important because days earlier a Taliban spokesman, Suhail Shaheen had praised China and welcomed its role in the country's reconstruction. He had also assured China that those involved in the insurgency in Xinjiang would not be given refuge in Afghanistan (one of China's major concerns has been the support provided by Taliban to the East Turkmenistan movement)
While Beijing may have opened back channels with the Taliban and realized that it needs to adapt to the changing geopolitics, recent developments would have increased its skepticism vis-à-vis the Taliban. On the other hand, Russia has been more favorable towards the Taliban. Russia's Deputy Chief of Mission in India, Roman Babushkin argued that the Taliban are a reality which needs to be accepted, and also that any military activities without a political process are insufficient.
Babushkin did make the point that for successful negotiations, Taliban needed to end violence.
'that Taliban should deal with the problem of terrorism and other related issues in order to become legitimate, in order to [get] delisted [at the UN Security Council], in order to go ahead with the future Afghanistan and creation of the inclusive government
It would be pertinent to point out, that Zamir Kabulov, Russian President's Afghanistan envoy went a step further and said that the Afghan government was not doing enough to make talks with Taliban a success.
China's statements subtle warning to the Taliban, indicating its reservations, and praise of Ghani indicate a possibility of greater understanding between Washington and Beijing (even though Beijing has repeatedly attributed the current troubles in Afghanistan to Washington's decision to withdraw troops).
Can US and China find common ground
It remains to be seen if Biden who has exhibited dexterity on a number of complex issues reaches out to Xi Jinping to find common ground with regard to Afghanistan. Significantly, while US-Turkey relations had witnessed a downward trajectory and Biden has been critical of Turkish President Recep Tayyip Erdogan's authoritarian tendencies and Human rights record, both leaders met on the sidelines of the NATO Summit in June 2021. During the meeting Turkey agreed to secure Kabul Airport. US National Security Advisor Jake Sullivan while commenting on Turkey's assurance said
'The clear commitment from the leaders was established that Turkey would play a lead role in securing Hamid Karzai International Airport, and we are now working through how to execute to get to that,'
Taliban earlier this week warned Turkey of 'consequences' if the Middle Eastern nation increased its troop presence in Afghanistan.
Conclusion
Russia's statements with regard to the Taliban indicate that it is not totally on the same page as China (its prior experience in Afghanistan has made it more cautious and circumspect), and that the Afghan issue can not be understood from the simplistic lens of geo-political blocs and traditional lenses. All major stakeholders in Afghanistan, both within the region and outside, seem to be understandably befuddled by the turn of events. It is not just the US, but even China which would be worried not just from an economic stand point but the overall security implications of the turmoil in Afghanistan. The terror attack in KPK indicates that other CPEC related projects could also face threats from militant groups. Beijing would thus need to be quick to react to the overtures from the Taliban in order to secure its economic assets and lives of Chinese workers in neighbouring Pakistan.
It is especially important for Washington, Beijing and other important stakeholders in the region to work together for dealing with the near term turbulence as well as long term challenges Afghanistan is likely to face.
*Varundeep Singh is an Independent Policy Analyst.