Mounting Tensions between Ghana and Nigeria call for EU Action
As societies across Africa struggle with impacts of COVID-19, escalating tensions between Nigeria and Ghana now threaten to cause lasting damage to the economies of both countries and West Africa as a whole.
In recent months, Nigerian traders and businesses in Ghana, as well as Abuja's diplomatic mission in Accra, have reportedly faced harassment as the countries' leaders clash over trade and diplomatic issues. Last year, Nigeria closed its border with Benin to curb smuggling, hurting Ghanaian traders and manufacturers. This year, Ghana's President Nana Akufo-Addo is facing a tight election and has neglected, and perhaps exacerbated, the rising tensions.
In recent decades, West Africa's two economic powerhouses have had close economic and diplomatic ties, both bilateral and through the Economic Community of West African States (ECOWAS). At the end of 2019, Ghana became Nigeria's largest single trading partner, accounting for 17.2% of Nigeria's exports.
As the recent confrontation came to a head, the two countries' leaders should have addressed the underlying issues responsibly and quietly, avoiding public confrontation. But the tensions are now having consequences at the local level. In mid-July, a police officer in Kasoa in the Central Region of Ghana allegedly shot and killed a 27-year-old Nigerian man, prompting a major public outcry.
Public perception of bilateral relations between the two states is especially important as previous feuds have caused tension in the past. In both 1969 and 1983, tensions came to a head and saw the two states deport large numbers of the other's citizens.
The current escalation is also problematic for the EU, considering that Nigeria and Ghana are the EU's largest trading partners in West Africa and that the EU has made major efforts to help both states battle corruption and strengthen their democracies.
In 2019, EU trade with Ghana was worth over 4.5 billion euros, according to EU statistics, while the regional bloc's trade with Nigeria totaled over 3.3 billion euros. For both countries, EU trade represents a significant portion of the economy, meaning the bloc holds major diplomatic leverage.
The EU has also supported Ghana in holding free and transparent elections and has numerous anti-corruption and anti-drug partnerships with Nigeria, some backed with nearly 100 million Euros in funding. But the EU now seems to be allowing Ghanaian President Afuko-Addo to disregard existing economic agreements and initiatives, as well as diplomatic norms.
In the most prominent example, on June 19, armed men stormed a compound inside the Nigerian High Commission in Ghana's capital, Accra, and forced the demolition of two buildings under construction there. Nigerian Foreign Affairs Minister Geoffrey Onyeama called the incident "outrageous and criminal" and the Nigerian community in Ghana responded with protests.
President Akufo-Addo ordered an investigation of the demolition but offered little explanation and tried to brush the incident aside. Former President John Mahama, however, decried the incident. "It beats my imagination how such a violent and noisy destruction could occur without our security agents picking up the signals to avert the damage," wrote Mahama, who is the leader of the opposition National Democratic Congress (NDC) party.
In response, Nigeria has publicly accused the Akufo-Addo government of hostility and harassment towards Nigerians in Ghana, rather than seeking a resolution.
While Nigerian President Muhammadu Buhari has pursued his own protectionist strategies, Akufo-Addo and Ghanaian authorities have now jeopardized the economies of both countries and West Africa as a whole.
Ghana is currently in the middle of a recession, and while its GDP was once growing at an impressive 6%, it has now grinded to a halt. Ghana's economic growth rate is now at its lowest rate in 37 years. Since Nigeria is Ghana's largest trade partner – nearly 20% of Ghana's imports come from Nigeria – these fresh rounds of diplomatic tensions will slice off some of Ghana's key economic lifelines.
More than a million Nigerians work in Ghana and support crucial manufacturing and food industries creating products that are then either sold in Ghana or exported abroad. Ghanaian traders and business owners will suffer from this dispute, especially those that rely on exports to Nigeria or on Nigerian labor. During such a sensitive time, it is imperative that Ghanaian authorities mend ties with its close neighbor and fellow regional power to avoid devastating economic effects.
Ghanaian authorities and the Ghana Union of Traders Associations (GUTA) have reportedly carried out a targeted campaign in recent months against Nigerian businesses and traders in the country, claiming they are operating illegally. The Akufo-Addo government recently claimed that 700 Nigerians recently deported from the country were involved in criminal activities – a possible code-name for business violations. This aggressive economic strategy jeopardizes Ghana's economy as well as that of Nigeria, and it goes against existing agreements among the ECOWAS members.
From the EU's perspective, both West African countries are trade hubs that hold significant ties with the regional bloc. Akufo-Addo's disregard for diplomatic norms—as well as his crackdown on opposition parties and Nigerian businesses—serves only to destabilize the region and derides any and all initiatives from the EU.
The erosion of Ghana's democracy puts the EU's interests in the region at risk and jeopardizes crucial EU partnerships, including those to help the people of Nigeria and Ghana battle corruption and develop their communities through trade and regional integration. As Akufo-Addo is allowed to push Ghana down a dangerous path of isolationism and authoritarianism, EU taxpayer money goes to waste.
With Ghana heading towards elections in December, Akufo-Addo appears too focused on his reelection campaign and is actively deteriorating relations with Nigeria, which is set to seriously impact regional trade. As two leading ECOWAS partners begin to quarrel, the EU must take a stand and remind the regional leaders of their commitments towards democracy and regional stability.
Mozambique's Crisis and its Humanitarian Aid
Escalating conflict and a deteriorating humanitarian situation in Cabo Delgado has left communities completely reliant on humanitarian assistance. According to the Government, attacks by non-state groups have forced more than 565,000 people to flee their homes and villages, abandoning their crops and livelihoods.
Last December, the United Nations Regional Directors for Eastern and Southern Africa visited Mozambique to assess the plight and needs of displaced populations as well as of host communities in northern Cabo Delgado province, and met government officials in Maputo.
They expressed their deep concerns about the unfolding humanitarian situation in Cabo Delgado where violence has exposed people to human rights violations and left people with very limited access to food and livelihoods. The growing insecurity and poor infrastructure have meant that reaching out to people in need has become harder and coupled with the fallout of the COVID-19 pandemic, the crisis has become even more complex.
"We need to urgently increase our presence in Cabo Delgado in order to help those in need, especially women and children," said Lola Castro, WFP Regional Director for southern Africa.
The joint mission with Regional Directors of FAO, IFAD, IOM, UNFPA, UNHCR and WFP, as well as by the UNDP Resilience Hub Manager and members of the UN Country Team, allowed participants to witness firsthand the impact of continuing violence in Cabo Delgado and to show support for affected communities and the Mozambican people.
They heard extremely moving accounts from displaced men, women and children in the city of Pemba, the capital of Cabo Delgado, and in the districts of Ancuabe and Chiúre, whose lives have been upended by conflict and insecurity. They also met communities accommodating the displaced, visited planned resettlement areas and held discussions with the provincial governor and Secretary of State, as well as with religious leaders and representatives of civic organisations.
The crisis in the north of the country is a complex security, human rights, humanitarian and development emergency, underscoring the imperative of continuing to provide life-saving assistance while collectively supporting government-led long-term resilience building.
While acknowledging that much has been done to help victims of the crisis, the Regional Directors stressed that with displacement increasing daily, the lack of adequate food, water, sanitation, shelter, health, protection and education was exacerbating an already dire situation – one set to be further compounded by the imminent rainy season in a country particularly prone to climate extremes, as cyclones Idai and Kenneth devastatingly illustrated in 2019.
Most recently, tropical storm Chalane, which hit the same populations last December, as cyclone Idai did less than two years ago, was a harsh reminder of the climate threat Mozambicans are facing and of the urgency to massively scale up investments in recovery and resilience
With COVID-19 keeping most schools closed, the importance of robust investment in education to build Mozambique's social and human capital is a growing concern.
There is an urgent need to expand protection, health, food and nutrition programmes for vulnerable children and women, and vaccination and immunisation interventions and psycho-social counselling, and of working to enable displaced farming and fishing families re-establish sustainable livelihoods.
The Regional Directors urged support for the adequate resettlement of uprooted families straining the already limited resources of impoverished host communities and slowing government efforts to effectively register and assist the displaced.
They noted that urgent investments in development and resilience-building are required to not only promote human rights and social justice, but also to limit the impact of current crises and help prevent future ones.
To curb violent extremism, they called for development initiatives to be transnational in approach and to prioritise the economic empowerment and social and political inclusion of women and young people.
They urged the Government of Mozambique and the international community to step up efforts to end all forms of violence in the country, including gender-based violence and child marriage, and to invest more in women and girls as agents of progress and change.
The Regional Directors expressed gratitude to the government for its role in helping to meet the humanitarian needs of people in the north of the country and re-affirmed the commitment of the United Nations to upholding human rights and promoting peace and sustainable development for all Mozambicans.
What Social Movements Mean for African Politics
Africa's transition from a continent of colonial protectorates to independent states has been met with developmental and political challenges. From the 1960s, the political trajectory of Africa witnessed many regimes, regimes that have made their mark on the continent. The struggle for the legitimacy of state power between the African people and the regimes whose policies have shaped the political history of the continent oscillated between nationalistic interest and arbitrariness, at a time when the newly independent states needed a definite political direction.
For instance by 2002, the nationalistic government of Robert Mugabe had left Zimbabwe groveling in the drought stricken velds from bad economic policies. Today, Uganda is still reeling from the administrative recklessness of the Idi Amin regime. Considering the dark regimes that have been etched into the history of some states in Africa, democracy was a light that was to lead into a new dawn.
With democracy, came promises that would ensure the emancipation of dissident voices. The promises that democracy bore for African states were the development of state institutions and the improvement of state responses to the general will. For the people of Africa, the advent of democracy signified that a leader had to prove themselves, while for the leaders, it proved a paradigm shift in the management of power; a loss of the insularity of state politics. It meant that leaders had to show accountability, not only to their people, but also to external powers that existed as international institutions and hegemonic states with pro-democratic foreign policies.
Many issues with the African conception of democracy remain unresolved even despite many years of political transitioning for Africa's largest economies. One of the issues that have remained unresolved in the African democracy is the perception of institutions by the individuals occupying them, another of these issues is the sensitivity of the African democracy to vibrant social movements where the protection of human rights is concerned.
In contemporary African democracies, there exists a new democratic space where social movements have engaged the political realities. One of the most empowering facts for social movements in Africa is the globalized effect of the social media and its pivotal role in ensuring government accountability.
In safe-guarding human rights and ensuring the protection of the rule of law in Africa, social movements have a huge role to play, as they are essential to achieving governmental accountability through a sustained engagement and with the power of collective insistence. In African states where the government is autocratic, social movements are a threat to state power and are thus met with violent resistance.
According to a study by Guillermo A O'Donnell, state repression have proven to be the constant response to social movements. This is because the greatest strategy of autocratic governments in stifling resistance that could lead to an explosive demonstration of popular discontent, is in the use of threats, intimidation and persecution. According to Human Rights Watch, in 2016, there was a violent suppression of peaceful protests in East Africa. In Uganda, Ethiopia and Kenya, the governments responded to peaceful protesters with deadly force which led to the death and the injury of many protesters. In 2020, the Nigerian government engaged protesters and activists during the EndSARS protests with the state security forces, which led to the deaths of unarmed protesters at the Lekki Toll Gate in Lagos. The aftermath of the protests saw the Nigerian government intimidating activists that were thought to have been at the forefront of the End SARS protests and attempting to muzzle the media.
One of the greatest challenges of democracy in Africa is the imbalance of power in the governmental structure. The imbalance in the allocation of power between arms of government or in the monolithic representation of power has resulted in the overexploitation of power. This has made it difficult for the African states that are yet to transit to democratic status to do so, and for those that have transited, to perfect their democratic act.
The power imbalance which could be attributed in some African countries like Nigeria to constitutional deficiencies was demonstrated when Obasanjo who became Nigeria's president in 1999, tried to adjust constitutional term limits so that he could contest elections for a third term. Social movements in Africa have toppled regimes in Africa and they have tremendous capacity to change the political course of a state.
This could be achieved when social movements are popular and when they represent a general interest, then the interest which a government might claim it represents become invalidated by the shift in the alliance of the people. This is usually the case when there is a common agreement that the government in power no longer serves the interest of the people who elected such government.
The fear that spurs an autocratic government into attempting to repress social movement is that it might become popular. Social movements are powerful and could be harnessed for political change since they signal the activation of the collective power. At the level of the social movement, it is not a call to negotiation, but a call to swift action which both the government and the people recognize as it becomes insistent.
Review: As Coronavirus Rise Past Three million, Africa Hopes for Vaccine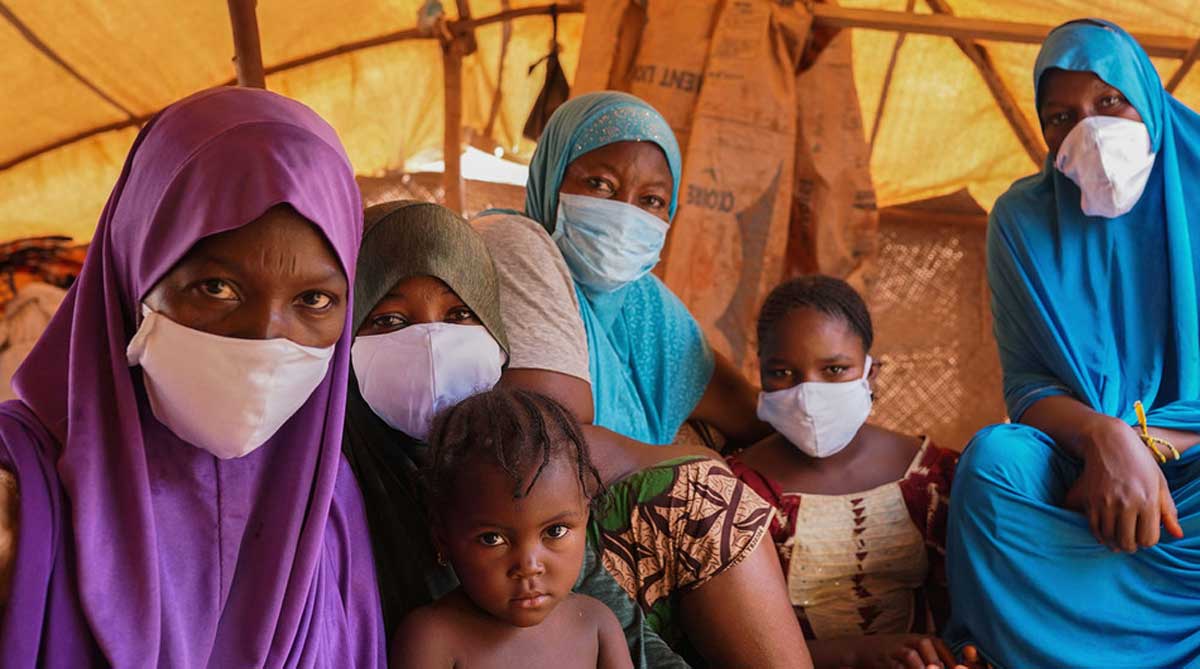 With its large population and fragile health systems, Africa has recorded more than three million Covid-19 cases, still less deadly as compared to other regions in the world, according to the Africa Centers for Disease Control and Prevention (Africa CDC). According to Africa CDC, Africa's coronavirus tally was 3,021,769 as of January 10. The death toll was 72,121 and the number of recoveries was 2,450,492. The biggest number of coronavirus cases were reported from South Africa, Morocco, Egypt, Tunisia, and Ethiopia.
South Africa, with more than 1.2 million reported cases, including 32,824 deaths, accounts for more than 30% of the total for the continent of 54 countries and 1.3 billion people. The high proportion of cases identified in South Africa, were attributed to more tests carried out than many other African countries.
African countries are expecting to get medical equipment, most especially vaccine, to help them out of the pandemic. These they expect from external sources. During January 4-9, Chinese State Councilor and Foreign Minister Wang Yi paid official visits to Nigeria, the Democratic Republic of Congo (DRC), Tanzania, Botswana and Seychelles. Wang Yi emphasized that China is willing to deepen mutually beneficial cooperation in diverse spheres with Africa. For example, China's efforts to create a new image in Africa through China-European Union Cooperation in vaccine.
Both China and the EU vow to work as a global collaboration under the World Health Organization in terms of accelerating the development and manufacture of Covid-19 vaccines, and assuring fair and equitable access for every country in the world. It's about making the vaccine a global public good.
Last December, during his annual media conference, President Vladimir Putin made it known that Russia's readiness to help foreign countries including Africa. With regard to cooperation with other countries, it would boost the technological capabilities, enterprises to produce the vaccine, foreign countries would invest their own money into expanding their production capacities and purchasing the corresponding equipment, he explained.
Foreign countries would be investing in these projects: the enlargement of production facilities and the purchase of equipment. "As for cooperation with foreign countries: nothing is stopping us from manufacturing vaccine components at facilities in other countries precisely because we need time to enhance technological capacities of our vaccine manufacturing enterprises. This does not hinder vaccination in the Russian Federation in any way," Putin said.
According to January report from the Tass News Agency, the Russian Direct Investment Fund has only registered the first Russian vaccine Sputnik V in Africa. "Russian Direct Investment Fund announces the first registration of Sputnik V in Africa. Ministry of Pharmaceutical Industry of Algeria registered Sputnik V on January 10th," as follows from a post on their official Twitter account.
According to the Russian Direct Investment Fund, the registration was done under the accelerated Emergency Use Authorization procedure. This procedure was also used to register this vaccine in Argentina, Bolivia, and Serbia. The Fund said that supplies to Algeria would be possible thanks to its international partners in India, China, South Korea and other countries.
Writing under the headline "Africa's Road to Recovery in 2021 Is a Fresh Start" published originally by Chatham House, Dr Alex Vines, the Director for the Africa Program at Chatham House, said many African countries would be much more seriously affected by the socioeconomic consequences of the global economic slowdown triggered by the pandemic. Even before Covid-19 hit, an increasing number of African countries were indebted and financially stressed.
He wrote that African debt would become a greater global concern in 2021 as many African states remain the world's poorest and most fragile and have been hard hit by the economic and financial costs imposed by the pandemic.
In his analysis, Dr Vines further pointed out that 2021 will also see increased geopolitical rivalry for influence in Africa. This will include competition over generosity, ranging from positioning over debt cancellation to providing Covid-19 vaccines. China has its Sinopharm vaccine and has already signed up to Covax, the international initiative aimed at ensuring equitable global access. The Russians have their Sputnik V vaccine, the UK has its AstraZeneca and University of Oxford vaccine, and the US the Moderna and Pfizer-BioNTech (with Germany) vaccines.
Reports from Quartz also said Africa appears not part of the supply priorities of the Pharmaceutical companies producing the foremost Covid-19 vaccines. While Pfizer-BioNTech has offered to supply just 50 million Covid-19 vaccines to Africa starting from March to the end of this year, Moderna and AstraZeneca have not yet allocated supplies for Africa. AstraZeneca directed the African Union (AU) to negotiate with the Serum Institute of India for its vaccine to see if they can get a deal. Serum Institute of India has earlier obtained the license to produce the AstraZeneca vaccine.
The Quartz report said most African countries mainly relied on the COVAX co-financing public-private facility backed by the Bill & Melinda Gates Foundation to enable rapid and equitable access to Covid-19 vaccines for lower income countries. The facility promised access to vaccines for up to 20% of participating countries' population with an initial supply beginning in the first quarter of the year to immunize 3% of their population. However, COVAX is underfunded, and these countries must look for other avenues to access more doses to vaccinate the 50% of their population in order to reach immunity.
Since the beginning of the pandemic, several countries around the world have been making efforts to facilitate local vaccine development, clinical trials, and some had made upfront payments for vaccines to encourage early production. Outside of South Africa, most African economies have played too little or no role at all in the development of Covid-19 vaccines and had likewise made little or effort to secure vaccines while other economies around the world were doing so.
For instance, a globally respected genomic and infectious disease laboratory in Nigeria announced the development of a Covid-19 vaccine in September that is 90% effective against the virus in the preclinical trial but it has not been able to carry out clinical trials due to lack of support and funding.
While Kenya recently announced that through the COVAX facility, it ordered 24 million doses of the AstraZeneca vaccine, with supply expected to start arriving in the second week of next month, several African countries are opting for vaccines from India, Russia, and China. This is despite skepticism about the vaccines from Russia and China in particular. Both countries rolled out their vaccines without phase 3 clinical trial results that confirm the vaccine effectiveness.
South Africa said it made a deal with Serum Institute India and will be getting 1.5 million doses of AstraZeneca vaccine for its health workers starting this month. The country, which is going is also in talks with Russia and China to procure vaccines. Currently, Guinea is testing the Russian vaccine, Sputnik V and has ordered 2 million doses.
Morocco has ordered 65 million doses of the Sinopharm vaccine from China, and AstraZeneca vaccine from Serum Institute India. Egypt plans to buy 40 million doses of the Sinopharm vaccine, has already received 50,000 doses of the vaccine in December, and expecting another 50,000 in the second or third week of this month when vaccination will commence. Nigeria says vaccine access was in its discussions this week with the Chinese foreign minister during his visit to the county, according to the report from Quartz.
Besides the fact that Africa has registered its three million cases, Africa still behind the United States and European countries, and Asian countries such as China and India when it comes to the Covid-19 outbreak. For many African countries, it is still the time to reflect on African countries' responses to Covid-19. Although it has abundant resources, Africa remains the world's poorest and least developed continent, and worse with poor development policies. It is time to prioritize and focus on sustainable development.
Significantly, the global pandemic has exposed the weaknesses in Africa's health system, adversely affected its economic sectors, it is therefore necessary for African leaders, the African Union (AU), regional organizations and African partners be reminded of issues relating to sustainable development and integration. It sets as a reminder to highlight and prioritize the significant tasks set out by the UN 2030 Agenda for Sustainable Development and the African Union's Agenda 2063.