As with corporations, the reputation of a country matters considerably. In a digital age where information disseminates quicker, the opinions and attitudes of an increasingly engaged global public are influenced whether negatively or positively by the qualities and characteristics portrayed of a particular country.
Rooted in global public opinion, national reputation refers to the "collective judgment of a…country's image and character" and is shaped by perceptions of a people, government, foreign policy and cultural outputs.[i]Not only does a good reputation foster an enabling environment for the exercise of influence or the pursuit of strategic objectives, it can in itself constitute a source of influence as with military and economic resources, thereby, placing the management of national reputation at the heart of international relations, public diplomacy and strategic communication.
There is no gainsaying that Nigeria's global reputation has suffered tremendously in the past few months, due in large part to the conduct of some Nigerians in the diaspora. In what can be considered a further dent to the country's batteredglobal reputation, Nigerians woke up to news headlines on June 29, 2020 announcing the arrest of Raymond Abbas, popularly known as "Hushpuppi",in a coordinated raid comprising the Federal Bureau of Investigation, Dubai police, and Interpol, on suspicion of cyberfraud, money laundering, hacking and scamming amounting to £352million.
Until his arrest, Abbas resided in the luxurious Palazzo Versace in Dubai and portrayed himself as an "influencer" for global brands, and a real estate developer, garnering 2.5 million Instagram followers in the process.
News of this nature is all too familiar to Nigerians and the global community, who in recent years have grown accustomed to the involvement of Nigerians in cybercrimes. In August 2019, the FBI indicted 80 people for cybercrimes amounting to $46 million in what was described as the "largest case of online fraud in US history", of which 77 of them were Nigerians.[ii] Even more alarming was the arrest of 'international business tycoon', Obinwanne Okeke alias Invictus Obi, for offences also bordering on computer and wire fraud. Until his arrest, Invictus Obi was the head of Invictus Group, a company with subsidiaries in Nigeria, Zambia and South Africa. As US authorities reported, Okeke who four years ago was featured on Forbes 2016 '30 under 30 African entrepreneurs' defrauded Unatrac Limited a subsidiary of Caterpillar of $11million, a crime for which he pleaded guilty.
"The action of a single Nigerian is not the action of all Nigerians" reacted GarbaShehu—a spokesman of President Buhari—to the arrest of 77 Nigerians in the US.[iii]Whenever news of this nature breaks, Nigerian public officials are quick to distance the actions of a few from the greater number of Nigerians whom they often describe as hardworking and honest. In a tweet reacting to the arrest of Hushpuppi, the Chairman/CEO of Nigerians in the Diaspora Commission, Hon. Abike Dabiri-Erewa affirmed the negative impact these arrests are having on the image of the country but was quick to add that "fraud does not represent who we are as Nigerians" and that Nigerians are "hardworking, dedicated and committed".
While these reactions are designed to dampen perceptions of Nigerians as fraudulent people as well as minimize the damage these reports may have on the country's global reputation, thereis no gainsaying that Nigeria's position as one of the most corrupt countries in the world with an internal political dynamics that is characterized by serious developmental deficits, internal security challenges and pervasive poverty makes them appear contradictory. Moreover, these arrests may be the most notable in recent years, but the practice of Nigerians engaging in schemes designed to defraud foreigners' dates back to the 90s, thus revealing the extent to which cybercrime is a scourge in the Nigerian society.
As John Campbell, a former US Ambassador to Nigeria rightly affirms, "there is little question that Nigeria is damaged by its international reputation for fraud. It contributes to the reluctance of international investors to acquire Nigerian partners".[iv] This is in line with Garba Shehu's assertion that "it is a big scar on all [Nigerians] who go out of this country and are seen in this image that these our brothers have created."[v]What is clear is that the involvement of Nigerians in cybercrimes and the wide media coverage this receives in no small way dents the country's image, thereby undermining the brand—a country known for its entrepreneurial and innovative drive, as well as the source of a diverse array of cultural outputs that resonates well beyond Africa—of the country and by implication its ability to influence through attraction.
The Nigerian government has pledged to enact new laws to address this problem but the sufficiency of this approach remains questionable, especially when existing legal frameworks have done little to combat pervasive corruption in all sectors of the country. Rather, the Nigerian government may want to consider a two-faced strategy, which on the one hand addresses the domestic circumstances that drive Nigerian youths to commit cyber crimes such as pervasive inequality, youth unemployment, systemic corruption and dilapidating educational institutions. On the other, the government may want to contemplate externally oriented strategies geared towards foreign publics or audiences.
This may take the form of projecting to foreign publics the concrete steps that are being taken domestically to address this issue while also showcasing honest and hardworking Nigerians that have successfully established brands with global appeal. Also, successful Nigerians in the diaspora like Kelechi Madu, the first black Canadian Minister of Justice, may be showcased to help substantiate some of the assertions of government officials that Nigerians are hardworking and honest.
The absence of consideration for these policy prescriptions appear to suggest that Nigeria's external political strategy is yet to come to terms with the changing dynamics of global politics where military and economic might are no longer the only determinants of a country's global standing. Through cultural, social and political values countries may shape the hearts and minds of not just global publics but also governments. Unlike most developing countries, Nigeria disposes of a vast array of soft power resources including a budding entertainment industry made up of movies, music and comedies. Also, its companies, mostly banks, are amongst the most admired brands in Africa. These resources may form the basis of a public or cultural diplomacy strategies geared towards enhancing the image and reputation of the country and altering the attitudes of foreign publics towards Nigeria.
---
[i]Wang, J. (2006).Public diplomacy and global business.Journal of Business Strategy 27(3): 41–49.
[ii] Epstein, K. (2019, August 23). Fraudsters tried to steal more than $40 million in one of the biggest online scam cases in U.S. history. Washington Post. https://www.washingtonpost.com/gdpr-consent/?next_url=https%3a%2f%2fwww.washingtonpost.com%2fnation%2f2019%2f08%2f23%2ffraudsters-tried-steal-more-than-million-one-biggest-online-scam-cases-us-history%2f
[iii] Austin, R. (2019, August 29). 'The misdeeds of a few': Nigeria speaks out over $46m fraud case. The Guardian. https://www.theguardian.com/global-development/2019/aug/29/the-misdeeds-of-a-few-nigeria-speaks-out-over-fraud-case
[iv] Campbell, J. (2019, September 27). U.S. Arrests Celebrated Nigerian Entrepreneur for Fraud.Council on Foreign Relations. https://www.cfr.org/blog/us-arrests-celebrated-nigerian-entrepreneur-fraud#:%7E:text=In%20August%2C%20the%20Federal%20Bureau,seven%20of%20them%20were%20Nigerian.
[v] BBC News. (2019b, September 23).Letter from Africa: Why Nigeria's internet scammers are 'role models'. https://www.bbc.co.uk/news/world-africa-49759392
China will donate 1 billion covid-19 vaccines to Africa
Chinese President Xi Jinping during his keynote speech, via video link, at the opening ceremony of the Eighth Ministerial Conference of the Forum on China-Africa Cooperation (FOCAC) on November 29, 2021 said that China would donate 1 billion vaccines to Africa (600 million directly and 400 million through other sources). Xi made this commitment at a time when global concerns with regard to the spread of the Omicron covid variant which originated in South Africa have risen. Many countries have suspended flights to Southern African nations — Botswana, Eswatini, Lesotho, Mozambique, Namibia, South Africa, Zimbabwe, Malawi, Angola and/or Zambia – while others have imposed severe travel restrictions. Restrictions have also been imposed by certain countries on travellers from other countries where omicron variant cases have been detected.
The Chinese President also said that China will assist Africa through medical and health projects and also send its medical personnel.
The WHO which has designated the omicron variant as one of 'concern' has also been consistently flagging the low rate of vaccination in Africa. Figures clearly reiterate this point. Last month, the WHO Chief Tedros Adhanom Ghebreyesus in a media briefing pointed out, that out of the over 7 billion vaccines administered globally, 10 countries have received 70%. The WHO Chief said that while globally 40% of the population has received vaccines in Africa only 6% have been administered both doses of the vaccine.
The South African President Cyril Ramaphosa also underscored the point with regard to vaccine inequity. Said the South African President:
'Instead of prohibiting travel, the rich countries of the world need to support the efforts of developing economies to access and to manufacture enough vaccine doses for their people without delay'
WHO had also been critical of developed countries for going ahead with booster doses, while the more vulnerable in poorer countries had not even received the initial doses. The WHO Chief flagged this point last month in his media briefing pointing out that :
'Every day, six times more boosters are administered globally than primary doses in low-income countries. It makes no sense to give boosters to healthy adults, or to vaccinate children, when health workers, older people, and other high-risk groups around the world are still awaiting their first dose'
China- US rivalry and Africa
China had earlier sold 136 million vaccines to Africa and committed to donating 19 million vaccines (of these 107 million have been delivered and nearly 12 million are being delivered by the Covax initiative). US President, Joe Biden had also announced that the US would donate 17 million doses of the Johnson and Johnson (J &J) vaccine to the African Union in October 2021, and the US Secretary of State Antony Blinken during his visit to the region discussed the need for ramping up local vaccination production sites in Africa.
In recent years, China's economic linkages with Africa have consistently grown. The China Daily while highlighting this point in an editorial stated:
'China has been Africa's largest trade partner for 12 years in a row, and China-Africa trade hit a historical high of $185.2 billion in the first nine months of this year, up 38.2 percent year-on-year, while its investment in Africa was $2.59 billion, up 9.9 percent, surpassing that in 2019 before the pandemic'
China is also the largest bilateral lender to the African continent as a whole. There are a number of countries, such as Kenya, Djibouti and Nigeria which whose debts vis-à-vis China have become unsustainable. As a consequence, a number of African countries have been renegotiating their debts with China (many countries such as Ethiopia and Ghana have been calling for debt cancellations). During his address on November 29, Xi said that China was ready to waive debts, and would also work towards greater job creation in the African continent.
While African countries have begun to realize the pitfalls of being excessively dependent upon China, they do not have any alternative as such.
Apart from flagging the threats of China's model of engagement with developing countries, the US and other countries have not been able to provide any tangible alternatives (US has sought to further increase its outreach vis-à-vis Africa in recent years, and it seeks to increase economic engagement under the umbrella of the Indo-Pacific) . The decision to impose travel bans on African countries by many developed nations has also not gone down well with Africa.
Important for the global community to work together
While a number of countries, not just the US and China, have been paying greater importance to Africa in recent years as a result of its strategic and economic importance, it is imperative for the global community to work collectively for addressing the issue of vaccine inequity and ensuring that a substantial percentage of Africa's percentage is vaccinated. It is important that developed countries realize that there is a need to focus on long term measures and understand that short term steps and knee jerk reactions such as travel bans on countries will not suffice.
Q&A: Arguments for Advancing Russia-African Relations
As preparations are underway for the second Russia-Africa summit planned for 2022, African leaders, politicians, academic researchers and experts have been discussing several aspects of the current state of Russia-Africa relations. They, most often, compare it with a number of foreign countries notably China, the United States, European Union, India, France, Turkey, Japan, and South Korea that have held such gatherings in that format with Africa.
Some have convincingly argued that Russia has moved away from its low-key strategy to vigorous relations, as shown by the first symbolic Russia-Africa summit in the Black Sea city of Sochi in October 2019. Russia and Africa adopted a joint declaration, a comprehensive document that outlines the key objectives and necessary tasks that seek to raise assertively the entirety of relations to a new level.
Long before the summit, at least, during the past decade, several bilateral agreements between Russia and individual African countries were signed. Besides, memoranda of understanding, declaration of interests, pledges and promises dominated official speeches. On the other side, Russia is simply invisible in economic sectors in Africa, despite boasting of decades-old solid relations with the continent.
Undoubtedly, Africa is opening up new fields of opportunity. The creation of the African Continental Free Trade Area (AfCFTA) provides a unique and valuable opportunity for businesses to access an integrated African market of over 1.3 billion people with a GDP of over US$2.5 trillion. It aspires to connect all the regions of Africa, to deepen economic integration and to boost intra-African trade and investment.
Despite existing risks, challenges and threats, a number of external countries continue strengthening their economic footholds in Africa and contribute enormously towards the continent's efforts to achieve the Sustainable Development Goals (SDGs).
Russia has to upgrade or scale up its collaborative engagement with Africa. It has to consider seriously launching more public outreach programmes, especially working with civil society to change public perceptions and the private sector to strengthen its partnership with Africa. In order to achieve this, it has to surmount the challenges, take up the courage and work consistently with both private and public sectors and with an effective Action Plan.
In this exclusive interview with Steven Gruzd, Head of the African Governance and Diplomacy Programme at the at the South African Institute of International Affairs (SAIIA), discusses a few questions, highlights existing challenges and passionately offers some progressive suggestions regarding Russia-African relations.
Steven Gruzd also heads the Russia-Africa Research Programme initiated this year at SAIIA, South Africa's premier research institute on international issues. It is an independent, non-government think tank, with a long and proud history of providing thought leadership in Africa. Here are the interview excerpts:
What are your appreciations and fears for Russia returning to Africa?
Africa is becoming crowded, with many old and new actors actively involved on the continent. Apart from EU countries, China and the US, we have players such as Iran, Turkey, Israel, the UAE, Japan and others. So Russia's renewed interest in Africa does not happen in isolation. It, of course, seeks to build on Soviet-era ties, and several African leaders today studied in the USSR or the Soviet sphere of influence. Russia has tended to focus on niche areas such as weapons sales, nuclear energy and resource extraction, at a much smaller scale than China. Many leaders are welcoming the attention of Russia, but some remain wary of Russia's hidden motives and intentions. Russia's dealings are not transparent and open compared to China. The shadowy world of private military companies such as Russia's Wagner Group is causing concern in unstable countries like the CAR, Libya and Mali. So, in fact, there is a kind of mixed picture, sentiments and interpretations are also varied here.
How would you argue that Russia engages fairly in "competition for cooperation" in Africa?
Africa is a busy geopolitical arena, with many players operating. Russia has to compete against them, and distinctively remain focused its efforts. Russia welcomes diplomatic support from African countries, and unlike the West, it does not demand good governance or advocate for human rights reforms. Russia likes to portray itself as not interfering in local politics or judging African countries, even though there is mounting evidence that it has been involved in meddling in elections in Africa through disinformation, fake news and attempting to exploit fault lines in societies through social media.
Do you think, to some extent, Russia is fighting neo-colonial tendencies, as shown in Guinea, Mali, CAR and Sudan? Does it imply that Russia supports military leaders in Africa?
Russia uses the rhetoric of anti-colonialism in its engagement with Africa, and that it is fighting neo-colonialism from the West, especially in relations with their former colonies. It sees France as a threat to its interests especially in Francophone West Africa, the Maghreb and the Sahel. Russia has invested resources in developing French-language news media, and engages in anti-French media activity, including through social media. I think Russia has its own economic and political interests in countries like Guinea, Mali, CAR and Sudan, even if it uses the language of fighting neo-colonialism. It explicitly appears that Russia supports several undemocratic African leaders and their regimes.
Some experts have argued that Russia's diplomacy is full of bilateral agreements, largely not implemented, and gamut of pledges and promises. What are your views about these?
I would largely agree that there is a divide between what has been pledged and promised at high-level meetings and summits, compared to what has actually materialised on the ground. There is more talk than action, and in most cases down the years mere intentions and ideas have been officially presented as initiatives already in progress. It will be interesting to see what has been concretely achieved in reports at the second Russia-Africa summit scheduled for late 2022.
From the above discussions so far, what do you think are Russia's challenges and setbacks in Africa?
Africa is a crowded playing field. Russia does not have the same resources and approaches as China, France, UK or US, so it has limited impact. The language barrier could be used as an excuse, but Russia has the great possibility to leverage into the Soviet- and Russian-trained diaspora. On the other hand, Russia feels it is unfairly portrayed in Western media, so that is another perception it seeks to change. It can change the perception by supporting public outreach programmes. Working closely with the academic community, such as the South African Institute of International Affairs and similar ones throughout Africa, is one potential instrument to raise its public image. In places like Mozambique and the CAR, the Wagner Group left after incurring human losses – does Russia have staying power?
As it prepares to hold the second Russia-Africa summit in 2022, what could be the expectations for Africa? What to do ultimately with the first Joint Declaration from Sochi?
As already mentioned, there needs to be a lot of tangible progress on the ground for the second summit to show impact. It is worth to reiterate here that African countries will expect more debt relief and solid investment from Russian businesses. In terms of political support at places like the UN Security Council, there is close interaction between Russia and African States, but as recent research by SAIIA shows, not as much as assumed. The relationship has to however deliver, and move from words to deeds. In conclusion, I would suggest that Russia has to take up both the challenges and unique opportunities, and attempt to scale up its influence by working consistently on practical multifaceted sustainable development issues and by maintaining appreciable relations with Africa. And African countries likewise have to devise viable strategies for engaging with Russia.
Nigeria's role in ECOWAS peacekeeping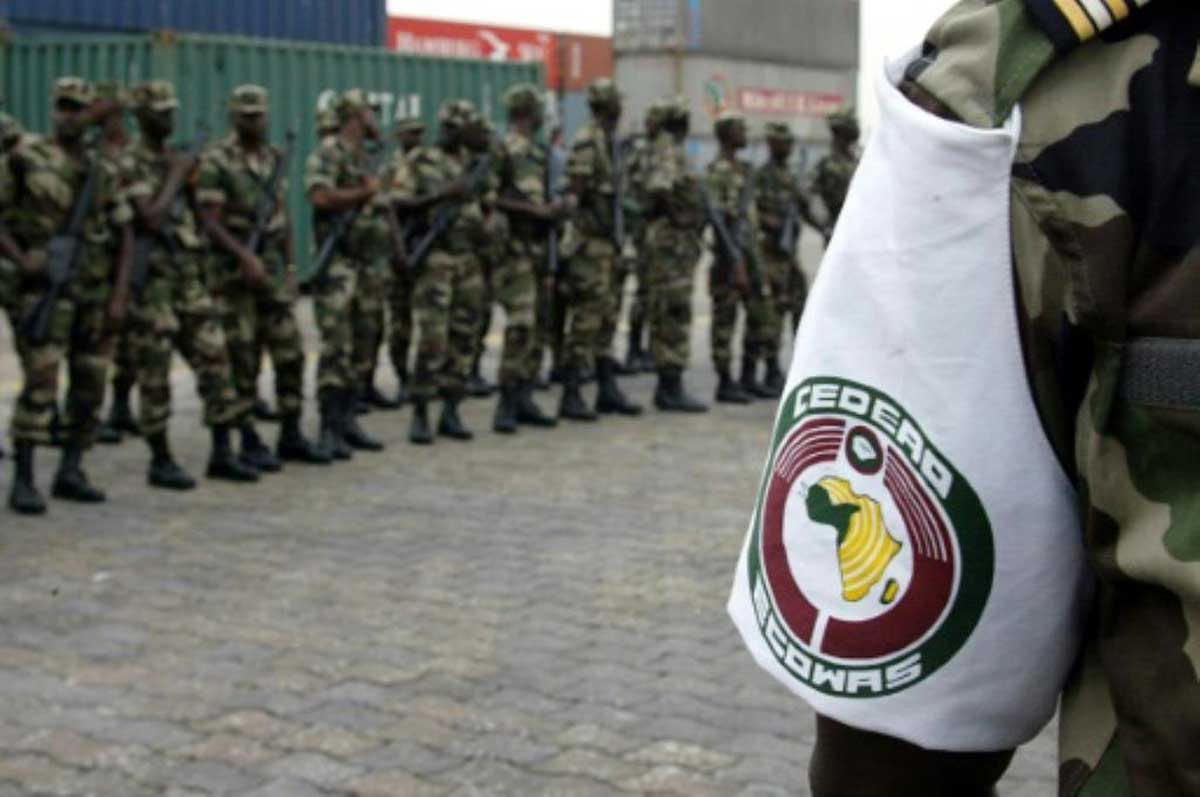 ECOWAS is the 44-year-old economic community of West African states. "The evolution of ECOWAS from the level of an organization created for the purpose of economic integration to the level of organizations that makes and implements decisions of a political and economic nature at the international level deserves quite close attention of researchers today." [2]
As with any alliance, ECOWAS has the undisputed leader – Nigeria. Nigeria is the most populous country in Africa. It should be noted that for many years it was dominated by a military regime, during which the country was in mismanagement and in disorder. Even under military rule, Nigeria has made a significant contribution to the work of ECOWAS to restore democratic governance and ensure stability in many West African countries. This can be attributed to an attempt by "Nigeria to convince the international community of its determination to return to democratic rule and refrain from participating in difficult West African conflicts." [5]
Due to the strategic position, Nigeria plays an important role in realizing the goals and objectives of ECOWAS. First, "Nigeria has a positive balance of payments, because the country exports large quantities of oil and oil products, as well as cocoa and many valuable metals and alloys." [1] The second reason is Nigeria's partners, who make a great contribution to the country's economy by being its investors. Another important factor is the fact that Nigeria mainly imports high-tech products, without participating in the international exchange of technologies.
At the time of Nigeria's accession to ECOWAS, the government marked for itself several directions of its activities, being a member of this organization. In the first place, particular attention was paid to adherence to the ECOWAS economic integration framework, as this contributed to the promotion of free trade. In addition, Nigeria has sought to introduce a single currency for the region. The goal of expanding the infrastructural development of the automobile, railway, telecommunications, energy, gas pipeline industries was also important, which, as a result, should have increased agricultural and industrial production.
Thus, it can be concluded that the need for ECOWAS in Nigeria is great because Nigeria, owning financial and human resources, can help the organization achieve its long-term goal of full integration of the region.
According to the Vice President of the World Bank L. Sabib, "Nigeria can become a locomotive capable of promoting the economy of West Africa. This has not yet been done due to poor governance, ineffective government, corruption and political instability". [5]
Since the establishment of the Economic Community of West African States (ECOWAS) in 1975, Nigeria has focused on the foreign policy of the West African region. In many ways, this decision allowed it to become one of the decisive forces of this regional organization, not to mention its advantages in its size, geographic location and, of course, economic potential.
Professor Akintola is confident that "Africa has been the focus of Nigeria's foreign policy since independence, with an emphasis on the liberation, development and unity of Africans both inside and outside the continent." [3] This confirms that Nigeria continues to dominate the rest of West African states, which allows it to play an important role in the activities of ECOWAS.
Many researchers highlight the contribution of Nigeria to the regional integration of the ECOWAS organization. Moreover, this activity is a priority for Nigeria in matters of its foreign policy. This is most clearly manifested in the processes of maintaining peace and economic liberalization.
Between 1975 and 1993, Nigeria revised its foreign policy in many ways. This was largely due to the formation of ECOWAS, since the country was striving to significantly increase its weight in this alliance. It should be noted that the change in Nigeria's policy is closely related to changes in ECOWAS. At the beginning of its work (1975) ECOWAS set itself the task of becoming a collective security organization, but in 1990 the goal was rethought. It was decided to stimulate the development of collective security, and this decision was reflected in Chapter 8 of the UN Charter. [4]
Nigeria especially showed the importance of its participation in integration during the civil wars in Liberia and Sierra Leone as part of ECOMOG. When Nigeria assumed the role of the dominant country in the organization of ECOWAS, its foreign policy choice was extremely obvious – a peacekeeping strategy.
Speaking about the contribution of Nigeria to the Liberian conflict, it should be said that its participation did not give any guarantees of successful peacekeeping. However, Nigeria's involvement continued to be critical to the operation. Without Nigerian troops, supplies and air support, ECOMOG forces would have lost many more soldiers and civilians and would most likely be driven out of the country entirely by the factions. Nigeria provided significant military support to ECOMOG, but the motives behind this support hindered ceasefire agreements and further negotiations for a transitional government and elections. Although Nigeria has acquired a certain regional prestige for its actions, it has also generated opposition to its dominant status from neighboring African states.
Nigeria faced major challenges in its efforts to restore peace and security to Sierra Leone with ECOMOG. In addition to financial problems, the lack of support from the citizens of Sierra Leone has also affected the main aspects of peacekeeping in the country. Despite the challenges faced by the Nigerian government and the country's unstable economic situation, Nigeria was able to continue its mission, which was believed to be in line with the country's foreign policy goals of ensuring peace and security in the subregion and Africa as a whole. Despite the enormous government spending and corruption associated with Nigeria's mission to Sierra Leone, the mission remains one of the most successful African initiatives to promote peace and security abroad.
The role of Nigeria in the implementation of the ECOWAS plans cannot be overestimated because it has the status of a regional leader in ECOWAS, which indicates its serious contribution to the processes of regional integration and the maintenance of peace and security in West Africa
References
1. Asiagba John Chinedu. Nigeria as a member of the Economic Community of West African States, p. 261.
2. ECOWAS. Regional integration problems. Managing editor A.Y. Elez. Moscow., IAfr RAN., 2016.p. 5
3. Geveling, L.V. Foreign experience in fighting corruption: Federal Republic of Nigeria / L.V. Geveling // Institute of Municipal Administration. – 2012.- № 3.- p. 98-102.
4. Omo. O. O. Dennis. Nigeria in the Process of Regional Integration in West Africa: The Case of ECOWAS. Moscow,2018., p. 67.
5. Speech delivered by World Bank Vice President Louis Sabib, state visits to Nigeria // The Guardian Newspaper. Lagos, 1998 September 21.