D(air) to dream of a cleaner future for your city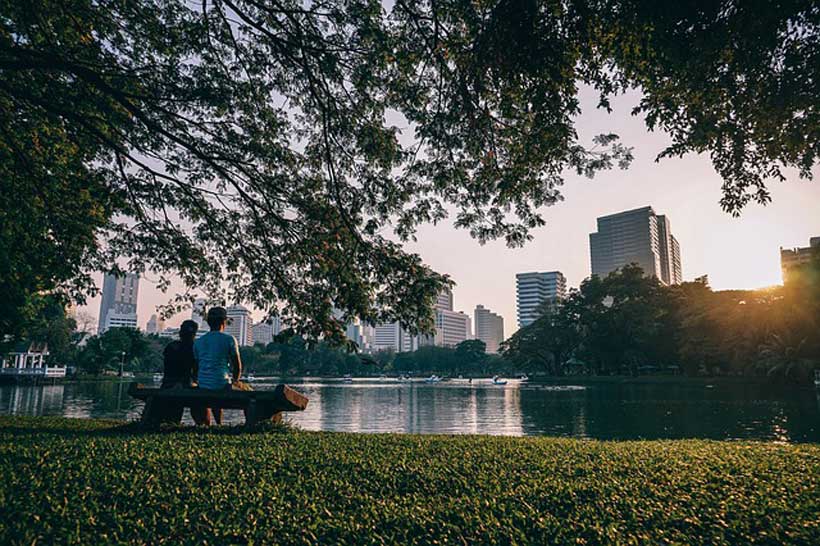 In 2019, the United Nations Environment Programme (UNEP) and United Nations Economic Commission for Europe (UNECE) made recommendations for Kazakhstan to improve how it raises awareness on air pollution and alerts the public of high pollution levels, including by involving citizen science. Since, 49 LED screens have lit up across Almaty, displaying air quality data drawing from citizens.
In early 2017, Pavel Plotitsyn, an IT expert from Kazakhstan, stepped onto the balcony of his new apartment in Almaty, to enjoy a panoramic view of the ancient city. Instead, he saw a sky thick with smog.
"When I wanted to bring fresh air into my flat, it smelt like someone was burning rubber," he recalls.
Plotitsyn decided to take matters into his own hands. He ordered affordable air quality monitoring devices online and installed one on his balcony. He published his readings of PM2.5 particulate matter — tiny particles that can reach people's lungs and lead to premature death — on social media.
"The numbers were really shocking," he says. "In parts of the city, levels of PM2.5 could easily top 300μg/m3 for several consecutive days in winter". The maximum safe limit recommended by the World Health Organisation is 25μg/m3.
Soon, friends and neighbours asked Plotitsyn for help in installing devices for their homes, with readings published on the website. When pollution levels passed safe thresholds, sensors were marked in red.Today, 25 sensors are in place across Almaty, with more covering five other cities in the country, and thousands of people check Airkaz.org daily.
"Pavel's story shows how citizen science can spark a nationwide conversation on air quality. By shining a torchlight on air pollution types and where it is found, we can identify solutions. Through our office in Almaty, UNEP stands ready to support the city on its transition to clean air," said Bruno Pozzi, UNEP Europe Office Director.
Raising awareness
After having certified 10 of the devices for Almaty, Kazakhstan's national hydrometeorological body, Kazhydromet, now uses the readings along with the official data it collects through the national air quality monitoring network. The service even launched an app for the public, which includes findings from the citizen-led network and displays information on the effects of air pollution on human health.
Together with Kazhydromet data sourced from its 16 state-owned monitoring stations across the city, data collected from the citizens' devices now feeds into 49 LED screens set up across Almaty by the mayor, Bakytzhan Sagintayev, in June. The screens display real-time levels of PM 2.5, sulfur dioxide, nitrogen dioxide, nitrogen oxide, carbon monoxide, and phenol.
"Air quality monitoring data is being shown on LED screens across Almaty. Data from sensors located in different parts of the city is updated and processed by Kazhydromet. This project will increase Almaty residents' awareness of the quality of their urban environment," says Mr Sagintayev.
Plans to clear the air
The main sources of air pollution in Almaty are emissions from a coal power plant, intense traffic and an ageing fleet of cars, made worse by mountains and buildings blocking wind flows. In response, Almaty is now looking at modernizing its thermal power plant; and 250,000 trees are being planted this year — to reach a total of one million new trees by 2022. The city is also putting 400 gas buses, and 10 electric ones, on the road, and has expanded its bicycle lane network to reach 110km in length, with plans to reach 300km.
Upon the mayor's initiative, parts of the city will be closed off to cars on weekends. The impact of this was demonstrated during the city's COVID-19 lockdown this spring – reduction in road traffic led to a 21 per cent drop in PM2.5 levels, bringing pollution levels below WHO limits on some days, research suggests.
Power of citizen science
In 2019, UNEP's Europe Office led the environmental monitoring chapter of Kazakhstan's 3rd Environmental Performance Review, put together by the UN Environment Commission for Europe. It was recommended that the country alert citizens of high pollution levels, including by involving citizen science and billboards.
Today, not only is citizen-led data making its way onto screens across Almaty – it is also feeding into some of the world's largest air quality data houses, such as the AirVisual and Urban Air Action platforms.
"Every family in Almaty seems to include someone suffering from an allergy linked to air pollution," Pavel laments. "I started doing this as a weekend hobby. But it isn't just a fun project anymore. Hopefully, it can help change the situation here one day".
7 September marks the first International Day of Clean Air for blue skies. Nine out of 10 people worldwide breathe air deemed to be unsafe by the World Health Organisation.
How environmental policy can drive gender equality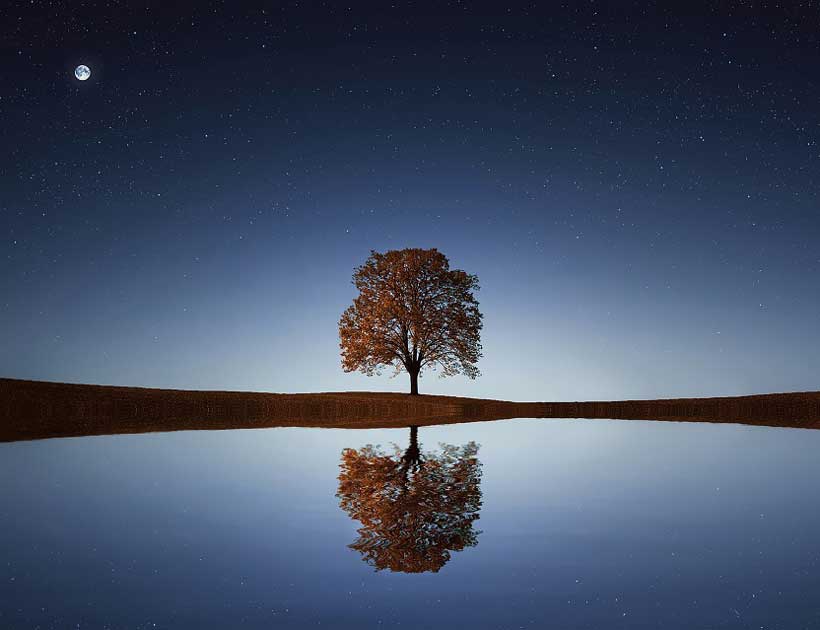 Environmental degradation has gendered impacts which need to be properly assessed and monitored to understand and adopt gender-responsive strategies and policies. While designing these, it is essential that measures targeting gender equality and women's empowerment are adequately formulated and mainstreamed.
To facilitate experience sharing and learning from good practices, on the 9th of September, the UNECE hosted a webinar on Gender Mainstreaming in Environmental Policies and Strategies. Ms. Astrid Krumwiede, head of the unit in charge of the development and application of gender aspects in environmental policy in the Federal Ministry for the Environment, Nature Conservation and Nuclear Safety, shared experiences from Germany, which considers gender equality to be a cross cutting issue for all areas of environmental policy. On the national level, the Ministry for the Environment has sought to integrate gender equality in various ways, such as through dialogues, meetings, guidelines, education and policies. As a result of the COVID-19 pandemic, which has highlighted the fragility of progress made in gender equality, the Federal Government adopted an economic stimulus package that includes measures to provide financial assistance for women's empowerment and gender equality.
Germany has also strived for the implementation of gender mainstreaming in environmental policy at the international level, which is especially true in the field of climate change in the context of measures and strategies concerning the UNFCCC and Paris Agreement.
Despite progress made, there are still some long-standing barriers to implementing gender mainstreaming. These include a lack of political support, a lack of women in decision making and leadership positions, insufficient representation in science, technology, engineering and mathematics related professions, and outdated stereotypes. Moving forward, capacity building and equality impact assessment trainings need to be gender responsive so that suitable incentives are provided which enable women to participate. Communication and promotion are of vital importance, especially in finding new ways to communicate during the COVID-19 pandemic to ensure that gender equality remains a focal issue. Incorporating an intersectional approach to gender equality in environmental policy is also essential, since ignoring this in policymaking can create a system that creates and reinforces different forms of discrimination.
Looking to the future, in the words of Ms. Astrid Krumwiede, "it is time for tailor made environmental policies which reflect different needs and requirements for different people".
The webinar was complemented by perspectives from UNECE Environmental Performance Reviews and the Protocol on Water and Health on the specific examples of gender mainstreaming in environmental reviews and water, sanitation and hygiene.
Climate Heat Maps Show How Hot It Could Get for Today's Tweens
Climate-related impacts such as the wildfires in the western United States will only become more severe if we allow the worst-case scenario to unfold by 2100. A new EarthTime visualization shows just how hot the world may become in 2100, within the life expectancy of today's tween, 10-12-year olds.
The findings, announced at the fourth World Economic Forum Sustainable Development Impact Summit, place even more urgency on business and government leaders to fast-track solutions and act now to prevent such a scenario unfolding.
Experts attempting to rank the severity of climate change scenarios likely to play out by the year 2100 refer to the worst of them as "RCP 8.5." This entails more than 4°C in warming above pre-industrial levels, rising emissions, hundreds of millions of people being forced to migrate, and a big increase in forested area prone to the type of fires that have raged this summer (due to a phenomenon dubbed the "moisture deficit").
The World Economic Forum has used data from the Climate Impact Lab, Climate Central, the Washington Post, and NASA satellites to create a visualization of this worst-case scenario.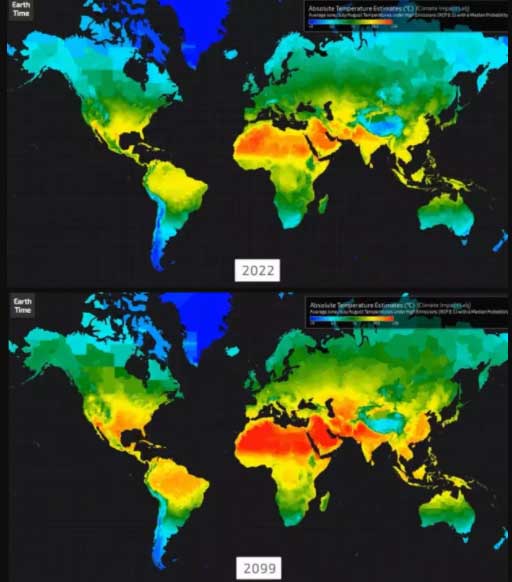 The data model shows that by 2100:
Average June-August temperatures reach 38°C (100.4°F) for many parts of the world
New Delhi, India, has eight months a year with temperatures averaging 32ºC (89.6°F) up from six
Phoenix, Arizona, has nearly 200 days a year of temperatures hitting at least 32ºC (89.6°F)
Regions of southern Europe average June-August temperatures of 30°C (86°F)
Viet Nam, Cambodia, Malaysia and Indonesia's June-August temperatures average more than 30°C (86°F)
Miami and Fort Lauderdale, Florida, disappear under water due to rising sea levels
"Longer-term trends can often seem abstract and intangible," said Stephan Mergenthaler, Head of Strategic Intelligence at the World Economic Forum. "Visualizing the effects of these trends, based on the latest scientific data, can help people take action and work towards shared goals."
Experts agree that the worst impacts of climate change can be avoided if we limit global warming to below 2ºC above pre-industrial levels. Effective climate policies, fighting efforts to discredit legitimate science, removing carbon dioxide from the atmosphere or offsetting it by planting new forests, and upgrading transportation and energy systems can all be part of the equation.
"To speed up the delivery of the Sustainable Development Goals and create change, we need to get as many people involved as possible," said John Dutton, Head of UpLink at the World Economic Forum. "Anyone can make an impact. We have seen the next generation of change-markers and social entrepreneurs stand up and create action plans on the UpLink platform to make sure we don't see this visualization come true. Connecting these ideas to funding sources, scaling up impact and creating a community of support will help us address the critical opportunities ahead for this generation."
Innovative projects on the UpLink platform include how to reduce emissions by buying and selling unused shipping container space, how to use waste management and data analytics to reduce plastic in the ocean, and how to create packaging made from sustainably farmed seaweed. Projects allow start-ups to flag what they need to succeed and connect them with software developers, funders, or resources to deliver impact.
80 EarthTime Stories
The climate visualization is one of nearly 80 EarthTime stories that have so far been published alongside hundreds of related topics on the Forum's Strategic Intelligence platform. They cover a broad range of issues including environmental protection, technology development, intellectual property trends and systemic racism. These visualizations are intended to help illustrate important global trends and dynamics in an easy-to-understand, readily accessible way.
Rosewood conservation: A success story from Madagascar
For Madagascar farmer Edmond, who goes by one name, it was a breakthrough. In 2019 he perfected a complicated technique to grow a rare species of tree known as Dalbergia normandii.
The plants hail from a valuable, and difficult-to-propagate family of trees known as rosewoods, which have been felled near to the point of extinction in many parts of Madagascar.
"This year is one of the happiest years of my life because the time I spent on this technique was not in vain," said Edmond, 60, who lives in Ambodimanga village on Madagascar's eastern coast. "This time, luck is with me."
Edmond is working on a rosewood conservation project coordinated by the United Nations Environment Programme (UNEP). Its aim is to safeguard a group of trees that is the world's most trafficked wild product by value and volume. From Guatemala to Madagascar to Thailand to Zambia, rosewoods have been targeted by timber traffickers who seek to profit especially from its growing demand in China and Viet Nam, principally for furniture.
"Over the last decade, the share of total rosewood imports to China coming from Africa has steadily increased, with a portion of this share suspected to have been illegally sourced in or exported from Africa," says a July 2020 report by the United Nations Office for Drugs and Crime (UNODC).
To help reverse this trend, in 2017 UNEP, Madagascar's Ministry of Environment and Sustainable Development, and local partners launched a Global Environment Facility-funded project titled Conservation of key, threatened, endemic and economically valuable species. The project, which runs till 2022, seeks to reduce the threats to 21 economically important but threatened species at 18 sites in Madagascar. The production of large quantities of healthy new rosewood plants is critical to the project's success.
The Pointe à Larrée protected area, on the coast in central-eastern Madagascar, currently managed by Missouri Botanical Garden, is one of the project sites. It's home to 13 species targeted by the project, including six species of Dalbergia, most of them rosewood. (All species of Dalbergia fall within the Convention on International Trade in Endangered Species Appendix II.)
Rosewood species "threatened for decades"
"These species have been threatened for decades due to commercial exploitation for their very valuable `precious wood' and habitat loss due to slash-and-burn cultivation," says Adolphe Lehavana, project manager at Pointe à Larrée and an employee of Missouri Botanical Garden, an international non-governmental organization mandated by Madagascar to manage the protected area.
"Population levels for some species are now critically low and they seemed doomed to local extinction since isolated trees fail to produce seeds.
"For example, within the landscape, including the protected area, researchers have been able to locate just 10 remaining individuals of Dalbergia maritima and just one remaining individual of Dalbergia louvelii – all outside the protected area," he adds.
Through the project, resources are now being mobilized to prevent the local extinction of these very rare species by reinforcing the wild population as part of an ecological restoration programme.
In 2019 the team produced 2,328 young rosewood plants using the technique developed by Edmond, the farmer. Known as air-layering, it allows conservationists to grow new roots from a plant's branches which can then be deposited into the ground. The rosewoods have been used, with other native tree species, to enrich around 10 hectares of degraded forest. To date, the survival rate of young rosewoods has been nearly 100 per cent.
The project contributes to the objectives of the United Nations Development Assistance Framework in Madagascar (2015-2019), providing vulnerable populations with employment opportunities and supporting sustainable development. It is also part of the broader effort to conserve biodiversity as set out in The Global Biodiversity Outlook 5, published by the United Nations Convention on Biological Diversity.
Through activities such as forest enrichment and restoration, the conservation of endemic species also contributes to Sustainable Development Goal 15, which aims to safeguard forests and protect biodiversity.