The recent turn of events regarding Pakistan's maritime ambitions and development programmes, can be seen as an attempt to maximize power. This power politics is quite obvious, as China-Pakistan Economic Corridor project sets new horizons for regional connectivity and trade for Pakistan, which concerns India to the very core. The theory of Offensive Realism provides an in-depth theoretical framework to explain these state affairs. According to realism, the international political structure is anarchic, which is why no state can fully trust the intentions of another state, however, interest-based cooperation is possible (Pak-China economic cooperation), but survival of the state is the top priority of every state. The most efficient way to secure state survival is to maximize their relative power, which implies that there will be a constant security competition in the world, which divides the state's power into two components; Latent (economy and population) and actual power (military). This determines Pakistan's ambitions to acquire modern technology and increase its naval power in the Arabian Sea, however, the theory fails to explain the importance of economy and the power maximization in the economic sense. The reason being addressed is the transition of politics in the post-cold war era, which is heavily centred on economy, rather than the previous model, which suggested a central focus on building conventional military strength only. Therefore, economy holds the actual power in the contemporary era, which means Pakistan would not only ensure safe navigation of commerce that China would attract, but also enhance its naval capabilities and technologies to maximise power through a Blue Economy.
This paper provides a qualitative analytical research of the subject matter, based on data collected through mostly secondary sources and a primary source. The paper is descriptive and provides a thematic qualitative analysis to interpret the subject matter under discussion.
Introduction
The recent years have marked a steady shift in national and international level, towards maritime development and security of Pakistan. On 23rd March, 2015, the president of Pakistan deliberately announced the extension of Pakistan's continental shelf from 200 nautical miles to 350 nautical miles, however, the Exclusive Economic Zone or EEZ remained 200 nautical miles. This announcement was made after the approval of United Nations Commission on Limits of Continental Shelf (CLCS) for extension, based on scientific data which was collected through a number of surveys, conducted by the National Institute of Oceanography in collaboration with Naval Hydrographic Department, under the supervision of the Ministry of Science and Technology. This meant that the Pakistani naval fleet can ensure maritime security from further deep into the sea. To do so, Pakistan has yet to acquire the required technologies and equipment, which it claims to be operational by the fiscal year of 2030. With the China-Pakistan Economic Corridor project, the demand for maritime security has increased, as CPEC is a sub-project of China's Belt and Road Initiative, it holds tremendous significance in the entire mega-economic project. The reason being addressed, is the geo-strategic location of CPEC and future Gwadar Port city, which would attract a number of threats such as piracy, terrorism, illicit trafficking and other potential proxy skirmishes. Furthermore, the exploration of natural resources in EEZ would require more stability in the region to proceed with and large-scale investments to build and renovate Pakistan's Blue Economy. This paper provides an analytical overview of the maritime development plans, Pakistan's naval strategy, potential maritime opportunities and addresses research questions, such as What does Pakistan need to acquire for a blue water navy? What are the challenges that stunt our potential opportunities? And most importantly, what does Pakistan need to ensure credible deterrence and stability in the region? The paper also provides possible immediate implications of all the factors on the region and ends with a brief conclusion.
Blue Water Navy
The term implies a navy having the capability to operate in the deep seas far from its base, however, it lacks a proper definition, as it is varied according to different countries. 'Blue-water navy' was first used by United Kingdom Royal Navy, to address their naval expeditionary fleets. An Indian analyst defines it as "A Blue Water Navy is one that has the capacity to project itself over a much bigger maritime area than its maritime borders. Simply put, it is a Navy that can go into the vast, deep oceans of the world. However, while most navies have the capacity to send ships into the deep oceans, a Blue Water Force is able to carry out operations far from its borders, without being required to return to its home port to refuel or re-stock".
Presently, United States Navy, Royal Navy, French Navy, Republic of Korea Navy, Russian Navy, Indian Navy, Japan Maritime Self-Defence Force and People's Liberation Army Navy are the navies which are considered to have blue-water fleets. Pakistan would be the ninth country of the world to acquire a blue-water navy. To achieve this purpose, Pakistan requires a lot of equipment and advanced technology to take its first step in the high seas by the year 2030. The assets being acquired or developed are as follows;
Type-54A/P Frigate
Frigates are anti-submarine warships and Pakistan has made an agreement to acquire four of these frigates from China, to replace their outdated Amazon Class Frigates. These Frigates incorporate cutting-edge technology, with a 32x cell vertical launch system armed with HQ-16 surface to air missiles. It has a displacement of more than 4000 tons. It is also equipped with anti-ship cruise missiles, advanced radars and remarkable self-protection system, which is why it holds crucial significance for the Chinese naval fleet. Also, Pakistan's frigate fleet of f-22P will undergo a mid-life upgrade program to extend its life and capabilities. These frigates are expected to join service by 2025.
Hangor Class Submarine
These are of Chinese origins and their specifications are known to be classified, however, they are considered to be a variant of Chinese Diesel-electric submarines of unspecified class. Pakistan was the first to operate a submarine in the South Asian region and its French made Agosta class 70's submarines are highly outdated according to the modern-day technological advancements. Pakistan has not only ordered eight of these Hangor class submarines from China, but also aims to modernize its Agosta 90-B submarines to the fullest. These are expected to be delivered and operationalised by 2028.
Jinnah Class Corvette
Corvettes are relatively small warships than frigates, they displace approximately 2000-2500 tons and are used in Stealth missions. Pakistan aims to acquire four of these corvettes, two of them are being built in Pakistan, in collaboration with Turkey and two of these Ada Class corvettes are being built in Turkey itself. These Ada Class corvettes, once operationalised, will be named as Jinnah Class corvettes, in the honour of our nation's founding father. Pakistan plans to arm these corvettes with a locally-built Harba anti-ship cruise missile system, as Pakistan is known for its ingenious missile deployment tactics on air and water crafts.
Maritime Air Wing
The maritime air wing is needed to support the surface vessels in a rapidly escalated situation and the wing can also serve as a quick reaction force. Advanced aircrafts are being employed in the wing such as JF-17, having anti-ship capabilities to take out enemy's surface fleets and ensure coastal and territorial security. The naval air units are meaning to replace their outdated aircrafts with the modern alternatives and some of them are meant to be upgraded. Minhas air squadron is upgrading its equipment and technology and the wing has also planned for other squadrons with the same abilities along the coast line. Furthermore, other unmanned aircrafts with similar anti-ship capabilities are also being employed in service.
Offshore Patrol Vessel
An offshore patrol vessel is a highly multi-purpose watercraft used to perform managerial operations in the state's Exclusive Economic Zone (EEZ). It can carry out anti-surface and anti-air operations, maritime security operations, 24-hour helicopter operations, combat search and rescue, surveillance and intelligence gathering operations. In addition to mechanical and technological virtues, the vessel will also provide disaster relief and ensure coastal area security as well. Pakistan has ordered two of these patrol vessels from Netherland based Malaysian company Damen. One of them is under construction at Romania and both are expected to be delivered by the fiscal year of 2022.
Coastal Defence System
Including secondary support military support at hold, such as offshore multi-purpose patrol vessels and a marine air wing with anti-ship missile system, Pakistan has set up a Chinese C-602 anti-ship cruise missile system based, Zarb Defence System. Some analysts say that these up-gradations are being made in order to tackle the new aircraft carriers that India tends to acquire.
Second-Strike Capability
After employing a Naval Strategic Forces Command, which became a part of three major unified Pakistan Armed Forces commands, Pakistan Navy conducted the launch of Babur-III cruise missile from a submarine and ever since that launch, naval strategists are working on a second-strike capability through nuclear armed, nuclear propelled submarines to ensure the maximum ultimate security. Although there's no news on this, but with a second-strike capability, Pakistan would again have the advantage of India's self-deterrence and can most probably accomplish major national interests in that manner.
Intelligence Assets
The current era holds a bad reputation of international politics, things have become extremely complex and alongside the psychological and Cyber Warfare, information warfare has also been contributing to military strategies for a long period now. Therefore, Pakistan is haggardly acquiring up-to-date modern technologies and other intelligence gathering assets, such as Unmanned Aerial Vehicles (UAVs) and tactical air and water drones.
Logistical Assets
Pakistan Navy has recently commissioned a 17000-ton Fleet Tanker which was built in Karachi with help from Turkey, which consists of a state-of-the-art medical facility to provide disaster relief to combat and auxiliary units. Other than that, the navy requires more and advanced logistical assets to ensure better execution and a quick response to threats.
Gawadar Base
With growing advancements, replacements, up-gradations and employments, Pakistan navy is building Pakistan's largest naval base, named after the country's founding father Muhammad Ali Jinnah. The Jinnah Naval Base will incorporate all the capabilities at a safe location, way outside the reach of the Indian military.
Naval Strategy
Every naval strategy is broken down into two sub-strategies; (a) a developmental strategy and (b) an executional strategy. Before looking in to a country's naval strategy, one must be aware of all the aspects of the sub-strategies to gather a complete perspective of the whole, grand strategy. Among the sub-strategies, an executional strategy, is highly covert and confidential, even the naval leaders irrelevant to the project are unaware of the executional strategy, which is necessary to avoid leaking or outsourcing the confidential information to the enemy state and eventually, an inevitable failure. Executional strategy on one hand, provides practical operation information, short manoeuvring strategies and the actual date and time for every move. Developmental strategy on the other hand, lists out most of the tools needed in the executional strategy, for example, induction of offshore patrol vessels like OPV-1800, is a part of the developmental strategy. However, the outlined developmental strategy can indicate the thematic interpretation and presentation of the executional strategy, for example the OPVs are sought to be inducted in response to the Indian acquisition of new aircraft carriers. Similarly, with such new developments and advancements, the overall naval strategy of Pakistan seems to be much more of a power-oriented strategy, developed to assure efficient credible deterrence against the rival state and sustain a prosperous 'Blue Economy'.
Since China is investing heavily in Pakistan, on CPEC in particular, it affects the political profile of Pakistan as a 'heresy' to the American 'inquisition'. In all fairness, Pakistan may have its own set of national interests, but that does not matter, because China follows its ancient 'Tianxia', an "all under heaven" doctrine that sees the world as a shared community, while the United States follows a more rigid "Hobbesian state of nature" doctrine, that sees the world as a battleground of anarchy. Therefore, Pakistan being an under-developed country, could be submissive to China on a minute level and that being said, implies that Pakistan may support China's national interests as well (which are in total opposition to the US' national interests) and that's how Pakistan has become a 'heresy' to its hegemonic 'inquisition'.
Now is the time for India to maximize its naval capabilities and the work has already begun. In particular, acquiring aircraft carriers and making advancements to their practical weaponry execution systems, the Indian naval transition from being a 'buyer's navy' to a 'builder's navy', since "all 41 of the new vessels are being constructed in India", whereas Pakistan has only a few vessels under construction. This maps out the difference between Pakistan and India's magnitude of the state economy and to put a cherry on top, India is most likely be submissive to US national interests, meaning that Pakistan definitely needs to worry. Still, Pakistan could be able to circumvent Indian naval strategies with the acquisition of a nuclear-powered submarine.
India already has two nuclear submarines in service and with the Indian "plan to build six advanced attack submarines — to be nuclear powered but armed with conventional missiles and torpedoes — is being monitored closely and the first of the boats could roll out in a decade if things go as per plan", there would be a constant threat to the maritime national security of Pakistan. Although Pakistan's submarines have never been detected, during both; wartime and peace, even still these submarines are not capable of staying under the surface for longer periods of time, a few months top, in comparison to the thirty-year span of a nuclear-powered submarine. Therefore, if Pakistan is able to build a nuclear-powered submarine than it would acquire a second-strike capability and a reputably untouchable navy in the 'Indian Ocean Region' (IOR). A former naval expert, Ex-Director General Naval Intelligence, Rear Admiral (Retired) Abdul Hameed Meer stressed on the significance of a nuclear-powered submarine that "Pakistan must acquire nuclear propelled submarines in order to outgrow India's numbers and mark a flag of dominance in the Indian Ocean Region". Henceforth, acquisition of nuclear-powered submarines would be considered as a milestone in all of the Pakistan Armed Forces achievements combined.
Potential Opportunities
With projects under construction and developments being made, a lot of opportunities come to light, both tapped an untapped. The state's heavy naval build-up is not the aftermath of power maximization entirely, but a necessary antecedent to assure a prosperous 'Blue Economy'. This term has a proper background to it and reviewing so, it was analysed that the particular term was used decades ago, but none paid heed to the matter at all. Earlier than that, its descendant, 'Green Economy' was used to promote environment-friendly economic solutions to boost economies through a greener environment and less pollution. However, that failed, as exploitation of the finite land resources had devastating effects on the overall earth's climatic behaviour, up to this day. Hence the gradual transition towards naval build-ups and expansion of EEZs, portrays a steady locomotive in the global community. Economists suggest "Blue Growth is usually determined on three main factors; first the value addition into global economy, second the potential of sector with respect to the future economic trends, and thirdly the categorisation of sector in terms of being sustainable", implying that the state's fisheries and aquaculture sector demands severe strategic up-gradations and expansions in order to contribute a lion's share of revenue to the net GDP of the state, through 'Blue Growth'.
Fisheries experts have stressed on the required developments in the fisheries and aquaculture sector, "Capacity-building programmes and improvement of infrastructure of landing fish and shrimp, as well as production facilities to enhance exports to new destinations for better returns", implying that deep structural problems are one of the major internal issues stunting the growth of economy. Although, sea trade contributes about 95% of the world GDP, Pakistan's fisheries and aquaculture sector only contributes a mere 0.41% in the state's GDP, which is drastically low, as seen by economists. EEZ of Pakistan holds enough natural resources that, if they are tapped through proper domestic channels and techniques, through skilled human resources and attracting foreign investments (from countries like Turkey, Norway, Japan and other EU countries expand the area of expertise of the fisheries sector), then the state's economy would no longer need to thrive on the hook of an internal collapse. The expert also said, "We have the renewable natural resources, technology and human resources which can be put to gainful employment with net benefits to exchequer in the shape of foreign exchange", implying that the current rate of the Pakistani Rupee can finally regain its worth after a long time. Therefore, Ministry of Commerce, and Ministry of Food Security and Research should take a proper notice on the cruciality of the matter at hand.
Regional Implications
Keeping the 'Blue Growth' aside, there are a number of possible regional implications which are hard to enumerate. Matters of international stature, their internal politics and intangible threats such as the Covid-19 are some of the many fuelling components that make up the contemporary chaos around the globe. Anyhow, major regional implications include the following;
Diplomatic ties among the nations of Central Asia, Middle East and Pakistan would strengthen, resulting in new markets for trade, favourable terms of imports and a decent amount of recovery to the value of Pakistani Rupee.
Heavy naval build-up is expected in all of the countries that China has invested in, that is for the core reason of safeguarding the maritime security of their mega-economic Silk Road project.
On the other side of the fence, American Naval fleets have also indicated a certain interest in the South China Sea, East China Sea and the Indo-Pacific Ocean Region. Their plan to surround China from every possible corner is quite pessimistic and also away from the reality.
India, would obviously enjoy a warm support from its hegemonic friend, implying that the Indian Navy being far ahead in numbers and advancements, would also then submit to the US' national interests.
Although, there are various ongoing ocean-friendly, sustainability programmes in the Indian Ocean, still there is a serious risk of increased water pollution in the region. With accidental oil spills, a massive quarter of marine life has suffered one of the most flaunting idiosyncrasies of mankind.
Rising tensions in any part of the international waters, directly effects the possibility of a low-intensity conflict in the IOR.
India would definitely seek to destabilize the region through chaotic aversions, a low-intensity conflict or perhaps another charade of brutality in Kashmir.
Conclusion
Conclusively, the emphasis on the importance of maritime security and coastal defence of the system, accentuates the well-being of a prosperous economy and a steady 'Blue Growth'. Pakistan's ambitious road to a blue-water navy may bring the state what it has longed for decades, ever since the independence; dominance. In the most uncertain of times, a highly complex nature of power politics limits the predictability of the distant future. Although there is much ambiguity in the matter, Pakistan has held on to the 'slow and steady' policy to build a sophisticated political profile, in order to progress as an influential power in the region. However, with such security advancements and complete surveillance, this security competition may lead to heightened tensions, not only in the Arabian Sea, but also far deep in the Indian Ocean Region. To avoid such skirmishes, cooperation and Confidence Building Measures should be taken in a proactive manner. By increasing cooperation, inter-dependence would most likely prevent countries from harsh political gestures and interpretations. Not to forget, the trade-war between the United States and China, and the rising tensions between the two states directly effects the very nature of the scenario. Therefore, if things go as per plan, the developments may take the state's economy to new heights, alongside the improved political stature, Pakistan may be very close to becoming a 'developed state'.
BIBLIOGRAPHY
John J. Mearsheimer, "Anarchy and the Struggle for Power," in The Tragedy of Great Power Politics, 29-31. New York: W.W. Norton and Company, 2001.
Kaushik, Krishn." Explained: What is Blue Water Force?" Indian Express. Accessed on December 7, 2019. https://indianexpress.com/article/explained/explained-what-is-blue-waterforce-6153312/.
Raza, Shahid. "Pakistan Navy's Blue Water Ambitions." Global Village Space. Accessed on February 19, 2019. https://www.globalvillagespace.com/pakistan-navys-blue-water-ambitions/.
Defense World." Indian Navy Has 41 Ships, Submarines Under Construction: Navy Chief Dhowan." January11,2015.https://www.defenseworld.net/news/11875/Indian_Navy_Has_41_Ships__Submarines_Under_Construction__Navy_Chief_Dhowan#.XyMAXlVKjIU.
Pubby, Manu." India's Rs 1.2 lakh crore nuclear submarine project closer to realisation." Economic Times. Updated Feb 21, 2020. https://economictimes.indiatimes.com/news/defence/indias-rs-1-2-l-cr-n-submarine-project-closer-to-realisation/articleshow/74234776.cms.
Rear Admiral (Retired) Abdul Hameed Meer. Aiman Nawaz. July 25, 2020.Online Platform.
Bhatti, Naghmana." Blue Growth: An Emerging Paradigm of National Power – A Case Study of Pakistan." NIMA Policy Paper 1, no.004(May 2019): 5-8. https://bahria.edu.pk/nima/wp-content/uploads/2019/09/PolicyPaper004-Blue-Growth-and-National-Power-May19.pdf.
Hayat, Omar." Expert calls for creating jobs in Fisheries sector." Maritime News Digest 6, no. 12(September 2018): 3-4. https://www.bahria.edu.pk/ncmpr/wp-content/uploads/2018/10/Final-MND-vol-6-issue-12-for-web.pdf.
Hayat, Omar." Expert calls for creating jobs in Fisheries sector." Maritime News Digest6, no. 12(September2018): 4-5. https://www.bahria.edu.pk/ncmpr/wp-content/uploads/2018/10/Final-MND-vol-6-issue-12-for-web.pdf.
Webinar: How will we minimize conflicts in the Eastern Mediterranean?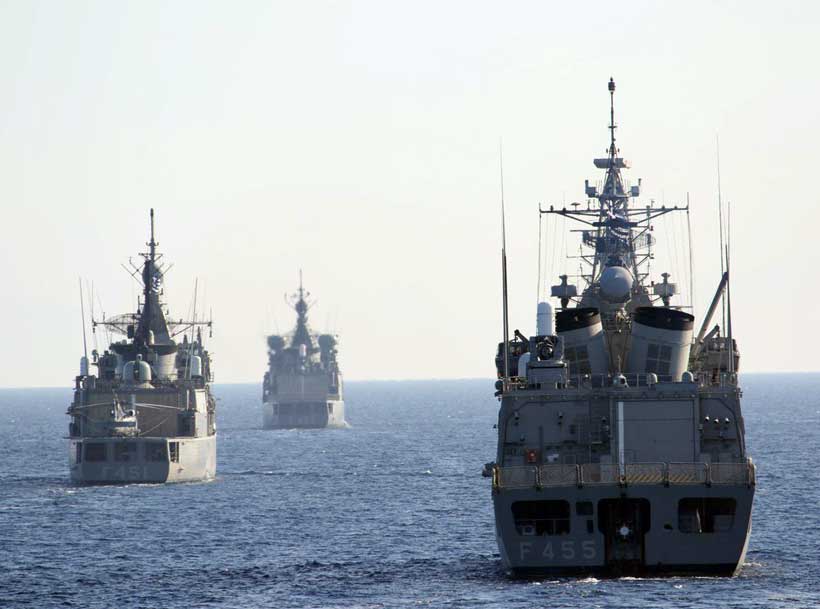 One of the biggest online events for this year with the theme: "How will we minimize conflicts in the Eastern Mediterranean?" was held by the Region of Western Greece and EuropeDirect Patra, on Thursday 25 February 25 2021, organized by the Deputy Governor of Entrepreneurship, Research and Innovation of Western Greece, Fokion Zaimis, with representatives at a very high level, from Greece and abroad. Specifically, the countries represented were Greece, Turkey, Sweden, the USA, Italy and Brussels through elected representatives, MEPs, MPs, lawyers, International Relations Specialists, political scientists, diplomats, senior officials, academics, journalists and representatives of European and international networks.
Opening the event the Deputy Governor of Entrepreneurship, Research and Innovation of Western GreeceFokion Zaimis said: "The Eastern Mediterranean, the cradle of ancient civilization and the crossroads of major economic and commercial routes has been and is the focus of many conflicts from antiquity to the present day. I warmly thank all the participants in today's international event for conflict prevention in the Eastern Mediterranean in cooperation with Europe Direct and CPMR. Critical and serious issues emerged from completely different starting points and perspectives. Regional government has an important role to play in communication, trade and economic relations, tourism, environment and the consolidation of relations of mutual respect and trust between the communities of Mediterranean countries. The goal is the progress and prosperity of the citizens and what unites us is much more than what divides us".
The Regional Governor of Western Greece Nektarios Farmakis highlighted: "It also proves in this way that regional government is able to organize and contribute to national or supranational issues and this is something very important, because it proves that it is not limited to the house and is not only trapped in its daily life but also looks at our world with a broader look. Knowing what is happening in the wider area ultimately concerns the regional government. I firmly believe in diplomacy and the possibility of international cooperation that can shape self-government strengthening the national diplomacy and strategy".
The MEP (epp) Manolis Kefalogiannis, stated: "A very important initiative of the Region of Western Greece with many distinguished guests from Greece and abroad on an important issue concerning the conflict and the reduction of conflicts in the Eastern Mediterranean. It really concerns a dominant issue at this time because we have a neighbor Turkey and President Erdogan who are behaving like riots in the wider region violating every concept of law, every good neighborly relationship and creating tensions in the wider region. We must respect, in accordance with international law, the decisions of the United Nations, the decisions of the European Union, always guided by good neighborly relations, always with respect to the international law of the sea, resolve any disputes in a spirit of peace, cooperation and relations as befits a country such as Turkey, a country that is part of the European family ".
Particularly honorable was the representation of NATO through the speech of a senior official, Dr. Nicola De Santis, Head of NATO Public Diplomacy, presented by Theodosios Georgiou, President of the Greek Association for Atlantic and European Cooperation, who highlighted, among other things, the role that Regions can play in security and cooperation. Dr. Nicola De Santis spoke about the important role that NATO plays in the challenges and what security prospects in the Eastern Mediterranean, explained the principles of the Alliance, pointed out the important role played by citizens through their demands, security as a necessary condition for development, as well the consultations and cooperation proposals promoted by NATO.
Speaking about the institutional-legal framework, the Ambassador (ad.hon.) and former Ambassador of Greece to Washington, Alexandros Mallias, pointed out: "It is exactly one year since the operation of violating the borders of Greece in Evros. The invasion and occupation of Cyprus, the aggressive moves against Greece and the constant official provocations, the strategic intervention of Turkey in Libya, Iraq, Syria and Nagorno-Karabakh are violations, incompatible with Article 1 of the NATO Statute. So this is an ally behavior that allows NATO rivals to question the consistency between declarations, principles and actions. The goal of Mr. Erdogan's policy is not sound in the negotiations to ensure the terms of an honest peace that will ensure relations of cooperation and good neighborliness. On the contrary, its goal is the forced adaptation of Greece to the expectations and conditions of Turkey. Therefore, it does not have a short-term character. It is no coincidence that Mr Erdogan is systematically calling for a revision of the Lausanne Treaty. At the same time, Ankara aims to nullify the trust of Greek citizens in its political leadership".
The business framework was set by former Minister of Culture & Tourism, Pavlos Geroulanos: "One can not ignore the provocation of Turkey and its willingness to create tension in the region. Obviously we can not discuss any cooperation as long as we have such a deployment of Turkish troops in the Aegean Sea. The basis of cooperation is with countries that have strong diplomacy, economy and army. Only when you can stand on yourfeet can you impose peace in an area."
Dimitrios Kairidis, Professor of International Relations and MP (North Sector of Athens, New Democracy), explained why Turkey, a country with special structural elements, is a particularly destabilizing factor for the wider Mediterranean region.
Suleyman Ozeren, Ph.D., Adjunct Professor, George Mason University talked about forced Migration, Refugee Crisis and the Abyss of Securitization in Turkey, which consist really concerning issues. He referred that Turkey is not only a country of entry for many refugees, such as Syrian people who were considered guest in the beginning, but also a country of exit for many Turkish people due to law and democracy issues. In this context he made some policies recommendations.
The representation of ELIAMEP (Hellenic Foundation for European & Foreign Policy) was also particularly honourable by Thanos Veremis, Vice President of the Boardand Emeritus Professor (Department of Political Science and Public Administration, University of Athens, History, International Relations) who expressed strong concerns about Greek-Turkish relations.
An important parameter in international relations regarding the value code that each country has, every citizen, put the Ottoman, Turkologist, Associate of the Laboratory of Turkish & Eurasian Studies and Lawyer at the Supreme Court, Dr. Dimitris Stathakopoulos stating: "We have common interests with Eastern Mediterranean, but we also have different quality characteristics which our value codes and the historical memories we have prevent us from resolving the existing issues in a sense of" associations ". Because we start from a different historical basis and it is by no means self-evident that we perceive International Law or conventions in exactly the same way. The Turks believed and believe, for example, that Greece liberated not Greek territories, but conspiracy theoristically conquered new countries. He sees Greece as an ungrateful part of the Ottoman Empire which made a "stop", not a Greek revolution ", and added that" we can get along with Turkey, but the logic of Turkey does not allow us to agree, since it does not want cooperation with equals".
Matthew Crosston, Ph.D., Professor, Director of Academic Transformation Office of the Provost, Bowie State University, Executive Vice Chairman and Author at Modern Diplomacy.eu talked about the Hydrocarbon Hybrid War asan untangling conflict in the Eastern Med. He pointed the problem of missing information in western and eastern media regarding the real situation, as well as the vision of Turkey to be an energy hub.
Through this event besides presenting the current situation in the wider Eastern Mediterranean region, the opportunity was given to identify those points that complicate the situation and views were expressed from different perspectives within a democratic, multicultural and pluralistic context that seeks to find cooperation solutions through dialogue, democracy, human rights and the peaceful coexistence of peoples.
The event was also attended by the honorable speakers:
Mitat ÇELİKPALA, Vice Rector, Professor, Faculty of Economics and Administrative Sciences, Department of International Relations, Kadir Has University
Emmanouil Karagiannis, Associate Professor, Department of Defense Studies, King's College London
Ioannis Mitsios, Political Scientist, International Relations Specialist, M.A. Northeastern University, Boston
Giorgos Alexakis, Vice Governor on European and International Affairs at Region of Crete, Vice-President of CPMR & EUROMONTANA
Theodoros Louloudis, Publisher of "Peloponnisos" Newspaper, Member of the Organizing Committee of the Regional Growth Conference,
Annika AnnerbyJansson, President of Region Skåne, Chair of the CPMR's Task Force on Migration Mamangement
Dimitrios Triantafyllou, Professor, Department of International Relations, Kadir Has University
Dimitrios Rizoulis, Journalist, Director of the newspaper "Dimokratia".
India – The US Promote National Defense – Security Cooperation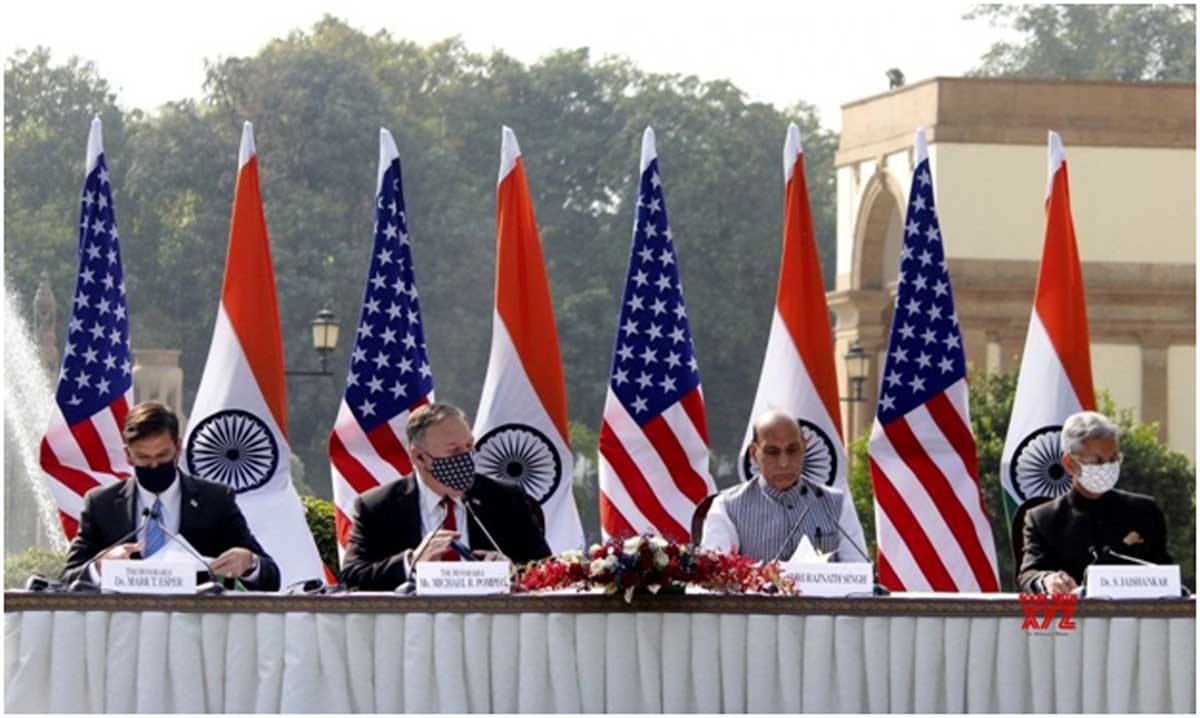 In recent years, the India-US bilateral relationship has been more closely bonded, especially defense-security cooperation in various fields including nuclear technology, maritime defense and security, anti-terrorism in the region and in the world … has been continuously promoted, contributing to the development of an intensive bilateral relationship. This results from the demand for security strategy, economic, security and political interests of the two parties. The United States wants India to become its ally in the Indo-Pacific region, counterbalancing China's growing influence, ensuring U.S. maritime security interests and a huge commercial arm market for the US. To India: a good relationship with the US will help India highten its position in the region; India also wants to rely on US power to increase its military strength, to watch out China and create pressure on Pakistan. In addition, India's comprehensive diplomacy and the US's regional strategy carried out simultaneously without overlapping, is conducive to strengthening the bilateral security cooperation for both countries.
It is evitable that in recent years, defense-security cooperation between India and the US has made remarkable progresses. After removing the Sanctions on India for nuclear testing in May 2018, the US and India announced the Joint Declaration on Civil Energy Cooperation between the two countries. Accordingly, the US will provide nuclear fuel and technology support for India to develop civil nuclear energy. This has opened the door for India to develop their nuclear weapons and improve military strength. The two countries also cooperate in many defense activities including ballistic missile defense, joint military training, expanding arms sales, strengthening military staff exchanges and intelligence, as well as loosening two-way technology exports.
To be specific: In January 1995, the two countries signed the "US-India Defense Relations Agreement", stipulating that in addition to conducting cooperation on research and production of military weapons, the two countries also conduct exchanges between military and non-military personnel. In May 2001, the Indian government announced its support for the US to develop a ballistic missile defense system, and proposed to purchase the "Patriot 1 (PAC-3)" air defense missile system. In March 2005, during the Conference on Cooperation in Ballistic Missile Defense, the US, India and Japan agreed to set up a joint working group, to implement close cooperation on ballistic missile defense. In June 2005, the United States and India signed a 10-year military cooperation agreement, which not only required increased exchanges between the two countries' armies, but also proposed to strengthen military cooperation regarding weapons production, and trading as well as ballistic missile defense. In July 2009, the two countries signed a "Comprehensive customer surveillance treaty" on defense, the US sold advanced defense technology to India. This treaty allowed India to obtain a "permission card" to buy the US's advanced weaponry. In addition, the two countries also cooperate in counter-terrorism in the region and around the world, maritime security, and joint military exercises …
One of the activities promoting bilateral relations between India and the US was the "2 + 2 Dialogue" taking place on October 27, 2020 in New Delhi. Within the framework of this dialogue, India and the United States had shared exchanges of a free and open Indo-Pacific vision, embracing peace and prosperity, a rules-based order with the central role of ASEAN, resolving disputes, ensuring the economic and security interests of all related parties with legitimate interests in this region … The focus on defense-security cooperation in this "2+2 Dialogue" is the signing of the Basic Exchange and Cooperation Agreement (BECA). The agreement allowed India to access accurate data, topographic images, maps, maritime and aviation data and satellite data on a real-time basis from US military satellites. Thereby, this will assist the provision of better accuracy for such weapons as cruise missiles, ballistic missiles and drones of India, and support the rescue operations during natural disasters and security strategy. The BECA is one of the four basic agreements a country needs to sign to become a major defense partner of the US. The other three agreements that India had previously signed with the United States are the General Security Of Military Information Agreement (GSOMIA), the Logistics Exchange Memorandum of Agreement (LEMOA) and theCommunications Compatibility and Security Agreement (COMCASA) . These are "cornerstone" agreements allowing the armies of the two countries to fight together in the event of a conflict. Accelerating the signing of the BECA was just one of various ways India reacted to China threats, especially after the border clashes in Doklam (2017) and Ladakh (5/2020-now). India, the US, Japan and Australia were more active in the Quartet Meeting on October 6 in Tokyo. India also invited Australia to join the Malabar naval exercises with the US and Japan in November.
The signing of BECA was a further institutionalization of the Indo-US strategic relationship to promote the two countries' intensive cooperate on strategy and military, without pressure to become an official ally yet have benefits. Washington received interests in selling weapons to New Delhi, especially when conflict starts. New Delhi has attached more importance to US military equipment because of its transparent pricing, simple operation and maintenance, thereby reducing reliance on Russia for weapons. Currently, the total value of Indian weapons purchased from the US is more than 15 billion USD and is expected to double in the coming time. The US-India military cooperation, therefore, will be closer in the future.
Also at this dialogue, the two countries agreed to cooperate in dealing with the Covid pandemic, considering this a priority for bilateral cooperation in this period. Accordingly, the US and India will cooperate in RDto produce a series of vaccines, to expand access to vaccines, and ensure high-quality, safe, effective and affordable medical treatment between the two countries and on a global scale.
Currently, India-US defense-security cooperation is at its heyday in the history and is likely to develop further. This relationship has profound effects on the regional security environment, especially direct effects on China. As military forces grow, India will probably implement their military strategy "taking the Indian Ocean in the South, expanding power to the East Sea in the East, attacking Pakistan in the West, watching out for China in the North", plus nuclear deterrence. This will worsen the fierce arms race in such regions as the South Asia and the Indian Ocean, leading to an imbalance of forces and add up a number of unstability factors in these regions.
In short, India-US defense-security cooperation is making remarkable progresses and has created impact on regional security, especially China and other countries with common interests in this region, including Vietnam. Therefore, the China-American-Indian triangle relationship is currently in an unstable state. In this scenario, it is suggested that countries actively identify issues relating to the this three military powers relationship and devise appropriate diplomatic strategies, balancing bilateral relations with major powers with disagreements to ensure national security and stability in the region.
India and Pakistan have both announced to "strictly observe" the truce along the Line of Control and all other sectors "in the interest of achieving mutually beneficial and sustainable peace along the borders". Such an announcement could not have emerged without Indian prime minister Narendra Modi's imprimatur. A hunch is that the move is an upshot of a nudge from the US president. This impression is fortified by several events that are accentuated by India-Pakistan entente (so called surgical strikes, 5000 ceasefire violations, hype about 2008 Mumbai attack and the one at Pathankot airbase, so on). From Pakistan's angle, India believed in might is right. And while it was open to compromises with China, it displayed a fist to Pakistan.
Need for a dialogue
In the past, peace at the LOC proved ephemeral as it was not backed up by sufficient follow-up. A dialogue is needed for the hour. It is a good omen that Pakistan is open to talks despite chagrin at abolition of the occupied state's statehood.
Misconception about the sanctity of the India-Pakistan LOC vis-a-vis the Sino-Indian LAC
A common misperception is that the Line of Actual Control (LAC) is more sacrosanct than the LoC. For instance, India's prestigious Indian Express explained: 'The LoC emerged from the 1948 ceasefire line negotiated by the UN after the Kashmir war. It was designated as the LoC in 1972, following the Simla Agreement. It is delineated on a map signed by Director General Military Operations of both armies and has the international sanctity of a legal agreement. The LAC, in contrast, is only a concept –it is not agreed upon by the two countries, neither delineated on a map nor demarcated on the ground'.
To understand Sino-Indian differences, one needs to peek into the Indian mind through books such as Shivshankar Menon's Choices: Inside the Making of India's Foreign Policy, Shyam Saran's How India Sees the World, and A G Noorani's India-China Boundary Problem 1846-1947.
The afore-quoted newspaper poses the question: "What was India's response to China's designation of the LAC?" It then explains India rejected the concept of LAC in both 1959 and 1962. Even during the war, Nehru was unequivocal: "There is no sense or meaning in the Chinese offer to withdraw twenty kilometres from what they call 'line of actual control…" In July 1954, Nehru had issued a directive that "all our old maps dealing with this frontier should be carefully examined and, where necessary, withdrawn. New maps should be printed showing our Northern and North Eastern frontier without any reference to any 'line'. The new maps should also be sent to our embassies abroad and should be introduced to the public generally and be used in our schools, colleges, etc". It is this map that was officially used that formed the basis of dealings with China, eventually leading to the 1962 War' (Indian Express, June 6, 2020, Line of Actual Control: Where it is located and where India and China differ).
India considers the LAC to be 3,488 km long, while the Chinese consider it to be only around 2,000km.
The LAC was discussed during Chinese Prime Minister Li Peng's 1991 visit to India, where Indian PM P. V. Narasimha Rao and Premier Li reached an understanding to maintain peace and tranquility at the LAC. India formally accepted the concept of the LAC when Rao paid a return visit to Beijing in 1993.
The reference to the LAC was unqualified to make it clear that it was not referring to the LAC of 1959 or 1962 but to the LAC at the time when the agreement was signed.
India's disdain of the LOC
India's mindset on the LOC should change. The problem is Nehru never cared a fig for the disputed state's constituent assembly, Indian parliament or the UN. This truth is interspersed in Avtar Singh Bhasin's 10-volume documentary study (2012) of India-Pakistan Relations 1947-2007. It contains 3,649 official documents which gave new perspectives to Nehru's state of mind.
In his 2018 book (published after six years of his earlier work), India, Pakistan: Neighbours at Odds (Bloomsbury India, New Delhi, 2018), Bhasin discusses Nehru's perfidy on Kashmir.
LoC peace should lead to Kashmir solution
The tentative solutions include (a) status quo (division of Kashmir along the present Line of Control with or without some local adjustments to facilitate the local population, (b) complete or partial independence (creation of independent Muslim-majority tehsils of Rajauri, Poonch and Uri, with Hindu-majority areas merged in India), (c) a plebiscite to be held in five to 10 years after putting Kashmir under UN trusteeship (Trieste-like solution), (d) joint control, (e) an Indus-basin-related solution, (f) an Andorra island (g) Aland island-like solution and (h) permutations and combinations of the aforementioned options.
Another option is for Pakistan and India to grant independence to disputed areas under their control and let Kashmir emerge as a neutral country. An independent Kashmir, as a neutral country, was the favourite choice of Sheikh Abdullah. From the early 1950s "Sheikh Abdullah supported 'safeguarding of autonomy' to the fullest possible extent" (Report of the State Autonomy Committee, Jammu, p. 41).
Abdullah irked Nehru so much that he had to put him behind the bars. Bhabani Sen Gupta and Prem Shankar Jha assert that "if New Delhi sincerely wishes to break the deadlock in Kashmir, it has no other alternative except to accept and implement what is being termed as an 'Autonomy Plus, Independence Minus' formula, or to grant autonomy to the state to the point where it is indistinguishable from independence". (Shri Prakash and Ghulam Mohammad Shah (ed.), Towards understanding the Kashmir crisis, p.226).
Sans sincerity and the will to implement, the only Kashmir solution is divine intervention or the unthinkable, nuclear Armageddon.