The recent Democratic and Republican national conventions did not offer any particular surprises. They merely confirmed the current balance of power in both parties before the November presidential elections. As expected, the Republicans rallied behind the incumbent President Donald Trump, while the Democrats put their faith in former Vice President Joe Biden.
Just like the rest of the world, Moscow has been following the policy statements presented by the candidates on foreign policy and international security particularly closely. No revelations were forthcoming there either. The two candidates, each in his own distinctive style, set out their positions, which boil down to affirming America's global leadership. But we have known this for a long time. Essentially, the heated debates within the U.S. political establishment focus on the specific methods for achieving this fundamental goal.
As for U.S. relations with Russia, the candidates made standard statements on the matter. Standard is the key word here, as the two candidates merely repeated what they had said many times before. But neither attempted to put forward any arguments to further their position, much less analyse possible options for interacting with Moscow in the rapidly changing global situation.
Some may say that expanded statements on key issues are usually made after the president-elect has been sworn in. That is true. However, the parties did outline their preliminary standing on some specific issues for the American and international public. We should, for example, note the response of both the Trump administration and the opposition to the recent events in Belarus and the incident with Alexey Navalny. This response was extremely harsh, which already suggests that, instead of constructive proposals on resuming dialogue, the two candidates have "punitive" measures in mind for Russia.
Naturally, we cannot say that there are no sober-minded politicians left in the United States. There are quite a few of them. This is evidenced, in particular, by the recent open letter signed by 103 prominent experts, including former high ranking diplomats, officials and military personnel. The signatories are highly critical of Washington's current approach to Russia, as it is based solely on fruitless attempts to corner the country and force it to capitulate, and also call on Washington to immediately resume full-fledged diplomatic dialogue with Russia. Sadly, the voices of the realists within the U.S. political elite are not yet as loud as we might like.
One the other hand, we should note that Russia, too, is determined to steer a harsh course in its relations with the United States. Moscow may not be as direct about it as Washington is, but the point still stands. Both capitals are apparently set for a long-term confrontation.
Political and diplomatic subtleties aside, the stances of both sides are ultimately determined by the same logic. It is assumed that any initiative to restore dialogue between the two countries will be seen by the other side as a forced concession, a show of weakness, and any such initiative will therefore only provoke greater pressure. It is thus better to wait, to not change anything, to out-stubborn the opponent—let the other side lose its nerve first, let it take the first step. We have been waiting for such a "first step" for years now, and all we have to show for it is U.S.-Russia relations being at their worst ebb ever. And it will be very difficult to emerge from this crisis.
We all know very well that there are no unsolvable problems in politics and diplomacy. Sooner or later, a solution is always found. Either one side loses, or they both lose. Or, a third option, they manage to take stock of the emerging threats to them in time and come to a compromise that promises a win for both sides.
Finding a compromise on vital issues is always challenging, and since U.S.-Russia relations have been deteriorating for many years and the two countries lack any semblance of mutual confidence, these difficulties are particularly great. However, without such a compromise, the political risks for the United States, Russia and the rest of the world are growing—not even from year to year, but from month to month. This is abundantly clear to experienced international experts, including those who were around during the Cold War. Painstaking consultations are currently taking place at a number of expert platforms, all of which aim to develop recommendations that would make it possible to launch the process of reducing international tensions. The overwhelming majority of experts agree that a positive shift in U.S.-Russia relations could jump-start the process of advancing a healthier global atmosphere.
Admittedly, very few concrete ideas have actually been put forward so far, and for obvious reasons. But ideas and suggestions are out there, and they appear to be quite realistic, taking the interests of both sides into account. We witnessed a statement just like this one from Mikhail Gorbachev and Ronald Reagan when they said that there could be no winner in a nuclear war. However, confirmation from the Kremlin and the White House in today's far more complicated and dangerous international situation would certainly have a positive significance. Another proposal involves prolonging the New START immediately and without any pre-conditions, while simultaneously launching intensive consultations on a broad range of strategic stability issues. There are other proposals that are brought to the notice of the political leadership in both countries through various channels.
Based on my own experience, I would like to make the following proposal, which I have already happened to discuss with my American counterparts and which, in my opinion, is still relevant today. Given today's geopolitical confrontation between Russia and the United States, the two sides focus primarily on security issues, and for obvious reasons. At the same time, an objective analysis of real threats shows that most challenges faced by Russia and the United States today do not come directly from either of the countries, but from third parties. It would thus be wise to hold high-level U.S.-Russia consultations, for example, between the Security Council of Russia and the U.S. National Security Council to assess the perceptions of the two sides of the hierarchy of international threats and challenges. It is possible that such an analysis would not make it possible to arrive at an agreement immediately. Nonetheless, it could open up the prospect of achieving a better understanding of the situation and the operational logic of the other side and, in the future, the prospect of bilateral cooperation, at least in those areas where the parties' interests coincide.
I would like to cite an example from history. In 1999, at the end of Bill Clinton's second term in office, Washington was seriously considering withdrawing from the ABM Treaty. Diplomats had arrived at an impasse in their discussions. Russia, then, spearheaded an expanded discussion involving military experts from the two countries. This meeting was held at the Pentagon, and the Russian and U.S. delegations were led by the Minister of Foreign Affairs of the Russian Federation and the U.S. Secretary of State. As a result of the discussion, the Clinton administration decided to postpone the country's withdrawal from the ABM Treaty. Unfortunately, the attempts to salvage the Treaty ultimately failed, as the George W. Bush administration unilaterally pulled out of the agreement in 2002. However, the atmosphere of constructive political dialogue was preserved, which allowed the presidents of Russia and the United States to sign the Treaty Between the United States of America and the Russian Federation on Strategic Offensive Reductions (SORT) as early as May 2002.
Attempts to give advice, let alone provide blueprints on handling a particular issue, always run the risk of being criticized. This is clear and understandable. Yet, sometimes, even a negative response to an idea could prove an important incentive for moving forward. While searching for arguments, the critics themselves are forced to take a new look at the problem and highlight nuances that had previously slipped under their radars.
From our partner RIAC
Rethinking the Soviet Experience : Politics and History since 1917- Book Review
The book was written in 1984 and is a collection of essays on Soviet politics and Sovietology, from the time of the Russian Revolution till then. Stephen Cohen, at the outset diagnoses the problem ailing the mainstream western branch of academia researching about the Soviet Union- a common bias of ideas tilted towards the United States of America, due to the various systematic temptations offered by them, through the founding of different think tanks and foundations which support scholarly work. There was a constant assumption of a totalitarian and evil USSR while working on the politics of the federation during the Cold War era, specially amongst the western scholars. While Cohen did acknowledge that most work done on the USSR as an international entity, has been done by the United States of America, he argued that the study of Sovietology had been undertaken, the scope had been very limited, thus this stream of study needed adequate revisionism. In the 1950's, fresh out of the Second World War, the field of Sovietology was new and encouraged new ways of thinking. Once the 1960's came around, the field now with a number of students employed in it, started getting set in rigid biases.
His revisionism argues for thinking beyond what has now been conventionally acknowledged and thus, distorted by the Western approach to Sovietology. He emphasized on the idea of historical review for better understanding of contemporary political happenings. He substantiates this argument by stating the parallelism between the conflict within the ranks of the soviet- the tussle between the conservatives and the reformists at the time he was writing the book (1980s) and the struggles within Russian politics which led to the downfall of the Tsar in 1918. All dissidence leads to a better, more efficient system of politics and governance, in what appears to be typical Marxist fashion but it is possible that at the time of publication was considered path-breaking.
The second chapter of his book, discusses the viability of the ways of Nikolai Bukharin, considers him as a fully indoctrinated Bolshevik. He discusses his doctrine and dismisses the view that Stalinism was an inevitable consequence of the Bolshevik path undertaken, unlike what most Marxist-Leninist supporters state. This is the complete opposite of E.H Carr's opinion who was quick to dismiss the impact of Bukharin on Soviet politics and the room for future progress under him.
In the later part of the book, the author somewhat blends Brezhnev's era with Nikita Khruschev's and attempts to highlight the continuities in Soviet conservatist sentiments so deeply entrenched in Russian society, flowing directly into and influencing each other. While conservative views were always the dominant influence on the trajectory that the USSR would follow, the fact that there was significant progress in matters relating to welfare, rural organisation and consumerism, Cohen argued, was still positive progress towards reform. In this way, while many scholars support the perception that the Brezhnev administration was conservative as it did not disrupt status quo, Cohen while arguing in favour of conservatist sentiments existing, highlighted certain reformist tendencies, which signaled the advent of the era of economic stagnation.
He attempted to justify Stalin's iron handed measures of strict control and repression, by highlighting the impact of the Truman doctrine and the repercussions of the advent of the Cold War. The favour towards Khrushchev, as opined by Cohen, only manifested due to strong anti-Stalinist sentiments, as Stalin's harsh measures had helped deplane plenty of 'modernising achievements' in the soviet economy. While calls for conservatism always remained an active branch of politics, Cohen aimed at giving gradual reformist politics its due.
These are some of the main arguments reflected in Stephen Cohen's five chapter long book. It does not focus on any new research in the field, but rather on historiography and political relations. What was most helpful to me while reading the book was that there were plenty of footnotes which made the process of understanding the details much easier, especially considering how a major chunk of the book addresses problems within Soviet scholasticism. In no means is this work perfect, as Cohen tends to push the same ideas over and over again, within the chapters (the core arguments are mentioned above). In proposing Bukharinism as a viable alternative to Stalinism, and as a possible natural successor of Bolshevism, he puts forth a very unique idea. This is in no way a textbook on Soviet history, but it does provide insights and interesting opinions about Sovietology as a discipline, as it pushes for a new revisionist approach to examine the Soviet past, in order to understand the present and future of the USSR. Although much time has passed since Rethinking the Soviet Experience was first published it remains seminal in the discourse regarding the history and politics of the USSR.
Digging Down Into 'Putin's Corruption'
For years, I have been checking-out allegations of such things as 'Putin's Palace' and 'Putin's Chef', and so many other allegations of Putin's 'corruption' (many of which are against friends and members of his Administration instead of against himself, because the allegations against himself fail to provide any documentation that he actually owns what the allegations attribute to him — there is far too much that is mere supposition in the direct accusations against him).
Therefore, recently, I checked out allegations that are commonly made that Russia's Minister of Foreign Affairs, Sergei Lavrov, is corrupt.
This twitter string contains loads of allegations that his mistress since about the year 2000 has a daughter from her former marriage who is a multi-millionairess with no apparent cause to be such: "Polina Kovaleva. Polina is a 26-year-old glamorous Russian girl from London. She lives in a huge apartment in Kensington and loves to party, her instagram feed looks like a non-stop holiday." Here's that instagram feed, where Polina flaunts her glamour; so, she comes across as a European Kardashian-plus — but how many people use that flaunting to argue that America is corrupt? (There are lots better arguments to make such a case against the U.S. Government.)
The neoconservative "Vice" site headlined "Inside the Lavish London Lifestyle of Sergey Lavrov's Stepdaughter: Polina Kovaleva bought a £4.4 million apartment with cash when she was just 21, according to campaigners. She happens to be the stepdaughter of Putin's foreign minister, Sergey Lavrov."
A more neutral site, the Moscow Times, bannered "Russian Foreign Minister's Secret Mistress Wields Ministry Influence, Owns Elite Property – iStories", and presented evidence that Polina's wealth comes not so much from anything having to do with her stepfather Lavrov but from her mother, his mistress, Svetlana Polyakova, who was born in 1971 and who met Lavrove in around the year 2000.
Very little information is public about Polyakova. But, the neoconservative The Daily Beast site headlined "Top Russian Diplomat's Secret Life With Millionaire Mistress Exposed: Sergey Lavrov, 'the face of Russian diplomacy,' has reportedly been living large while on 'official trips' to more than 20 countries with his ultra-rich mistress." That report opened:
Russian Foreign Minister Sergey Lavrov has reportedly bankrolled his mistress's travel abroad with him on official diplomatic trips to almost two dozen countries around the world, according to a new bombshell report from Russian opposition activist Alexei Navalny's team. The report, entitled "Yachts, bribes and a mistress. What Minister Lavrov is hiding," details a plethora of luxury digs and yachts enjoyed by the couple, including a yacht owned by the notorious oligarch Oleg Deripaska, which has been graced by the likes of Belarusian model Anastasia Vashukevich, better known by her pseudonym Nastya Rybka.
Navalny is a far-right-wing rabidly anti-Muslim Russian politician who has never had higher than 3% approval-rating in Russian national polls but whom U.S.-and-allied propaganda describe as "Putin's main political opponent", and as Russia's leading anti-corruption activist. His 'anti-corruption' organization got caught trying to get UK's MI6 intelligence agency to fund it. (The video that was shown in that linked-to news-report was removed from youtube and from the "Wayback Machine" Web-archive, so that that 'archive' is no longer a reliable archiving service, but what the video showed — I saw it while it was online — was devastating against Navalny, and the U.S.-and-allied regimes don't deny its authenticity, but only block their publics from seeing and hearing it.)
The opening item in the present article — "This twitter string contains loads of allegations that his mistress since about the year 2000 has a daughter from her former marriage who is a multi-millionairess with no apparent cause to be such:" — comes from Navalny's organization.
Then, The Daily Beast headlined "Britain Calls Out Russia's Top Diplomat for Secret Family", and reported:
In its list of the 65 new individuals and organizations targeted for "aiding Russia's invasion of Ukraine," the British Foreign Office appears to have made a point to call out Lavrov's "secret family" in London, with its inclusion of Polina Kovalev, whom it describes as his stepdaughter.
Kovalev's inclusion on the list appears to confirm exhaustive reporting by Kremlin foe Alexei Navalny's team that Lavrov, 71, has been living a "double life" for nearly two decades. One that includes a "secret wife," identified by Navalny's allies as Svetlana Polyakova, an actress and a restaurateur with sway in Russia's Foreign Ministry.
Britain's neoconservative Daily Mail headlined:
REVEALED: Russian Foreign Minister Sergey Lavrov took secret millionaire mistress abroad more than 60 times on 'diplomatic missions' and bankrolled her luxury lifestyle
Russia Foreign Minister Lavrov bankrolled mistress Svetlana Polyakova's lifestyle
He has taken her abroad on 'diplomatic' missions more than 60 times since 2014
She also appeared publicly with Putin and was cleared to be in 'elite' entourage
Details unearthed in an investigation were published by Kremlin critic Navalny
The U.S.-and-allied billionaires' OCCRP.org, or "Organized Crime and Corruption Reporting Project," is also on this case. The OCCRP is funded by billionaires and Governments such as Soros (Open Society Fdtn.), Rockefeller, Ford Fdtn., Denmark, U.S. Government, Bay&PaulFdtns./CIA, etc. Their article "Russian Foreign Minister Has a Longtime Female Companion With Over $13 Million in Unexplained Assets" reported:
For years, a source close to a foreign ministry official told reporters, she has had a very close relationship with Lavrov. Reporters found that, in addition to accompanying him around the Church of St. Sergius, she has travelled with him to Sochi and St. Petersburg. She has even appeared in cell phone address books under his last name.
Polyakova also has substantial assets that a mere "employee of the Foreign Ministry" would almost certainly not be able to afford. Property records show that she and her family own real estate in Russia and Great Britain worth about 1 billion rubles ($13.6 million).
Polyakova and the Ministry of Foreign Affairs did not respond to requests for comment. …
Until 2012, business records show, she was a co-owner of Consul, a restaurant located inside the foreign ministry's diplomatic academy in central Moscow.
The restaurant received state contracts to provide meals for students, teachers, and visiting foreign diplomats. But according to financial records, the business was not especially profitable. Between 2015 and 2020, its total revenue was only 120 million rubles ($1.6 million).
Polyakova had several other companies listed as restaurant businesses, but they didn't bring in high revenues either, according to their financial reports
A few sites mention that Svetlana Polyakova is a "restaurateur," and so I looked to find details about "those other companies." All that I could find was her position at McDonald's, as follows:
Irish Times headlined on 19 November 2014 "McDonald's restaurant in Moscow reopens after being shut" and reported:
McDonald's largest restaurant in Russia reopened after local officials shuttered the location for three months, an optimistic sign for a company trying to return to business as usual in the country.
The outlet, situated in Moscow's Pushkin Square, resumed business today, said Svetlana Polyakova, a spokeswoman for McDonald's Russia.
The "Ad Forum" site shows her as "Advertising Manager at McDonald's". The Roscongress Building Trust describes her as "Chief Executive Officer, Charitable Foundation 'House of Ronald McDonald'; Public Relations Director, McDonald's Russia", and says:
Svetlana started as an entry-level employee at McDonald's in 1989 alongside studying at the School of Education of the Maurice Thorez Institute of Foreign Languages. In 1991, she taught at the Training Department. In 1993, she became a manager of the Marketing Department, and in 1997 she proceeded as a manager of the Public Relations Department.
In 2001, Svetlana was appointed the head of the company's public relations department. In 2002, she received the highest corporate award of McDonald's Corporation. For several years in a row, Svetlana was among the 1000 best managers, according to a study by the Managers Association of Russia and the Kommersant Publishing House. From the first days with the company, Svetlana was deeply involved in philanthropy assisting charitable and children support organizations.
In 2002, Svetlana became the General Director of the Ronald McDonald House Charities. For nearly 25 years, the non-profit organization has been implementing programmes aimed at supporting families in need. Under the Svetlana's leadership, the Ronald McDonald House managed to raise about 1 billion roubles, which helped more than 250,000 Russian children and families. The Foundation implements several important programmes, such as Family Rooms in hospitals, a health and fitness training seminars for specialists working with children with disabilities, two inclusive playgrounds in Sochi and Moscow.
In 2013, with Svetlana's close involvement, the first and so far the only family hotel in Russia Ronald McDonald House Kazan was opened for parents whose children are undergoing long-term treatment at the Children's Republican Clinical Hospital of the Ministry of Health of the Republic of Tatarstan. Ronald MacDonald House has become a real home away from home for more than 9,000 parents and children.
For the implementation of this project, the Ronald McDonald House Organization became a three-time winner of the republic's contest Philanthropist of the Year and received the diploma of the Best Social Project of Russia in 2018.
My Google seach for "Svetlana Polyakova" and "divorce" produced:
Svetlana Polyakova – The Irish Times
https://www.irishtimes.com › tags › svetlana-polyakova
Svetlana Polyakova · 1. Woman must pay former husband €1.6m as part of divorce settlement, judge rules · 2. 'This is not easy for me at all': Gráinne Seoige makes …
and that article is the Irish Times article headlined on 19 November 2014 "McDonald's restaurant in Moscow reopens after being shut", but nowhere indicates anything like "Svetlana Polyakova · 1. Woman must pay former husband €1.6m as part of divorce settlement, judge rules · 2. 'This is not easy for me at all': Gráinne Seoige makes …"; so, perhaps her divorce settlement has been removed from the Web.
Possibly, she inherited at least her first wealth from her mother. If Svetlana was paying to her former husband, then she was probably wealthier than her husband.
The date of the divorce is likewise not publicly known.
Perhaps Svetlana is so intelligent and sophisticated a person, that her feedback and recommendations to Lavrov make worthwhile her traveling with him on his diplomatic trips. Nobody doubts that Lavrov has been extremely successful as Russia's Foreign Minister.
In any case: my attempts to find reason to believe the accusations against Lavrov have been as fruitless as my previous attempts to believe that there is corruption at the top level of Russia's Government. Maybe there is, but the U.S.-and-allied propaganda-organizations haven't yet provided any evidence for it. By contrast, the documentation that the top levels of the U.S.-and-allied Governments are drowning in corruption is extremely abundant and conclusive, as I have documented in many articles.
Fidel Castro's Political Struggle Unites Havana and Moscow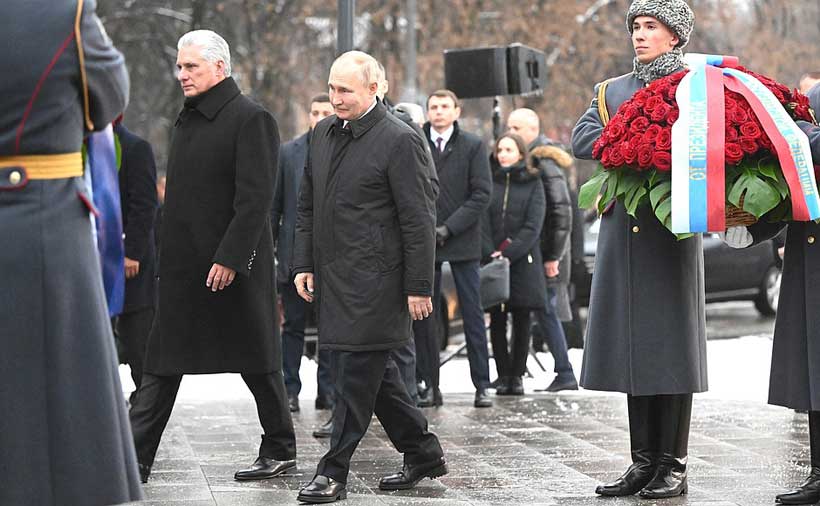 Under the auspices of an official state visit to attend the unveiling of a statue in memory of former leader Fidel Castro in northwestern Moscow, Cuban President Miguel Diaz-Canel Bermudez unreservedly expressed support for anti-American position taken by Russia, reminded the history of Cuba and the Soviet Union during the Cold War when shared the same stand.
Diaz-Canel Bermudez highlighted the significance of the visit to Moscow. Cuba and Soviet Union had similar experience, both were blockaded. "It takes place at a time when both Russia and Cuba have been subjected to unfair unilateral sanctions and have a common enemy, a common source which is the Yankee empire, which manipulates a large part of humankind," he said. "We constantly condemn the sanctions imposed on the Russian Federation and the sources of the ongoing conflict so that people are not misled and do not blame Russia for this, and we also condemn what Europe is doing, being completely subordinate to US interests."
Referring to the unveiling of the monument, he described it as a true reflection of Fidel Castro's personality in the midst of struggle, just like in the midst of struggle today. He denounced the imperialist powers and further praised all efforts of the Russian Federation and, under such complicated circumstances, Russia's role in orienting the world towards multi-polarity.
Russia can always rely on Cuba. Moscow and Havana will continue to strengthen cordial bilateral relations and defend the great values of freedom, equality and justice. The principle of continuity, not just a slogan or a motto, but to continue promoting relations with the Russian Federation. Cuban leader thanked Russia for its support for his country and spoke in favor of expanding economic cooperation between the two countries.
President Vladimir Putin noted in his speech that the bilateral relations between Cuba and Russia have been making steady headway in the past three years since the previous meeting in the Kremlin. He pointed to the appreciable developing cooperation between foreign ministries, parliaments and governments. State Duma Speaker Vyacheslav Volodin visited Cuba quite recently.
The Russia-Cuba Intergovernmental Commission is working. It held its 19th session. There are plans for cooperation between the governments with many joint projects up to 2030.
Putin stressed that the Soviet Union and Russia have always supported and support the Cuban people in their struggle for independence and sovereignty. "We have always opposed any restrictions, embargoes, blockades and so on. We have always backed Cuba on international platforms. We are seeing that Cuba occupies the same position with respect to our country, to Russia," he added.
All this is a result of the traditional friendship that was started by Comrade Fidel Castro. Today, Cuba and Russia agreed to have unveiled a monument to him. Indeed, this is a good memory of him, a true work of art. He is so dynamic, always in motion, moving forward. It definitely captures the look of a fighter that he had.
Putin really remembered his personal meetings very well, even the details with him. "He was an impressive man. I remember how during our first meeting in his office when we were freely discussing the current situation during lunch, I was stunned by his attention to detail and his knowledge of the nuances of ongoing events, even if they took place far away from Cuba," he narrated the story.
"He was aware of and could analyse everything happening in the world. It was very interesting and useful for me to have these meetings with him. Relying on this firm foundation of friendship, we must certainly move forward and enhance our cooperation in the current conditions," Putin said in conclusion.
Work on the bronze-made three-meter-monument lasted for six months and took place in the Russian capital. Castro is depicted seated on a rock with a stylized map of Cuba inscribed on it. The image reflects the heroic path of a person who stood up for the rights and freedoms of the Cuban people, according to the Kremlin's press service fact sheet.
The Moscow city legislature approved the idea of such a monument on February 16. The initiative to erect a monument to Fidel Castro came from the leadership of the Russian Defense Ministry. The idea was supported by the Russian Military-Historical Society which held a closed artistic contest with 11 works participating.
The monument was erected on Moscow's square named in honor of Castro. Fidel Castro was one of the leaders of Cuba's revolutionary movement who chaired Cuba's Council of Ministers from 1959 to 2008. The Cuban politician died in 2016.