'Emergency' for global education, as fewer than half world's students cannot return to school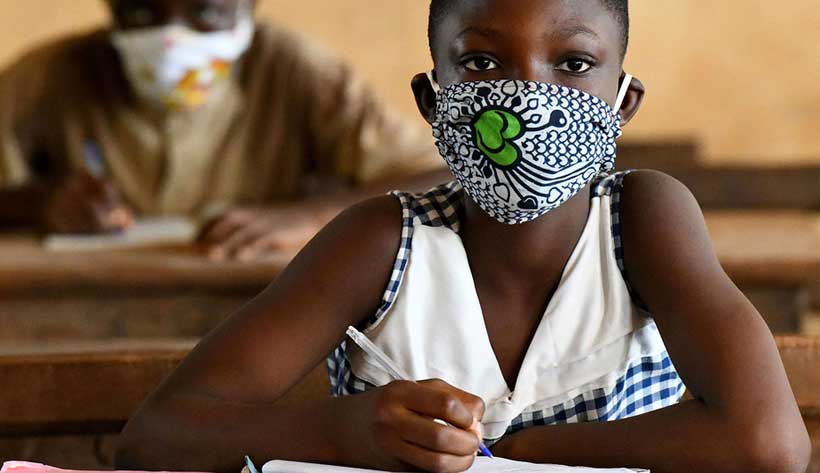 Classes for more than 450 million students starting the new academic year are expected to be entirely remote – or for some, a mix of distance and in-person learning – the UN education and cultural organization (UNESCO) has said.
UNESCO, the lead UN agency for education globally, also highlighted persisting inequalities associated with distance learning that particularly impact vulnerable populations.
"The educational crisis remains severe," said Audrey Azoulay, Director-General of UNESCO.
"Several generations are facing the threat of school closures, which concern hundreds of millions of students and have lasted many months. This is an emergency for global education", she added.
This year, 900 million pre-primary to secondary students, are set to return to school between August and October. However, fewer than half – about 433 million in 155 countries – can actually return to classrooms at this stage, according to UNESCO.
Factoring in about 128 million students in the middle of their academic year, a total of 561 million students, or one-in-three pupils globally, will attend classes.
That leaves almost a billion students – two-thirds of the global student population – facing either school closures or uncertainty surrounding their classes.
Girls at a higher risk
According to UNESCO, till date, students around the world have lost an average of 60 days of schooling since lockdowns began in February and March.
Situations such as school closures, uncertainty over classes, inability to access remote learning or other challenges raises the risk of dropouts, decreased quality of learning, and negative social and economic impacts is high. Often vulnerable populations, in particular girls are at a higher risk.
It is therefore crucial that education authorities work quickly to determine how best to ensure a safe return to school, while protecting the health and safety of students and education staff, said UNESCO.
Against this backdrop, through the Global Education Coalition, UNESCO has launched the #LearningNeverStops campaign to ensure the continued learning of girls during school closures, and their safe return when schools reopen, in light of the many obstacles they face outside education, including adolescent pregnancy, early and forced marriage, and violence.
Also through the partnership, UNESCO has produced and disseminated communication and advocacy toolkits and a girls' back to school guide to help all stakeholders.
ADB Endorses New 5-Year Partnership Strategy for Indonesia
The Asian Development Bank (ADB) has endorsed its 2020–2024 country partnership strategy for Indonesia, which aims to apply the full range of financing support and solutions through ADB's sovereign and private sector operations along with its technical know-how to catalyze investments, support sustainable development, and help Indonesia emerge stronger from the coronavirus disease (COVID-19) pandemic.
Under the new 5-year strategy, ADB's operations will support Indonesia's inclusive economic development by focusing on people's well-being, economic competitiveness, and the environment, while helping build resilience to climate and disaster risks. ADB will assist in Indonesia's sustainable economic development, including the recovery from the pandemic, with a combination of knowledge, technical, and financial support. ADB will help the country strengthen health care, expand social protection, improve education quality, and develop job skills. ADB will also focus on helping Indonesia tackle climate change and strengthen its resilience to natural disasters and pandemics.
"The new country partnership strategy reflects ADB's strong commitment to helping Indonesia boost human development, improve economic competitiveness, and address disaster risks and environmental sustainability amid heightened economic uncertainty and rising global threats such as climate change," said ADB President Masatsugu Asakawa. "The strategy provides a flexible and agile framework for ADB to help Indonesia incorporate green recovery and other sustainable development options, while strengthening domestic resource mobilization to support the recovery efforts."
The strategy is in line with Indonesia's National Medium-Term Development Plan (2020–2024) and the United Nations' Sustainable Development Goals, as well as ADB's corporate strategy, Strategy 2030.
"We greatly appreciate ADB's strong support to Indonesia over the years, especially the speed of ADB's response and its close and active engagement with the government during the COVID-19 pandemic," said Indonesian Finance Minister Sri Mulyani Indrawati. "The partnership strategy positions ADB as a key partner with innovative solutions to complex development challenges. We welcome ADB's focus on inclusive, competitive, and sustainable development."
Indonesia's economy is the largest in Southeast Asia and the seventh-largest in the world based on purchasing power. The country had reduced poverty by more than half, to 9.2% of the national poverty line in 2019 from 23.4% in 1999, but the progress risks being reversed due to the adverse impacts of the COVID-19 pandemic.
Under the strategy, ADB's sovereign lending to Indonesia is expected to reach $10.7 billion from 2020–2023. ADB's country operations will seek to mobilize cofinancing from development partners and investments from the private sector to help the government better respond to increased demand for financial support amid the COVID-19 pandemic. For example, ADB will help Indonesia attract more private investments in infrastructure by promoting public-private partnerships. It will support Indonesia's Sustainable Development Goals by designing innovative financing options to reduce the risk of green infrastructure projects and help catalyze private sector investments.
ADB will support the government's policy reforms in human capital development, financial inclusion, business competitiveness, state-owned enterprises, and clean energy. ADB operations will seek to advance gender equality in Indonesia by helping increase women's access to formal banking, strengthen female graduates' job skills, and boost their participation in rural enterprises, as well as improving vulnerable women's access to social services.
ADB-financed projects will promote the application of technology to maximize development results. For example, ADB will use big data analytics, financial technologies, satellite technology for flood mapping and urban development, smart grids and meters, geothermal, waste-to-energy, and remote-sensing systems to improve survey and planning processes for the operation and maintenance of assets.
ADB's country program will support Indonesia's participation in regional cooperation and its contribution to the development of regional public goods. That includes international tax cooperation, trilateral cooperation with the Pacific island countries on ocean health, partnership on reducing environmental pollution from plastic waste, and the development of border towns to reduce regional disparities.
Violence leaves more than 300,000 'completely reliant' on assistance in northern Mozambique
Worsening conflict, combined with a precarious humanitarian situation, has forced more than 300,000 people to flee their homes and villages in Mozambique's Cabo Delgado province, leaving them completely reliant on humanitarian assistance, the UN World Food Programme (WFP) has said.
"We are deeply concerned about the unfolding humanitarian situation in Cabo Delgado where conflict and violence have left people without access to food and livelihoods," Antonella D'Aprile, WFP Representative for Mozambique, said in news release, on Tuesday.
"The growing insecurity and poor infrastructure have meant that reaching out to people in need has become harder and now with COVID-19 the crisis becomes even more complex," added the WFP official.
Latest findings from the famine early warning system, FEWSNET, indicate that communities will continue to face "crisis" levels of food insecurity – IPC Phase 3 – into early 2021.
Any additional shocks could rapidly worsen the situation, especially for women and children, according to the UN agency.
The situation is even more worrisome given that Cabo Delgado has the second highest rate of chronic malnutrition in the country, with more than half of children under the age of five chronically malnourished. In addition, with the province currently recording the second-highest number of COVID-19 cases in Mozambique, population displacements have the potential to accelerate the spread of coronavirus.
Resources urgently needed
WFP said it urgently needs $4.7 million per month to assist the internally displaced in northern Mozambique, and that without additional funding it will be forced to reduce food rations as early as December.
Despite significant operational challenges, the UN agency, in collaboration with the Government, plans to reach 310,000 people each month in the provinces of Cabo Delgado, Nampula, and Niassa with food, vouchers and nutrition support.
Since 2017, Cabo Delgado had been experiencing attacks by non-State armed groups, leading to gradual displacement of communities. The attacks also resulted in loss of lives and severely damaged infrastructure, causing disruptions in the access to those most in need.
With the latest violence forcing thousands of refugees across the border, into neighbouring Tanzania, concerns over the regionalization of the conflict are deepening, added WFP.
Global solution to COVID-19 in sight, 'we sink or we swim together'
COVID-19 is an "unprecedented global crisis that demands an unprecedented global response", the chief of the UN health agency said on Monday, unveiling a plan to have two billion doses of coronavirus vaccine available by the end of 2021.
Roughly 64 per cent of the global population lives in a nation that has either committed to, or is eligible to join, the coronavirus Vaccines Global Access Facility, or COVAX, which enables participating Governments to spread the risk and costs of vaccine development and provide their populations with early access to vaccines.
Working together through the COVAX Facility "is not charity, it's in every country's best interest. We sink or we swim together", said Tedros Adhanom Ghebreyesus, head of the World Health Organization (WHO).
'Vaccine nationalism' will prolong pandemic
Speaking at a press briefing with the international vaccine alliance GAVI, and the Coalition for Epidemic Preparedness Innovations (CEPI), the WHO chief said that commitment agreements have been secured and the COVAX Facility would begin signing contracts with vaccine manufacturers and developers.
The overarching goal of the COVAX Facility is to ensure that all countries have access to vaccines at the same time, and that priority is given to those most at risk, according to the WHO chief.
"The COVAX Facility will help to bring the pandemic under control, "save lives, accelerate the economic recovery and ensure that the race for vaccines is a shared endeavour, not a contest that only the rich can win", he upheld. "Vaccine nationalism will only perpetuate the disease and prolong the global recovery".
More commitment needed
So far, $3 billion have been invested in the ACT Accelerator – only a tenth of the required $35 for scale-up and impact.
Tedros stressed that $5 billion is needed "immediately to maintain momentum and stay on track for our ambitious timelines".
"Our challenge now is to take the tremendous promise of the ACT Accelerator and COVAX to scale", he said, adding, "we are at a critical point and we need a significant increase in countries' political and financial commitment".
The WHO chief cited estimates suggesting that once an effective vaccine has been distributed, and international travel and trade is fully restored, "the economic gains will far outweigh" the $38 billion investment required for the Accelerator.
"This isn't just the right thing to do, it's the smart thing to do", he spelled out.
COVAX realized
"COVAX is now in business", said Gavi CEO Seth Berkley. "Governments from every continent have chosen to work together, not only to secure vaccines for their own populations, but also to help ensure that vaccines are available to the most vulnerable everywhere".
"With the commitments we're announcing today for the COVAX Facility, as well as the historic partnership we are forging with industry, we now stand a far better chance of ending the acute phase of this pandemic, once safe, effective vaccines become available".
'Great leap' forward
Meanwhile, CEPI CEO Richard Hatchett called the international community's coming together to tackle the pandemic "a landmark moment in the history of public health".
"The global spread of COVID-19 means that it is only through equitable and simultaneous access to new lifesaving COVID-19 vaccines that we can hope to end this pandemic," he said. "Countries coming together in this way shows a unity of purpose and resolve to end the acute phase of this pandemic. Today, we have taken a great leap towards that goal, for the benefit of all".