Dismantling the kafala system: A new era for Qatar labour market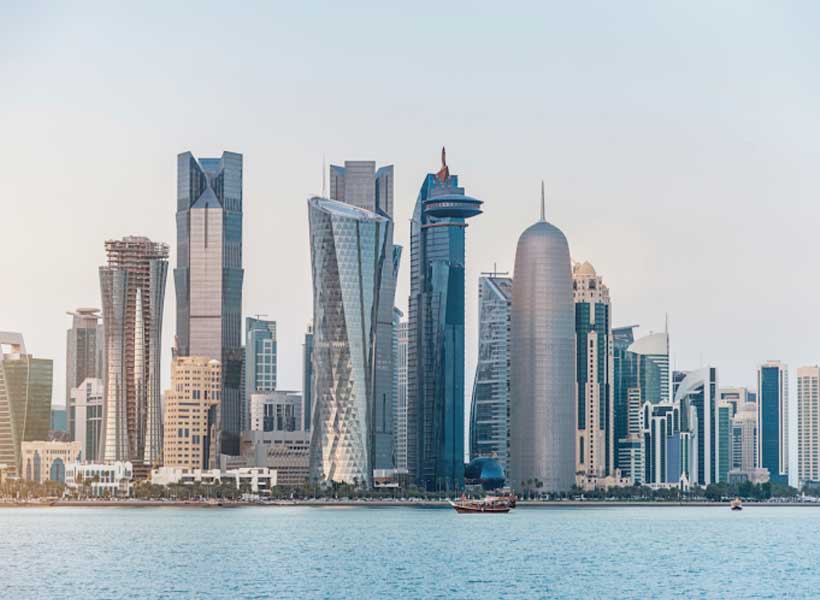 In a historic move, the State of Qatar has introduced major changes to its labour market, ending the requirement for migrant workers to obtain their employer's permission to change jobs, while also becoming the first country in the region to adopt a non-discriminatory minimum wage.

Following the adoption on 30 August 2020 of Law No. 18 of 2020, migrant workers can now change jobs before the end of their contract without first having to obtain a No Objection Certificate (NOC) from their employer. This new law, coupled with the removal of exit permit requirements earlier in the year, effectively dismantles the "kafala" sponsorship system and marks the beginning of a new era for the Qatari labour market.

Additional legislation, Law No. 17 of 2020, adopted today also establishes a minimum wage of 1,000 Qatari riyals (QAR) which will enter into force six months after the law's publication in the Official Gazette. The new minimum wage will apply to all workers, of all nationalities and in all sectors, including domestic workers. In addition to the basic minimum wage, employers must ensure that workers have decent accommodation and food. The legislation also stipulates that employers pay allowances of at least QAR 300 and QAR 500 to cover costs of food and housing respectively, if they do not provide workers with these directly – a move that will help ensure decent living standards for workers.

The adoption of these laws supports the transition towards a more skilled and productive workforce, which is a key goal in Qatar's National Vision 2030 . It will also help promote economic recovery from the fallout of the COVID-19 pandemic , as well as the growth of the economy over the longer term.
In addition to removing the need to obtain an NOC, the adoption of Law No. 19 of 2020 provides greater clarity regarding termination of employment. To terminate an employment contract and change jobs, workers must provide at least one month's written notice if they have worked with the employer for two years or less, or two months' notice if they have worked with the employer for over two years.

Minister of Administrative Development, Labour & Social Affairs Yousuf Mohamed Al Othman Fakhroo said, "The State of Qatar is committed to creating a modern and dynamic labour market. In line with Qatar Vision 2030, these new laws mark a major milestone in this journey and will benefit workers, employers and the nation alike."

Increased labour mobility is expected to provide numerous benefits to Qatar as it transitions towards a knowledge-based economy. Employers will be able to hire experienced staff locally instead of from overseas, thus greatly reducing recruitment costs. Enhanced mobility will also generate more job opportunities and increase job satisfaction for workers.
The introduction of a non-discriminatory minimum wage should directly affect around 400,000 workers in the private sector, and, through higher remittances, will improve the lives of millions of family members in the workers' countries of origin. To ensure compliance with the minimum wage, the government is enhancing detection of violations, enacting swifter penalties and further strengthening the capacity of inspectors.

Sharan Burrow, General Secretary of the International Trade Union Confederation (ITUC) said, "This is very good news for migrant workers in Qatar. The leadership shown by Qatar in dismantling the kafala system and introducing a minimum wage is long-awaited news for all workers. The ITUC stands ready to support the Government of Qatar in the implementation of this historic move, to ensure all workers are aware of the new rules and benefit from them. Other countries in the region should follow Qatar's example."

Roberto Suárez Santos Secretary-General of the International Organisation of Employers (IOE) said, "These reforms will make a major contribution to the efficiency and productivity of the Qatar labour market. IOE stands ready to support the Qatar Chamber of Commerce and Industry and the Government in supporting employers during this transition. Our congratulations to Qatar and its Chamber of Commerce!"

The ILO has worked closely with Ministry of Administrative Development, Labour & Social Affairs and with employers' and workers' organizations to support the adoption and enhancement of laws, policies and procedures relating to labour market mobility and the new minimum wage in Qatar. Further support will be provided for the implementation and enforcement of the new laws.
The World Needs to Wake Up to Long-Term Risks
For the last 15 years the World Economic Forum's Global Risks Report has been warning the world about the dangers of pandemics. In 2020, we saw the effects of ignoring preparation and ignoring long-term risks. The COVID-19 pandemic has not only claimed millions of lives, but it also widened long-standing health, economic and digital disparities. Billions of caregivers, workers and students – especially minorities who were disadvantaged before the pandemic – are now at risk of missing pathways to the new and fairer societies that the recovery could unlock. According to the Global Risks Report 2021, released today, these developments may further impede the global cooperation needed to address long-term challenges such as environmental degradation.
When it comes to technology access and digital skills, the gap between the "haves" and the "have nots" risks widening and challenging social cohesion. This will particularly affect young people worldwide, as this group faces its second global crisis in a generation and could miss out altogether on opportunities in the next decade.
Financial, digital and reputational pressures resulting from COVID-19 also threaten to leave behind many companies and their workforces in the markets of the future. While these potential disparities could cause societal fragmentation for states, an increasingly tense and fragile geopolitical outlook will also hinder the global recovery if mid-sized powers lack a seat at the global table.
Once again, environmental risks dominate by impact and likelihood, looking ahead towards the next decade. Societal fractures, uncertainty and anxiety will make it more difficult to achieve the coordination needed to address the planet's continued degradation.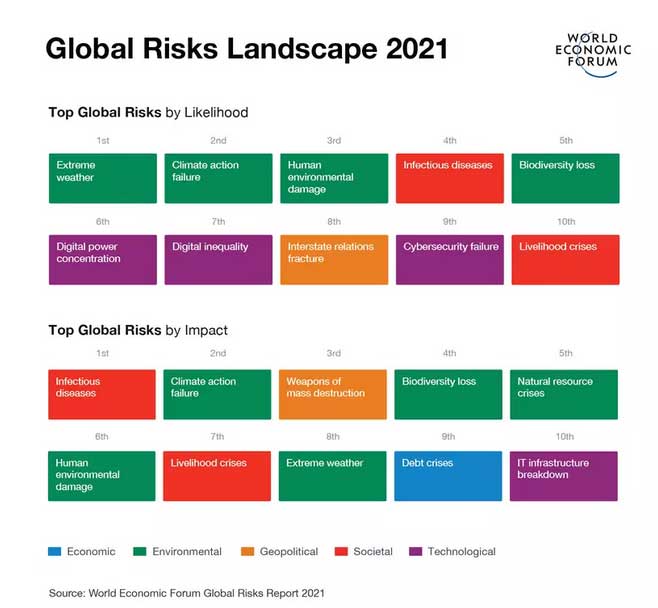 For the first time, the report also rates risks according to when respondents perceive they will pose a critical threat to the world. Clear and present dangers (0-2 years) reveal concern about lives and livelihoods – among them infectious diseases, employment crises, digital inequality and youth disillusionment. In the medium-term (3-5 years), respondents believe the world will be threatened by knock-on economic and technological risks, which may take several years to materialize – such as asset bubble bursts, IT infrastructure breakdown, price instability and debt crises. Existential threats (5-10 years) – weapons of mass destruction, state collapse, biodiversity loss and adverse technological advances – dominate long-term concerns.
"In 2020, the risk of a global pandemic became reality, something this report has been highlighting since 2006. We know how difficult it is for governments, business and other stakeholders to address such long-term risks, but the lesson here is for all of us to recognize that ignoring them doesn't make them less likely to happen. As governments, businesses and societies begin to emerge from the pandemic, they must now urgently shape new economic and social systems that improve our collective resilience and capacity to respond to shocks while reducing inequality, improving health and protecting the planet. To help meet this challenge, next week's event, The Davos Agenda, will mobilize global leaders to shape the principles, policies and partnerships needed in this new context," said Saadia Zahidi, Managing Director at the World Economic Forum.
The report also reflects on the responses to COVID-19, drawing lessons designed to bolster global resilience. These lessons include formulating analytical frameworks, fostering risk champions, building trust through clear and consistent communication, and creating new forms of partnership. The key risks outlined in the report are complemented with recommendations to help countries, businesses, and the international community to act, rather than react, in the face of cross-cutting risks. The report closes with an overview of "frontier risks" – nine high-impact, low-probability events drawn from expert foresight exercises – including geomagnetic disruption, accidental wars and exploitation of brain-machine interfaces.
"The acceleration of the digital transformation promises large benefits, such as for example the creation of almost 100 million new jobs by 2025. At the same time however, digitalization may displace some 85 million jobs, and since 60% of adults still lack basic digital skills the risk is the deepening of existing inequalities," said Peter Giger, Group Chief Risk Officer, Zurich Insurance Group. "The biggest long-term risk remains a failure to act on climate change. There is no vaccine against climate risks, so post-pandemic recovery plans must focus on growth aligning with sustainability agendas to build back better."
"Economic and societal fallout from COVID-19 will profoundly impact the way organizations interact with clients and colleagues long after any vaccine rollout. As businesses transform their workplaces, new vulnerabilities are emerging. Rapid digitalization is exponentially increasing cyber exposures, supply chain disruption is radically altering business models, and a rise in serious health issues has accompanied employees' shift to remote working," said Carolina Klint, Risk Management Leader, Continental Europe, Marsh. "Every business will need to strengthen and constantly review their risk mitigation strategies if they are to improve their resilience to future shocks."
"The pandemic in 2020 was a stress-test that shook the foundations of economies and societies worldwide. Rebuilding resilience to systemic shocks will require significant funding, international cooperation and greater social cohesion. Resilience will also hinge on the continued growth in connectivity worldwide, as we know that economies that digitized early performed relatively better in 2020," said Lee Hyung-hee, President, Social Value Committee, SK Group. "If the continued deployment of 5G and AI is to emerge as an engine of growth, however, we must urgently bridge digital divides and address ethical risks."
The Global Risks Report 2021 has been developed with the invaluable support of the World Economic Forum's Global Risks Advisory Board. It also benefits from ongoing collaboration with its Strategic Partners Marsh McLennan, SK Group and Zurich Insurance Group and its academic advisers at the Oxford Martin School (University of Oxford), the National University of Singapore and the Wharton Risk Management and Decision Processes Center (University of Pennsylvania).
Air travel down 60 per cent, as airline industry losses top $370 billion
A new report from the UN's air transportation agency confirms there was a "dramatic" fall in international air travel due to COVID-19, of around 60 per cent over the course of last year, to levels last seen in 2003.
The International Civil Aviation Organization (ICAO) said on Friday, that as seating capacity fell by around 50 per cent last year, that left just 1.8 billion passengers taking flights through 2020, compared with around 4.5 billion in 2019.
That adds up to a staggering financial loss to the industry of around $370 billion, "with airports and air navigation services providers losing a further 115 billion and 13 billion, respectively", said ICAO in a press statement.
Grounded in March
As the coronavirus began its global spread, the air industry came to a virtual standstill by the end of March. Following widespread national lockdowns, by April the overall number of passengers had fallen 92 per cent from 2019 levels, an average of the 98 per cent drop-off seen in international traffic and 87 per cent fall in domestic air travel.
There was a moderate rebound during the summer travel period, but recovery was short-lived. "Sectoral recovery became more vulnerable and volatile again during the last four months of 2020, indicating an overall double-dip recession for the year", ICAO said.
Disparity at home and abroad
The report notes "a persistent disparity between domestic and international air travel impacts resulting from the more stringent international measures in force."
Domestic travel proved more resilient and was the main driver of any glimmer of recovery to the industry, particularly in China and Russia, ICAO notes, where domestic passenger numbers have already returned to the pre-pandemic levels.
Overall, there was a 50 per cent drop in domestic passenger traffic globally, while international traffic fell by 74 per cent, or around 1.4 billion passengers.
The plunge in traffic, has put the entire industry's financial liability into question said ICAO, and threatens the viability of millions of associated jobs around the world.
Tourism in crisis
It has also severely impacted global tourism, given that more than 50 per cent of international travellers used to reach their destinations by plane.
ICAO said that the regional breakdown in losses showed a $120 billion loss year-on-year in the Asia-Pacific region, $100 billion in Europe, $88 billion in North America, followed by $26 billion, $22 billion and $14 billion in Latin America and the Caribbean, the Middle East, and Africa, respectively.
The agency described the near term outlook as one of "prolonged depressed demand, with downside risks to global air travel recovery predominating in the first quarter of 2021, and likely to be subject to further deterioration."
It does not expect any improvement until the second quarter of 2021, athough this will still be subject to the effectiveness of pandemic management and vaccination roll out across the world.
Best-case scenario
In the most optimistic scenario, said ICAO, by June of 2021 passenger numbers will be expected to recover globally to 71 per cent of their 2019 levels (or 53 per cent for international and 84 per cent for domestic flights). A more pessimistic scenario foresees only a 49 per cent recovery (26 per cent for international and 66 per cent for domestic).
ICAO will continue to provide recommendations and support for the aviation sector to weather the crisis. Its new Guidance on Economic and Financial Measures summarizes a range of measures that can be explored by States and the industry to ease the crisis, and strengthen the industry to withstand future shocks better.
Reskilling and Labour Migration Vital to the Pacific's Economic Recovery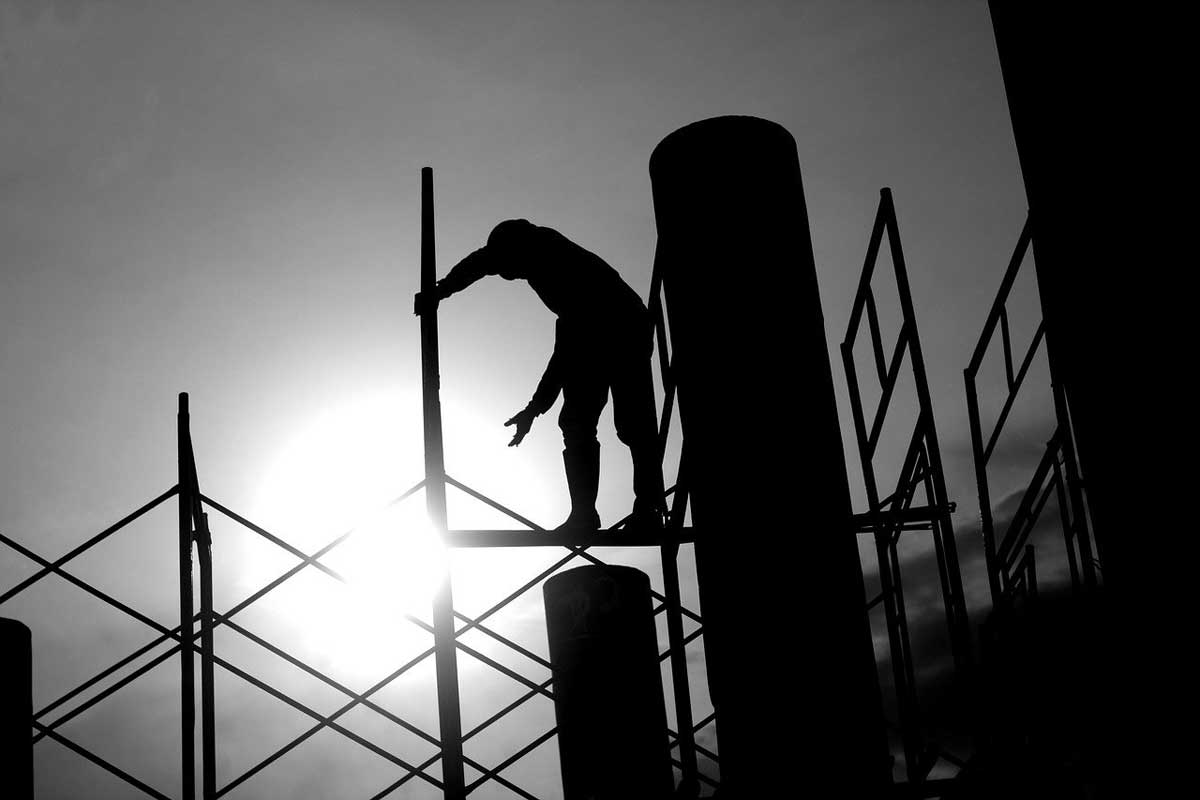 While the Pacific and Papua New Guinea (PNG) have avoided some of the worst health impacts of the COVID-19 pandemic, the closure of international travel and lockdowns to curb the spread of COVID-19 have had serious impacts on employment, international labour mobility, and livelihoods across the region.
A new World Bank report, Pacific Island Countries in the era of COVID 19: Macroeconomic impacts and job prospects details the potential extent of job losses and labour market impacts in the region, while also suggesting how the Pacific may benefit from changing employment trends and other opportunities.
Fewer local jobs and sluggishness in new international opportunities are all taking their toll on labour markets in the seven Pacific countries examined in the report (Fiji, Kiribati, PNG, Samoa, Solomon Islands, Tonga and Vanuatu). Of these, countries that are more reliant on international tourism such as Fiji, Vanuatu and Samoa have borne the brunt of these effects, with tourism-related employment dropping by an estimated 64 percent in Vanuatu and unemployment claims in June 2020 nearly tripling the 2019 total in Fiji. Employment figures in countries where tourism plays a smaller role are also sobering, with job advertisements in PNG dropping by 76 percent between February and May 2020 as a result of lockdowns and travel restrictions. Flow-on effects to other industries, including retail and food services, together with reductions in commodity prices and remittance inflows, have added to this significant economic hardship across the region.
"The changes that we have seen in labour markets and employment across the Pacific are profound and are hitting the most vulnerable hardest – but importantly they are also leading families who would have been previously secure into vulnerable positions, especially workers in the tourism sector," said Yasser El-Gammal, Practice Manager, Social Protection and Jobs, the World Bank
The report also highlights opportunities to mitigate the economic and employment shocks presented by the pandemic. These include prioritizing retraining and skill development of workers in affected industries, such as tourism, so they can move into sectors that require similar skill sets; promoting digital literacy skills to help Pacific islanders participate in remote working opportunities; and exploring new employment opportunities for low- and semi-skilled Pacific workers in Australia and New Zealand in the long term.
"Ultimately, workers from the Pacific will remain in demand in Australia, New Zealand, and elsewhere for a long time to come," said report author Matthew Dornan, Senior Economist at the World Bank. "The various Pacific labour mobility schemes that are focused on employment in rural and regional areas are not only crucial to livelihoods and employment in the Pacific, but beneficial for employers and businesses in Australia and New Zealand."
Of particular focus in the report is the need to support skills development and employment services in response to the crisis and as part of the economic recovery. This could include subsidizing the reskilling of workers, support for work-study and apprenticeship schemes, the provision of temporary wage subsidies for the unemployed, and an expansion of international labour mobility opportunities for Pacific Islanders. The latter can be facilitated by efforts to improve the employability of Pacific workers (e.g., through upskilling), reducing the costs associated with cross-border labour migration, and by improved marketing and relationship management with international employers. Recipient countries can also play a role through labour policies.
"Labour mobility requires close cooperation between countries," said co-author Soonhwa Yi, Senior Economist at the World Bank. "While policy improvements from Pacific governments could help expand the overseas employment opportunities available to Pacific Islanders, receiving countries also need to ensure their migration and working visa policies support future demand for increased labour mobility."
The report stresses that moderating the employment and livelihoods impacts of COVID-19 across the region requires supportive policy responses from governments. While support to affected populations is a priority, governments could also consider support to businesses, as has been provided in Tonga and PNG; safeguarding cash-flow through tax and import duty relief, as has been undertaken in PNG, Samoa and Solomon Islands; and exploring opportunities for direct cash transfers and social assistance to vulnerable populations.
"The COVID-19 pandemic also crisis highlights the urgency for Pacific countries to expand IT-related infrastructure and increase their engagement in the digital economy," said Soonhwa Yi. "This would provide opportunities for workers in the digital economy and better position Pacific countries to export digital services across borders."