War between Libyan groups and Syrian mercenaries erupts for the GNA wallet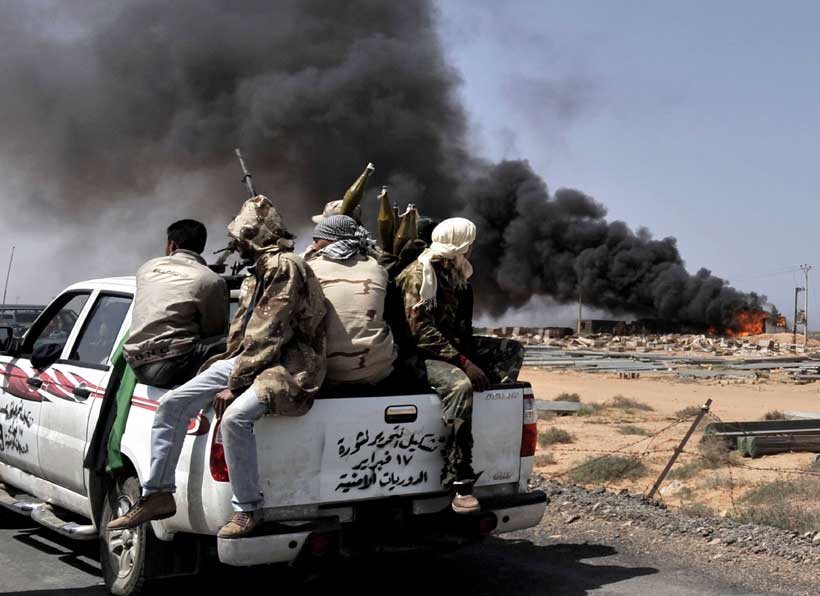 A series of large-scale anti-government protests and local clashes in Libya's Tripoli demonstrate huge problems of the Government of National Accord (GNA).
At the same time, Sarraj's reliance on Syrian mercenaries fighting on his side just adds fuel the fire. The recent open confrontation between GNA-affiliated militias and Syrian mercenaries erupted in al-Daribi area of Tripoli city on August 31 became a clear example of growing resentment among Libyans.
In addition, there was a powerful explosion on the same day in the area of Yarmouk Camp located to the South of the Libyan capital. As a result of the explosion 81 people were killed and more than 50 others were injured. This event has received considerable attention in the Arab world. Many regional and international media began covering the explosion. However, its reasons and prerequisites for the accompanying fighting on the streets of Tripoli were not mentioned. So, what was the reason for such kind of bloodshed?
It's not a secret that from the very beginning most of the security forces under the control of the GNA, especially local armed groups, have negatively perceived the emergence of mercenaries from Syria in their country. The fact that Syrians receive salaries exceeding payments of local armed groups further had increased the displeasure of Libyan fighters. According to the local media, Syrians receive several thousand dollars monthly.
Local sources suggest that the massive explosion in the Yarmouk camp, which left behind a huge number of dead, was the result of fighting between Syrian and Libyan militants on August 31. According to them, there was a detonation of a vehicle loaded with ammunition after the GNA units fired at Syrians accurately with the RPG causing the powerful explosion.
According to analysts of the Jamestown Foundation, an American research center, the reason for the increased confrontation between Syrian mercenaries and local militias is Turkey's and the GNA's policy in dealing the Libyan conflict. Ankara and Tripoli prefer Syrian mercenaries to local armed groups. This condition arises from the fact that the Syrian nationals are only interested in earning money. The same cannot be said about Libyan armed groups, which along with financial benefit looking for ways to strengthen their position and extend its influence on local authorities.
It is difficult to suggest whether there will be a retaliatory strike by Syrian mercenaries, but it is clear that Turkey along with the GNA needs to change priorities to keep the situation under control.
Can Biden Bring Peace to the Middle East?
As the fierce fighting between Israel and the Palestinians rages on, the Biden administration's Middle East policy has been criticized for its relatively aloof, "stand back" approach that has resulted in the absence of any pressure on Israel to re-think its harsh mistreatment of the Palestinians, vividly demonstrated in the recent police attack at al-Aqsa mosque and the attempted eviction of Palestinians from their homes in East Jerusalem, viewed by the Palestinians as part of Israel's "ethnic cleansing."
Consequently, a UN Security Council draft resolution on the crisis has been reportedly held up by US, which has prioritized the familiar narrative of "Israel's right to self-defense" ad nauseam, without the benefit any nuances that would reveal any fresh thinking on the problem on the part of the Biden administration. As in the past, the new crisis in Israel-Palestinian relations has sharpened the loyalties and alliances, in effect binding the US government closer to its Middle East ally under the rainstorm of Palestinian rocket attacks, highlighting Israel's security vulnerabilities in today's missile age. Determined to crush the Palestinian resistance, the mighty Israeli army has been pulverizing Gaza while, simultaneously, declaring state of emergency in the Arab sections of Israel, as if there is a military solution to an inherently political problem. What Israel may gain from its current military campaign is, by all indications, bound to be elusive of a perpetual peace and will likely sow the seed of the next chapter in the 'intractable' conflict in the future.
As the editors of Israel's liberal paper, Haaretz, have rightly pointed out, the problem is the Prime Minister Benjamin Netanyahu, who is highly unpopular, unable to form a government, afflicted with a corruption case, and who has been appeasing the extremist elements in Israeli politics who have no qualm about the illegal expropriation of Palestinian lands. Israeli politics for its own sake needs to move to the center, otherwise the Israeli society as a whole will suffer, as more and more educated Israelis will leave the country, Israel's recent gains through the Abrahams accord with the conservative Arab states will be essentially wiped out, as these states will need to cater to the rising tide of anti-Israel sentiments at home or face serious legitimation problems, and Israel's regional rivals led by Iran will continue to harvest from the present crisis.
Unfortunately, there does not seem to be any political will in Washington to spur a political shift in Israel that would secure better results in terms of the elusive Middle East peace and both President Biden and the Democratic Party establishment are concerned that their Republican opponents will seize on any tangible US pressure applied on Israel. In other words, domestic US priorities will continue for the foreseeable future to hamper a much-needed corrective Washington influence on an ally that receives 4 billion dollar military aid annually and, yet, is unwilling to allow the White House to have any input on its handling of the Palestinians at home and the West Bank and Gaza.
But, assuming for a moment that the Biden administration would somehow muster the will to stand up to Netanyahu and pressure him to cease its massive attacks on Gaza, then such a bold move would need to be coordinated with a deep Arab outreach that would, simultaneously, persuade the Palestinian groups led by Hamas and Islamic Jihad to go along with a US-initiated cease-fire, followed by related efforts at UN and regional level to bring about the groundwork for a more enduring peace, such as by holding a new international peace conference, similar to the Oslo process.
At the moment, of course, this is wishful thinking and the protagonists of both sides in this terrible conflict are more focused on scoring against each other than to partake in a meaningful peace process. In other words, an important prerequisite for peace, that is the inclination for peaceful resolution of the conflict instead of resorting to arms, is clearly missing and can and should be brought about by, first and foremost, a capable US leadership, sadly hitherto missing.
Israel-Palestine Conflict Enters into Dangerous Zone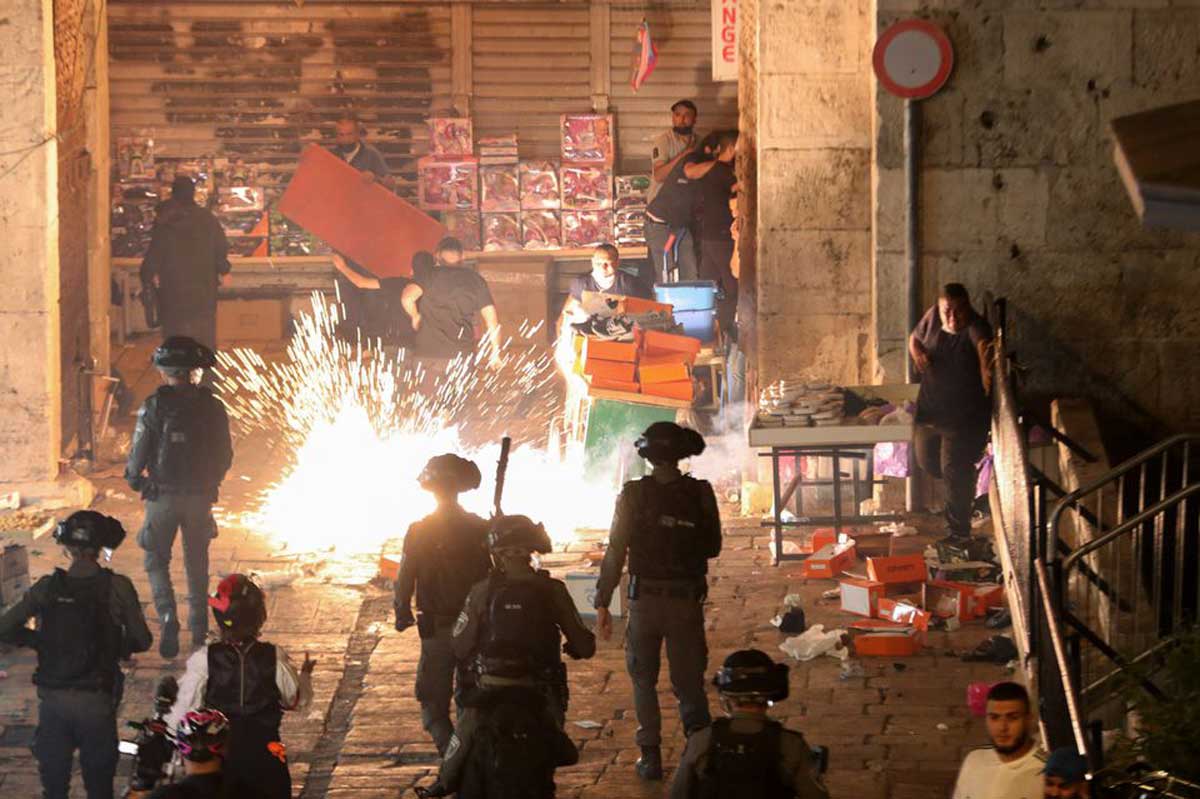 Since the start of the Muslim holy month of Ramadan in mid-April 2021, tension has escalated, with frequent clashes between police and Palestinians. The threatened eviction of some Palestinian families in East Jerusalem has also caused rising anger. But when Israeli security forces entered and attacked the unarmed Muslim worshipers, damaged the property, and humiliated the families, the situation turned into conflict.
Since the irrational and illogical creation of the Jewish State in the middle of the Muslim World, the tension started and emerged into few full-fledged armed conflicts and wars like; 1948–49, 1956, 1967, 1973, 1982, and 2006 wars/ conflicts. Tensions are often high between Israel and Palestinians living in East Jerusalem, Gaza, and the West Bank. Gaza is ruled by a Palestinian group called Hamas, which has fought Israel many times. Palestinians in Gaza and the West Bank complain that they're suffering because of Zionists' expansionist actions. Israel's severe violations of human rights and extreme atrocities against Palestinians left Palestinians with no option other than protest and agitate. But Israel suppresses them and uses all dirty tricks to keep them silent.
It is worth mentioning that the United Nations Security Council has passed several resolutions to settle the Israel-Palestine issue peacefully. But Israel has not implemented either of them and kept using force to push them out and settle Jews in their land.
The State of Israel has been enjoying undue supported by the US, irrespective of who is president, but all of them support Israel unconditionally. Israel is the most favored nation of the US and the largest beneficiary of American aid, assistance, and support.
Ex-President Donald Trump helped Israel establish diplomatic relations with the United Arab Emirates, Bahrain, Sudan, and Morocco. Donald Trump favored Netanyahu, dramatically moved the US embassy from Tel Aviv to Jerusalem. His daughter and son-in-law were the facilitators for his support to Israel.
Till last news, at least 56 Palestinians have died under an array of aerial bombardments of the Gaza Strip. Five Israelis were killed too. Rockets, bullets, and rocks are flying around Israel and the Palestinian territories with catastrophic intensity in the latest wave of violence that periodically marks the Palestinian-Israeli conflict. Palestinian protesters run for cover from tear gas fired by Israeli security forces amid clashes at Jerusalem's Al-Aqsa mosque compound on May 10, 2021, ahead of a planned march to commemorate Israel's takeover of Jerusalem in 1967 Six-Day War. Security forces have set on fire the centuries-old holy Mosque. Serious communal violence has broken out within Israel between Arab citizens and Jews. Fires were lit, a synagogue burned, a Muslim cemetery trashed, police cars set aflame, and an Arab-Israeli man killed. The mayor of Lod termed it a "civil war."
The ferocity of the fast-escalating conflict might be extremely dangerous as Israel uses hi-tech, advanced, lethal weapons. A week ago, Israeli Prime Minister Benjamin Netanyahu seemed close to losing power after the climax of four inconclusive elections. The outbreak of hostilities has allowed him the opportunity to make his latest appearance as a tough guy and ended coalition talks by rival politicians. He might politicize the conflict in his favor.
There is a severe danger of spreading this conflict to a large-scale war, which might engulf the regional countries. There already exists tension among Israel and few regional powers. The recent Israeli attacks on Russian bases in Syrian may also widen the conflict.
Any war in the middle-East will have dire consequences globally. It is appealed to the UN and all peace-loving nations and individuals to speed up all-out efforts to stop the conflict at this initial stage and avert further bloodshed. It is demanded that the Israel-Palestine issue must be settled according to the resolutions passed by UNSC. Wish immediate peace, sustainable peace, and permanent peace in the Middle East and globally.
Why the West Want to Stop Iran Becoming a Nuclear Power?
Iran is a regional powerhouse in the Middle East only rivals Saudi Arabia, Egypt and Turkey. The rivalry between Saudi Arabia and Iran is centuries old in terms of sectarian differences of Shiite Iran and Sunni Saudi Arabia. The thousand year of schism of Islam presents in the Middle East. Moreover, the Islamic Revolution made Iran a fundamentalist impulsive state hostile to the West and Sunni neighbors. Iran is trying to be a nuclear power since 2007 following the great powers and other nuclear states. Iran has always interpreted its nuclear ambition as only to acquire energy and always express against use it as weapon. But this is not true at all as it is going to acquire it to show power against the rival Saudi Arab, the West and USA. There are convictions that the Western Powers let India, Pakistan and Israel to be a nuclear power but they are now against Iran. But this is not the case as several Reasons are behind to stop Iran to be a nuclear power.
Firstly, if Iran becomes a nuclear power, it will simply emerge as the sole regional superpower in the Middle East. Saudi Arabia, the ally of the West will not be a match for Iran. The Middle Eastern 'balance of power' will not be maintained. This will lead to very severe repercussions and the chance of maintaining future 'balance of power' in the reason will be in disarray. As a result, Saudi Arabia will want to acquire nuclear weapon to counter Iran in the region. As Saudi Arabia has money, either it can acquire nuclear weapon by researching or to buy weapons or technology from Pakistan.
From 1990s, Pakistan is selling nuclear technology to Iran, Libya and North Korea. As the economy of Pakistan is in great disarray, it might sell its nuclear technology to Saudi Arabia for billons of dollar. Turkey might try to acquire nuclear weapon to counter Saudi Arabia and the Egypt will want to acquire nuclear weapon to counter Turkey. It will start a sick competition in the Middle East to acquire the nuclear weapons which later may spread throughout the world. The efforts of Nuclear Proliferation will be null and void in a decade.
Another problem will arise if Iran becomes a nuclear power in terms of the failure of calculating nuclear deterrence. It is not unknown that USA acquired nuclear power first, then USSR acquired to counter or balance the power of USA, then it was the beginning of arms race. India acquired nuclear weapon to balance China in the region after the loss of 1962 war. Pakistan countered Indian nuclear power as it is unable to fight and win a war against a mighty power like India. Western powers primarily imposed sanctions on them but later withdrew. But if Iran acquired it, the nuclear deterrence or the calculation of nuclear war threats will be complicated. Who will counter who, who will attack who the probability or the calculation of the probability will be huge. There will be miscalculations and chances of total devastating war will be huge. Nuclear power Israel might attack Iran as preemptive action. In this indicating situation, Waltzs' nuclear deterrence does not work.
Secondly, Iranian world view and ideology does not support the idea of Westphalia world order. The leaders of Iran and its revolution including Ayatollah Khomeini declared in 2013, they want to unite the believers (Muslim Ummah); they want to vanquish the dominance of the Western powers, USA and its allies. Iran is now influenced by Radical Islamist Syed Qutb according to Henry Kissinger, and working both with Shiite and Sunni Radical organization. According to Kissinger, Iran has connection to Al-Qaeda and Taliban as they armed them. Iranian leadership thinks that they are on a Holy War (Jihad) against the unbelievers and these ideas are making the nuclear program even threatening. If Iran has nuclear weapon, can be in the hands of terrorist organizations or the radical and impulsive leadership might be threat to the nearby states, US allies, Russia, China or Israel. Any impulsive leadership can use it to wipe out the unbelievers in fighting a Jihad. Even they can use the nuclear arms as bargaining chip with the West or neighboring countries as North Korea did.
Thirdly, Iran already has its own nuclear delivery system and missile technologies. This made Iran a more ready nuclear power than previous nuclear powers like India and Pakistan, have been. So the only way to inhibit the nuclear capability of Iran is to reduce its capability to enrich Uranium. Iran has thousands of Uranium centrifuges and they wanted to reduce capacity of the half of the centrifuge to only 5 percent Uranium. According to Iran they will not enrich Uranium to 20 percent. This 20 percent Uranium is not important as 5 percent Uranium as this 5 percent Uranium is the threshold from where in a few months Iran can produce weapon category Uranium which make Iran as more unreliable.
In 2015 Iran signed Joined Comprehensive Plan of Action (JCPOA), a nuclear treaty with the five members of United Nations Security Council (P5) plus Germany which is called P5+1. As a result sanctions were withdrawn from Iran by the West. Ex-President Donald Trump declared withdrawal from the deal in 2018 and imposed the sections on Iran. Iran in 2019, Iran breached the limit set on the deal and IAEA confirmed it. After the Baghdad Airstrike killed Qasem Solaimani, Iran wanted to increase its nuclear capability. The good news is, in December 2020, America desired to rejoin the deal, and the new Biden administration is working on it.
Iran is a pivotal country in the Middle East. Anything Iran does may echo in the region. Middle East is already a complicated region with a lot of conflict and potential problematic issues. To sustain peace in the region including the balance of power, world powers are working on it. Time will tell how fruitful the initiatives are. The West must ensure that Iran respect and be a part of the Westphalia order which is a good start.