India's growing loneliness epidemic and how to tackle it
At first glance, it would appear that it is more unlikely for a country like India having a population so dense and where something or the other always seems to be happening, be it the glaring glowing crowd in exorbitant light and sound festivals, shops and houses intertwined as if they are a part of some big concrete chain, public places where people are seen to be moving like a flock of ants, to have something as peculiar and theoretically alien as the concept of loneliness. It would sound inorganic to many and probably is the reason why it is avoided and not taken seriously as an issue in India where loneliness and depression exist on an inordinate scale. Part of the problem also is the fact that loneliness is sometimes read along the same lines and books as in the mental state of a person, a discussion that is still considered a taboo in India.
We often hear stories about youths and millennials working in a city trying to achieve a better life for themselves. In the process however, certain things that have been closest to the social self of a human gets eroded and neglected. A person might be enjoying late night parties, drinking and dancing with friends, having physical relationships but still be left emotionally void inside when he returns to his or her empty apartment. The reasons are many and not every one of them can be stated nor known – the feeling of insecurity thriving in a big city, the pressure of sustaining oneself in this growing megalomaniac urban environment, to perform and exceed more than the capacity, while other reasons being- unhappy with the present state of being, not getting the preferred lifestyle, less satisfying jobs, to something as personal as- anger issues, physical insecurities, low self-esteem, being socially introverts, anxiety issues, to name a few. Relatively newer reasons like unemployment and frustrated political environment are also looming. The young, the women, the elderly, everyone has their own set of problems and reasons that somehow pushes them to the state of loneliness, whether they are isolated (imagine the only woman working in an office full of men or a father who is neglected by his son owing to his old age) or it is self-inflicted (an 18 year old who failed to crack an 'important' engineering exam and is hounded by people questioning his ability).
In 2004, the National Sample Survey Office (NSSO) reported that 4.91 million people (1.23 million men and 3.68 million women) in India were living alone and suffered from loneliness. The National Mental Health Survey (2015-16) in 12 states of India covering 39,532 people found that one in 20 people suffers from depression. The same report stated that high suicidal risk is an increasing concern in India; that children and adolescents are vulnerable to mental disorders; and, mental disorders, including depression and anxiety, affect nearly 10 percent of the population. In 2016, the Centre for the Study of Developing Societies in partnership with Konrad Adenauer Stiftung conducted a survey of the attitudes, anxieties and aspirations of India's young population (aged 15-34 years). The findings, released in April 2017, revealed that 12 percent of the youth reported feeling depressed often, and 8 per cent said they felt lonely quite frequently.
Psychologists say that conversations around loneliness need to expand its understanding, that is, something that is not within the realms of above mentioned reasons; Condition born out of differences in gender, class, caste or even within the same family (where "getting marks" and "success" are prime focus) needs to be studied and worked upon. Also, the increasing reliance on modern tools such as technology is another factor; virtual 'friendships' have wrongfully taken over real communication. Mankind has over the thousands of years lived in the proximity of physical relationships and a sudden change to something as artificial as 'likes' or 'comments' is bewildering. The idea of being 'connected' is misleading and often dangerous from the social media arena. Often referred to as a necessary evil in the social context, it is more evil than necessary – it has sadly become a validation for the existence of the modern generation.
Also, the understanding has to be broadened in the sense that what approach is being taken; lack of awareness leads to 'mismanagement' of the issue. A child who is bullied at school or abused at home might not be able to fully express his feelings of severe emotional stress. It's a trauma that only he understands and to a large extent, doesn't. That feeling of loneliness at the time when he was a child and nobody came to his help leaves a deep mark in him that reverberates until the day he grows up and dies. Good management would have been one where he would have been identified and taken care of so that the love and tender care he requires is rightfully bestowed upon him in the form of family support, a better environment to grow up and educate or even trying to bring in a behavioural change of the parent or his fellow schoolmates. Child counsellors and community rehabilitation are two other useful options in this case.
An issue like mental health is only getting recognition in India in recent time. Amidst the lack of information and social stigma, the heavy price one has to pay to go see a therapist is what keeps it under the rocks. Moreover, their availability is another issue, which is less than 1 per 200000 people in India. While there are no specific authorised solutions to 'loneliness', yet the introduction of the Mental Healthcare Act by the government in 2017 is a mammoth step in the right direction. The opening of counselling centres and sessions at many educational institutions is also a positive sign.
While everything is tried and experimented, it is equally important to consider and bring in the rural population of the country into the discussion. While farmer suicides have become a common scene, the 'settlement' of the issue in the form of loan weavers and further subsidies amounts to nothing if the mental state of the farmers is not resolved. The sheer pain and trauma that they go through amidst the drought season and minimal to negligible MSP for their crops is something that gets embedded into their minds and gets inflicted for generations in the form of hunger and poverty. They are mentally conditioned to be financially downtrodden forever; lack of a bare minimum of any basic resource becomes their new normal. Another victim are the migrants who in millions flock to the cities looking for better opportunities and a respectable lifestyle only to find themselves in distress. Their feeling of loneliness is more pronounced because of their disintegration at their village home as well as the lack of any family structure in the urban setting, says Surinder Jodhka, a professor of Sociology at JNU. Thirdly, the girls who get married off at an early age owing to regressive customs is something that renders mental and physical trauma and a sense of alienation at an age where friendship is the most crucial element; an age of innocence and exploration thus taken away.
In popular culture, the issue of loneliness is best addressed in films like Manchester by the Sea, The Lunchbox and also Peepli Live. In her book The Lonely City: Adventures in the Art of Being Alone, Olivia Laing writes, "So much of the pain of loneliness is to do with concealment, with feeling compelled to hide vulnerability, to tuck ugliness away, to cover up scars as if they are literally repulsive. But why hide?"
Medically speaking, loneliness is a treatable, rather than an irreversible condition. It has become a public health concern with relevant medicines and industry experts looking for relevant solutions. A newer NSSO survey should be conducted (as last done in 2004) on the number of lonely people also taking into account the intricate reasons. Apart from planned interventions of behaviour training and improving capacities to socialize, there are other strategies to help fight loneliness- keeping oneself busy, sharing feelings and thoughts with friends, helping people, collecting good thoughts, joining groups with similar interests, having a healthy physical relationship with your partner, staying in contact with family. But often understated is the fact that most people have now become self-centred, individualistic and less empathetic towards the likes of others. The showcase of genuine care and love is only seen when the same can be professionally fruitful. This in turn leads to a debilitating experience for anyone at the receiving end, from a young adult to an elderly. Eventually, that person finds no one to talk to or share his or her feelings with. Yes, sometimes being there for your fellow human being is what it all takes. Mother Teresa once said, "the greatest disease today is not TB or leprosy; it is being unwanted, unloved, and uncared for. We can cure physical diseases with medicine, but the only cure for loneliness, despair, and hopelessness is love…"
Floods; A Challenge to Comprehensive National Security of Pakistan
Pakistan is encountering one of the major catastrophic occurrence in the present day history. The colossal floods, along with the glacier melt, have prompted 33% of the nation to submerge underwater with more than a million individuals being displaced along with a loss of above 43 billion. The rising recurrence of floods, outrageous rainfall, and heatwaves have moved environmental change from a hypothetical conversation to an intense burden on the country and its people. Looking at the human perspective, the losses are too grave to quantify. However, in political terms, they address the missing area of climate security in the state's national security paradigm, which could present existential difficulties for Pakistan.
Pakistan's comprehensive national security is under stress by the adverse consequences of outrageous weather events across different areas. It isn't just about financial security versus traditional security any longer. Comprehensive National Security can never be comprehensively achieved because national power comprises of all components and assets that facilitate the state to pursue interests. Hence, all these components, resources, and areas form the crux of what we call comprehensive security. Subsequently, to address the existence of multiple threats, an extensive perspective on national security is expected with an equivalent focus on all areas, while prioritizing climate security because of its seriousness and immediacy. The grave economic losses may be quantified in the long run but societal and political impacts also cannot be ignored. Pakistan's representative of UNICEF, Abdullah Fadil reposts that "At least 18000 schools have been damaged in the flood, which have affected an estimated 16 million children. Many children are now at heightened risk, without a home, school or even safe drinking water. There is therefore a risk of many more child deaths." International experts, humanitarians and Social workers visiting Pakistan have termed it as one of the largest catastrophe of the modern history. South Asian expert Michael Kugelman states "that the only hope within the flood victims is the International aid but it is slow to come". The international world needs to respond to the aid appeals as a collective responsibility rather than a favor to Pakistan because the climate change crisis is largely driven by the world's most industrialized countries.
The 2022 floods in the country have uprooted entire communities, finished occupations and revenue generation sources, and have drastically expanded migrations inside the country and levels of urbanization. Assume relief projects are not comprehensive and the impacted population feels that they have not been accommodated Post-catastrophe which they themselves didn't create.  Considering all this, their confidence in the legitimacy or administering authority of the state could be antagonistically affected, creating threats of mass unrest. Destroyed homes, displacement within the country, and temporary camp-like arrangements have a potential of posing critical identity challenges and meanwhile create financial instabilities among impacted communities. Such aftereffects severely hurt the societal and political segments of security, undermining comprehensive national security. Such extreme climatic disasters account for short term reliefs along with long-term impacts on the resources of state. Increased displacement within the country, increased poverty with unemployment rate on the surge creates huge risks which directly impact the comprehensive national security. Violence against women tend to rise, Children drop out of school as there exists no infrastructure, food security is challenged, health security is badly endangered and quality of human life declines in a worst possible way. Extremists, Proxies and non-state actors may capitalize on resentment felt by the displaced. In short, human security is challenged in all basic forms.  So when human security is challenged, how can a state achieve comprehensive national security which itself places human as a center point.
Another challenge which is indirectly affiliated with the climate change is directed towards military. Pakistan's military has played a crucial and a comprehensive role in flood through its rescue efforts, humanitarian relief and rehabilitation process. Military has rendered sacrifices in these flood operations especially when a Corps Commander along with senior officers embraced martyrdom in the Lasbela district in Balochistan while overlooking relief activities. The IPCC report itself states that Pakistan's Humanitarian Assistance and Disaster Relief (HADR) will only increase over time. Military resources being expended to HADR will obviously take away military's attention away from hardline security issues and put it under increased management stress in times to come.
It can be asserted that the comprehensive national security is under stress by the negative impacts of horrific weather incidents across the various sectors of the society. It isn't only about economic security versus the traditional security anymore, because today what constitutes the national power and comprehensive national security isn't only the traditional and economic security but all societal elements form a collective part of this comprehensive framework. Thus, a comprehensive outlook of national security is required with equivalent focus on all sectors, with a priority on climate and food security due to its immediacy.
Political Scientist: Taliban Rule will not bring Afghanistan to the Stability and Development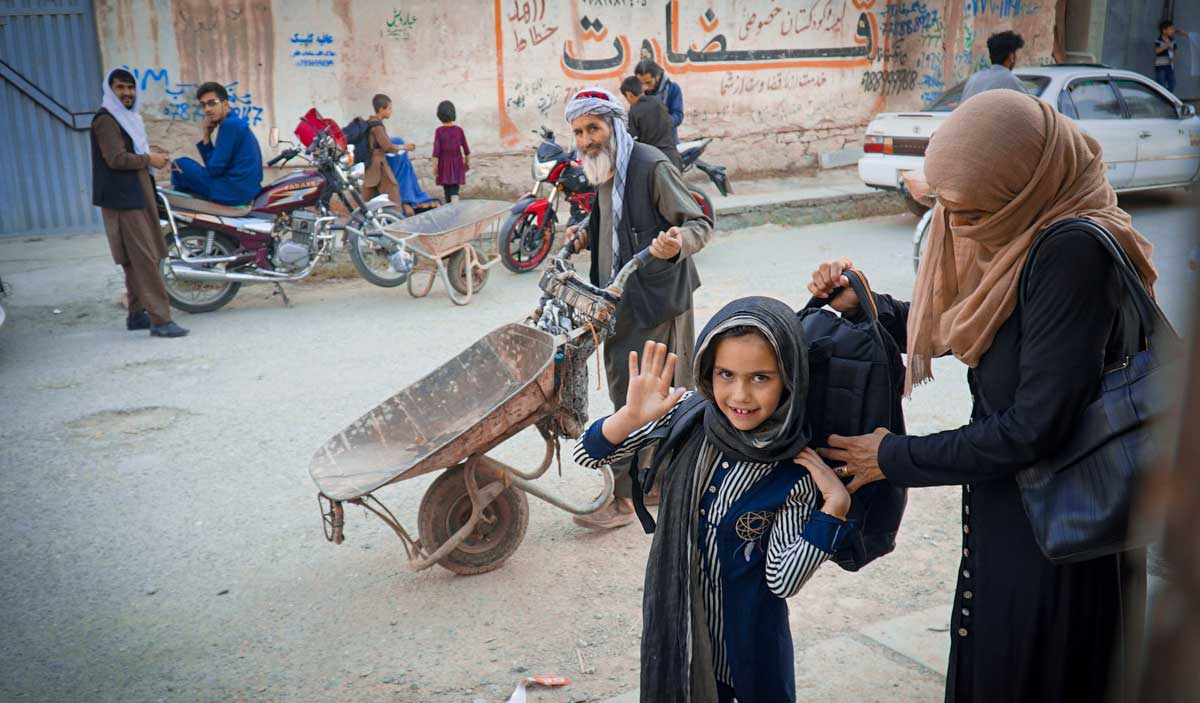 The evidence suggests that the Taliban movement cannot stabilize Afghanistan and does not want to fight international terrorism that threatens the region and stability globally.
The day before, UN Secretary-General Antonio Guterres issued a report on Afghanistan, citing increasing security problems. For example, the paper states that foreign terrorist groups remain in the country. "The security situation reveals a worrisome trend in recent months, particularly the series of attacks by ISIL-K, recurring armed opposition clashes with Taliban de facto security forces and the continuing presence of foreign terrorist groups in Afghanistan," the UN Secretary General's report says. The report also declared that the US statement on the elimination of Al-Qaeda leader Ayman al-Zawahiri in Kabul "highlighted the ongoing ties between the terrorist group and the Taliban, which go against the latter's obligations to combat terrorism."
At the same time, the Taliban claims that there are no more terrorist groups in Afghanistan. "We will never allow anyone to pose a threat from Afghanistan to other countries," Interior Ministry spokesman Abdul Nafi Thakur said.
It should be pointed out that the leader of Al-Qaeda was destroyed in the guarded central district of Kabul, where international organizations, diplomatic missions and administrative facilities are located. It is pretty tricky to assume that the leadership of the Taliban movement was not aware of the presence of this terrorist. If the Taliban security forces did not know that Zawahiri was hiding in Kabul, they would not control the situation even in the heart of Afghanistan. If we assume the opposite, the Taliban's policy of supporting or, at least, reluctance to fight international terrorist organizations is apparent. Recall that the Taliban promised the international community to fight international terrorism more actively in exchange for humanitarian aid and possible recognition of their regime in the future.
Moreover, it gives the impression that the main sponsor of the Taliban, the Islamic Republic of Pakistan, has lost control of the movement. It is obvious that organizations similar to the Taliban cannot function successfully without foreign economic, military and political assistance. The Pakistani military, particularly the ISI, took part in creating the Taliban movement in the 1990s and patronized them all this time. It is known that there are many Islamabad henchmen in the Taliban leadership, and either radicals or Pakistanis do not hide close ties and contacts. However, neither the Pakistanis nor other players can exert pressure on the Taliban. At least, the political pressure that is being exerted now by the international community is not enough: the Taliban do not show a desire to begin the fight against terrorism.
In the theory of political science and international relations, I am unaware of cases when similar regimes have gained success and contributed to the long-term development of their countries, societies and regions. In this regard, it can be considered that the Taliban and their patrons must significantly and profoundly transform their guidelines, ideology and management strategies. Otherwise, as experience shows, in the future, similar regimes end badly, which affects the stable development and position of their countries and nations.
World 'must engage' or risk Afghanistan's collapse
"Patience is running out" for many in the international community when it comes to effectively engaging with Afghanistan's de facto rulers, the Taliban, senior UN envoy for the country, Markus Potzel, told the Security Council on Tuesday.
Despite some positive developments over the past few months, the Deputy Special Representative for Afghanistan said they have been "too few and too slow and they are outweighed by the negatives".
Women's rights
He drew attention to the ongoing ban on girls' secondary education and growing restrictions on women's rights, as "signals that the Taliban are indifferent to more than 50 per cent of the population" and are willing to risk international isolation.
"The relegation of women and girls to the home not only deprives them of their rights, but Afghanistan as a whole is denied the benefit of the significant contributions that women and girls have to offer," he detailed.
Terrorism concerns 'dismissed'
Meanwhile, from armed clashes to deadly terrorist attacks, the UN Assistance Mission in Afghanistan (UNAMA) has monitored a steady rise in security incidents by terrorist groups and others.
"Our earlier warnings about the capabilities of Islamic State Khorosan Province (ISKP) were dismissed by the Taliban", he told ambassadors.
"But ISKP has demonstrated in the last few months alone that it can carry out assassinations of figures close to the Taliban, attacks against foreign embassies, as well as fire rockets across Afghanistan's border to attack its neighbours – all while maintaining its long-standing sectarian campaign against Shia Muslims and ethnic minorities," said Mr. Potzel.
Provincial rights violations
And armed clashes are continuing between Taliban security forces and armed opposition groups in the Panjshir, Baghlan, Kapisa, Takhar, and Badakhshan provinces, the UN envoy continued.
"There are disturbing reports, as well as videos and photos, indicating possible serious human rights violations committed in Panjshir," he said, calling for an investigation into allegations of extra-judicial killings there.
The mission will continue to carefully monitor these and other reports of serious human rights violations, he added.
UN bolstering cash economy
As per capita income has collapsed to 2007 levels – erasing 15 years of economic growth – the country's economic situation "remains tenuous" (with little detail forthcoming from the Taliban) due in part to Afghanistan's isolation from the international banking system.
"Liquidity remains heavily dependent on the cash that the UN continues to bring in for humanitarian operations – cash, I must stress, that supports the needs of the Afghan people and does not directly reach the de facto authorities," said Mr. Potzel.
But even the funding is uncertain as the 2022 Humanitarian Response Plan has only received $1.9 billion out of a $4.4 billion requirement.
No representation
Humanitarian and economic measures will not meet the Afghan people's longer-term needs, and the emergency aid cannot replace essential service delivery systems, such as health and water, or hold off an economic collapse, he warned.
Moreover, a continued lack of political inclusivity and transparency in decision-making leave most Afghans without any government representation.
"There are no consistent mechanisms for citizens to provide feedback to the authorities and little indication that the Taliban wish to even hear any," the UN envoy said.
'We have to engage'
While the Taliban's self-identified emirate has not been recognized by any State, the international community also does not want to see the country collapse, Mr. Potzel stressed.
"If the Taliban do not respond to the needs of all elements of Afghan society and constructively engage within the very limited window of opportunity with the international community, it is unclear what would come next," said the Deputy Special Representative.
"Further fragmentation, isolation, poverty, and internal conflict are among the likely scenarios, leading to potential mass migration and a domestic environment conducive to terrorist organizations, as well as greater misery for the Afghan population.
"That's why we have to engage", he declared, adding that "continued qualified engagement" was the most realistic way of helping the Afghan people.