The 20th century ended on a high note for the Liberal-Capitalist world, with the fall of the communist states of the Soviet Union, leaving the United States as the single remaining, unipolar power of the world, asserting its national interests and objectives on states across the globe. The dawn of the 21st century saw the coming of the long and bloody, global war on terror with theatres of war across the Islamic world i.e. West Asia & North Africa, Central Asia, in South Asia as well as instances in Southeast Asia. This century has also witnessed the return of the Russians as an important player in these regions. However, one of the main causes of concerns in today's geopolitical domain is the uncontainable rise of an aggressive and expansionist People's Republic of China, under the helm of the dictatorial leader – Xi Jinping – considered to be one of the strongest, most assertive leaders of the communist country since Mao Zedong.
The Chinese Premier has previously managed to gather enough support among the ranks of the Chinese Communist Party (CCP) to win an important vote in 2018, through which the National People's Congress permitted Xi to remain leader for life, by amending constitutional guidelines which enforced a two-term limit on its Presidents (BBC 2018). Since then, however, things in China have been going south for the CCP's chosen one. While we may not talk a lot about it due to lack of information from China, the country and the leadership is in fact submerged in domestic issues in challenges. Being a dictatorial country with extremely low political and civil freedoms, much of the news in China is monitored and censored by the government; therefore, neither Chinese citizens nor foreign media outlets are privy to the happenings inside China. The communist government has alongside private citizens in the IT sector developed an entirely independent internet ecosystem, preventing outside/western contact and connections within China. These independent social media platforms provide Beijing with a backdoor entrance to conduct internet surveillance on its citizens. While this prevents western influence and contact with its citizens, it also prevents Chinese citizens from spreading 'misinformation' to the outside world. However, we know for a fact that the Chinese government is engaged in civil rights abuses against certain Muslim communities in the North-western autonomous province of Xinjiang, where – what may be over a million – Uyghur Muslim citizens are detained in mass detention camps, going through 're-education' and to ensure citizens' adherence to the CCP. We also know for a fact that the controversial National Security Law passed in Hong Kong undermines the 1997 One Country, Two Systems principle, based on which Hong Kong and Macau were returned to the Chinese by the British and the Portuguese.
The National Security Law is athwart to the cause for which all protestors and activists who have been staging events and raising their voices against Beijing's excessive authority and assertiveness in the Special Administrative Region. Most recently, Jimmy Lai – the pro-democracy activist and founder of Apple Daily – was arrested on charges of collusion with foreign organisations and agents. The law makes even the mildest form of activism against Beijing a crime against the state. Infrastructure in China is also posing a major threat to citizens. Experts suggest that China has over 94,000 dying dams, with most of them built in the Mao era. The Guangxi dam collapsed on June 7 this year, hitting the nearby plains with some of the worst floodings it has experienced. The main cause of concern would be the Three Gorges Dam on the Yangtze river, which is also one of the dams at risk. The collapse of this dam could very well add tens of thousands of residents to the death toll, with over 500 million people living in and around the basin of the river. This is not all; many ranks among the CCP are unhappy with Xi's management of the outbreak of the coronavirus in Wuhan. Due to this mismanagement, the entire world is experiencing a major economic slowdown, and China has been under the spotlight.
Therefore, the Chinese regime has, over the years, resorted to the political tactic of distraction, many a time through the use of coercive force. The People's Liberation Army (Navy) (PLA(N)) alongside the Chinese militia has been increasingly becoming assertive in the South China Sea and the broader Indo-Pacific region. It has boosted its naval capacity through the commissioning of the Liaoning and Shandong aircraft carriers, providing it with formidable naval air cover in the South China Sea, as well as giving it the strong arm it needs to flex against the Indian Navy in the Indian Ocean Region (IOR).The United States has regularly engaged in the enforcement of freedom of navigation in the sea through which trillions of dollars' worth of cargo passes every year, with several naval exercises supported by aerial operations. While the Chinese are gaining a foothold in the region through the construction of full-fledged military bases on shoals and reefs, one should not forget the foothold that the United States already has in the region through its network of alliances and cooperation treaties with almost all the states engaged in the dispute against the Chinese. Amid high tensions in the region, Washington's Pacific Command (USPACOM) very recently conducted naval exercises involving the USS Ronald Reagan Strike Group. "Integration with our joint partners is essential to ensuring joint force responsiveness and lethality, and maintaining a free and open Indo-Pacific," said US Navy Commander Joshua Fagan, Task Force 70 air operations officer aboard USS Ronald Reagan(Goh and Navratnam 2020).
Tensions are also at an all-time high between New Delhi and Beijing. Over the night of 15th June, 20 soldiers of the Indian Army were killed in action in the Galwan Valley area of Eastern Ladakh sector. Since then, both sides have mobilised along the Line of Actual Control in Ladakh as well as other areas along the International Boundary shared by the two Himalayan states. While talks have been taking place at both military and diplomatic levels, not much progress has been made toward de-escalation of build-up. The Ministry of Defence and the Indian Army has over the months made it explicitly clear to Beijing that India's bravest will not stand down until the PLA withdraws from the LAC. The Chinese Communist Party and Xi speak of how the border disputes with India are of equal importance to the Chinese government as is the South China Sea dispute; both of which have portrayed Beijing's aggressive expansionist policies. Beijing speaks of solving disputes through peaceful means and diplomacy, while the PLA flexes its muscles and threatens coercion through the conduct of live-fire military drills & exercises in Tibet. As per a report by the CCP's People's Daily, "the exercise … tested the coordinated strike capability of multiple units and put new equipment to the test in a combat situation"(Zhen 2020).
As such, China under Xi Jinping has gotten itself involved in several military disputes across the continent, from East Asia to the IOR. While several world powers critique its aggression, Beijing is engaged in establishing overseas military reach and capability through the construction of military bases and ports. China is attempting to gain a strong foothold not only in its backyard but also across the Indian Ocean Region and thePacific. The Chinese regime has been using its economic might (while it lasts) to coerce nations into granting the PLA and its several branches access to land suitable for the construction of bases. Some of the states that are being bullied by Beijing include of tiny Pacific island nations such as Papua New Guinea, Vanuatu and Tonga; South Asian countries such as Bangladesh and Sri Lanka are falling into Chinese debt traps and there already exists a PLA Base in Djibouti, with Gwadar in Pakistan another potential threat.
Pacific & Oceania
The United States has traditionally maintained dominance in the Pacific since the late 1890s when it acquired the Philippines as a protectorate from the Spaniard crown. It shared dominance in the region alongside the British in Southeast Asia. This dominance was challenged in the second world war, with the large-scale Japanese invasions of Southeast Asia with the intent of creating a Greater East Asia Co-Prosperity Sphere 'liberated' from the grasp of Western colonial rule. However, this imperialist Japanese concept quickly faded away with the end of the war in 1945. Since then, the American Navy has been the undisputed power in the Pacific and the regions surrounding it.
However, with the onset of the 21st century, the Chinese have risen to a comfortable position of power supported heavily by its thriving industrial base and capacity. The world's factory – China – has benefitted heavily from its ties with business organisations from across the world, all seeking a base of production with minimal costs and maximised profits. Since the late 1980s, China made commendable efforts in opening up its closed economy to the private sector – both domestic and international. 30 or so years later, China is second only to the world's largest economy – the United States. This economic might has enabled the Communists in Beijing to assert their interests in its backyard – in the South China Sea and increasingly in the East China Sea.
In the South China Sea, Beijing has imposed sovereignty over vast territories, violating the sovereignty of all neighbouring states' exclusive economic zones. The Chinese abide by a self-imposed demarcation on maps, called the 'Nine-Dash Line', which vaguely demarcate Chinese claims over a major part of the Sea and claim sovereignty over the disputed Paracel and Spratly islands. The Chinese justify this demarcation through attempts of connecting dots from 'historical claims' of Chinese presence in the sea. Beijing contests the sovereignty of Malaysian, Vietnamese, Bruneian, and Filipino exclusive economic zones. The Philippines has in the past brought the dispute before an international tribunal, which said that there was no evidence that China had historically exercised exclusive control over the waters or resources. The tribunal in The Hague, in 2016, said China had violated the Philippines' sovereign rights. It also said China had caused "severe harm to the coral reef environment" by building artificial islands (BBC 2016). The aggressive expansionist policies adopted by Beijing are a major threat to the continuance and sustenance of an international, multi-polar world order, which threatens basic maritime norms – freedom of navigation. The South China Sea and the Indonesian straits to its south (specifically the Malacca) are one of the busiest transit areas in the world of commercial shipping, with trade worth over 3.4 trillion USD passing through annually. As such, the United States, Japan, and Australia have all expressed major concerns regarding the dispute.
As mentioned in previous paragraphs, China has been engaging in coercive diplomacy to acquire permissions to build military bases and ports in the regions surrounding the South China Sea. Beijing has its eyes on the Southern Pacific island country of Tonga. This region has not seen such 'strategic competition' since the island-hopping campaign of the second world war. As per reports by the UK based Oxford Analytica, the Chinese have four objectives in extending their foothold into the Southern Pacific island complex:
"One is to extend its security perimeter into a region hitherto the preserve of the US and its allies and to create a buffer between China and its neighbours.
The second is to press forward with its diplomatic contest with Taiwan. Of the 17 countries worldwide that still have full diplomatic relations with Taiwan and none with Beijing, six of them are Pacific Island states – the Solomon Islands, Palau, Nauru, Kiribati, Tuvalu, and the Marshall Islands.
Beijing's third objective is to gain access to the natural resources of the South Pacific and its islands, especially fish and timber. China is already the largest trading partner for most of the islands and has about $30 billion invested among them.
The fourth objective is to draw the South Pacific nations into Beijing's Belt and Road Initiative by selling them infrastructure, especially port facilities to benefit Chinese commerce and the long-range deployment of its navy"(Manthorpe 2019).
The entrance of the Chinese in the South Pacific is an especially alarming event for the Australians. Canberra has been actively speaking up against Chinese aggression in the South China Sea and is a long time critique of Beijing's expansionist policies. Being a member to QUAD, Australia regularly holds military exercises alongside India, the United States, and Japan to boost military-level cooperation and countering the growing Chinese sphere of influence in the region. However, bilateral and/or multilateral drills aimed at deterring PLA(N) influence will not be enough if Beijing were to set up a military base in Australia's backyard. The only time that the Australians imposed national emergency and curfews was during world war two with the onset of the Japanese occupation of Southeast Asia, which was also localised only to the areas surrounding the northern portcity of Darwin which came in the crosshairs of Japanese aerial bombers. The establishment of a Chinese base in the South Pacific region will put all of Australia in a state of constant alarm for the first time since the second world war. In order to access the Pacific, the Chinese have to navigate through the American-friendly waters of Taiwan, the Philippines and Japan. However, a base in the Southern Pacific islands can provide the Chinese with direct access into the Pacific and threaten American and Australian presence in the oceanic region.
Tonga is an island country with a population barely creeping over 100,000 citizens and a GDP of about 450 million USD. Beijing in 2006 provided the country's government with 108 million USD in loans for reconstruction and infrastructure development after notorious rioting in its capital – Nuku'alofa. This loan amounts to nearly 25% of the tiny nation's GDP, thereby placing itself in a cycle of debt. This makes the 171 island country a prime target for the Chinese to set up a military base, in return for covering Tongan debt to Beijing. As per the Lowy Institute – an Australian think-tank, the Chinese have paid 1.5 billion USD in loans and aid to the several island nations of the Southern Pacific since 2011, enabling Beijing to employ its debt-trap tool of coercive diplomacy. China uses the Belt and Road Initiative to better facilitate trade between member-states; and at the same time uses debt-traps to take over ports for uses of both civilian as well as military nature, for example – Hambantota in Sri Lanka (Perry 2019).
Another island country in the region was previously under the Chinese scanner for establishing a PLA base on its soil. East Timor is placed in a strategically relevant position, right off the Wetar Strait – one among the four major straits of Southeast Asia. The Chinese proposal to build and operate a surveillance radar facility on East Timor's north coast was made in December 2007 but was viewed with suspicion by senior East Timorese officials who consulted with the US and Australia before rejecting the project(Dorling 2011). These radars and surveillance could be used by the PLA to survey American and Australian Naval manoeuvring in the region and provide Beijing with valuable Naval intelligence and a pair of eyes looking down over the Australian continental shelf. Since then, the Chinese have shifted their attention to other countries in the region, such as Vanuatu. As per reports from 2018, Beijing had approached the government of the 80 island country to establish a permanent military base and presence in the region. Vanuatu also declined Beijing's unofficial proposal to set up a base on their soil, citing their non-aligned status and disinterest in militarisation. Canberra and Wellington have both expressed their concern about the growing Chinese sphere of influence in the region and have jointly decided to invest in these countries, in order to prevent the poverty-struck region from slipping into Chinese debt-traps. All of this comes as the Chinese regime's attempt to project power beyond its traditional backyard. To ensure that this expansion remains in check, Australia and New Zealand have in the past practised a policy of 'strategic denial' – ensuring that no foreign, unfriendly power gains influence in the region that it maintains as its own 'patch'. The Australians have also set up committees for providing financial assistance to Pacific island countries in the fields of both infrastructure development and trade, promising amounts up to 2.5 billion AUD (Köllner 2020).
The Americans and Australians currently have in place an arrangement with Papua New Guinea, another nation in the Indo-Pacific region, which permits their navies access to and dock at the Lombrum naval base on Manus Island, in return for its development. The governor of the island claimed that the signing parties had failed to deliver on their promise, resulting in the federal government announcing its intention of reviewing the deal. The Chinese almost secured a deal for ports in PNG earlier, however, the deal fell through at the last minute. Experts say that in a post coronavirus world with devastated economies, PNG will be eager for aid and assistance and there is a possibility that they could turn to China for help(EurAsian Times Desk 2020). At the same time, research vessels of the PLA(N) are being sighted more often in the region, mapping the deep waters of the Pacific and the many straits connecting the Indo-Pacific. Military analysis of GPS satellite data from 2019 revealed two Chinese research vessels entered PNG's Exclusive Economic Zone (EEZ) north of Manus Island, just weeks after US Vice President Mike Pence announced a joint redevelopment of the ageing Lombrum naval base.(Greene 2019). The ABC News Network in Australia interviewed a retired two-star admiral James Goldrick, who once headed Australia's Border Protection Command believes Chinese mapping of the world's oceans is now on the same scale as Soviet maritime operations during the height of the Cold War.
"It's very similar to the pattern of Soviet Union behaviour in the 1960s, 70s and 80s and the Soviets' knowledge of the world's oceans was really quite enormous. Chinese naval intelligence gatherers will not be shining a (GPS satellite) beacon, they're not required to by law, and of course, it's quite possible some of the government-owned ships aren't always radiating on their beacons to show where they are and who they are." (Greene 2019)
Indian Ocean Region
As of today, Beijing has just one overseas military base in Djibouti – a country which also hosts American, French, Italian and Japanese military bases, some of which also host British, German and Spanish troops. India has for longhad a goal of gaining a foothold in the strategically important Horn of Africa, which was realised in 2018 when Japanese PM Shinzo Abe and PM Narendra Modi agreed to host Indian troops in the Japanese base in Djibouti;with the objectives of countering the threats faced due to piracy activity as well as to keep in check aggressive Chinese expansionism – through its 'String of Pearls' strategy in the IOR. However, New Delhi is looking to solidify its position in the region and is on the lookout for establishing a permanent Indian military base in the strategically placed African country.
In Djibouti, the PLA and the PLA(N) hold the fort at a 590 million USD support base, located 5 km west of Djibouti City. The support base is placed right next to the Chinese operated Port of Doraleh. Lying next to the mouth of the Red Sea and the Gulf of Aden, connecting to the Indian Ocean, the strategically placed base provides China with the means to secure its major commercial shipping interests coming from or via West Asia and North Africa. An estimated 60% of China's oil imports find their origin in this region – another reason justifying the purpose of the establishment of an overseas military base. Djibouti is involved in several other Chinese developmental projects, including sub-projects of the BRI such as the Ethiopia-Djibouti Railway project. The setting up of this base also gives the Chinese the clout they are seeking, establishing themselves as an international economic – and now also – a military power with overseas bases. It provides a central command in the region for the conduct of peacekeeping operations in Northern Africa and also counter-piracy ops in the Arabian Sea off the Somali coast.
The establishment of this base comes as a discomfort to the West, who have traditionally maintained a presence in the region of such comparable scale. The United States and its allies are all concerned with the presence of a PLA base within 10 km of their own. Worries about espionage are constant and so is the 'tit-for-tat' game of accusations. In 2018, the US Department of Defense accused the PLA Support Base of using laser weapons against pilots attempting to land in Western bases, adding on that in one case, two pilots on a cargo plane suffered minor eye injuries as they approached to land. China has rejected the allegations, saying they are "inconsistent with facts"(BBC 2018).In 2017, the PLA held their first-ever live-fire exercises from their first-ever overseas base. The exercises saw the deployment of the PLA's Marine Corps, using a wide array of personal weapons and elaborate weapons systems – from pistols to ICVs to mortar and artillery. Beijing-based military expert Li Jie said:
"The troops had to be on combat alert at all times because of the region's complex political conditions and Djibouti's geographic importance. The PLA troops based in Djibouti should be able to protect themselves and resist attacks from terrorists, pirates, local armed forces, or even foreign troops" (Chan 2017).
Beijing-based military commentator Zhou Chenming said the high-profile drills were a message to local militants "not to harass" the PLA troops.
"Since the political situation in Djibouti is very unstable, the troops need to let local armed groups know of their combat strength. They need to tell them that the Chinese forces are there not only to set up the logistics base but must also be able to deal with all kinds of security challenges" (Chan 2017).
The PLA support base in Djibouti since last year has been going through a phase of construction and renovation to expand its capacity to handle military ware and equipment. Through open-source intelligence, analysts have been able to find new developments at the base. The naval pier along the base has been extended to +330 metres in length on both sides, which is more than enough to help facilitate China's latest additions to its Navy – the Liaoning and Shandong aircraft carriers, Type 071 and the under-construction Type 075 amphibious assault vessels as well as Destroyers. This new development increases the capability and overall lethality of the base. Construction material and equipment was also seen along the large Heliport in the centre of the base, suggesting that the Chinese are looking into further expand their hangars and improve on existing helicopter facilities. The construction of a new quay may also suggest that the PLA may expand on the number of in-house piers at the base(Sutton 2020).
China's Belt and Road Initiative also extends into India's staunch terror-supporting neighbour Pakistan via the China-Pakistan Economic Corridor, stretching between Xinjiang Uyghur Autonomous Region in China and all through the length of Pakistan – from Khyber Pakhtunkhwa to Baluchistan. The CPEC ends at the civilian port of Gwadar in western Pakistan which is being developed by Chinese and is under the operational control of the China Overseas Port Holding Company, leased to the same company till the year 2059. Therefore, questions arise in New Delhi and indeed Washington as to China's intentions with the deep-sea port. While Beijing denies any military or naval involvement in the project, sources report what seems to be a high-security compound being built by the Chinese, which some believe could support naval operations. From a Chinese perspective, it would be ideal to build barracks for a garrison of Chinese marine corps in the insurgent region to protect what is a major investment in Gwadar.The compound comes complete with sentry towers and pillboxes along with fortifications and high walls with barbed wire (Sutton, China's New High-Security Compound In Pakistan May Indicate Naval Plans 2020).
However, it remains unclear whether Islamabad has handed over the operations of the port for the PLA(N) as well, considering that a majority of Sino-Pak agreements go unannounced to the public or are not available to the public. The port is protected by Pakistani soldiers stationed there to protect the hundreds of Chinese workers working on its development and construction. Gwadar would be of great benefit to the Chinese, not only because it helps strengthen its foothold in the IOR, but also because once completed and secured, it can act as the economic lane of communication which would free Beijing of its dependency on the Malacca straights. The CPEC would secure the roadways and railway transit lines of its energy resources coming from West Asia and Africa, and a naval base at Gwadar would ensure its safety. The mouth of the Malacca is under the keen eyes of the Indian Armed Forces' Andaman & Nicobar Islands tri-services joint command which undermines China's economic security in case of conflict. As of today, a blockade of Chinese commercial shipping would severely cripple Beijing, which depends on West Asia and North Africa for a majority of its oil imports coming via these straits.
It is known to the world that Beijing has been looking into the Maldives as a potential location for a sub-pen since 1999. However, these aims were side-lined and not given much attention until the arrival of Xi Jinping on the hot seat of the CCP. Fast forward to the year 2017, reports by Maldives based anti-corruption NGO Transparency MV suggest that the country during the administration of the Chinese puppet Abdulla Yameen leased the Feydhoofinolhu atoll (land area: 38,000 square metres) to Beijing for 50 years, for four million USD. As of February 2020, China has destroyed surrounding reefs to build a man-made island structure to expand the size of the island to 100,000 square metres: similar to what it does in the South China Sea (Spratly islands).
Open-source intelligence portals showed the presence of a lot of construction material and equipment on the new man-made portion of the island, along with fish farms on the existing shorelines (Francis 2020). The island is barely 1000 km from the South Indian coastlands and even closer to the Lakshadweep islands, posing a major security risk to New Delhi. However, since the coming to power of Ibrahim Solih, New Delhi has poured its resources unto Malé with several infrastructure projects and credit in a bid to counter Chinese expansionism in the region. At present, India is engaged in an array of projects in the Maldives including water and sewerage projects on 34 islands, airport redevelopment at Hanimadhoo, and a hospital and a cricket stadium in Hulhumale(Ramachandran 2020). The Indian Minister of External Affairs also recently announced India's intention of funding the Greater Malé Connectivity Project, a 6.7 km-long bridge and causeway link that will connect the Maldivian capital Malé with the neighbouring islands of Villingili, Gulhifahu and Thilafushi. It also includes the building of a port at Gulhifahu and an industrial zone in Thilafushi(Ramachandran 2020). The Maldivian economy, however, remains in a grey area, drowning in a tremendous debt of over a billion USD to China. Perhaps New Delhi's granting of credit to Malé could sway the Maldives to India's sphere of influence in the region – a paramount interest for South block in New Delhi.
About 950 km to the northwest of the Maldives lies the Democratic Socialist Republic of Sri Lanka, with which India has had mixed relations. Sri Lanka's former President and current Prime Minister – Mahinda Rajapaksa, has led the country into a Chinese debt trap. The long-time politician requested for loans multiple times, without any denial from Beijing. Loans were procured to build a major deep-sea port along one of the busiest sea lanes of communication of the world at Hambantota in the southern part of the island country. However, the 1.4billion USD worth project failed to attract trade and commerce, with only 34 vessels docking at the port. With the tremendous amounts of debt owed to China running the country deeper into the debt trap, the Sri Lankan government agreed to lease the port at Hambantota and 60 square kilometres of land surrounding it for 99 years, as repayment for debt owed to Beijing. The debt deal also intensified some of the harshest accusations about President Xi Jinping's signature Belt and Road Initiative: that the global investment and lending program amounts to a debt trap for vulnerable countries around the world, fuelling corruption and autocratic behaviour in struggling democracies(Abi-Habib 2018). With the Rajapaksa administration being voted out of office in 2015, the new government under Ranil Wickremesinghe had little choice but to comply with Beijing's will. However, the Prime Minister also made it very clear to the world that Sri Lanka's Port Authorities were in fact in a commercial joint venture with Chinese merchants and port authorities. Addressing a programme at London's Oxford University on Monday, Wickremesinghe said some people are seeing "imaginary Chinese Naval bases in Sri Lanka" (PTI 2018). However, it remains unclear as to what Beijing's intentions truly are. It is perhaps another move to secure sea lanes of connections that connect the Chinese mainland to its energy interests in West Asia and Africa passing through the straits of Malacca. Even if Hambantota remains a civilian project, access to it by PLA(N) assets such as frigates and submarines in the IOR could provide it with the resources these assets may require to extend the duration of operations in the region.
China is also present in the former war-torn state of Myanmar. China is notorious for using debt diplomacy as a tool to gain control over infrastructure assets. Tensions of the same have ensured that Myanmar reduced the amount of funds China has invested to 1.3 billion USD for the Kyaukpyu port project. The port, on the eastern shores of the Bay of Bengal is not very far from Vishakhapatnam, the Indian Naval headquarters of the Eastern Command. This investment has the potential to act as one of the many pearls of China's String of Pearls strategy in the IOR. The Kyaukpyu port will be an addition to China's global Belt and Road Initiative, connecting the port to China by sea and also through a road link for which construction plans and agreements are being drawn up. Following Myanmar's concerns of falling into a debt-trap, China will invest 70 per cent of the $1.3 billion while Myanmar will finance the rest in the initial phase(Patranobis 2018). This port could be of equal importance to Beijing as is the port in Gwadar. The Kyaukpyu port could further liberate the Chinese dependence on the Malacca strait for trade and commerce. Beijing will definitely push for the construction of an all-weather road to connect the port to China by road, similar to CPEC.
Central Asia
Many have believed that Gwadar would be the PLA's second and latest addition to its overseas bases, if at all. However, without gaining much attention, Beijing managed to reach an agreement with the Central Asian nation of Tajikistan to establish a military/paramilitary base in the country's eastern borderlands, near the Wakhan corridor.
The Chinese base is located at a strategically important region, placed approximately 12 km from the Wakhan Corridor in Afghanistan and 30 km from the Chinese border, at an altitude of 3860 m above sea level. The base is seen to have three main buildings and supported with storage facilities and/or garrisons. It is connected with a roadways system, however, not with power lines, which imply the reason why solar panels can be seen supporting what could be power generators, in the north-western part of the facility. The base also hosts a helipad in the south-western corner. It is guarded by a series of pillboxes and sentry watch posts along the multi-layered fencing/wall.
Beijing has formally denied the presence of its troops in Afghanistan in the past. However, the presence of a base in Tajikistan would imply its interest in entering the country to secure strategic interests alongside the Afghans. The Chinese have also in the past conducted joint military exercises with the Afghan Armed Forces in counter-terrorism and anti-insurgency operations. China has had a long-lasting border dispute with the Tajiks, claiming that Dushanbe is unable to grasp control over its border with neighbouring war-torn Afghanistan, and as a result of that radical Islamists have been causing troubles at the Sino-Tajik border. These Islamists – China claims – are the same who brew up tensions in the Xinjiang autonomous region and 'poisons' the minds of the native Uyghur Muslims with propaganda directed against the Chinese state.
While the international community worries about these developments, Beijing's eagerness to have boots on the ground in this spot appears to stem from concern about the potential for unrest from Islamist Uyghur militants. An unknown number of Uyghurs are believed to have left their homes in the Xinjiang region in the last five years or so to join the ranks of militant groups in West Asia. Like other governments in Central Asia, China is uneasy about the arguably implausible prospect of those fighters returning to their native land(Eurasia Net 2019).
Being a former Soviet Republic, Tajikistan is party to the Commonwealth of Independent States – a multi-national organisation led by Russia to protect the sovereignty and improve regional ties between all former Soviet States. As such, Russia considers China to be 'creeping into its strategic backyard'. Beijing is by far Tajikistan's more generous creditor. At last count, the outstanding debt stood at around $1 billion, although this figure may be even greater depending on how one is counting. This lending has not been without its costs. In 2011, Tajikistan ceded territory to China in return for an unspecified amount of debts being wiped off the slate. Officials in Dushanbe have spoken little about this deal, but have sought when quizzed to sell it as a financially advantageous way to settle what had been a long-standing territorial dispute(Eurasia Net 2019).
As of today, it remains unknown whether Beijing has any interests in Afghanistan, other than protecting its domestic issues, i.e. the issue of Uyghur Muslims being rallied against the Communist Party of China.
Conclusion
The Chinese government under its dictatorial Premier, Xi Jinping- has adopted several aggressive and expansionist policies & stances across multiple fronts. It has decided to undermine the cruciality that its domestic policies hold in the eyes of its citizens and is constantly distracting them through an aggressive foreign policy. Being a totalitarian, communist state, China has also actively engaged in the censorship of social media and through the development of an independent internet ecosystem has managed to rid its citizens of viable access to the world outside of the Chinese borders.The People's Liberation Army of China and its various branches have been one of the largest benefiters of Xi's expansionist policies. Some consider the Premier to be the strongest man on the captain's seat since the time of Mao Zedong.
Over the years, tensions between Beijing and Washington plus allies has been on the increase, and the American administration has decided not to take lightly China's increasing aggression. The South China Sea has become one of the most important fronts for the cold war that is going on between the Americans and the Chinese, with neither willing to compromise on their national interests. The Pacific has always been America's stronghold, since the end of the second world war. However, China has come to challenge that dominance by increasing the presence of its naval and air assets in the region. Up till now, vessels of the PLA(N) have had to steam through the sovereign waters of Japan, Taiwan and the Philippines to access the vast ocean. Beijing has been on the lookout for land to develop a naval base in the Southern Pacific Islands in a bid to gain direct access to the ocean. However, this effort has returned little to no results, with the Australians and New Zealanders investing in their backyard to keep out the risk of Pacific states falling to Chinese debt traps.
In the Indian Ocean Region, China has had much more success due to the comparative lack of western assertiveness in the region. The United States and its allies have a high military reach and presence in West, South and Southeast Asia, but have been unable to prevent marginal countries from making consequential deals with Beijing. China's debt traps intensified some of the harshest accusations about President Xi Jinping's signature Belt and Road Initiative: that the global investment and lending program amounts to a debt trap for vulnerable countries around the world, fuelling corruption and autocratic behaviour in struggling democracies, says Maria Abi-Habib. Sri Lanka and the Maldives (and soon possibly Myanmar) have fallen for such deals with Beijing, handing over the Hambantota port and the Feydhoofinolhu atoll respectively under Chinese authorities' control as repayment for deferred loans. China's String of Pearls strategy in the IOR is unfolding with success – slow but steady: From the East African coastline in Djibouti, to a deep-seaport in the Arabian Sea at Gwadar, Pakistan; from the southern port of Hambantota in Sri Lanka to Kyaukpyu in Myanmar and Cox's Bazar in Bangladesh along the Bay of Bengal.
The world has seemed to have taken a Chinese base in eastern Tajikistan with a pinch of salt. No one is asking what China's intentions really are, being so close to the Afghan border. If it is really to prevent Uyghur escalation in Xinjiang, then one must ask: what is China doing in the autonomous region that it feels can radicalise the Muslim community against the Chinese Communist Party and the state?India's interests in Central Asia are at risk, with Dushanbe's Ayni Airbase and Farkhor Airbase being the Indian Air Force's steppingstone into helping rebuild war-torn Afghanistan.
Perhaps China's intentions and its outlook toward the world outside of its borders can be summarised into one line: "'Remember', a Chinese soldier told a reporter nosing around a remote spot in eastern Tajikistan. 'You never saw us here'"(Eurasia Net 2019).
BIBLIOGRAPHY
Abi-Habib, Maria. 2018. How China Got Sri Lanka to Cough Up a Port. 25 June. Accessed August 22, 2020. https://www.nytimes.com/2018/06/25/world/asia/china-sri-lanka-port.html.
BBC. 2018. China's Xi allowed to remain 'president for life' as term limits removed. 11 March. Accessed August 15, 2020. https://www.bbc.com/news/world-asia-china-43361276.
—. 2016. South China Sea: Tribunal backs case against China brought by Philippines. 12 July. Accessed August 19, 2020. https://www.bbc.com/news/world-asia-china-36771749.
—. 2018. US accuses China of pointing lasers at its pilots from Djibouti base. 4 May. Accessed August 20, 2020. https://www.bbc.com/news/world-asia-china-43999502.
Chan, Minnie. 2017. Live-fire show of force by troops from China's first overseas military base. 25 September. Accessed August 20, 2020. https://web.archive.org/web/20170926034001/http://www.scmp.com/news/china/diplomacy-defence/article/2112780/live-fire-show-force-troops-chinas-first-overseas.
Dorling, Philip. 2011. Timor rejected Chinese spy offer. 10 May. Accessed August 20, 2020. https://www.smh.com.au/world/timor-rejected-chinese-spy-offer-20110509-1efv1.html.
Eurasia Net. 2019. Tajikistan: Report confirms significant Chinese security presence in Pamirs. 19 February. Accessed August 23, 2020. https://eurasianet.org/tajikistan-report-confirms-significant-chinese-security-presence-in-pamirs.
EurAsian Times Desk. 2020. Can Australia Lose A Strategic Naval Base To China In Papua New Guinea? 12 June. Accessed August 20, 2020. https://eurasiantimes.com/australia-could-lose-strategic-lombrum-naval-base-as-papua-new-guinea-could-review-deal/#:~:text=Australia%20could%20lose%20access%20to,Chinese%20presence%20in%20the%20region.
Francis, Xavier. 2020. Beijing Expanding Presence In Maldives Could Trigger Another Clash Between India, China? 13 May. Accessed August 22, 2020. https://eurasiantimes.com/beijing-expanding-presence-in-maldives-could-trigger-another-clash-between-india-china/.
Goh, Brenda, and Shri Navratnam. 2020. U.S. Navy carrier conducted exercises in South China Sea on Aug. 14. 15 August. Accessed August 15, 2020. https://www.reuters.com/article/us-southchinasea-usa-defence/us-navy-carrier-conducted-exercises-in-south-china-sea-on-aug-14-idUSKCN25B065.
Greene, Andrew. 2019. Chinese surveillance near PNG expanding as Australia and US begin Manus Island naval upgrades. 21 April. Accessed August 20, 2020. https://www.abc.net.au/news/2019-04-21/china-increases-surveillance-near-png/11028192.
Köllner, Patrick. 2020. Australia and New Zealand Face Up to China in the South Pacific. July. Accessed August 20, 2020. https://www.giga-hamburg.de/en/publication/australia-and-new-zealand-face-up-to-china-in-the-south-pacific.
Manthorpe, Jonathan. 2019. China targeting Pacific isles for strategic bases. 10 June. Accessed August 19, 2020. https://matangitonga.to/2019/06/10/china-targeting-pacific-isles-strategic-bases.
Patranobis, Sutirtho. 2018. Too close for comfort: China to build port in Myanmar, 3rd in India's vicinity. 9 November. Accessed August 22, 2020. https://www.hindustantimes.com/india-news/china-myanmar-ink-deal-for-port-on-bay-of-bengal-third-in-india-s-vicinity/story-Lbm4IwOMuqrNvXGv4ewuYJ.html.
Perry, Nick. 2019. China Comes to Tonga. 10 July. Accessed August 20, 2020. https://thediplomat.com/2019/07/china-comes-to-tonga/.
PTI. 2018. Sri Lanka rejects US claims, says no Chinese military base at port. 11 October. Accessed August 22, 2020. https://economictimes.indiatimes.com/news/defence/sri-lanka-rejects-us-claims-says-no-chinese-military-base-at-port/articleshow/66163389.cms?from=mdr.
Ramachandran, Sudha. 2020. Has India Won the Match Over the Maldives? 19 August. Accessed August 22, 2020. https://thediplomat.com/2020/08/has-india-won-the-match-over-maldives/.
Shih, Gerry. 2019. In Central Asia's forbidding highlands, a quiet newcomer: Chinese troops. 18 February. Accessed August 23, 2020. https://www.washingtonpost.com/world/asia_pacific/in-central-asias-forbidding-highlands-a-quiet-newcomer-chinese-troops/2019/02/18/78d4a8d0-1e62-11e9-a759-2b8541bbbe20_story.html.
Sutton, H I. 2020. China's New High-Security Compound In Pakistan May Indicate Naval Plans. 21 August. Accessed June 2, 2020. https://www.forbes.com/sites/hisutton/2020/06/02/chinas-new-high-security-compound-in-pakistan-may-indicate-naval-plans/#312210a1020f.
—. 2020. Satellite Images Show That Chinese Navy Is Expanding Overseas Base. 10 May. Accessed August 20, 2020. https://www.forbes.com/sites/hisutton/2020/05/10/satellite-images-show-chinese-navy-is-expanding-overseas-base/#21ae60726869.
Zhen, Liu. 2020. China-India border dispute: PLA flexes military muscle with live-fire drill in Tibet. 18 August. Accessed August 19, 2020. https://www.scmp.com/news/china/military/article/3097868/china-india-border-dispute-pla-flexes-military-muscle-live-fire.
India's Test of Hypersonic Technology Demonstrator Vehicle and Implications for South Asia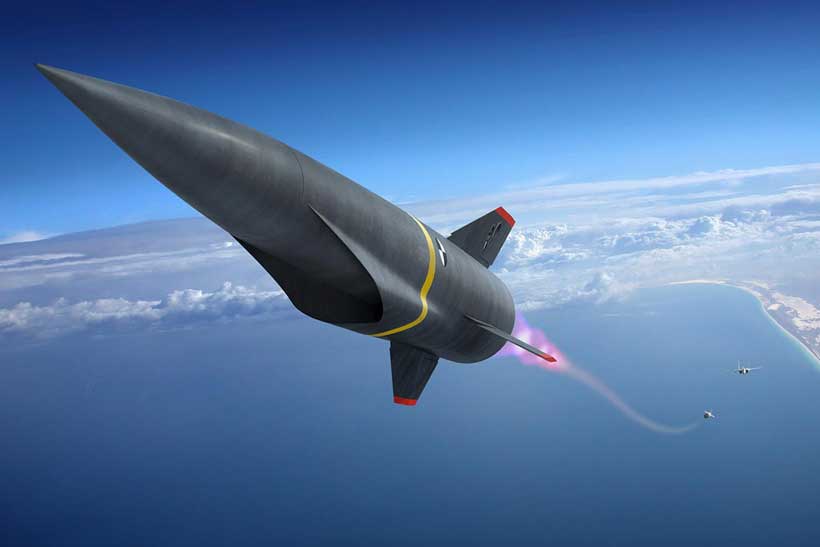 In September this year, India claimed to have successfully tested scramjet engine technology. This has been indigenously developed for its hypersonic technology demonstrator vehicle (HSTDV). As per the Indian estimates, this particular and sophisticated technology would be a key component for the development of the next generation of hypersonic cruise missiles. After attaining supersonic technology and developing supersonic cruise missiles with the help of Russia, India now also aspires to have hypersonic weapons in its inventory. India's pursuit of hypersonic cruise missiles would bring new security challenges for Pakistan. This would have devastating implications for the strategic equation of the region since it would further enable India to a resort of the first strike against Pakistan. Likewise, this would ultimately destabilize the already volatile South Asian region.
It would be pertinent to mention here that hypersonic weapons are of two types: hypersonic glide vehicles (glide towards the target before dropping) and hypersonic cruise missiles (use scramjet engines). Furthermore, the hypersonic missiles are not just deadly because of their incredible speed (sustained speed of more than Mach 5); even ballistic missiles could reach up to Mach 25 in their re-entry phase. The major difference is the maneuverability and terrain hugging capability of the hypersonic missiles, which allows them to have more unpredictable flight paths. Consequently, they can easily penetrate the advanced air defence systems that are currently available in the world and might even in the near future as well. Furthermore, hypersonic missiles can carry both conventional and nuclear warheads. What makes them more lethal is their enhanced speed, with which even a conventional warhead hypersonic weapon can destroy unhardened or underground facilities. Moreover, because of their speed, range, precision, and lethality, they are also considered as ideal weapons against time-sensitive targets and missile defences. Therefore, it can be said that hypersonic weapons are effective counter-force weapons because of their precision and capability to target and destroy high-value targets with incredible speed and accuracy.
After the successful test of the scramjet engine meant for powering the HSTDV, India has been aiming to become part of the elite group of states that possess this technology. Previously the US, Russia, and China have been part of the arms race to develop hypersonic weapons. Last year in June, India failed to successfully test scram-jet technology. However, the recently claimed success of the September 7th test of HSTDV has been celebrated by the Defence Research and Development Organization (DRDO), Prime Minister Modi, and the Defence Minister Rajnath Singh as a 'landmark achievement'. According to the Press Release by the Indian Ministry of Defence, HSTDV was launched on top of a solid-fueled rocket; it carried to an altitude of 30 kilometers at the speed of Mach 5 for about 20 seconds. Though Indian media considers this test as India's entrance into the "elite league" of nations possessing hypersonic weapons, in reality, the test has been conducted at the speed of Mach 5 which is believed to be the lowest possible speed for hypersonic weapons. This reflects two things: firstly, India has improved its technology from the previous failure, and secondly, there is a long way ahead of India to develop and deploy hypersonic weapons. Moreover, this capability also reflects India's inclinations towards the development of counter-force and pre-emptive nuclear capabilities, which are contradicting its long doubted policy of 'no first use'. This situation has become more alarming since India has been acquiring advanced missile defense systems and also developing counter-force technologies like the hypersonic weapons simultaneously. This could result in a false sense of security and superiority within the Indian strategic elite. Inspired by this India could attempt to launch a first strike most probably against Pakistan.
Hence, the development and deployment of hypersonic weapons by India would likely eliminate the existing parity in South Asia primarily ensured by Pakistan's nuclear capability. Today, deterrence stability exists between both countries because both possess the capability to inflict the damage and it becomes unappealing for them to initiate a nuclear attack. However, if the Indian pursuit of hypersonic weapons goes on with its belligerent policies, the deterrence stability might not hold for long. Therefore to maintain parity and deterrence stability in South Asia, Pakistan might need to think of the probability of developing its supersonic and hypersonic weapons or at least come up with an alternative and a plausible way-out. Moreover, Pakistan needs to further ensure the adaptability of the mutually assured destruction in South Asia and eliminate the chances of the first strike by India. Since hypersonic weapons would reduce the response-time and blur the line between conventional and strategic weapons; Pakistanneeds tofurther develop a mechanism to address this emergent threat to maintain the nuclear deterrence equilibrium in the region.
Summarizing it all, the emergence of hypersonic weapons in South Asia has posed a serious threat to regional security. It seems that India is quite eager to develop and ultimately deploy the hypersonic weapons. There is no doubt that at the moment South Asia is engulfed in an action-reaction spiral between India and Pakistan mainly triggered by Indian offensive strategies and threatening policies vis-à-vis Pakistan. Once becoming operational, India's hypersonic weapons would likely add up to this chain of action and reaction. This might ultimately compel Pakistan to revisit its existing nuclear posture vis-à-vis India.
Evolution of Indian Nuclear Doctrine: From NFU to Preemption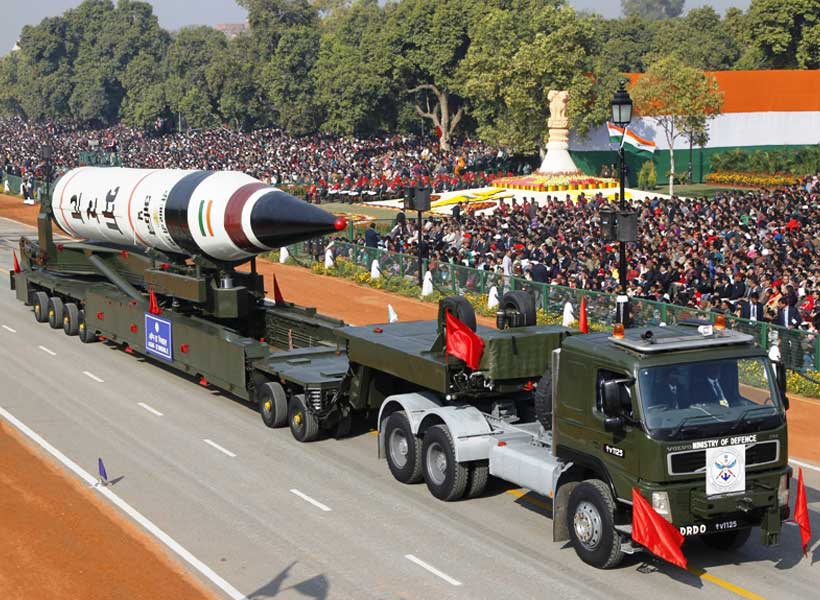 India's obscure nuclear doctrine of 'No First Use' (NFU) had evolved over the years since it was first declared in 1999 by NSAB's (Nuclear Security Advisory Board) in the 'Draft Nuclear Doctrine'(DND) that forms the very basis of the official Indian nuclear doctrine. Subsequently, in 2003after a review by the Cabinet Committee on Security (CCS) the DND had emerged as India's official nuclear doctrine. However, the later developments are quite evident that India has shifted its nuclear posture from NFU to preemption. In August 2019, a statement made by Mr. Rajnath Singh (Indian Defence Minister) made headlines amid rising tensions between India and Pakistan, the two arch-rivals in South Asia. This was an assertion of India's likely shift from its long doubted NFU policy. This has further exposed the pretense of India's NFU policy, to which Pakistan has never given any credence. This shift in Indian nuclear doctrine seems to be purely Pakistan centric. Such an Indian shift is further evidence of India's focus towards nuclear war-fighting rather than maintaining deterrence. In the wake of the evolved tensions in the region, India's offensive nuclear posture of preemption would have dire implications for the strategic stability of South Asia.
Over the period, various statements by the Indian government officials and prominent academicians have raised serious concerns over India's adherence to the NFU policy. In 2010 Shivshankar Menon, the then National Security Advisor of India stated that according to Indian nuclear doctrine NFU policy is meant only for non-nuclear-weapon states. Hence, it implies that using a nuclear weapon could be a resort against nuclear-weapon states, particularly against Pakistan. Later on, in 2016 Manohar Prakar the then Indian Defence Minister questioned "Why do lots of people say that India is for no first use? Why should I blind myself?" Moreover, in 2017 a prominent Indian scholar, Vipin Narang while speaking at the conference at Carnegie stated that India would not let Pakistan go first. These assertions are quite evident that in a crisis, India might take a nuclear first strike against Pakistan. Such drifts in Indian policy have further enhanced Pakistan's threat perception vis-à-vis India. Similarly, Pakistan would be further compelled to maintain a credible nuclear deterrence posture to overcome India's offensive nuclear posturing.
India's pursuit of offensive nuclear capabilities further reveals its aspirations of a pre-emptive nuclear strike against Pakistan. This, for instance, is further evident from the fact that India has been involved in developing ground-based and space-based surveillance, reconnaissance, and intelligence capabilities, and new precision weaponry for the last few years. These would further embolden India to take any move toward pre-emption or first use. In the same vein, India's adoption of Pakistan specific policy of first use would likely result in the lowering of the Indian nuclear threshold. This might bring serious implications for Pakistan's existing nuclear deterrent posture which covers a broad spectrum of threats coming from India including its conventional advantage. It would further generate an unnecessary arms race in the region and might force Pakistan to further revisit its doctrinal and force posture vis-à-vis India's notions of preemptions. The likelihood of India's shift towards preemption would also mean that India's nuclear weapons would be kept in the state of readiness. This would also increase the risk of unauthorized or accidental use of Indian nuclear weapons. Such a scenario would likely create a complex security dilemma for Pakistan, thus undermining the deterrence equilibrium in South Asia, primarily ensured by Pakistan's nuclear capabilities.
In recent years, India's massive naval buildup is also aimed at maintaining an offensive sea-based nuclear posture. In this regard, India's acquisition of SSBNs (nuclear-powered submarines) is quite significant since along with the assurance of second-strike capability, they are also meant to be used to launch a multitude of nuclear weapons. Other than that, India has been maintaining an operational BMD (Ballistic Missile Defence) system; also, it would have the most advanced anti-missile systems like the Russian S-400 in its inventory very soon. Hence, having been assured that it would be protected against any counter-strike by Pakistan by its BMD systems; India might potentially launch a land, sea, or air-based pre-emptive strike against Pakistan. This would create a false sense of security among the Indian decision-makers and they might act aggressively in the time of crisis. Pakistan needs to keep a close eye on India's shifting nuclear policy to counter the probability of a nuclear first strike initiated by India. Pakistan has already developed MIRV (Multiple Independent Re-entry Vehicle) capable short and medium-range ballistic missiles. Apart from that Pakistan has also developed a sea-based delivery system such as Babur-3, a Submarine Launched Cruise Missile (SLCM) which is aimed at ensuring a credible second-strike capability. These would serve as a reliable and credible deterrent against Indian notions of preemption.
Hence, at the present, the assertions of Indian officials to abandon the long doubted NFU policy and a move towards pre-emption is mere irresponsible and belligerent behavior. India in its pursuit to become a regional hegemon would destabilize the already conflict-prone South Asian region by further provoking an arms race. Pakistan needs to further increase international pressure by highlighting India's aggressive and irresponsible nuclear posturing. The world needs to know that India's shift from NFU is merely reckless and dangerous. On the other hand, Pakistan also needs to ensure its safety by further enhancing its assured second-strike capability and acquiring advanced BMDs while staying within its existing posture of minimum credible deterrence.
Afghan Peace Talks And Prospects For Pakistan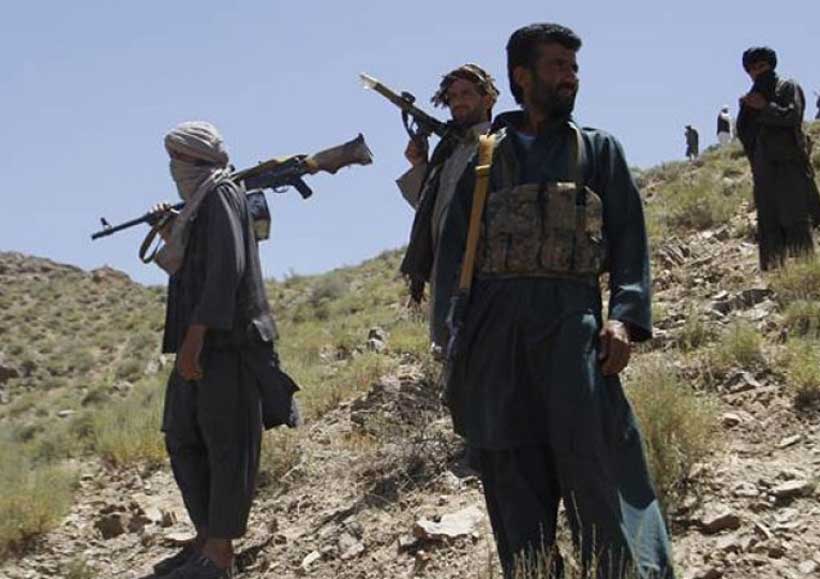 On 3 September 2020, the three brave sons of Pakistan, soldier Usman, Naek Imran and Lieutenant Nasir Khalid embraced shahadat during a patrolling in North Waziristan in a terrorist attack. Since US officials and representatives of the Taliban signed a peace agreement on 29 Feb 2020 in Doha to end the conflict, the various affiliated groups of TTP began launching attacks against the security forces of Pakistan. According to the report of the Pakistan Institute of Peace Studies in August 2020, 12 terrorist attacks were launched in Pakistan. In these terrorist attacks, 14 people lost their lives and 68 people were injured. The terrorist carried out 75 % terrorist attacks against the security forces. These terrorist attacks on the security forces of Pakistan are evident that TTP and its affiliated groups are confident after the peace deal of the Taliban and the USA. It illustrates the scenario of post-US withdrawal from Afghanistan. Following the deal, the US will withdraw from Afghanistan within 14 months. Even though the Taliban are negotiating with the USA and Afghan government but fighting is continued in Afghanistan from both sides.
The US withdrawal will create a power vacuum not only in Afghanistan but also in the South Asian region that is likely to be filled by a stronger state or a group. The US withdrawal is creating the same challenges that are similar to the USSR withdrawal from Afghanistan in 1990. After the withdrawal of the USSR, civil war broke out in Afghanistan for the assumption of power. Taliban emerged as victorious after a deadly civil war. Afghanistan is the home of various terrorist groups and their presence is a threat to the South Asian Region once the USA leaves Afghanistan. The US withdrawal will also affect Pakistan.If the Taliban assumed power in Afghanistan then TTP will be strengthened in Pakistan. As soon as the USA making arrangements to leave Afghanistan, various militants groups of Pakistan are uniting. The two militant groups Hizb-ul-Ahrar (HuA) and Jamaat-ul-Ahrar have merged into one terrorist group on 17 August 2020. Both of the groups pledged its affiliation to Mufti Noor Wali as its chief. The leader of Punjabi Taliban Asmatullah Muawiya has joined the Taliban. Once the militant groups are on the same page, the impact will be disastrous for Pakistan as it did not chalk out a comprehensive policy following the US withdrawal from Afghanistan.
Over a decade Tehreek-e-Taliban Pakistan (TTP) wants to establish Sharia in Pakistan and for that, it is in confrontation with Islamabad. Mullah Muhammad Omar, the leader of the Afghan Taliban is considered as the spiritual leader of TTP. Since its inception in 2007, TTP has proved to be the deadliest terrorist group in Pakistan. TTP was an ally of Al-Qaeda to operate from FATA. The group has its presence in Swat and Karachi. The TTP launched massive attacks in Pakistan like the terrorist attack on the General Headquarters of Army (2009) attack on PNS Mehran in Karachi (2011) and an attack on the Army Public School (20140in Peshawar. TTP also using different channels to radicalize youth like Sunnat-e-Khaula to radicalize and recruit females in Pakistan. The TTP and Afghan Taliban worked in partnership in the past and they are interconnected. In the past couple of months, TTP has increased its terrorist attacks against Pakistan. The JuA took the responsibility of an improvised explosive device (IED) thatwas planted on a bike to hit a vehicle that has killed 7 members of the anti-narcotics force in Chamman, Baluchistan in August.
The report of the Pak Institute of Peace Studies (PIPS) is evident that since 2019, TTP remained a major source of instability in Pakistan. It carried out 82 terrorist attacks in which 69 attacks were taken in Khyber Pakhtunkhwa and 13 from the province of Baluchistan. It seems that TTP is becoming stronger after living in the shadows for years. According to the UN report approximately 65000 militants of TTP are stationed in Afghanistan. With a merger, it will become a force that cannot be neglected. The merger of various factions of TTP is a threat to CPEC. China has begun the number of development projects like infrastructure and hydroelectric in remote areas of KP.
Currently, Chinese companies are working on Karakoram Highway Phase II,SukiKinari Hydropower Station and the Havelian Dry Port. TTP have kidnapped and killed Chinese from Baluchistan and KP. In 2013, Pakistan banned 3 militant groups that were affiliated to Al-Qaeda namely the Islamic Movement of Uzbekistan, the Islamic Jihad Union and East Turkestan Islamic Movement on the request of China. TTP targets China as a retaliation of mistreating the Uyghur Muslim minority in the province of Xinjiang. In 2014,the leading Al-Qaeda ideologue Mufti Abu Zar al Burmi in a video message that was titled as let's disturb China stated that the withdrawal of the USA from Afghanistan is a victory for the Taliban. In the video message, he also urged the militant groups to carry out attacks on Chinese companies and embassies and kidnap Chinese nationals. Foreign CPEC is hope for Pakistan to bring investment and embark on the road of peace and prosperity. The reunification of militants can't be ignored as once they are strengthened they will carry out massive attacks against Pakistan. Therefore, Pakistan needs to chalk out a comprehensive policy to root out terrorism. It's up to the policymakers to shake hands with militants like the US or take coercive military operations.