Adverse socio-economic impact of India's rising military expenditure
The world is still in grip of COVID19 pandemic. Some vaccines are being tested but so far none of them has passed safety tests.
The lockdowns have played havoc with economies, the world over. The ugly West has allocated trillions of dollars for economic welfare of the impoverished people. But, India allocated paltry US$25 billion by way of welfare. Some economists have predicted recession, and even collapse of Chinese and Indian economies. Regrettably, Indian chief of defence staff has threatened that military option was on the table if talks with China fail.
India's rising military expenditure and purchases: The Indian military doesn't seem to know there's a pandemic. India's 2020-21 Budget envisages a total outlay of Rs 30, 42,230 crore. Out of this, Rs 3, 37,553 crore has been allocated for military (excluding military pensions). For military pensions, Rs. 1, 33,825 crore has been provided in Budget Estimates 2020-21. There is an increase of Rs 40,367.21 crore in the total military allocations (Rs 4, 71,378 crore) over 2019-20.
The total military budget accounts for 15.49 percent of total expenditure for 2020-21. The allocation represents a growth of 9.37 per cent over Budget Estimates for 2019-20. Out of Rs 3, 37,553 crore allocated for 2020-21, Rs 2, 18,998 crore is for net revenue expenditure and Rs 1, 18,555 crore is for capital expenditure, which includes modernization-related expenditure.
The 'transparent' military expenditure shows an increase of only 9.37 per cent. But, if we add to it concealed provisions the increase would balloon manifold. The concealed provisions include quasi-defence allocations like border and strategic roads, nuclear/space research, paramilitary forces like Border Security Force, Central Reserve Police Force, and so on. Besides there are public sector undertakings like dockyards, machine tool industries and Bharat Heavy Electrical Limited.
Then, India unnoticeably increases her defence expenditure under Revised and Actual budget estimates. But the real expenditure in past years has been much greater than that shown. Previously, India increased its military outlays in revised and then actual estimates. Thus the actual military expenditure is much higher than the initial estimates, which are quoted in international media under a hypnotic spell.
India does so to `lower' its military budget as proportion of GNP. Thus India, as compared with its neighbours, gets a favourable image in The Military Balance, Jane's Defense, and other international magazines.
Colossal expenditure on conventional weapons by a nuclear power is not understood. Nuclear deterrence does not mean matching bomb for bomb. Nuclear victory would at best be pyrrhic. Heretofore is a bird's-eye view of her shopping itinerary. Procurement of 36 Rafales and 12 Su-30 MKI aircraft and 21 MiG-29. Upgrading Indian Air Force's existing MiG-29 aircraft. The MiG-29 procurement and upgradation from Russia will cost Rs. 7,418 crores. Producing the Su-30 MKI at the Hindustan Aeronautics Limited will cost Rs. 10,730 crores.
India's `Defence Acquisition Council approved a collection of arms procurement projects worth $5.55 billion, including domestic efforts worth $.4.44 billion'. The inventory includes Pinaka multi-barrel rocket launchers, upgrading BMP-2 infantry combat vehicles; software-defined radios; Nirbhay land-attack cruise missiles, Astra beyond-visual-range missiles, Excalibur artillery rounds for M777 ultralight howitzers (US), Igla-S air defense systems (Russia), Spike anti-tank guided missiles (Israel), 100 modified K-9 Vajra 155 mm/52 caliber self-propelled tracked howitzers (South Korea), S-400 Missile Air Defense System (Russia), and Rafale fighter jets (France).
In contrast with military spending, India earmarked a meager $25 billion in corona virus relief measures (India's miserly response a path to viral collapse, Asia Times May 5, 2020).
Misconception: India's rising military expenditure is based on a misconception of national security. National security, from the point of view of an economist, depends on three factors: (a) The quantity of national resources available, now and in future, (b) The proportion of these resources allocated to national security purposes, and (c) The efficiency with which the resources so allocated are used.
Resources are always limited vis-à-vis unlimited wants. As such, the problem of defence allocations should, in effect, be a problem of constrained resource optimization, not blind allocation of resources.
Let India lower her expenditure. Pakistan will follow suit. As a result of India's rising military expenditures, Pakistan also increases its defence expenditure despite meager resources.
Indian policy of increasing her defence outlays is based on strategic misconceptions. India visualised it would be suicidal for Pakistan to increase her defence budget pari passu with India's budget. In any case, Pakistan could not afford to spend more than half the increase in India's defence budget. A higher allocation would sap Pakistan's resource potential for sustained growth in future.
India thinks Pakistan had to choose between Scylla and Charybdis that is economic collapse or defence preparations (same quandary as of former USSR). However, India's perceptions proved to be wrong. Pakistan has neutralised the impact of this differential economic performance by, going nuclear. If Pakistan weakens its defence by slashing its defence expenditure, will India guarantee that it will not attack Pakistan or go for a quasi-attack (Operation Parakram(valour) costing Rs 74 crore).
Impending collapse: India is heading for a recession, widespread unemployment, fall in growth rate, and fall in purchasing power and demand, industrial production, and so on. India's leading companies are suffering losses. The central government's fiscal deficit will rise to about 5.1per cent of Gross Domestic Product in fiscal 2021, with considerable upside risk depending on the quantum of forthcoming fiscal support,
The options for printing more money, imposing new taxes, selling bonds to locals, and raising money from non-resident Indians (NRIs) are all also limited.
Falling GDP, collapsing wholesale prices: Is Indian economy heading to its worst show in September quarter since 2008 global financial crisis?
There is no major crisis situation right now globally and the current slowdown is on account of the failure of the country's clogged domestic growth.
Most international agencies including Moody's have lowered their GDP growth forecasts for India. India is entering the sub-five percent GDP growth range after a gap of 42 quarters? If the predictions of State Bank of India (SBI) economists offer any clue, second-quarter Gross Domestic Product (GDP) will come at 4.2 percent. That's the lowest quarterly growth in 30 quarters ever since the new series, with 2011-12 base. In the fourth quarter of FY13, the GDP growth had fallen to 4.3 percent. If one looks at the old series (2004-05 base), this will be the lowest quarterly growth in at least 42 quarters. In the fourth quarter of FY09, growth had fallen to 3.5 percent.
Indian economy had a shocker when the GDP growth slowed to a 6-year low of 5 percent in the April-June quarter. Even after that, there is no recovery in sight. Production figures have been flashing negative signals. The manufacturing sector has been on a decline spree. The wholesale price index (WPI) fell to a 39-month low of 0.3 percent in September on account of a continuing deflation in fuel and power components and manufactured products.
The Index of Industrial Production (IIP), a key barometer of economic activity, contracted for the second straight month in September by 4.3 percent. In August, the factory output had contracted by 1.4 percent (revised estimates).
The former finance minister told Rajya Sabha ` India's economy about to collapse, attended by 'incompetent doctors'.Even following successful companies are running in losses: Vodafone, Airtel, India Post, GMR Infra, Yes Bank, Union Bank, PNB Bank, Axisa Bank, JP Group, Viddeocon, Aircel, Tata Docomo, Jet Airways, Heritage Renting, BSNL, and Auto Industry, including Maruti.
Effect on China: Economists have predicted recession of C hina's economy also because of the pandemic. But, the impact would be less severe than on India. China's Achillese heel is its non-inclusive , authoritarian institutions, lack of innovation, and debt rfeliance. But, a contrary opinion is that it's certainly true that China will tide over its difficulties through sense of dynamism, forward-looking optimism, and ingenuity of. `Chinese workers and Chinese entrepreneurs. For instance, People's Bank of China has been very innovative during the last fifteen years.
Inference: Rising military expenditure could precipitate collapse of Indian economy.
Latest DPR Korea missile launch risks escalating tensions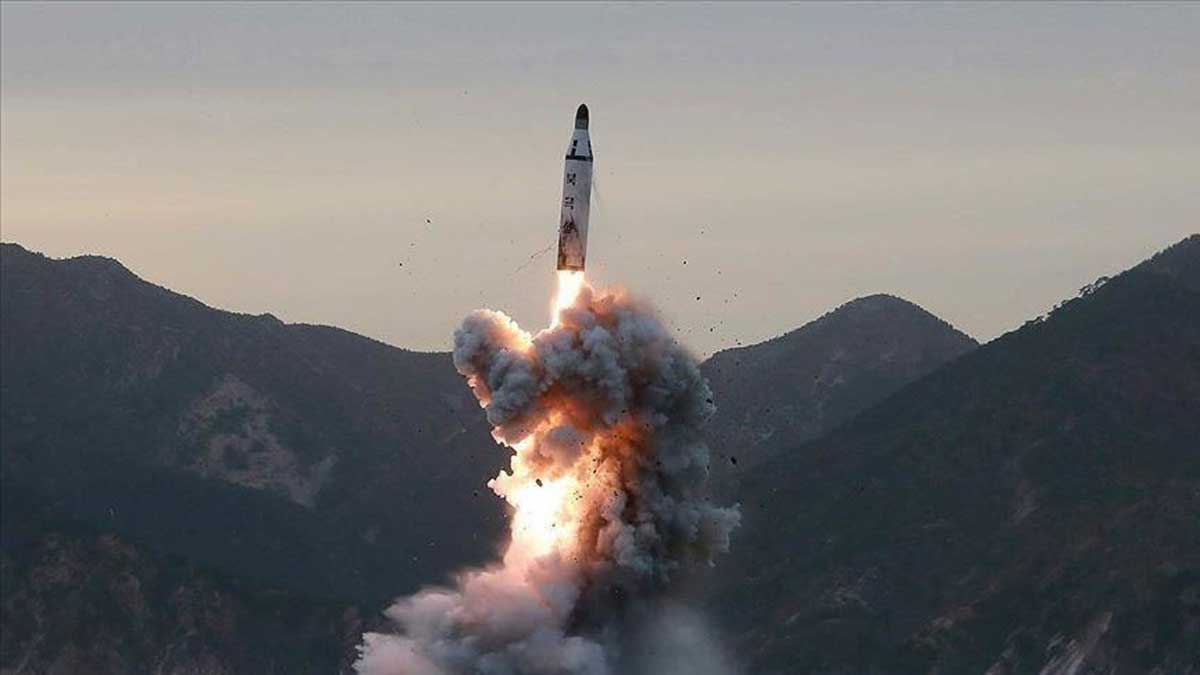 The international community must step up efforts to eliminate nuclear weapons in the wake of the latest firing of a ballistic missile by the Democratic People's Republic of Korea (DPRK), a senior UN official told the Security Council on Wednesday.Assistant-Secretary-General Khaled Khiari briefed ambassadors on the UN's response to the incident and its concern over the humanitarian situation in the country, more commonly known as North Korea.
The long-range ballistic missile was launched from the northern province of Jagang on Monday morning, local time, and covered a range of 4,500 km, reaching roughly 970 km at its height.
This marked the first time the DPRK has flown a missile over Japan since 15 September, 2017.
UN chief's condemnation
Mr. Khiari recalled that the UN Secretary-General has strongly condemned the launch.
"This was a reckless act and a clear violation of relevant Security Council resolutions. This launch risks triggering a significant escalation of tensions in the region and beyond. It is of serious concern that the DPRK has again disregarded any consideration for international flight or maritime safety," he said.
UN chief António Guterres urged the country to immediately cease any further destabilising acts.
He has also appealed for the DPRK to resume dialogue towards the denuclearization of the Korean Peninsula.
New law a concern
Mr. Khiari spoke about other troubling developments as North Korea "launched systems with the apparent characteristics of short-range ballistic missiles" on four recent occasions.
Last month, the International Atomic Energy Agency (IAEA) reported that there were indications that the Punggye-ri Nuclear Test Site remained active and prepared to support a nuclear test.
The IAEA continued to observe construction activities at the Yongbyon nuclear facilities, as well as indications that the five-megawatt nuclear reactor was operating.
Furthermore, the UN Secretary-General has also expressed deep concern over the DPRK's adoption of a new law on nuclear policy.
"While some States continue to rely on nuclear weapons in their security policies, nuclear weapons pose an existential threat to humanity. Their continued existence heightens the risk of unintended escalation or miscalculation. We must strengthen our efforts to eliminate nuclear weapons," said Mr. Khiari.
Allow humanitarian aid
At the same time, the UN chief also remains concerned about the humanitarian situation in the DPRK, he added.
The UN system, in coordination with international and aid partners, is ready to send staff and assistance to help the Government address medical and humanitarian needs, including those related to the COVID-19 pandemic.
"To allow for a timely and effective response, we reiterate our call for the unimpeded entry of international staff and humanitarian supplies. We also acknowledge the work of Member States toward resolving the banking channel for humanitarian operations," said Mr. Khiari.
He concluded by underlining that the Council's unity in this matter "is essential to ease tensions, overcome the diplomatic impasse and avoid a negative action-reaction cycle."
When Defence Planning Comes to Nought
In a 15th-century priory nestled away in a prestigious neighbourhood of Geneva, an exclusive audience gathered on the gorgeous grounds of Geneva's University before the former Defence Minister in the cabinet of Tony Blair of Great Britain: His Excellency Geoff Hoon – that being a part of the Geneva Lecture Series concepted and conducted by prof. Anis H. Bajrektarevic.
"Dramatic world events can render irrelevant the most thoughtful of planning," started Hoon, as he highlighted five significant world events that have served that kind of impact over the last eight decades, with the Cold War in 1941 as the first event.
"It led to the subsequent division of Germany and the occupation of Eastern Europe by the Soviet Union, which in turn triggered the first major western policy responses, namely Western Union in 1948 and NATO in 1949," stated Hoon.
"The Cold War climaxed with the detonation of the Soviet atomic weapon in 1949 and the outbreak of the Korean War in 1950. The 1955 Warsaw Pact emerged as a counterweight to NATO and crystallised the demarcation lines."
Hoon recalled how Western Europe's higher living standard and political freedom motivated Eastern Europeans to "vote with their feet" as they migrated westwards.
Highlighting the Cuban Missile Crisis of October 1962 as the second event, Hoon reminded the audience how close to nuclear conflict the world once came.
"Most are unaware, but it was only revealed in later days that a compromise was reached for the US to remove its nuclear weapons from Turkey, in return for the Soviet's removal of theirs from Cuba."
The missile crisis led to Khrushchev's proposal of a direct line between US and Russian leadership, and the creation of the Non-Nuclear Proliferation Treaty and the Strategic Arms Reduction Treaties.
Next on Hoon's list was the collapse of the Berlin Wall in 1990 and the Soviet Union in 1991.
"While these two events reduced the threat of nuclear conflagration, they also eradicated the containment of broader discords, as seen from the eruption of violent conflicts at the West's doorstep, from Yugoslavia to Bosnia and Herzegovina, Croatia to Serbia," Hoon paused before adding, "As defense minister, I ordered troops to Bosnia and Kosovo but encountered the arduous challenge of finding and deploying rapidly, flexible and agile forces."
Hoon continued his list of events with the 9/11 attacks in September 2001. He stunned the audience by divulging how an old tourist map was relied upon due to the lack of intelligence and a fundamental understanding of Afghanistan's geography.
"When it was evident that we needed boots on the ground, the US joined forces with the North Alliance while I took charge of procuring forces globally. However, I faced a deficiency in supporting troops and equipment, such as logisticians and heavy aircraft."
In admirable humility, Hoon acknowledged that the lack of experience and capabilities in a hostile and primitive environment eventually led to the withdrawal from Afghanistan. He admitted that a large proportion of Afghanistan's population was neither prepared for, nor receptive to the radical changes, and favoured the predictability of the Taliban rule over the foreign democratic style of governance.
The last event Hoon mentioned was all too familiar to the audience.
"The Russian invasion of Ukraine in February revealed a colossal intelligence failure on the Kremlin's part not to have anticipated the level of resistance of Ukraine. At this stage, there is no solution, and neither side is a clear winner," said Hoon, "Truss' calls for the return of Crimea to Ukraine as part of a peace deal are also unrealistic."
Despite noting how the invasion has spurred countries to increase their defence spending, Hoon concluded his speech with a piece of sobering advice.
"The growing focus of the US in the Pacific, especially in the event of an attack on Taiwan by Mainland China, may pivot them away from Europe and leave the Baltic states vulnerable to a Russian attack. Europe must not only spend more, but do more to enhance our own deterring capabilities against Russia."
Geoffrey William Hoon is a former Defence Secretary, Transport Secretary, Leader of the House of Commons, and Government Chief Whip of Great Britain. His book, See How They Run, recounts his careers as an academic, lawyer, politician, and in international business. Along with a former OSCE Secretary General Amb. Zannier, Excellency Hoon was the first invitee to the Geneva Swiss University on September 03rd, 2022, and gave this lecture under the auspices of so-called 'Executive Master in Intl. Relations and Global Politics'. Lecture series will host current and former heads of states or government Nobel prize laureates, and other influencers in the world of politics, economy, security and energy.
Ukraine Joins NATO: Assessing Future Disasters
News related to the Russo-Ukrainian war is still for public consumption and scholar nowdays. As chess game, Russia-Ukraine are in a difficult to stop. Maybe the saying "starting a war is easy, but it's hard to stop it" is true. Since the first time Vladmir Putin declared war on Ukraine until 4 regions of Ukraine (Donetsk, Luhansk, Zaporizhzhia and Kherson) have been controlled and the referendum on joining Russia, President Putin does not seem to play with his words. If we look at the opposite side, Ukraine is no less interesting. President Zelensky kept trying to defend Ukrainian territory and seeking international support, even on October 1 this month, social media was filled with the news "Ukraine Joins NATO". This situation will obviously exacerbate the situation, not only in every war zone but will also invite other countries to be involved in the dynamics of Russia-Ukraine relations and give new chapter to the world political stage in this century.
What concern today is that the threat of a third world war is becoming more and more real. If we remaind when the war started, some scholars related to politics and war analyze underestimated the issue of nuclear involvement in the Rusia-Ukraine conflict, but now it needs to be reconsidered. Not only that, the crisis of natural gas and oil and wheat flour has also been felt more and more because of the Russia-Ukraine war consequence. If Covid 19 last year was able to weaken the economies of the world's countries, then the Russia-Ukraine war could trigger a bigger disaster.
If Ukraine with NATO signifies that the beginning of the war has begun and will worsen the times ahead. The annexation of 4 regions of Ukraine to become part of Russia, worried many parties. In response to this, the United Nations (UN) held an emergency meeting on 2 October. Russia vetoed UN Security Council resolutions proposed by the United States and Albania condemning Moscow's annexation of parts of Ukraine. US Ambassador to the United Nations Linda Thomas Greenfield introduced a resolution asking member states not to recognize Ukraine's change in status and obliging Russia to withdraw its troops, as Russia's annexation efforts contradict UN principles. At least 10 countries voted in favor of the resolution, while China, Gabon, India and Brazil still abstained. China has firmly criticized Western sanctions against Russia, but neither has it supported or assisted Russia in its military campaign. Meanwhile, regarding the submission of Ukraine to join NATO, it is not entirely certain that it will go well. Nancy Polesi as a spokeswoman for the US president argued that "NATO remains in principle, wide open to any country. However, Ukraine's desire to join NATO now needs to be carefully considered."
Russia-Ukrainian War Timeline
Russia's invasion of Ukraine has been carried out since last February. The following is timeline of the Russia-Ukraine conflict that became an important moment
In February, Russian troops attacked the Ukrainian capital, Kyiv, from the north in an attempt to overthrow the government of President Volodymyr Zelensky. With Ukrainian forces outgunned and outnumbered, many military experts expect the offensive to be successful quickly. But after weeks of fighting, the Russians withdrew, stymied by Ukrainian resistance.
March, Russian troops attacking from the south take Kherson province. The advances are part of efforts to secure Ukraine's Black Sea coast and form a land bridge between the territory of Crimea, which Russia illegally annexed in 2014, and the breakaway republic established with Moscow's support that year in eastern Ukraine's Donetsk and Luhansk regions.
In April, a Russian missile attack on a train station in Kramatorsk, a city in Donetsk, killed more than 50 civilians. The attack came at the start of the Russian offensive to seize all of Donetsk and Luhansk, collectively known as the Donbas.
May,The last Ukrainian fighters surrendered to Russian forces in Mariupol, a port city and industrial center on the Sea of ​​Azov. Russian troops destroyed the city during weeks of bombing that killed thousands of civilians. The battle ended with the siege of the Azovstal Iron and Steel Works factory, which became symbol of the Ukrainian resistance.
In June, Ukrainian troops raise flag over Snake Island, a strip of land in the Black Sea off the Ukrainian city of Odesa. Russian forces had seized the island early in the conflict, exposing the Ukrainian coast to missile attacks and a potential ground invasion. By expelling Russian troops from the island — two months after sinking the main ship of Russia's Black Sea fleet, Moscow is reducing the threat to Odesa that has further undermined the aura of Moscow's naval power.
July, after weeks of artillery bombardment and street fighting, the last city under Ukrainian control in Luhansk, Lysychansk, fell to the Russians. However, in the weeks that followed, Moscow made little headway in its bid to secure the rest of the Donbas.
In August, Ukraine said it had launched a counter-offensive in the southern Kherson region. The build-up took weeks, during which Ukraine deployed newly arrived missile systems supplied by the United States and other Western countries to destroy Russian ammunition dumps and other military infrastructure. Ukraine also attacked a Russian air base in Crimea.
In September, in swift offensive, Ukraine retook most of northeastern Kharkiv, including the city of Izium, which had become Russia's main logistics hub. Progress, which continued, allowed Kyiv to seize momentum in the war.
October, on October 1 Russia managed to annex 15% of the territory of Ukraine. Meanwhile, responding to Russia's treatment, Ukraine immediately submitted an application form to join the NATO alliance in the region. This is what is being reconsidered regarding the opportunity for a bigger war.
Listen to the Comments
Regarding Ukraine's efforts to hasten its efforts to join NATO, Dmitry Medvedev as Deputy Chair of the Russian Security Council said that "Ukraine joining NATO is the same as accelerating the occurrence of world war 3". Furthermore, Henry Kissinger, who is a former US Secretary of State who also serves as a scientist, diplomat, politician, geopolitical consultant, and veteran has also commented on what is happening between Russia and Ukraine at the moment. According to Kissinger "Ukraine must cede territory to Russia if it wants peace". He further said that "it would be unwise for the United States to include Ukraine in NATO". Henry Kissinger, dubbed the "Prophet of the Modern Century," argues that Washington tried indiscriminately to include all former members of the Soviet bloc under its umbrella after the Berlin wall fell. So that the entire territory between Russia's borders became open to restructuring. When viewed from Russia's point of view, the United States then attempted to integrate all of Ukraine's territory without exception, into the American-led strategic system, this development essentially removing Russia's historic "safety belt". According to Kissinger, sooner or later the West and Russia will engage in formal or informal dialogue, perhaps in a very important way of exploration in the nuclear circle.
Back to Think
Basically, the main reason for Russia's invasion of Ukraine is Ukraine's desire to join NATO, while NATO according to Russia is a threat to its territory and power. However, Ukraine's desire to join NATO was not the only reason for Russia's invasion of Ukraine. From February to October 2022, the Russian-Ukrainian invasion seems to be progressing, although it is too early to predict and analyze the Russian-Ukrainian invasion, but it does not seem wrong to prepare for the worst in the future. The Russian invasion of Ukraine not only involved Russia and Ukraine, but also dragged other countries and had an impact in many ways in international life, especially the involvement of the United States, which is still considered a world leader today. We still cannot provide an in-depth analysis and take into account what will happen in the near future, because the war is not over yet and the human life are dynamic. Regardless of any views, be realists, liberals or constructivists, the people who will suffer will suffer.