People Who Are in Denial About Coronavirus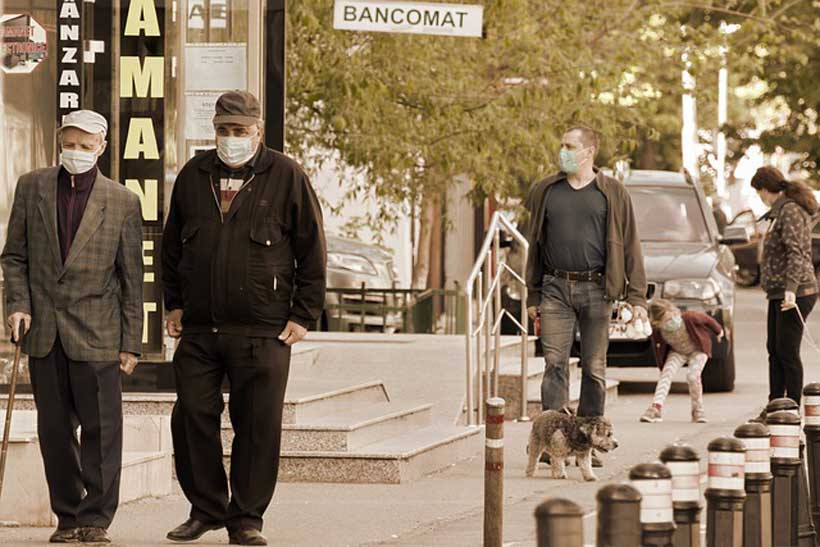 There are basically two different policy-approaches to the coronavirus problem: One is the passive approach, waiting for 'herd immunity' to develop naturally. And the other is the active approach, in which the Government does take action — not just wait while the most-vulnerable individuals die off from the disease. The "herd immunity" approach is libertarian; it assumes that "let nature take its course" is always best; it is "laissez faire." The "take action" approach is the exact opposite — very restrictive (including strong disincentives — "punishment" — for individuals' misbehaviors that transmit the disease and endanger other people). This is the old debate between some form of anarchy on the one side, and some form of "socialism" (legally enforced governmental policies) on the other side.
The earliest popular ideological debate regarding coronavirus-policy was between advocates of Denmark's socialistic approach, versus neighboring Sweden's laissez-fair approach. EuroNews headlined on March 26th "Neighbours Denmark and Sweden miles apart on coronavirus confinement", and reported that "when it comes to handling the coronavirus crisis, they are on very different trajectories," which were Denmark's socialism, versus Sweden's libertarianism.
At that time, there was no clear indication, yet, as to which approach would win out. For example, on April 19th, Denmark had 1,275 Covid-19 cases per million, whereas Sweden had 1,424. So: per million inhabitants, they were about the same.
Even as late as 12 May 2020, three libertarian co-authors at the prestigious U.S. neoliberal and neoconservative Council on Foreign Relations's journal Foreign Affairs headlined, confidently, that libertarianism would win out: "Sweden's Coronavirus Strategy Will Soon Be the World's: Herd Immunity Is the Only Realistic Option—the Question Is How to Get There Safely".
But, by the time of June 29th, the data had become clear to the exact contrary, and so I headlined "'Herd Immunity' Is a Failed Response to Coronavirus", and reported the subsequent increases in each of these two countries' numbers.
On April 22nd:
DENMARK = 1,329 (up 4%)
SWEDEN = 1,517 (up 7%)
On May 10th:
DENMARK = 1,782 (up 34%)
SWEDEN = 2,567 (up 69%)
On June 17th:
DENMARK = 2,123 (up another 19%)
SWEDEN = 5,404 ( up another 111%)
And here it is as of June 28th:
DENMARK = 2,188 (up another 3%)
SWEDEN = 5,450 (up another 1%)
And, finally, on 22 August:
DENMARK = 2,783 (up another 27%)
SWEDEN = 8,515 (up another 56%)
Furthermore, one of the leading libertarian arguments against taking action has been that supposedly the economy will perform better if there are no coronavirus-restrictions placed by the Government. However, Sweden's unemployment-rate has been hit at least as hard by coronavirus as Denmark's has:
Denmark's unemployment-rate was 4.1% in March, 5.4% in April, 5.6% in May, and 5.5% in June.
Sweden's unemployment-rate was 7.1% in March, 8.2% in April, 9% in May, and 9.8% in June.
So, on that day, August 22nd, I sent to an influential libertarian website (not as influential as Foreign Affairs, but more populist — not funded by billionaires like the CFR is), which has come to specialize on coronavirus, the following article for them to consider, since it discredits their many libertarian articles about coronavirus, and the response from them three hours later was:
I appreciate you're willingness to engage on this topic, but your choice of source is poor. The logic is bad, and whole areas of policy are ignored.
Firstly, comparing Sweden only to Denmark and Norway is absurd. Sweden imposed no lockdown, yet fared far better than many countries which did so (Belgium, Netherlands, UK, Spain and Italy). This alone is a perfectly strong argument that lockdowns are totally ineffective for their stated aims.
Secondly, it at no point talks about deaths caused by lockdowns, which is a huge factor (accounting for nearly half the excess deaths in the UK).
Thirdly, it mentions GDP but doesn't discuss that the economy is MORE than that. A suffering economy is not about money or finance, it is about well-being for the working class. Good wages, affordable rent and the freedom to run your own small business. All of which have been destroyed by the lockdown policy, which Sweden shows was (at best) pointless.
I promptly replied:
The Belgian policy-response was unclear, unfocused, and such a mess that nothing has even been generally reported regarding their contact-tracing (which is such a crucial aspect of effective policy-response to the virus).
None of the countries with good results have achieved them via an expectation of 'herd immunity'. No country is anywhere near the 70%-infection-rate that produces herd-immunity. It's a myth; it's just a lie.
For example, though the imperialistic libertarian country United States warns travelers that the coronavirus risk is exceptionally high in Uganda (warning "Level 3," which is their highest), Uganda is actually one of the world's lowest coronavirus-risk countries, and they achieved it by stringent policies, which is exactly what you reject. Whereas U.S. now has 17,587 cases per million, Uganda has 47. The country that has a 374 times higher percentage of its population coronavirus-infected, warns its suckers to stay away from the country that has 1/374th of the risk.
Why is [your site] feeding into this deception of its readers, instead of exposing it to them? Have you switched to being pro-imperialistic (pro-neoconservative, which is a variety of neoliberal or "libertarian")? All of a sudden, the neoliberal countries, such as U.S., Brazil, and India, which are or have been the world's worst on coronavirus-performance, are the ones to emulate? Why? Or else: which countries ARE the ones to emulate on this? Say it. Prove it. The statistical data by now are certainly sufficient to do this. Why don't you do it, instead of continue to deceive readers? Why do you deceive readers so that they would support, instead of condemn, the imperialistic U.S. Government's alleging that Uganda is more coronavirus-dangerous than the U.S. itself is? It's a lie, but how would your readers be able to know this?
I don't get it. You seem stuck in your existing false beliefs. Please explain so that I will become able to understand. Right now, I don't.
I received a reply that said I should "apologise" because "We have never expressed any support for the US or its Imperial policies in any way, shape or form," and "the statistics speak for themselves — the virus is harmless to the vast majority of people, and in no way justifies any of the draconian or authoritarian laws being imposed opportunistically in many countries around the world (including the United States)." In other words: the U.S. under Trump isn't being sufficiently laissez-faire about this matter. The evidence that I had cited was ignored, not discussed, by him.
Subsequently, I checked a few of the other nations that are among the best on coronavirus-performance. For example, there's China. It has 59 coronavirus-19 cases per million population, and the U.S. has 298 times as many cases per million, but the U.S. Government rates China also in the highest-risk category, "Level 3," for Americans to visit, on account of its supposedly higher-than-U.S. danger of becoming infected with that virus.
Then, there's Vietnam, which the U.S. Government had tried to conquer but couldn't. Vietnam has only 10 coronavirus cases per million inhabitants. America has 17,587 per million; so, obviously, that's 1,759 times as many. Vietnam also is rated "Level 3" — the worst, most coronavirus-dangerous, category. The Government of Americans is warning Americans to avoid visiting Vietnam because it's just too dangerous a coronavirus-risk for an American, whose country has 17,587 cases per million. Obviously, no intelligent person trusts a government such as this. (No more than such a person would trust the Government that had promised it was certain that WMD existed in Iraq in 2002, or that Syria had gassed people on 7 April 2018, or that the overthrow of Ukraine's democratically elected President in 2014 was a 'democratic revolution' instead of a U.S. coup — or on, and on, such as about "Russiagate".)
Then, there's Myanmar, which has only 8 cases per million inhabitants — 1 divided by 2,198 times as many cases-per-million as the U.S. does — and the U.S. Government refuses even to call that nation "Myanmar," but instead calls it by what the British did when they had it as a colony, which is "Burma," and the U.S. regime's travel-advisory rating of "Burma," for 'Burma's would-be now U.S. imperial masters, is likewise exactly the same as they rate Uganda: "Warning — Level 3". The U.S. regime is telling its citizens that a country which is 2,198 times safer on the coronavirus danger than the U.S. itself is, is instead too unsafe on coronavirus for Americans to travel to. They care so much about the safety of their own citizens, as to warn them against visiting a country that's thousands of times safer. How sincere is that? But some people still respect the lie, and the liars (serial-liars), as if they weren't.
Perhaps people who are in denial about coronavirus are simply in denial about reality — the broader, global, reality.
On coronavirus-19 — this pandemic — the best data regarding the international reality is this, which is the constantly up-to-date listings of all countries and their respective numbers. To see the rankings there of all countries on the crucial outcome-variable of "Tot Cases/1M pop" just click onto that column's heading and countries will be ranked that way. Same for the other crucial outcome-variable "Deaths/1M pop," and for the far less-crucial process-variables (such as "Tests/1M pop"). Two successive clicks onto the given column-heading will reverse the ordering of the countries regarding that variable. You'll be seeing there the existing rankings, as of that given moment. To see the trends within any given country, just click onto the name of that country, and then scroll down to the charts "Daily New Cases" and "Daily New Deaths" (tracking both of the crucial outcome-variables)
However, people who are in denial about coronavirus-reality avoid those numbers like the plague. Perhaps they do that because, to their libertarian ideology, these numbers are "the plague."
Author's note: first posted at Strategic Culture
EU acting a "civilian power": Where & How
Authors: Yang Haoyuan, ZengXixi & Hu Yongheng*
In 1946 when Winston Churchill addressed in Zurich, Switzerland, he called on urgent union of Europe, but not many people took his remarks seriously if not suspicious at all.This was because that economic recovery and social stability of the day were more urgent to the people across Europe. Since then in one decade, Europe has not only witnessed a rapid and robust social-economic reconstruction, but also an increasing integration of sovereign states coming of the age. It is true that throughout this process of the European integration, the United States has played a sort of patron role—at first as a passionate advocate publicly and then a powerful supporter through the Marshal Plan and finally a lead ally of the NATO.
In1963, the United States endorsed a fully cohesive Europe which, whether it functions as a grouping of nation-states or as the European Union, has shared America's burden in terms of the Atlantic collective security. Yet, this strategic tie is not unconditional, for example, the EU support to the Washington's policy decision depends upon only if its objectives parallel with America's own and if it deems that without its contribution the common purposes will not be achieved. The diversions in policy between the two sides of the Atlantic are essentially more philosophical than technical. As a result, American unilateralism which usually comes out of Washington has been challenged by the EU involving three key structural issues: the EU's self-image; the impact of the EU policy; and the U.S. attitudes toward the different options for European integration. As Henry Kissinger argued, in defining the role of Europe in the future world, the EU depends upon more their historical experiences than abstract concept of universal goodwill as a facilitator of diplomacy, or put it simply that "persuasiveness in negotiations relies primarily on the options the negotiator has available or is perceived to have at his or her disposal."
Since the beginning of the new century, the EU has become close to an equal to the United States economically, technologically and socially. In terms of soft power, European cultures have long had a wide appeal in the rest of the world, and the sense of a Europe uniting around Brussels has had a strong attraction to East Europe and Turkey as well. Samuel Huntington put it in the 1990s that a cohesive Europe would have the human resources, economic strength, technology, and actual and potential military forces to be the preeminent power of the 21st century. Although the EU has effectively constrained American unilateralism, it is out of the question that the U.S. and the EU would move on the road towards political conflict. Due to this, the EU has vowed to play a new role in the world affairs that might be termed as the "civilian power".
According to scholar Helene Sjursen, civilian power is defined as playing a primary role in the international system but differing from the traditional great power which has pursued power politics by military means. The EU prefers acting a civilian power since it has committed to economic cooperation and social justice in the age of globalization. Accordingly, the acquisition of military means, or the EU's ambition to acquire such means, might weaken at least the argument that the EU is a civilian power and could provoke a shift towards a policy more akin to traditional great powers. Despite this, this article opines that the EU has acted a civilian power in the world affairs. For sure, this is not an easy mission to achieve in view of the complexities of the world affairs.
On September 16 of 2020, EU Commission President Ursula von der Leyen addressed her first annual State of the Union, painting a sober picture of Europe grappling with a pandemic and its deepest recession in its history and calling for EU members to build a stronger health union amid COVID-19. She laid out ambitious goals to make the 27-nation bloc more resilient and united to confront future crises. In order to demonstrate the EU's resolve and sincerity, she doubled down on the flagship goals sheset out on taking office in 2019: urgent action to tackle climate change and a digital revolution. In addition, von der Leyen unveiled a plan to cut the EU greenhouse gas emissions substantially and vowed to use green bonds to finance its climate goals. She also called for greater investment in technology for Europe to compete more keenly with China and the United States and said the EU would invest 20 percent of a 750 billion euro economic recovery fund in digital projects. Meanwhile, she said that the coronavirus pandemic had underlined the need for closer cooperation since "the people of Europe are still suffering." It is noted that the competition mentioned involves only the unconventional rather than conventional security issues.
As a matter of fact, solidarity among the 27 member states performed badly at the onset of the COVID-19 pandemic, as they refused to share the protective medical kits with the worst-affected and closed borders without consultation to prevent the spread of the virus. Also the EU leaders jousted for months over a joint plan to rescue their coronavirus-throttled economies. Yet, since last July,27 member states agreed on a stimulus plan that paved the way for the European Commission to raise billions of euros on capital markets on behalf of them all, an unprecedented act of solidarity in almost seven decades of European integration. Addressing the EU Parliament, von der Leyen pledged her commission would try to reinforce the European Medicines Agency and European Centre for Disease Prevention and Control, promising a biomedical research agency and a global summit. In effect, the EU has all the means and resources at its capacity.
Yet, externally the EU has to deal with the troubled talks with the United Kingdom on the future links after the Brexit divorce is done. All the deals and pacts between the two sides could not be unilaterally changed, disregarded or dis-applied. Von der Leyen reiterated that "This is a matter of law, trust and good faith… Trust is the foundation of any strong partnership."The EU leaders also have the same attitude towards the United States and Russia since Europe is located between the two giants in all terms. Yet, the U.S. under the Trump's administration has provided the EU with diplomatic rows. In a long run, the EU remains hopeful of improving relations and believes common ground can still be found, despite their current differences. As she reiterated "We must revitalize our most important relationships – we may not agree with the White House, but we must cooperate and build a new transatlantic agenda on trade and other matters." Regarding the great challenge from Russia, she reiterated her condemnation of Russia over Navalny – though the Russian government has strongly denied any involvement – and said that the EU is on the side of the people of Belarus. They must be free to decide their own future and they are not pieces on someone else's chessboard. However, the EU leaders seem to forget that the "color revolutions" have caused the disasters across Europe, the Middle East and North Africa.
Under such circumstances, the EU has to deal with China strategically and smartly, which during the first seven months of 2020becomes the top trading partner of the EU, a position previously held by the United States, followed by Britain, Switzerland, and Russia on EU's main trading partner list in the first seven months. As France has suggested that the EU and China, as the defenders of multilateralism in international order, should set the tone for multilateralism and lead the international society to cement cooperation in areas such as vaccine research and climate change. Yet, it was arguable that von derLeyen defined China a "competitor and a rival" although she previously admitted that the latest video summit between China and the EU was "frank and open". In fact, she said that progress had been made on a host of key areas and hailed the potential of a fruitful future trading partnership with China although there was still much work to be done. Understandably, as one of the key leading figures of the EU, von der Leyen used her speech to again address the challenges both sides face in working together in the years ahead in spite of their conflicting political ideologies. But this is what she said, "The latest EU-China summit highlights one of the hardest challenges. China is a competitor and rival. We promote very different systems."
In sum, the EU has several challenges ahead to deal with. First, it must update its long-term climate change goals to meet the targets laid out in the Paris Climate Agreement signed before. Second, the EU must manage the numbers of migrants and refugees crossing into Europe from Asia and Africa. As von der Leyen said that it is of vital importance that the EU's member states work together to share the burden of taking in migrants and refugees and providing them with the tools for a brighter future. Third, since EU member states have been hit hard by the COVID-19 pandemic, it has much to be done and in its response to the pandemic and continued efforts to cooperate with other nations to find a vaccine. As she called,the EU stepp ed up to lead the global response. With civil society, G20 and the World Health Organization and others the EUhas brought more than 40 countries together to raise $19 billion to finance research on vaccines, tests and treatments for the whole world. This is the EU's unmatched convening power in action.
Meanwhile, the EU leaders have openly called on China to do more to aid the world's collective fight against all the challenges mentioned above. As von de Leyen said recently, China has shown willingness to dialogue on climate change and fight against pandemic. She also warned of the dangers of countries not working together on vaccine research, with the U.S. recently announcing its plans to withdraw from the WHO. Both China and the EU share the common ground that vaccine nationalism puts lives at risk, only vaccine cooperation saves lives. We endorse a strong WHO and a strong WTO – but reform of the multilateral system has never been more urgent.
In view of this, it is fair to say that the EU wants to lead reforms of the WHO and WTO. But it is possible only if it works together with other responsible powers including China.
*Yang Hao Yuan from the School of Governance, Technical University of Munich; Zeng Xixi & Hu Yong Heng from SIPA, Jilin University
An occasion for the EU to reaffirm its standing on Security policies and Human Rights
Vice-President of the EU Commission Margaritis Shinas was a keynote speaker at this summer's Diplomatic Conference in Vienna organised by the International Institute IFIMES, Media Platform Modern Diplomacy and their partners. High dignitary of the Commission seized the occasion to express the EU's take on the 75th anniversary of victory over fascism, unfolding health crisis and to it related pressure on human and labour rights, as well as on the Union's continued efforts towards remaining a 'rock' amid the volatile climate.
It is known by now – and acknowledged by the EU Commission VP – that the COVID-19 crisis has had some severe implications for Human Rights and, to a lesser extent, for cooperation outlooks. In the face of the first wave, countries in Europe and elsewhere have adopted different courses of actions in order to manage the health crisis and attempt at containing its threats. Placed in an unprecedented situation, governments have undoubtedly each reacted in ways they deemed most appropriate at the time.
However, the pandemic itself topped with the varied policies have caused notable restrictions on Human Rights. Most notoriously, the right to life and that to health have been challenged in extreme circumstances where, at the peak of the crisis, health institutions were so overflowed that the provision of maximal care to every single individual was compromised. The effective and equal access to healthcare has therefore quickly become a central preoccupation of many governments, drawing on some dramatic first-hand experiences.
On that, I will say that if the global health crisis has been a synonym for many negative impacts, it has also been a precious opportunity to rethink carefully the existing narrative of programmatic and progressive rights – such as the right to health – needing no immediate attention, nor realisation. This narrative held predominantly by some Western democracies ever since the adoption of the UN International Covenants, has been unduly weakening the universal and indivisible stance of Human Rights. Needless to say, in adhering to that dangerous narrative, planning for and prioritizing health access, resources and system capabilities is undermined. This, in turn, contributes to the difficult and insufficient responses of some governments that have been witnessed. May the victims of inadequate infrastructures due to an obsolete distinction between rights serve as a poignant reminder: social, cultural and economic rights need be readily available to all.
Equally interesting is the toll taken on a whole other range of Human Rights – an international system built up in last 75 years on the legacy of victory of antifascist forces in Europe and elsewhere. Numerous individual freedoms have also suffered limitations, often as a direct result of actions taken to promote and ensure the right to life and the right to health for the most vulnerable. Indeed, people's freedom of movement, that of religion (external dimension), that of assembly and association, as well as their procedural rights – only to name a few – have all been greatly affected during the crisis.
Of course voices have raised their discontent at those restrictions put in place to mitigate the crisis, considered by many to be too incisive and too manifold when cumulated. But despite an apparent clash between two groups of interests protected by different rights, the resolution which has emerged from the approaches followed by most countries is very telling. In fact, a balancing exercise revealed that protecting the right to health and to life of the minority of people ought simply to be considered predominant in comparison to the other individual freedoms and rights of the majority. This reasoning, grounded in solidarity and the protection of minorities and vulnerable persons, is in fact very encouraging in an era of growing individualism combined with overwhelming challenges which will certainly require peoples to unite against them.
Nevertheless, this does not take away from the fact that the full and optimal enjoyment of Human Rights has generally been seriously affected as many interests have been caught in the crossfire of the fight against Coronavirus' harmful effects. Moreover, the crisis has also created some divides amongst European countries. This is because the sanitary emergency has caused for precarious contexts of resources shortages and sometimes unfruitful cooperation, even shift in alliances.
This has naturally brought about separate criticisms and questioning of the EU cooperation strategy and security arrangements. In that sense, growing expectations are felt for the EU to uphold and promote its fundamental values including the rule of law, solidarity, non-discrimination and antifascist line.
Vice-PresidentSchinas is well aware of that reality and reiterates the EU's unalterable commitment to peaceful cooperation, human dignity, liberty, equality and solidarity in these troubled times. He further ensures that the most recent security strategies led by the Union do not – and never will – eat away at the protection of fundamental rights. What is more, whilst the EU's arrangements can be seen as slightly 'under attack' currently, the VP feels that rather than seeing this period as a high-stakes test on EU democracies it should be seen as an opportunity to take a bigger stand than ever for the European common values and call for strengthened multilateralism. This necessities constructive reciprocal and respectful active engagement with the EU Mediterranean and eastern European neighbourhood.
All that is because it is not too difficult to imagine that the aftermath of the C-19 crisis can open several paths of new dynamics in international relations. Yet, as it cannot be stressed enough, an upcoming change in the conception of relations between nations could be decisive for numerous other contemporary challenges – namely: migration crisis, armed conflicts, climate change. While one of the paths could consist in an increase in protectionism and nationalist attitudes, another one would involve, on the contrary, a shift towards reinforced cooperation and enhanced solidarity. The latter outward approach, advocated by the EU Vice-President and believed to be the best hope for the future, is one deeply enshrined in the antifascist legacy and the very raison d'être of the Union.
Above all, at the occasion of the 75th anniversary of the Victory Day, Excellency Schinas reminds us with much humbleness that the journey for safeguarding Human Rights is one that is perpetually underway.
Metternich: The visionary reconstructor of Europe and champion of conservatism
Klemens Von Metternich early life and orthodox ideas
Klemens Von Metternich was born on May 15, 1773, into the House of Metternich, a German noble family that originates from Rhineland. He was the son of a diplomat that had served at the Imperial court of Treves.
At the age of 15, he started studying law at the University of Strasbourg while getting more familiar with the concept of conservatism. In 1792 he was attending the University of Mainz, again at the faculty of law where his conservative ideas flourished, promoting traditional imperial institutions emphasizing the necessity of prosperity and stability in Europe.
Klemens Von Metternich is considered to be a controversial figure in international affairs due to his ideas of obstructionism, while some critics of him go as far as call him an enemy of freedom. He was a harsh critic of the French Revolution and its consequences and he dreaded the ideas of liberalism and nationalism that emerged after it.
On the other hand, he is praised for his vision of peace in Europe by holding on to the traditional monarchical systems that were the only way to establish peace and prosperity in his view. Thanks to Metternich, Europe established itself as a dominant economic and military power of the 19th century while reviving again the European values of stability and development for its European citizens.
The French Revolution
In 1789, amidst the French Revolution, Klemens Von Metternich expressed his dissatisfaction with the situation in France, calling the revolution a "hateful time" for Europe. His statements came when most of the French nobility was executed in France and there was a huge concern growing among the European powers that the situation would spread to the whole of Europe.
Soon enough, Metternich's concerns turned out to be true, as France sunk into a period of political turmoil. In 1794, the king of France Louis the XVI was executed spreading chaos among the country. The so-called "Reign of Terror" was established where thousands of French citizens were executed.
The French Revolution brought out views and ideas of liberalism and nationalism that contradicted the traditional systems that ruled Europe. Metternich resented these ideas. He was more focused on the idea of the European Enlightenment. He understood clearly that to provide tranquility and stability in Europe, certain fundamental laws needed to be established for Europe to function properly.
He pointed out that aspects of religion and morality should be the primary necessities to co-govern with natural laws. His ideal system for Europe was a monarchical system that would co-share power with other classes of European society. Metternich's goal was to prevent any further revolutions and uprisings in Europe, however, his plan was briefly jeopardized by the man that threatened to destroy everything he believed in.
Napoleon Bonaparte: Metternich's political nemesis
Napoleon Bonaparte, France's most prestigious general at that time, re-emerged as France's savior promising to save the French revolution and ending France's political turmoil. In 1804, Napoleon became the emperor of France. However, he was never recognized by any monarch in Europe.
The Great Powers of Europe, fearing that the effects of the French Revolution will backfire to them, decided to invade France and restore the reign of King Louis XVI. However, this act gave justification to Napoleon to declare war on the European powers by proclaiming that this was just a defensive measure to preserve the French Revolution.
At first, Metternich viewed Napoleon with great interest, mentioning that he was the only one capable of providing discipline to a troubled France. An extraordinary man with practical knowledge about the common life of the citizens. However, his praise came with some precautions about Napoleon. He thought that he was a very practical and strong man but only if he was born in a different age. He did not find his abilities suitable for the age they were in.
Metternich was appointed as the Austrian Ambassador in France in 1806. By that time Napoleon had managed to defeat Spain, Prussia, and Austria making his advances to the Russian Empire. It was at that point that Metternich decided to use his diplomatic skills to keep Austria "breathing" long enough until Napoleon would be dethroned. His plans accelerated when he became Austria's Foreign Minister in 1809.
At the same year he became a Foreign Minister, Metternich decided to show his diplomatic skills by arranging the marriage of Napoleon with Marie Louise the daughter of the Austrian Emperor, Francis I. With this maneuver, he managed to convince Napoleon that Austria would be a close ally of him, while in reality, he was just buying time for Austria and the remaining great powers to come up with a plan to dethrone Napoleon. He didn't have to wait long.
In 1812, Napoleon marched towards Russia. Certain for his victory, a naive Napoleon did not see how big of an obstacle Russia would be. While advancing to Moscow he captured an empty city that was set on fire, while the Russians retreated to the east. With his lines of supply being cut off and a devastating Russian winter approaching them, Napoleon decided to retreat, looking for gold at the surrender of Russia but receiving only copper.
In the meantime, Metternich put his plan on the motion. With Napoleon's army retreating and being chased by the Russians, he convinced the remaining Great Powers to give a devastating blow to Napoleon. In 1813, Napoleon was defeated in Leipzig by the armies of Russia, England, Prussia, and Austria. Napoleon was imprisoned at the island of Elbe in the Mediterranean Sea. However, he managed to escape and rallied up soldiers that were loyal to him but again he was defeated for a second time in 1815, in the famous battle of Waterloo in Belgium. Metternich was crowded as a hereditary Prince of the Austrian Empire. The only man that stood against his ideal formation of Europe was defeated.
The Vienna Congress
The year 1815, saw Metternich at the peak of his power. He had become a key figure in the plan to dethrone Napoleon, with his excellent diplomatic skills and his determination to steer Europe into the path of stability where Kings governed and people were governed. At the Congress, he made his points very clear for the beginning. He believed that the only way to ensure peace in the continent was to bring the Great powers together so that they could prevent any large European War to escalate again.
Metternich's policies were based on two principles. One being the protection of historical traditional institutes such as the Church, the dynastic monarchies, and the essence of aristocratic privilege and the second was the establishment of a new vision of international balance in the continent of Europe. Instead of punishing France for the Napoleonic wars, he suggested including them in the table. With that move Metternich showed his true European face, putting the future of his continent above any nationalist notions.
The success of the Congress was inevitable. While including France at the Council of the Great Powers, Europe started to become more stable. The Council that included England, Russia, France, Austria, and Prussia agreed to prevent any further revolutions and political uprising in Europe. All the disputes between the powers were resolved with diplomacy which gave them all leverage to re-organize Central Europe in a more simple way to avoid any internal intense rivalries.
Contributions to Europe and modern diplomacy
Klemens Von Metternich was viewed by many people as a great man and a true European citizen who managed to sustain a united European front for almost 100 years. Despite some minor uprising after the Vienna Congress, Metternich was a solid diplomat whose vision about Europe became a reality.
However, he is also viewed as an oppressor of freedom. His despise for liberal and nationalist movements made him an "enemy" of the common people. What Metternich was more afraid of about these movements was the potential disruption inside the Austrian Empire that was made up by a multinational coalition of 11 nations. He did not want to see the Empire being torn apart. He went as far as suppressing any suspicious uprisings in Germany where there was a lot of revolutionary activity, by censoring books and newspapers and installing secret police spies that would infiltrate universities to arrest any suspected revolutionaries.
On one hand, he has been a symbol of oppression but that is not a judgment that represents him. He was a great man and a man with a vision for Europe. Numerous times he mentioned that he felt more European than Austrian, putting the needs of Europe above the nation. In his memoirs, he wrote about the unfair judgment that he received but also mentioned how wrong those people were. "Old Europe is at the beginning of the end and new Europe has not yet begun its existence, and between the end and the beginning, there will be chaos. In a hundred years, historians will judge me quite differently than do all those who pass judgment on me today."
Indeed, 100 years later historians acknowledged the wisdom and the vision of Klemens Von Metternich. After the devastating consequences of WWI and WWII, his diplomatic ideas that kept Europe at peace were missed and Europe realized that the failed liberal system will open the door to a nationalist and fascist system that will doom the whole continent.
History tends to repeat itself and while our world is more connected now and more liberal the shadows of nationalist far-right movements lure Europe. This aspect, combined with failed liberal policies result in dissatisfaction of the masses and without order, chaos would erupt as it did hundreds of years ago. Metternich's contributions to modern diplomacy and the history of Europe are remarkable. His ideas flourished after WWII with the creation of the European Union, a system that might not share the same conservative ideas as he did, but surely contributed to the prosperity of the continent.
His ideas of European stability and control of power are more relevant now with the new crisis that the EU is facingand soon enough the European Union will have to rethink Metternich's ideas for the neo-liberal system to survive, otherwise, there will be only room for nationalistic far-right movements that threaten the dream of the EU by returning to failed protectionism measures and policies.