Georgia's First Treaty with United Europe
Authors: Prof. Dr. Tedo Dundua, Dr. Emil Avdaliani
In June 2014, the European Union and Georgia signed the Association Agreement, which entered into force on July 1, 2016. The agreement aims at enhancing political and economic relations between the EU and Georgia. This involves following through with a Deep and Comprehensive Free Trade Area (DCFTA), which means the removal of customs tariffs, an approximation of trade-related laws and regulations. This would help Georgia move closer to EU standards. The DCFTA should boost trade and economic growth in Georgia as well as bring it closer to the EU's single market.
The agreement is not only about immediate economic benefits. It primarily involves attaching Georgia to Europe geopolitically away from the Russian sphere of influence. For Moscow, this is bad news leading the Kremlin employ all possible tools to prevent Georgia's "defection" to the Western world.
However, surprisingly, the Association Agreement is not the first historic agreement Georgia has ever signed with Europe. In fact, there is a big precedent. In 84 B.C. a treaty between Western Georgia (Colchis) and the Roman Republic was signed. As Res Publica Romana is considered as a rough prototype of the modern EU, the 84 B.C. treaty is a first Europe-Georgia agreement we know of. Now to the details of this ancient treaty.
Mithridatic Wars (first half of the 1st c. B.C.) are of special interest for Georgian historians – Colchis and Iberia (Eastern and Southern Georgia) were involved in the full-scale European war for the first time.
Mithridates VI Eupator, king of Pontus, chose different patterns for those countries: that of satrapy for Colchis, and military alliance – for Iberia.
In 85 B.C., being in great despair, with his armies and fleet totally destroyed by the Romans, Mithridates VI had to satisfy demand of the Colchian rebels – they needed their own kingdom to be restored with Eupator's son as a king. His name was Mithridates Philopator Philadelphos (App. Mithr. 64).
We do not know much about him: he was left in charge of Pontus, Bosphorus and Colchis as his father marched westwards to face the Romans. Then he fought Fimbria, the Roman general, bravely, but unsuccessfully. As king of Colchis, Philopator issued the coins, both silver and copper, with Pontic dynastic eight-pointed star on the reverse, and rather strange for his new country, lotus on obverse . He did not put his name on the coins. They are without inscriptions. Was he afraid of his father, for conspiring against him, having Colchians as allies?! We shall never know. Yet, Mithridates Eupator was to be feared much. Indeed, with Rome obsessed with civil war, and the Greeks having had no final choice whom they could entrust the Greek affair, Colchis felt itself hopelessly isolated. Eupator's reaction was quick and brutal, as usual. First capture, then golden chains and death was bad epilogue for Philopator (84 B.C.). But he is not to be blamed. Junior, perhaps, did the best he could to gain the support of the Republic, but in vain.
One Greek inscription can provide some information about Philopator looking for strong ally. N375 from OGIS could be about him (Orientis Graeci Inscriptiones Selectae. Supplementum Sylloges Insc­rip­tio­num Graecorum. Edidit Wilhelmus Dittenberger. Volumen Prius. Lip­si­ae. MDCCCCIII, pp. 580-582): King Mithridates Philopator Philadelphos, son of king Mithridates, to the Roman people, his friend and ally, for the kindness and charity toward him, dedicates by proxy of his ambassadors… (T. Dundua. History of Georgia. Tbilisi. 2017, pp. 80-83.
One could feel sorry for Junior. He could even become Rome's formal ally in order to secure the safety of the country, much more depended on his Pontic garrisons. Indeed, he needed his copper issues just to pay them since the Colchians totally ignored the small change. But that was pocket-money. With, perhaps, no banking-system in Western Georgia, those soldiers were thought to keep most of their salaries at home – in trapezas (banks) of Sinope, or Amisus. Then lotus-type silver issues used to be transferred there. Thus they could be brought upon Eupator's suspicious eyes. Philadelphos did his best for his coins to look like old Pontic satrapal issues. He did his best to secure his headquarters. As the lotus-type copper is mostly grouped in the hinterland town of Surion/Vani, it is thought to be his capital.
Alas, Philopator was granted no time. Appian, Greek author, narrates about his punishment – he was brought by force. And archaeology reveals the traces of heavy clashes and fire in the early 1st c. B.C. layers of Eshera, suburb site of Dioscurias at the coastal strip, and Vani itself.
Authors note: first published in Georgia Today
Shifting Geography of the South Caucasus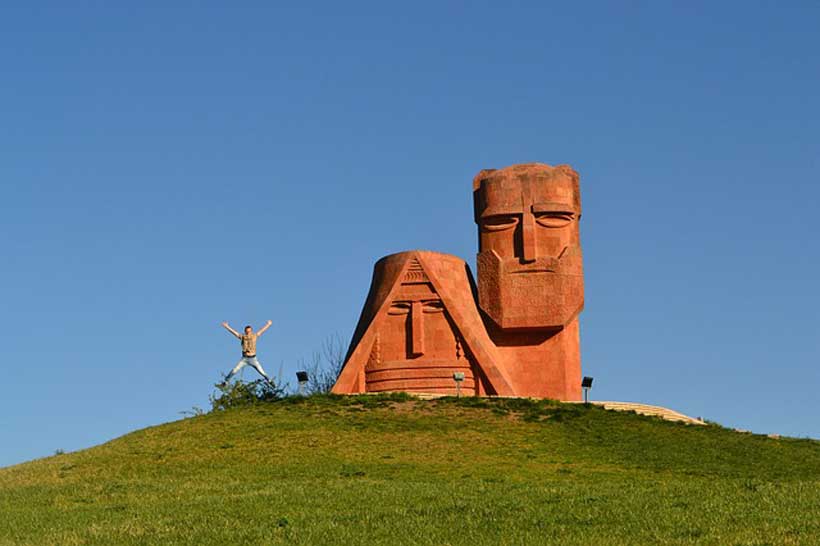 One year since the end of the second Nagorno-Karabakh war allows us to wrap up major changes in and around the South Caucasus. Most of the changes discussed in the scholarly works so far focused on the role of Turkey and Russia. The shifting geography of the South Caucasus, however, has been disregarded.
In many ways, the war accelerated the pre-existing trends, but also initiated new developments. The first and foremost change concerns geography. The South Caucasus has been historically dominated by neighboring states. Whether it is the Sasanian and Byzantine empires in late antiquity or later Ottoman and Persian states, the region was exclusively subject to one or two powers. The idea is that the region was mostly closed to the outside, non-regional influence. The trend continued in 19th-20th centuries when the South Caucasus was exclusively dominated by Russian power. The end of the Soviet Union changed this geopolitical reality when several powers were able to penetrate the region. Yet the pace of the change was relatively slow – Russia was still able to minimize the extent to which the neighboring or non-regional countries were able to act in the South Caucasus: Turkey, Iran, US, EU, and to a certain extent, China have been influencing the region to a limited degree.
But the second Nagorno-Karabakh war accelerated this process. The South Caucasus' borders are increasingly shifting. No single power or even a duo of countries can dominate the region. It reflects geopolitical changes in the world where the emerging multi-polar world ushers in a different set of rules. Exclusive geopolitical control is no longer viable and the 2020 war showed exactly this.
There is also yet another dimension of the unfolding geographic change. The war also solidified that the Caspian basin and South Caucasus are inextricably linked to the greater Middle East. Russia and Turkey are basing their strategies in the region on developments in the Middle East and the Black Sea region. Not since the end of the Soviet Union has the South Caucasus been such a critical point for the powers around it. In a way, this re-emergence of close contacts between the South Caucasus and the Middle East is a return to normalcy which was disrupted in the early 19th century by Russian annexation of the South Caucasus. Indeed, in pure geographic terms the region is better connected to Turkey and Iran than to Russia, with which it shares the impassable Caucasus Mountain range.
This also means that the role of the South Caucasus in the thinking of Iran and Turkey, and by extension Russia, has grown. Considered if not as a complete backwater region in the calculus of large powers, the South Caucasus has nevertheless experienced a lack of attention. This was especially true for Iran, which now struggles to retain its weakening position in the region.
It is true that Iran was never a dominant power in the South Caucasus. Unlike Russia or Turkey, the traditional power brokers, it has not had a true ally. Tehran was certainly part of the calculus for states in the region, but it was not feared, like Ankara or Moscow. And yet, the South Caucasus represents an area of key influence for Iran, based on millennia of close political and cultural contacts various Persian empires had with the South Caucasus.
The 2020 war changed Iran's calculus in the region as the Islamic Republic's interests were largely unheeded. Iran has now to adjust to the changed geopolitical landscape and it can be even argued that the recent escalation it had with Azerbaijan over the detained trucks, drills, and alleged Israeli influence, was an effort to wedge itself back into the geopolitics of the South Caucasus.
Yet there is little Iran can realistically do to boost its position in the region. The South Caucasus will certainly feature higher in Tehran's foreign policy agenda than before. But Tehran does not have an ally in the region, nor does it have financial means to strengthen its soft power. Iran can support Armenia in its efforts to balance the triumphant Azerbaijan.
The lifting of US-imposed sanctions could augment Iran's projection of financial and diplomatic power in the South Caucasus. Still, a more realistic approach for Tehran would be to build closer cooperation with Russia. Both loath growing Turkish influence and the Islamic Republic does not object to growing Russian influence as much as it does resent the West's and Turkey's presence. Surely, interests with Russia do not align always, but for Tehran, Moscow is a traditional power in the South Caucasus which is about maintaining a status quo. Turkey, on the other hand, disrupts it seeking greater influence.
There has been a certain retrenchment of the Western influence in the South Caucasus. While it does not signify a definitive decline in West's fortunes, it is nevertheless important for Washington and Brussels to formulate a more robust approach toward the region. Decreasing the tensions with the Turkey could be one of the steps. Increasing economic engagement with the region would be another. Delay could be damaging. Georgia, which serves as a door for the West to the Caspian basin and on to Central Asia, could be the biggest loser if Washington shifts its foreign policy away from the region. An alternative could be a Russian model of peacebuilding and regional order where Georgia, Armenia, and Azerbaijan will face a lack of foreign policy options if the West's unwillingness to commit to the region continues to grow. Author's note: first published in caucasuswatch
Russia: The Neighbor From Hell
From Belarus to Ukraine to Georgia, an arc of instability has emerged, offering opportunities for malign activities by foreign powers. This has proved too tempting for Vladimir Putin's Russia, which openly pursues an activist foreign policy seeking gains for the Kremlin at whatever cost to its neighbors. For the West, it is time to consider the wider Black Sea region as a whole and to develop a strategy.
The migrant crisis unfolding on the Belarusian-Polish border is the most pressing and serious emergency. For some months, the Belarus dictator Aliaksandr Lukashenka and his security services have been funneling thousands of Middle Eastern migrants toward the EU border. Officially, Russia has distanced itself from the crisis, with President Vladimir Putin on November 13 denying claims he had helped to orchestrate a crisis.
Russia is often disbelieved by neighbors with unhappy experiences of its statecraft. In this case, too, there are reasons to doubt Putin's words. Firstly, the Belarus migrant drama bears an uncanny resemblance to the events of 2016, when the Kremlin unleashed a sudden wave of developing world migrants across Finland's and Norway's Arctic borders. Secondly, few believe Lukashenka's regime on its own is sufficiently organized to orchestrate events of complexity spanning two continents.
Russia's rapid dispatch of advanced combat aircraft and paratroopers (two of whom died in the exercise) to the Belarus-Poland border and Putin's contemptuous dismissal of Germany's Chancellor and the EU's senior head of government Angela Merkel (she was told to call Lukashenka herself) were open signals of approval for the Belarusian position. Only when Lukashenka mused that he might cut off gas supplies to Europe was he publicly slapped down by Russia. It was also notable that Russia and Belarus recently agreed on further steps in their on-again-off-again Union state.
To the south, in eastern Ukraine, the clouds are also gathering. Fighting is worsening with Russia's separatists in Donbas, and ceasefire violations are spiking. US briefings now suggest around 100,000 military personnel and large amounts of armored equipment are located within reach of the border; military movements are being organized at night. Not only does this follow the deployment of large Russian formations for exercises in the Spring, but it also matches a threatening drumbeat of anti-Ukrainian rhetoric from Russian leaders including Putin, who have questioned the country's right to an independent existence. The Kremlin has increased funding for the Donbas and pledged humanitarian support to the rebel-controlled regions thus facilitating trade between Russia and parts of Donetsk and Luhansk.
The bottom line is that Russia is putting Ukraine back on the agenda and — as some predicted — forcing the Biden administration to take notice, despite its desire to park Russia and focus on China. Putin and his aides remain determined to build a near-exclusive sphere of influence in its neighborhood and Ukraine is the crown jewel in its geopolitical thinking. If Russia is finally seeking a settlement to its seven-year-long forever war, that would require agreement from Ukraine to effectively hand control of eastern regions to Russia and its local agents, plus a commitment to stop the country from joining Western military and economic institutions. There is no sign that Ukraine will agree to such constraints on its sovereignty.
Further south in the South Caucasus, Georgia, the West's only partner in the region, is suffering a continuing crisis following the municipal elections in October and the former president Mikheil Saakashvili's stealthy return to the country. He is now in prison on a hunger strike. Russia lurks here too. It might not be orchestrating the crisis, as in Belarus, but it does benefit. Russian media has been actively addressing the events in Georgia and playing on recurrent tensions between the country and its Western partners, especially the European Union (EU). As always, chaos — sometimes resulting from direct Russian interference, and sometimes not — makes it harder for candidate countries to meet the membership terms of Western clubs while emboldening those European countries sympathetic to Russia and skeptical of expansion. This makes it harder for organizations like the EU to engage Georgia.
Russia's grand strategic aim is to maintain its power in neighboring states. That means keeping the West at bay, and political instability serves that purpose. Belarus, Ukraine, and Georgia are distant, but the Kremlin is always present. In some cases, it resorts to military pressure to gain momentum, in other cases it sits and waits, but the pattern signals a clever use of opportunities as they arise, exploiting the space given by a West signaling decreasing willingness to engage in the wider Black Sea region.
Seen from the long-term perspective, the 1990s and 2000s were a period of a slow but steady decline of Russian influence in what then constituted the former Soviet Union. From the Kremlin's point of view, the present period is much more productive, with concrete gains and the reversal of the West's military and economic expansion. For Putin and his ministers, it seems likely that the US considers defending Ukraine, Georgia, and even involvement in the Belarus-Poland border crisis costlier than the potential benefits of having these countries within America's geopolitical perimeter.
The ground is now prepared to seek a reversal of the West's geopolitical gains and cast aside the wishes of the people of Ukraine and Georgia. The push against aspiring liberal democracies is now gathering pace, timed to coincide with a wider geopolitical shift, namely the recalibration of US foreign policy to east Asia.
Author's note: first published in cepa
Five Important Principles for a Successful Mandatory Funded Pension for Ukraine
The government's plans to launch a mandatory funded pension scheme (the so-called second pillar) has provoked a lot of debate about future of pensions in Ukraine. Over the past quarter century, second pillars were introduced in several of Ukraine's neighboring countries. Contrary to common belief, such schemes are not immune to politics, as they change and evolve constantly. So, it would be important to ensure a design for the program that can be preserved and perpetuated in Ukraine's specific economic, social and political context.
Neither of the two types of pension schemes – solidarity and fully funded – is better than the other. In fact, they work best when they complement each other, as each is exposed to different risks. Thus, an effective reform will need to be centered around enabling synergies between the two schemes.
While the funded system is proposed as a risk mitigation strategy for the solidarity system in Ukraine, it also carries important implementation risks. To make Ukraine's pensioners more secure, the Ukrainian government will need to map out all such risks and address them along the path to launching the new system. From global experience assessed by the World Bank, there are five key principles that should guide the preparatory work.
1. Strong regulatory and fiduciary framework. This is a key precondition for safety of the pension assets. First, no funded system should start without a regulator that is well-equipped and able to effectively enforce all legal provisions. Bill 5865 in Rada introduces a proper regulatory framework and powers of the regulator. This bill should certainly form part of the reform package. Second, it will also be important to establish proper segregation of assets and records between the activities of the existing voluntary plans and the new mandatory scheme. And third, several governance issues pertaining to non-state pension funds (especially the ultimate fiduciary responsibility of their boards, risk management and internal controls) will need to be addressed to have these funds prepared for their new role and be seen by the public as effective and trusted custodians of their pension assets.
2. Sustainable financing. The funded system can be introduced either as a complementary scheme to the current solidarity system or as a substitutional system. The current government proposal is a hybrid: on the benefit side, it is complementary, but on the revenue side, part of the solidarity system contributions is proposed to finance the new funded scheme. Such an approach may limit the effectiveness of the new system fiscally and socially, aggravating the risk of falling benefits in the solidarity system. This may result in no net improvement in the future combined retirement benefits from this reform. Instead, to maximize the impact of the new funded system, it will need to be funded from new contributions, without tapping into the same fiscal space that provides for the wellbeing of current pensioners. Ideally, these new contributions should come from employee wages, so there is personal attachment to the pension account – a signature element of individual responsibility in such programs. Such employee contributions could further be co-financed by the employer and/or by the government, as an incentive to contribute more for retirement.
3. Efficient administration. The mechanism of money and information flows in the new system should be carefully designed and tested, so that the administrative costs of the new system are minimized. No single Hryvna should be lost on its way from employers to an individual account, as it passes through the government machinery of revenue collection. For this, every detail of the process needs to be elaborated and all risks mapped and mitigated. It can be shown that a 1% annual charge on pension assets over someone's full work career reduces around 20% of their pension benefits by the time of retirement. Therefore, cost reduction is key – and it has been shown that centralizing core administrative functions is an effective cost reduction strategy. Finally, simple provisions need to be introduced for individuals who do not actively choose a fund. This would pave the way to establishing a "default" fund with a life-cycle investment strategy. Importantly, a gradual implementation approach should help minimize various operational risks. So, Ukraine should start with a simple design that can be easily understood by the general public – and add more complex elements to the system over time.
4. Overall pension system design. The new funded scheme will be only a small supplement to the current system. With a 4 percent contribution rate, it will take an individual about 25 years of contributions for the account value to reach their corresponding annual wage in that year in the future. This is a rather insignificant amount, considering that this accumulated amount equivalent to one year's wage will have to be spread over the remaining life of an individual after retirement. Therefore, better coordination with the solidarity system, especially its system of minimum income guarantees, is required
5. Well-defined role of the state. Explicit legal provisions about what government can and cannot do will put the system on the right track. The state plays several important roles here: ensuring proper regulations and fair competition in service provision; facilitating a "default" fund; providing co-financing from the general budget to stimulate participation; enabling core record-keeping infrastructure and standards of member services; facilitating markets for financial instruments to promote diversification of investments; providing well-coordinated general minimum income guarantees at retirement, through the solidarity system; and so on. So, having a clear implementation plan and well-defined transitional arrangements will be instrumental to the success of this reform.
A lot of work needs to be done to ensure that Ukraine's future pensioners have an adequate pension that will allow them a dignified retirement. Therefore, learning from the successes and mistakes of other countries, the government should target a realistic timeline to build the second pillar – with well-coordinated preparatory work yielding a consensus on key design elements (incorporating all the above principles).
Originally published in UKRINFORM via World Bank