Mauritius oil spill highlights importance of global maritime laws
The devastating oil spill off the east coast of Mauritius has highlighted the need for global adoption of international legislation that govern the seas and protect small island states and their vulnerable marine ecosystems against ship pollution, UN trade body UNCTAD has stated.
The grounding last month of the MV Wakashio in an environmentally sensitive and biodiverse area, has endangered marine life, food security, and health in Mauritius, as well as its $1.6 billion tourism industry, already hard hit by the COVID-19 pandemic.
"There's a need for universal participation in the existing international legal framework, where all nations are party to agreements, so when incidents like this occur, vulnerable countries are protected", said Shamika N. Sirimanne, UNCTAD's technology and logistics director.
Historic oil spill
UNCTAD said the spill is considered the worst in the history of Mauritius, an island nation in the Indian Ocean known for its spectacular beaches.
The MV Wakashio—a Japanese-owned bulk carrier flying under the Panamanian flag –was travelling from China to Brazil when it grounded on a coral reef on 25 July, close to a marine park and two internationally protected wetland sites. The cause is still unknown.
The ship was not carrying cargo and reportedly had an estimated 3,894 tons of fuel oil, 207 tons of diesel, and 90 tons of lubricant oil on board.
By 11 August, up to 2,000 tons of fuel had reportedly leaked from the ship, which split in two several days later. Most of the fuel onboard had been recovered by this time, according to the vessel's owner.
'An existential and developmental threat'
In an article published this week, UNCTAD outlined how the unfolding environmental crisis in Mauritius shows the importance of having an effective international legal regime for when such disasters occur.
This framework is especially critical for small island developing states (SIDS) which face "an existential and developmental threat" from oil spills in their waters.
UNCTAD is the UN agency that supports developing countries in gaining fair access to the globalized economy.
Like Mauritius, SIDS are often close to global shipping lanes. These nations also rely on the marine environment – and its biodiversity – for tourism, fishing and aquaculture.
Different ships, different legislation
Although several international conventions govern the seas and how they are used, some are not ratified by all countries while others have yet to enter into force.
Furthermore, different ships are subject to different international legal conventions, which UNCTAD said presents a challenge in the Mauritius case.
As the MV Wakashio spill falls under the International Convention on Civil Liability for Bunker Oil Pollution Damage, compensation for economic losses and environmental damage would be less than if the vessel had been an oil tanker.
While the Bunker Convention would provide for maximum compensation of around $65.17 million, the payout would be four times higher, or $286 million, under the applicable International Oil Pollution Compensation Funds regime.
Given the potentially high costs and wide-ranging environmental and economic implications of ship-source pollution incidents, UNCTAD again underlined the need for all countries to adopt the latest international legal instruments for the global good.
"Sustainable Development Goal 14 calls on us to protect life below water and this means minimizing pollution at every possible turn, including putting all necessary precautions in place to manage environmental disasters like oil spills when they do happen", said Ms. Sirimanne.
2020, one of three warmest years on record
The COVID-19 pandemic was not the only long-term crisis the world will remember from 2020. In terms of climate change, the year was also one of the three warmest on record, and rivalled 2016 for the top spot, the UN weather agency said on Wednesday.
"The confirmation by the World Meteorological Organization (WMO) that 2020 was one of the warmest years on record is yet another stark reminder of the relentless pace of climate change, which is destroying lives and livelihoods across our planet", said Secretary-General António Guterres.
He pointed out that at 1.2 degrees of warming above pre-industrial levels, the world is already witnessing unprecedented weather extremes in every region and on every continent.
"We are headed for a catastrophic temperature rise of 3 to 5 degrees Celsius this century", he warned. "Making peace with nature is the defining task of the 21st century. It must be the top priority for everyone, everywhere." 
Powerful force
La Niña, which began in late last year, is expected to continue into the early-middle part of 2021. 
"The exceptional heat of 2020 is despite a La Niña event, which has a temporary cooling effect", said WMO Secretary-General Prof. Petteri Taalas.
La Niña and El Niño effects on average global temperatures are typically strongest in the second year of the event.
"It is remarkable that temperatures in 2020 were virtually on a par with 2016, when we saw one of the strongest El Niño warming events on record", he added. "This is a clear indication that the global signal from human-induced climate change is now as powerful as the force of nature". 
The extent to which the continued cooling effects of La Niña this year may temporarily diminish the overall long-term warming trend remains to be seen. 
Following atypical patterns
WMO pointed to sustained heat and wildfires in Siberia, diminishing Arctic sea ice and record-breaking hurricanes in the Atlantic as being among the climate events that most stood out in 2020.
The UN weather agency also reminded that temperature is just one climate change indicator. Greenhouse gas concentrations, ocean heat content, global mean sea level, sea ice extent and extreme events are also factors.
Backed by science
WMO's consolidated global temperature update incorporates information from five leading international sets of data.
It also uses datasets that combine millions of meteorological and marine observations, including from satellites, with models to produce a complete reanalysis of the atmosphere.
"The combination of observations with models makes it possible to estimate temperatures at any time and in any place across the globe, even in data-sparse areas such as the polar regions", according to WMO. 
Looking to the future
The Paris Agreement aims to limit global warming to well below 2°C, preferably to 1.5°C degrees, compared to pre-industrial levels.
However, the global average temperature in 2020 had already approached the lower limit of the temperature increase that the Agreement seeks to avert.
Moreover, there is at least a one-in-five chance that the average global temperature will temporarily exceed 1.5 °C by 2024, according to WMO's Global Annual to Decadal Climate Update, led by the United Kingdom's Met Office.
The 2021 Met Office annual global temperature forecast also suggests that next year will again be one of the earth's hottest years. 
Updating its provisional December report, WMO will issue its final publication in March, which will incorporate temperature figures, information on all leading climate indicators and selected climate impacts.
Step up action and adapt to 'new climate reality'-Report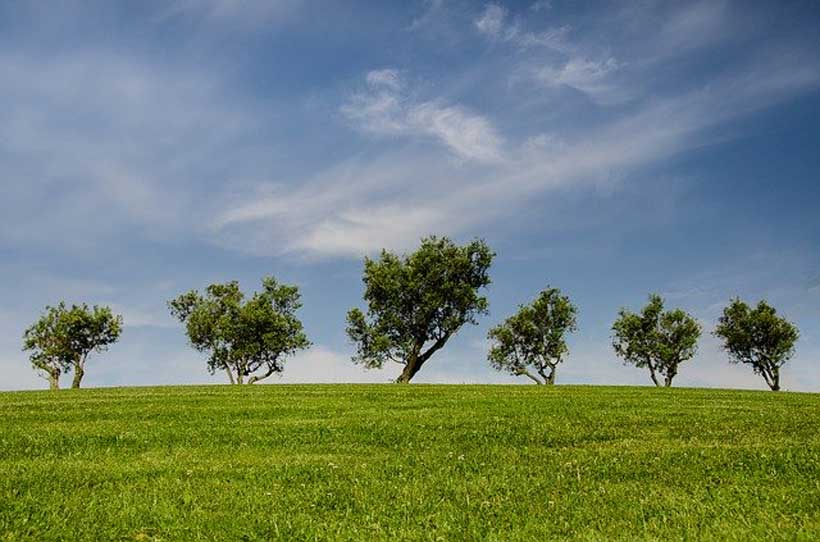 Though countries have made progress in planning for climate change adaptation, there are significant financing shortfalls in getting them to the stage where they provide real protection against droughts, floods and rising sea levels, a new UN environment report has found.
According to the 2020 Adaptation Gap Report, released on Thursday by the UN Environment Programme (UNEP), as temperatures rise and climate change impacts intensify, nations must urgently step up action to adapt to the new climate reality or face serious costs, damages and losses.
"The hard truth is that climate change is upon us," Inger Andersen, UNEP Executive Director, said in a news release announcing the findings.
"Its impacts will intensify and hit vulnerable countries and communities the hardest, even if we meet the Paris Agreement goals of holding global warming this century to well below 2 degrees Celsius and pursuing 1.5 degree Celsius."
Global commitment needed
Annual adaptation costs in developing countries are estimated at $70 billion, but the figure could reach up to $300 billion in 2030, and $500 billion in 2050. Almost three-quarters of nations have some adaptation plans in place, but financing and implementation fall "far short" of what is needed, according to the UNEP report.
Stepping up public and private finance for adaptation is, therefore, urgently needed.
"As the Secretary-General has said, we need a global commitment to put half of all global climate finance towards adaptation in the next year … this will allow a huge step up in adaptation, in everything from early warning systems to resilient water resources to nature-based solutions," Ms. Andersen added.
Adaptation is a key pillar of the Paris Agreement on Climate Change. It aims to reduce countries' and communities' vulnerability to climate change by increasing their ability to absorb impacts.
Nature-based solutions
The UNEP report also underscored the importance of nature-based solutions as low-cost options that reduce climate risks, restore and protect biodiversity, and bring benefits for communities and economies.
Its analysis of four major climate and development funds: the Global Environment Facility (GEF), the Green Climate Fund (GCF), the Adaptation Fund, and the International Climate Initiative (IKI), suggested that support for green initiatives with some element of nature-based solutions has risen over the last two decades.
Cumulative investment for climate change mitigation and adaptation projects under the four funds stands at $94 billion. However, only $12 billion was spent on nature-based solutions, a tiny fraction of total adaptation and conservation finance, it added.
Cutting emissions will reduce costs
Cutting greenhouse gas emissions will reduce the impacts and costs associated with climate change, according to the report. Achieving the 2 degrees Celsius target of the Paris Agreement could limit losses in annual growth to up to 1.6 per cent, compared to 2.2 per cent for the 3 degrees Celsius trajectory.
UNEP urged all nations to pursue the efforts outlined in its December 2020 Emissions Gap Report, which called for a green pandemic recovery and updated Nationally Determined Contributions (NDCs) that include new net-zero commitments.
"However, the world must also plan for, finance and implement climate change adaptation to support those nations least responsible for climate change but most at risk," the UN agency added.
"While the COVID-19 pandemic is expected to hit the ability of countries to adapt to climate change, investing in adaptation is a sound economic decision," it said.
Guterres: COVID-19 recovery offers 'chance to change course'
The process of recovery from the coronavirus pandemic offers the chance to change course, and put humanity on a path on which it is not in conflict with nature, the United Nations Secretary-General said on Monday, urging greater efforts by everyone to protect biodiversity and step up climate action.
Addressing world leaders at the One Planet Summit, Secretary-General António Guterres outlined the consequences of abusing Earth and its resources.
"We have been poisoning air, land and water – and filling oceans with plastics. Now, nature is striking back: temperatures are reaching record highs, biodiversity is collapsing, deserts are spreading, [and] fires, floods and hurricanes are more frequent and extreme," he said.
"We are extremely fragile", Mr. Guterres warned.
Combined with the devastating effects of COVID-19 and its socio-economic fallout, the UN chief reminded everyone that "as we rebuild, we cannot revert to the old normal."
"Pandemic recovery is our chance to change course. With smart policies and the right investments, we can chart a path that brings health to all, revives economies and builds resilience and rescues biodiversity", he highlighted.
'Everyone must do much more'
The Secretary-General noted that innovations and nature-based solutions are especially promising, and that preserving biodiversity also creates jobs. According to the World Economic Forum, emerging business opportunities across nature could create 191 million jobs by 2030, he added.
At the same time, with a financing gap of $711 billion per year until 2030 to meet global biodiversity targets, increased and sustained financing will be crucial to transition away from polluting sectors, Mr. Guterres said.
"The time has come to…align public and private financial flows with the Paris Agreement commitments and the Sustainable Development Goals (SDGs) and integrate the goal of carbon neutrality into all economic and fiscal decisions."
The UN chief also urged support for the most vulnerable, who are already suffering the effects of climate change, such as the least developed countries and small island developing States.
'The sign of hope'
"Everyone must do much more … We begin a new year under the sign of hope. Together, let us seize the opportunity to build a safer, fairer and more sustainable world," he added.
Organized by the French Government in partnership with the United Nations and the World Bank, the One Planet Summit brought together world leaders to commit action to protect and restore bio-diversity. Due to the coronavirus outbreak, the event was largely virtual.
Opening the Summit, French President Emmanuel Macron, declared that protecting and restoring biodiversity is "in our interest".
Alongside creating millions of jobs between now and 2030, the natural world offers many benefits, he said, adding that intact forests and ocean ecosystems can help meet climate targets by acting as carbon sinks.
'Nature offers solutions'
"Nature offers solutions for developing sustainable agriculture, for economic and financial services, helping us to preserve our heritages and cultures", said the French President.
Mr. Macron outlined four key priorities for action: protecting terrestrial and maritime ecosystems, to allow nature to regenerate; promoting agro ecology to safeguard environment, strengthen food-security and reduce inequalities; mobilizing public and private financing, which would support both climate action and protect biodiversity; and reducing deforestation, especially tropical forests, to protect species and human health.
African greening initiative receives $14 billion
Also on Monday, the Great Green Wall for the Sahel and Sahara, an initiative to combat desertification in the vast region, received a pledge of more than $14.2 billion in new funding over the next 10 years, to restore degrading land, protect biodiversity and strengthen resilience.
According to the UN Convention on Combating Desertification Secretariat (UNCCD), overall, about $33 billion needed by the initiative to achieve its ambitious targets to restore 100 million hectares of degraded land, the soil capture of around 250 million tons of atmospheric carbon, and creation of some 10 million green jobs for communities, by 2030.
Mohamed Cheikh El-Ghazouani, President of Mauritania and the Chair of Conference of Heads of State and Government of the Pan African Agency for the Green Great Wall, welcomed the announcement.
"The mobilization of this additional funding through an innovative approach will certainly contribute to the achievement of the Great Green Wall goals", he said.
Since its inception in 2007, the country-led Great Green Wall programme has planted billions of trees and supported tens of thousands of local households. Its path snakes along the southern margin of Africa's Sahara Desert running from the Atlantic coast to the Red Sea.