In recent weeks the confluence of many issues and events of different shades and dangers made Somalia's political situation more complicated. This being the last year of the current administration, challenges of that nature are not entirely new, but the intensity and volatility of these developments are.
However, this piece is not an attempt to chronicle each one of said challenges and lay the blame on one political actor or another, but to illustrate how the dirty and notoriously impulsive local politics that dominate the discourse has been turning the attention away from Somalia's national interest and international predators that are elbowing each other for zero-sum booty control.
The most critical being the American guerilla diplomats' covert coup against their British counterparts that has been protecting Soma Oil and Gas' exclusive interests. These diplomats adhere to no international laws and often employ shady tactics that neither the U.K. Foreign Office nor the US State Department would be willing to acknowledge.
Who Didn't Start The Fire?
On Saturday July 25, the Lower House of the Somali parliament has held an extraordinary session passed a vote of no-confidence motion to oust Prime Minister Hassan Ali Khaire amidst electoral rancor that kept the federal states drifting away from the center.
Interestingly, the ousting came only a few days after he successfully orchestrated Dhusamareeb Agreement signed by President Mohamed Abdullahi Farmajo and the federal states and when there was less than six months remaining from the current government's term.
After the election related items on the agenda were discussed, the Speaker of the Parliament, Mursal Mohamed Abdurahman, literally rammed in a no-confidence motion that was not even part of the agenda, ignored the 'point of order' raised by some MPs, and continued the hand counting. Within an hour or so, the surgical removal was complete: 170 'yes' & 8 'no'. After ensuing commotion by the objecting MPs, the Speaker gaveled out of the session. Mission accomplished.
Cold War Beween Partners
Despite the popular perception that this was solely driven by that all too familiar 'xilligii kala guurka' (time to part ways) politics, this was the last phase of the diplomatic cleansing of the U.K. influence- Khaire. He was Soma Oil and Gas' East Africa man whose initial appointment this analyst has vehemently opposed.
It was the culmination of a systematic, delicately executed overthrow to end UK's dominance of the Somalia affairs. It started with the recruitment of Qatar to directly counter-balance against UAE and bankroll Farmajo's election. It was not a hard sell under since Qatar was under a long simmering UAE/Saudi Arabia led aggression since the Arab Spring. Moreover, it may be worth noting that Qatar already had on the ground a network of brokers who in the past provided dark money to former President Hassan Sheikh Mohamud's administration for other projects.
Once Farmajo became the president, the systematic process to cut off all advisors, technocrats, security experts, and members of the Council of Ministers who were from or were associated with UK began. In a parallel process, the relationship with UAE had to be suspended. This was critical for mainly two reasons: One, it would get rid of UK's cash cow of corruption. "Let me call our friends" was the notorious code of reassurance used by British diplomates that UAE embassy will be delivering the cash. This under the radar process kept their hands clean. Two—perhaps more important than the former—it would pull the plug off on the (UAE-funded) ICJ maritime case.
Though locally it is considered a patriotic initiative taken by former president Hassan Sheikh Mohamoud, this was a Soma Oil and Gas project. ICJ rule in favor of Somalia meant another corrupt giveaway to this shady company that illegally owns Somalia's natural resources. Farmajo is on board with a behind the curtain deal to pull the case out of ICJ and settle for a 'negotiated' deal with Kenya that brings in new partners. This may explain why there were multiple postponements of public hearings- something that, contrary to the Somali government's claim, could not have been unilaterally done by the court. Hence, an official announcement after the extension is secured should shock no one.
Going back to the first major step; it was followed by the takeover of the command center- UNSOM. Merely two months into his new position, the former Special Representative of the UN Secretary-General, Nicholas Haysom, was accused of interfering in a sovereign state's internal affairs. Tough I was never a big fan of the dubious role that the British diplomatic team and their field commanders at UNSOM played before Haysom, I was critical of the persona non grata charade and I suspected it being a "a cover up". So Ambassador Haysom was shortly replaced by an American, Ambassador James Swan.
This was followed by pressuring Qatar to drop Prime Minister Khaire from the recipients of the electoral facilitation cash that brought him and President Farmajo to power. Khaire and his network of predatory capitalists spent two weeks in and around Doha meeting with certain elements in the (useful) king-making business. The answer was simple: the game has changed and you are on your own, old partner.
As soon as it became clear to Khaire that he could neither be part of any extension that may be granted to his partner (Farmajo) nor could he expect cash-loads coming from Qatar, he had to resort to a political kamikaze operation labled as a peace process. He reached out to the federal-states, especially Puntland and Jubbaland that lost trust on the central government, as his most viable partners; hence the Dhusamareeb Conference.
Dominance and Its Risks
Farmajo went to participate in the Dhusamareeb conference with his own uncompromising agenda: grant me a term extension of two years so I could marshal the nation to 'one-person-one-vote electoral system'. After Dhusamareeb One and Two, the federal-states and the central government reached an agreement: Farmajo will get no extension and a technical committee made of all stakeholders would determine the kind of election and it would be unveiled and ratified at Dhusamareeb Three.
On Aug 13, with Khaire out of the way and Farmajo seeming to have gained a momentum for his term-extension agenda, Ambassador Donald Yamamoto's office tweeted this:
"@US2Somalia is eagerly waiting for #Dhusamareb 3 Mtg results. The need for wide spread consultations & genuine compromise is key. The election model needs broad based support from FGS, FMS, Parliament, & other stakeholders. Timely elections, no mandate extensions. #Somalia."
And on Aug 20, as soon one-sided Dhusamareeb Three shenanigan to ensure the extension concluded, the same office tweeted:
"@US2SOMALIA has worked for inclusion of all views at the table in #Dhusamareb3, but can't help those absent. Spoilers withholding participation sacrifice democracy for own ambitions. Parties will need to move forward with timely model agreed."
Though these statements are reminiscent of a bygone era known as the 'transitional period' it supports my last article that Somalia is under a dysfunctional trusteeship, I venture say it was intended to serve, on the one hand, as a reassurance for UK and other donor nations that US is not supporting an extension; on the other hand, to put a thumb on the scale and coerce the federal-states to march behind Farmajo. It is the only way to harvest what was sowed a few years earlier. But, since the term extension appears to be like striking a matchstick over a pool of kerosene, it must be done through a legitimate process- the federal parliament.
Execution Express
Meanwhile, following Trump's patented method of appointing care-takers to a number key posts to avoid congressional scrutiny, Farmajo appoints a Care-taker Prime Minister with a free-hand to exercise full authority over the Council of Ministers. This flies in the face of the very constitution that Farmajo often references to underscore the power vested in the federal parliament. So exercise and expedite to the max is what the care-taker did.
Immediately upon assuming his new post, the care-taker Prime Minister, Mahdi Guled, dashed through the approval of a few international projects and appointed the Somali Petroleum Authority without any transparency, without capacity and integrity review of the members of this highly critical body of trustees. This same questionable authority is all of sudden set to make a critical decision that could haunt Somalia for generations. The method, the timing, and the haste should raise a red flag.
Who Owns It?
These controversial events of the past three plus years that shook the foundation of Somalia's political structure confirm a looming danger that some analysts were warning against- a perfect storm emanating from resource curse, geographical curse, and clannism curse.
There are two things that one must keep in mind when conducting any political affairs or developing any strategies for domestic or international end:
One, there is no such thing as 'spontaneous combustion' because all things political are driven by an overt or a covert objective, or both. Two, if you are not interested or are not able to assess behavioral patterns or connect the dots, you are better off finding another career to pursue.
2021 is here and not much has changed since the last election. The political situation is in total disarray, drone attacks reached the danger zone and security continues to worsen, corruption still remains a skill in high demand, sovereignty still remains a pie in the sky, and many hands continue to operate inside the cookie jar of resources. So long as the dominant political discourse remains on clans, personality politics, and methods of transitioning power, expect the wheel of exploitation to gain more ground and the predators to get more emboldened.
Somalia still remains a political prospect that is between a romantic ideal and corrosive reality; between conformity with clannism and the reformation toward statehood; between a living idea and a dying potential; between yearning for liberty and enabling the subjugators; between individual interest and collective benefit.
An enlightened intergenerational movement to reclaim Somalia is needed more than ever; also, leaders with vision and strategy that transcend the clan mentality in order to reimagine a new nation and put the common good and national interest before all others.
French-African Foundation Celebrates Achievements with Young Leaders from Africa
Placed under the high patronage of the President of the French Republic Emmanuel Macron and the President of the Republic of Rwanda Paul Kagame, the French-African Foundation will bring together the new class for a week in France in June 2023 and then a week in Rwanda for high level meetings, interactive training and privileged moments of professional and personal exchanges with leading Franco-African and international personalities from the political, economic, cultural, sports and associative spheres.
Young African leaders aged between 28 and 40 years in 2023, have also been chose based on competitive performance in various areas and who have commitment to African's development. These young professionals have shown inclusive leadership that impacts on the community, country or region. Display of a privileged relationship with France and Africa.
This year, more than 2,000 young professionals from 53 African countries and France applied for the annual French-African Foundation's Young Leaders programme, which aims to shine a light on outstanding individuals who are bridging the gap between the two regions. After several selection stages and hundreds of auditions conducted by an independent jury, 30 young leaders were selected for their commitment to boosting Africa-France relations.
"The 30 Young Leaders innovate daily in their activities and redraw the contours of thelink between France and Africa by helping it flourish in all areas. Taking into account the environmental, social, political and economic challenges shared by the two shores of the Mediterranean, the foundation is counting on these young people to help provide solutions, embody the relationship and develop it further. As a link between Africa and France, Marseille is the ideal city to launch this new class!" – quote from Nachouat Meghouar, CEO of the French African Foundation.
Quotes from three Young Leaders: "Today, thanks to digital innovation, women have the opportunity to emancipate themselves and develop new skills, whether they are in Los Angeles or in a remote region of Cameroon. This desire for equality but also for economic and social justice allows us to find common and sustainable solutions. This is what I wish to promote for France, Cameroon and the African continent," Nelly Kambiwa, Cameroonian, CSR Director Sopra Banking.
"The future of cinema and audiovisual creation is in Africa! The African continent is full of talent and unique stories. Within the CANAL+ Group, I am very proud to support pan-African producers, actors, scriptwriters, directors and technicians in the creation of their television series. Ambitious dramas, shot in the four corners of the continent, are thus offered, under the CANAL+ Original label, to millions of viewers in Africa, in France and throughout the world. What a pleasure to participate in the promotion of African cultural excellence!" Anthony Koka, Franco-Congolese, Fiction Programme Advisor at CANAL+International
"I am Franco-Algerian and I want to be a solution for my two countries Algeria and France in their diplomatic relations. I think it is time to look forward and to draw a common future for our children. And I hope to help future generations by giving millions of French and African children a glimpse of the challenges of digital technology and more particularly of artificial intelligence through the projects we are carrying out with the start-up Evolukid, which I created seven years ago. These are powerful tools for imagining the world and also for meeting the technical needs of many public and private players." Morad Attik, co-founder of the start-up Evolukid and founder of the Kesk'AI programme.
From war-torn Khartoum, Maha Dahawi, a doctoral student in genetics and Young Leader 2023, spoke out to express her support for the Sudanese people who are suffering from the war and the abuses carried out by the militias. In a poignant testimony, she called for hope in order to rebuild her divided country with her peers and shared her joy at joining the Young Leaders programme.
As part of their giving back to the society, and in the interest of contributing to the development of this great continent, young leaders identified different areas of interest under the broad theme of sustainable development in which they carried out activities including development-oriented projects and research to catalyze development of the continent of Africa.
It also involves playing useful roles in sustainable growth and development of their societies, by applying their skills, technical know-how, knowledge and experience to decipher things that may not be working properly in order to innovate ways for creating a change.
Double French and Rwandan patronage: After Ghana's President Nana Akufo-Addo in 2019 and Senegal's President Macky Sall in 2021, this year's French-African Foundation Young Leaders programme is under the dual patronage of Rwandan President Paul Kagame and French President Emmanuel Macron.
Rwanda Development Board Director General, Clare Akamanzi welcomed the new promotion to Rwanda; a privileged destination for tourism and international investments thanks to the gains in stability under the leadership of President Paul Kagame.
​The French-African Foundation, an association created in 2019, aims to contribute to the emergence of a new generation of African and French leaders capable through their values and means of action, of meeting the economic, social and political challenges of the time. It further aims at identifying, bringing together and promoting high potentials in strengthening African and French relations.
The 2021 edition was placed under the High patronage of the French President of the Republic, His Excellency Emmanuel Macron and under the High Patronage of the Senegalese President of the Republic, Macky Sall, Senegal being the host country where the second edition took place. To find out more, visit the Foundation's website: https://www.french-african.org/
BRICS FM Meeting in South Africa: Readiness for Expansion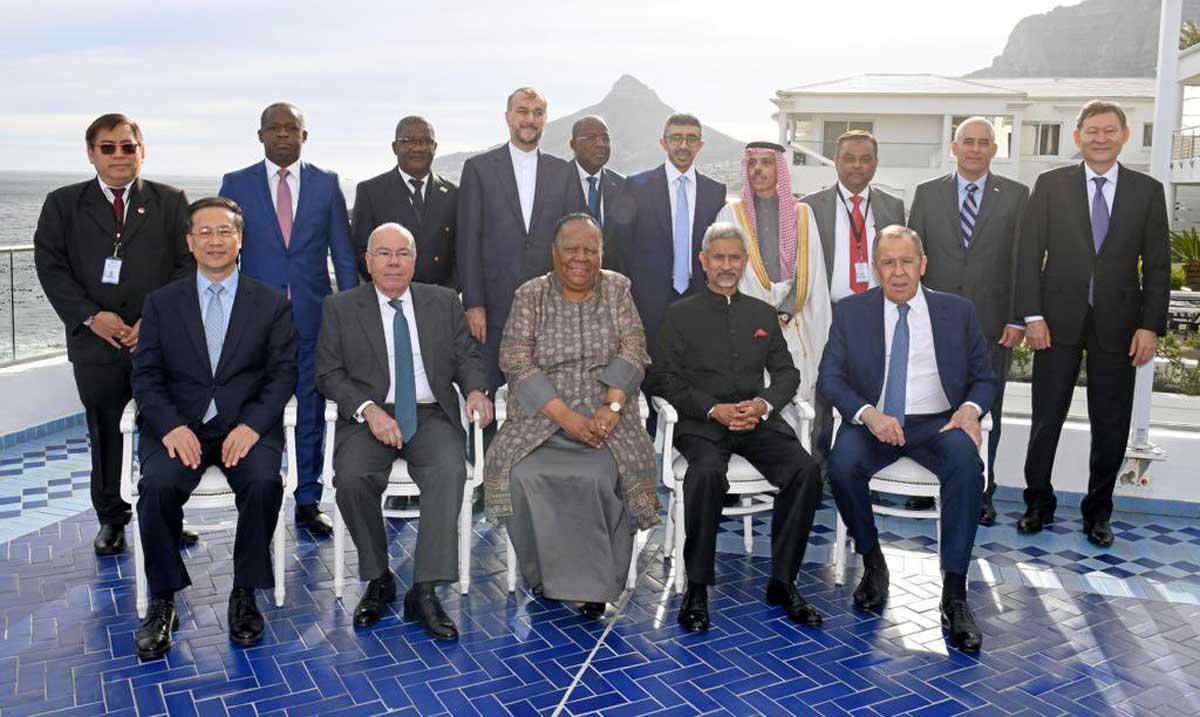 At the Brazil, Russia, India, China and South Africa (BRICS) foreign ministers meeting in Cape Town early June, there were high expectations. The first on the agenda was International Criminal Court's arrest warrant issued from The Hague for Russian President Vladimir Putin if he travels to the country. From historical perspectives, South Africa and Russia have close relationships from the time of the former's political and liberation struggle, and with developments until it joined BRICS in 2010.
On the unofficial levels, Putin has worked out friendship with both former President Jacob Zuma and the current South African Cyril Ramaphosa. We know very well that this strategic relationship is (un)doubtlessly influencing politics between the two countries and of course, the two plus China in BRICS.
Putin is the target of an International Criminal Court (ICC) arrest warrant over accusations that Russia unlawfully deported Ukrainian children. A member of the ICC, Pretoria, which has close diplomatic ties with Moscow, would be expected to arrest Putin if he sets foot in the country.
The South African government previously drew international criticism in 2015, when it refused to execute an ICC arrest warrant for then-Sudanese President Omar al-Bashir, who had been indicted for war crimes and genocide, while he was attending a meeting of African leaders in Johannesburg. South Africa's Supreme Court of Appeals ruled that the government had acted unlawfully and the ICC found that it had failed to failed to comply with its international obligations.
Reading further around reports which emerged from the foreign ministers meeting, there was the both local and foreign media, including Reuters, AP, AFP and Bloomberg said South Africa was now considering switching the venue of an upcoming summit of BRICS leaders to another country. This move that would resolve its dilemma over whether to execute an international arrest warrant for Putin. In fact one highly possibility is to task China to host the BRICS leaders summit in August.
But the Department of International Relations Minister Naledi Pandor's spokesman, Lunga Ngqengelele, said that as things stand, the summit will be held in Gauteng province, where the commercial hub of Johannesburg and the capital, Pretoria, are situated. "As far as we are aware, we have announced the summit venue as Gauteng, South Africa. That is what we know as of today." according to Lunga Ngqengelele.
Secondly, the BRICS foreign minister are concerned about new currency that could be used to dodge sanctions. The BRICS National Development Bank specially created bank to provide guidance on a how a potential new shared currency might work, including how it could shield other member countries from the impact of sanctions such as those imposed on Russia. The foreign ministers already discussed, at length, long before the meeting but how the bloc can win greater global influence and to challenge the United States still remained for future.
The BRICS are looking to "ensure that we do not become victims to sanctions that have secondary effects on countries that have no involvement in issues that have led to those unilateral sanctions," Naledi Pandor, South Africa's minister of international relations, told reporters after the meeting. Proposals are being considered by officials at the New Development Bank, the Shanghai-based lender created by BRICS nations, and the bloc "will be guided to them as to what the future models might be," Pandor said, without providing further details.
Thirdly, plans for expansion. In fact, BRICS activities have expanded during the past few years. Countries participated in the Outreach and BRICS plus segments of the organization. There are also a number of African countries including Algeria, Egypt, Ethiopia, Nigeria and Senegal have also shown interest. Egypt has already been involved for a fairly long time. Last December 2022, Egypt, the decision on its accession to the New Development Bank was made by BRICS.
The prospect of adding more members was first raised at last year's summit in China and 13 nations have formally asked to join, with at least seven others expressing interest. Now BRICS ministers were joined by counterparts from countries including Saudi Arabia, the United Arab Emirates, Egypt and Kazakhstan. Also and with more than 20 countries aspiring to join. Asked about a meeting held with a Saudi Arabian delegation, Russian Foreign Minister Sergey Lavrov said only that the issue of the kingdom joining was discussed, amid broader talks about how the bloc should expand its membership.
Saudi Arabia's potential accession to BRICS would bolster Crown Prince Mohammed bin Salman's attempts to diversify his nation's economy, an effort that has bought it much closer to Russia and China in recent years. China is the kingdom's most important oil customer, while it relies on relations with Russia to help prop up crude prices through OPEC+.
For the Gulf region, joining major trade blocks makes sense as countries seek to expand trade ties and develop as global transit hubs, a person familiar with Gulf thinking said. Plans to join have been in the works for a while and momentum has been building toward this point, the person said.
BRICS, which invited South Africa to join in 2010, has failed to punch its weight as a group. That's despite its members representing more than 42% of the world's population and accounting for 23% of global gross domestic product and 18% of trade, giving credence to demands for more sway.
South Africa believes that the bloc could be "transformative" representing those nations that wish to play a role in world affairs, ensuring benefit to the Global South. "BRICS has acquired a very important stature in the world, with many countries across various continents of our world seeking to be part of it," South African President Cyril Ramaphosa told lawmakers in Cape Town.
South Africa has its own internal problems, deepening each passing day. The ANC is playing hard on its foreign relations with external Countries especially with Russia, the United States and Europe. The geopolitical tensions have added to worries about the impact on South Africa's economic outlook from daily blackouts and logistical constraints that are hampering exports, with the rand falling to successive record lows over the past month.
South Africa, as per stipulated approved guidelines and rules, holds the rotating presidency of BRICS, the organization of five emerging developing countries made up of Brazil, Russia, India, China and South Africa. The BRICS is a model organization of genuine multilateral diplomacy. Its structure is formed in compliance with the 21st century realities.
From all indications BRICS is developing, the first meeting of the group began in St Petersburg in 2005. It was called RIC, which stood for Russia, India and China. Then later, Brazil joined and finally South Africa in February 2011, which is why now it is referred to as BRICS. The acronym BRICS is derived from the member-countries names in English. The BRICS (Brazil, Russia, India, China and South Africa) collectively represent about 26% of the world's geographical area and about 42% of the world's population
The Strategic Partnership between Eritrea and Russia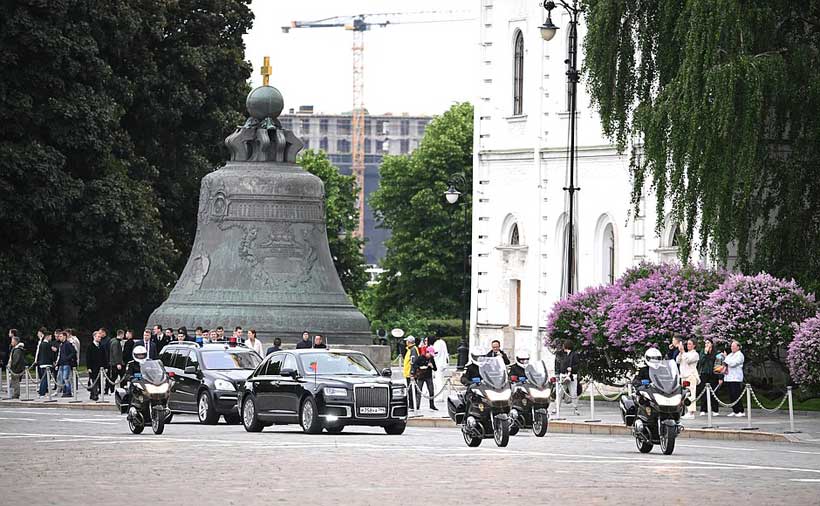 In this extremely poor Eritrea nation located in the Horn of Africa, with a population 3.6 million, what factors could attract to strengthen cooperation in the spheres highlight by the Russian President Vladimir Putin during a meeting with President of the State of Eritrea Isaias Afwerki at the Kremlin. According to reports that emerged from the Kremlin on May 31, Putin made reference to the fact that Eritrea has recently marked 30 years of its independence. This was when two countries established diplomatic relations too.
Russia is attracted due to its highly strategic location. Eritrea is bordered to the northeast and east by the Red Sea, Sudan to the west, Ethiopia to the south, and Djibouti to the southeast. The undemarcated border with Ethiopia is the primary external issue currently facing Eritrea. Geopolitical history informed us that Eritrea's relations with Ethiopia turned from that of cautious mutual tolerance, following the 30-year war for Eritrean independence, to a deadly rivalry that led to the outbreak of hostilities from May 1998 to June 2000 that claimed approximately 70,000 lives from both sides.
Despite the differences between Ethiopia and Eritrea, Russia maintains good relations with the two. But the main significance as stressed during the meeting was trade and economic relations which deserve primary attention. There could only be a few, of course not a lot, of potential in many areas. From our studies, agriculture makes up 11 percent of the wider economy's value, and is the main economic activity in Eritrea.
In 2013, the pickup in growth had been attributed to the commencement of full operations in the gold and silver Bisha mined by Canadian Nevsun Resources, the production of cement from the cement factory in Massawa and investment in Eritrea's copper and zinc. Chinese are very active in the mining sector and the Australians operate Colluli potash mining. In 2020, the IMF estimated Eritrea's GDP at $2.1 billion.
With that economic background however, Russia sees an opportunity to develop trade and economic ties between the two countries. "Of course, we must first of all pay attention to the development of trade and economic ties, here we have good prospects in many areas," Putin said.
As expected, there was a display passion for packing official documents. After series of substantive consultations on partnership and intensive preparations between Asmara and Moscow, the delegation signed several intergovernmental agreements. "I am sure that our talks today will be successful and will benefit the development of relations between the Russian Federation and Eritrea," Putin stressed.
The trade turnover between Russia and Eritrea in 2022 amounted to $13.5 mln, including $11.5 mln from wheat exports, according to materials for the talks between Putin and Isaias Afwerki in the Kremlin.
"The trade turnover between Russia and Eritrea in 2022 amounted to $13.521 mln (exports: $12.745 mln, including $11.5 mln – wheat (27,500 tons); imports: $776,000)," the statement said.
In 2021, the trade turnover between the two countries amounted to $9.314 mln. Exports of wheat amounted to $8.125 mln, oil products – $175,000, sulfates – $888,000. At the same time, imports of ready-made clothes reached $126,000.
According to the statement, Eritrea is highly interested in strengthening ties with Ural Automobile Plant and Kamaz. In 2018, Kamaz delivered 56 cars and 5 buses valued around $5 mln to Eritrea.
"In my view, the global order, which is on the cusp of a radical transformation, requires objective appraisal and mutual consultations on the timeless subject matter and phenomena of paramount importance and significance. The common assessment that we undertake will, in turn, revitalise the formulation of programmes and partnership that we chart on," Isaias Afwerki said during the meeting.
Isaias Afwerki believes that the Russia was the primary competitor and rival of the policy of encirclement and containment by the forces of domination from the early 1990s, and its global impact in the past 30 years was considerable indeed. Russia too, did not undertake, at the outset, all the necessary preparations for effective resistance.
An integrated and comprehensive strategy of resistance was not accordingly set in motion. But with time, and as the latent policy of containment against China becomes more transparent, international awareness of the free peoples has increased.
"It is imperative to expand and deepen this awareness, chart out a comprehensive strategy and concrete plans that encompass all fields, create dynamic mechanisms, marshal the necessary resources so as to ascertain the advent of and transit to a civilised international order of mutual respect, cooperation, complementarity and prosperity, where justice and the rule of law prevail. This is not an option but an obligation," he explicitly pointed out to Putin.
It is important to remind here that Russian Foreign Minister Sergey Lavrov visited Eritrea in January 2023. He said the agenda for Russia-Eritrea cooperation has a key focus on the implementation of potential joint projects, including the logistics hub in Asmara. At a meeting at that time, Afwerki and Lavrov also discussed the radical changes in the international situation and key directions for the development of Russian-Eritrean relations. Lavrov reported to Putin about the results of his African tour at a Security Council meeting.
Afwerki has been president since 1993 when Eritrea gained independence from Ethiopia. He is the first and the only person to hold the post so far. Sergey Lavrov visited Eritrea in January as he toured Africa. The commercial activities revolve around this strategic location as a transit point and the strategic location also makes the country prime for an increased military presence. This is the strategic importance for Russia.
Lavrov spoke extensively about economic cooperation. According to him, Russia's truck maker KAMAZ was already working in Eritrea, supplying its products to that country, as was Gazprombank Global Resources, which was building cooperation in the banking sector. The same year 2018, concrete talks were held to build a logistics centre at the port of Eritrea, that makes world's class logistics and services hub for maritime transportation through the Suez Canal and definitely set to promote bilateral trade.
Still that same year, Eritrea was interested in opening a Russian language department at one of the universities in the capital of the country, Asmara. Lavrov further indicated: "We agreed to take extra measures to promote promising projects in the sphere of mining and infrastructure development and to supply specialized transport and agricultural equipment to Eritrea."
In April 2022, Eritrea's top diplomat, Osman Saleh, made a quick reciprocal visit to Moscow to recieve an honor and congratulations for opposing resolution in New York. That was in March 2022, Eritrea was one of the countries who voted against the resolution condemning Russia over the situation in Ukraine at the United Nations.
Eritrea is now a member of the African Union. The Eritrean government previously withdrew its representative to the African Union to protest the AU's alleged lack of leadership in facilitating the implementation of a binding border decision demarcating the border between Eritrea and Ethiopia. Eritrea is also a member of the United Nations.