COVID-19: African countries urged to promote a safe return to school
School closures implemented to protect students from COVID-19, are hurting them in other ways, while the long-term impact of this disruption to education could create a "lost generation" in Africa, two UN agencies said on Thursday.
The World Health Organization (WHO) and UNICEF urged governments on the continent to promote a safe return to the classroom while also limiting spread of the virus.
"Schools have paved the way to success for many Africans. They also provide a safe haven for many children in challenging circumstances to develop and thrive," said Dr Matshidiso Moeti, WHO Regional Director for Africa.
"We must not be blind-sided by our efforts to contain COVID-19 and end up with a lost generation. Just as countries are opening businesses safely, we can reopen schools. This decision must be guided by a thorough risk analysis to ensure the safety of children, teachers and parents and with key measures like physical distancing put in place."
Closed classrooms, poor outcomes
A WHO survey of 39 sub-Saharan African countries has revealed that schools are open in only six nations and partially open in 19. Schools are closed in 14 nations, although 12 plan to resume classroom learning in September, the start of the academic year.
The disruption to education has resulted in poor nutrition, stress, increased exposure to violence and exploitation, childhood pregnancies, and overall challenges in the mental development of children.
UNICEF found violence against children has increased in Eastern and Southern Africa. With 10 million children missing out on school meals, nutrition rates have decreased, with especially high risk among girls, particularly those who have been displaced or from low-income households.
Potential future earnings losses
Meanwhile, the World Bank has highlighted the potential long-term social and economic impact of shutdowns in sub-Saharan Africa, which could result in lifetime earning losses of $4,500 per child.
"The long-term impact of extending the school shutdown risks ever greater harm to children, their future and their communities", said UNICEF Regional Director for Eastern & Southern Africa, Mohamed M. Malick Fall.
"When we balance the harm being done to children locked out of schools, and if we follow the evidence, it leads children back into the classroom."
Keeping COVID-19 out of the classroom
WHO, UNICEF and the International Federation of the Red Cross recently issued guidance on COVID-19 prevention and control in schools.
It covers recommendations for physical distancing measures, such as staggering the beginning and end of the school day, spacing desks when possible, and providing handwashing facilities.
"The long-term impact of extending the school shutdown risks ever greater harm to children, their future and their communities", said UNICEF Regional Director for Eastern & Southern Africa, Mohamed M. Malick Fall.
"When we balance the harm being done to children locked out of schools, and if we follow the evidence, it leads children back into the classroom."
While also recommending other important measures, such as regular handwashing and daily cleaning of surfaces, a recent report by the two UN agencies found millions of children attend schools that lack water and sanitation services.
In sub-Saharan Africa, only a quarter of schools have basic hygiene services while less than half have basic sanitation.
The COVID-19 pandemic thus provides an opportunity for investment and innovative thinking to address these shortages, according to the UN agencies.
Ethiopia: Safe access and swift action needed for refugees in Tigray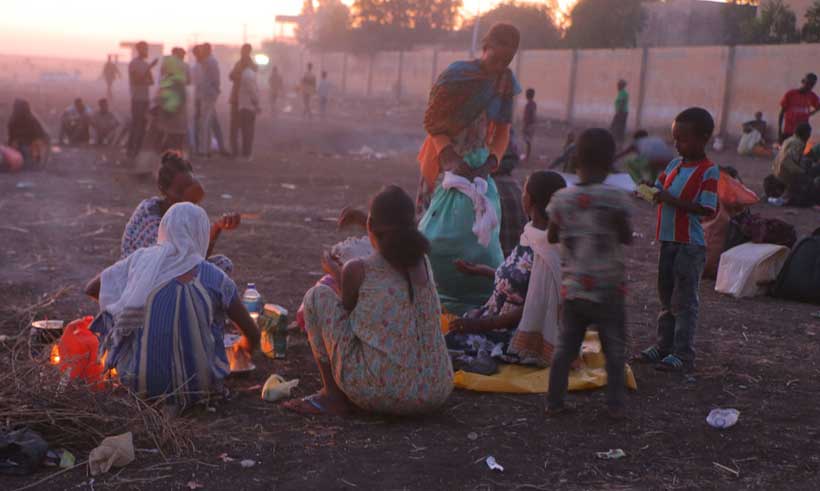 The head of the UN refugee agency (UNHCR) on Wednesday expressed his deep concern over the humanitarian situation in the Tigray region of Ethiopia, including its impact on Eritrean refugees hosted there.
The conflict between the Ethiopian Government and regional forces of the Tigray People's Liberation Front (TPLF) began in early November, when the Prime Minister ordered a military offensive after rebels attacked a federal army base. Government forces reported that the region had been secured at the end of November, but TPLF resistance has continued amid accusations of extrajudicial killings and rights abuses.
Despite some positive developments in accessing and assisting vulnerable populations, since the start of the Government operation, UNHCR's repeated requests to access the Shimelba and Hitsats refugee camps have gone unanswered.
"I am very worried for the safety and well-being of Eritrean refugees in those camps", said UN High Commissioner for Refugees Filippo Grandi. "They have been without any aid for many weeks".
UNHCR continues to receive many reliable reports and first-hand accounts of ongoing insecurity and allegations of grave and distressing human rights abuses, such as killings, targeted abductions and forced return of refugees to Eritrea, said Mr. Grandi.
Moreover, the agency has learned of additional military incursions over the last 10 days that are consistent with open-source satellite imagery showing new fires and other fresh signs of destruction at the two camps.
"These are concrete indications of major violations of international law", the High Commissioner spelled out.
Doubly distressed
Ethiopia has long given refuge to people fleeing conflict and persecution.
The federal Government has provided assurances of measures are to minimize the impact of the conflict on civilians.
"I have impressed upon the Ethiopian leadership, the urgency of ensuring the protection of refugees, preventing forced return and keeping refugee camps safe from attacks and other threats from armed actors", said Mr. Grandi.
Equally distressing, he said, is that UNHCR teams have been unable to assist the thousands of Eritrean refugees who continue to flee the camps in search of safety and support.
"Refugees arriving on foot to Shire town in Tigray are emaciated, begging for aid that is not available", recounted the High Commissioner.
Against the backdrop that refugees who had reached Addis Ababa are being returned to Tigray, some against their will, he reiterated the UN-wide call for "full and unimpeded access" to explore "all options to safely provide desperately needed assistance".
Unwavering commitment
In line with the humanitarian principles of impartiality and neutrality, UNHCR stands committed to work with the Ethiopian Government in protecting and assisting those forced to flee.
"We remain available to seek solutions – together – to the current humanitarian problems in a spirit of collaboration and constructive partnership", said the UNHCR chief. "Safe access and swift action are needed now to save thousands of lives at risk".
Insecurity and bureaucracy hampering aid to Ethiopia's Tigray region
Nearly three months after the start of conflict in Ethiopia's Tigray region, hundreds of thousands of people have yet to receive assistance, the United Nations reported on Wednesday, citing information from its humanitarian coordination agency, OCHA.
"Humanitarian assistance continues to be constrained by the lack of full, and safe, unhindered access to Tigray, caused by both insecurity and bureaucratic delays", UN Spokesperson Stéphane Dujarric told journalists.
"The UN and its humanitarian partners in Ethiopia urgently call on all parties to allow the immediate safe passage of humanitarian personnel and their supplies to the Tigray Region to be able to reach all people who desperately need assistance."
Over two million in need
Mr. Dujarric said the UN continues to receive alarming reports of civilians being injured and killed in rural areas in Tigray, as well as of violations against civilians, though verification remains a challenge. 
"Aid workers have been able to deliver assistance in some areas, mainly in cities, where access has been granted by the authorities. However, the number of people reached is extremely low compared to the 2.3 million people we estimate are in need of life-saving assistance", he said.
The situation is particularly critical for newly displaced people and refugees, especially those who were living in two camps that remain inaccessible, according to OCHA.
Humanitarians further warn that the majority of the 270,000 people receiving benefits through the Government's Safety Net Programme have also been without assistance as banks in most rural areas have been closed since before the crisis began.
"These are extremely vulnerable people who rely on monthly cash transfers to meet their basic needs," said Mr. Dujarric.
Mali transition presents opportunity to break 'vicious circle of political crises'
The current political transition period in Mali offers an opportunity to "break out of the vicious circle of political crises followed by coups d'état", the UN envoy in the country told the Security Council on Wednesday.
Following the 18 August mutiny that ousted President Ibrahim Boubacar Keïta, Special Representative and Head of the UN Stabilization Mission in Mali (MINUSMA) Mahamat Saleh Annadif, said the country was now four months in, to a planned 18-month transition period, leading to presidential and legislative elections.
"However, it is never too late to reach a minimum consensus on the essentials of peace and stability, because the future of Mali is at stake", he stated.
'Positive dynamics'
Against this backdrop, Mr. Annadif said the UN, African Union, Economic Community of West African States (ECOWAS) and others have always stood ready to support Mali's institutional transitions.
He said that several missions and meetings had taken place in Bamako since the August coup and described consultations between the Government and the signatories of the 2015 Agreement on Peace and Reconciliation "encouraging".
The Malian Government has been seeking to restore stability and rebuild following a series of setbacks since early 2012 that fractured the country, including a failed coup d'état, renewed fighting between Government forces and Tuareg rebels, and the seizure of its northern territory by radical extremists. The weakening of central institutions, loss of confidence in political actors and the rise of religious leaders demanding change, were among the factors leading up to last August's events.
As one positive example of political progress being made, the UN envoy drew particular attention to the "positive dynamics" of key officials who visited the restive city of Kidal to organize a "solemn swearing-in hearing of the new Governor" on 31 December, flagging that "such an event has not taken place in Kidal for almost ten years".
Interim parliament at helm
Mr. Annadif said that despite a hold up in State appointments, the National Transitional Council (CNT) had been established on 3 December, with Transitional President Bah N'Daou having appointed 121 members who are now acting as a de facto government towards restoring full constitutional order.
Serving as an interim parliament that will vote on political, institutional, electoral and administrative reforms, the UN envoy called their role "crucial for the consolidation of democracy and the success of credible elections allowing a return to constitutional order, as provided for in the Transition Charter".
Successes and challenges
While pointing to "successes" of the international force, the MINUSMA chief acknowledged that security in border areas of Mali – which remains the deadliest UN peacekeeping mission of all – and in the country's centre, remains "worrying and unpredictable".
However, he said that MINUSMA continues to "adapt" to these multifaceted challenges and "strengthen its capacity" to better respond.
Moreover, the missions "adaptation plan" to better protect civilians and promote community reconciliation in central Mali is producing "significant results" with additional temporary bases and the intensification of dedicated joint patrols "to advance the reconciliation processes between communities in local conflict zones", said Mr. Annadif.
Foundation laid
The MINUSMA head lauded the efforts of Malian forces to improve their rights performance and underscored that reforms are a key dimension in ensuring the legitimacy of the next elected government.
He reassured the Ambassadors that the foundation has been laid for a successful political transition in the country as well as reliable security arrangements for its diverse regions.
However, he stressed that the transition's success depends upon "the successful completion of political, institutional, electoral and administrative reforms with the aim of inclusive, credible elections, the results of which will be accepted by the majority of Malians and Malians".