Belarus and the lessons from Sudan
The political development unfolding in Minsk, with high possibility to spill over and spread throughout the former Soviet republic of Belarus is sensitive and delicate. As an ordinary observer from an obscured and remote rural village with inconsistent connectivity, I struggle daily to understand what happens next in Minsk. The first information that emerged about opposition rallying against elected President Alexander Lukashenko was worrying and heart breaking as that country has maintained political economic stability. Of course, just as I personally admired him for his courage, the current political developments vividly reminds me of Republic of Sudan in North Africa.
By geography, Belarus is a landlocked former Soviet republic in Eastern Europe. It is bordered by Russia, Ukraine, Poland and Lithuania. While Sudan is circled by seven other countries, it also has to northeast a huge Red Sea. It is third-largest country in Africa, and the third-largest in the Arab world by area before the secession of South Sudan in 2011. Like many other eastern European countries, Belarus has a negative population growth rate and a negative natural growth rate. Belarus has only 9.4 million while Sudan has a population of 43 million (both 2019 estimates by UN office in charge of Global Population Studies)
Belarus is a presidential republic, governed by a president and the National Assembly. The term for each presidency is five years. Under the 1994 constitution, the president could serve for only two terms as president, but a change in the constitution in 2004 eliminated term limits. Lukashenko has been the president of Belarus since 1994.
That was changed. In 1996, Lukashenko called for a controversial vote to extend the presidential term from five to seven years, and as a result, the election that was supposed to occur in 1999 was pushed back to 2001. Throughout the period, groups such as the Organization for Security and Cooperation in Europe (OSCE) has declared the elections "un-free" because of the opposition parties' poor results and media bias in favor of the government.
In the case of Sudan, Omar Hassan Ahmad al-Bashir came to power in June 1989. Al-Bashir, who had been in power for more than 30 years, refused to step down, resulting in the convergence of opposition groups to form a united coalition. The government retaliated by arresting more than 800 opposition figures and thousands of protesters, according to the Human Rights Watch.
Many people died because Al-Bashir ordered security forces to disperse the sit-in peaceful demonstrators using tear gas and live ammunition in what is known as the Khartoum massacre, resulting in Sudan's suspension from the African Union. Eventually, Omar al-Bashir was gone. Sudan opened a new political chapter with a new Prime Minister, Abdalla Hamdok, a 61-year-old economist who worked previously for the UN Economic Commission for Africa.
What makes the comparison interesting, President Alexander Lukashenko is referred to as the last political dictator in Europe. Similar title was awarded to Omar al-Bashir as the longest ruler and dictator in Africa. Significantly, long service in political position must necessarily reflect on the level development and on the lives of the population.
The political unrest in Sudan basically connected to both politics and economy. Sudan is rich with natural resources, as it has oil reserves. Despite that, Sudan still faced formidable economic problems, and its growth was still a rise from a very low level of per capita output. Next, agricultural production remains Sudan's most-important sector, employing 80 percent of the workforce. Worse is production practices are rudimentary. There has not been efforts, at least, to modernize agriculture to the growing population. In 2018, 45% of the population lives on less than US$3.20 per day, up from 43% in 2010. There is still a huge increase in unemployment, so of course, politics and economy questions are inseparable.
On the opposite side, and in fact better than Sudan, Lukashenko continued a number of Soviet-era policies, such as state-ownership of large sections of the economy, and opposed Western-backed economic shock therapy in the post-Soviet transition. Over 70% of Belarus's population of 9.49 million resides in urban areas.
The labor force consists of more than six million people, among whom women hold slightly more jobs than men. In some analysis, nearly a quarter of the population is employed by industrial factories. Employment is high in agriculture, manufacturing sales, trading goods, and education. The unemployment rate, according to government statistics, was 1.5% in 2010.
But the key questions are the advantages that President Alexander Lukashenko has under his armpit. While the political situation is unpredictable, Belarus belongs to Eurasian Union, it also has the Minsk Agreement (Russia-Belarus Treaty) as instruments on which to capitalize in attempts to normalize the situation.
Belarus and Russia have been close trading partners and diplomatic allies since the breakup of the Soviet Union. Belarus is dependent on Russia for imports of raw materials and for its export market. However, the future of the Russian-Belarus union has been placed in doubt because of Belarus' repeated delays of monetary union, the lack of a referendum date for the draft constitution.
The major problem here is Belarus relations with several European Union members including neighboring Latvia, Lithuania, and Poland. The EU has already threatened imposing sanctions, as United States has done in relation to the election held on August 9, 2020. The authorities accused the Russians of trying to destabilize the situation in Belarus in the run up to the presidential elections. Thousands have rallied across Belarus in some of the country's biggest opposition protests in a decade.
Svetlana Tikhanovskaya, who has emerged as his main rival, pledges to topple his regime and restore democracy. President Alexander Lukashenko, who has ruled the country since 1994, is facing a united and determined democratic opposition in what may be the toughest political fight of his life. Discontent has been simmering for years. Secretary-General António Guterres has issued a statement underlining the importance for all Belarusians to exercise their civil and political rights.
On August 16, President Vladimir Putin and Alexander Lukashenko held discussion on the situation that has developed following the presidential election in Belarus including with due regard to external pressure. The Russian side reaffirmed its readiness to render the necessary assistance to resolve the challenges facing Belarus based on the principles of the Treaty on the Creation of a Union State, as well as through the Collective Security Treaty Organization,if necessary.
In reality, the world is closely watching to see noticeable changes in Belarus. Some experts suggest a national political dialogue, some argue that Lukashenko should have taken a page from Kazakhstan. Nursultan Nazarbayev ruled the country from 1991 to 2019. He resigned in March 2019, but now the Kazakh Security Council's chairman-for-life, other school of thought says Lukashenko should listen to President Vladimir Putin.
There has been a decade-long economic stagnation and prospects of further economic integration with Russia – seen by many as threatening Belarus sovereignty – has weakened Lukashenko's image as the guarantor of stability. Belarus has had a troubled relationship with many of its neighbors. There many other issues which Belarus and Russia have to settle to ensure regional stability in the Commonwealth of Independent States, or at least, in the Eurasian Union. Time will, indeed, show a peaceful exit of the crisis, and/or next for Belarus.
After declaring its independence in 1991, Azerbaijan found itself fighting battles on multiple fronts against an economic collapse, political chaos, and an inter-ethnic conflict with Armenia over Nagorno-Karabakh. The staggering crisis within the country posed a great challenge for the Azerbaijani government under the leadership of Heydar Aliyev. However, several developmental strategies and effective policies introduced by the government helped Azerbaijan get back on its feet into time. By late 1990s,Azerbaijan was on its way to economic revival.
One of the first victories of Azerbaijan in the economic sector was brought about by the signing of "contract of the century". New economic reforms established a favorable environment for investment and led to socio-economic development within the country. Similarly, comprehensive institutional changes allowed the government to prevent hyperinflation and regulate the macroeconomic balance. Soon, the dynamics of economic growth in Azerbaijan shifted. Through the extraction and export of natural resources, the country saw an economic boom. By 2011 Azerbaijan's strategic country reserves reached up to 41.5 billion US dollars.
The transition was not limited to the economic sector; substantial efforts were made for the effective resolution of social problems. A new social security system was established in accordance with international standards. The quality of medical services was improved manifolds and all health-based institutions were given up to date equipment and hardware. Likewise, the educational infrastructure was also strengthened by increasing budget allocation. This allowed the government to modernize the educational system, renew the syllabus, and integrate the Azerbaijan education into the European education system. Moreover, computerizing education was one of the fundamental steps that took the education system of Azerbaijan to the next level.
Lastly, the chaos brought about due to the political transition within the country was addressed through the formation of a transparent democratic society. Political pluralism served as the basis of public progress and political parties were allowed to play a significant role in running the country's political system and growth of the civil society. This new democratic system revolutionized the structure of the society allowing citizens to have a much active role in the politics of Azerbaijan.
The successful transition in almost all sectors of Azerbaijan was the result of a well-thought consistent state policy, strong leadership, and strategic implementation. The policy makers successfully deciphered the interconnectedness of all sectors namely: economy, health, education, and politics. Understanding this interplay between different sectors helped Heydar Aliyev devise a policy that would help solidify the foundation of the state and this was to be done by inducing economic progress. In other words, once a strong and sound economy was established, it allowed the government to strengthen other state departments through the reallocation of budgets, thus boosting the overall progress of Azerbaijan. Soon enough the country was out of turmoil and on its way to become one of the most influential states in the South Caucasus.
Need for a New Vision
The socio-economic reforms introduced by Heydar Aliyev successfully mended various departments within the state. Once the foundation was solidified, the policy makers had a chance to dig deeper in order to resolve certain impediments that were still prevalent within the country and could hamper its progress in the future. Thus, President Iiham Aliyev soon signed a decree to approve a development concept known as "Azerbaijan 2020: A look into the future". This concept was developed for two main reasons: to further strengthen all sectors of the country and to keep up with the rapid advancements in the world.
In the current situation, the reforms of Heydar stand short of what is required in the 21st century.The government faces new challenges that can only be addressed through the formulation of up to date policies and this development concept provides exactly that. Moreover, now the aim of the government isto not only focus on inward but outward reforms as well that would allow it to keep up with the volant spread of information and communication technologies. In addition, globalization has been affecting the socio-economic life of most countries and Azerbaijan is no exception. Thus, it needs an effectual state policy that will allow it to adapt to these changes. The Azerbaijan vision 2020 has successfully understood the challenges and provides a comprehensive outlook on how to counter them.
The principle strategic view of the concept is to avail all the current available opportunities and resources to attain sustainable economic growth, significant social welfare, supremacy of law, effectual state management and the same time ensure human rights, freedom and development of civil society[i]. The document was approved on the basis that by 2020, Azerbaijan would a competitive state that is economically and politically developed. The government wishes to increase employment, decrease poverty, develop human capital, and ensure that all citizens have access to health care and that the environment is protected. The development concept has clearly highlighted the principle agendas that Azerbaijan needs to invest its time and money into; it provides a vision of how the country should be by the end of 2020.
Increasing the Competitive Power of the Economy
One of the first agendas of the concept is to ensure that the economic system of Azerbaijan is effective enough that it can compete globally. Statistics show that a state's economic growth can increase manifolds through state regulations within the market and continuous improvement of these regulations in accordance with the market requirements. Thus, Azerbaijan must strengthen the states regulatory and administrative functions in order to improve the business environment, maintain macroeconomic stability and at the same time be able to carry out large infrastructure projects and ensure free competition. In the light of the current pandemic, the government has created four working groups that are to build special proposals to curtail the negative effects of coronavirus on the country's economy, employment issues, macroeconomic stability and business entities thus ensuring that the country does not lose sight of the 2020 vision.
The document further states that an appropriate monetary policy will be conducted with the target to keep inflation in check and guarantee the stability of the financial sector. The development of fiscal disciple will be given special attention to increase the efficiency of expenses and the efficiency of fund distribution. Similarly, passive taxation policies are to be transformed into active taxation policies and the tax rates are to be improved to create an environment that is favorable for business activity. According to the 2019 World Bank Doing Business report, Azerbaijan reached the 24th position up from the 57th position in 2018.This brought the country one step closer to achieving its 2020 vision.
Furthermore, efforts are to be made by the Azerbaijani government to enhance and simplify foreign trade and support entrepreneurs to increase their competitiveness in the foreign market. Preferential loans given to businesses by the state will increase, the government will help small and medium size businesses to expand and strengthen their export capabilities. One of the most crucial steps taken to support small businesses was to restrict monopoly and strengthen anti-monopoly laws. This ensured that the markets had a fair competition. In addition, efforts will be made to eliminate factors that may put the local businesses at risk. In accordance with these policies in the year 2018, Azerbaijan exported goods worth $19.9 billion and imported goods worth $11.9 billion thus, resulting into a positive trade balance of 8.01billion dollars.
All the economic objectives set out in the development concept aim to modernize the economic system of Azerbaijan. It is clear that with these policies, Azerbaijan is leaning towards the west and wishes to inculcate their policies within its own sectors. The country is trying to move further away from Russian influence and wishes to abolish any major policies that were once a part of their economic system during the pre-independence era. At the same time, they want to launch their markets internationally which have been for long limited to the oil sector only.
1.1 Decreasing Dependency on the Oil Sector
While continuous work is being done on the oil sector by restructuring and modernizing the systems of extracting, transporting, and refining the oil, the government is also making efforts to develop the non-oil sector. New enterprises are to be created, other industries such as aluminum, cement and fertilizer will be developed. Alongside the development in non-oil processing industries, the main sphere of the state investment policy will be to stimulate the formation of industrial estate infrastructure in the economic districts. Similarly, foreign, and local investments in non-oil sector will be intensified through stimulating mechanisms. Creative and intellectual activities will be supported and encouraged. Special attention will be given to the agricultural sector by increasing production capability, banks will be encouraged to give out loans to farmers and modern equipment will be made available to them.
The Azerbaijani government seems ambitious and eager to reduce its dependency on the oil sector and while these reforms look promising, their proper implementation and outcomes are bound to take a lot of time. Azerbaijan for long has been generating its revenues through the export of oil and, thus a sudden shift is not only impossible but may also shake the economy. While some progress has been made in the recent years, studies show that the oil sector is still the primary economic driver as it directly makes up 44% of the country's GDP and more than 90% of the exports however, only employs 5% of the total population of the country. Therefore, while Azerbaijan does not to strengthen other enterprises, businesses and industries, the shift must occur gradually and systematically.
Balanced Development and transport infrastructure
If Azerbaijan wishes to turn itself into a regional trade hub, it must make use of its geostrategic location by establishing effective transport and transit services and develop logistical centers in various regions throughout the country. This will not only lead to foreign and local investment, but also help give out employment opportunities. The development concept states that the government will take measures to integrate the national transport system of Azerbaijan with the international transport system. To stand out in the North-South and European-Caucasus-Asia transport corridors, the time of export and import operations will be reduced, the procedures will be made simpler and the cost of sending a cargo to Azerbaijani territory will be reduced. The country's road in these corridors will be brought in line with the international standards. Similarly, new roads will be developed, and the railway system will be restored and modernized; same goes for air transport. Special development projects will be carried out to improve the infrastructure in rural areas and villages.
If Azerbaijan is successful in carrying out these plans, it will stimulate balanced socio-economic growth within all regions of the country. Inequality and sharp differences in the rural and urban areas will be reduced. Moreover, the burden on city centers will decrease and less people will migrate from the rural areas in search of jobs. Furthermore, once the time for exports and imports is reduced, more trade will be carried out using Azerbaijani territory hence, leading to greater revenue generation.
Development in Social Spheres
Social Developments must go by side the economic developments; thus the 2020 concept puts special emphasis on how social sectors in Azerbaijan will be upgraded.
3.1 Health Sector
Azerbaijan wishes to increase its funding to the health care system and aims to construct, reconstruct, and refurbish health institutions throughout the country. The extreme centralization of management will be abandoned, and the power will be distributed among various management entities. The state will work on fighting diseases and implement preventive measures. Educational programs will be carried out against smoking alcoholism and drug addiction. There will be mass health examinations and preventive checkups for children and teachers. Above all, the government will make sure that medicines are physically and economically available to the entire population and ensure that all medicines are licensed and of high quality.
3.2 Educational system
Reforms have been made to increase the quality of education; programs have been drafted and implemented to rationalize general education institutions. Systemic measures will be taken to encourage the intellectual thought process of students. Furthermore, electronic education technologies will be made available to schools in order to create a virtual yet, effective learning environment for students. The aim is that every classroom must have laptops, projectors, and an electronic table. Most importantly, teachers must be trained to specialize in interactive teaching technologies. Internationally speaking, the government wants to increase the participation of educational institutions especially higher education institutions in international programs.
One of the main objectives of these reforms is to integrate the Azerbaijani education system with the European system. Once the reforms are implemented in their full essence, the standard of their education will be enhanced, more international students are likely to enroll in Azerbaijani universities and take part in cultural exchange programs that will in turn help promote and secure the cultural heritage of the country. Increased international recognition of higher education in Azerbaijan will without doubt prove to be fruitful for their education system.
3.3 Social Security System
A new state program 2016-2020 has further deepened the current pension reforms. As a result of this, not only the state social system will improve, but in fact a saving mechanism for state pension will be established. Access to information about the social insurance fee present in an individual's account will be made easy. Next, the process of registering insurers will be completely automated, these insures will automatically be registered in the insurance system. Unlike before, the citizens will not need to come up any documents to receive pensions. Moreover, the pensions will be appointed to citizens in an automatic way through a single center. Furthermore, the system that selects which families are in need for social aid will improve, rehabilitation centers will be created for the homeless, young displaced persons will be helped and work will be done to improve the conditions of labor that has migrated to foreign countries.
Protection of environment
One of the fundamental targets of this development concept is to carry out socio-economic development while keeping ecological factors in mind. For this reason, effective monitoring and supervision systems are to be developed. Measures will be taken to control deforestation and desertification. Land that has become unusable as a result of industrial activates will be restored. Progressive methods will be introduced in the waste management sector and the percentage of recycling will be increased. During construction projects the environment will be prioritized and most importantly the negative effect of extraction of oil and gas will be neutralized.
One of the biggest contributors of pollution in Azerbaijan is its oil industry; however, little attention has been given in the development concept to curtail its effects.No clear policy has been introduced to monitor the activities of oil industries that continue to degrade the air, land, and soil of the country. The Caspian Sea as a result of oil drilling has been severely contaminated thus killing the habitat of sea life. Special attention must be given to limit the devastating effects of oil industry on Azerbaijan in the long term.
Strengthening legislation and government institutions
In order to achieve all the reforms mentioned above, consistent measures should be taken to improve and strengthen the legislation and governmental institution of Azerbaijan; only then will the vision of 2020 truly be achieved.
The objective of the 2020 concept in this case is to update the law enforcement agencies and bring them in line with the international standards. The infrastructure of the court must be improved, this means electronic services will be introduced and citizens will have a greater chance at getting justice. The potential of the institutions will be nourished for the effective implementation of laws and new reforms. The state will fight against corruption in all sectors, the transparency of the government will be increased, and citizens will be given greater access to state information.
Recommendations
The 2020 Azerbaijan development concept is a comprehensive and versatile understanding of the impediments currently hindering the progress of Azerbaijan and at the same time, it has successfully drafted policies that will help the government counter these impediments in order to secure and strengthen the socio-economic conditions of Azerbaijan in the long run. However, a few steps must be kept in mind for the successful and through implementation of the entire concept:
A new government agency must be created that determines through statistical analysis which sector should be prioritized first and how its improvement effects the other sectors
A special mechanized system must be established that monitors the implementation of all new reforms and finds out how they can be improved
Data regarding the progress in all sectors should be collected on a yearly basis
The reforms should not be limited to the 2020 development concept; new reforms should be introduced in accordance with the requirements as the world moves towards greater advancement
A special anti-corruption force should be created which keeps a check on the implementation of the reforms in their true essence
---
[i] Government of Azerbaijan,Azerbaijan 2020: Look into the Future" Concept of Development,(Baku, 2012),9.
What awaits Ukraine after US presidential elections?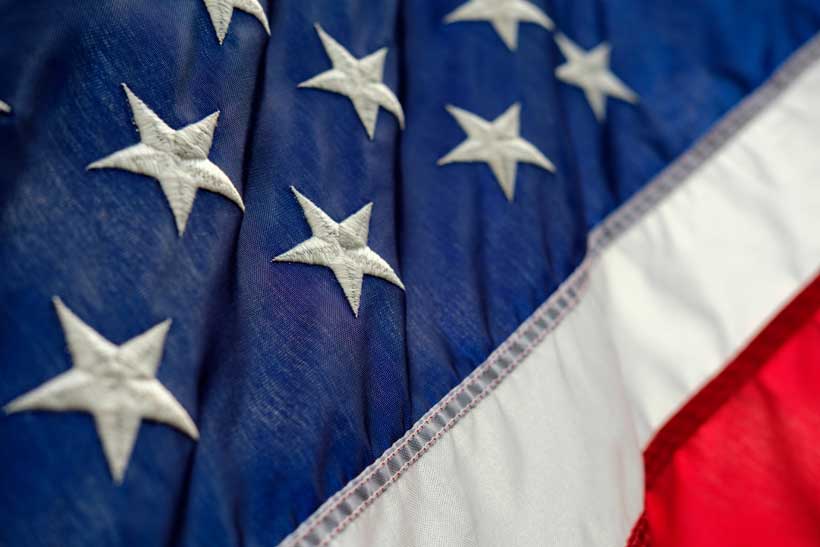 Who is the man that Kiev wants in the White House – Republican Donald Trump or Democrat Joe Biden? For a country like Ukraine, so sensitive to external influences, this is an overarching issue.
Joe Biden's election in November would bring Ukraine into Washington's sharper focus. However, important as this may seem to Kiev, this attention may prove excessive. During Biden's vice presidency this attention was so intense that it bordered on personal interest, and, ultimately, even interference in Ukraine's internal affairs.
On the outside, the love affair between Ukraine and a possible Democratic president will most likely express itself in US support for Kiev's confrontational actions and statements. With Biden at the helm, Washington could even try to influence the Minsk process. Kiev has on many occasions declared its desire to bring Washington and London into the Minsk talks. Neither the British nor the Americans have so far responded to this call, but the US Democrats are sure to ramp up their activity on this track. One should not expect too much here though, and a mere statement by Washington that the Minsk accords need to be revised will already come as a breakthough for Kiev. As for President Trump, he just couldn't care less about the negotiations on Donbass, which he views as having nothing to do with America's interests.
On Biden's watch, Washington could resume the previous format of interaction between the US State Department and Kiev and bring back the post of the State Department's special representative in Ukraine, which until the fall of 2019 was held by Kurt Volker – a semi-official channel of interaction that formally demonstrated Ukraine's importance to the United States. The resignation of Volker, who failed to fully implement what he had been tasked by Trump in a country he did not care much about, could lead to the elimination of the position of the State Department's special representative for Ukraine, as an unnecessary catalyst for US-Ukrainian relations. This means that the usual diplomatic channels (embassy) between countries are quite enough, that the interests of the president can be taken care of by trusted people (Giuliani), and issues of international politics should be resolved with Putin and Europe (Merkel and Macron), which is not doing enough to uphold Ukraine's interests. To demonstrate the importance of the Ukrainian track, however, Biden may bring back the position of the State Department's official representative in Ukraine.
With regard to Crimea, Ukraine is already urging NATO to build up its presence in the Black Sea to counter Russia's alleged "aggression" and its "militarization of the occupied Crimea." Ukraine's First Deputy Foreign Minister Emine Dzhepparova [representative of the Mejlis of the Crimean Tatar people, banned in Russia – D.B.) has called on NATO to expand its foothold in the Black Sea region.
"The security of Ukraine and NATO are inseparable, and strengthening cooperation in the Black Sea is our common priority," Dzhepparova wrote on her Twitter account. Under Biden, the United States can intensify its efforts in this direction.
The issue of NATO's presence in the Black Sea region is always on the agenda, regularly escalating in connection with various events – in 2014 in Crimea, the war in Syria, etc. Last autumn, the RAND Corporation think tank published a report on how best to counter Russia's influence in the Black Sea region. Its main conclusion is that due to the West's shortsighted policy towards the two regional powerhouses – Russia and Turkey, as well as its underestimation of the political power wielded by their leaders, who subordinate their domestic and foreign policies to their countries' interests, and not those of the "new world order" and "democratization," it has lost this region and something needs to be done about it.
For Biden, the need "to do something" could become a source of confrontation with Russia. Biden could be all too happy to do this "something" through NATO, seeing this as a sign of support for Ukraine and Georgia, an opportunity to rein in Turkey's growing assertiveness and bring Bulgaria and Romania closer into the game by stoking confrontation and militarization of the region with a possible supply to them of coastal missile systems. In general, one can expect an uptick in military-political interaction in the form of active cooperation between Ukraine and NATO, as well as arms deliveries.
The arrival of a Democrat to the White House may also ratchet up the internal political struggle in Ukraine, where the nationalist opposition, conditionally led by the "friend of the Democrats," ex-president Petro Poroshenko, may try to regain power. Poroshenko, meanwhile, is being charged with high treason, corroborated, among other things, by his recorded conversations with Biden – both politicians have cases that they would very much like to hush up. Besides, the nationalists' activity will inevitably impact the Minsk process, and, possibly, the situation along the disengagement line in Donbass.
What can Kiev expect from President Donald Trump? Less interference in its domestic affairs – once reelected, Trump will most likely lose interest in the active search for compromising evidence on Biden, although he is unlikely to give up this matter altogether. It will all depend on further confrontation between him and his opponents. The main danger for Trump after his re-election will be not so much the Democrats as such, but the political and social processes unfolding in the country, above all the Black Lives Matter campaign. The only thing that may get Trump interested in Ukraine is his ongoing confrontation with China. The United States is enthusiastically blocking the sale of Ukraine's Motor Sich engine building corporation to the Chinese company Beijing Skyrizon Aviation.
The Americans see the deal as a security threat, since it would provide the Chinese with new aviation technologies. As for Motor Sich, the company has been forced to make a deal with the Chinese because of the loss of the market for its products and the breakdown of supply chains with Russia after 2014.
Blocking Russian gas supplies to Ukraine and attempts to disrupt energy cooperation between Russia and Europe (Nord Stream-2 ") is another factor that Trump and Kiev look eye to eye on, even though Kiev says that the continued transit of Russian gas across its territory is a guarantee of Ukraine's European integration. Trump's interest in Ukraine will depend on his pragmatic view of geopolitics and economics, as well as the political threats he may see coming from Kiev.
In an hours-long interview, President Zelensky's former chief of staff, Andriy Bohdan, thus described the system of relations existing between the United States and Ukraine: "In general, there are three tracks, three points of negotiations with the United States. The first is intelligence and security services. We are blind kittens here, really, and all our military capabilities, the capabilities of our special services are information that the international community shares with us. And besides the war, these are drugs, crimes, security. These are plans in general, analytics – we have no analytics. The second negotiating track is diplomatic service. [On this track, according to Bohdan, conversations begin and end with the fact that NABU (National Security Agency of Ukraine, headed by Artyom Sytnik) created on Washington's orders, is an important and untouchable organization – D.B.] And our third negotiation track is financial organizations. 'Give me the money.'"
Democrats and Republicans alike perceive Ukraine as a buffer zone between Russia and Europe, Russia and NATO. Ukraine will remain a platform for creating reasons for sanctions, justifying sanctions, an active participant in and an accomplice to sanctions processes. Obviously, the sanctions confrontation over Nord Stream-2 is just beginning, and Ukraine, as a party fearing the loss of transit, has long been calling for sanctions against this Russian-European project.
Any of the two contenders for the White House will talk about providing financial assistance to Ukraine, with Trump being more pragmatic, and Biden – more "rhetorical." With Biden in power, the Ukrainian economy could be reduced to handouts.
The US will not go overboard with its interference in Ukraine's internal affairs though, because this is a costly affair (Ukrainian oligarchs have enough money to conduct any political campaign of any scale. Why would Washington spend money if it can exert influence or clinch an agreement?) Lobbying the interests of private individuals or politicians that are to Washington's liking is no problem – suffice it to recall the story of the Burisma Company that tarnished the reputation of the Biden family. Influencing the political landscape by persecuting politicians and oligarchs is also an option (recall the recent cases of tycoons like Dmytro Firtash and Ihor Kolomoyskyi).
President Zelenskiy and many other Ukrainian politicians, dependent on Washington, now face the daunting and, at the same time, important task of choosing the right course of action before the US elections. According to some Ukrainian observers, Zelensky made his choice after long hours of brainstorming with his trusted confidants. It looks like this: "No sudden movements [until November 2020 – D.B.], no progress in the investigation of the criminal case against Biden and his son Hunter, no Burisma and no Derkach tapes. We imitate a "stormy discourse" in the Minsk format, pretend to support the "Belarusian Maidan," but we lie low and carefully compare the ratings of Trump and Biden."
In a nutshell, Ukraine is seen by Washington as just a platform for serving America's geopolitical interests, which is also being used for party-political and private interests. Will anything change for Ukraine depending on who wins the November 2020 US elections? My answer is no.
From our partner International Affairs
Azerbaijan-Russia Ties Face Increasing Challenges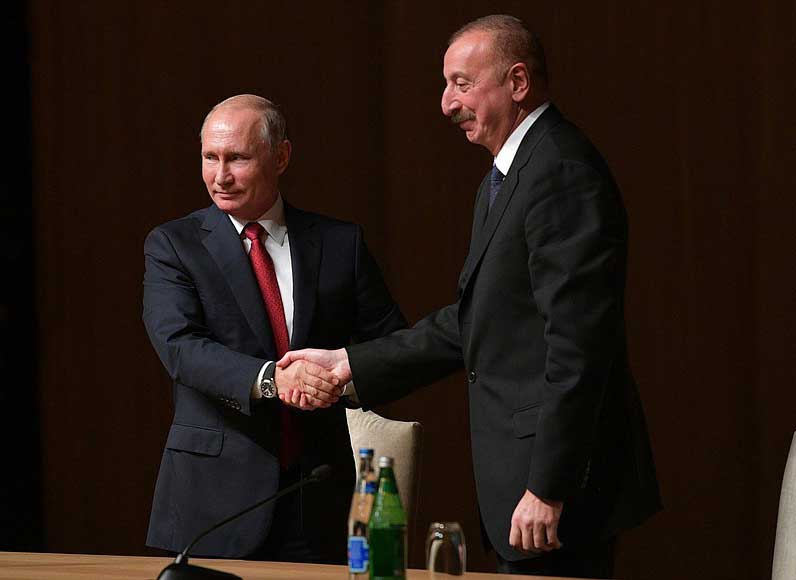 Russia-Azerbaijan ties face increased challenges as Baku accused Moscow of purposefully stoking the conflict by providing arms to Armenia. It is notable that this rhetoric develops when Turkey is particularly vocal in its military support for Azerbaijan. Though it still remains to be seen whether these signs evolve into a concrete policy shift in Azerbaijan, hopes for diplomatic solution of Nagorno Karabakh conflict recede, and Turkey and Russia up their military support for Baku and Yerevan.
Azerbaijan-Russia relations face increasing challenges as the geopolitical situation in the South Caucasus evolves. A series of events tested the bilateral ties and there is an increasing amount of evidence that some reconsideration of foreign policy on Azerbaijan's part could be taking place.
The first challenge was the July fighting on Armenia-Azerbaijan frontier, far from the actual source of conflict – Nagorno Karabakh. What could have been a relatively unnoticed confrontation, it drew international attention due to the geostrategic infrastructure which runs near the fighting zone in Azerbaijan's Tovuz region. Those are:
Baku-Supsa and Baku-Tbilisi-Ceyhan pipelines, which deliver Caspian oil to the Black and the Mediterranean Seas;
South Caucasus natural gas pipeline, which will send Azerbaijani gas to the EU and plays a key component in Turkey's emerging strategy of positioning itself as regional energy hub.
In addition, the region also has the Baku-Tbilisi-Akhalkalaki-Kars (BTAK) railroad (unveiled in 2017) and rarely mentioned the fiber-optic cables linking Europe with Central Asia. The Tovuz corridor also has a crucial Azerbaijan-Georgia highway, which allows Azerbaijan to connect to the Black Sea.
Thus in July Azerbaijan faced a threat to its major income. Damage to the infrastructure would also diminish the country's geopolitical weight as a safe source of oil and gas. While fighting in or around Nagorno Karabakh takes place occasionally and at times reaches a serious level, such as in 2016, it nevertheless fits into the overall narrative of more or less predictable military scenarios which military and political leaders in Baku would expect. The Tovuz fighting, on the other hand, goes against most military narratives and required Baku's tougher reaction. This is how the ties with Russia, Armenia's major economic and military ally, come under intense scrutiny in Baku.
It is has always been a long-term challenge for Azerbaijan. Baku occasionally expresses its concerns on Russia's military support for Armenia, but the criticism has usually been aired though newspapers and media rather than by high-level political figures. This changed following the July fighting.
Reasons are multiple. First, Russia (using its 102rd military base in Gyumri) and Armenia launched snap combat drills on July 17-20, just as the fighting in Tovuz region was still unfolding. Second, a series of flights of Russian military cargo planes to Armenia took place right after the July fighting.
In a notable change of tone the Azerbaijani president Ilham Aliyev surprisingly publicly complained to his Russian counterpart Vladimir Putin, stating that the recent reports on allegedly increasing Russian military support (400 tons of military hardware) for Armenia raise concerns and questions in Azerbaijani society. Perhaps as a reaction to growing bilateral differences, the Russian defense minister Sergey Shoigu visited Baku to assure the Azerbaijani public that the flights were not of a military nature, but rather transported materials for the 102nd military base.
However, the affair did not end there as a senior adviser to Aliyev, Hikmet Hajiyev, on August 29, following Shoigu's visit, claimed that "the explanation by the Russian side is not entirely satisfactory." This effectively meant publicly refuting the Russian defense minister's statements, further aggravating differences between the two states.
A September 1 article by Nezavisimaya Gazeta claimed that Azerbaijan had readied 500 Syrian militants in preparation for a "blitzkrieg against Armenia" and that Turkey has its troops on Azerbaijani soil. Baku vehemently criticized the report calling it "slander and [a] dirty campaign against our country."
Yet another sign of troubled ties is the September 6th decision by Azerbaijan's Defense Ministry opting out the Russia-led "Caucasus-2020" military drills (planned to be held in the southwest of Russia). Only two servicemen will be sent as observers. Though officially no concrete reasons for the withdrawal were given, it is possible to link the decision to Azerbaijan's recent grievances at Russia.
Some larger reasons too might be at play motivating a change in Azerbaijan's rhetoric. The Minsk Group, the body that aims to facilitate the negotiations between Armenia and Azerbaijan is faltering. No concrete way to resolve the stand-off is present and the July fighting has just showed that diplomatic tools are receding. A vacuum is being created for regional powers to fill in. This is how Turkey comes to play an increasingly larger role in Baku's strategic calculus.
Indeed, as the July fighting unfolded Turkey has been especially supportive of Azerbaijan. For instance, Turkish President Recep Tayyip Erdoğan noted "Turkey will never hesitate to stand against any attack on the rights and lands of Azerbaijan, with which it has deep-rooted friendly ties and brotherly relations." Turkey's Defense Minister Hulusi Akar even warned that Armenia will be "brought to account" for its "attack" on Azerbaijan. Then large Turkish-Azerbaijani military exercises followed.
Turkey's calculus here is clear as the country needs to defend the vital oil, gas and railway infrastructure coming from Azerbaijan. And considering how far has diplomacy receded around Nagorno Karabakh issue, Turkey and Russia are set to play an even larger military and economic role in the South Caucasus. For the moment open rivalry will be avoided, but for Moscow and Ankara the region represents yet another area of covert competition along with Syria and Libya.
However, casting Azerbaijan-Russia relations as deteriorating is not entirely correct. Intensive cooperation still exists between the states. Azerbaijan's Minister of Foreign Affairs, Jeyhun Bayramov, paid an official visit to Russia on August 26 at the invitation of Russian Foreign Minister, Sergey Lavrov.
In late August-early September Azerbaijani servicemen participated in the "Tank Biathlon" and also won the Sea Cup competition – both held as part of the "International Army Games – 2020" organized by the Russian Ministry of Defense.
It is still hard to see whether Azerbaijan's changing rhetoric towards Russia is more than just a temporary, tactical maneuver. It could be a clever diplomatic game Azerbaijan has always pursued since 1990s – namely, facing its larger neighbors against one another. Nevertheless, the rhetoric and recent political decision signal a search for reconsideration of some basic elements in Baku's strategic vision. Turkey's bigger role is likely to be sought more intensively, while hopes for a diplomatic solution to the Nagorno Karabakh conflict would further recede.
Author's note: first published in caucasuswatch